Photo by Emanuela Bonetti
The Italian maestro talks about the spiritual inspiration he draws from his Basque roots, as well as channeling his endless guitar-tinkering passions into his latest musical project, Buñuel.
Italian guitarist and sonic adventurer Xabier Iriondo has an affinity for the Basque term, metak—which literally means, "pile"—and he often incorporates it into the names of his various projects. His custom-built experimental guitar is the Mahai Metak (or "table pile"). Some of his unconventional musical collaborations also include the term, as in PhonoMetak and PhonoMetak Labs. And Sound Metak was the name of the eclectic shop he ran for about a decade in the early 2000s, which sold everything from boutique guitar pedals to shoes. (Check out his Instagram profile, which, in addition to pictures of his amazing collection of guitars, pedals, and vintage amps, is also a showcase for his impeccable taste in footwear).
"I am half Basque," Iriondo says. "And these words—like "mahai" and "metak"—come from the Basque language. A metak is when you take the grass that you're cutting, and you make a mountain of this grass in the garden. In the past, you gave this metak to the cows." Another traditional Basque practice and type of metak involves shredding and drying corn stalks to use as fodder over the long, cold winter months. So, a metak is a pile of collected things that are preserved for an extended period. In Iriondo's view, this serves as an analogy for something deeper. "I love this idea, because you can put everything inside the metak," he says. "It's like a collection of your emotions. For example, with my shop, Sound Metak, I sold different kinds of things—from old gramophones and vinyl shellac records to fuzz pedals and jukeboxes and guitars and amplifiers—it was a lot of different things. Metak for me is an idea, and my instrument, the Mahai Metak, is the same thing. It's an energy from my fantasy, which is everything I can put out from my mind."
Buñuel is a noise-rock quartet named after the legendary Spanish filmmaker, Luis Buñuel. The band formed was formed in 2016 by (from left to right) bassist Andrea Lombardini, drummer Francesco Valente, American vocalist Eugene S. Robinson, and guitarist Xabier Iriondo.
Conceptually, metak also helps to explain Iriondo's musical diversity. Born in Milan, he started playing the guitar at 17, and became something of an Italian celebrity as part of the alternative band Afterhours, with whom he's been a member since 1992 (except for hiatus throughout most of the aughts). But Afterhours is about as mainstream as Xabier gets. He's also made incredible noise with myriad projects, like his recordings and performances with Can's Damo Suzuki (Damo Suzuki's Network), collaborations with the cream of Europe's avant-garde (?Alos, Pleiadees), numerous solo projects, and the list goes on and on.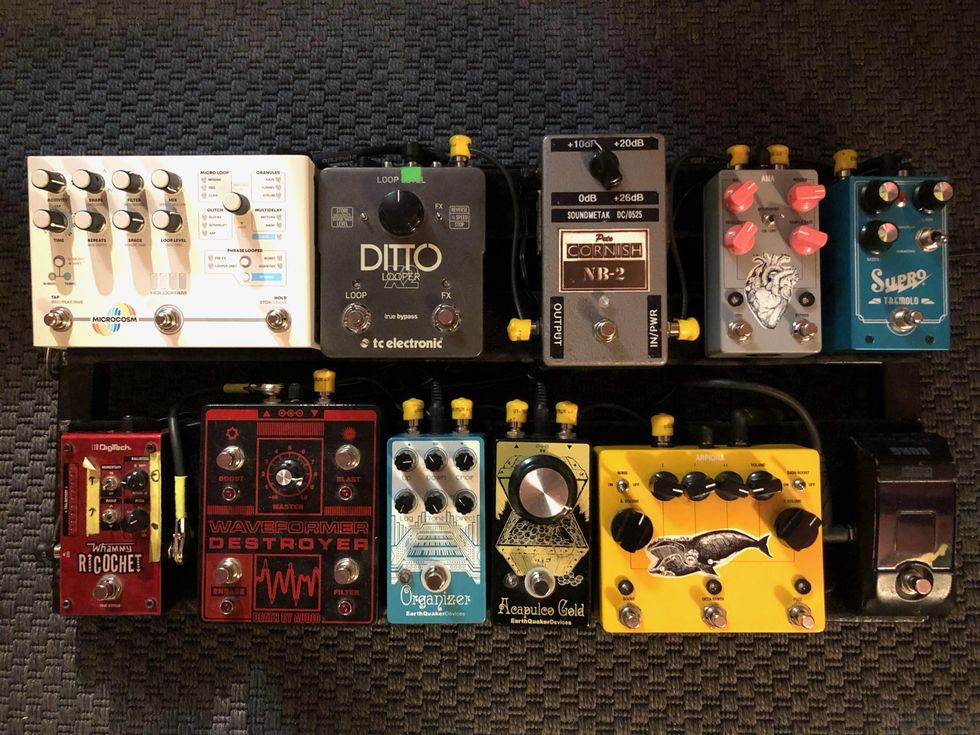 Xabier Iriondo's pedalboard: "When you're using some of these destruction pedals on the loud and heavy stuff, the guitar isn't so important. You destroy everything with these kinds of pedals."
His most recent outing is the abrasive, apocalyptic, noise-rock quartet Buñuel. Named after the legendary Spanish filmmaker Luis Buñuel, the band first came together in 2016 and mixes the talents of a trio of Italian musicians—Iriondo, bassist Andrea Lombardini, and drummer Francesco Valente—plus American vocalist Eugene S. Robinson. Their new release, Killers Like Us, is awash in fuzz and rages between brain-crushing, metal-tinged cuts like "A Prison of Measured Time" and "When God Used a Rope" to slow, doomy dirges like "Hornets" and "When We Talk," as well as moments of unstructured, free improvisation interspersed throughout the record.
BUNUEL - When God Used A Rope (official video)
"We are three Italian musicians," Iriondo says about Buñuel's genesis. "We were a little bit famous here in Italy, and we decided to choose an international singer. We wrote to Eugene Robinson, and he accepted our idea. For our first record, the three of us recorded 10 songs in a studio in Italy. We sent them to Eugene in San Francisco, he sang on them, and then sent the tracks back to us. We did that again for this record." Not only were the vocals recorded separate from the rest of the band, but Robinson didn't even get a chance to rehearse with them. The first time the band played together as a quartet was onstage in front of an audience. "We didn't rehearse with Eugene—we rehearsed ourselves—and we met with him the first day of the first gig. That's how it started."
Despite Iriondo's years of experience with group improvisation, that was not the approach he took with Buñuel. You'd think improv would be helpful when stepping onstage raw with an unrehearsed new singer. Rather, the band's vibe is through-composed songs that are played the same way—except for planned sections set aside for improvisation—night after night.
"When I want to take a solo, I adjust the Cornish directly with my foot. I open up the volume, and then I arrive in the cosmos."
"We play the songs like they are on the album," says Iriondo. "Although we do have some parts, or structures, that can change. For example, on our first tour, we wrote our 10 songs, and that's all we had. At the end of the show, the audience asked for more. I said, 'Okay, let's start with an improv,' and that improv we used on those gigs from the first tour became a song on the second album ["The Sanction" o 2018'sThe Easy Way Out]. We composed each day, each gig, and the song transformed and arrived at the end of the tour."
When recording Buñuel, Iriondo harnesses that live feel by taking a minimalist approach to overdubs. Aside from an odd guitar solo or two, the instruments are recorded live, with the band members standing together and looking at each other. "I also play pop rock with other bands, and overdubbing is okay for that kind of music, but the wildness of this project gains a lot when we're all playing together in the same room," he says.
For both of Buñuel's albums, including the new Killers Like Us, the three Italian core band members recorded the songs in Italy and sent them to vocalist Eugene Robinson in San Francisco. Robinson sang over the music and then sent the tracks back to Italy.
"In the past, in the '90s, I used the VHT head system that people talked about," he says about the now-rebranded Fryette Pittbull Ultra-Lead. "I bought the second one that arrived in Italy in 1994. But in the last 20-to-25 years, I started using theHiwatt DR103, and I think that's my sound. When I plugged in for the first time, I said, 'What the hell is this?' I can go from high-frequency, crystal-like sounds to really deep grunge sounds with a lot of low frequencies. In general, with Buñuel and also Afterhours, I use the Hiwatt, and then also another amp, a 300-watt SWR California Blonde, which is a transistor amp. I have the headroom also in the clean sounds, but when I engage all my fuzzes and boosters, the gain is incredible, and it's still in front of you all the time."
"I love this idea, because you can put everything inside the metak. It's like a collection of your emotions."
Iriondo's tone is wild, too. Considering how mangled, heavy, and distorted his sound gets, it's interesting how he crafts his tone almost exclusively with pedals, which he uses to drive his amps. He owns more than 20 heads and cabs, and his preference is classic British amps like Hiwatt, Orange, Carlsbro, and Simms Watt—he has a few of each in assorted colors—that have a lot of headroom. He feels those work best with his high-gain pedals.
Xabier Iriondo's Gear
Xabier Iriondo's custom-built "Mahai Metak" is a 10-string short-scale table guitar. Six of the strings are tuned to D in different octaves and act as drones. The other four are G, G, F, and A. It has pickups on both ends, plus an onboard oscillator and distortion unit, and controls for volume and tone. "I play it with Chinese sticks, and I create rhythms and special sounds with steel wool—that stuff you use in America to wash your dishes. It sounds great."
Photo courtesy of Xabier Iriondo
Guitars
Two custom Billy Boy Guitars made by Fabio Ghiribelli (a white model and a purple model used with Buñuel, with a TV Jones pickup in the neck position and a '52 Tele pickup in the bridge)

NukeTown Venusian IX Signature 9-string
Loic Le Page (Mahai Metak Guitar)
James Trussart Red Star Steelcaster
Amps
Hiwatt DR504 stack
Hiwatt DR103 head and 4x12 cab (1970)
Vox AC30TB (1992 reissue)
Orange OR120 head with 4x12 cab (1969)
Orange bass cabinet with 18" speaker (1970)
Simms Watts AP100 Mk2 (1972)
Marshall 1959 SLP Purple Limited Edition (1994)
300-watt SWR California Blonde
Effects
Hologram Microcosm Granular Looper

TC Electronic Ditto X2
Pete Cornish NB-2
AC Noises AMA (reverb w/ oscillator + bit crusher)
Supro Tremolo
DigiTech Whammy Ricochet
Death By Audio Waveformer Destroyer
EarthQuaker Devices Organizer
EarthQuaker Devices Acapulco Gold
AC Noises Arpiona Xabier Iriondo signature
Korg PB-03 Pitchblack
Strings & Picks
D'Addario .010–.052
Dunlop Tortex Purple 1 mm
Iriondo has a seemingly endless collection of pedals, too, although his go-to is his signature octave-synth-fuzz-boost Arpiona, made by Italian builders AC Noises. The pedal starts with a gated fuzz circuit inspired by Death By Audio's Harmonic Transformer, followed by a sub-octave bass synth, more fuzz, and a boost. He uses that in conjunction with an EarthQuaker Devices Acapulco Gold, and a Pete Cornish NB-2 boost that's always engaged. "When I want to take a solo," he says, "I adjust the Cornish directly with my foot. I open up the volume, and then I arrive in the cosmos."
Afterhours - Spreca una vita
Iriondo is also no purist. If an analog circuit will get him the sound he wants, great, but he's just as happy using a digital device. "I use everything that can give me satisfaction," he says. "Why not?"
Why not, indeed. He also gets that satisfaction from his guitars. "About 80 percent of my choice in guitars is the feel, and 20 percent is the sound," he says. "When you're using some of these destruction pedals on the loud and heavy stuff, the guitar isn'tso important. You destroy everything with these kinds of pedals. They completely destroy your clean sound. Although when I play pop-rock music, I change my guitars a lot."
Xabier Iriondo bought his James Trussart Red Star Steelcaster directly from the luthier at his L.A. home in 2012. It features a metal front and back perforation body, maple neck, rosewood fretboard, and two Arcane Inc. pickups.
Photo by Alberto Mori
But that feel is elusive, which may explain Iriondo's vast collection of instruments. He has vintage guitars he doesn't mod at all, but in general he's an itinerant tinkerer. He usually swaps out pickups, even on his less expensive guitars, and has a significant number of custom-built guitars as well. "I'm not only a collector, I'm a professional, which means guitars are my life," he says. "I want to have tools that work well with me. In the last few years, I've had the opportunity to have my dream guitars that I ask luthiers to build for me with my specific specifications. The principal guitar that I used on the Buñuel project is made by Billy Boy Guitars. It has an incredible tremolo, and it's a light guitar. All the sounds you hear on Buñuel are made with that guitar."
Perhaps Iriondo's most unique instrument is his custom-built Mahai Metak. It's a 10-string, short-scale table guitar. Six of the strings are tuned to D in different octaves and act as drones. The other four are G, G, F, and A. The instrument has pickups on both ends—near the bridge as well as near the nut—plus an onboard oscillator and distortion unit, and controls for volume and tone. He plays it with an assortment of items, including marbles, roach clips, and steel wool. "I play it with Chinese sticks," he says, "and I create rhythms and special sounds with steel wool—that stuff you use in America to wash your dishes. It sounds great. I use it with the loopers and reverbs and it creates these noisy and bizarre sounds, as well as melodic sounds that create a nice texture."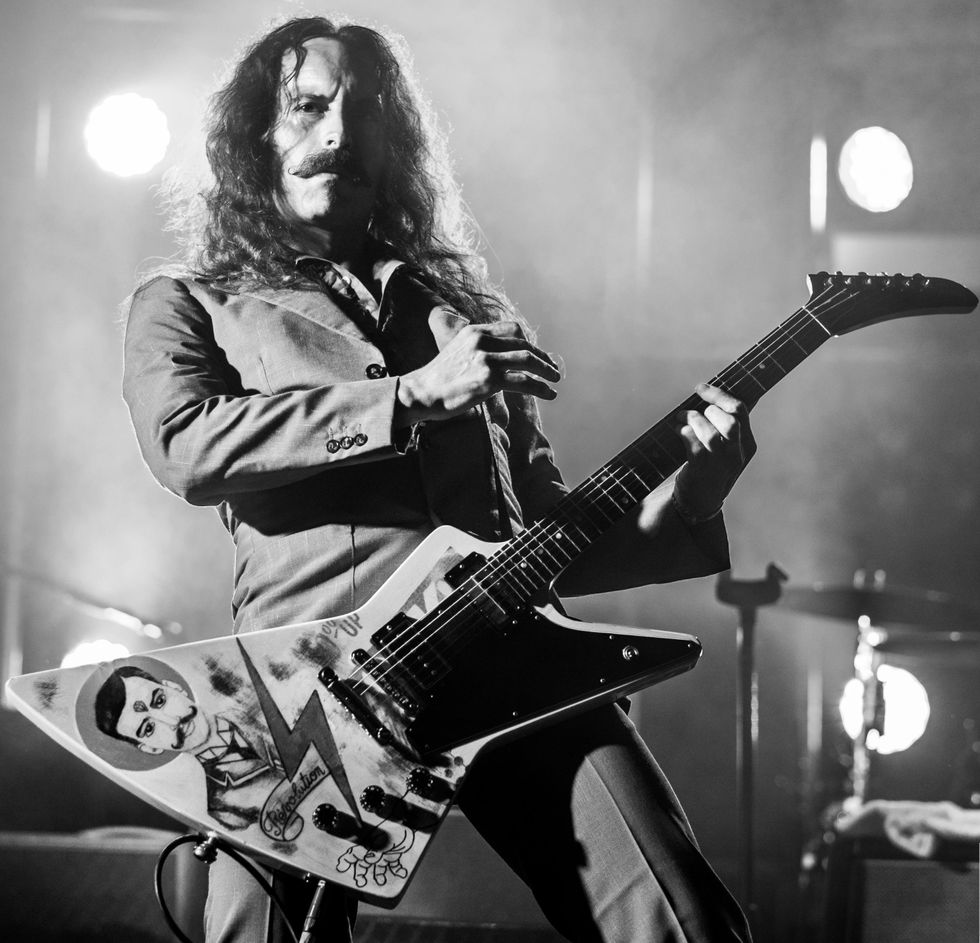 Iriondo's Gibson "Elettra" Explorer was handpainted by Valentina Chiappini
Photo by Matteo Pieroni
It's that openness and wonder, as exemplified by Iriondo's voracious appetite for gear, as well as his embrace of disparate genres and styles, that are the ingredients that make up his metak. Call it his esoteric pile of ideas, which gives him permission to explore the endless energies of his imagination. He'll conjure up sounds that are heavy and dark—or playful and light—and almost always fun, and, maybe, even a little mischievous.
And isn't that, ultimately, the ideal?
YouTube It
Les Pauls, high-headroom British brawlers, and pulverizing pedals push Marcos Garcia into the Masters of Reality Iommi-sphere.
Facing a mandatory shelter-in-place ordinance to limit the spread of COVID-19, PG enacted a hybrid approach to filming and producing Rig Rundowns. This is the 34th video in that format.
Founding Here Lies Man guitarist/frontman Marcos Garcia set aside some gear time and virtually welcomed PG's Chris Kies into his California tone zone. In this Rig Rundown, he goes over all the surgeries and upgrades his Les Pauls have undergone, details why he broke up with the Ampeg V4 in lieu of other foundation-cracking amps, and explains that his discerning ear is always chasing the sounds (and frequencies) in his head, and because of this, nothing in his setup is sacred or safe.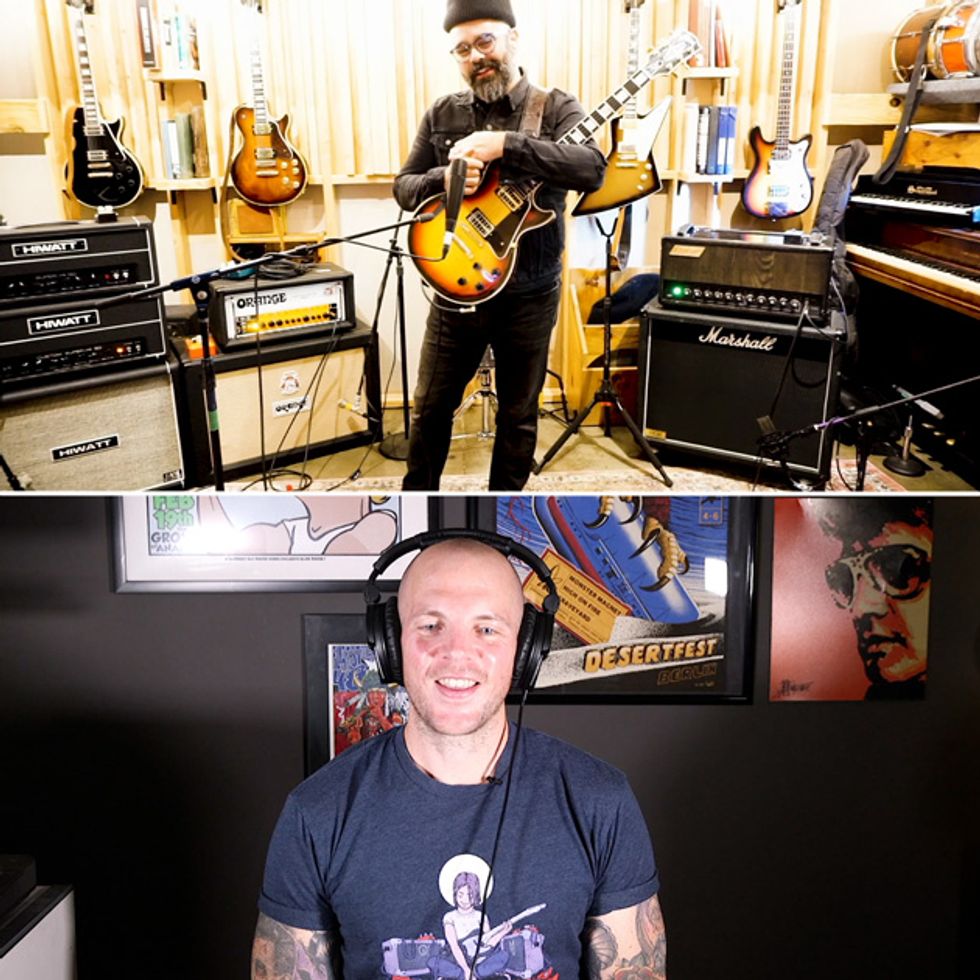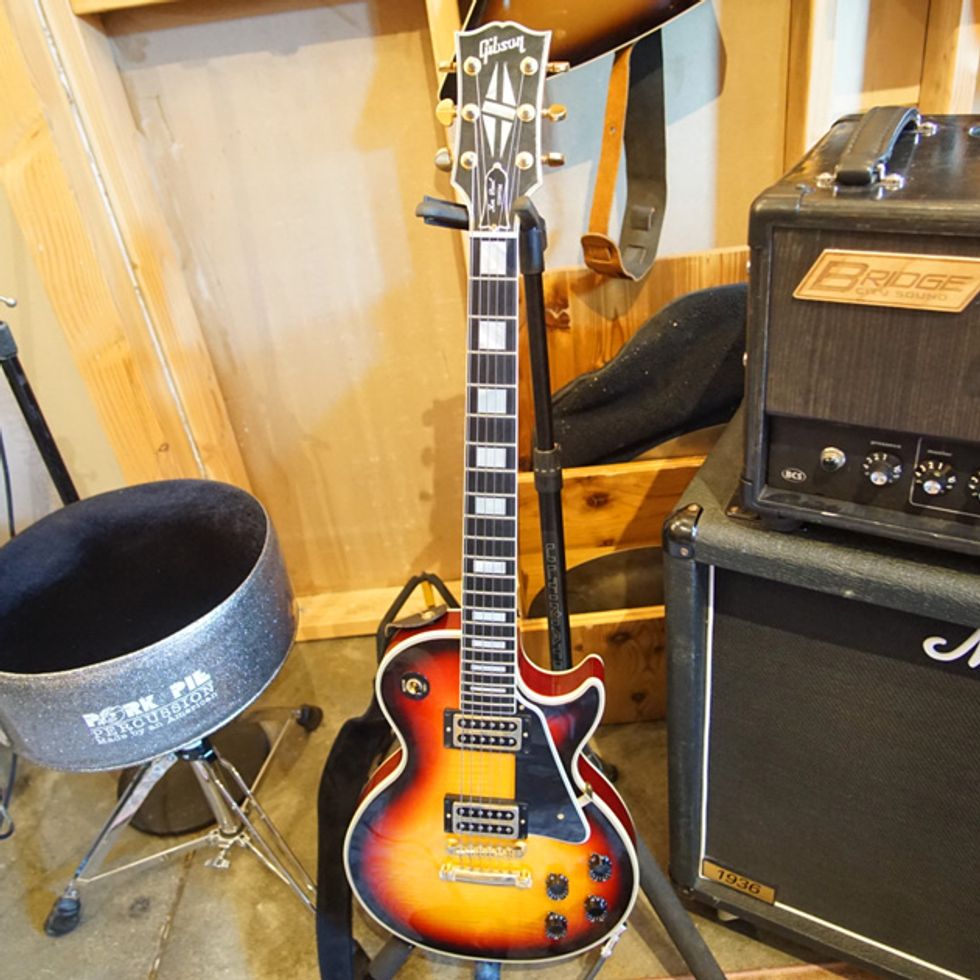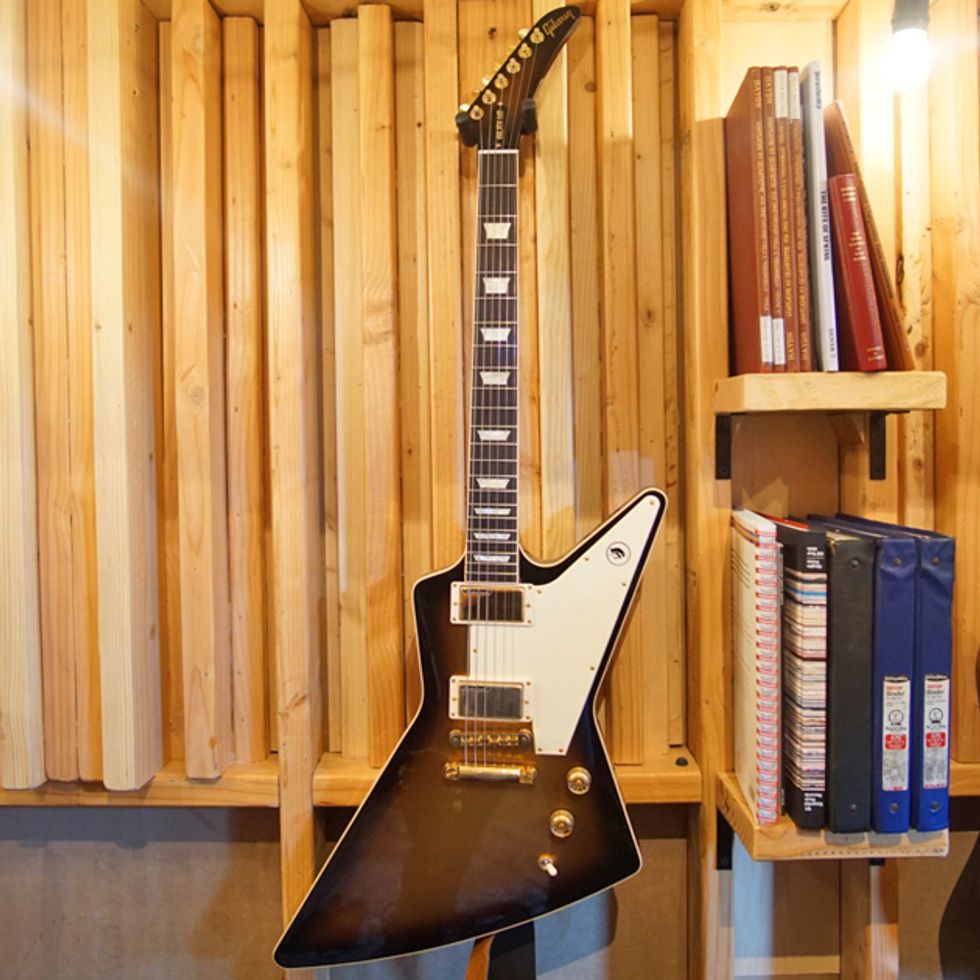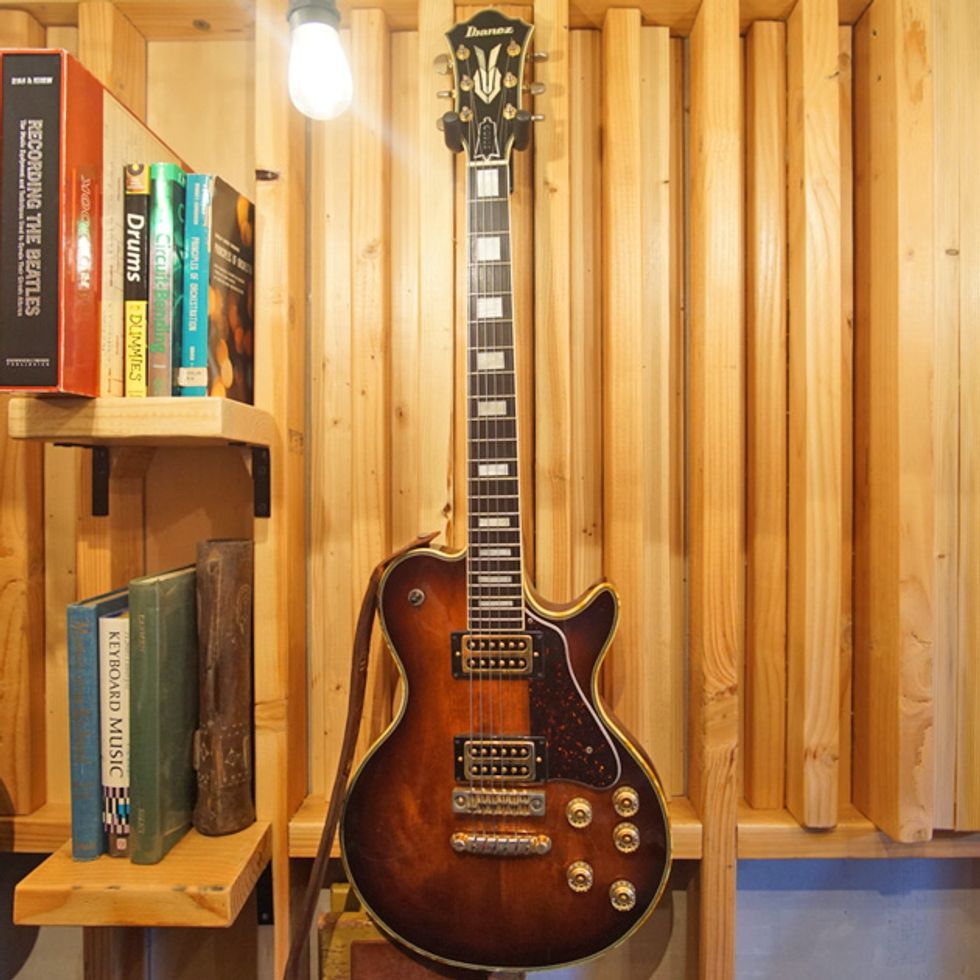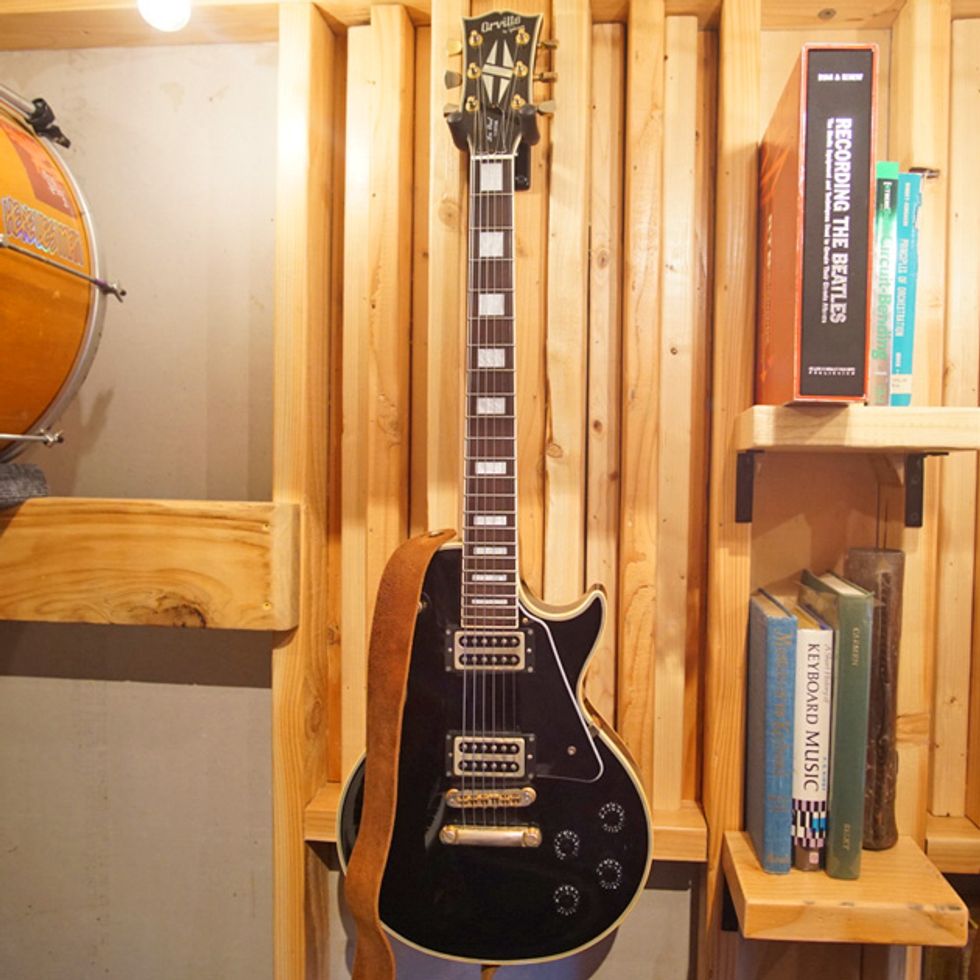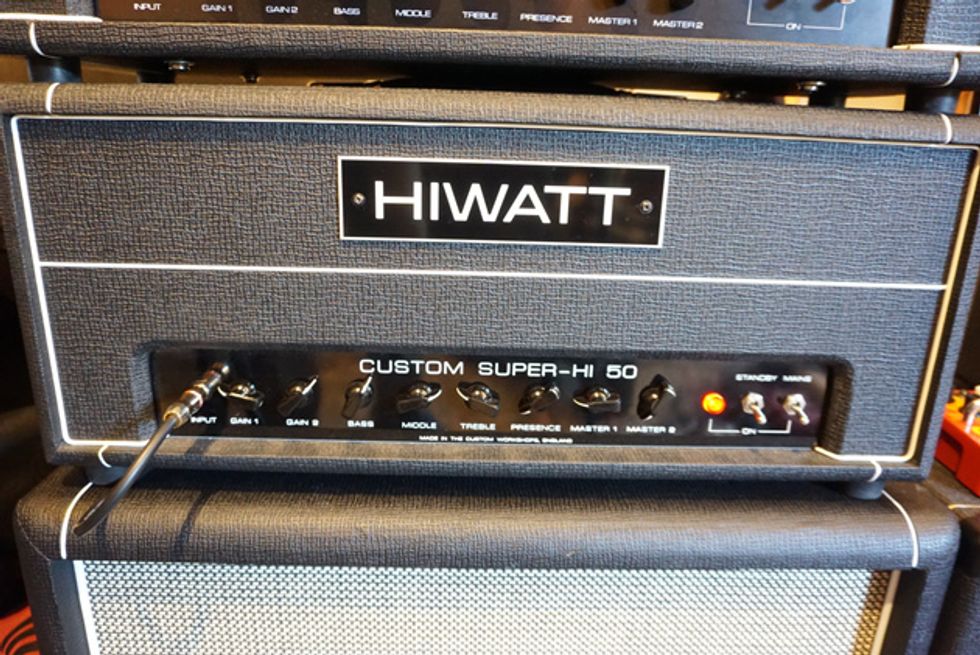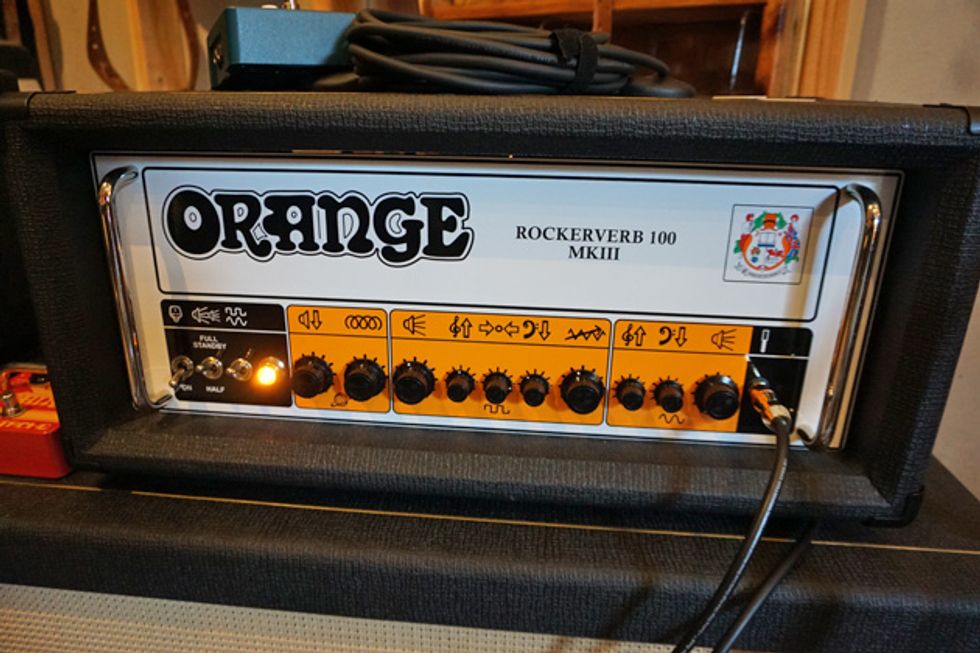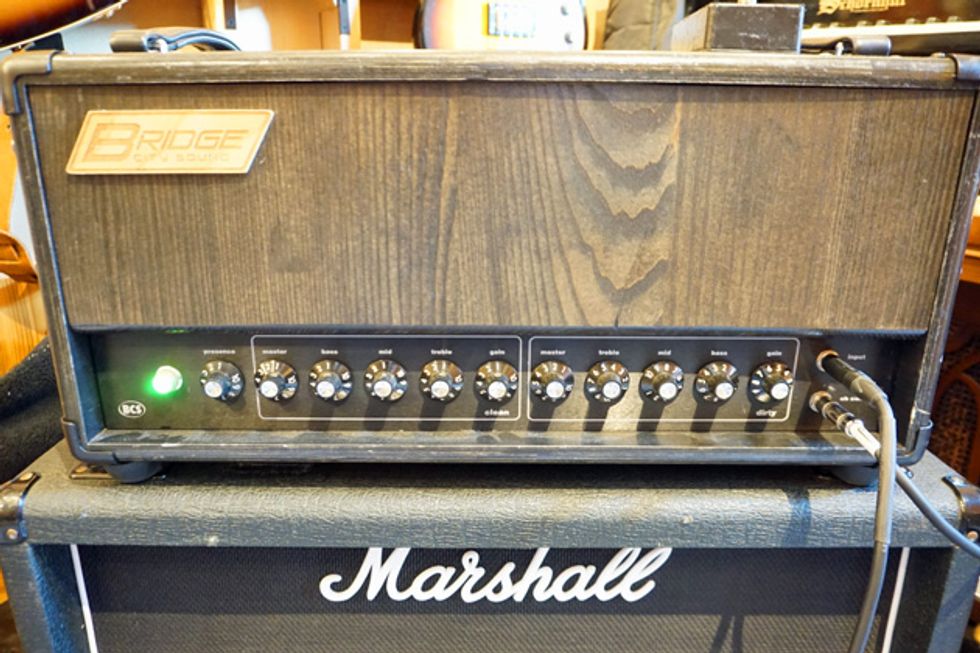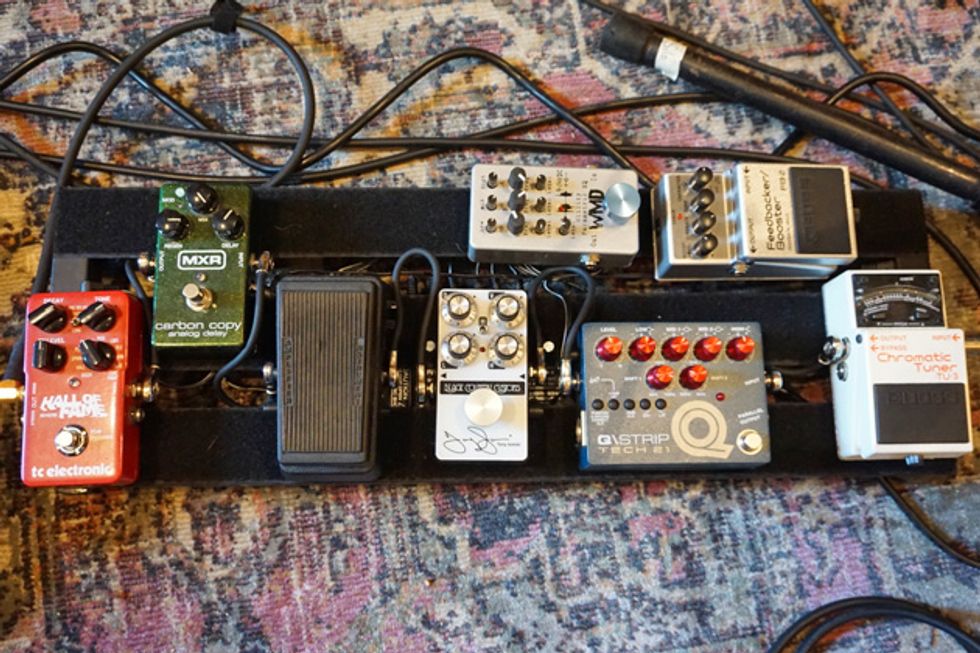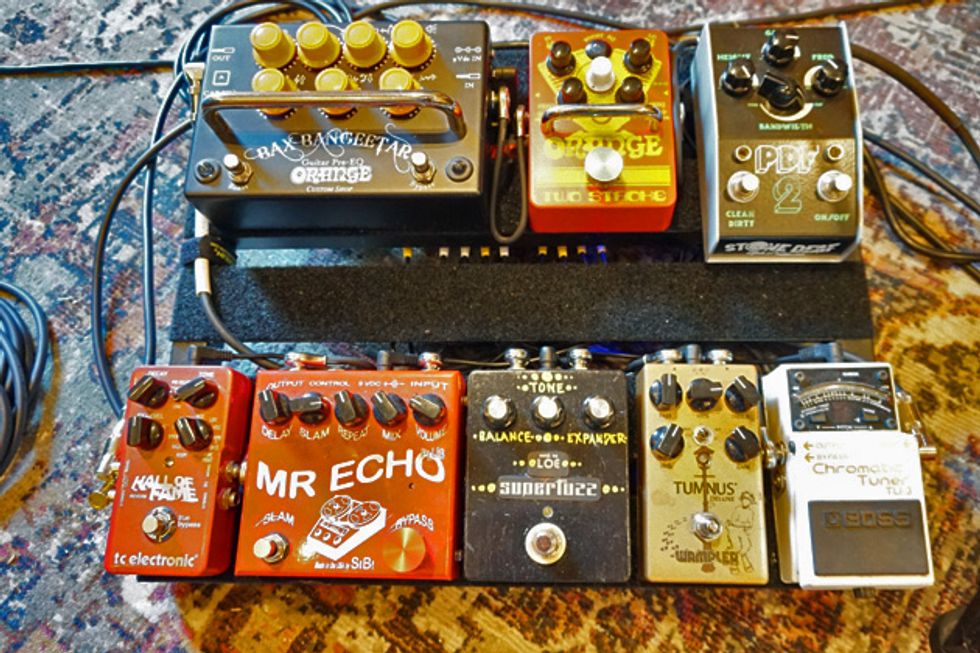 Photo by Tom Ham
Guitarists Lee Kiernan and Mark Bowen shove the envelope on the band's new album, stomping in sonic mud puddles and mashing electronic music and hip-hop as they abandon their comfort zone.
From the British Invasion of the '60s to the punks of '77 to the nascent days of heavy metal and shoegaze, the U.K. music scene has often been the harbinger of what's next for guitar. To many, Bristol-based post-punk unit Idles' music represents that next step. Idles' albums are confrontational, heartfelt, politically outspoken, and don't sound like anything else. The band's 2018 release Joy as an Act of Resistance hit the top five in the U.K. charts, enjoyed nearly universal critical acclaim, and earned the group a Mercury Prize nomination.
While many critics focused on Idles' enigmatic frontman Joe Talbot's poetic lyrics and brash delivery, Joy as an Act of Resistance was full of writhing, rhythmic, anti-rock guitar work that was equal parts clever and reckless—via guitarists Mark Bowen and Lee Kiernan. (Drummer Jon Beavis and bassist Adam Devonshire complete the band.) It was a blast of fresh air at a time when many popular rock bands had lost their teeth, were boiling their songwriting down to an algorithm, or were wistfully mining the genre's past.
In a small brick room deep in the bowels of La Frette Studios—tucked away just outside of Paris—Idles and producers Nick Launay (Killing Joke, Public Image Ltd, Nick Cave and the Bad Seeds) and Adam "Atom" Greenspan (Refused, Anna Calvi) crafted and honed Ultra Mono, the highly anticipated follow up to Joy as an Act of Resistance. Bowen and Kiernan took a decidedly different and novel approach to penning the new album's 12 songs. The pair began the writing process by defining a sound palette for the album via pedalboards populated with some of the least musical and weirdest stomps they'd each collected. Over-the-top fuzzes, alien-sounding filters, and a boutique glitch box from Belgium all played a major role. The anti-shredders' effects experiments were the direct starting point for much of Ultra Mono's songs and guitar parts—many of which Bowen confesses "really wouldn't sound like anything without the effects." The album's lead single, "Grounds," is a great example of this effects-first approach. It's an anthem of solidarity for the anti-racism movement, built on the back of a lone repeated note played through a Red Panda Raster delay. The song is an exercise in weaponized simplicity and atonality, yet somehow wildly catchy.
Kiernan and Bowen often use the guitar like synthesists or drummers on Ultra Mono, harnessing the percussive side of the instrument as a trigger and controller for the sounds they coax out of their pedal menageries. Relying on effects-processed rhythmic passages in the same way a producer uses samples gives the albumthe rhythmic bounce and swagger of hip-hop, but presented with the snarling sonics of a rock band playing through high-powered tube amps at full tilt. That trick was further helped along with a dose of post-production magic by producer/engineer Kenny Beats, who added programming and was part of an arduous four-month mixing process.
The result is that Ultra Mono is a whirlwind of hulking fuzz, clanging dissonance, synth-inspired bleeps and bloops, and notes bent so far out of shape that they'd break if they were bones. While there's an underpinning of dry garage-rock rhythm 6-string that helps propel this effects-laden guitar colossus and provides counterpoint, it all comes together to make something genuinely original. As we enter the probable peak of the effects-pedal renaissance, and at a time when our collective reality is just too absurd for loud rock bands to not have something of substance to say, Ultra Mono is a record deeply representative of the moment.
Despite Ultra Mono's anger and serious subjects, Bowen and Kiernan are affable gear nerds that don't take themselves too seriously. The pair have even taken advantage of the unexpected downtime Covid-19 has foisted upon us by starting their own phonetically named YouTube series, Genks, which finds the duo exploring the inner workings of Idles' tunes, their favorite effects, and interviewing notable guitarists that they mutually dig.
Premier Guitar caught up with Idles' pedal pushers by phone to discuss their effects-based approach to writing Ultra Mono, the exotic and mundane gear used to craft their band's latest, how Gang of Four, Electric Wizard, French DJs, and Wu-Tang Clan all found their way into the sonic stew, and how seemingly useless sounds can make great music.
"I like to write parts by listening to Wu-Tang albums and playing along and seeing what comes from that."—Lee Kiernan
You've said the guitar tones on Ultra Mono arelike weapons and that the album was written around sounds rather than riffs. That really shows in your playing, which is often primitive and rhythmic—like you're acting like drummers.
Lee Kiernan: That was a goal. We wanted to have a lot more rhythmic power and work as a team towards that. A lot of the time, songs started with bass and drums, because that's always the backbone of our music, and we'll push those ideas with guitars to make it bigger. Something we really tried to do on this album that we didn't do in the past is give each other space and also focus on playing together. Bowen and I play as a unit together a lot on Ultra Mono—often playing the same thing at the same time to add more emphasis and power to a single idea.
Mark Bowen: When we set out to make this album, there was something about rock sensibilities and production that had too much deference to the guitar and how we felt the guitars should sound. The thing about guitars is, frequency-wise, they can kind of get in the way of everything. What we really wanted to do is have the guitars either play percussively or play to support the bass. Otherwise, the frequency bandwidth of the guitars was narrowed down to allow other things to really pop in the mix. The opposite also happens a lot on the album for an effect, too, where the guitars deliberately take up all the frequency real estate for impact. All of these tracks were really written around the idea of us all supporting one musical part at a time. That concept was key during the writing, so the recording process was really about making sure that each of the instruments had the impact and weight we wanted them to have.
TIDBIT: "The mix on this album was so much of the trick, and we took four months to mix it," says co-guitarist Mark Bowen. "We wanted that hip-hop edge."
Flourishes of atonal guitar are a huge part of Ultra Mono's sound. How much of that noise-making was baked-in from the songwriting process, and what was the overall approach to experimenting with effects and noise-making in the studio?
Kiernan: Most of it. Bowen and I are always on the hunt for new pedals that are weird. When we were writing this album, we'd go to random guitar shops and ask them for the weirdest pedals they had. It may sound useless, but it still might touch you somehow. Every now and then, a pedal that does something really weird will kick you into gear. Or sometimes you just need to slam a weird pedal with some fuzz or find the weird noises hiding in it. We'll both admit we're not the best guitarists and relying on sound-making is our key and really a major part of what we do.
Bowen: The noise-making had to be thought of from the start. We basically created a sound palette first, and once we created a sound, that sound informed the riffs. The riffs on this one really wouldn't sound like anything without the effects we used. So there was a lot of time spent tweaking, but it was really important to the overall writing of the album.
Do you have any advice on finding the musically useful ideas hiding in deliberately ugly-sounding effects?
Bowen: I think you hit the nail on the head when you said we're all playing almost like drummers. If you've got a sound that you initially feel is musically useless, try using it rhythmically and use it as an adjunct to a snare hit or use it where a high-hat might be in an electronic song. It sounds like nothing else when you replace drum parts with a weird guitar sound. Another big thing is if you get a sound that you think is great, but you can't necessarily see a traditional musical place for it, building a song around that sound is a big thing for us. If you look at "Danke" and the sound that almost sounds like a piece of metal being whipped in the middle of that, that sound was the starting point for that song.
Kiernan: A lot of what I use is fuzz, and I especially like the ones Death By Audio makes. They're punishing. Their pedals are just brutal and I like to slam fuzzes into different things to get unique sounds. Essentially what I do a lot of the time in this band is find a big noise and then bend the strings to make it sound like something alive and dynamic more than just a blast of noise.