This tribute to the golden era of fuzz raises hairs with its classic tones, articulation, and sheer punch.
Great sounding and highly controllable up-octave fuzz, with the ability to cut through a live mix, at a nice price.
No lower octave voice. Shadow side of the balance dial can get too murky. Side-mounted jacks might be a liability on some pedalboards.
Electro-Harmonix Lizard Queen
ehx.com
3.5
5
5
5
For years now, I've had Siri address me as Lizard King. Not in homage to Jim Morrison, but in tribute to the true king of the saurians, Godzilla. So, naturally, I was intrigued by the Lizard Queen octave/distortion, a collaboration between Electro-Harmonix and JHS Pedals. Besides, I'm always on the prowl for something that growls. And this silicon-transistor-based octave-up fuzz possesses a voice that's monstrous yet controllable and reactive in ways that make it easier to dial in classic, articulate fuzz tones than many other octave/fuzz devices at or above its very reasonable price.
The Lizard's Tale
This box of hair was a labor of love, created by JHS Pedals founder Josh Scott and artist Daniel Danger in an effort to conjure a mythical "lost" EHX fuzz pedal from the 1970s. They built a half-dozen in 2022, and presented one to EHX major-domo Mike Matthews. Scott and Danger even made a video about building the Lizard Queen, which created a groundswell of demand from pedal freaks, resulting in this EHX/JHS co-branded unit.
The Lizard Queen is a simple and potent device with three dials: volume, octave, and balance. The octave control ranges from zero (to the left) to a full high-octave setting (to the right). For fans of articulate-but-gnarly fuzz, the pedal sings quite nicely with this dial set between noon and 4 o'clock. The balance control is a filter that shifts between "shadow" (to the left) and "sun" (to the right) settings. Naturally, shadow rolls off highs to create a darker tone, and sun adds treble in a way that sizzles without compromising the organic voice of your guitar. A sweet spot lies right up the middle.
Finally, the very potent volume knob controls the master output. Along with judicious positioning of the octave and dial controls, it assures your fuzz-laden licks will not get lost in a mix. Ever. The volume dial does not, however, affect pedal gain. That's fixed at a nicely clipped, low level that, to my ears, zeroes in on a template late-'60s/early-'70s fuzz sound—reminiscent of the Electric Prunes or the Guess Who.
Battle of the Boxes
To test the Lizard Queen, I played it against a few octave fuzz pedals I have on hand—mostly notably the Way Huge Purple Platypus, which has a three-dial setup with similar functions. The amp was my Carr Vincent, and I plugged in a variety of single-coil- and humbucker-equipped guitars. The most interesting discovery was how the guitar's volume dial interacts with the balance control. Keeping the dial to the shadow side or up the middle, with the guitar's volume on 7 or so, allowed for restrained-but-gnarly chords. Then, rolling the 6-string volume up toward 10 for solos radically increased sizzle-and-bite for both single-coil and humbucking pickups, but without compromising note articulation. Quite impressive. By the way, the Lizard Queen runs on a 9V DC barrel-type power supply, or, in a suitable salute to the past, a battery, and draws 5 mA.
It was easy to find great, classic-fuzz voices within the Lizard Queen. And compared to the other pedals I tried, the Queen reigned with its balance of fuzz and articulation. It's perfect for solos that conjure the Nuggets era. The circuit is punchy and lucid, with crisp, articulate sounds that lapse into diffusion only when one ventures too far down the shadow zone's slope. My favorite setting for rave-ups put the volume at 10 o'clock, the octave at 3 o'clock, and the balance at noon—and with a slide, it made for dirty, sustained perfection. But temperance is key. Too much octave or balance makes for a diminished tone or a mushier fuzz, but anywhere in the 9 o'clock to 3 or 4 o'clock range on those dials is sonic manna.
The Verdict
At $99 street, the Lizard Queen octave/distortion is a bargain and a magic-carpet ride back to the golden era of fuzztone. Its three controls makes it easy to dial in classic sounds that can also be highly reactive to guitar volume. And while many fuzz boxes can get lost in the blast of a full band onstage, the Lizard Queen—with its impressive output—will have no trouble slithering to the front of the mix. PG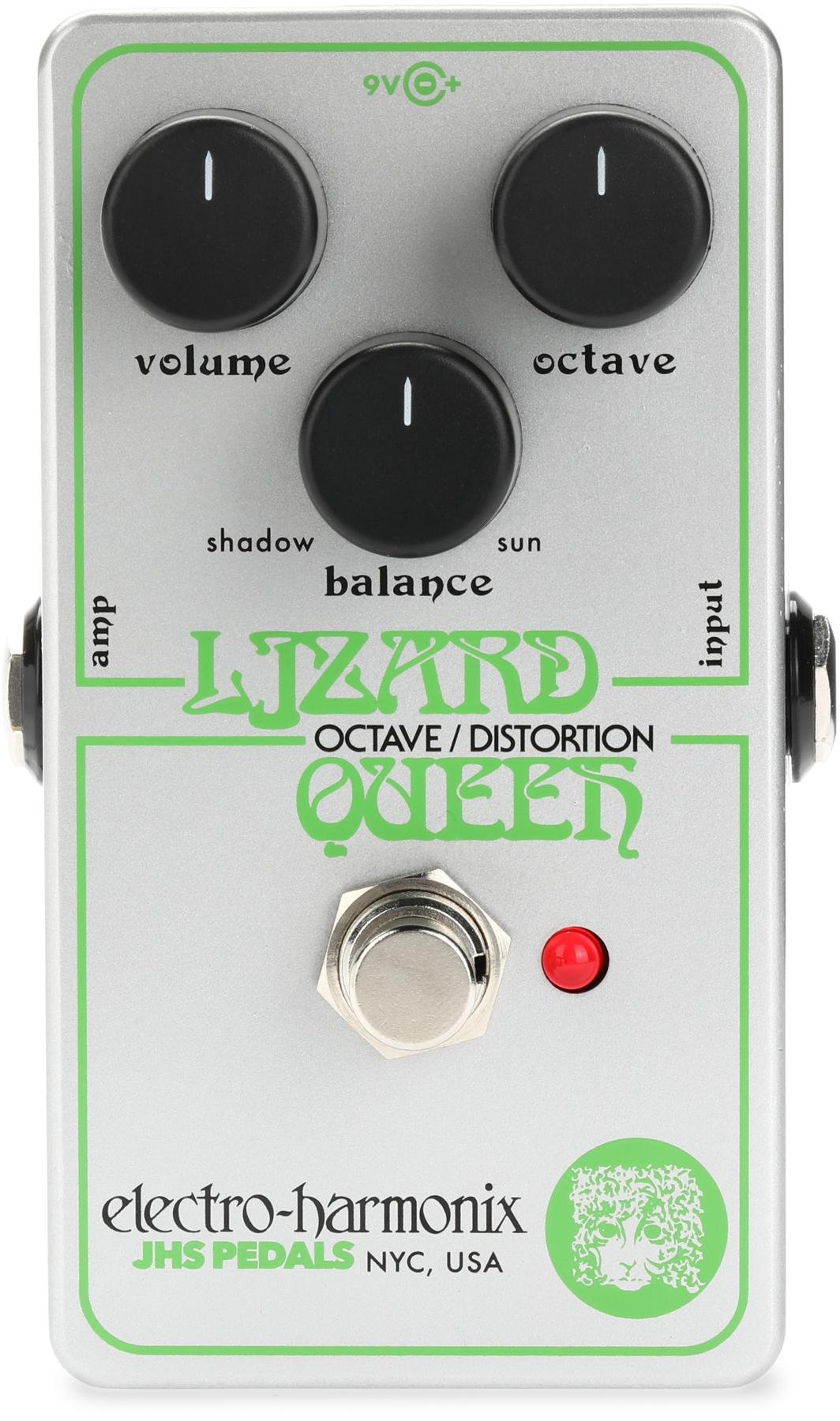 Lizard Queen Octave Fuzz Pedal
Electro-Harmonix