Photo by Scott Friedlander
As duo Naya Baaz, veteran guitarist Rez Abbasi and sitarist Josh Feinberg bridge the voices of Indian classical music and jazz on Charm.
For Manhattan-based jazz guitarist and composer Rez Abbasi, much of his output, starting with his first release as a bandleader in 1993, lives at the intersection of Indian classical music and post-bop (a synthesis of bebop, modal jazz, free jazz, and fusion). And while that eclectic mix of sound naturally lends itself to a transcendence of genre, Abbasi has remained connected to the various musical traditions he's explored over the years. But his having that connection doesn't necessarily mean he has "respect" for tradition.
"Not 'respect,'" he says. "I don't like that word. The connotations of that are religious, in a way. You have to have a sincere love and understanding for the music, but you can get someone who has a 'respect' for it who can't play anything.
"Yet, anybody I work with comes from the tradition that they've established themselves in," he continues. "Whether it's jazz, Indian classical music, Brazilian samba, it doesn't matter. I just want some authenticity in the music before we start venturing off, because that's where I come from. It makes for a strong art form when you're trying different things."
In collaboration with sitarist Josh Feinberg and under the moniker Naya Baaz, Abbasi actualizes that symbiosis of creative adventure and a loyalty to one's roots while taking an Indian-classical-influenced, hybrid approach to jazz on his 16th album,
Charm
. The album, however, is a lot bigger than just a mashup of those two genres.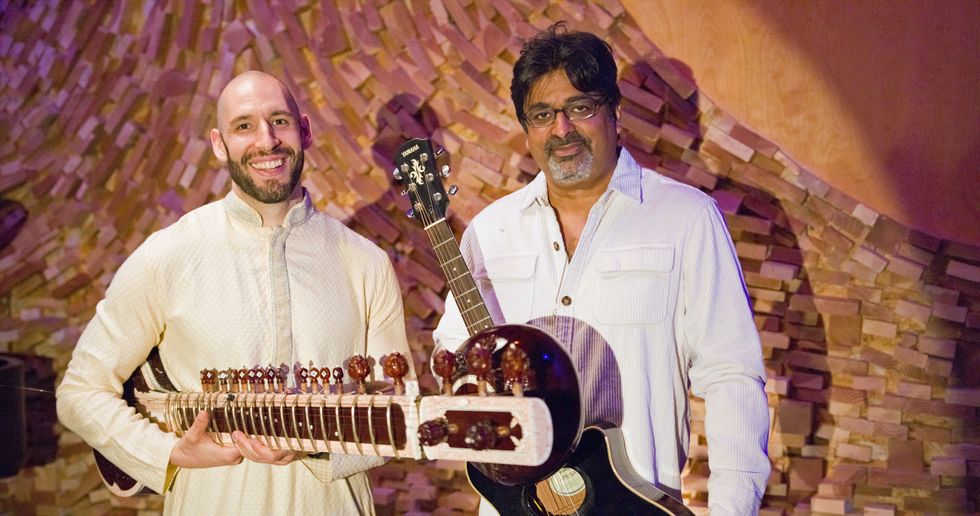 Rez Abbasi and Josh Feinberg both take complementary hybrid approaches to their musical focuses. Abbasi specializes in jazz, but grew up on Indian-classical music, and Feinberg, who works in Indian classical, is also a student of jazz.
Photo by David Stoller
There's the track, "Bekhayal (Without a Thought)," which burns with a repetitive, Discipline-era King Crimson intensity, and "Bhairavi," which feels more open-ended and spacey. The title track is built around a recurring, descending line, and sounds downright bluesy. The album features some lush acoustic guitar, too, although Abbasi primarily plays electric, and sometimes even adds a little hair, like on the otherwise Pat Metheny-esque "Reaching." Given the project's nature, sitar drones ring throughout, although they sound surprisingly organic and never gimmicky, and provide a wonderful juxtaposition to Abbasi's generally darker tone and lightning-quick leads.
"The only reason I did it, quite honestly, is that sitarist Josh Feinberg—he's obviously an American—actually knows a lot about jazz," Abbasi shares. "He's studied with Dave Holland, Paul Bley, and some really incredible jazz stalwarts, and knowing that, I thought, 'Okay, here's an opportunity that hasn't been tackled in music history. It's not going to be a band that has five Indian classical musicians and one jazz artist; it's going to be both of us, who can sort of tangle with both sides of the spectrum.' Josh is more on the Indian classical side and I am more on the jazz side, which is a bit of the irony of this whole project. I knew it could be a really interesting project. He understands chromaticism and harmonic modulation, which are some of the key points of jazz. You don't really have jazz unless you have harmony. Because of that, I knew something could happen."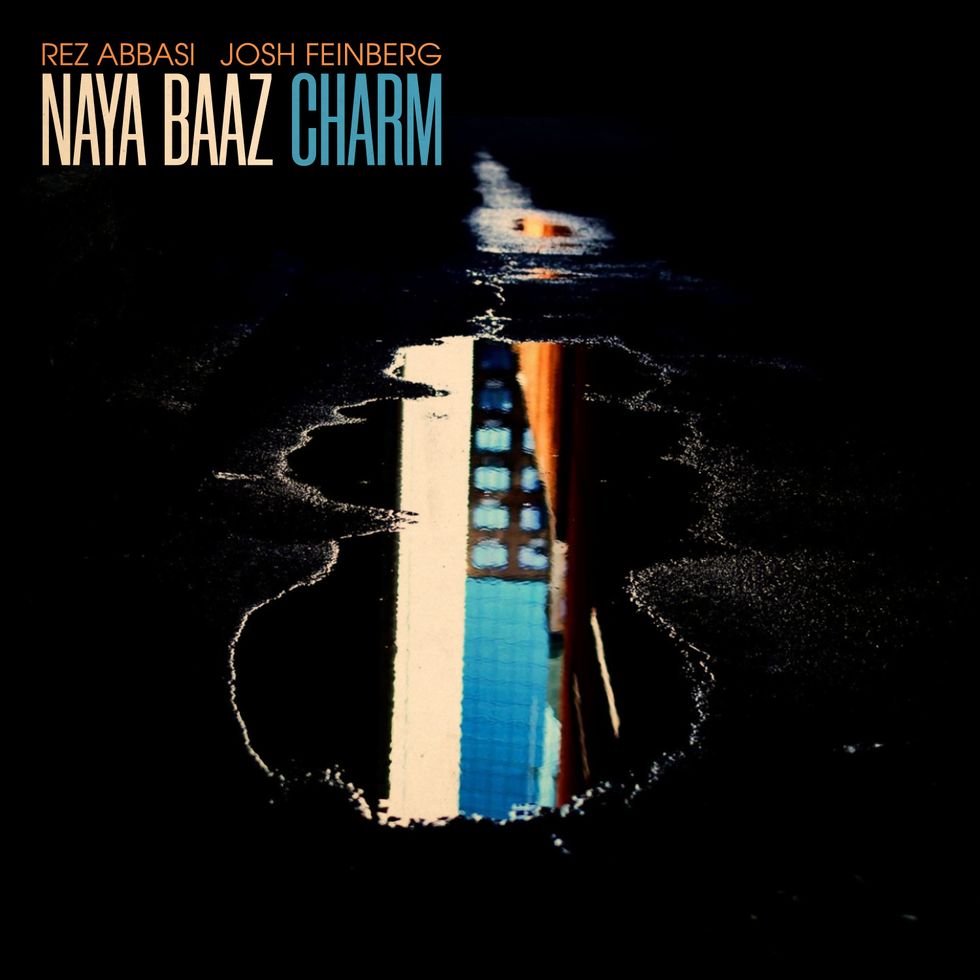 Charm, the first record from Rez Abbasi's new project Naya Baaz, is a jazz-meets-Indian-classical collaboration with American sitarist Josh Feinberg.
It doesn't hurt that Abbasi also has impeccable chops to add to that synthesis of their respective educations. Abbasi, who emigrated with his family to the U.S. from Pakistan at the age of 4, has been honing his technique since at least the 1980s, when he was a student at the University of Southern California (USC) and studied under the tutelage of masters like Paul LaRose, Peter Sprague, and Joe Diorio. After USC, he moved to New York City and finished up his degree at the Manhattan School of Music. "Joe Diorio said to me, 'Rez, you should move to New York City. You have the New York sound,'" he laughs. "Whatever that was, at 20 years old. I don't know, but I took it as a compliment."
In New York, he studied with guitarists like Rodney Jones and Jack Wilkins, although he describes his lessons as more of a "study/hang situation." His teachers turned him on to the music and history of jazz, giving him records to listen to, and having him transcribe chords from orchestral arrangements. That somewhat informal vibe continued when he traveled to India after graduation and met up with some of the masters there. "Ustad Alla Rakha is one of the preeminent tabla players in the world," he says. "It was a loose hang with him, too. I don't know if I'd call it studying, but it was an adventure to be in his classroom several times. That, along with listening to music all over the place, and buying—it was cassette tapes back then—and immersing myself in that music, and the culture, too—that was the lesson itself."
"Whether it's jazz, Indian-classical music, Brazilian samba, it doesn't matter. I just want some authenticity in the music before we start venturing off, because that's where I come from."
Those years of immersion and woodshedding are obvious in his voice as an improviser, although Abbasi says that being in that role can be limiting, too. "If I wasn't improvising, I could probably pull off everything a lot more effortlessly," he says. "But I am in the heat of the moment. I am playing with the drummer a lot and we're exchanging ideas—and I don't know what's going to come up."
In a sense, not knowing what's going to come up—being in an almost constant state of experimentation and discovery—is indicative of Abbasi's overall approach as well, especially as that relates to incorporating Indian-classical concepts into a jazz context. "I wrote a book for Hal Leonard, New Dimensions in Jazz Guitar: Expand Your Improvisatory Consciousness, and I am continually working on the stuff that I wrote because I didn't master it," he says. "These are concepts that contain a larger picture of music that takes a lot of evolution to get through. That book talks specifically, among other things, about how Indian music has influenced me on a street level. I didn't study Indian music, but I've heard it so much—I've played with so many musicians—that I am allowing my intuition to speak through that."
Rez Abbasi and Josh Feinberg lead a Naya Baaz performance, including Jennifer Vincent on cello and drummer Ernie Adams, showcasing their unique blend of the unmistakably Indian-classical voice of Feinberg's sitar, and Abbasi's distinctive jazz tones.
Despite his in-depth osmosis of Indian music, Abbasi faced some challenges with working with Feinberg on Charm, due to some of the sitar's constraints when brought into a Western context. "You only play on one or two strings, and the leaps that we do as 6-string guitar players are very different," Abbasi says about the sitar. "You can play all the notes on there, but there are some limitations to doing that. There are specific keys that you are working with, and everything for Josh is in D, which is weird. For this project, I tuned the lowest string on my guitar to D [drop D] and I kept the rest in standard. I had more of a bass-heavy thing going on with this band, and the texture with the cellist was at times very thick and beautiful."
Charm, like so much of Abbasi's catalog, includes a "street level" approach to music in general. As he tells it, jazz was not a conservatory music; its development was more informal, with musicians exchanging ideas and working them out on their own. That, in a sense, is also how he accesses Indian music. He's studied and knows what he's doing, although in essence, he's primarily relying on intuition.
"If I hear music—any music in fact—I let it filter through my body and hopefully, intuitively, something will come out because I love it so much," he says. "But it's not fully that either, because I have looked into it specifically. There are specific things you have to learn. A raga is a raga; it's not a scale. There's a reason it's a raga and not a scale. I know those things, but to actually play a raga in concert, no, I can't do that."
Rez Abbasi's Gear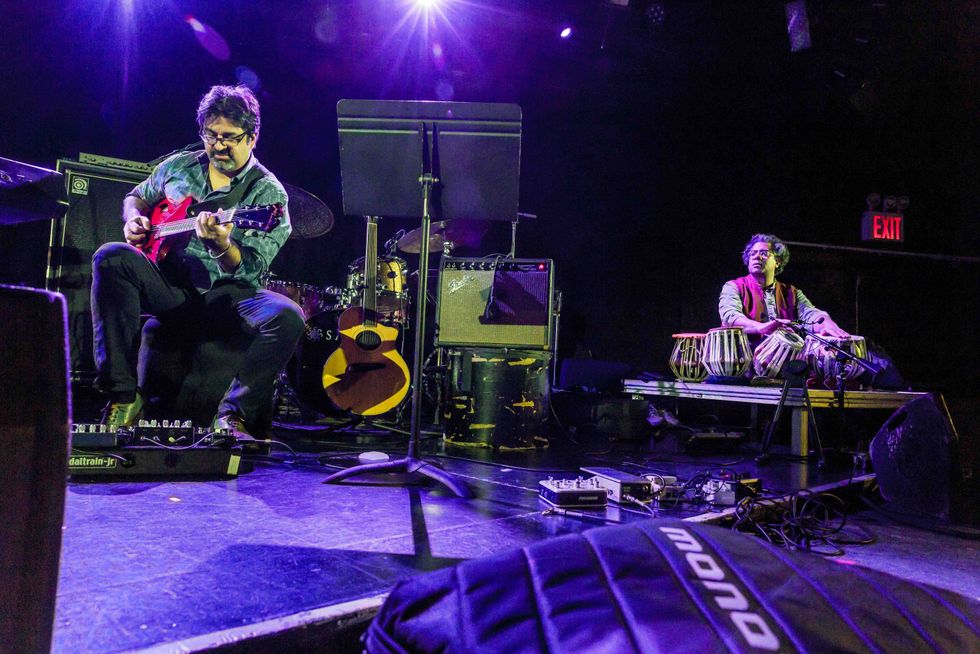 For Abbasi, pictured here with tabla player Sameer Gupta, it's important not to imitate certain sounds or styles of playing. He prefers to create intuitively, letting music flow through his body.
Photo by Scott Friedlander
Guitars
Sadowsky semi-hollow
Homer T Guitar Co. T-style
Yamaha APX-5A acoustic/electric
Guild Songbird
Michael Kelly Guitars acoustic
Washburn Custom Shop steel-string acoustic, modded to be fretless
Amps
Headstrong Lil' King-S combo
Tech 21 Trademark 60
Effects
Strymon Cloudburst
Eventide H9 MAX
Empress Superdelay
Empress ParaEq MKII Deluxe
Source Audio Nemesis Delay
Landgraff Dynamic Overdrive
Roland EV-5 Expression Pedal
J. Rockett Audio Designs Blue Note Overdrive
Electro-Harmonix Superego Plus
Dunlop DVP4 Volume (X) Mini
Strings & Picks
D'Addario custom set (.013–.050)
Dunlop Jazztone 208 2 mm picks
Dunlop Primetone on acoustic
It also means that while he's blending Indian ideas into jazz, he's still playing jazz—specifically, jazz guitar. "I won't be imitating a sitar player—I won't be studying sitar for that matter, either—because I don't want my guitar playing to sound like I am imitating that," he says. "It is really important to allow my intuition to take what I've heard and come up with the goods."
When it comes to the delivery of those goods, Abbasi isn't using an arsenal of expensive, boutique gear. He's got a handful of workhorses, including two modestly priced acoustics and one semi-hollow electric from Roger Sadowsky, which has replaced the D'Angelico he used for years. But "a guitar is only a tool," he says. "It just has to hum."
And when the instrument is humming, it allows the musician to reach for something transcendent, which for Abbasi, at this mature stage in his career, is where the true freedom lies. "The filter I'm working with now is how
not
to impose my conditioning and thinking onto the music, but to let the music serve me," he says. "Before I used to think that I had to serve the music, and that I was going to bring my personality into the music. Now it's reversed and it's become less controlling, and through that comes freedom."
The jazz-trio chameleon uses handcrafted guitars and a self-restricted pedal playground to cover bass, keys, and a disintegrating computer.
After releasing Trio Grande with saxophonist Will Vinson and drummer Antonio Sánchez(via Whirlwind Recordings), Gilad Hekselman virtually invited PG's Chris Kies into his NYC-based jam space.
In this episode, the jazz-guitar vanguard shows his main instruments—including a custom Italian semi-hollowbody, a rare '70s Gibson acoustic/electric, and a bizarre-looking hollowbody—and explains how a mini tube head from Greece supplanted his favorite Fender combo, and runs through his cramped, ever-changing, self-limiting pedalboard that mimics everything from other instruments to a malfunctioning computer.
[Brought to you by D'Addario XS Strings: https://www.daddario.com/XSRR]
Moffa Lorraine Prima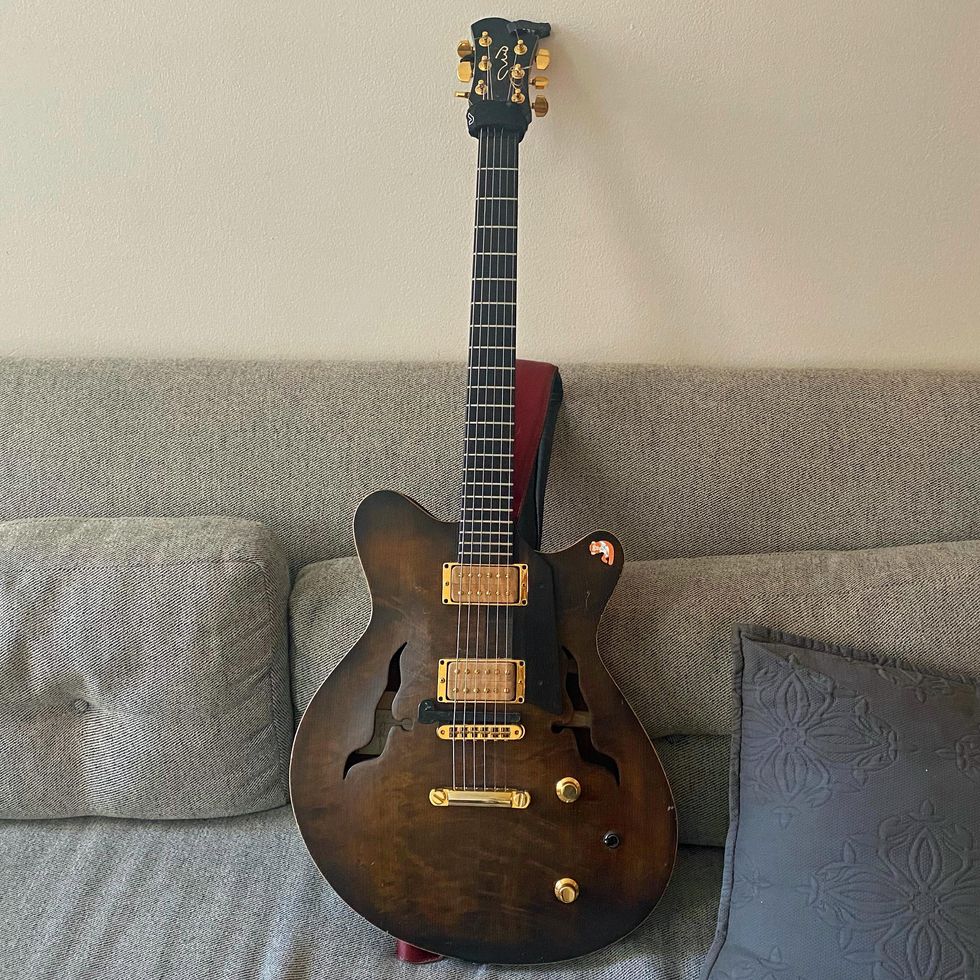 While touring Italy, a guitar-playing fan greeted Gilad with an opportunity to play a custom creation from nearby luthier Nico Moffa. Gilad told the fan it was a wonderful guitar and the word got back to the builder. Nico and Gilad had conversations about instruments (Moffa originally designed and constructed violins), and the result of those chats is the above Lorraine Prima.
He employs a signature Strum-N-Comfort SharkTooth 1.5 mm pick (modified from the standard option with a sharper edge and smaller profile like a Jazz III) and Gilad typically goes with Thomastik Jazz Bebop strings (.013–.053) on the Moffa or other jazzboxes.
1974 Gibson Howard Roberts Custom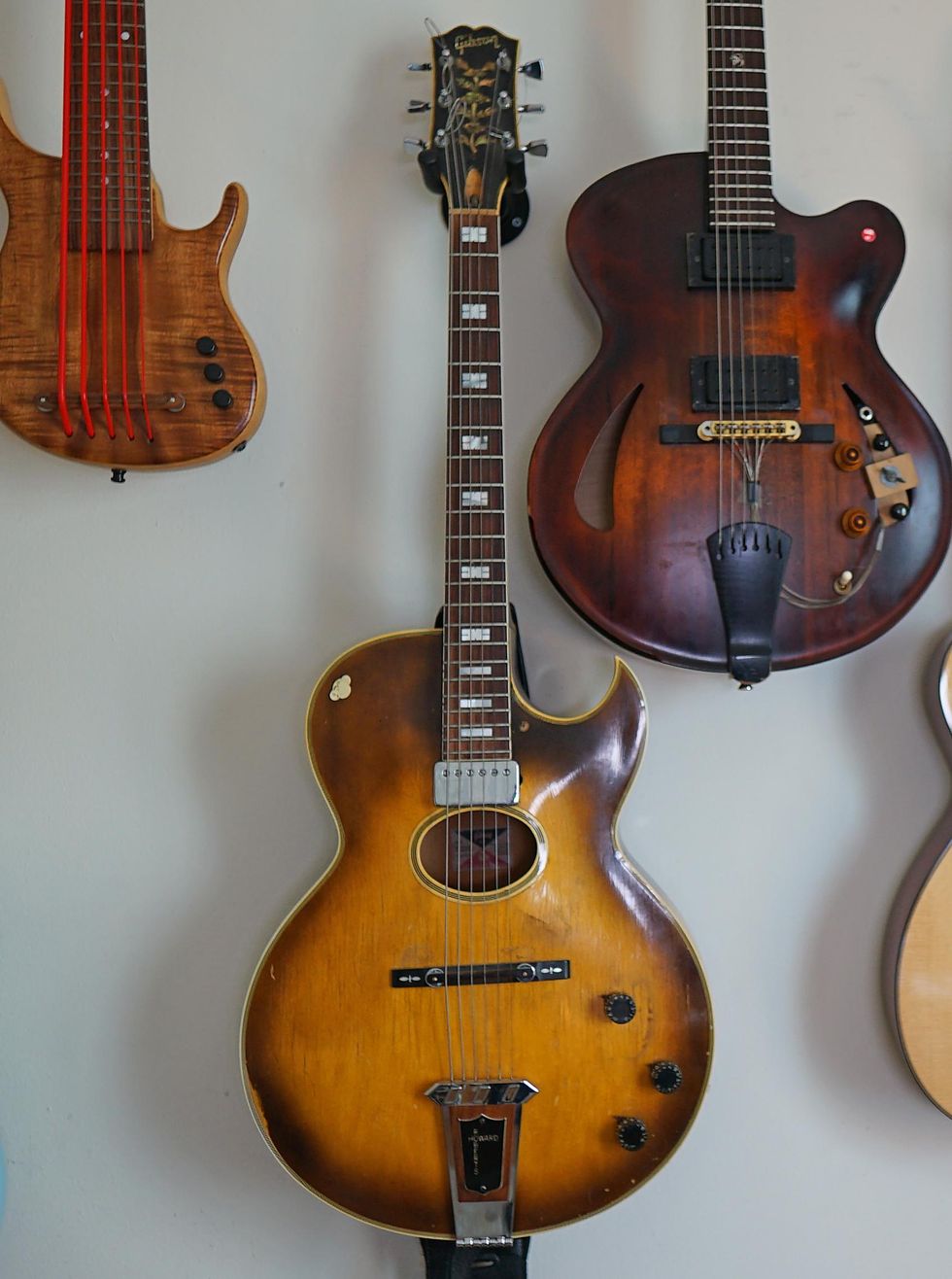 "This is what I learned to play jazz on," says Gilad about the above 1974 Gibson Howard Roberts Custom. "And while it's not my main guitar anymore, whenever I pick it up, it's home."
Hekselman describes this one's voice as being much airier, more midrange-y, and has a sharper, drastic decay to its notes like an upright bass.
Victor Baker Model 15
Victor Baker Model 15 hollowbody archtop
Before the Moffa, Gilad's most-trusted ally was this Victor Baker Model 15. He toured the world several times over with this hollowbody. It was his second Baker and the NYC-based luthier had this to say about No. 2's evolution:
"For this guitar he was looking for more acoustic qualities, sort of in between his first guitar and the Howard Roberts guitar that he used for years. We bumped up one body size and deepened the body depth a bit. This put more air in the interior. The guitar still has a center block, but is scaled down compared to what I normally use. This helps with feedback. The larger sound holes give the guitar a more open sound as well."
Oh, and about that robotic-looking wiring on its top—it's just a standard RMC PBGS11-6 Saddle MIDI pickup that was "tested out" on the guitar's exterior because both Victor and Gilad didn't want to put any more holes in the instrument for this trial. Clearly, he liked how it sounded and it's still there today.
Moollon T Classic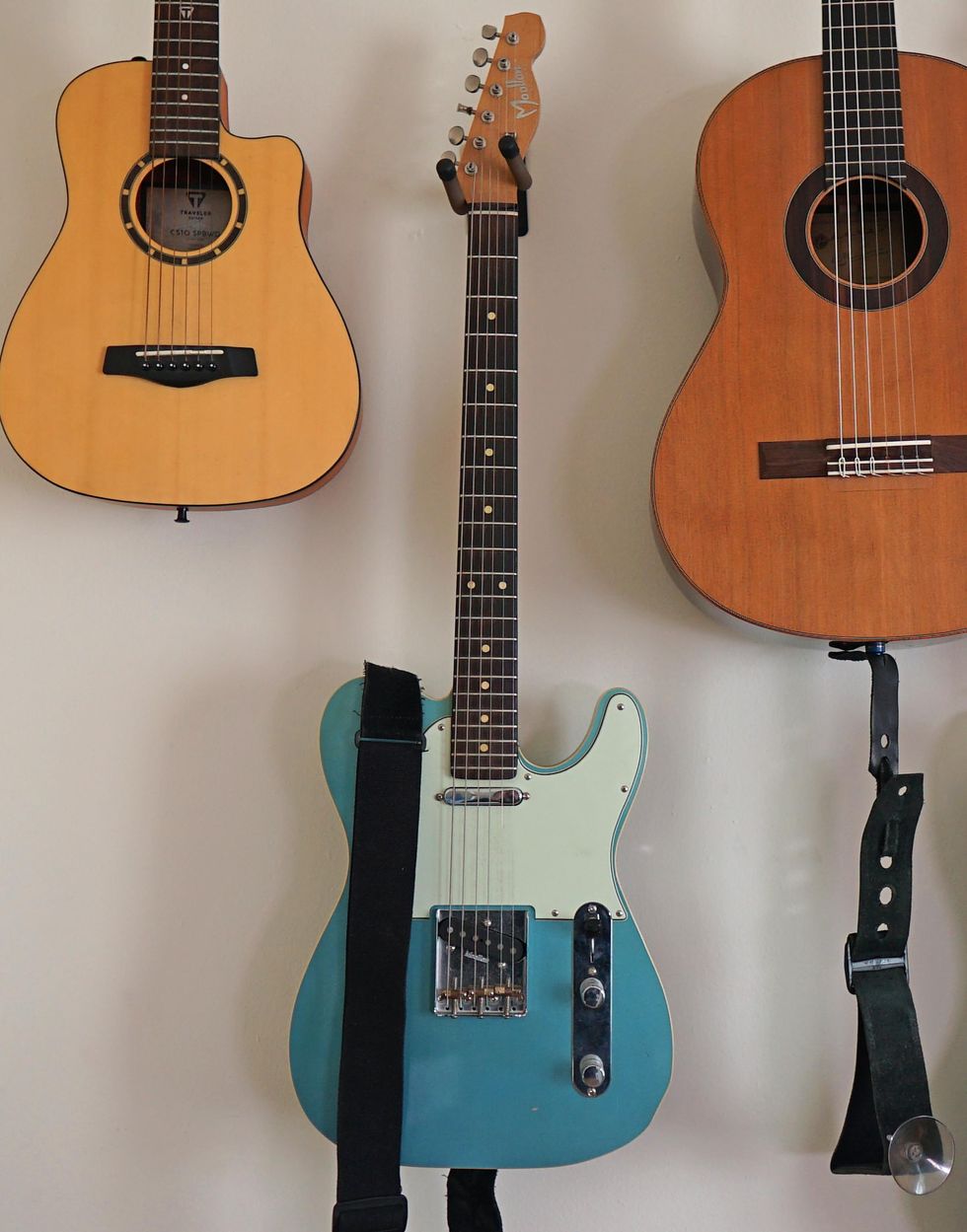 Hollowbodies and semi-hollows are a big part of what Gilad uses on his various gigs, but when something calls for a solidbody sting, he often picks up this Moollon T Classic. Hekselman really appreciates the bell-like chime a T-style single-coil can provide.
Collings OM1 T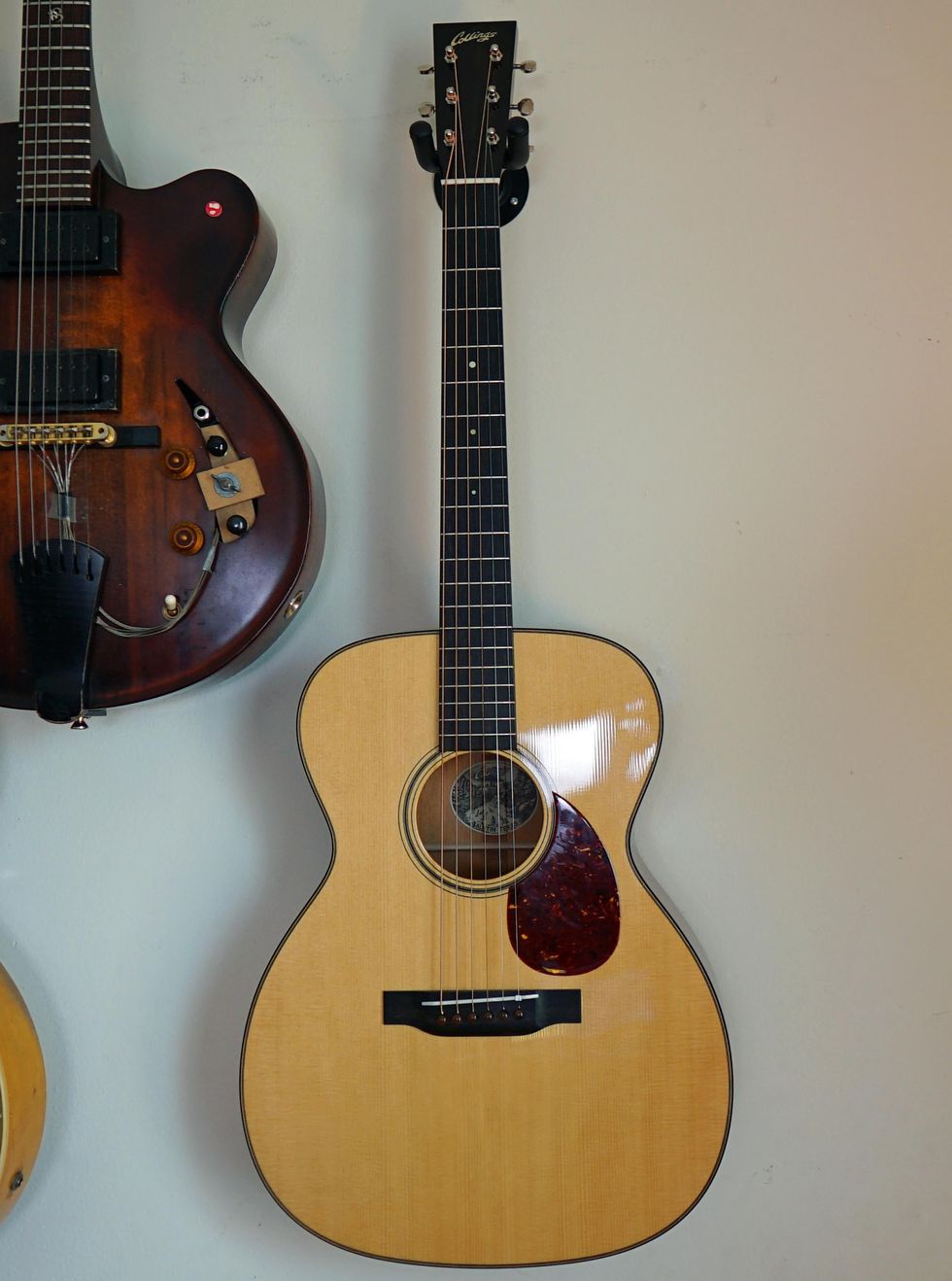 When then pandemic hit and playing electric guitar became a larger nuisance for quarantining neighbors in his building, Gilad found himself without a proper acoustic. He acquired this Collings OM1 T and has bonded with it over the last year appreciating its piano-like qualities—a strong low register and a shimmery top-end.
Pure Tone Amps OMiKRON
Lots of jazz cats prefer the stratospheric high headroom solid-state amps provide, but Gilad still prefers a tube amp. (However, in the Rundown, he does say that he used his grab-and-go Quilter for Trio Grande and travels with it in case the backline is inadequate.)
As of late, he's been plugging into this Pure Tone Amps OMiKRON built in Greece. This is a smaller, stripped-down version of Pure Tone's Offset that chases the sound of '50s Bassmans and early Marshalls.
Fender '65 Twin Reverb
His second favorite amp (and current cabinet) is a Fender '65 Twin Reverb.
Gilad Hekselman's Pedalboard
Gilad plays guitar in a lot of jazz-trio configurations. Depending on the musical context and artistic personnel, he'll sometimes cover bass duties, explore keyboard textures, and paints outside the normal jazz-guitar lines. To do so, he uses a healthy stock of pedals. And to make matters interesting (and economic), he restricts his pedal playground to the size of this board (cut out by his father-in-law) so he can travel with his wares.
Two key pedals in his setup are the Boss OC-3 Super Octave and the Electro-Harmonix Freeze. The OC-3 is always in poly mode and helps him fake a bass line on the lower strings while the higher strings still retain their core guitar tonality. The Freeze's hold function allows him organ-like sustain. (It's been modified so it has a hardwired expression-like pedal—the black pad below the Freeze—allowing him piano-style control over the effect without the "clicking" noise when he engages it and he won't lose his balance using the latch function that originally required him to stand directly on the pedal.)
Other stomps he currently has on the tight board includes a EHX Pitch Fork (allowing him to go up a fifth or make crazy computer sounds), Chase Bliss Mood (with an Mooer Expline Mini Expression pedal), EarthQuaker Devices Warden, Valeton Coral Mod (favorite settings: ring mod & auto wah), Donner Deluxe Looper, Mooer A7 Ambiance Reverb, and Jam Pedals TubeDreamer.
A slight amendment to his rule is if it fits in the bag, it can travel and sit on the floor. So the add-on stomps are an EQD Avalanche Run and Mooer Audio Graphic G 5-Band EQ. The ones that used to be in the game, but are currently on the sidelines (upper right) are the Moollon Equalizer and Old World Audio 1960 Optical Compressor. And a CIOKS DC10 (under the Donner Deluxe Looper) powers all his pedals.
Photo by Alysse Gafkjen
The jazz virtuoso used a new Collings signature model and his stunning command of technique, tone, and composition to craft his new album, Squint, but reflection and intention helped him find its soul.
Getting signed to Blue Note Records—the onetime home of John Coltrane, Lee Morgan, Miles Davis, Kenny Burrell, and many, many other greats—is a high honor in the jazz world. "It's just incredible," says Julian Lage, whose new album, Squint, is his debut for the famed label. "It's thrilling and inspiring and absolutely makes me want to be a better musician." But sometimes, simply being a better musician in a technical sense isn't enough. In the period between when the COVID lockdown began and the start of Squint's sessions with his trio in August, Lage had an epiphany during the "months of playing these songs, hours on end by myself. I wanted to write songs that would be restorative to play.
"Way beyond the shutdown was a global reckoning of racial injustice, systemic racism, social injustice, gender inequality, and all of these things that are ever-present, but now, here, on a very large scale, there's a discussion," he observes.
So Lage determined to craft an album that could be transformative for both himself and his listeners. "Is this positive music that's pretty for the sake of being pretty," he asked himself, "or is it music that holds a space for a little more fuzziness or emotional complexity? And in addition to just shutting up and listening and learning and saying, 'Wow, this is the work of our lifetime,' I think in not making the record [when we expected to], I developed a real appreciation for the role of sound in music and art with regard to healing. It's a method of transmission, and 'What are you transmitting?' became the question … You make music because you need to make it, you play it because you need to play it," he says. "Then it's by the grace of much higher powers that it ever sees the light of day. Squint is about the unknown, but is also celebrating deep gratitude."
Julian Lage - Saint Rose (Visualizer)
The 33-year-old virtuoso's perspective isn't a surprise to anyone who's met him. Lage has earned a reputation for being genuine and humble, and exuding gratitude is part of his way of experiencing life. He lives up to the Zen adage: The way you do one thing is the way you do everything.
But let's rewind to early 2020: Lage and his trio, which includes bassist Jorge Roeder and drummer Dave King, were ready to go into the studio when their plans were abruptly upended—and Lage's deep immersion into the nine original compositions for the 11-track Squint began. The results of Lage's reflection reveal a depth not always heard on instrumental albums. Starting with a sharp, delicate solo performance of "Etude" and closing with a cover of Billy Hill's 1940 classic "Call of the Canyon," the pieces are edgy, gentle, smart, and experimental—each an iteration of the album's greater musical personality. Lage notes, "We're putting improvisation right next to composition. These aren't songs that we just take a solo on—you could not hear the melody and just hear the solos. The goal is for you to be able to understand the sentiment."
The Art of Emulating Speech
On Lage's 12th album as leader, there's also the jumpy, swinging title track and the cool, drum-groove-driven "Saint Rose," named after Lage's hometown of Santa Rosa, California. On the quietly chaotic "Familiar Flower," the band members are all "playing different tempos by a few degrees in one direction or another," offers Lage. And the umbral, apprehensive "Quiet Like a Fuse" uses dynamics and varying sections for emotional chiaroscuro. It's not just Lage's guitar that ties them all together, but the feeling that the spirit behind each beat is shared by all three musicians. Surprisingly, part of what guided Lage's process on a technical level were speeches by figures like the poet Nikki Giovanni and novelist James Baldwin. Lage improvised to their words as a way to gain insight into the mode of soloing he envisioned.
TIDBIT: Lage used just two amps to record his Blue Note debut: his Magic Amps Vibro Deluxe, which is based on a mid-'60s black-panel Deluxe Reverb, and a 1959 tweed Fender Champ.
"I think that the way people speak is often more unfettered. There's an urgency which is really striking about speech. There might not be an obvious correlation between the way people speak in a lecture and the notes on the guitar. But it's just a little stretch of the imagination to see that those are pitches, those are rhythms, those are phrases." Lage adds that a seven-to-10-minute lecture might be seen as a correlation to a song's central melody. "The musical version of that is Coltrane's 'My Favorite Things.' It's communication from the second it starts to the second it ends. Lectures help me break it down. And also just recording my own voice talking about something very mundane, then learning the rhythms I use to speak and applying those to the guitar, is really helpful, too.
"Jazz music is abstract art. And for that reason I love taking something that might feel more literal—like influences from singer-songwriters or lectures or spoken-word things—and just saying, 'Okay, my job is to find how notes and rhythms and tone alone represent in an abstract form what these people are saying with words.'"
Not the What, But the How
Lage spent six months both playing and contemplating the intention of the performances that made their way onto his new album, Squint. "I developed a real appreciation for the role of sound in music and art with regard to healing," he says.
Photo by Alysse Gafkjen
The team for the sessions included singer-songwriter (and Lage's partner) Margaret Glaspy, and multi-instrumentalist/producer Armand Hirsch, as well as Roeder and King. Lage says he's been playing with Roeder, "an extension of his musical world," for all of his adult career, whereas his musical relationship with King has been just for a few years. "Jorge's really able to listen so beautifully to what's going on, and what he contributes is so supportive and adventurous and risky."
Lage explains that what he learns from his bandmates comes less from what they play together and more from how they play together. "The way Dave looks at time in a band is not selfish at all," the guitarist says. "He shares the responsibility with everybody but has a way of influencing it through a virtuosic lens that never feels macho or overbearing."
In addition to being his favorite songwriter, Glaspy is also one of Lage's most relied-upon critics. "She'll offer very specific help, always," he says, "from the microscopic to the macroscopic. We have a nice mutual rapport, where I do it for her and she does it for me." Lage shares how the band went into the studio on the first day without her, and when he later reviewed the session at home, he told Glaspy, "yeah, you need to come to the studio."
One of Hirsch's contributions was offering his breadth of knowledge on the history of guitar tones. "I could be like, 'the guitar tone on this song … it sounds good, but I want it to be more George Barnes and a little more of the reverb from '70s Jim Hall,' and he would be able to translate that to Mark Goodell, who's our longtime engineer."
Julian Lage's Gear
Guitars

Collings 470 JL
1955 Gibson Les Paul
Amps
Magic Amps Vibro Deluxe
1959 Fender Champ
Effects
Strymon Flint Tremolo & Reverb
Shin-ei B1G 1
Strings and Picks
D'Addario NYXL (.011–.049 sets)
Dunlop Tortex .88 mm picks
​Calling on Collings
Lage's signature Collings is fully hollow with a trestle block, a solid Honduran mahogany body, a maple-laminate top, and a Bigsby B3 vibrato tailpiece. It also has a custom hybrid C/V neck profile, and a narrower fretboard in the upper-fret range. Lage says it's "as at home with jazz as with early '50s rock 'n' roll tone, Bo Diddley, early John Lee Hooker, early B.B. King." Collings' luthier Aaron Huff, director of engineering Clint Watson, and manager of artist relations Mark Althans were also involved in creating the 6-string. "The 470 JL is like a blues machine that's used for jazz," Lage sums up. "That's my favorite sound."
For the album's sessions, the guitar was run through two different amplifiers. Most tracks were cut with a Magic Amps Vibro Deluxe, which is based on a mid-'60s black-panel Fender Deluxe Reverb, while the rest feature Lage's '59 tweed Fender Champ. A Strymon Flint Tremolo and Reverb and a Shin-ei B1G 1 Gain Booster completed the signal chain. The result is a lush, old-school tone with crunch when necessary.
Lage's latest batch of tones are largely the product of a collaboration with Collings Guitars. The primary instrument featured on Squint is his new Collings 470 JL signature electric, which was introduced in February 2021. (He also used a 1955 Gibson Les Paul for three songs.) The development of the 470 JL was, Lage explains, centered on Ron Ellis, the great pickup master—and specifically his take on the DynaSonic-style pickup. "DynaSonic pickups are always fascinating to me, because I like playing on the neck pickup primarily for everything. A Tele pickup obviously has pole pieces that are covered by a metal cover and there's that kind of fuzziness that's nice, but I wanted the directness of having no cover, kind of like Stratocaster pickups, but with a much larger diameter. That led us down the road of DynaSonics and all of the complications that go with those pickups—the good, the bad, and the ugly."
​With a Little Help from His Friends
Julian Lage plays his prized 1939 Martin 000-18 acoustic at NYC's (Le) Poisson Rouge in 2016.
Photo by Peter Gannushkin
Lage's interest in making music from an informed perspective often leads him to seek the counsel of musicians he respects. He shares an anecdote about learning from composer and performer Gabriel Kahane that songs need "terms of engagement, reasons to exist." He also relates flying from his New York City base to Chicago to ask for feedback from Wilco's Jeff Tweedy on a slew of new music he'd written. Tweedy explained that, on an album, you "have to tell the listener's ear where to focus and when to focus" through subtle instrumental cues. But it was on a pre-pandemic tour with Bill Frisell that Lage embraced the concept of bringing both attention and intention to music before performing it—which helped fuel his strategy for Squint.

He and Frisell sat down to rehearse Johnny Mandel and Johnny Mercer's "Emily," one of the two covers that ended up on the album, for four nights in a row before Frisell finally approved of playing it in their set. The first night, it was for 10 minutes. The second, 20. The third, 40. And the fourth, a full hour. "No talking, just play the tune and don't look up for an hour. And he's like, 'Okay, we're ready to play it.'
"It was such a lesson in what it means to know a song," says Lage. "When do you have the right to play it, when do you feel like you're ready, what's that transformation about—where it goes from a tune you like to a tune you can roam freely within and outside of? When does that freedom kick in? So for me, 'Emily' had been brewing all year and it was kind of one of my anthems during the pandemic. I would just sit down and play it for myself, by myself."

I think it was on the last day of recording—we were about to pack up—and it was like, 'Can we record one more, just in case we need an extra track?' I showed it to Jorge really fast and we played it and that's the one take of 'Emily.' It kind of sums everything up, in a way."
YouTube It