It's Monday morning and I'm on a plane from LA back to NYC. The 2007 NAMM show was incredible.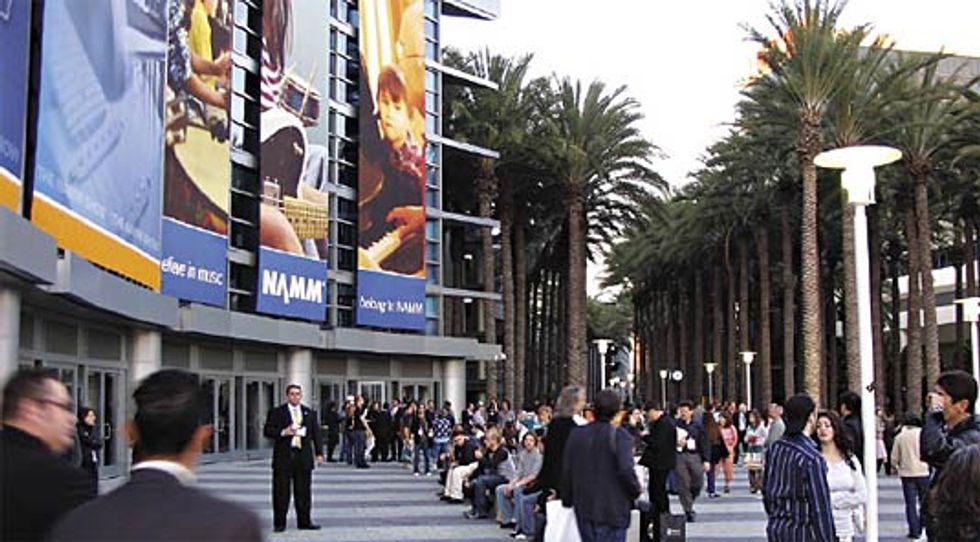 ---
Before I get into the dynamics of the show, I'd like to share with you about my trip out to L.A.
The night before my flight I got about an hour of sleep, due to a digestive adventure. I left the house on Thursday, at 5:30 am in balmy 12-degree weather, to pick up my Guitar Jam Daily cohort, Nick Friese. We get to JFK airport and board our plane. Right away it is apparent that our flight is packed with NAMM attendees due to the all the long hair and guitar cases. I have the window seat and next to me is a gentleman who builds custom motorcycles for a living. He is a large man with a strong odiferous vibe. Seated to his right in the aisle seat is a somewhat famous rocker who has obviously been through the mill. He makes Keith Richards look like a J. Crew model. Anyhow, it was apparent he was partying the night before and was not done yet. Early into the flight he threw back a few Bloody Marys and was soon down for the count. So basically I was penned in my seat. I decided that my only option to brave the next six hours was to go into a temporary cocoon state. Not one of my finer moments.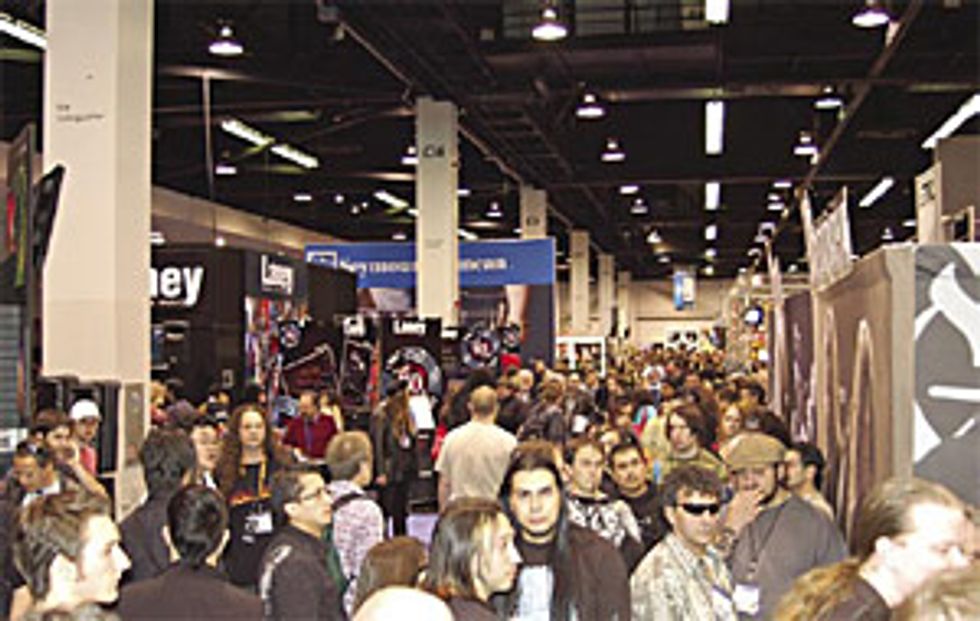 Finally, we arrive at Long Beach airport, get our rent-a-car and head to see day one of the show. As soon as we get to the show we grab a NAMM guidebook and starting planning out which of the 1500 exhibits we will attempt to visit. Nick and I both have a lot of ground to cover so we decide to split up. My first stop is to see my friend Mitch Colby at the Vox/Marshall booth. We do some catching up and he shows me all their new cool products. After visiting a few more booths, day one is coming to a close. Nick and I head out to dinner and discuss our Friday game plan. We get to the show around 11:00 am for day two and the fun starts right away. Throughout the day I see some amazing gear and hear some of the world's most prolific musicians. I stop by the Salwender International booth to see my friend Uwe and check out the display of Diezel guitar amps, Glockenklang bass amps, Vigier guitars and more. My favorite visual is the Diezel Herbert head and matching 4 x 12 cab in white tolex.
I swing by VHT to check in with Stevie and Victoria Amp Co. to see Mark. Both of those guys have done a fabulous job in building up their respective amp companies.
That evening I go out to dinner with Uwe and Trip Wamsley, who represents the Glockenklang bass amp sales and a great is a bassist. After dinner, we stop by a local high-end music store, Tone Merchants, to hear guitarist J.M.R. He is a fantastic talent that happens to also be doing some of the Eventide booth demos at the show. Unfortunately, we had to leave early and missed Guthrie Govan.
Saturday, day three, is by far the most crowded day. There are separate areas away from the booth that feature live music. There, I had the privilege of hearing greats like Willy Porter, Greg Koch, Nils Lofgrin, Jeff Kolman, Guthrie Govan, and many others throughout the day. I also carve out a couple of hours to do my proaudio perusing. I stop by Chandler Ltd. and see my buddy Wade Goeke. He shows me the new Germanium EQ and a few other goodies. Wade is an absolute genius and I love his products. For recording guitar and other tracks, Chandler gear is beyond great.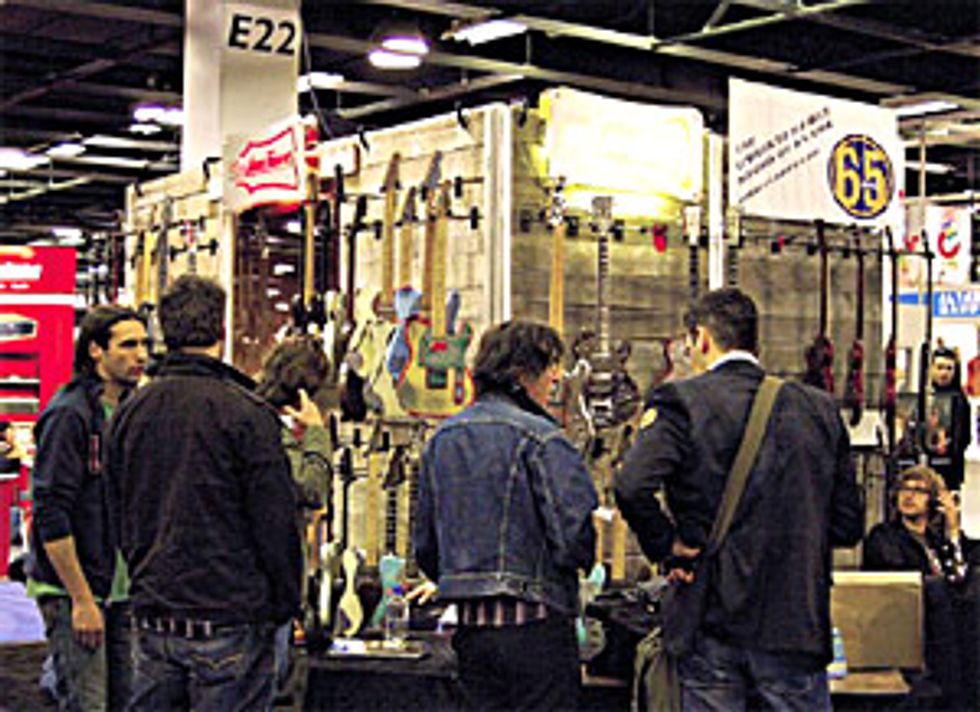 After the show it's off to a quick dinner and then back to Tone Merchants again to see some more live music. Tone Merchants has a store front with a lot of high-end gear and a stage with seating for live acts. Playing that night were Trip Wamsley, Christophe Godin, Ed Degenaro, and others. Some really kickin' music I might add. After that Nick and I head up to The Baked Potato to catch the 11:30 pm show of Mike Landau with The Jazz Ministry. We get back to the hotel at 3:00 am to catch a little sleep. It's Sunday morning and it feels like I've been hit by a truck. Even though I am suffering from serious sleep deprivation, I don't really care because I am having so much fun.
Day four is known as "Tumbleweed Day," due to the fact that there are far less people roaming around. I do my final rounds, check out some more gear, say goodbye to my friends and depart the show. I head up to Van Nuys to visit Jim at Tyler Guitars. He shows me around and we yuck it up for about an hour, talking about Guitar Jam Daily and an upcoming interview that I will be doing with him – stay tuned for that! His shop is truly amazing and he produces some of the world's best electric guitars. If you have played one you know what I mean. After Jim's, I stop by an old friend's house to watch a little football and catch up. Then it's back to Anaheim for my final NAMM dinner with Nick. At dinner we meet some new friends from Pavel Musical Instruments. Really great people.
So, as I sit here on my return flight back to NYC I realize that I can't even begin to describe what an incredible experience NAMM 2007 is … actually I think I just did! The gear and the eye-candy are wonderful, but the best parts are seeing all the live music and checking in with old friends. Even though I am a bit sad that the 2007 NAMM show is over, I am happy that the two seats next to me are not occupied.
---
» Visit
www.GuitarJamOnline.com