Product Review - Jet Guitars
As the revolution of small boutique luthiers continues to evolve, Premier Guitar is honored to review the new Earlewood model from JET Guitars.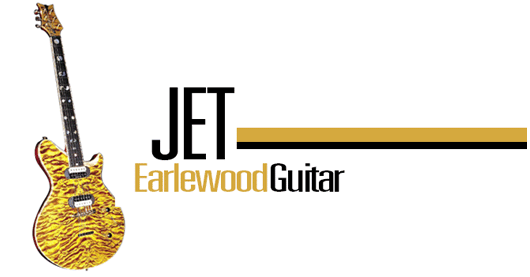 As the revolution of small boutique luthiers continues to evolve, Premier Guitar is honored to review the new Earlewood model from JET Guitars. A native builder hailing from Raleigh, NC, Jeffrey Terwilliger has been creating exquisite instruments for nearly a decade now. Here is what we discovered on the Earlewood model with this month's product review.
---
What a Body
At first glance, the JET Earlewood showcases an interesting and inviting body style, not quite a single and not quite a double cut. Personally, I would characterize the body style as somewhat of a cool offspring of a Telecaster and a Les Paul. It has a flat top design with a slight curve to the upper and lower bouts. The Earlewood is definitely sportin' wood with a 5A quilted maple top stained to a "Golden Idol" color pallet. It's a very classy color that lies in the gold-bronze color sector.
The Earlewood features an African red mahogany body with a three-piece quartersawn flamed maple neck – the figuring in both the body and neck are certainly the pick of the litter. The top of the Earlewood is joined to a chambered body that creates less weight than a carved top, all without sacrificing the richness of the tone. It is a string-thru body concept with a gold Tone Pros Nashville-style bridge. Two Seymour Duncan Zebra humbuckers accompany a gold recessed master volume and tone control with a Strat-style five-way selector switch, also in gold.
A nice appointment on the Earlewood is the custom exotic wood pickup trim – as opposed to plastic rings that you commonly see. JET's unique input jack is recessed into an angled bevel on the rear lower bout of the guitar and is pointed upward, allowing players to not have to hook the cable over their strap button.
The Earlewood features a 24-fret neck, with an ebony board on hard flamed maple. These neck woods are incredibly dense, which undoubtedly enhances the tone of the instrument. The 24 jumbo frets are topped off by a hand-slotted and shaped Graph Tech nut, three on a side Grover 18:1 gold tuners and a classy hand-carved exotic wood truss rod cover. The neck and headstock are meticulously bound in flamed maple and feature "dancing Yin Yang" mother of pearl inlays. The neck profile is a soft V to round – JET necks tend to be a bit thicker, but remain very solid and comfortable. The Earlewood also features a brass plate at the end of the fingerboard, allowing for the neck pickup to be in the same position as a 22-fret guitar – a JET concept.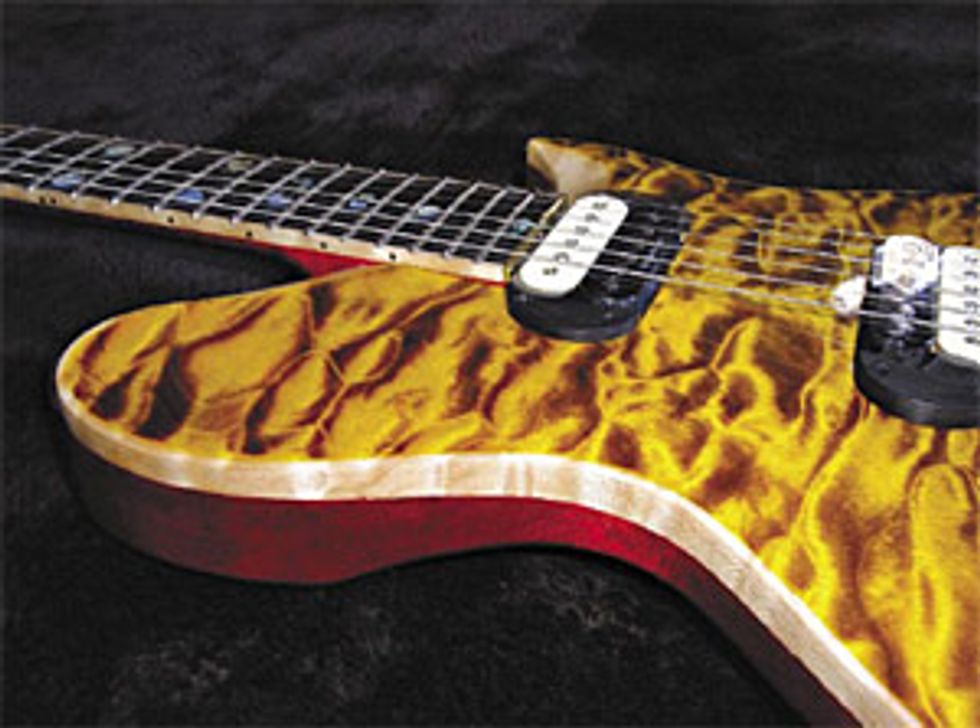 Throwing Down
I ran the Earlewood through a Mesa Dual Rectifier and a Marshall JCM 800 2205 50 watt two-channel head, with both running through a stock Marshall 4x12 cab with vintage 30s.
My first round of testing was with the JCM 800, certainly one of my favorite amps of all time. Engaging the overdrive channel and putting the Earlewood in the bridge position humbucker yielded an aggressive, attacking tone, especially in the upper-mids. In fact, I dipped out a bit of the midrange on the JCM 800, which usually hovers around five to six. I am not a "scooped mids" kind of guy, and it seems the older I have gotten, the more I realize that the midrange is the most crucial frequency to dialing in a great tone – nevertheless, with the midrange cut back to about four, I found a sweet spot with the Earlewood. It was cutting and razor sharp, yet warm. I tend to run a JCM 800 with the bass cranked and the treble on four or five; with these settings, the Earlewood barks like a lonely hound dog in the night.
In switching to the neck pickup, the Earlewood really has a fat and sassy tone that spanks out warm sustain. Both the Seymour Duncan JB (bridge) and JN (neck) humbuckers are direct mount pickups, allowing the electronics to resonate through the maple top and mahogany body. The Earlewood's string-thru design further contributes to the sustain. Both pickup configurations dish up plenty of sustain and the bridge position offers up sweet harmonic overtones.
Cleaning It Up
Upon switching to the Mesa for my tone testing, I was able to examine the Earlewood's cleanliness. The electronic package on the Earlewood features a fiveway switch that allows for coil tapping in positions two and four. In position two, the Earlewood is capable of producing transparent shimmering tones that would satisfy any clean tone purist. It was well balanced and nice and bright on the high end. I did encounter a bit of a buzz in this position, but it was inaudible while playing. Experimenting with position four, I found a real sweet spot that produced an enhanced bottom end and warmth not found in position three – also a nice place to hang out, obviously with a bit more rasp in humbucker mode, but still well-balanced and full.
Play On
The Earlewood neck features a conical (compound radius) fingerboard profile. With the ebony board and jumbo nickel frets, I found the neck to be very comfortable, and not a buzz or a fret out anywhere that I could find. The setup was flawless, with low, fast action – the bends were like butter and upper register access is great. Intonation seems to be balls on. Meticulous binding and fret inlay are aesthetically nice touches, but at the end of the day, the playability of an instrument of this caliber is what you would expect.
The Final MojoThe upside
is that the JET Earlewood is a handcrafted instrument that any guitar player will appreciate. Use of superior woods, innovative craftsmanship along with proven traditional luthering certainly puts JET in the well-respected category. Aesthetically, the JET Earlewood is as good as it gets anywhere, at any price. Hats off to Jeffrey Earl Terwilliger (JET) for producing an instrument that undoubtedly requires perspiration to provide guitar players worldwide with inspiration.
The downside
is a bit of a buzz in position two and four with the humbucker coil tap. Not inexpensive, this investment grade quality requires investment grade pricing.
Rating...
Tone...
 
Craftsmanship...
 
Features...
 
Value...
 
Overall...
 
Our expert has stated his case, now we want to hear yours. Log on to premierguitar.com, click on "Forum" and share your comments and ratings.
---
JET Guitars
MSRP $8,300.00
313 Merwin Road
Raleigh, NC 27606
919-859-6349
JETguitars.com