A second look at the considerations that go into combining pickups from different manufacturers in one guitar.
Hello and welcome back to
Mod Garage
. In last month's column, I introduced the potential issues you'll face when combining pickups from different manufacturers, which comes down to understanding polarity and phase. Start there if you haven't, because we're about to get into the details of how to assess and understand these important facets of every pickup.
First, let's discuss polarity. In short, we can define the polarity of a pickup as the direction—north or south—of the magnetic field.
It's important to consider polarity when attempting to combine pickups and achieve a hum-canceling effect. You've probably seen RWRP—reverse wind, reverse polarity—in a pickup description, especially when looking for Strat middle pickups. Hum canceling is only achieved when both pickups have opposite phase and opposite polarity—so, one pickup needs to have north and the other south polarity.
Humbucker pickups also work on this principle. Both coils have opposite phase and polarity, so when you combine them in series or in parallel, it will be free of hum. (The fun really starts when you start considering coil-splitting options, but that's for another time.)
What happens if you combine mismatched pickups? You'll receive hum or out-of-phase tones, and, in the worst possible scenario, both at once. As a guideline: If you want two pickups to be in phase, both the polarity and the wind direction have to be either identical or opposite. In other words, two pickups with the same wind and polarity will be in phase, and so will two pickups that have opposite polarity and wind. If the two pickups have the same wind but different polarity, or the same polarity but different wind, they will be out of phase with each other.
"What happens if you combine mismatched pickups? You'll receive hum or out-of-phase tones, and, in the worst possible scenario, both at once."
Since many pickup manufacturers do not mention the polarity in their pickup descriptions, here are some simple ways to figure it out on your own. (This can be a real problem because you need the pickups on your table to test them. If you need to know about polarity before ordering a new pickup, there is no way around contacting the manufacturer and asking for it.)
Use a pickup polarity tester. There are several polarity testing devices on the market that are specifically made for pickups. They are usually not very expensive and are a must-have tool for every guitar tinkerer. The most common one is made by Schatten Design Canada, which is very easy to use. It's a see-through tube with a magnet inside, you simply move it on the magnet you want to test and receive a clear reading if it is north or south.
Photo courtesy of singlecoil.com
Using a compass. If you have an analog compass, you can use it as a polarity tester for pickups. When using a compass, the needle will always point toward the north magnetic pole. So, if your pickup has a polarity of north, it will point toward the pickup, and if it's south, it will point away.
Photo courtesy of singlecoil.com
Using an analog meter. In the '60s, it was common that analog meters had a built-in polarity test. Most of these vintage meters are sought-after items today and fetch high prices. We have a Philips meter from the late '60s in the shop. If you have one, here is how to use it to determine polarity: Connect the pickup wires to the meter: connect the white one as the + and the black one as the –. Use a heavy screwdriver or a piece of steel and move a piece of steel quickly towards the magnets of the pickup without touching them. (A regular string doesn't have enough mass for this.) When the polarity meter (the small rectangular display on the right bottom of the main display marked in red) shows +, this is defined as north, while – means south.
Now, let's take a look at phase. We can define the electrical phase of a pickup as the direction of its winding, which can be clockwise or counter-clockwise. But it's not all that easy.
You can determine the direction of a pickup's winding by how it is wound when looking at it from above, with the pickup facing up toward you. I think this definition comes from the early Fender years, and the factory never changed this terminology, winding all pickups for several decades in a clockwise way. For a long time, reverse-wound middle pickups had a clockwise winding, and to change the phase they simply interchanged the two pickup leads. From an electrical point of view, this is all okay. But there are two good reasons to make reverse-wound pickups in a counter-clockwise direction:
Many players believe that a counter-clockwise wound pickup sounds different or better than a clockwise-wound one with reversed leads. And if a string contacts the pickup's magnet, a clockwise-wound pickup with reversed leads will short out when the hot gets connected to ground and will go silent. If you touch the magnets of such a pickup with your finger, you will be rewarded with a loud humming noise.
Besides the clockwise/counter-clockwise terms, some pickup makers will use the following descriptions, which explain how the pickup is attached to the winding machine and the direction it moves in the machine:
• top right, top going (counter-clockwise)
• top right, top coming (clockwise)
• top left, top going (clockwise)
• top left, top coming (counter-clockwise)
So, if you have to determine the phase of a pickup, here's how you can do that.
Build yourself a phase-testing unit. This was covered back in our July and August 2017 issues (and can be found here and here), and is probably the easiest way to measure phase.
Use an analog meter with a polarity test option as mentioned above. Connect the pickup wires to the meter, the white (hot) one as the + and the black (ground) one as the –. If the wires of your pickup have different colors, you will have to use the ones that are defined as hot and ground according to the manufacturer. Now, use a heavy screwdriver or a piece of steel or iron and move it quickly toward the pole pieces of the pickup without touching them. When the polarity meter shows +, it means that the wire that is connected to the + input jack is really the hot connection of the pickup. If it shows –, it means that the pickup wire connected to the + input jack is ground. You will be surprised how many times the white wire is not really the hot connection!
Using a standard analog meter without a polarity test is not recommended, and you'll risk breaking your meter. There are ways to tweak a standard analog meter for this measurement, e.g. using the zero and scale setting or a resistor in series with the pickup to get the needle somewhere off zero, near the middle of the scale. It's also possible to use a standard digital multimeter by connecting the pickup to it, using the DC/ohms setting, but you have to look quick to note what happens. These MacGyver procedures are only recommended for experienced techies.
This phase/polarity table shows what you can expect from every possible combination:
I hope this will help you avoid possible trouble when you want to combine pickups from different companies. We've only scratched the surface of phase and polarity, so ask a pickup pro sometime and they can tell you all about it.
That's it! Next month, we will take a deep dive into the G&L Passive Treble and Bass control (PTB), so stay tuned!
Until then ... keep on modding!
We've reached the final step in this series on how to superficially age a guitar. Let's add the finishing touches to complete our Harley Benton relic project.
Hello and welcome back to Mod Garage. This is the final installment of our DIY relic'ing series, and I hope you enjoyed it as much as I did. Today, in the last step, we'll add some dings and dongs to the guitar. You can decide if you only want a slightly aged look or if you want to bash it up like hell for a heavy-used relic look. There are many ways of adding dings and dongs, and if you do a Google search, you'll find a galore of pages and blogs about this. I will show you the way I do it in the shop, but this is only one way of doing it. In other words, I'm not saying you must do it exactly this way or that other ways won't work. Many roads lead to Rome.
My goal with this little series was to show you what's possible and how you handle such a project, step by step, and in a sensible order. In time, you can adopt and develop your own techniques, getting better from guitar to guitar.
"You can decide if you only want a slightly aged look or if you want to bash it up like hell for a heavy-used relic look."
When it comes to dings and dongs, you don't need much for a good result. I usually only use a round metal bar and a collection of old and obsolete keys (Photo 1). The metal bar should be a massive one—hollow ones don't work well because of their kickback behavior. I prefer a small but heavy one because it gives me a lot of control when using it. In my key box, I have a mix of mortice and cylinder keys in different sizes. I found this collection of old and obsolete keys on eBay for virtually nothing many years ago and it still works great for me.
Photo 2
Let's start with the metal bar. Hold the guitar in playing position and start tapping on the edges with the metal bar to create a random pattern of dents. It's easy to control the effect with your hand. If you hit the edges slightly, you create a slight dent. The heavier you hit, the deeper the dents, and with some very hard hits you can crack the lacquer to create the typical spots exposing bare wood (Photo 2). Start tapping the edges slightly and see if you like the effect. Work your way up to more damage if you want more. Don't forget: Less is more if you want to make it look authentic.
I receive the best results when tapping in a rhythmically constant pattern of about 45 degrees with the bar. If you want to get a cheap used-guitar body on eBay, it's a good idea to get some training on this. It's not difficult to do, but it helps to have some experience before tapping the real deal. Please do yourself a favor and wear goggles and gloves, because if you crack and burst the lacquer, it can jump off with high speed, and you don't want to get any in your eyes. Just as you don't want any splinters of wood in your fingers. Tap the body, the headstock, and the neck if you like.
Photo 3
If you're done and satisfied with your work, it's time to bring in the keys (Photo 3). If you want to leave some spots on the guitar free of dings and dongs, you'll need to cover and protect this area with strong cardboard or the like. A piece of paper or thin cotton won't work; the keys will win. Because the keys will jump off the guitar, it's a good idea to lay the guitar flat on a carpet or somewhere that the keys can't disappear. You know the "confetti effect" after a New Year's Eve party? No matter how often you clean your room, you'll still find some confetti right before Easter. It's the same with the keys; they'll jump off in any direction and gone they are.
Anyway, the process is very simple. Your guitar is lying flat on the ground, and you simply drop the keys on the guitar. You can do this one by one or all at once. I usually use the individual keys first, followed by some massive shots of several keys at once. You can simply hold them above the guitar and let them fall, or you can smash them. Be creative and see what you like best. I usually leave out the fretboard with this, covering it with a piece of carpet. But if you like, you can also treat the fretboard this way.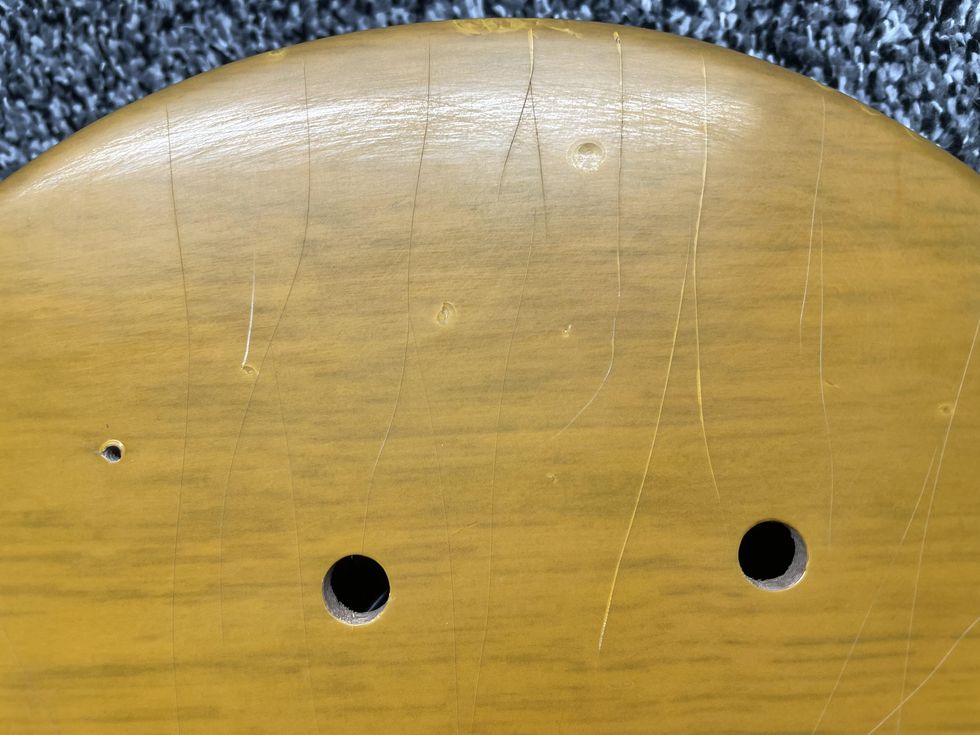 Photo 4
Don't be in a hurry. It will take some time to do it right, so don't stress yourself. You can see some of the dings and dongs I made with keys while treating the Harley Benton in Photo 4.
Photo 5
Remember the wood-aging dye from the last part of this series? You'll need it now to add 50-plus years to the exposed wood. Depending on the size of the spot, you can use a small brush or a Q-tip to put the dye on. Before doing this make sure you remove all loose parts from the lacquer. I simply use a small flat screwdriver and a brush for this. Depending on how dark you want the exposed wood, you'll need to repeat the process with the dye. Because the body of the Harley Benton guitar is already a dark mahogany, you won't need much of the dye (Photo 5 and Photo 6).
Photo 6
Congratulations, you're done aging your first guitar all alone with your bare hands. If you have the chance to look at some vintage guitars, you should. Over time, you'll get an eye for how old guitars look and you'll find typical signs of age and wear that you can duplicate for your own projects. This relic'ing guitar project will soon be available as a Premier Guitar eBook, with all steps in one place and downloadable as a PDF.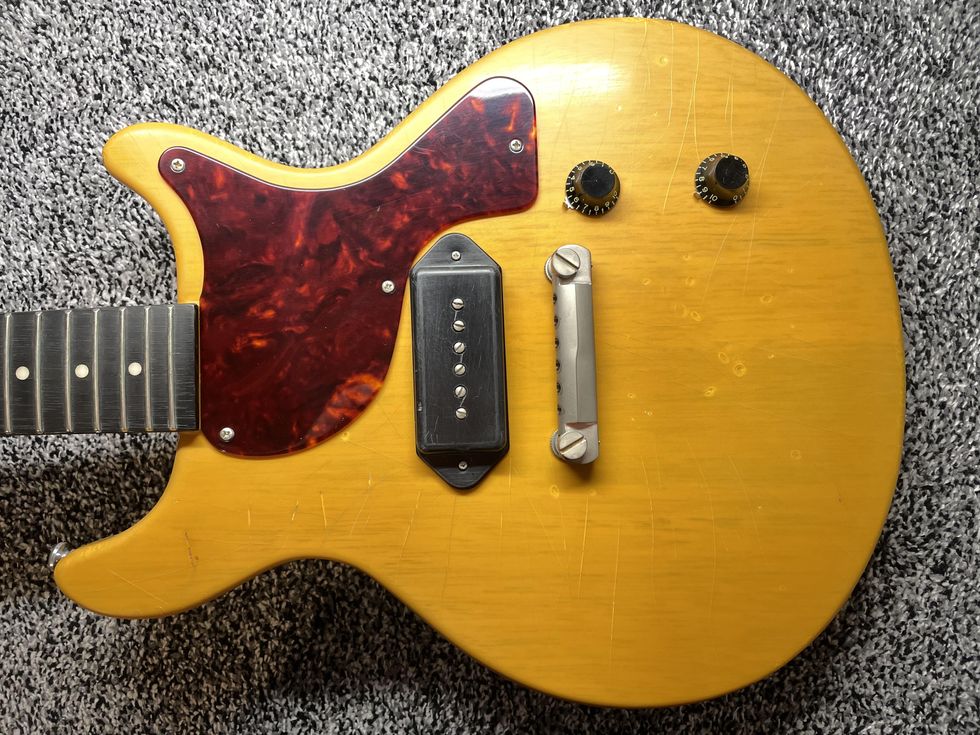 Photo 7
Our finished Harley Benton DC-Junior double-cut that we used to demonstrate the individual relic'ing steps is a cool-looking and great-sounding guitar (Photo 7). I decided to auction it, donating all the money to my local animal shelter, which is usually bursting at the seams this time of the year.
Next month, we'll have a deeper look into some typical Gretsch wiring basics, so stay tuned. Until then ... keep on modding!
Believe it or not, on eight out of 10 guitars with tuning problems, the culprit is usually bad strings or the exotic ways they were installed. Here are some ways to combat these issues.
Welcome back to Mod Garage. I've wanted to cover this topic for a long time, but to be honest, I didn't dare because it seems so trivial. I'm sure a lot of you already have a natural routine to assess tuning, but I receive guitars daily for repairs, and enhancing tuning stability is something I hear about a lot—on electric as well as acoustic guitars. There are many reasons why a guitar has problems staying in tune, but today we'll discuss the simplest one: the strings.
A column about strings? Now he's crazy, you might say. Believe it or not, on eight out of 10 guitars with tuning problems, it turns out this is caused by the strings themselves and/or the way the strings were installed. For some guitars, the nut or the saddle/tremolo is causing problems; others have problems with the tuners or worn-out bridge pins on acoustic guitars, string trees, etc. But bad strings and exotic ways to install them are reason No. 1 for tuning problems. Let's have a deeper look into what happens here and what can be done.
"The more windings you have on your posts, the greater the chance for tuning problems."
Over the years I've seen the craziest things people do with their strings. Here are some simple guidelines for you to combat tuning problems, whether it's an electric or acoustic guitar, or if it has steel or nylon strings.
Possible Problem No. 1: The Strings Themselves
You all know this "problem" when setting up new strings on a guitar: After getting them in tune and playing for a minute, you need to tune them again, and this will last for some time, depending on the material of the strings. This is normal when strings are getting stretched for the first time; they'll stay in tune after they've settled. Here are some hints to get around this:
1. Stretching the strings several times after setting them up by simply pulling them upwards with your hands will speed up this process noticeably. There are also tools for this called string stretchers, but you can simply do it with your hands. This is called pre-stretching and is very simple to do. As a rule of thumb, steel strings will settle sooner than nylon strings.
2. A customer bought "pre-stretched strings" and brought them in so I could try a set of these in the shop. I could notice no difference other than the price, but I wanted to mention that such sets exist.
3. Cryogenic-treated string sets may stay in tune faster right from the start. This treatment is widely used to remove tension, especially out of metal parts—like on high-precision components for racing engines. This might work on steel strings, but I have my doubts that it will work on nylon strings. Funny enough, I've never read about tuning improvement on any cryogenic-treated string set, but a lot is mentioned about how good they sound, how long they will last, etc. It's up to you if these strings sound any different from other string sets. Give it a try. In time, each string set should stay in tune without any problems, no matter what method you use to speed things up.
"Cryogenic-treated string sets may stay in tune faster right from the start."
Some time ago, I had a British-made Burns guitar from the '60s on the workbench that was still equipped with the original flatwound string set it came with from the factory. These strings were perfectly in tune after almost 60 years. If the strings aren't damaged, there should be no problem. A problem I regularly see is that completely new string sets have a rotten egg under the hood, caused by problems during manufacturing. From my experience, it's mostly steel strings of certain brands and very often the G string, but I've also had bad D and B strings out of the box. With such strings, no matter what you try, you can't get them in tune, and you'll see they have an unnatural pattern of movement. I have no idea what causes this problem during manufacturing, but just keep this in mind if you run into tuning issues with a new set of strings. The solution is simple: Replace the bad string or the whole set with a new one.
Possible Problem No. 2: The More, the Merrier
Many people think it's right and important to wind up the complete string length so it can stay in tune better because of the many windings, adding stability (Photo 1). Exactly the opposite is true. The more windings you have on your post, the greater the chance for tuning problems. Getting as few windings as possible on the post is the way to go. Have a look at a locking tuner. They have zero windings on the post for the best possible tuning stability. We'll talk about how to do this in a minute. The best and funniest statement I've heard over the years was from a customer, when I tried to explain that it's not a good idea to wind up the complete string length. He explained he'll continue doing this because the manufacturer has good reasons to choose this length. I suppose somebody must do whatever makes somebody happy.
Possible Problem No. 3: Loose Tuners
Whenever you change your strings, make sure all screws and hex nuts from your tuners are tight. With a loose and moving tuner you'll not only have tuning problems, but it's also a common source for strange noises you can even hear in the amplified tone of a guitar. Sounds trivial but it's important.
Possible Problem No. 4: Improper String Installation
This is by far the most common problem, and everyone has their own way of stringing up guitars. Some are superior to others. I don't say my method I use in the shop is the best and only way that works. But over the years I tried a lot of different methods and the one I want to show and recommend to you is the best-working one for me. It incorporates what we just talked about: putting the least windings possible on the post for maximum tuning stability, mimicking the way a locking tuner works. This works on all standard tuners and is very easy to learn, so give it a try.
If you don't want to compromise, there is no way around using locking tuners on your guitar. But if locking tuners are 10/10, the winding method that follows is 8.5/10, which is not bad at all.
I'm showing the winding method on an acoustic guitar with a 3/3 tuner configuration, but it also works with a 6L or 6R tuner configuration. It won't work with the '50s vintage Kluson types you often see on Stratocasters and Telecasters because there is no string hole on the post other than the one on top.
1. Position the post of the tuner so the string hole will be in line with the corresponding string slot for a string on the nut.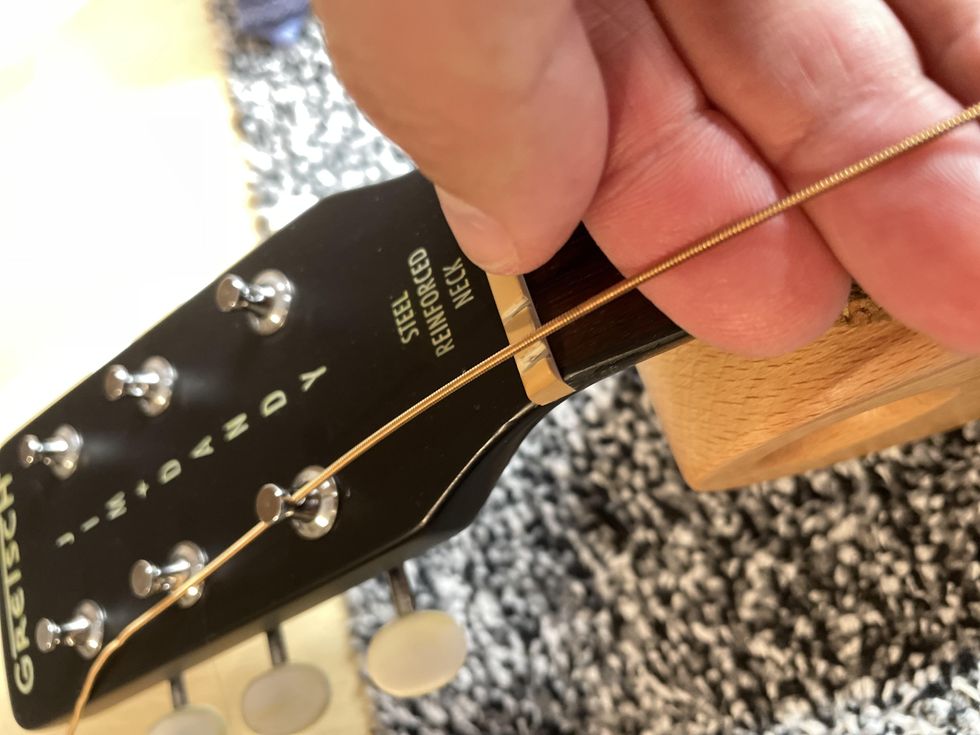 Photo 2
2. Guide the string through the string hole of the post and leave only a little slack. As a guideline, if you can put the fingers of your right hand underneath the strings, that's enough. Now, use a finger of your right hand and lock the string after the nut, leaving a little slack lying on the fretboard (Photo 2). I like to snip off a good portion of the rest of the string at this point, to make the following process easier. But you can also leave it full length until you're finished—whatever you like best.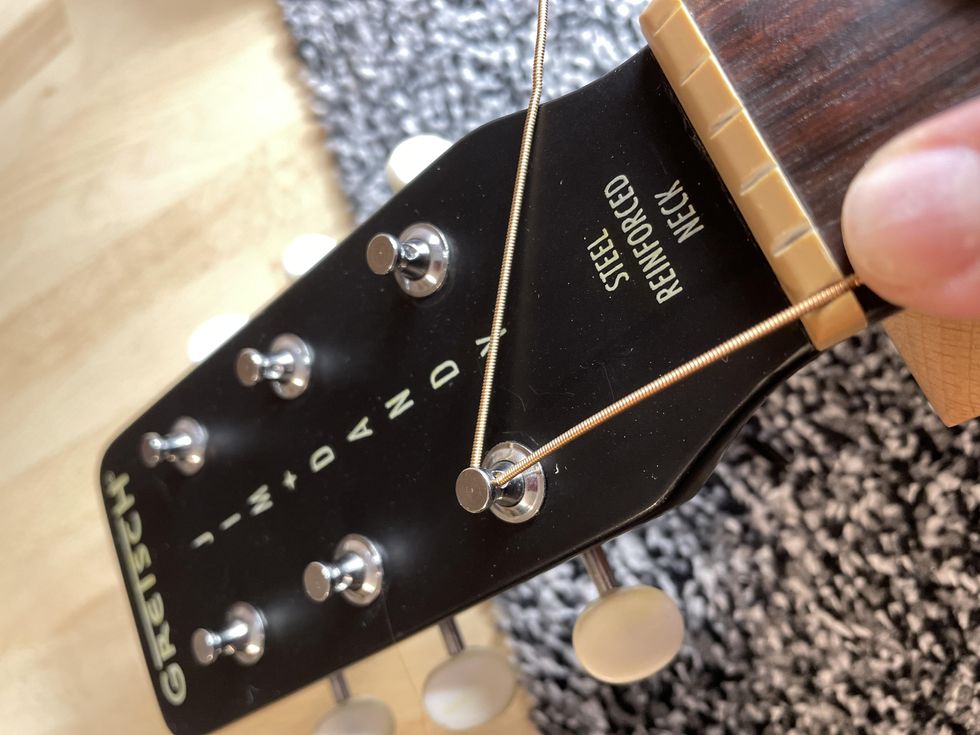 Photo 3
3. Bend the rest of the string around the post sharply so it will form a "V." Don't forget to still keep the string locked with a finger (Photo 3).
Photo 4
4. Next, put the rest of the string underneath the string, pressing it firmly against the post, still locking the string with your finger, and bend it over the string (Photo 4 and Photo 5).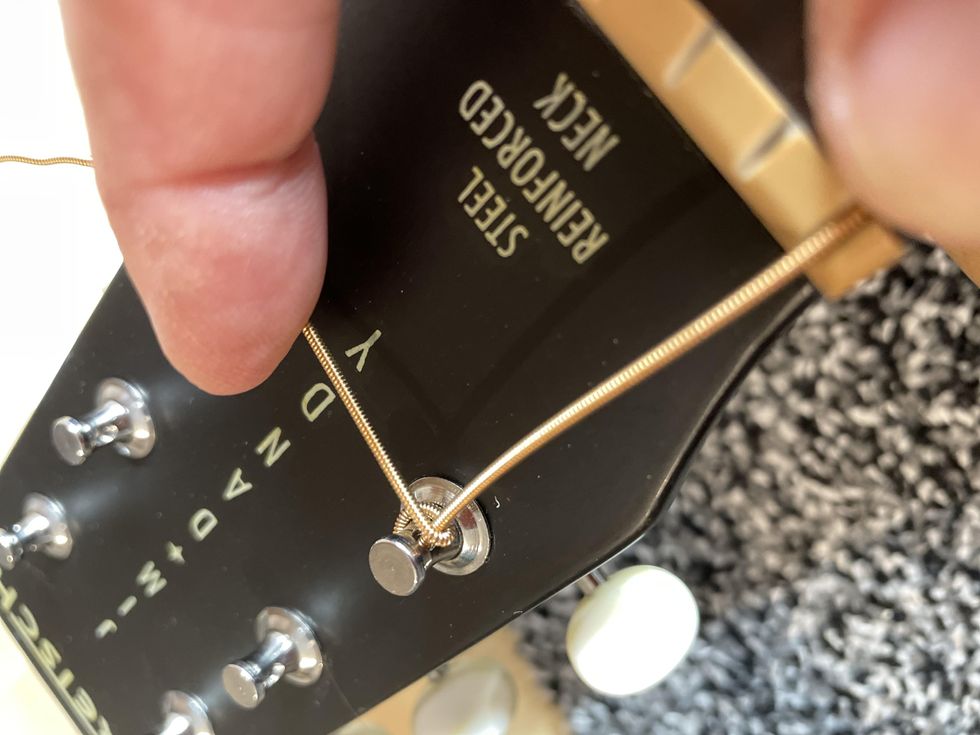 Photo 5
5. Tune up your string and release the finger you used to lock the string. You'll only need a very small movement of the tuner to get the string up to tune, so this is something you'll have to get used to. Cut off the rest of the string and you're done (Photo 6).
Photo 6
On a 6-in-line tuner configuration, you can proceed with the other strings as shown. With a 3/3 configuration, you'll have to mirror the process with the G, B, and high-E string. The rule of thumb is the rest of the string is always bent towards the middle of the headstock to create the "V."
It's very simple to do and very effective. It's also important to lock the string with your finger during the whole process until it's up to tune.
When you have a guitar that won't stay in tune, chances are good that this is all you need to do. If this doesn't help, at least you did everything that could be done before consulting your local luthier. And your luthier will be impressed about your troubleshooting, for sure. It will save them some time troubleshooting and it'll save you some bucks, too.
Next month we'll finally finish our DIY relic'ing project, so stay tuned.
Until then ... keep on modding!