In my guitar shop, players often ask about how to improve the tone in a Tele neck pickup. Here are several ways to address it, including a pickup wiring that removes the tone load in the neck pickup's switching phase, resulting in a slight high-end boost.
Hello and welcome back to Mod Garage. This month, we'll continue our "no tone control" journey from last month ["Mod Garage: The Scott Henderson S-Style Wiring"] with a cool mod for your Telecaster. Something I hear a lot in the shop is that people aren't happy with the tone of the neck pickup in their Telecaster. It's often described as muffled, colorless, lifeless, or similar. Why is this? It's usually a mixture of three things:
1. The physical location of the neck pickup. You have the same issue on every electric guitar, no matter if it's a Telecaster, a Stratocaster, a Les Paul, or whatever else. The neck pickup has the warmest tone of them, which is the physical nature of the beast.
2. A standard Telecaster neck pickup has a closed metal cover that's attached to the pickup's ground to add some shielding. Because the cover is closed, a good portion of high end will be drained to ground because of eddy currents, even with a thin German silver metal cover.
3. Interestingly, the neck pickup of a Telecaster is often adjusted way too low from the strings for whatever reason. Some players told me that they hit the metal cover with their plectrum, so they adjusted it deeper to get it physically out of the way.
So, let's see what can be done to address the above problems regarding a Telecaster neck pickup.
Physical location: We can't outsmart physics and we can't change the location of the neck pickup inside a Telecaster, so there is nothing we can do here.
Metal cover: We have several possibilities to enhance the tone of the neck pickup. One option is to simply replace the metal cover, which will change the tone noticeably, similar to how moving a carpet or rug away from your amp changes the sound. On the other hand, you lose the shielding abilities of the metal cover. A good compromise is an open-frame pickup cover in the shape of a rectangle with an open top, to break eddy currents. This will enhance the tone while still providing some shielding.
Another solution would be to swap the pickup with a Stratocaster pickup or whatever pickup you like best. But this is not as easy as it sounds. Other pickups have other dimensions, and you will need to reroute the pickup cavity in the body as well as the opening in the pickguard to make them fit. There are a lot of replacement pickguards available that already have such routings for a Strat pickup, so this is not really a problem. A good compromise is a replacement pickup in a Telecaster neck pickup size that offers a different construction under the hood, like the Lollar Royal T Neck that is a Stratocaster-style neck pickup in a Telecaster shape. These are 1:1 ratio replacement pickups, so you don't have to struggle with new pickguards and routing the Telecaster's body.
"One option is to simply replace the metal cover, which will change the tone noticeably, similar to how moving a carpet or rug away from your amp changes the sound."
Pickup height: This is super easy to solve: Simply adjust the pickup closer to the strings. The closer the pickup is to the strings, the more high end and volume it will have. We measure the pickup height from the top of the pickup magnet to the bottom of the string while the string is pressed in the last fret with the guitar in playing position. A good starting point for a Telecaster neck pickup is 3.5 mm (9/64") on the low E string and 3.0 mm (1/8") on the high E string. Start with this and listen to what happens when you change the pickup-height adjustment until you find the tone you like best.
I recommend adjusting pickup height first and hear if this does the trick for you. If not, continue with swapping pickup covers or pickups.
As you can see, there are many ways to address the muffled tone of a Telecaster neck pickup if you don't like it. Here's another weapon of choice you could try that lies somewhere between the aforementioned strategies. Maybe you adjusted your standard Telecaster neck pickup correctly and now you're close to being happy with the sound, but it's still a tad too warm and round for your taste.

Chances are good that this can be solved inside the wiring. Usually, Telecaster players are happy to have a tone control for the bridge pickup that can sound very shrill and ice-picky without one, depending on your playing style and type of bridge pickup. But only a few players really use the tone control for the neck pickup. So how about a wiring with the tone control only affecting the bridge pickup? This way you will get rid of the load of the tone pot (usually 250k) plus the tone cap. Maybe this will give you the tad more high end you're looking for, so give it a try.
The good news is that you don't need to change the standard 3-way pickup selector switch like we did on the Stratocaster last month. This is mostly because a regular Tele only has a single master tone control, so we're happy with the two switching stages of the standard switch you already have in there.
With this wiring, illustrated in Fig. 1, you will end up with these three settings:

1. Bridge pickup with volume and tone control
2. Bridge + neck pickup in parallel with volume for both pickups and tone control only for the bridge pickup
3. Neck pickup with only volume control
To further enhance this wiring, you can use a no-load pot for the tone control. This way you'll also be able to engage the bridge pickup without tone control if this is an option you want.
That's it for this round! Next month, we'll continue with some Danelectro wirings, so stay tuned.
Until then ... keep on modding!
When it comes to cosmic tone, it's critical to have functional potentiometers. Here's how to install them correctly and keep them ship-shape afterward.
(Originally published March 27, 2020)
Over the last few years, we've discussed the construction of potentiometers and diagnosed several potential problems with these essential, yet sometimes pesky, electric guitar components. (If you missed these, check out "The Trouble with Tribbles" and "Dealing with Knobs and Pots.")
Let's now consider problems that can occur when replacing pots, and then discuss ways to either avoid or solve these potential issues. Over the years I've analyzed virtual cries for help from hundreds of customers, and as a result I can safely say that non-working pots fall into one of two categories that account for essentially 100 percent of the problems: (1) mechanical damage while installing the pots, or (2) soldering damage when wiring them up. It's very, very rare that a pot comes DOA from the factory. Reputable manufactures have quality control systems to prevent this, so it's almost guaranteed that a problem with a potentiometer has to do with the end user. So let's take a look at these two scenarios.
Mechanical damage.
In this case, the most common damage is caused by overtightening the nuts, especially when installing pots into a guitar with a stiff wooden top like a Les Paul.When installing pots, forget the adage "the more, the merrier." Instead, keep this in mind: The next level beyond "tight" and "super-tight" is "broken." Guitar pots don't have to handle a lot of weight or withstand a nuclear strike, so they should only be screwed down tight enough to remain immobile when you rotate the knobs.
First and foremost, it's essential that you install the pots correctly. This might sound obvious or trivial, but you can't imagine how many guitars I've seen where pots have been installed in, shall we say, unusually creative ways.
Here's how to do it right: The first step is to slip the lock washer onto the pot shaft and then insert the shaft through the hole in your guitar's pickguard or top. With the shaft protruding through the other side, now put the flash washer on the shaft, followed by the hex nut, which you can initially thread with your fingers. Finally, use a socket wrench, small adjustable wrench, or an ESP Multi Spanner to carefully tighten the hex nut until it's snug against the washer and doesn't turn anymore.
If you discover that the pot sits too high on your pickguard or guitar top, you'll need to remove the pot and start over by first threading another hex nut on the shaft, followed by the lock washer, and then repeating the installation process. This "underside" hex nut will let you adjust the height of the pot to your individual wishes. Simply insert the shaft through the pickguard or top, eyeball the height, and adjust the hidden hex nut up or down on the pot threads as needed. Finally, add the flash washer and exterior hex nut to complete the process. The key here is to always remember the correct order of these parts.
So what happens to a pot when you overtighten it? If the four tiny tabs that hold the little metal plate to the shaft, wiper, etc., are unable to withstand the force applied to the shaft when you torque down the hex nut, they'll bend and let the plate and the shaft rotate freely. Hmm, no good.
But don't worry, it's an easy fix: Use needle-nose pliers or a small flathead screwdriver to gently pull the tabs up a little more so you can rotate the plate and return it to its centered position. Then bend the tabs back into place so they hold the shaft securely (Photo 1). Done!
It's almost guaranteed that a problem with a potentiometer has to do with the end user.
Other mechanical damage is typically caused by trying to remove or install knobs that aren't made for a given pot's shaft. When you try to hammer down a non-fitting knob, you can easily break the shaft by forcing it through the knob bushing. (In most cases, this happens when trying to force a metric knob, measured in millimeters, onto a U.S. pot shaft, measured in fractions of an inch.)
If you try to remove a jammed knob that someone managed to "fit" using brute force—or even attach with superglue—chances are good you'll break the wiper inside the pot and pull out the entire shaft along with the knob.
Yet this is easy to avoid: Never try to force a knob onto the pot shaft; instead use one that fits. If you need to remove an improperly fitted knob, use a heat gun to soften the plastic or a saw to split it open. Don't use any upward or downward pressure—that will ruin the pot, for sure.
Soldering damage.
The easiest way to damage a pot is to overheat it, especially when attaching a ground wire to the back casing. It's a common mistake. When it comes to how long your soldering iron should be in contact with the pot, the golden rule is "as short as possible, but as long as necessary." It takes time to develop this skill, so you'll need to practice. Also, to avoid disaster it's crucial to have the right tools. Here are some helpful guidelines for soldering onto pots.
1. If you don't have a soldering station with an adjustable temperature control, you need at least two different handheld soldering irons: one rated at around 30 watts and the other around 60 watts. This is exactly what I use for any soldering job outside the shop. The 30-watt iron is for soldering on the pot terminals, pickup selector switch terminals, output jack terminals—those common tasks. The 30-watt iron is our daily go-to tool for all things guitar at the shop.
The 60-watt iron is for soldering to pot casings and Stratocaster tremolo claws. Don't try to solder to a pot's case with a 30-watt iron—the solder will need a very long time to flow and you'll expose the pot to a lot of heat. With a 60-watt iron, the solder will flow instantly and soldering time will be very short. This yields strong solder joints.
2. If you want to be on the safe side, remove the case from the pot before you solder to it. That's what I do when I want to avoid damaging vintage pots. To remove the case, gently bend the four metal tabs away from you. To reinstall the case, simply bend the tabs back into place. Take your time and go easy.
3. Always rub the metal casing with 180-grit sandpaper before soldering to it. Manufacturers use all kinds of greasy coatings to protect the case against oxidation, which can make a soldering job close to impossible. So sand the case until it's clean and shiny, and then clean it with naphtha. This will provide the perfect base for a good soldering joint. But don't do this to vintage pots! For those, it's paramount to preserve the patina that comes with age.
4. If you decide not to remove the pot's case, strive to avoid any unnecessary heat. Here are some helpful tips:
Always turn the pot down to 0 before soldering to its case.
Use a heat sink on the case. For this job, you'll need something bigger than just a standard clip. To enhance its effect, you can chill the heat sink in the fridge ahead of time.
If you need to connect one of the terminals to ground, as on most volume pots, don't try to solder the terminal directly to the case by bending it back. This may look cool and vintage, but you'll need a lot of heat and good soldering technique to pull this off. Simply use a piece of solid-core wire and solder it to the terminal and from there to the case—this yields the same performance.
After tinning the case, let it completely cool down before you solder the wire to it.
5. Don't apply excessive solder to a terminal—it will flow down the terminal's leg and find its way inside the pot.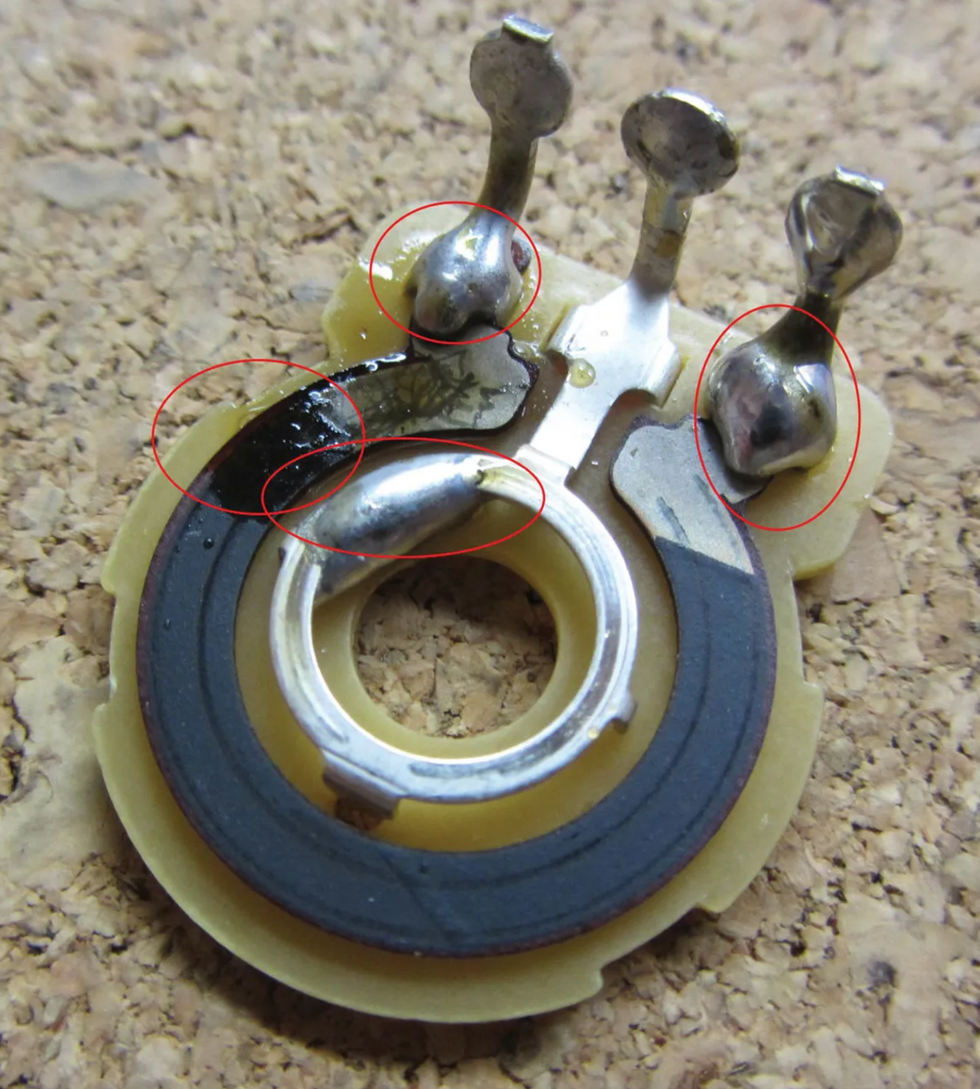 Photo 2 — Photo courtesy singlecoil.com
Photo 2 shows a pot from my "Hall of Shame" collection. Look at the two red marks at the end of the two terminals. These solder blobs are what happen when you apply way too much solder. There's also a big solder blob on the middle terminal's inner ring. How someone managed to get the solder inside there will forever remain a mystery. On the upper left, notice how the carbon is melted and buckled from too much heat. This poor little thing had to endure cruel treatment ... may it rest in peace!
Remember, if you don't solder regularly, there's no shame in having a professional guitar tech do the work for you—especially when you have a vintage guitar and need to work on its original pots. Retaining your guitar's value is an excellent investment. Soldering on pots isn't rocket science, but it requires the right tools, experience, and a steady hand.
Maintaining pots.
These are mechanical devices with a limited lifespan, and it's inevitable they'll start to wear out over time. Yes, it's possible to clean, repair, and renew the carbon inside, but this only makes sense for a vintage pot, not a modern one. Instead of trying to repair the latter, it's more cost-effective to simply replace it.
Typical pots are not completely sealed; they have open areas around the terminals, so moisture and dust can creep inside. To prevent this, you can buy pots that are completely sealed or cover standard pots with an additional dust seal. Usually a guitar's electronic compartment is closed and not directly exposed to contamination, so an additional dust cover isn't necessary for our applications.
Also, there's no need to maintain your pots. At a certain point, they'll begin to wear out and make scratchy noises when you turn them. This means it's replacement time! You can delay this a bit with contact cleaner, but this treatment is only temporary. Contact cleaner is cool for some applications, such as servicing hi-fi equipment, but it can't repair worn-out pots.
My advice? Never use contact cleaner on your pots because the cleaner will attract debris, and when it evaporates you're left with hard, dry crud—something you definitely do not want inside your pot. To combat this, you'll spray more cleaner and thus begin a destructive cycle. This results in replacing the pot much earlier than necessary, exactly the opposite of what you want. We all know the road to hell is paved with good intentions. If a pot is really dusty and making scratchy noises—maybe you took your Tele to Burning Man—the best thing to do is open it up and swab everything with Q-Tips soaked in naphtha.
Finally, when it comes time to replace a pot, pay attention to the specs. Some pots are designed for 2,000 rotations while others are tested to withstand 20,000. You get what you pay for, and this isn't a place to cut corners.
All right! Next month we'll examine the Peavey Omniac JD, Jerry Donahue's signature model T-style, and I'll show you how to transfer its sophisticated wiring scheme to your own guitar. Until then ... keep on modding!
Let's build one of my favorite DIY guitar tools that I use daily in my shop. I'll show you two versions and then explain how to put them into action.
Welcome back to Mod Garage. After receiving numerous requests to show more DIY tools for guitarists, today we'll explore one of my favorites. For years I've used this one in the shop daily and I'm sure you'll love it. It's cheap and easy to build, but very effective for analyzing circuits of electric guitars and basses without opening the electronic compartment or lifting the pickguard. It's a kind of adaptor or extension to measure a pickup's DC resistance (DCR) from outside the guitar. After building one, we'll discuss how to interpret the measurements.
The DCR of a pickup is by far the most common parameter you can read when reading pickup descriptions and often it's used as an indicator of the output. The reason for this is that it's easy to measure, but, sadly, it doesn't tell us anything about a pickup's output nor its tone. To quote pickup designer Bill Lawrence: "DC resistance tells you as much about a pickup's tone and output as the shoe size tells you about a person's intelligence."
DCR is not a primary parameter in pickup design. It's simply the result of the type and gauge of the pickup's wire, the number of turns, and other parameters like the winding pattern, etc. But it isn't completely useless, and we can use it as a good reference point for analyzing pickups both inside and outside a guitar or bass circuit. All you need for this is a digital multimeter (DMM). You don't need an expensive calibrated precision DMM—any entry level DMM will work. You can get a simple digital DMM for $10, but if you want to invest in a better device, it can't harm.
The easiest way to analyze a pickup is outside a circuit. Simply set your DMM to ohm and connect the two pickup leads to your DMM. If your DMM doesn't have an auto-range function, set it to 20k ohm. Now you'll get the DCR reading for your pickup. You can compare it to the factory specs of your pickup and it should be close. If your DMM shows "infinite" or "overload," you know the pickup wire is broken. Let's say your pickup should read 7k ohm, but yours reads around 2-3k ohm. Your pickup likely has a short circuit somewhere in the winding. Used this way, the DCR is always good to quickly check if a pickup is alive or not.
To quickly analyze a guitar or bass circuit with one or more pickups, you first need to build the DIY adaptor tool this column is about. There are two different versions, and you don't need much for this:
Version #1: This is the quick and dirty version. You need a standard 6.3 mm straight mono plug (the same type on all your guitar cables), some wire of your choice (preferably in two different colors), and two insulated alligator clips.
Version #2: A more elegant version that you can also use with a scope if you have one. You need the same parts as for version #1, but instead of two alligator clips, you need two 4 mm banana plugs, and the two wires need to be longer than what you'd use for Version #1.
So, heat up your soldering iron and let's get to building version #1.
Solder one piece of wire to the HOT terminal of the mono plug and another one to the GROUND terminal. I prefer a red wire for the HOT and a black wire for the GROUND terminal (Photo 1).
Solder an insulated alligator-clip to each end of the two wires, preferably a black one to the black wire and a red one to the red wire. Ready!
Version #2 is built the same way, but, instead of alligator clips, you solder a 4 mm banana plug to each end of the two wires, if possible, also in black and red. The two wires should be long enough that can place your DMM and/or scope at some distance from the guitar. In Photo 2, you can see version #1 on the top and version #2 on the bottom.
The difference between the two versions is that with version #1 you put the plug into the output jack of the guitar, connecting the two probes of your DMM to the alligator clips: the black probe of the DMM goes to ground (black wire) and the red probe goes to hot (red wire) as seen in Photo 3. With version #2, you need to remove the two probes from your DMM, plugging the two banana plugs directly into your DMM or your scope, also seen in Photo 3.
Both versions work equally well. Version #2 is just easier to operate when you also want to use the adaptor for a scope.
For a quick check, you can also directly touch the hot and ground terminals with the probes of your DMM, but you need both hands or a second person for this if you want to play around with the controls or the pickup-selector switch.
Now we can easily check four things with this tool, assuming everything is connected the way it should be and your DMM is set to ohm and auto-range or the 20k ohm scale if your DMM doesn't have an auto-range mode:
Do you receive a reading on your connected DMM? If not, check if the volume pot is fully opened. Do you receive a reading now? If so, close the volume pot completely and see if you still receive a reading. No? Perfect, you just proved that the volume pot is alive and well.
With a fully opened volume pot and a reading on your DMM, slowly turn down the volume and watch the reading on the DMM. If you receive some crazy reading, chances are good there is a treble bleed network on your volume pot. If the reading slowly goes down to zero, you know that there is no treble bleed network on the volume pot, and you can check if it's an audio or linear volume pot (plus the taper it has, if it's an audio pot). Let's say we have a 500k volume pot. When you close the volume pot halfway and receive a reading around 250k, you know it's a linear pot. An audio pot, depending on its taper, will result in a much higher reading on the first 50 percent of the volume pot. If you read 500k until the volume pot is almost fully closed, this means the pot has a 90:10 audio taper—exactly the kind of volume pot you don't want to have. If you read something around 300k in the middle of the volume pot, you know it's a 60:40 audio taper.

If the volume pot is fully opened and you don't receive a reading on your DMM, chances are good that your output jack is broken, not connected, or connected incorrectly. Please make sure there is no activated kill-switch in the circuit that can also cause this "problem."
Turning the tone knob(s) will make no difference in the reading you receive. If you receive a slightly higher reading with a tone pot fully opened compared to when it's closed, you know it's a no-load tone pot.
There is a lot to discover from just the outside of any guitar or bass. So, now let's see what we can measure from outside the instrument starting with a Telecaster with a 4-way switch. The readings in all examples are the readings I received with guitars I had in the shop, but they can be different in your instruments:
Bridge pickup only: 5.85k ohm
Neck pickup only: 6.76k ohm
Both pickups together: 3.18k ohm
Pickup selector switch in position #4: 12.30k ohm
The readings for both pickups are within the factory specs and are in a typical range for a vintage-flavored Telecaster pickup set. With a reading of 3.18k ohm for both pickups together, you know that both pickups are in parallel. With the reading of 12.30k ohm, you know that both pickups are in series with each other.
Here is the simplified math behind these readings:
Series connection: DCR pickup #1 + DCR pickup #2

In our example, it's 5.85k + 6.76k = 12.61k ohm, which is very close to the reading of 12.30k we received. The missing 0.31k ohm are eaten up by the resistance of the pots and the tolerance of your DMM. For this test, I chose the cheapest DMM I could find in the shop. A calibrated high-quality DMM will have much less tolerance.

Parallel connection: (DCR pickup #1 + DCR pickup #2) divided by four

In our example, it's 5.85k + 6.76k = 12.61k ohm divided by four = 3.15k ohm, which is very close to the reading of 3.18k ohm we received.
Now let's repeat this with a standard Stratocaster:
Bridge pickup only: 7.07k ohm
Middle pickup only: 5.88k ohm
Neck pickup only: 5.70k ohm
Bridge + Middle pickups together: 3.26k ohm
Neck + Middle pickups together: 2.94k ohm
All three pickups are within the factory specs of this Strat. We have a slightly hotter bridge and two vintage-flavored pickups. The two in-between positions are in parallel.
Lastly, let's try a vintage PAF-loaded Les Paul:
Bridge pickup only: 7.77k ohm
Neck pickup only: 7.09k ohm
Both pickups together: 3.74k ohm
Both PAFs have the typical vintage DCR and are in parallel in the middle position.
That's it. Next month we'll take a deeper look at changing wires on pickups, which is something I've been asked about a lot, so stay tuned!
Until then ... keep on modding!