The Versa is designed to offer a cornucopia of easy, damage-free, mounting opportunities to fit any pedal or power supply.
From mini pedals to Wah's, weird shaped stuff and everything regular in-between.
Low-profile in the front row so you barely need to lift your foot, yet easy to hit the pedals in the back with the ergonomically designed, angled and split deck.
Infinity Edge Design: allows for maximum real estate for pedals with minimum space required on the floor as there are no additional risers or thick edges to get in the way.
The V-Channel gives the board two distinct inclined levels that afford you the freedom of infinite options for pedal customization and a handy place to route cables.
​Modular: It's perfect for 2 or 3 pedals or 10. If you fill up your Versa you can easily add another in a matter of seconds with a Z Connector.
Strong, Lightweight, Dependable: Proudly built in Minneapolis, MN USA with a lifetime warranty. We are committed to making the easiest-to-use, highest-precision pedalboards.
Highlights:
$119 for a single or $199 for the Duo 2-Pack
13" x 14" x 3.375"
2 lb light
For more information, please visit holeyboardpedalboards.com.
Dunable announces new Minotaur model featuring Grover Rotomatic Keystone tuners.
The Minotaur's DNA is rooted in their classic Moonflower model, which Dunable discontinued in 2017. However, they have long since wanted to create a fresh take on a carved top guitar design, and various attempts to rework the Moonflower led them to a brand new concept with the Minotuar.
Dunable's goal is to give the player a guitar that plays fast and smooth, sounds amazing, and gives maximum physical ergonomic comfort. The Minotaur's soft and meticulous contours, simple and effective control layout, and 25.5" scale length are designed to easily meet this criteria.

Dunable Minotaur!
Features
25.5" scale length
Dual Humbucker
one volume, one tone, push pull for coil splitting
Grover Rotomatic Keystone tuners
Grover Tune O Matic bridge with brass Kluson top-mount tailpiece
jumbo nickel frets
12" fretboard radius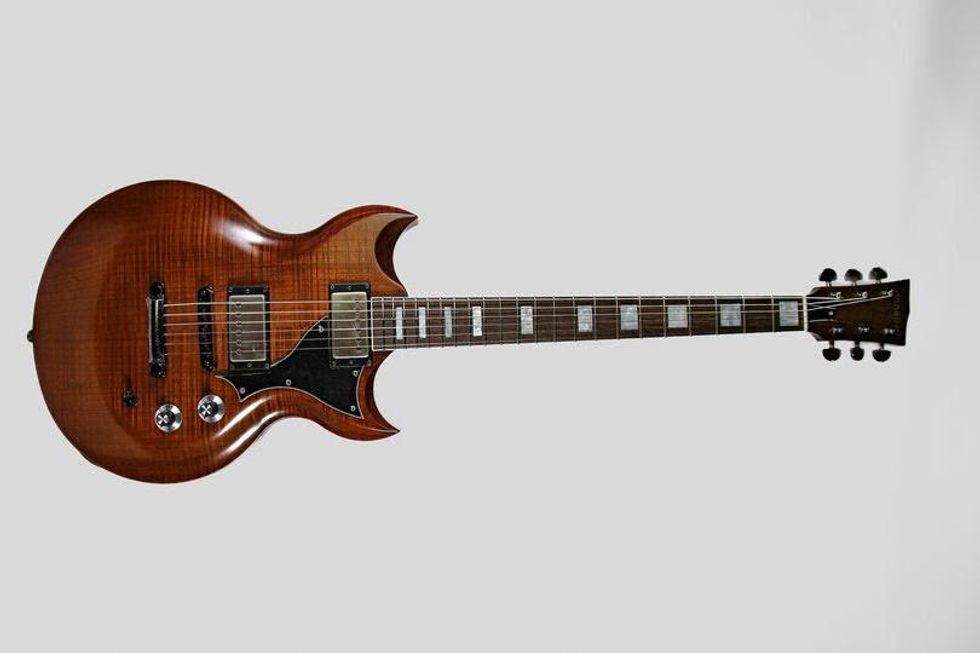 Dunable
Death Below is set for release March 24, 2023. Watch the music video for "Ancestry."
Grammy-nominated Lancaster five-piece August Burns Red have announced their new album Death Below. It arrives on March 24 via SharpTone Records.
"'Ancestry" is a complex and technical ABR track held together by perhaps the most painful and personal lyrics Jake has ever written," says Brubaker. "I loved this song in every phase since its inception. From the instrumental rendition, to the lyrics and vocals being added, to finally bringing it all together with Jesse's anthemic guest vocals, "Ancestry" is a song we've been looking forward to sharing with the world for a long time."

The album features additional guest spots from guitarist Jason Richardson, as well as JT Cavey of ERRA and Spencer Chamberlain of Underoath.

Death Below track listing:
"Premonition"
"The Cleansing"
"Ancestry" (Feat. Jesse Leach)
"Tightrope" (Feat. Jason Richardson)
"Fool's Gold in the Bear Trap"
"Backfire"
"Revival"
"Sevink"
"Dark Divide"
"Deadbolt"
"The Abyss" (Feat. JT Cavey)
"Reckoning" (Feat. Spencer Chamberlain)
August Burns Red - Ancestry (feat. Jesse Leach)