Fender honors country pioneer Waylon Jennings with a limited-edition Telecaster and Phaser pedal.
The "Outlaw Country" pioneer was rarely seen without a Fender guitar in hand—and more often than not, it was his prized, leather-clad 1954 Telecaster. FCS Masterbuilder Dave Brown worked closely with the Jennings family estate to replicate even the smallest details of Waylon's iconic guitar after deconstructing the original.
Throughout his career, Jennings consistently topped charts and received awards including induction into the Country Music Hall of Fame and Male Vocalist of the Year, both from the Country Music Association. Although the country legend passed away over 20 years ago at age 64, the impact he left on the genre is still felt today. Today, Waylon's legacy lives on through his son, two-time Grammy winner Shooter Jennings, who's released 11 studio albums and produced dozens of songs spanning across multiple genres and many different artists including Tanya Tucker and Brandi Carlile.
Waylon Jennings Telecaster
The limited-edition Waylon Jennings Telecaster is designed to replicate Jennings's original model down to the smallest of details. The 2-piece ash body is finished in period-correct Butterscotch Blonde before being wrapped in the distinctive, hand-tooled leather cover and paired with a 10/56 "V"-shaped, one-piece quartersawn maple neck. Custom Shop Hand-Wound '50/'51 Blackguard pickups provide unmistakable early-'50s Telecaster tones with clear, crisp highs with well-balanced midrange and low end. $25,000.00 USD.
The Limited Edition Waylon Jennings Telecaster | Dream Factory | Fender
"Waylon Jennings' 1954 Telecaster is instantly recognizable, both in style and sound, and it was an honor to work with Shooter and the rest of the Jennings family to recreate an instrument that helped define Waylon's career," said Dave Brown, Masterbuilder, Fender Custom Shop. "The original Telecaster was gifted to Waylon back in the 60s which he eventually had wrapped in a hand-tooled leather. I was excited to feature its incredible specs, including the banjo tuner that allows players to detune the low E enabling them to drop to a low D. The Telecaster, the pedal and accessories from the capsule collection pay a beautiful tribute to Waylon's musical legacy."
Waylon Jennings Phaser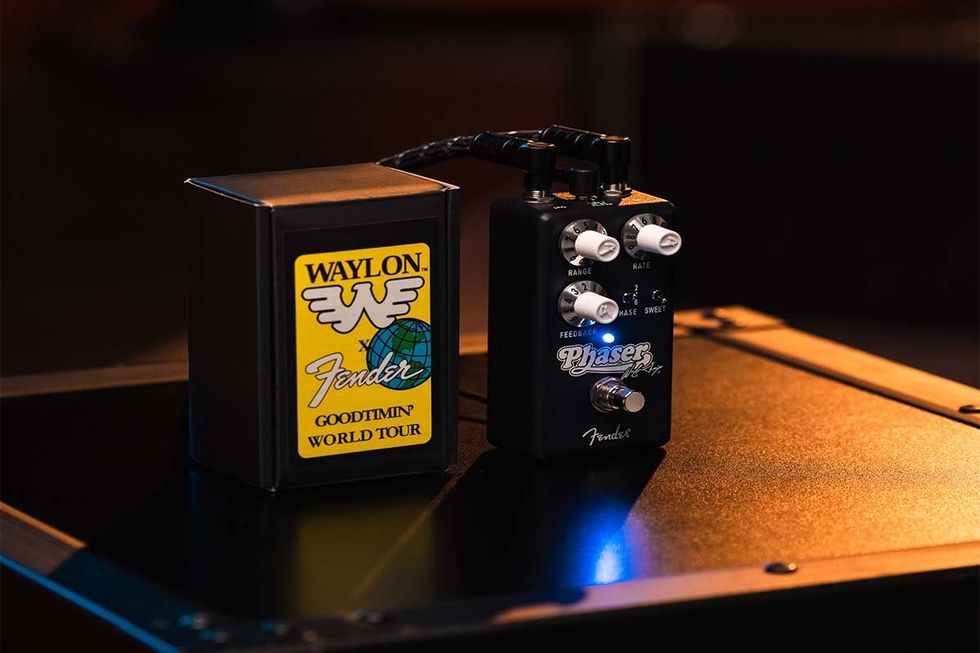 Building on Fender's original four-stage phaser circuit developed in the 1970's, the Waylon Jennings Phaser provides three distinct flavors of phasing by switching between two, four, or six phase stages. When combined with the Range and Feedback Controls, these three phase voices cover the gamut of phasing tones used by Jennings on stage and in studio.
$129.00 USD.
Fender Waylon Jennings Phaser Demo | First Look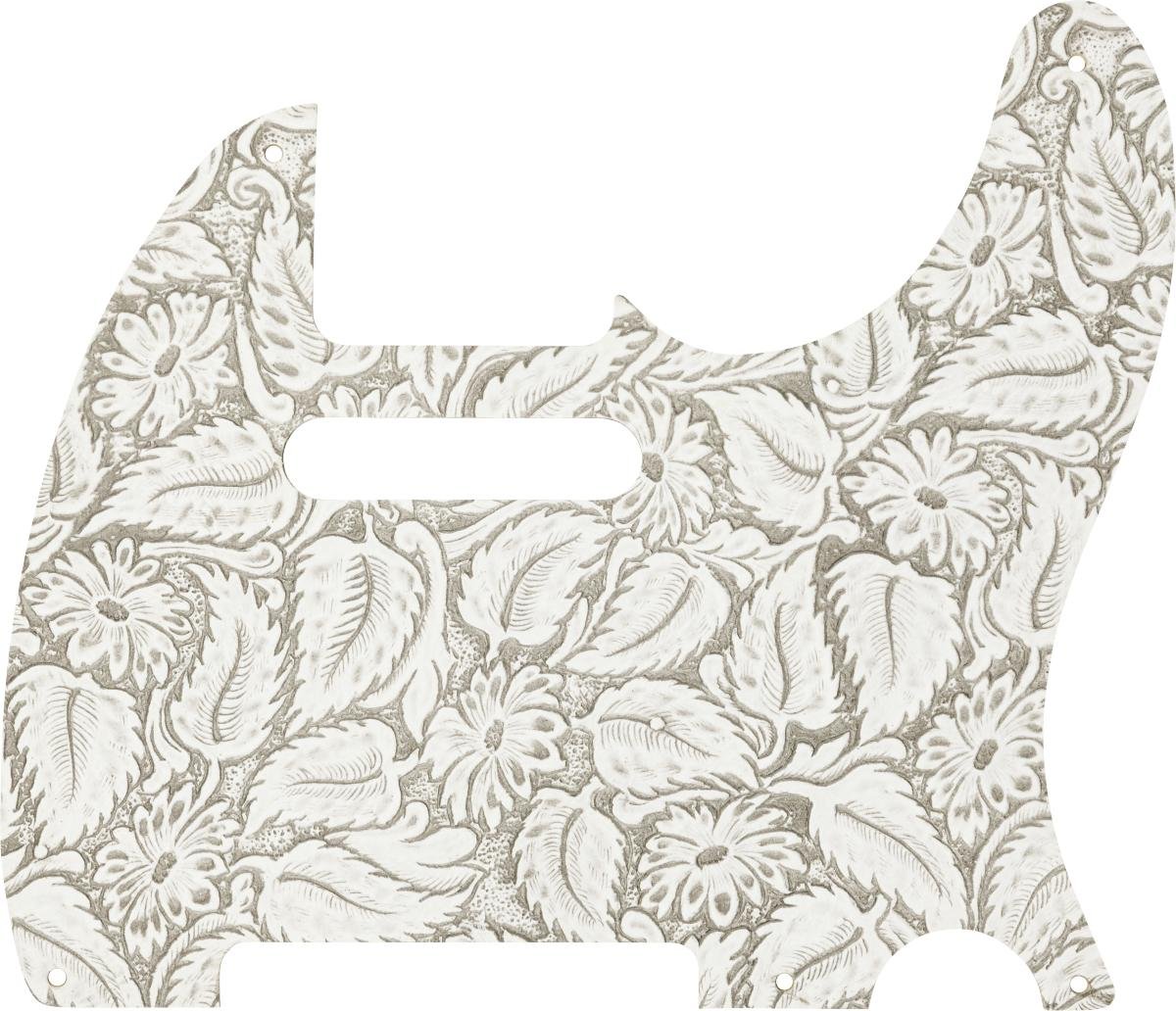 Fender
One of the top producers/engineers at one of the world's top tracking havens, Nashville's famed Blackbird Studios, shares tips and tricks on how to Introduce these classic effects to your mixes.
Hello and welcome to another Dojo. This time I'll discuss the differences between phasing and flanging and offer some advice on how better to use these effects in your recording and mixes.
First, what is flanging? Flanging gets its name from the glory days of tape machines. More specifically, the miles of spooled tape that was used to make records that were fed, and alternately collected, on metal reels—the outer edge of which was called the "flange." The earliest way to accomplish flanging was by synching two tape machines playing back the same exact audio material, and manually slowing down one of the machines by pressing a finger (or two) on the flange of the playback reel on one of the tape machines, releasing it, and listening to the characteristic "swoosh" as it raced back into synch with the other machine. Do this more than once, and you are "flanging."
Slowly run your hand up and down the length of the guitar's neck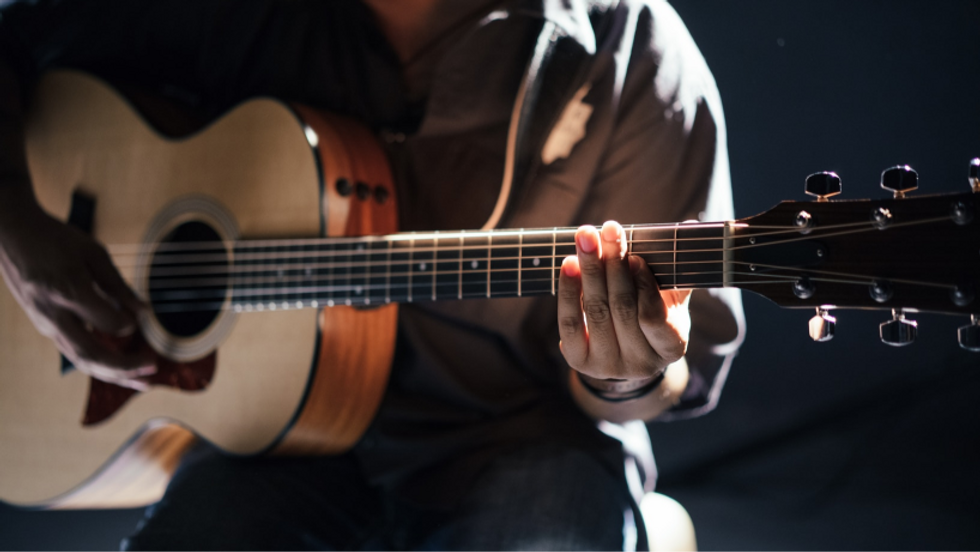 Turn the guitar over and check its heel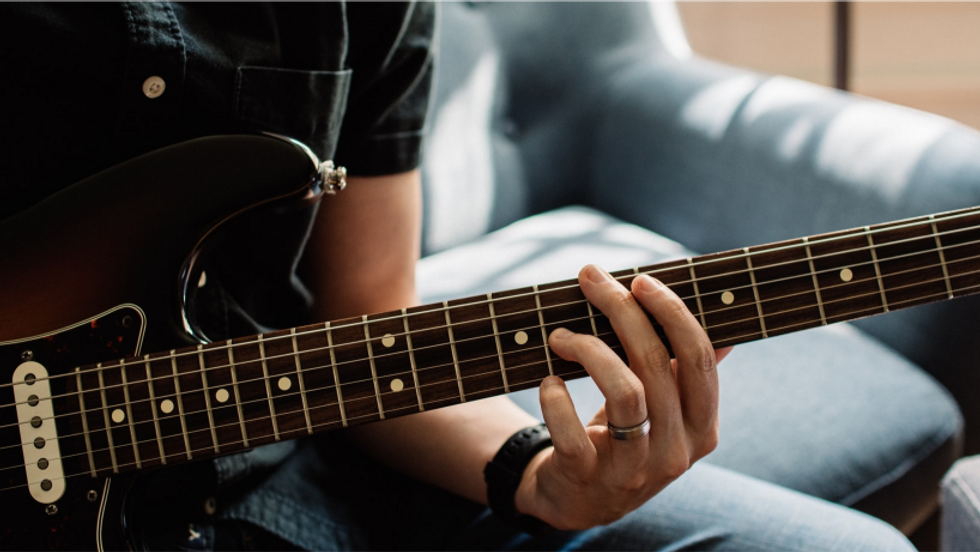 In contrast, phasing is accomplished by lining up a small group of non-linear, all-pass filters in series that react with frequencies in different ways. Look at Fig. 2. This shifts a particular frequency's wavelength ever so slightly (i.e., 250 Hz moving an eighth of a wavelength). By combing other filters reacting to different frequencies, and phase-shifting those wavelengths by random amounts, you get the comb-filtering that is characteristic of phasers.
Fig. 2
Both effects have similar sounds, characteristics, and controls. Today, most offer adjustable delay times in parallel or series, phase angles, LFO types, filter types, and delay lines at different degrees of phase that can be modulated in sync with your DAW's bpm.
Now, let me offer some basic jumping off points for you to begin experimenting with phasing and flanging. I particularly like using these effects on families of instruments (drums, grouped guitars, background vocals, strings, synths, loops, etc.) or on whole sections of mixes. Try this:
Guitar Basics For Every Beginner
Now that you've learned how to play guitar chords with the help of ChordBuddy, you're well on your way to learning how to play your favorite songs. In addition to helping beginners learn how to play guitar chords, ChordBuddy can help you learn essential guitar basics such as…
How to Tune A Guitar
How to Tune A Guitar
How to Tune A Guitar
Once you feel comfortable with playing guitar chords, you can begin to move on to something more challenging songs! The ChordBuddy training system (includes the device, app, instruction book and songbook) makes the process as simple and efficient as possible. Simply take off the colored tabs as you progress until you're able to play without the device.
An analog phaser that walks the waveforms between simplicity and subversive modulations sounds.
Unique features and sounds for its price category. Intuitive. Capable of sounds beyond simple phase. High-quality build.
Might be expensive for players that don't utilize the most unusual sounds.
4.5
4.5
4.5
4
It's easy to overlook the expressive potential of a phaser if you use a simple, 1-knob version of the effect. Old horses like the Small Stone and Phase 90 may be perfect in their simplicity. But paradoxically, when you really listen to the depth of those basic pedals' voices—rich with ephemeral, passing overtones and harmonic complexities—you hear how varied and nuanced phase can be with precise wave-shaping control.
Sitek's analog Phasia opens up many secret corners of the phaser experience without a clumsy, complicated control set. There's a modest learning curve because these controls are interactive and have expansive range. But it's easy to use, and with tap tempo, selectable waveshape options, and variable 4-, 5-, and 6-stage settings, Phasia delivers unexpected treats that defy basic phaser categorization—all without inducing option anxiety or making the pedal impractical for stage use.
Sitek Phasia Review by premierguitar
Listen to Sitek Phasia Review by premierguitar #np on #SoundCloud
Tri-Lingual and Gifted
Phasers can come across as domineering and one dimensional if you're in the wrong mood. Phasia is far from one-dimensional, though. It readily moves from weird to seamlessly integrated with your guitar voice. This leaves ample room for different pickups and effects to speak, and it's responsive to changes in guitar tone and volume.This open, agreeable nature—combined with flexible controls—make Phasia capable of subtle to mind-melting extremes.
Phasia's stage-selection switch is one key to its extra headroom and adaptability. The 4-stage voice has a distinctly vintage patina. It's simultaneously elastic and soft around the edges, though there is also a snorkel-y midrange emphasis. The phase effect can be subdued at low depth settings—a nice option to have. But it's beautiful to hear the combination of chewy and soft contours at advanced settings. And it excels in faux-rotary style settings where the pulses take on an organic edge.
The 6-stage voice is more complex. Listening to a given waveform at the same rate, depth, and feedback in this mode can be like watching the rippling undulations on a creek versus observing rolling offshore swells. There's more color and complexity in the 6-stage modulations—at certain settings you might even perceive compound subdivisions within the overtones of a waveform. If you like to foreground your phaser in bold, weird style, the 6-stage voice delivers.
The 5-stage is the real revelation, and it does much to set the Sitek apart. This voicing is extra clear and smooth, perceptibly warmer, rounder, and more EQ-neutral, which means more of your guitar and amp voice shines through. It leaves ample room for dynamics, and bass notes in particular ring with detail. If you're a jazzist communicating complex chord voicings, a producer that likes to leave space and flexibility in a mix, or a fingerstyle technician that doesn't want to obscure rhythmic emphasis, I can't imagine a better range of textures than Phasia's 5-stage mode.
This open, agreeable nature— combined with flexible controls—make Phasia capable of subtle to mild-melting extremes.
Mutating the Classics
Phasia's basic controls—rate, depth, and feedback—all have expansive and useful range, from subtle to freakishly undulating. But the other controls contribute much to the whole once you master their sometimes elusive functionality.
The symmetry control, for instance, doesn't reveal its magic easily. It can be subtle, or just not jive with what you're trying to accomplish. But when you get the feedback, rate, and waveshape recipe just right, the Phasia can almost transcend phasing entirely. In the highest quarter of its range, the long-taper/short-rise settings can sound like soft, contoured delay echoes or even gentle envelope filter squawks. In the opposite direction, the long-rise/short-taper settings sound like a cross between a Vox Repeat Percussion's staccato tremolo pulses and a reverse reverb. Each of these settings can totally recast an otherwise mundane riff.
The waveform control is trickier to wrangle. The triangle wave is peakier and vowely. The sine wave is smoother but still very vocal. The hypertriangular setting, in general, has the most soft-edged modulations. But all these qualities can become more enhanced or mild depending on where you set the symmetry, depth, and feedback controls.
The Verdict
Sitek's Phasia is a joy to use. Not all of its virtues are immediately obvious. And some differences between waveshape and symmetry settings can be pretty hard to perceive at low depth and feedback settings. But this subtle-to-robust wave-shaping power and the easy, intuitive means of accessing the breadth of those sounds makes Phasia a star. Between the mellowest and maddest extremes there are smooth, intoxicating rotary-style sounds, Uni-Vibe style undulations, and slow-cycling modulations that warp time while leaving room for overtones, pick detail, and other effects to breathe. At 250 bucks it's not an inexpensive solution, and before buying you should really make sure that the subtler corners of the Phasia's performance envelope are textures you'll really use. If you're the kind of player, arranger, or producer that likes to stack effects, or just likes the options that come from using a more spacious and versatile phaser, the Phasia is an elegant, unique, and capable modulation tool.