Don't let the rock stance fool you. This SG is a master of versatility.
Practical features. Upmarket looks. Surprisingly broad palette of stellar tones from flexible pickups.
4.5
4.5
4.5
4.5
The guitars in Epiphone's new Prophecy Collection, which includes the Prophecy SG reviewed here, perform an impressive balancing act. They streamline the classic Gibson four-knob control array, trade PAF-derived pickups for Fishman Fluence units, and style the guitars in a manner that screams "rock" with an exclamation point. But for all the streamlining, these instruments are enormously flexible, and they retain important cosmetic touchstones that emphasize the family connection to parent company Gibson's most iconic designs. Epiphone also maintained balance when it comes to price. The Prophecy SG is a reasonable $899.
Like the other Prophecy instruments in the collection—which include a Les Paul, Flying V, and Explorer—the China-built SG borrows a few styling moves from Gibson's Custom Shop-level instruments as well as unique cosmetic touches. On the SG, these include a 5-ply bound headstock, a split-diamond headstock overlay, and a bound ebony fretboard with fancy block-and-triangle pearloid/abalone inlays. On our review model, an appropriately menacing aged-gloss black finish conceals the ½" maple cap which Prophecy models wear atop otherwise solid mahogany bodies. But you can also opt for a flashier red- or blue-tiger aged gloss flame-maple veneer.
Custom Touches
The set neck is solid mahogany with 24 jumbo frets. The profile, however, is a contemporary asymmetrical version of the SlimTaper neck profile, which is thicker on the bass side. I prefer it to the SlimTaper of old, which always felt a little flat in my fretting hand. Scale length is a traditional Gibson-style 24 3/4".

Epiphone certainly didn't reach for the bargain bin when it came to hardware. The Prophecy SG features Grover locking Rotomatic tuners, a black Graph Tech NuBone nut, and a LockTone Tune-o-matic-style bridge and stopbar tailpiece—all upgrades from Epiphone's less expensive models.
Even unplugged, the Prophecy sounds and feels lively and rings with sustain.
The Prophecy SG's most significant new features, though, are the Fishman Fluence pickups that effectively make up the guitar's engine room. These active humbuckers offer three voices via the push-pull pots on the master volume and tone knobs: modern high-gain humbuckers with both pots in, vintage-like PAF humbucker tone with the bridge knob up, and a hum-free single-coil tone with the volume knob up. Between that and the 3-way toggle switch, there are a lot of sounds to play and create with.
Prophet Margin
Our review Prophecy SG was set up well and played great right out of the case, though it's a little on the heavy side for a slim-bodied SG, at around 8.5 lbs. Even unplugged, the Prophecy sounds and feels lively and rings with sustain. Those characteristics remain very present when you plug it in, too.
The high-gain humbucker settings pack plenty of power. Played through the lead channel on a Marshall-style Friedman and a high-gain Axe-Fx preset, the pickups seemed to sustain almost endlessly. But I also heard a certain sweetness you don't find in many over-wound or hot ceramic pickups. That said, the PAF setting is probably my favorite of the available voices. It moves from crunchy to full, articulate clean tones with a lot of personality. It also handles high-gain environments with a classy edge. The single-coil sounds are welcoming, too. I sensed a little hum when I mated the single-coils to high-gain amps or presets, but they are impressively quiet otherwise.
The Verdict
The Prophecy SG has tons of tone on tap, and is much more flexible than its rockist stance and 2-knob control array suggest. It's an impressive guitar for the money, and the bundle of upmarket features and high build quality put it over the top when it comes to bang for the buck.
Epiphone Prophecy SG Demo - First Look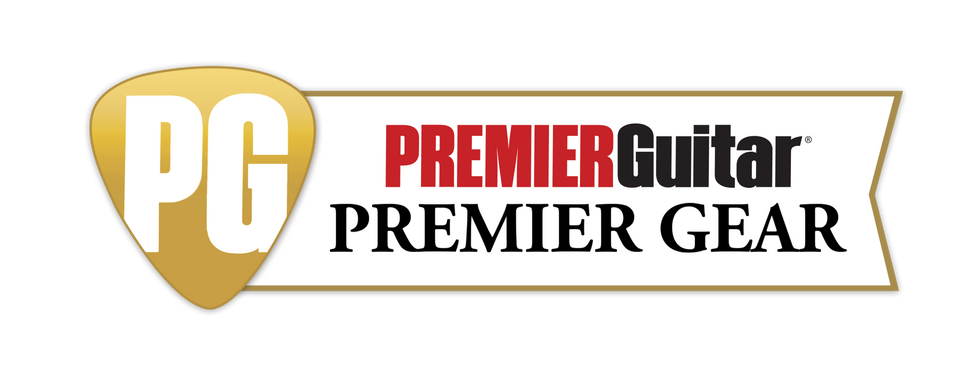 This scarred 2001 keeper is low on ROI but high on playability and tone.
I'm primarily a Tele player, but I have to profess my love for non-Fender-type guitars as well. I've owned probably a dozen or so Gibson SGs, for example, including some first-year models. Sadly, I let them all slip through my fingers over the years.

Note the rough and gouged wood along the upper contour of this instrument's body—signs of abuse from an attempt to strip off its original finish.
About five years ago, I was at a yard sale here in Asheville, North Carolina, when I came across this month's guitar. It's a Gibson SG Special that some knucklehead had started sanding before realizing it was more of a project than he or she wanted to undertake, so quit part-way through. Of course, they picked the worst place on a guitar to experiment on: the face. It was right along the beveled upper bout of the instrument.
Never experiment on the front of a guitar. Always start on the back, just in case you change your mind part way through.
Bottom Feeder Tip # 779: Never experiment on the front of a guitar. Always start on the back, just in case you change your mind part way through. That way it might still look okay when you're playing it onstage—or selling it.

Nothing like a Will Ray signature Hipshot B-Bender bridge to make this yard-sale find just right for Will Ray. He added it after the purchase, of course.
I wasn't sure I even wanted the guitar, since it looked kinda ugly, with the front partially sanded, but I decided to go over and play it. Wow! It played really nice! The seller also pointed out that it had a headstock repair from when it had fallen over a few years earlier. It wasn't done professionally and looked a little ragged. Strike two! Now I was even more leery, but then I played it some more and strangely started bonding with the poor thing. The asking price was $175 with a nice Gibson gig bag. After some haggling, I ended up paying $135 for it.

These Gibson Deluxe tuners have the same vibe as the Kluson Deluxe pegs that would have been found on first-year models of this guitar, from 1961.
When I got it home, I did some research on it and to my dismay I saw that this model was not going for around $1,200 like I'd originally hoped, but instead was only going for $300 to $400 used. And those were in better shape than mine. I decided to write it off as a hard lesson learned—just eat it and move on. I picked it up later and was reminded of why I bought it in the first place: It's a great playing guitar! It has that unmistakable Gibson feel. I plugged it in, and instead of hearing that typical darker humbucker sound, this guitar sounded much brighter and P-90-like than I expected. Then I looked at the stop-bar tailpiece and went, "hummm ... I wonder what would happen if I slapped a Hipshot bender on it?" So I did, and it works great on this 6-string. Next, I painted over the sanded-off area with some gold paint, and instead of looking ugly, it looks ... kinda interesting.
So, is it a keeper? For now it is. Visit this story online to listen to my sound sample. You can hear it sing like a songbird, but also roar like a bear. I also dig how high up the fretboard you can play.