Primo Jags and ace Ernie Ball axes help the funkateer channel Eddie Hazel grooves through a prism of Tropicália rhythms.
Facing a mandatory shelter-in ordinance to limit the spread of COVID-19, PG enacted a hybrid approach to filming and producing Rig Rundowns. This is the 14th video in that format, and we stand behind the final product.
Chicano Batman was formed in 2008 with Bardo Martinez (lead vocals/keyboards/guitar), Eduardo Arenas (bass/vocals), and Gabriel Villa (drums/percussion). The foursome was fortified shortly thereafter with the arrival of Carlos Arévalo on guitar. And since then, the quartet has sharpened their modus operandi. They took their influences (English invasion, '60s soul, '70s psych rock, and Brazilian artists like Caetano Veloso and other Tropicália music) and morphed them into something that represents East L.A. in both 2020 and 1970.
To that point, CB is a cohesive collective of artistic assassins like The A-Team, Captain Planet, or The Avengers. Each member brings something unique, authoritative that complements and elevates the greater groove of the band.
Bardo pads his social commentary and ecological worries with an airy, sultry cadence that's warmly hugged by warbly notes from his vintage Crumar TI Organ. Bassist Eduardo Arenas might be the busiest of the bunch with his lead lines and tasty locomotion that charges the band. That horsepower is in lockstep with the complex, time-morphing Latin percussion laid down by drummer Gabriel Villa. And guitarist Carlos Arévalo is the utilitarian that fills in the holes. In "Friendship (Is A Small Boat In A Storm)" he masquerades as Electric Ladyland Hendrix, "The Taker Story" slips into Maggot Brain Eddie Hazel-mode, and throughout 2014's Cycles of Existential Rhyme and 2017's Freedom is Free he taps into Tom Verlaine's melodic single-note interplay with chord stabs.
However, Arévalo's most unifying force might actually be his restraint. The bulk of the new LP Invisible People was written on keyboards and synths forcing him to rethink the guitar's previously heavy-handed role. For "Color My Life," he plays two chords around the keyboard melody and arrangement. Alone the chords seem minimalistic and boring, but in the context of the song, they're a rhythmic firecracker. Another "reserved" element is his chord shapes often incorporate only two or three notes of the full chord harmony to avoid colliding with keys and bass.
Following the release of CB's fourth studio album in May 2020, the soft-spoken artist welcomed PG's Chris Kies into his L.A.-based home. The "ADHD" tone chaser opens up about balancing between vintage Jags and mint Ernie Ball Music Man guitars, finding a Deluxe Reverb killer while on a family vacation, plucking fuzz advice from Dan Auerbach, and understanding when to play.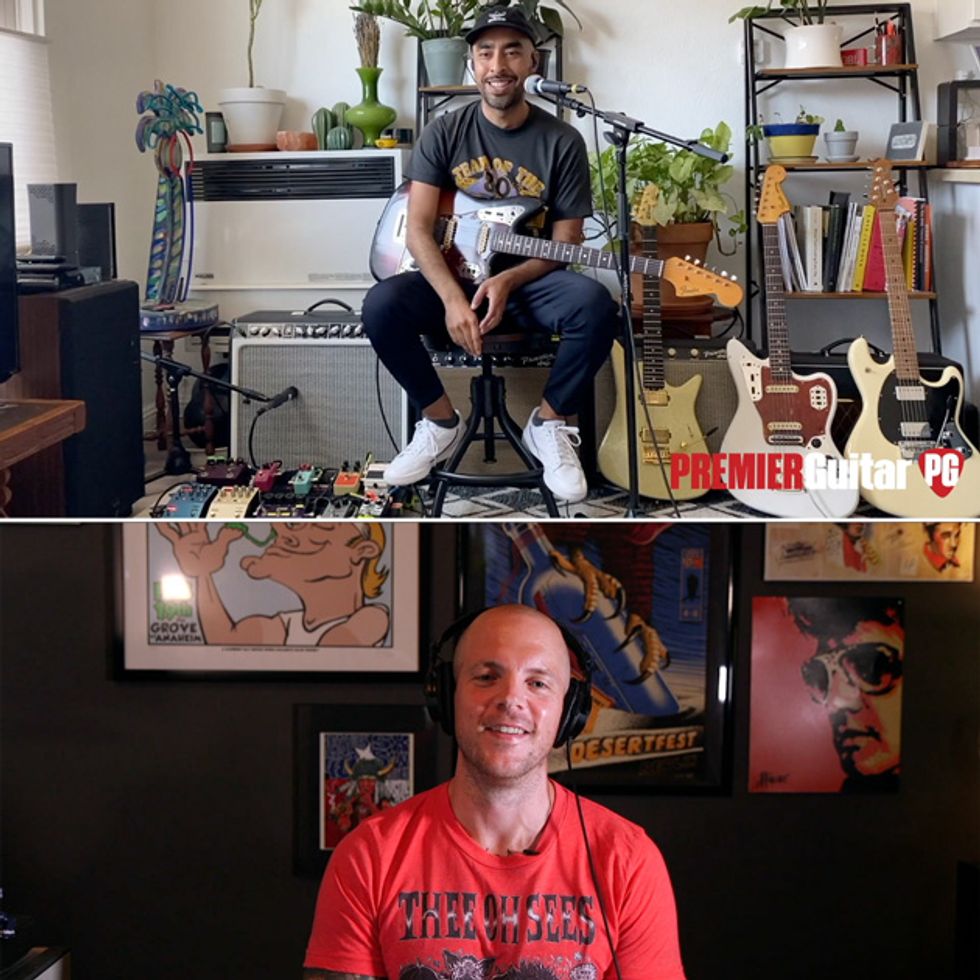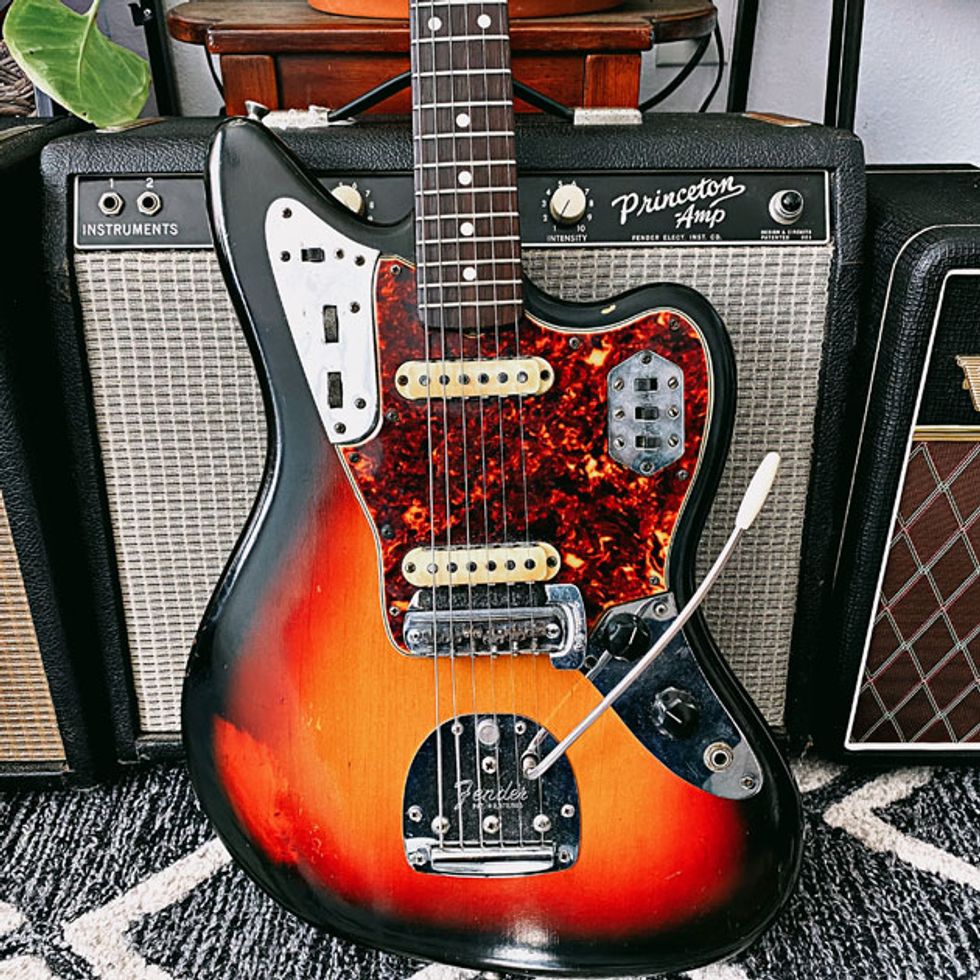 Thanks to his love for Tom Verlaine and Television, Carlos Arévalo has been hunting for an early- to mid-'60s Jaguar for some time when he ran across an online listing from actor Scott Whyte (City Guys, That '70s Show, and Full House) advertising the above 1965 Fender Jaguar. They met in person, the price was right, and (to Carlos' desires) the neck lacquer was gone. For Chicano Batman's new LP Invisible People, he used this Jag to lay it down on "I know It," "Invisible People," and "Pink Elephant". All of his guitars take Ernie Ball Regular Slinkys (.010–.046).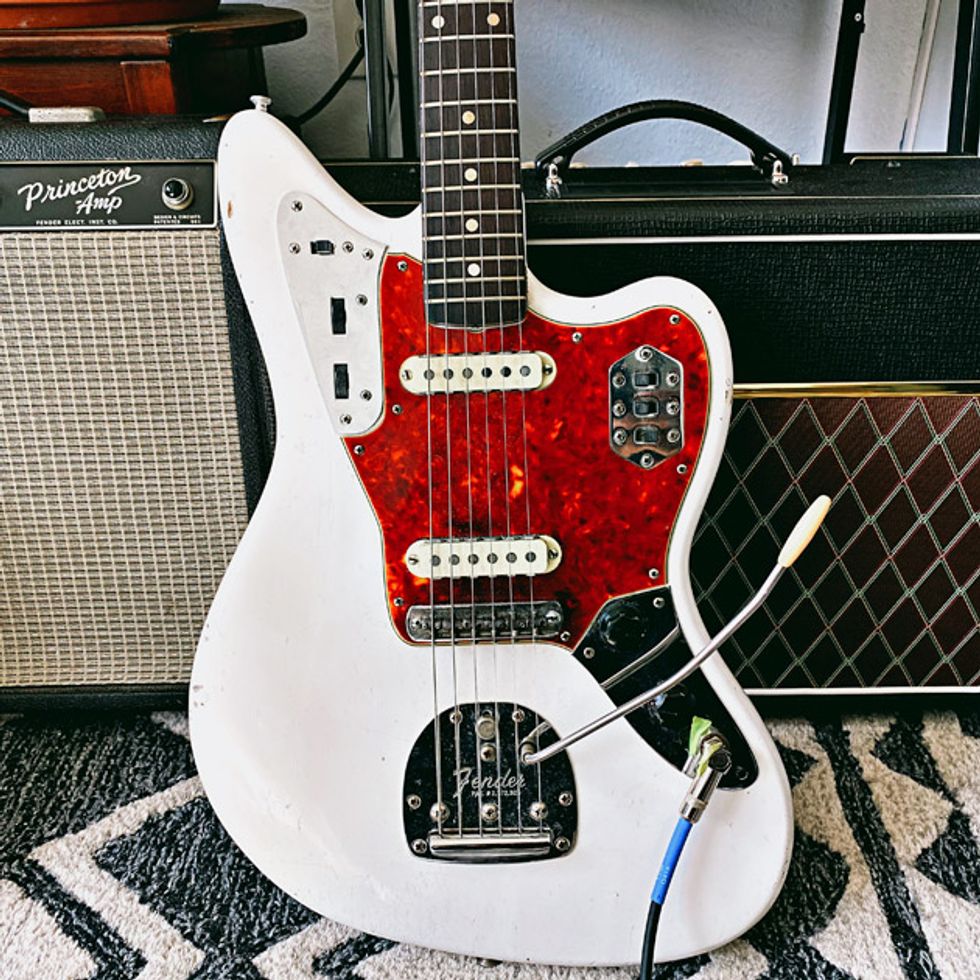 Cruising Chicago Music Exchange's website he caught a glimpse of this slab board 1962 Fender Jaguar. While the slab designation makes it a highly rare instrument (supposedly only two months of production in '62 for Jags), it's a refin so he made a call, asked how worn the neck was (real slick), and handed over his credit card information. Carlos says this Jag is a bit warmer, whereas the '65 sunburst is brighter.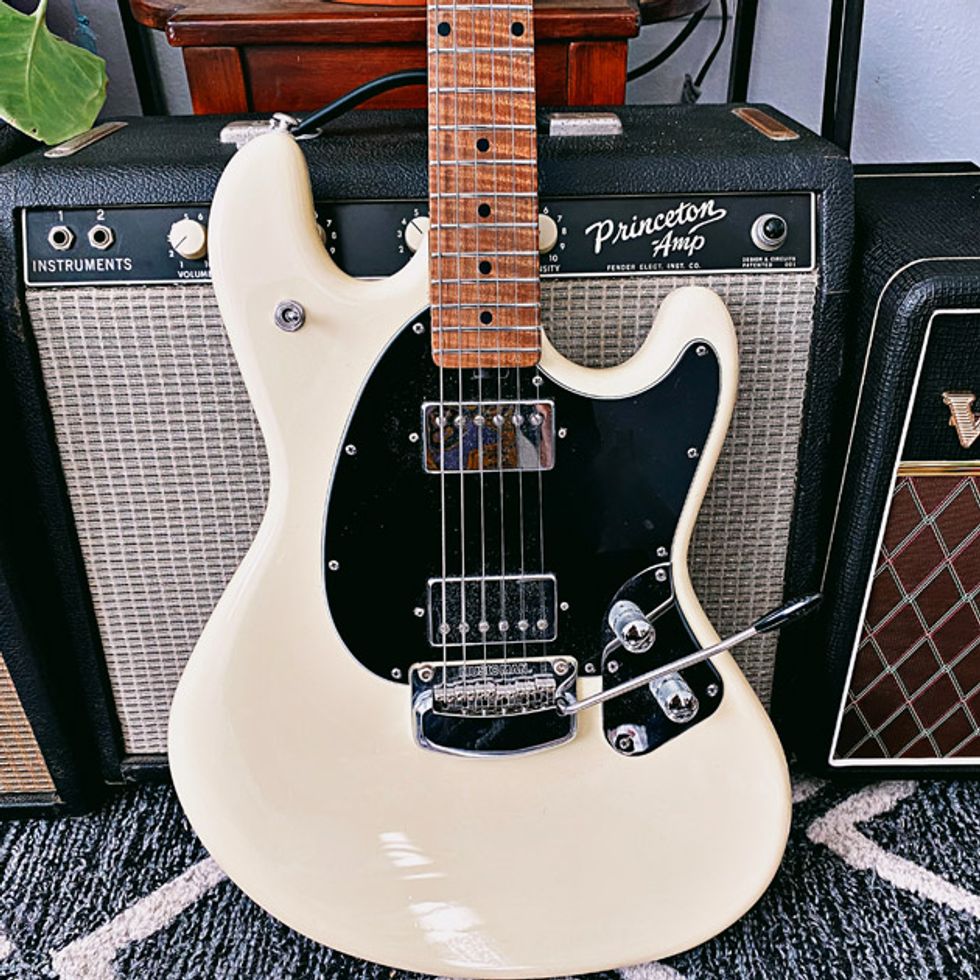 Carlos took notice of Ernie Ball Music Man's guitar game after seeing his contemporaries Omar Rodríguez-López and Annie Clark (St. Vincent) secure signature deals. Further exploring his interest in the new guitars was the band's aim to make a modern-sounding record with 2020's Invisible People, so Carlos thought it'd make sense to play some modern instruments.
While it shares the same scale length, includes a vibrato, and has a remarkably smooth neck (with added gunstock oil and wax finish) like his vintage Jags, the StingRay has a different bite because of its buckers. Carlos does comment that they sound underwound and can easily mimic a single-coil's skanky rhythms and crispy chords.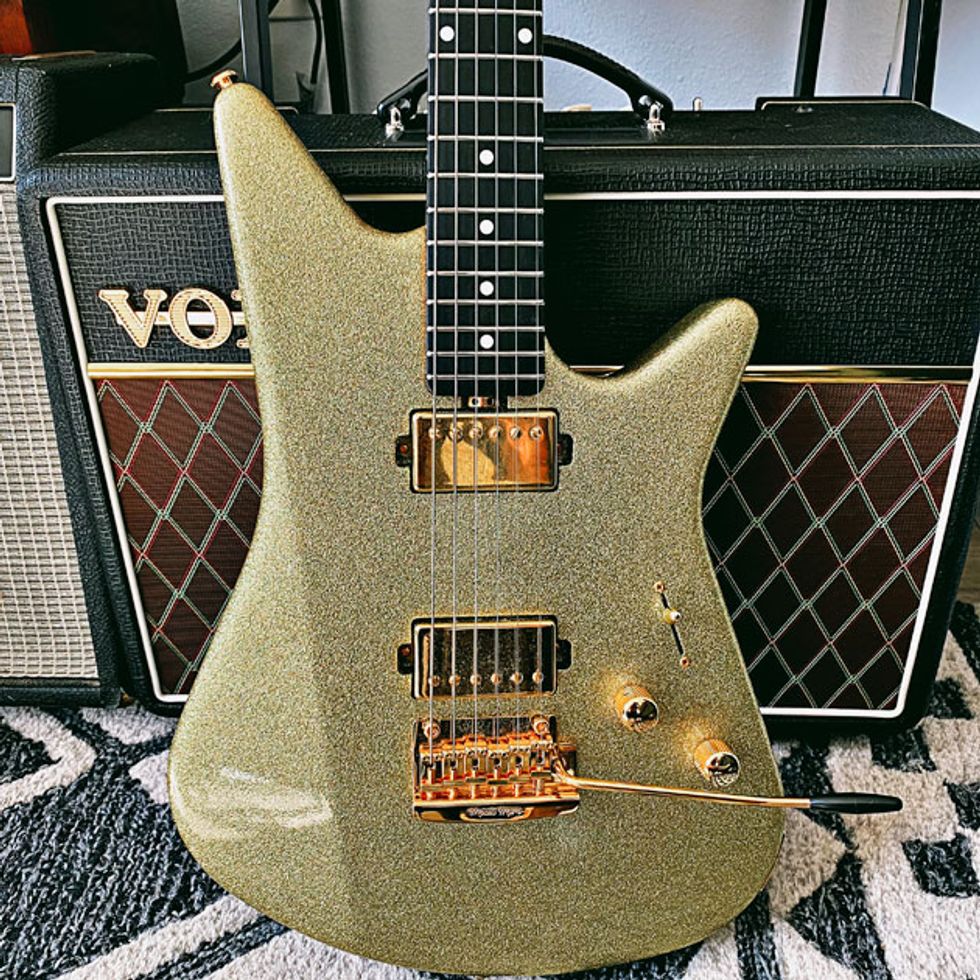 Looking for something a little visually striking, Carlos was drawn in by the hard-angle offset silhouette of the Ernie Ball Music Man Albert Lee HH. Before taking one home from the EBMM showroom, he had two requests—a gold sparkle finish and a vibrato. They delivered and he left one guitar richer. These EBMM humbuckers are the hottest set he's ever played through so he often finds himself in the second or fourth position for a more dulcet domain.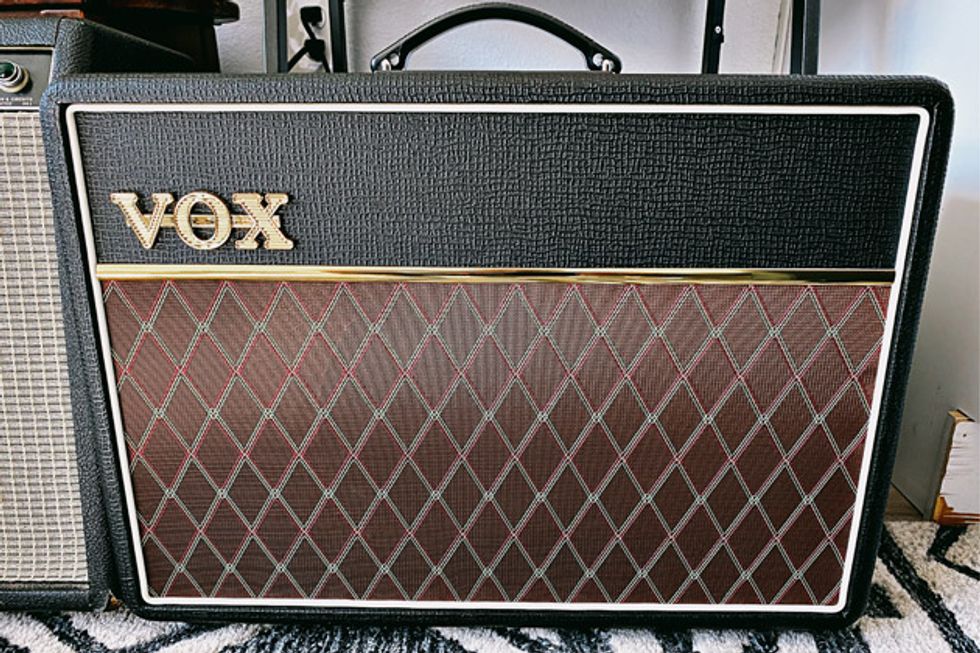 The band was primed to tour behind Invisible People this spring and his onstage artillery was going to be some handwired AC30s. Considering he doesn't want to drive his family insane, he's been rocking and rolling through this AC10 for online performances (like their recent jam for NPR's Tiny Desk) and Instagram live sessions.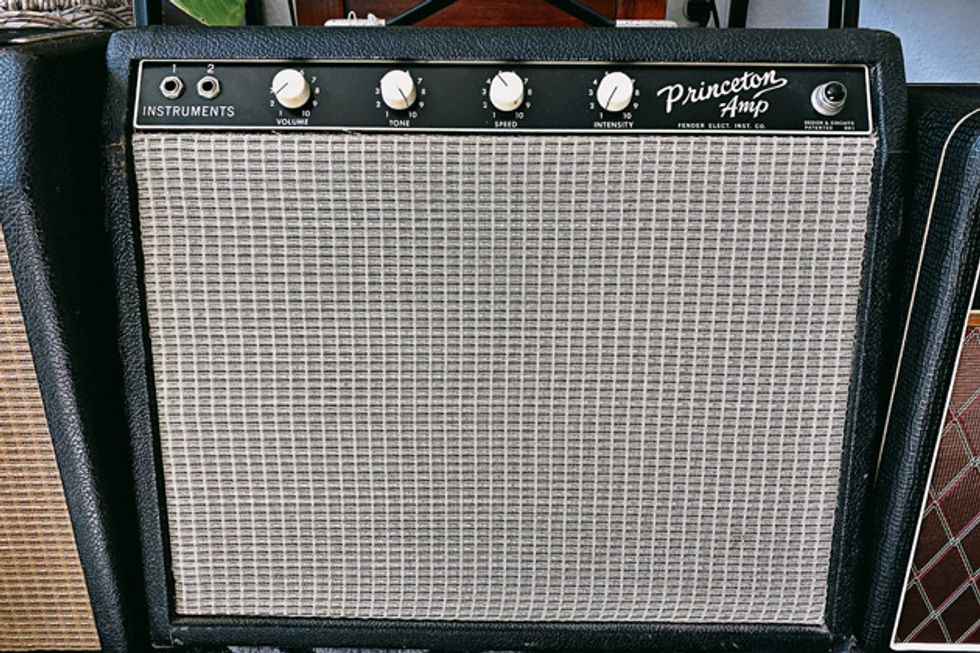 Here's a rare bird—a transition period 1964 Fender Princeton. The circuitry is late brownface-era (using 7025/12AX& dual triode preamp tubes and 6V6GT power tubes) with a chewy tremolo that's cloaked in a black-panel cab and chassis.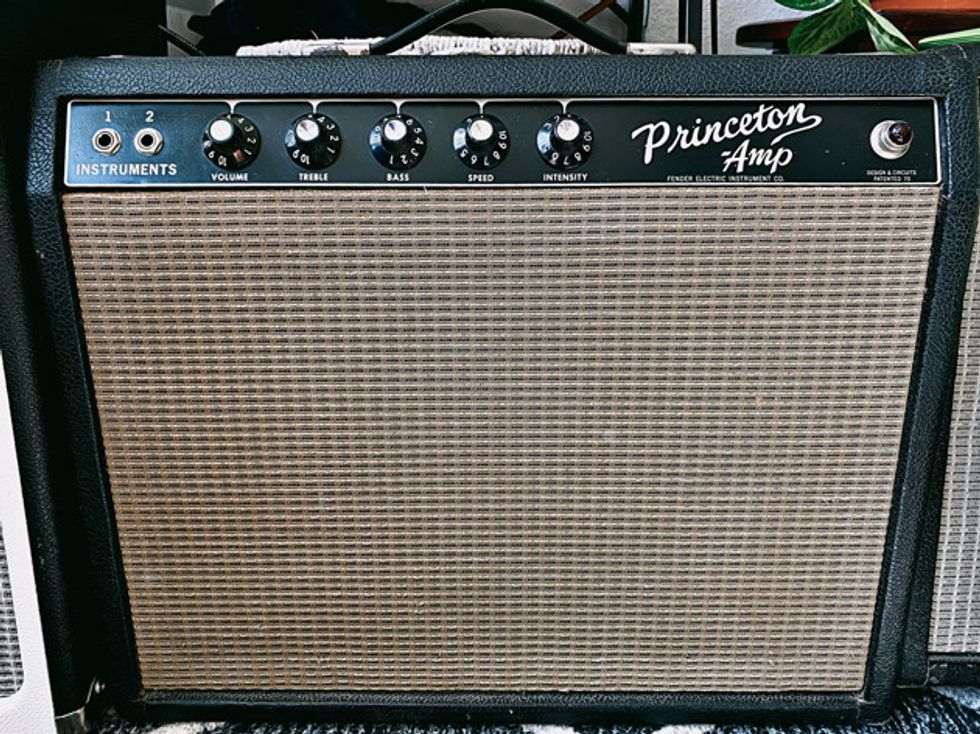 This black-panel combo is an all-original, non-reverb 1965 Princeton. Carlos says this one is a bit cleaner and has a scooped Deluxe Reverb sound from the mid '60s. He really enjoys recording with both these low-watt Princetons revealing their sweet spot is between 4 and 5 on the volume.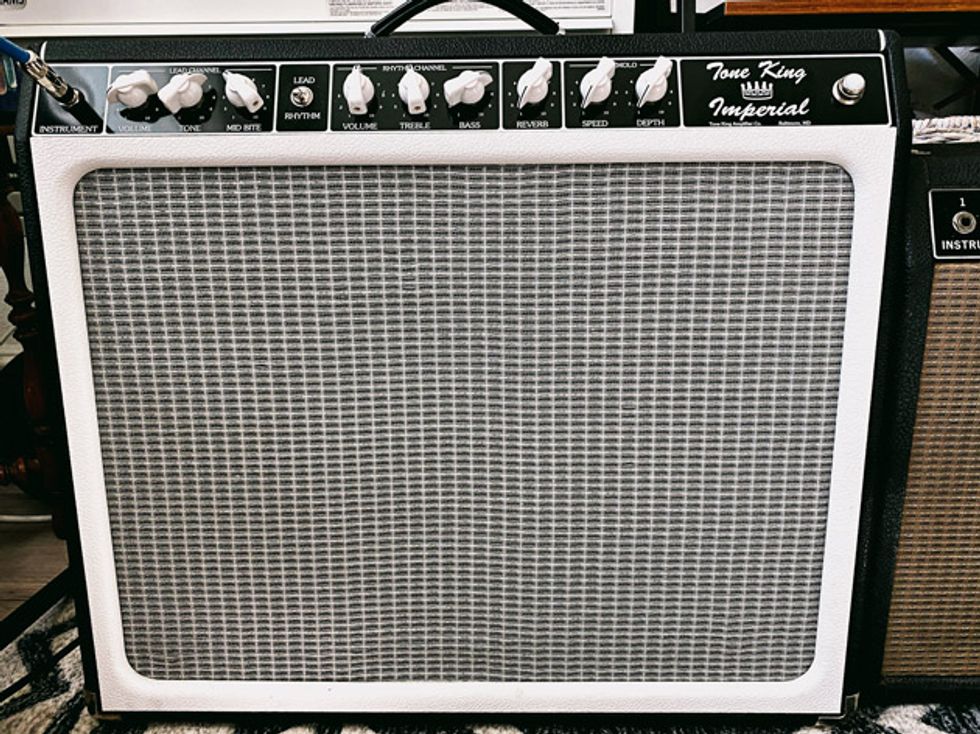 While visiting family in Virginia, he was jonesing to play so he ventured out to the nearby Guitar Center to pluck some strings. After finding a worthy 6-string, he plugged into this '90s Tone King Imperial MKI. He couldn't leave without it so he signed on the dotted line and crossed his fingers until it showed up in California. of its "great highs, full mids, overall warmth, and great lows."
After opening for the Arcs (side band for Dan Auerbach of the Black Keys) in Austin and hearing Dan's huge fuzz tone, Carlos approached his tech, Dan Johnson, and found out the culprit was an EarthQuaker Devices Terminal. He bought one the next day. Adding some more fuzz flavors, he put in an Electro-Harmonix Ram's Head Big Muff. A MXR Sub Machine Fuzz provides growling sub octave (down one or two) and the octave-up fuzz (MXR's La Machine Fuzz circuit) is yet another shade of scuzz. Next up are a dynamic duo of digital delights by Boss—DD-200 (Digital Delay) and a MD-200 (Modulation). Up top he has a Catalinbread Topanga, Stacks FX Lil Masher, Ibanez Analog Delay Mini, and an Analog Man King of Tone. A Boss TU-2 Chromatic Tuner keeps everything in check, while a Voodoo Lab Pedal Power MONDO brings the pedals to life.