Photo by Ken Settle
Remembering the art and life of one of the world's greatest and most innovative instrumentalists, who died on Tuesday, January 10, at age 78.
Legends are immortal, but not human beings. And so, Jeff Beck, an immortal of the electric guitar, died from bacterial meningitis on Tuesday in a hospital near his sprawling county estate, Riverhall, in Wadhurst, England, at age 78.
To call Beck a giant of the instrument nearly diminishes his monumental and singular accomplishments. He established his own supremely influential language of the guitar and spoke it fluently for more than six decades. Although he never sang on his recordings, in his hands the 6-string was vocal—fluid, melismatic, melodic, and most important, full of heart. Attending a Jeff Beck concert was to witness inspiration at its most wild and relentless. And to bask in a tone so large and purposeful that it could seemingly be heard around the planet.
Which it was. Beck was known and revered across the globe—an instrumentalist who made albums for the first two decades of his career, (starting with the Jeff Beck Group's still stunning and innovative 1968 debut, Truth) that routinely made the top 20. Those include his groundbreaking duo of mid-'70s recordings, Blow by Blow and Wired, that transformed fusion into part of the soundtrack of popular culture. But Beck was not a jazz or rock guitarist. He was an omnivore, who digested every style—country, rockabilly, swing, Tin Pan Alley, punk, skronk—to both put his seal on them and twist them to his own ends, turning the Beatles' "She's a Woman" into a reggae playground and transforming an idea taken from a theme by composer Maurice Ravel and turning it into the epic, soaring, and harmonically supercharged "Beck's Bolero."
"Whenever I pick up a guitar, it will always be heavily blues influenced, but I try to push it further, because you have to expand your scales and melodic thinking." —Jeff Beck
When I asked Beck about his approach, during the '80s, he replied, "Whenever I pick up a guitar, it will always be heavily blues influenced, but I try to push it further, because you have to expand your scales and melodic thinking. But I'll play a blues solo on a non-blues song, bending the notes into whatever the song takes. That's my whole thing: trying to explore the blues to the maximum, really. It's in the blood."
Note that Beck said, "whatever a song takes," not whatever it needs. The courage and will of his playing were consistent, impulsive, and limitless. Listen to "Morning Dew" from Truth. His guitar toys with themes, playing fragments of melodies, dropping patches of wah wah, howling, rather than weaving a defined rhythm or tune through the song. Then hear "Pull It," from 2016's Loud Hailer, an album cut with vocalist Rosie Bones and guitarist Carmen Vandenberg of the English punk outfit Bones UK. Made nearly 50 years after Truth, that song is also telegraphy as music—dots, dashes, fuzzy blots of tone. And yet both performances not only work—they're riveting.
Beck considered blues to be the core of his music but saw its opportunities for expansion as limitless.
Photo by Ross Halfin
Beck was born in Wallington, Surrey, England, on June 24, 1944. Les Paul was his first guitar hero, followed by Cliff Gallup, B.B. King, and Steve Cropper. He became friends with Jimmy Page when they were both teenagers, and, while attending Wimbledon College of Art, he fell in with David "Screaming Lord" Sutch, with whom he first recorded in 1962. But Beck really began his 60-years-plus of breaking rules in 1965, when he replaced Eric Clapton in the Yardbirds. There, he pushed the group's blues envelope with his inflammatory guitar on "Shape of Things" and the demented "Over Under Sideways Down," where his hammer-ons, slides, and bends created the number's sitar-influenced riff. Although Beck was unhappy in the Yardbirds, his 18-month membership earned him his first induction into the Rock 'n' Roll Hall of Fame in 1992, followed by a second induction for his work as a leader and solo artist in 2009.
The inevitable formation of his own band, the Jeff Beck Group, featuring Rod Stewart and future Rolling Stone Ronnie Wood, occurred in 1967, and with the next year's Truth, he presaged Led Zeppelin's recasting of blues as psychedelic manifesto. Beck's playing on that album remains practically avant-garde at its least restrained, yet still directly speaks a dialect of the blues. But with the notable addition of pianist Nicky Hopkins, the Group tilted further into rock with its next release, 1969's Beck-Ola. Two more albums, Rough and Ready and Jeff Beck Group, followed, with the latter including "Going Down." Beck's version of the Don Nix tune that Freddie King had made famous became an instant FM radio staple.
"I saw Beck use the whammy bar alone to play a slow, lovely feedback melody through his array of amps, and then point the guitar's headstock straight down into the stage and push himself into the air by placing his hands on the rounded back end of the body. When he touched down, he tossed the guitar—still feeding back—into his arms, hit two notes that revealed where the tuning had drifted, and flawlessly picked up the melody he'd been playing before his acrobatic stunt."
That band was followed by the short-lived Beck, Bogert & Appice, who released an album of the same name in 1973. The group was a trio, with vocalist/bassist Tim Bogert and drummer Carmine Appice, from the Vanilla Fudge and Cactus. All along Beck had continued to maintain a studio career (which continued almost to the present) and had played on Stevie Wonder's Talking Book the year before. Beck, Bogert & Appice's rendition of Wonder's "Superstition" was one of their album's highlights, along with a beautiful slide-guitar-dappled reading of Curtis Mayfield's "I'm So Proud."
After this soul-music-influenced outing, Beck experienced a kind of rebirth. He was already a Gibson Les Paul player, but while recording in 1972 in Memphis he found a 1954 goldtop that was refinished in oxblood by its previous owner. That guitar is depicted in Beck's hands on the cover of 1975's all-instrumental Blow by Blow, which sold a million copies in the U.S. and reached number four on Billboard's Hot 100 album chart. The epochal Blow by Blow alone is enough to ensure that Beck's legendary status will endure. It's full of monumental performances, including his emotional tribute to Roy Buchanan, "'Cause We've Ended as Lovers," perhaps the greatest blues-inspired instrumental ever recorded.
Longtime friends Jeff Beck and Eric Clapton share the stage at the 2010 Crossroads Guitar Festival.
Photo by Chris Kies
And the die was cast. Although he went on to make albums and cut singles with exceptional vocalists—perhaps most notably a soulful 1985 version of the Mayfield gospel song "People Get Ready," with Rod Stewart, that's become a classic—from that point on Beck dedicated himself primarily to instrumental music.
The next year's follow-up, Wired, built upon Blow by Blow's success with performances of Charles Mingus' "Goodbye Pork Pie Hat" and Jan Hammer's "Blue Wind" that also set radio afire. More important, though, was the arrival of the Fender Stratocaster on its cover. For the rest of his life, Beck and Stratocasters were mostly inseparable onstage and in the studio. And by using banks of amps and unsparing volume, he crafted a unique sound on the single-coil instrument, huge and compelling, with a horn-like fluidity and endless, sustained tone.
His technique on the Strat's vibrato arm was extraordinary. It was as if it was grafted to his hand, or, at least, seemingly never left it. His subtle—and often radical—bending and pulling of notes with the bar made his playing even more voice-like, able to carefully craft and negotiate micro- or macro-tonal changes effortlessly. His intimacy with the Strat made for some truly uncanny performances.
In a '90s concert at the Great Woods Amphitheater in Mansfield, Massachusetts, I saw Beck use the whammy bar alone to play a slow, lovely feedback melody through his array of amps, and then point the guitar's headstock straight down into the stage and push himself into the air by placing his hands on the rounded back end of the body. When he touched down, he tossed the guitar—still feeding back—into his arms, hit two notes that revealed where the tuning had drifted, and flawlessly picked up the melody he'd been playing before his acrobatic stunt.
Beck's romance with the Stratocaster caught fire during the recording of 1976's Wired album.
Photo by Ken Settle
Beck continued to make excellent studio albums—most notably There and Back, Jeff Beck's Guitar Shop, Jeff, Emotion & Commotion, and Loud Hailer. He also racked up high-level session credits, recording with Roger Waters, Jon Bon Jovi, Kate Bush, and Tina Turner. And he accumulated eight Grammy Awards—seven for Best Rock Instrumental Performance. His most recent album was 18, a 2022 collaboration with Johnny Depp. Beck's final public performance was touring behind that release, on November 12, in Reno, Nevada.
After Beck's family announced his death on January 11, fellow guitar virtuoso Eric Johnson shared his thoughts on social media: "Hearing about Jeff Beck is a shock. He was one of the most original guitarists I ever heard. He never conformed to status quo guitar or conventional playing, always reaching for a new dimension, which he achieved multiple times. He was the most expressive lyrical storytelling guitarist there ever was and that's why non-musicians loved him. He garnered more affection from audiences than other guitar heroes because he had such a musical poetry to his playing.
"I believe that he and Jimi Hendrix were the most inventive and original rock guitarists there ever was. I had the gift of being able to visit with Jeff a few times and that is a treasured memory in my life. The guitar world will go on, but it won't be the same without the most inventive 6-string visionary we have been graced with on this planet. Joyous wishes to you, Jeff, as you soar on to your next magnificent adventure. Thank you for teaching me and inspiring me to want to play guitar."
JEFF BECK LIVE Cause We've Ended As Lovers
For our annual guitar mods issue, we asked readers to share projects from their own workbenches.
Anthony Pereira: Jackson with Warpigs
Not as elaborate as others I've seen, but I've always been a sucker for Jackson guitars, and I'm not even a shred player. I wanted to do something different to my SL2, so I installed FU-Tone Noiseless Springs, an FU-Tone Brass Block on the Floyd Rose, a trem stopper, and Bare Knuckle Warpig pickups. The kicker is that I put a P-90 Warpig in the neck position for the punchy leads. The pickups are much darker than the stock pickups, but they scream through my 1982 Marshall 2203.
Gregg Ledoux: Meet Mavis
This is Mavis. She has a Warmoth swamp-ash body, a Warmoth Goncalo Alves neck with pau ferro fretboard, and stainless-steel frets. I chose a Lollar P-90 and Seymour Duncan Pearly Gates for the pickups. I assembled this guitar in the last couple of months. She rocks!
Jin J. X: Covering Serious Ground
Hi Premier Guitar!
This may look like a "normal" Ibanez Artcore, though it has some extra goodies. This is an Ibanez AFJ85 with a Stewmac Golden Age Parson Street alnico 2 PAF-style pickup in the bridge, and a custom alnico 3 neck pickup made for me by David Magazzi out of Connecticut. Instead of a 3-way switch, it uses the middle three notches of a 5-way rotary switch with the outside positions acting as a "mute." The "top" master volume and tone pots are dedicated to the magnetic pickups with their own input jack.

You may notice a small wire coming from the bridge—this is a Fishman Powerbridge posted to the floating posts. That wire goes to the "bottom" volume and tone and to a separate jack. Historically, I've not been the biggest fan of piezo pickups in solidbodies, but in a hollowbody it actually sounds more real (a trick I picked up from the mighty Gilad Hekselman). So, this guitar covers some serious ground: legitimate jazz and R&B sounds in the neck, bright twangy sounds in the bridge, and a whole separate circuit for acoustic sounds that, in the studio with EQ, sound very much like a dreadnought we all know and love.
Thank you for all you do, and I appreciate that you give readers the opportunity to get in on the fun.
Justin Lee: Smashing Pumpkins Squier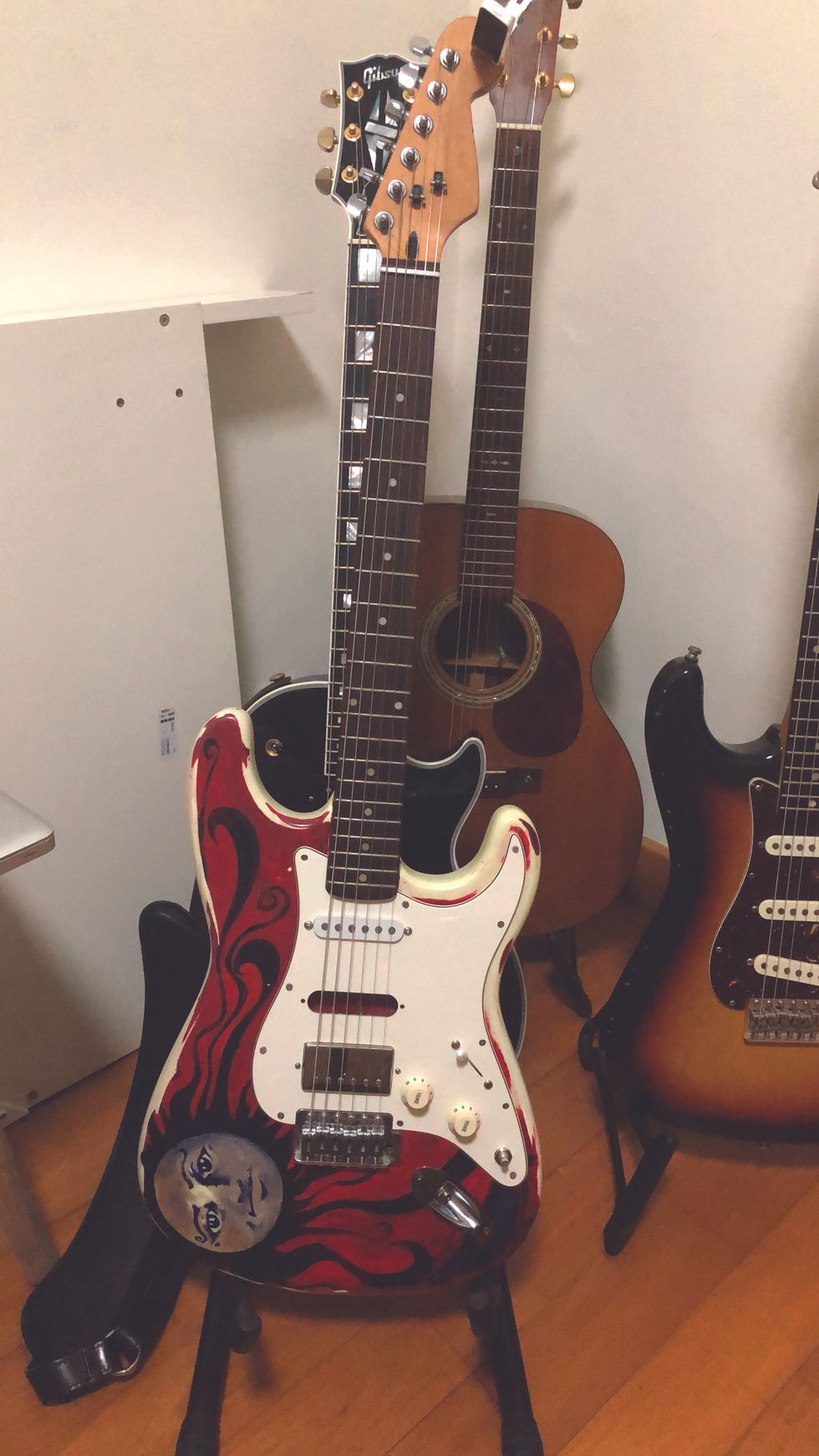 Hi Premier Guitar,
Love all your content, especially the Rig Rundowns! I'd like to share with you my quarantine guitar project. It's my first-ever guitar that had been unassembled for the longest time. I've since gone on to own much better guitars but there's still something very magical about this one.

It's started life as a Korean Squier and I thought the white finish was a bit boring (no offense to Jimi), so I painted it, inspired by Smashing Pumpkins' Mellon Collie and the Infinite Sadness album. I guess the choice of red and white was inspired by Van Halen.

During this whole period of quarantine, I decided to get it back up and running with some help from my local guitar shop. I changed the tuners and nut, and I wired in a few old pickups I had around: a Gibson pickup in the bridge and a DiMarzio Vintage Pro in the neck. I'm still not sure what to do about the space for the middle pickup. I might just leave it empty, which makes it more Frankencaster-esque. I've set it up with .011s and raised the action with the intention of trying to play slide (again!). I'm also waiting to get the right (free) knob for the second tone pot.

It's probably not worth the money that I've just put into it, but I can't give it up and it should be played. Also, it seems to be my kids' favorite one of them all.

Kind regards,
Justin (currently living in Singapore but spent a lot of time in the U.K. and Canada)
Justin Motander Jones: Berto
This pine-bodied "Berto" was made from a beam from a neighbor's 1930s patio here in the Kensington neighborhood of San Diego, California. The purpleheart fretboard pays tribute to the now-defunct historic Ken Cinema. The guitar has a TV Jones Magna'Tron, and a McNelly CC neck pickup. The anodized aluminum knobs are made locally by Forney Guitars. Berto has a Schroeder bridge and Gotoh tuners. I make guitars in San Diego and my IG handle is @justinmotanderjones, if you'd like to see some others.
Kato: Tilt-Back Banana
I put together this beautiful guitar out of some parts that were made to my specifications. It's a Strat-style body but it's a little bit thinner than normal. The neck is custom-made and the closest replication of the tilt-back banana headstock like George Lynch's. The pickups are alnico 2 in the bridge, alnico 4 in middle, and alnico 5 in the neck. The neck has a slightly slimmer profile, so it's easier to play blazing-fast leads. I had the neck plate custom-engraved with my logo and the headstock is currently out being painted to match the body and I'm having my logo applied. Hope you like it. Took me quite a while. Can't wait to play her!
Mark Cully: Two-Fer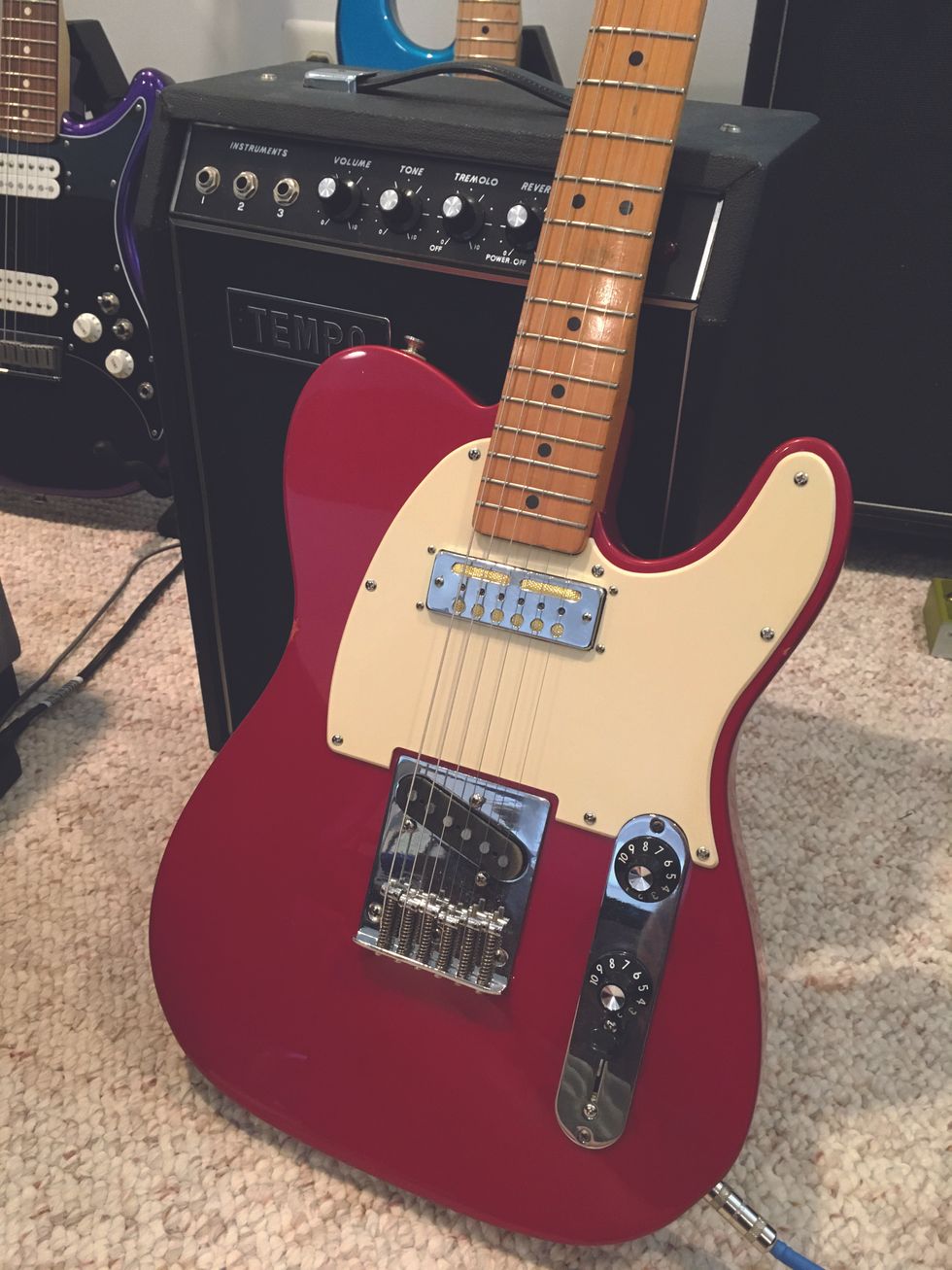 I have two guitar projects to share. The first is my '90s MIM Squier Telecaster. I put a gold-foil pickup from a 1960s Teisco guitar in the neck position along with CTS pots, orange drop capacitors, and a proper Fender switch.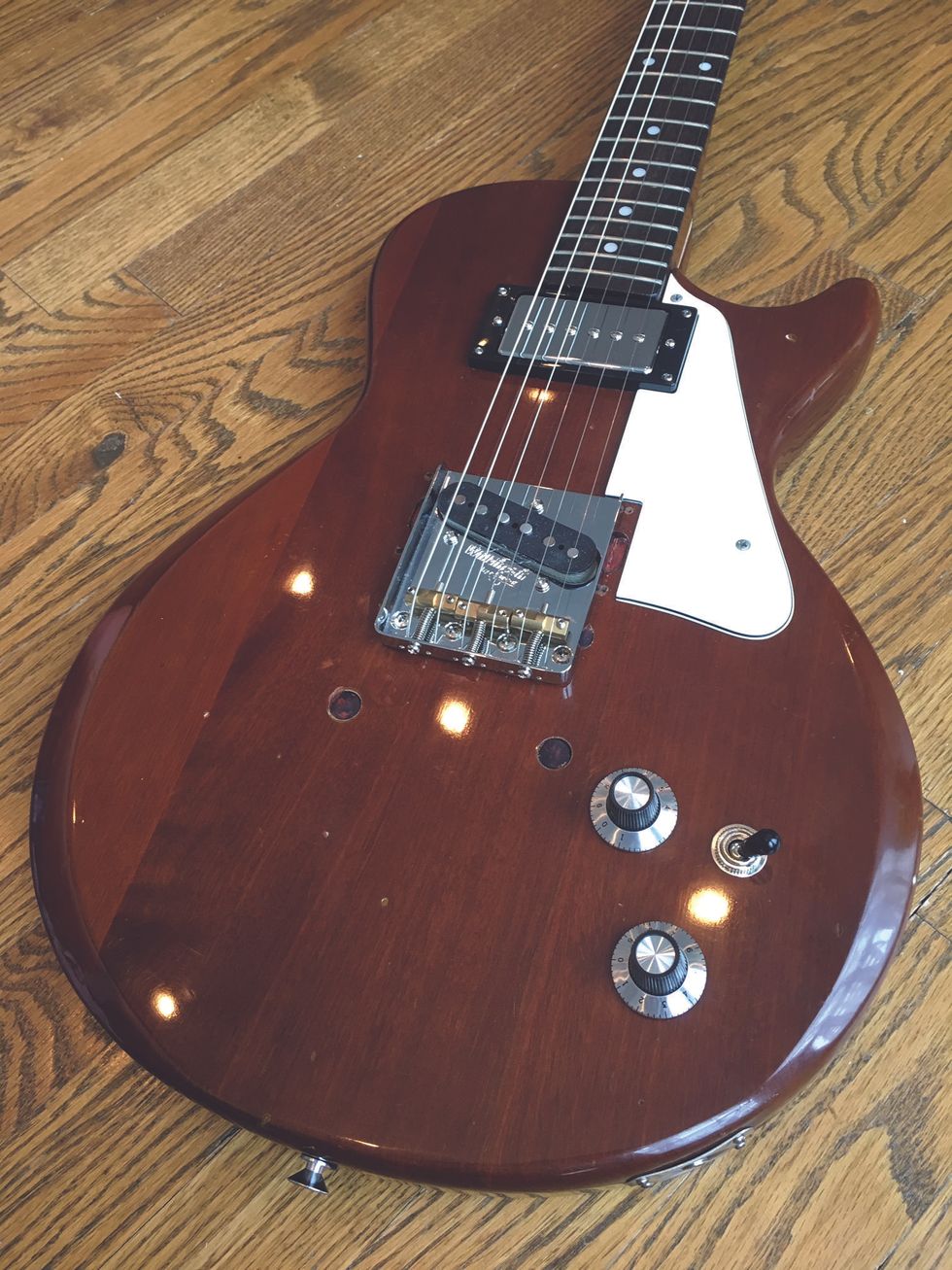 The second project is my Lotus guitar. It started out as a double-humbucker guitar with a Tune-o-matic bridge. I installed a Tele-style bridge and pickup, and a P-90 in the neck position. It's now a string-through body. I handmade a hardwood shim for the neck pocket to make the neck angle suitable for the lower bridge. It has all new electronics, including CTS pots, orange drop capacitors, etc. Great mag, by the way!
Matt Dunn: Best of Both Worlds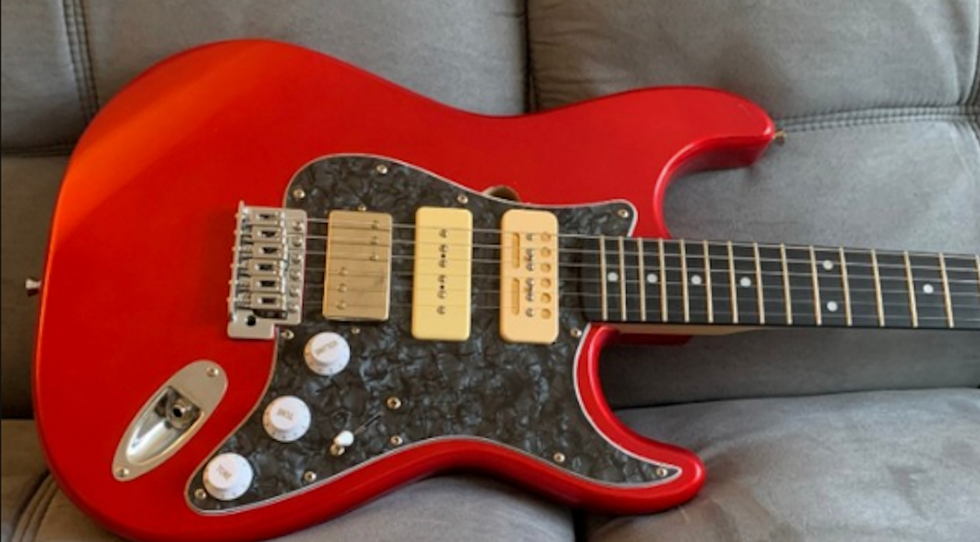 This guitar started its life as a cheap Strat copy under the Stadium brand. I've always loved HSS Strats because of how versatile they are in terms of sonic possibilities. But you rarely ever see P-90s put into a Strat, let alone P-90s for an HSS configuration! So, I ordered a custom pickguard with the help of WD Music, loaded the guitar with some GFS pickups, and decided to see how a pair of P-90s and a Wide Range-style humbucker would sound. It ended up sounding wonderful, with more of a Gibson flavor than I anticipated or expected. As a Les Paul Junior fan, this guitar provided me the best of both worlds and is quite the conversation starter!

Michael Menkes: Modded Explorer
This bass was a stock Epiphone Korina Explorer. These are the mods:
Hipshot A Bass Bridge with string through
Bartolini Classic Bass humbuckers
John East Uni-Pre preamp
Hipshot D extender tuner
Alperious Custom pickguard, pickup covers, and truss rod cover
It took a full year to complete! Worth it.
The Fixx's Jamie West-Oram on his unlikely guitar hero, and Albert, B.B. and Freddie King's "bird song" solos.