Super slim and built to rock the Vox in analog style.
Impressively full featured for such a small package. Many truly Vox-like sounds
Still sounds more like an analog "amp-in-a-box" approximation than digital emulations (or the real thing)
3.5
4.5
4.5
4
A "fly rig," in the broadest definition, is a small, portable, plug-and-play assemblage of pedals and possibly a preamp that you can throw in a backpack or overhead compartment so you can jet away with ease to your next show. Practical, portable backline tools like these have been around for quite some time, and in many forms, and Tech 21's SansAmp range, including their very own Fly Rig series, deserves a lot of credit for popularizing the concept of an integrated, all-in-one solution.
Back in 1989, long before digital modelers were fixtures on stages, Tech 21 introduced its entirely analog SansAmp devices to help squeeze big tube-amp tone from changing backline rigs. The new Character Plus Series pedals serve the same basic purpose: achieving the most accurate possible image of a tube amp in an all-analog, amp-in-a-box format. And in pairing an "analog amp" with a pedal circuit famously associated with that amp, the Character Plus Series delivers many practical, spirited, and very affordable alternatives to real amp sounds.
The four new offerings include the Screaming Blonde (which pairs Fender-style and Tube Screamer-style circuits), English Muffy (Hiwatt- and Big Muff-style), and Fuzzy Brit (Marshall- and Fuzz Face-style). Our review model, the Mop Top Liverpool, includes a Vox-like amp-in-a-box circuit with a Rangemaster-style booster at the front end. As is the SansAmp way, this unit squeezes a lot into a very compact package. Frankly, I expected something much larger than the 7.75" x 2.75" x 1" pedal that arrived.
 Double Top Boost
Though the Mop Top takes after a Vox-style tube combo, it really gives you the flavor of two top-boost-equipped AC-inspired amps of varying gain profiles. Controls include drive, volume, and character for each of two footswitchable channels, which are labeled A and B and dedicated to relatively clean and overdriven tones, respectively. The two channels share an EQ stage with low, mid, and high frequency bands, plus pushbuttons for high shift and mid shift. The Rangemaster-style boost function, which has a dedicated footswitch, includes just a single knob, but it's a dual-function affair. It's flat at 12 o'clock, and provides up to 12 dB of treble boost in the clockwise direction or 12 dB of mid boost in the counterclockwise direction. There's also a buffered bypass footswitch to route your signal past all the circuitry, which is handy if you're using the Mop Top in front of a traditional amp.
Connectivity includes mono input and output, plus an XLR out for a balanced low-Z signal to a front-of-house mixer or other line input. Power is supplied by a standard 9V DC input (the power supply is provided) and the circuit includes an analog speaker "emulation" tailored to each specific model. In the case of the Mop Top Liverpool, this feature tracks a pair of Celestion alnico Blues—naturally.
Vox Box
To test the Mop Top's abilities as a true plug-and-play fly rig, I hooked it up to a Tech 21 Power Engine Deuce Deluxe powered 1x12" (which was designed specifically for SansAmp rigs) as well as a Universal Audio Apollo Twin Duo. With each rig, the little Mop Top proved capable and versatile.
The footswitchable A/B channels facilitate easy rhythm/lead switching, although it can be tricky to clean up the signal entirely with Les Paul humbuckers driving the Mop Top. The character controls provide powerful voice-shaping and supplement the traditional EQ controls effectively, enabling thick midrange sounds, enhanced clarity from the crisp, clear highs in the "character A" voice, and midrange-y takes on thick Clapton/Cream-style sounds in "character B" mode.
It can be tricky to clean up the signal entirely with Les Paul humbuckers driving the Mop Top.
The Rangemaster-style boost is handy and flexible. And between the tone-altering capabilities of the boost and the amp section's flexible EQ, you get the sense of having everything you need to cut it at a real fly-in gig (save for any staple effects). But even if the boost and amp flavors aren't enough to cover all the drive sounds you need, the Mop Top Liverpool interacts well with other drive pedals in front of it. It integrated seamlessly with a Klon-style Wampler Tumnus Deluxe, a higher-gain JHS Angry Charlie, and a Tsakalis Six overdrive.
If there's anything missing from the sense of a real tube-driven AC15 or AC30 experience, it's arguably the lively chime and bloom you hear from a real class-A EL84 amp. Some of that is a "feel" thing. But if you won't miss the push and pull of tube dynamics in your playing, the voice and personality of the Mop Top Liverpool are very much in the spirit of the real thing.
The Verdict
The Mop Top Liverpool works great when über portability is of the essence, or you just need a recognizable Vox-like tone from a backline, and fast. The Mop Top Liverpool may not replace many players' beloved vintage or reissue Vox combos. But for an all-analog unit under $300, the new Mop Top Liverpool kicks with the essence of Vox personality. It's practical, fun, and easy to use, too—pretty impressive for what's essentially an amp and booster you can practically carry in your hip pocket.
The pandemic has brought guitarists lots more time to tinker with tone toys. Here's what players all over the world have been putting together in their bunkers.
Eric B Thomas: The Rack Treatment
Thank you so much for offering your readers an opportunity to share their love for pedalboards. I'd love to share my pedalboard with your readers. It's got wheels!
As both an engineer and songwriter, I'm infatuated with collecting pedals, but also despise the clutter and time spent rearranging and rewiring handfuls of stompboxes and patch cables. My appreciation for the pedal-building art and my stubbornness to move entirely into the digital realm led me to Paul Vnuk Jr.'s "Pedals in the Mix" video, where he showcases his home studio pedal rig in the studio rack format. I spent hours studying his set up, recognized what I could do for myself, experienced debilitating G.A.S, then got to work allocating everything I needed to assemble my own pedalboard rack.
At the core of my setup is a Behringer PX3000 Ultrapatch Pro patchbay. The pedals' inputs and outputs are all patchable from the front end. This allows for the signal routing to happen as quickly as inspiration may strike. Chorus before or after distortion? But what about the reverb into the fuzz?! No more wasted time playing pedal Tetris and more time making fun noise!
Channel 1 is a Samson MD1 Passive Direct Box. The balanced output is sent to Pro Tools to be used later for reamping. The thru output returns to the patchbay to use with other pedals.
Channel 2 runs through a Boss GE-7 equalizer for any necessary tone tweaking.
Channel 3 holds the EarthQuaker Devices Palisades overdrive. If you're not familiar with this pedal, just imagine having a whole bunch of differently modified Tube Screamers in one box. I think the value in this pedal's tweakability is severely underrated!
Channel 4 is a Pepers' Pedals Dirty Tree boost. I wasn't quite ready to shell out $400 to a local seller for a TC preamp, but this box absolutely crushes!
Channel 5 accesses the EarthQuaker Devices Acapulco Gold. Even if you could afford a Sunn Model T, wouldn't you just dime it, too? This gets me in the ballpark without interrupting my fiancé's virtual teaching.
Channel 6 is home to a pedal that was at the bottom of a "box of junk" that was included with a guitar I purchased off Craigslist: a 1978 Electro-Harmonix Little Big Muff Pi. A quick battery swap took this from "yeah, it just don't work so you can have it with all that junk" to "holy crap!"
Channel 7 features the Keeley 4 Knob Compressor, which I love just cranking to get that nearly infinite sustain.
Channel 8 holds another EarthQuaker Devices pedal. The Sea Machine Super Chorus caught my attention with its six knobs of tweakability, and I honestly haven't used the same settings twice when writing.
Channel 9 connects to what I'd say was my first real "boutique" pedal, the Midnight30Music Starry Night Delay Deluxe. Based on a PT2399 chip, this box creates such musical feedback when cranked, and rides the edge of self-oscillation without spinning out of control.
Channel 10 fires up Hungry Robot's The Wash delay and reverb pedal. If you're in need of ambience, this pedal has it in spades.
Skip down to Channels 21-24 to meet the Boss RV-500 and DD-500. I actually use these pedals as effects sends from my mixer. Instead of sending delay and reverb through the amps and speaker cabinets, I just blend in delay or reverb from these units as needed.
On the top of the cabinet lies an example of the "mess" I so desperately wish to forget, but, alas, there shall always be some form of it. The bass signal chain is composed of the Boss TU-3, DOD Meatbox Subsynth, Darkglass Microtubes B7K Analog Bass Preamp, and a Samson MD1 DI.
The final box is the Disaster Area Designs SMARTClock Gen3 Tap Tempo controller. This unit receives MIDI for tempo from a Pro Tools session, passing MIDI down to both Boss 500 units, along with four additional 1/4" outputs to which The Wash and the Starry Night Deluxe will both be connected.
All pedals in the rack are powered by a Truetone 1 Spot Pro CS12 and wired using Redco brand cables with Amphenol 1/4" connectors.
Thanks again for the opportunity to share this pedalboard and I hope others will find my project inspiring or fun!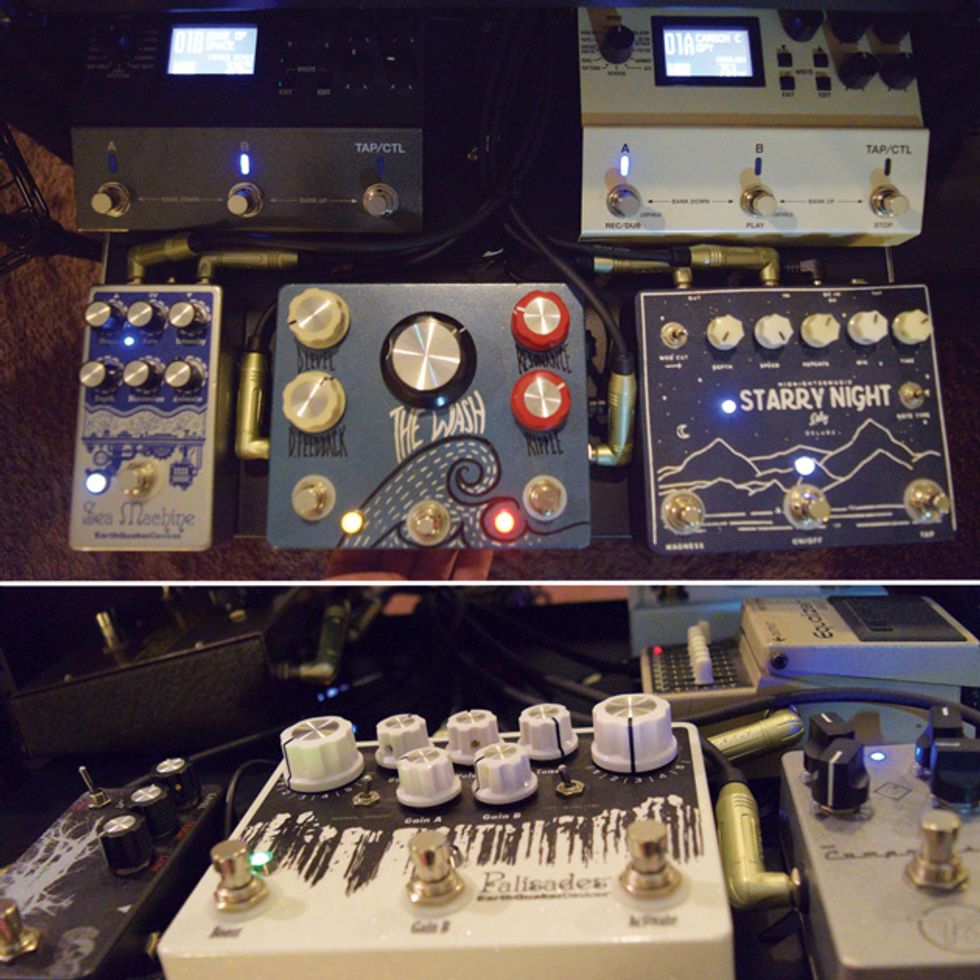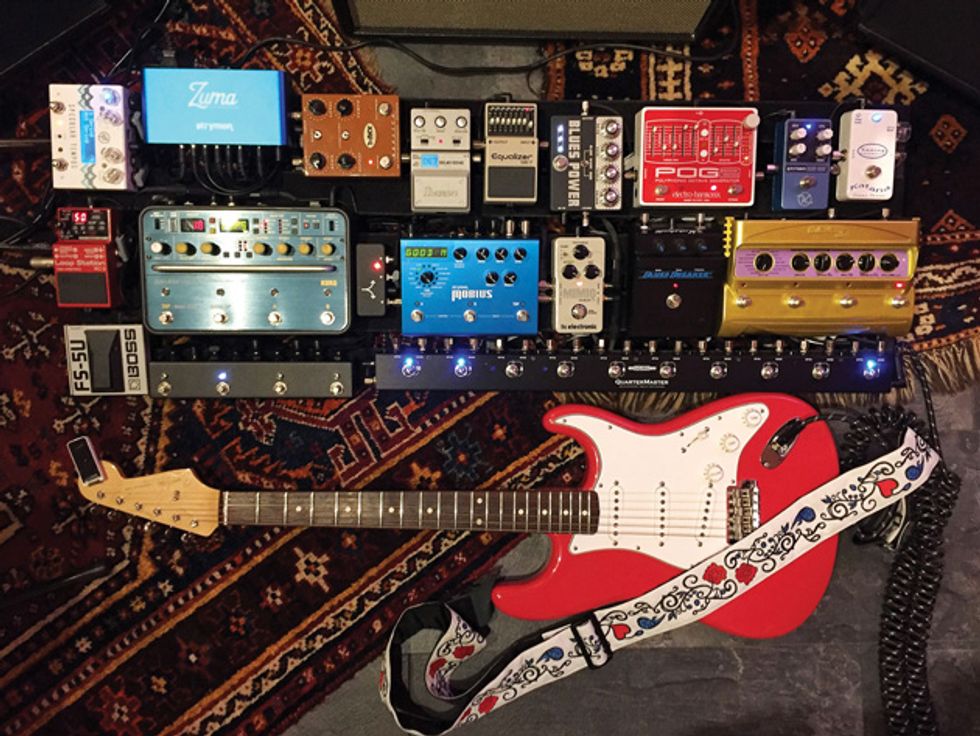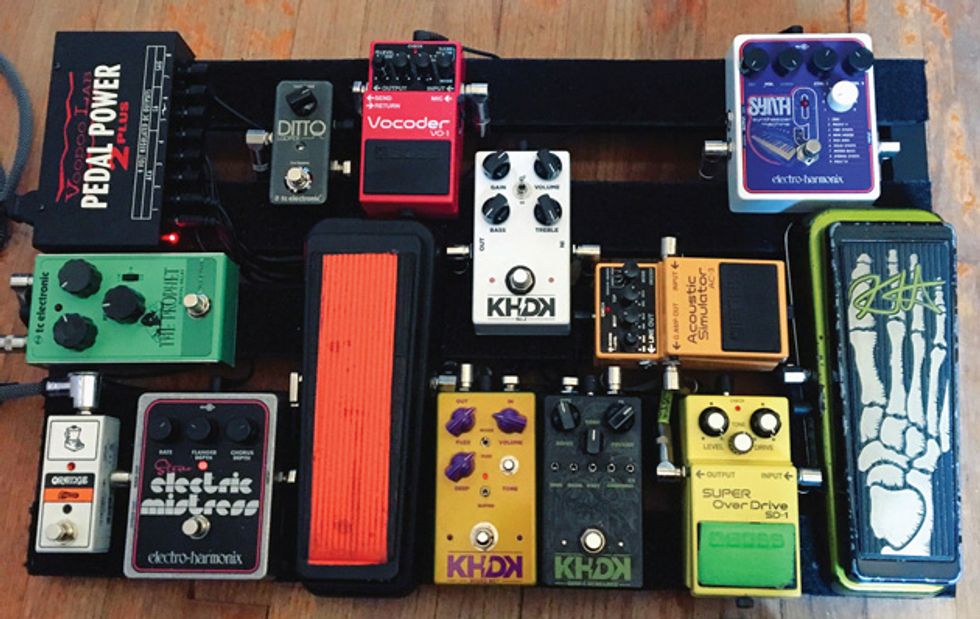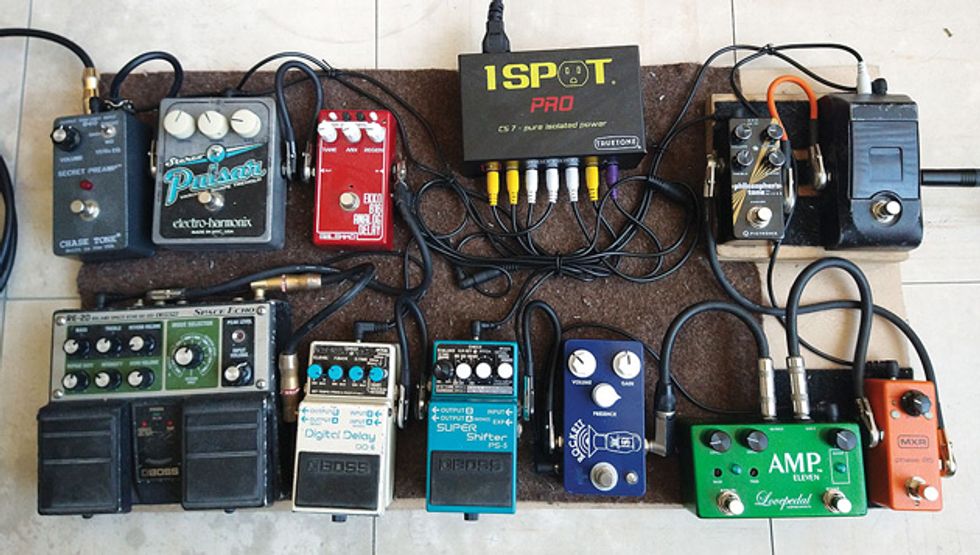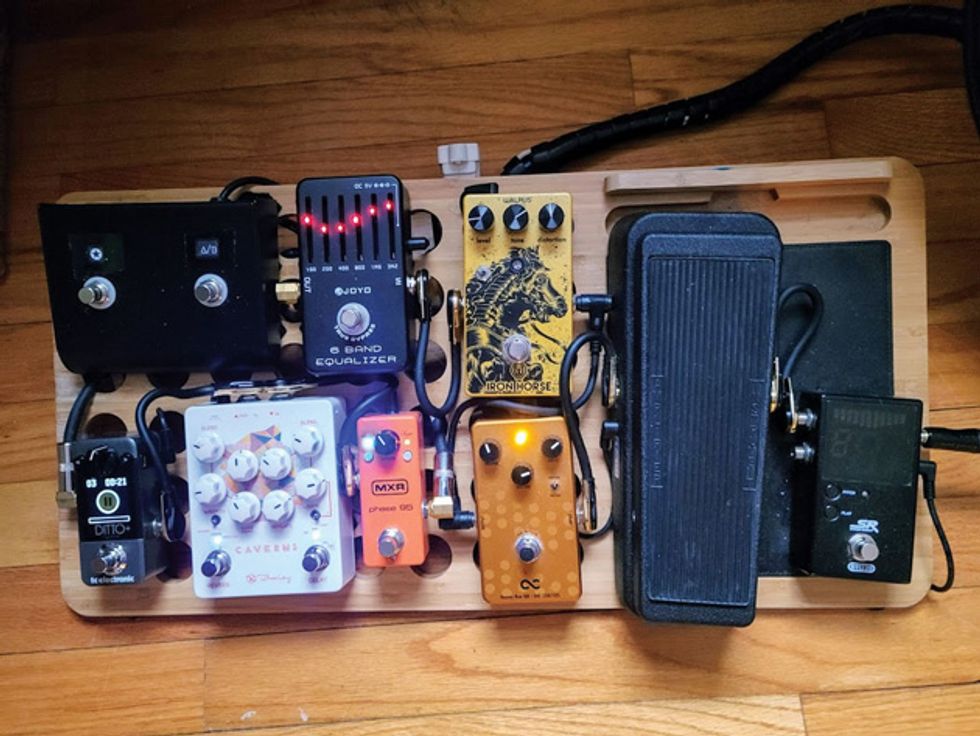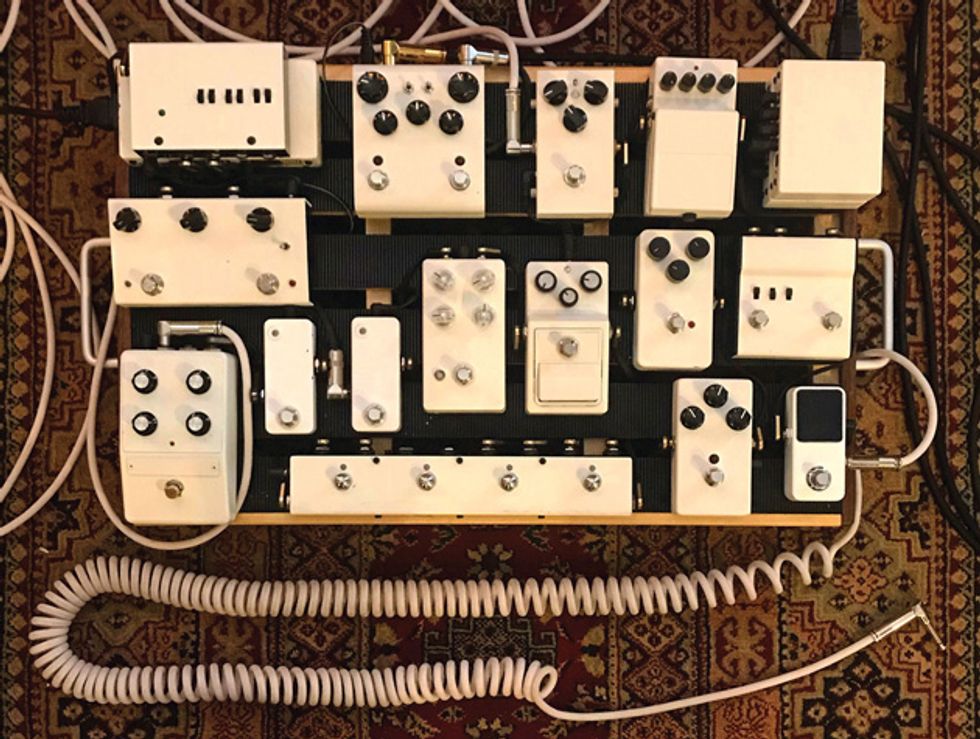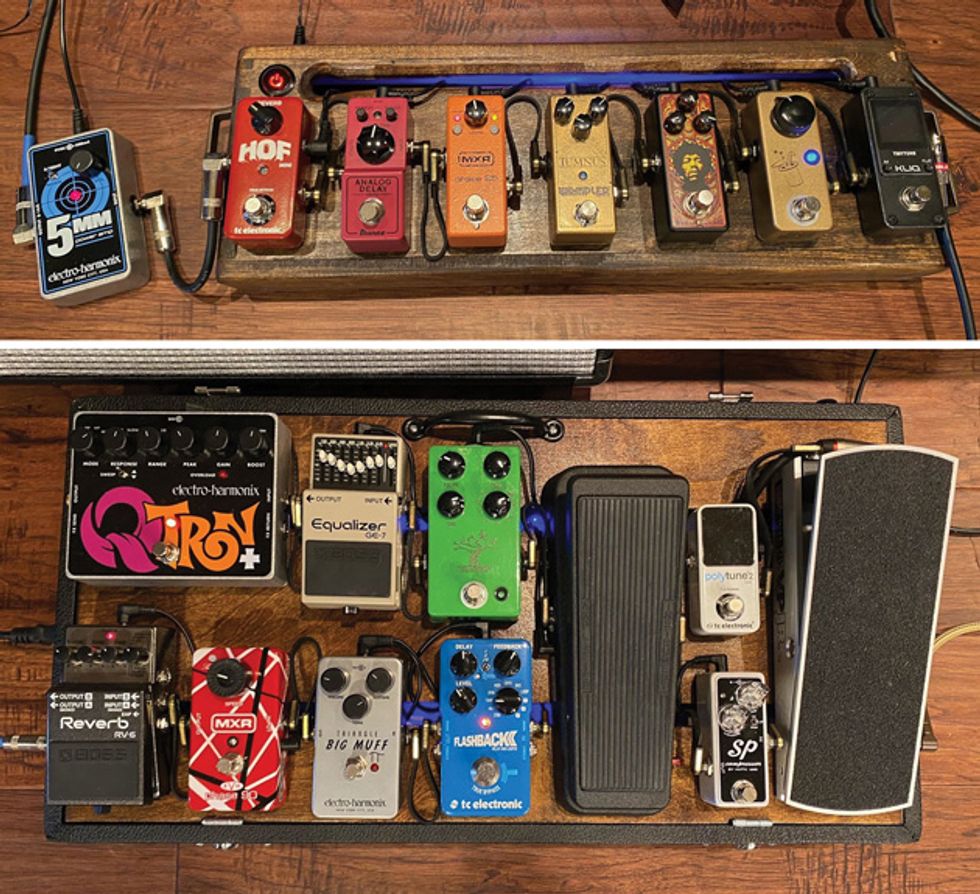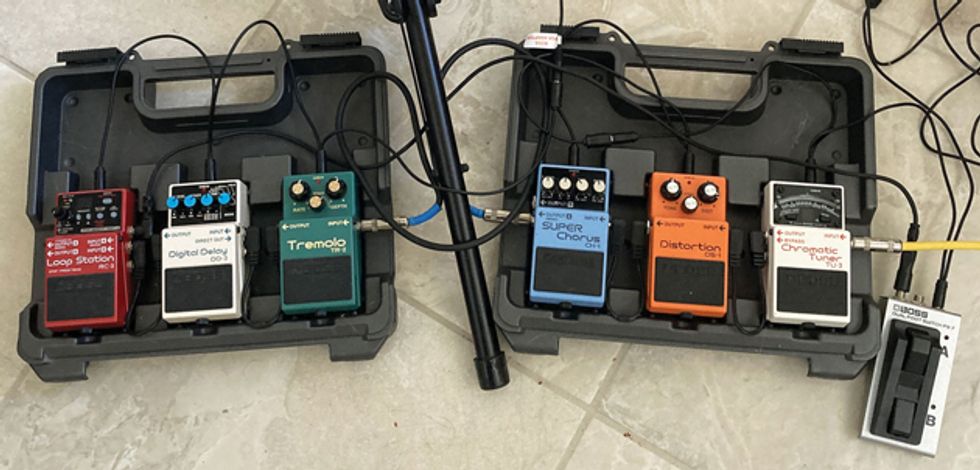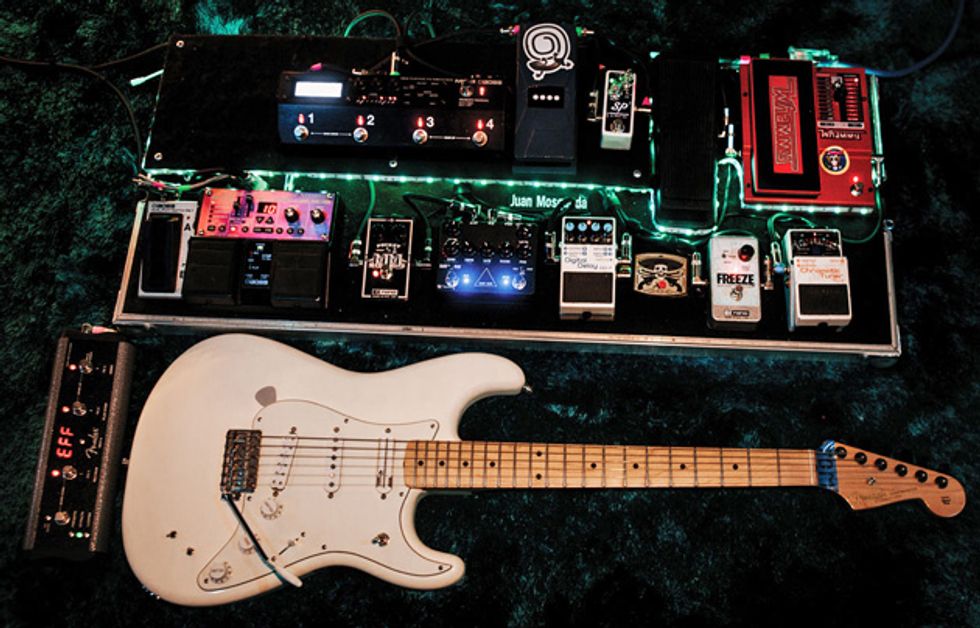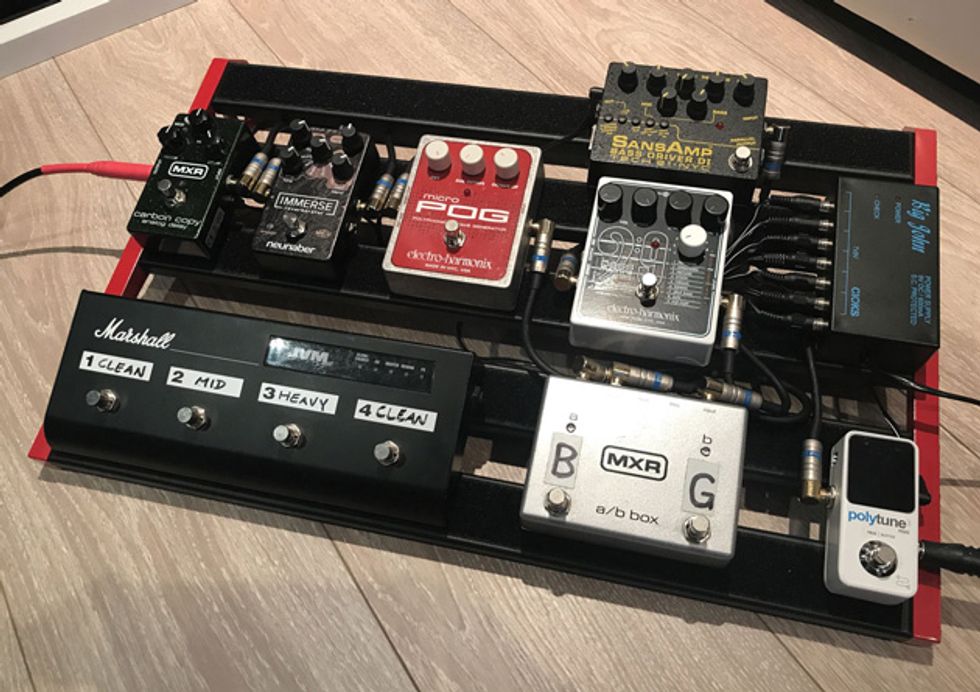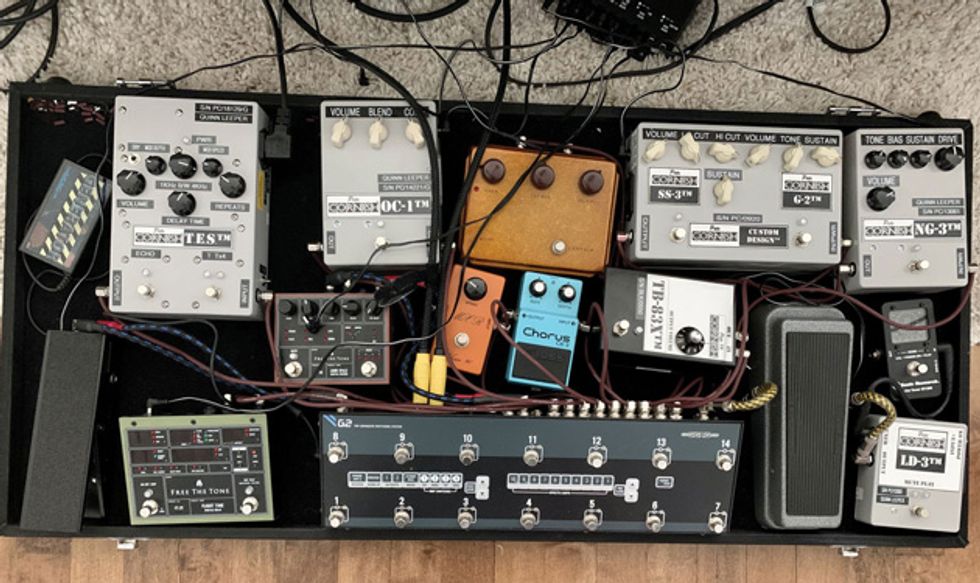 It's that time of year, when Premier Guitar readers get the chance to show their pedalboards, and how they use them to create worlds of sound. There's no wrong way to signal a stomp—the options are virtually endless. Read on to see what players have been cooking up in their COVID guitar bunkers. A few highlights include a completely white-washed mystery pedalboard, a retirement bucket list project from a 62-year-old beginner, an elaborate rackmounted setup made with a goal to streamline pedal-Tetris, and much more. Enjoy!
Put on a manufacturing hiatus in 2016, the SansAmp Classic is being reissued for 2021 due to a surge in popular demand.
Clifton, NJ (January 28, 2021) -- It is rare an electronic music-related product can withstand the test of time. For over 30 years, the SansAmp Classic has been used for every kind of music style from death metal to commercial jingles, in countless pro studios, on tours around the globe, on a vast variety of major releases (including Grammy Award-winning records), and by hundreds of thousands of everyday players, producers, and engineers.
Put on a manufacturing hiatus in 2016, the SansAmp Classic is being reissued for 2021 due to a surge in popular demand. Virtually unchanged and still made in the USA, the all-analog SansAmp Classic pedal design is B. Andrew Barta's unique invention that was the catalyst for the whole "going direct" movement way back in 1989. Since then, SansAmp evolved into an extensive line of pedals and racks, as well as being the essential element of Tech 21's Fly Rig series.
Of the pedal formats, SansAmp Classic is the most sophisticated. There is a bank of eight Character switches to adjust tonality, harmonics and dynamics; a 3-position input switch offers a choice of pre-amp styles; and four knob controls to shape pre-amp contours, power amp contours, volume and final tone.
While all SansAmps are flexible, user-friendly, robust devices that deliver the warm, rich, natural tones of the most desirable tube amplifiers on the planet, the SansAmp Classic is the original. Not just for guitar and bass, everything from industrial samples to maracas have been saved from atonal death by its analog magic. It has defied the odds and to this day, remains the standard of the industry.
For more information:
Tech 21 NYC