The Frank Bello Street Driver 48 features a Dirt switch for extra gain and overdrive, and a Filth switch for extra top-end sizzle and razor edge clarity to emphasize your attack.
Frank Bello has been an avid and consistent Tech 21 user for several decades. His weapon of choice was the SansAmp Bass Driver DI, not only for Anthrax, but for his solo efforts as well. Having developed a personal relationship, it was time for Frank to have his own Signature SansAmp, the Frank Bello Street Driver 48.
Controls include Drive for gain and overdrive, Low & High active EQ, and Level. In addition to the specific tones Frank wanted, a major priority was to make the Street Driver 48 simple to operate. He didn't want an excessive amount of knobs and switches, or gratuitous bells & whistles. He wanted players to be able to get a great sound right out of the box, whether it's for metal or R&B or prog rock, whether the player is a novice or expert, young or advanced in years.
As is the case with all Tech 21 Signature SansAmps, the Frank Bello Street Driver 48 offers his core sounds and the versatility for many different styles. It runs on an included 9V DC universal, auto-switching power supply with heavy duty braided cord and interchangeable international plugs for use anywhere in the world. Other features include 1/4-inch and XLR Outputs, ruggedall-metal housing. Measures 3.75"l x 4.75"w x 2.0"h.
Tech 21 Frank Bello Chat / Part 1: Pizza!
Don't miss your chance to get Nothing But Bass Vol. 11 absolutely FREE for a limited time.
From simple to complex, analog to digital, these feedback-busting boxes can make your next unplugged gig a bit easier.
Acoustic amplification can be a tricky dragon to tame. This collection of DIs ranges from entry level and affordable to road-tough, pro-level designs with an eye-boggling amount of features.
ZOOM AC-3 Acoustic Creator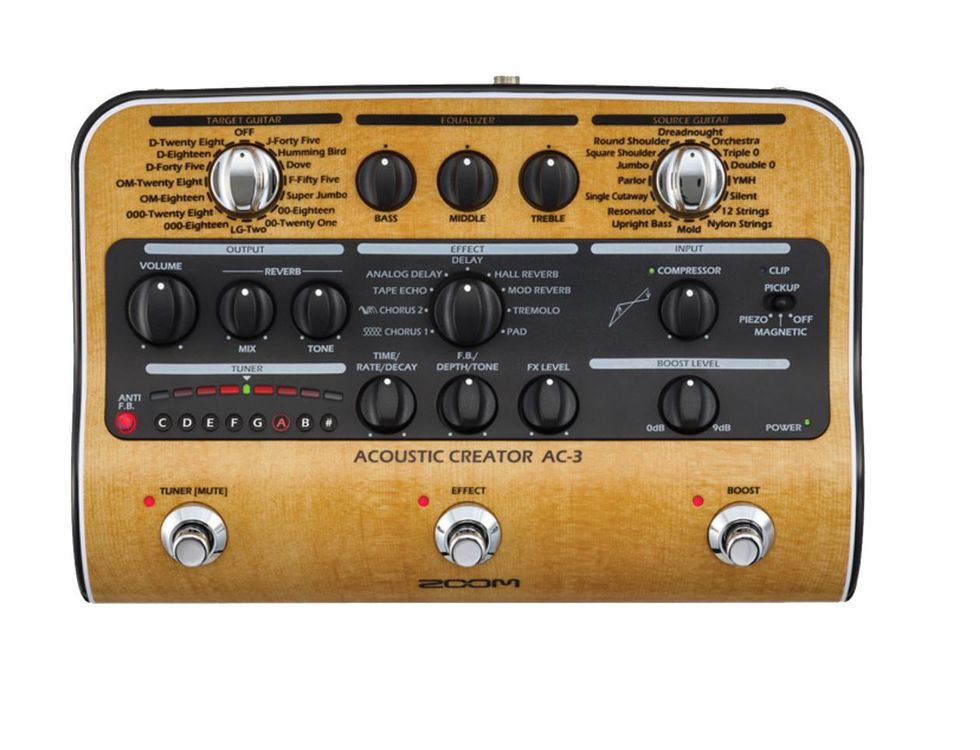 This acoustic-focused DI adds a bit of digital-modeling mojo to help shape the sound of your guitar to one of 15 target models. Also in the mix are a handful of useful modulation effects, compression, and a boost.
$299 street
zoomcorp.com
Audio Sprockets Tone Dexter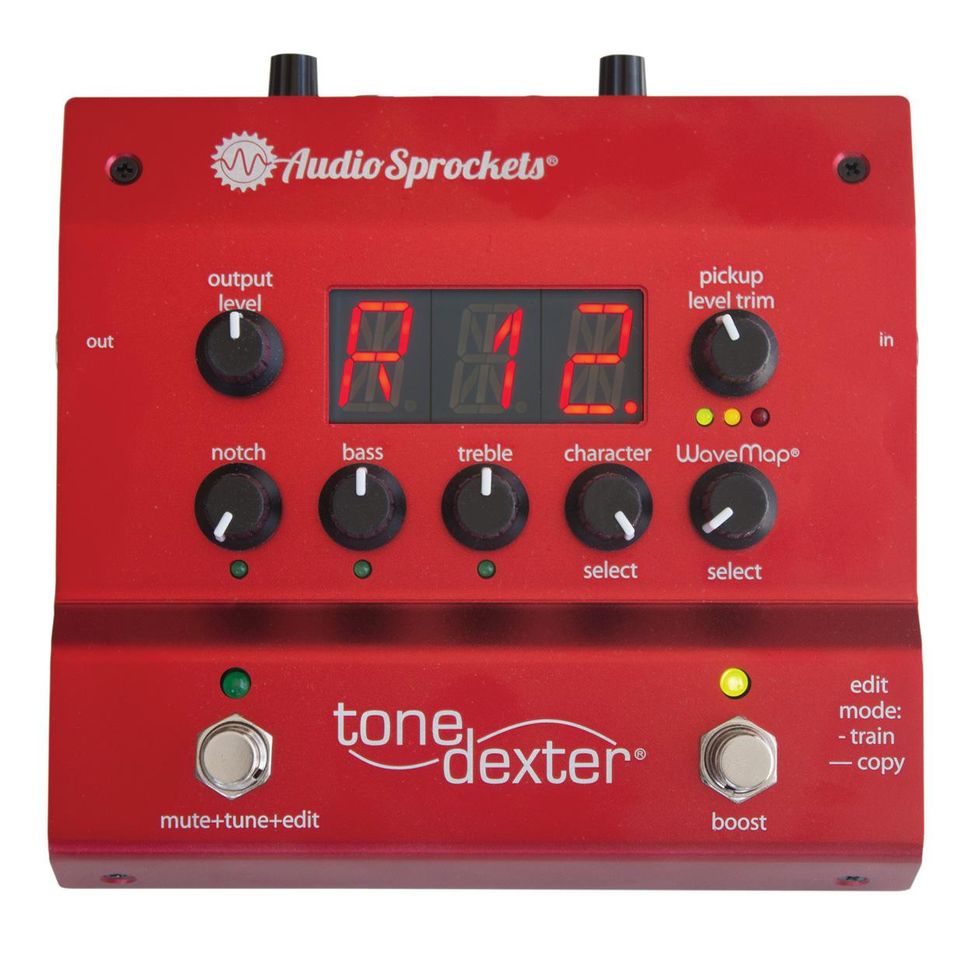 Rather than just plugging in and dialing some knobs, you train this inventive DI by miking up your guitar and allowing the unit to learn about any missing aural info. Once the wave map is saved, you can pull it up on the gig.
$399 street
audiosprockets.com
Mesa/Boogie Rosette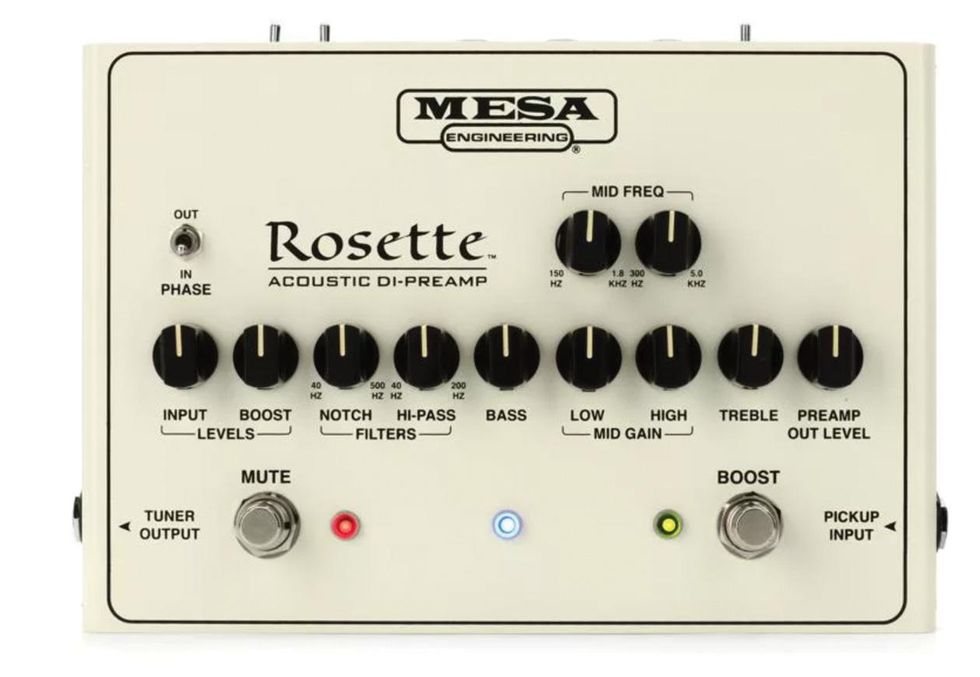 The focus is on massaging those pesky frequencies with a sweepable midrange control, a 4-band EQ, and a powerful filter section. Dual outputs and an effects loop round out this acoustic picker's playground.
$379 street
mesaboogie.com
Tech 21 Acoustic Fly Rig
Building upon the company's line of slim multi-effects units, this version comes with a special notch-filter equipped SansAmp, reverb, compressor, XLR output, and much more.
$299 street
tech21nyc.com
Radial AC-Driver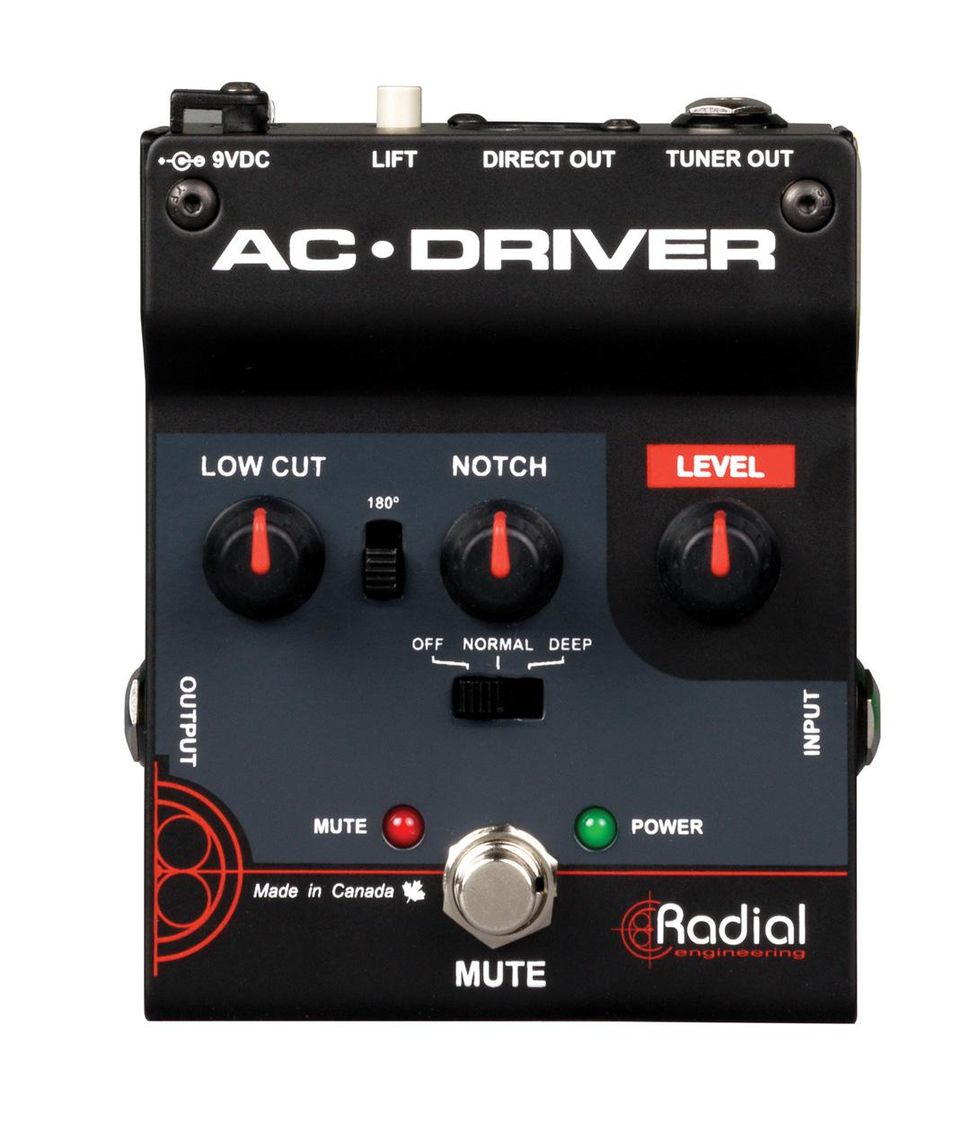 This compact preamp only delivers the most essential features for acoustic instruments, with streamlined EQ controls, a tuner out, and a customizable notch filter—making this high-quality circuit a pedalboard space saver.
$149 street
radialeng.com
L.R. Baggs VoicePrint DI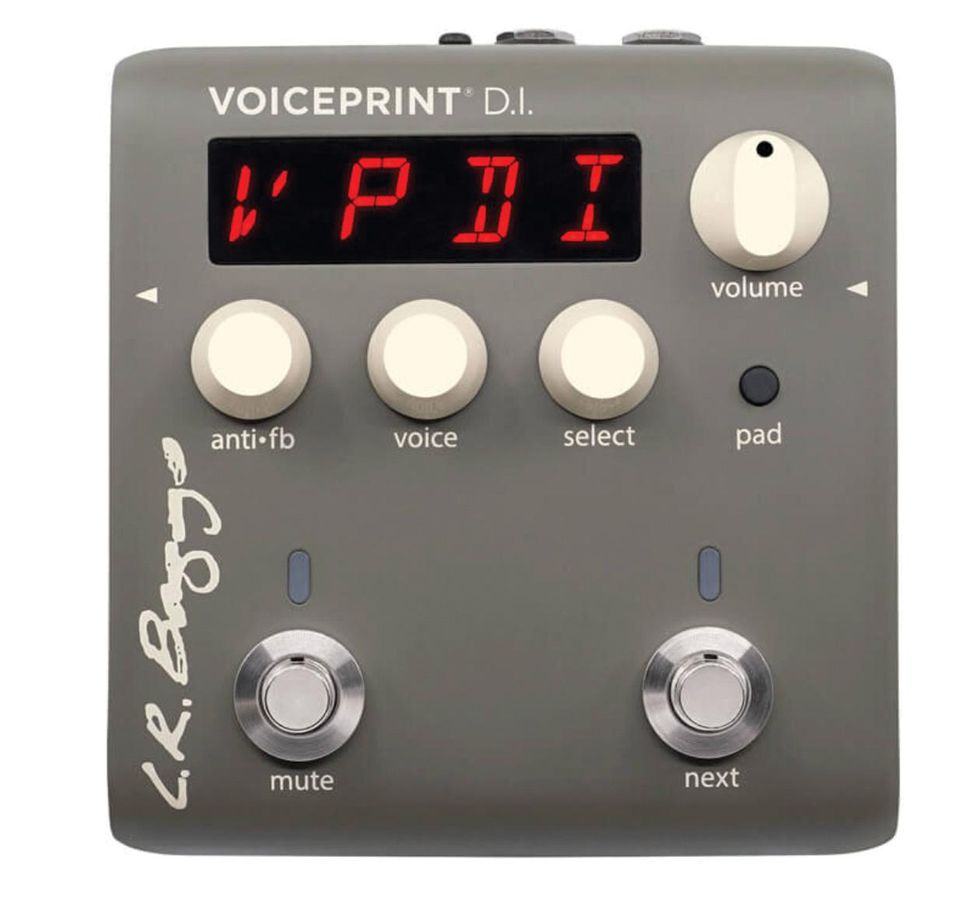 This tech-heavy stomp uses the power of your phone to leverage a custom impulse response to improve your tone. With a few strums and taps, the Voiceprint learns all it needs to know about your guitar and what frequencies it needs.
$399 street
lrbaggs.com
Fishman ToneDEQ
This pro-level DI also adds a handful of modulation effects into the mix, including reverb, delay, tremolo, and flanger, for your more cosmic acoustic adventures.
$319 street
fishman.com
Boss AD-10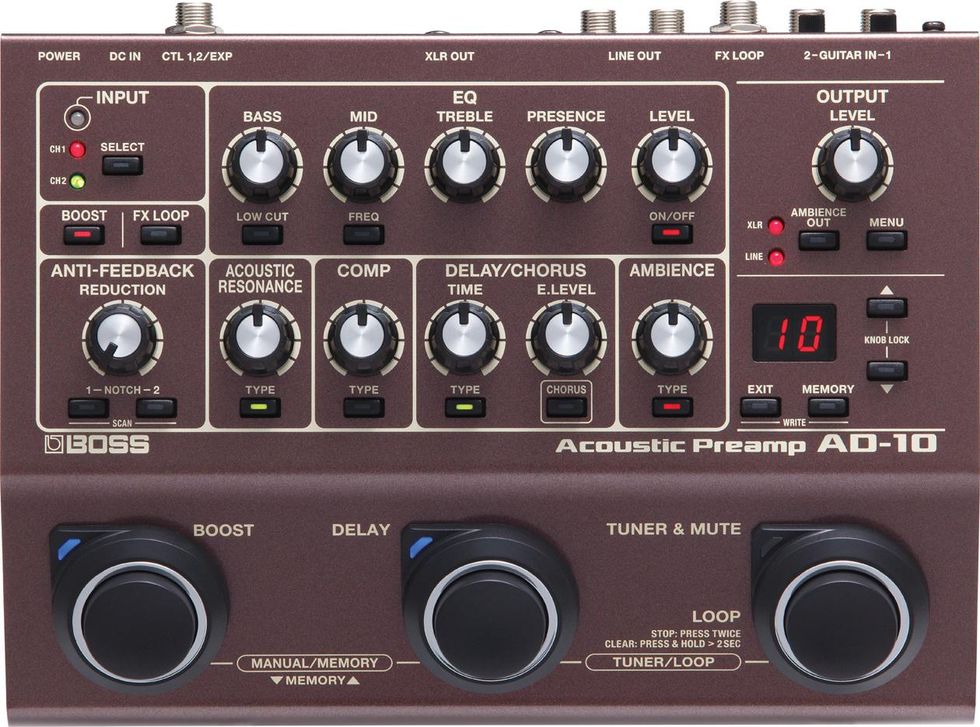 If you only can pack one pedal for the gig, the AD-10 offers a wealth of features for the solo singer/songwriter, including an 80-second looper to cop those Ed Sheeran vibes. Dual inputs, stereo outputs, and an effects loop make Boss' flagship acoustic stomp hard to beat.
$359 street
boss.info
BBE Acoustimax
A medium-sized mothership that offers all the essential EQ controls that acoustic pickers value. Bonus features include tuner out, effects loop and line out, plus an XLR output.
$169 street
bbesound.com
Grace Design Felix2
This sleek all-in-one preamp is a dream machine for those who need minute control of every wave of their tone. The latest iteration sports variable phase control, more EQ, and a built-in headphone amp for easy practicing.
$1,075 street
gracedesign.com