Tech 21 SansAmp Character Plus Mop Top Liverpool Review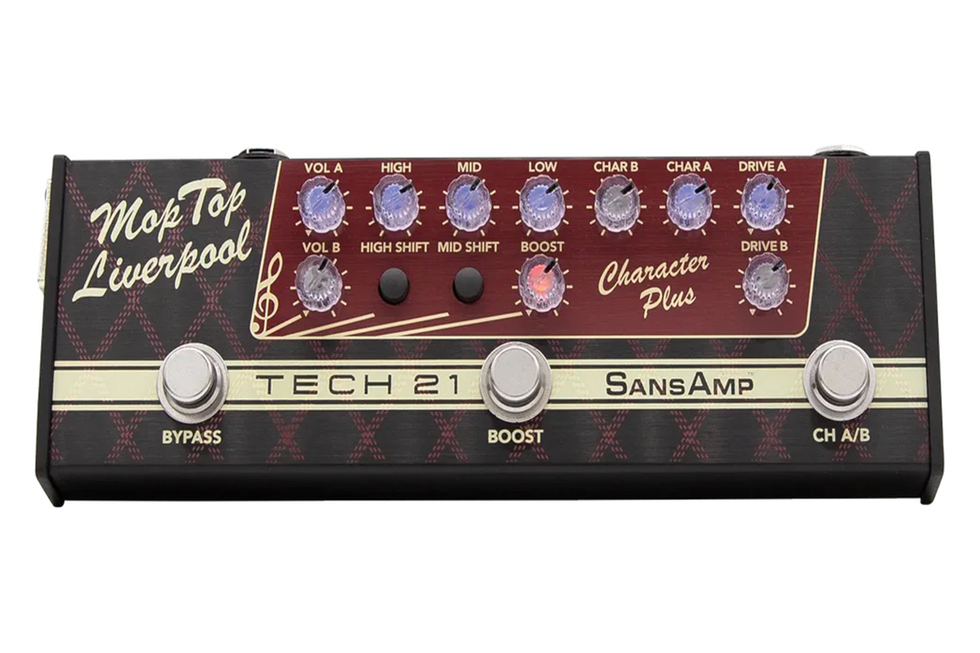 Super slim and built to rock the Vox in analog style.
Impressively full featured for such a small package. Many truly Vox-like sounds
Still sounds more like an analog "amp-in-a-box" approximation than digital emulations (or the real thing)
3.5
4.5
4.5
4
A "fly rig," in the broadest definition, is a small, portable, plug-and-play assemblage of pedals and possibly a preamp that you can throw in a backpack or overhead compartment so you can jet away with ease to your next show. Practical, portable backline tools like these have been around for quite some time, and in many forms, and Tech 21's SansAmp range, including their very own Fly Rig series, deserves a lot of credit for popularizing the concept of an integrated, all-in-one solution.
---
Back in 1989, long before digital modelers were fixtures on stages, Tech 21 introduced its entirely analog SansAmp devices to help squeeze big tube-amp tone from changing backline rigs. The new Character Plus Series pedals serve the same basic purpose: achieving the most accurate possible image of a tube amp in an all-analog, amp-in-a-box format. And in pairing an "analog amp" with a pedal circuit famously associated with that amp, the Character Plus Series delivers many practical, spirited, and very affordable alternatives to real amp sounds.
The four new offerings include the Screaming Blonde (which pairs Fender-style and Tube Screamer-style circuits), English Muffy (Hiwatt- and Big Muff-style), and Fuzzy Brit (Marshall- and Fuzz Face-style). Our review model, the Mop Top Liverpool, includes a Vox-like amp-in-a-box circuit with a Rangemaster-style booster at the front end. As is the SansAmp way, this unit squeezes a lot into a very compact package. Frankly, I expected something much larger than the 7.75" x 2.75" x 1" pedal that arrived.
 Double Top Boost
Though the Mop Top takes after a Vox-style tube combo, it really gives you the flavor of two top-boost-equipped AC-inspired amps of varying gain profiles. Controls include drive, volume, and character for each of two footswitchable channels, which are labeled A and B and dedicated to relatively clean and overdriven tones, respectively. The two channels share an EQ stage with low, mid, and high frequency bands, plus pushbuttons for high shift and mid shift. The Rangemaster-style boost function, which has a dedicated footswitch, includes just a single knob, but it's a dual-function affair. It's flat at 12 o'clock, and provides up to 12 dB of treble boost in the clockwise direction or 12 dB of mid boost in the counterclockwise direction. There's also a buffered bypass footswitch to route your signal past all the circuitry, which is handy if you're using the Mop Top in front of a traditional amp.
Connectivity includes mono input and output, plus an XLR out for a balanced low-Z signal to a front-of-house mixer or other line input. Power is supplied by a standard 9V DC input (the power supply is provided) and the circuit includes an analog speaker "emulation" tailored to each specific model. In the case of the Mop Top Liverpool, this feature tracks a pair of Celestion alnico Blues—naturally.
Vox Box
To test the Mop Top's abilities as a true plug-and-play fly rig, I hooked it up to a Tech 21 Power Engine Deuce Deluxe powered 1x12" (which was designed specifically for SansAmp rigs) as well as a Universal Audio Apollo Twin Duo. With each rig, the little Mop Top proved capable and versatile.
The footswitchable A/B channels facilitate easy rhythm/lead switching, although it can be tricky to clean up the signal entirely with Les Paul humbuckers driving the Mop Top. The character controls provide powerful voice-shaping and supplement the traditional EQ controls effectively, enabling thick midrange sounds, enhanced clarity from the crisp, clear highs in the "character A" voice, and midrange-y takes on thick Clapton/Cream-style sounds in "character B" mode.
It can be tricky to clean up the signal entirely with Les Paul humbuckers driving the Mop Top.
The Rangemaster-style boost is handy and flexible. And between the tone-altering capabilities of the boost and the amp section's flexible EQ, you get the sense of having everything you need to cut it at a real fly-in gig (save for any staple effects). But even if the boost and amp flavors aren't enough to cover all the drive sounds you need, the Mop Top Liverpool interacts well with other drive pedals in front of it. It integrated seamlessly with a Klon-style Wampler Tumnus Deluxe, a higher-gain JHS Angry Charlie, and a Tsakalis Six overdrive.
If there's anything missing from the sense of a real tube-driven AC15 or AC30 experience, it's arguably the lively chime and bloom you hear from a real class-A EL84 amp. Some of that is a "feel" thing. But if you won't miss the push and pull of tube dynamics in your playing, the voice and personality of the Mop Top Liverpool are very much in the spirit of the real thing.
The Verdict
The Mop Top Liverpool works great when über portability is of the essence, or you just need a recognizable Vox-like tone from a backline, and fast. The Mop Top Liverpool may not replace many players' beloved vintage or reissue Vox combos. But for an all-analog unit under $300, the new Mop Top Liverpool kicks with the essence of Vox personality. It's practical, fun, and easy to use, too—pretty impressive for what's essentially an amp and booster you can practically carry in your hip pocket.