The Malian master blows Bill Frisell's mind. The technique, tone, and conceptual breadth of his debut album, Mande Guitar, will astonish you, too.
Boubacar "Badian" Diabaté's debut release, Mande Guitar, will shatter your preconceptions about what the instrument is truly capable of. Don't believe me? Then take it from Bill Frisell, the sonic groundbreaker who practically reinvented the jazz guitar playbook. In Frisell's words, "Boubacar 'Badian' Diabaté blows my mind. He's doing things I've never heard anyone do before."
Comprised of mostly solo guitar gems with occasional overdubs and a smattering of guitar duets (with Badian's brother Manfa Diabaté and producer/African music historian Banning Eyre), Mande Guitar is a musical kaleidoscope, imbued with unexpected moments of jaw-dropping virtuosity. While the album's instrumentation is stripped-down, the original plan was even more austere. Eyre had wanted Badian [that nickname translates as "tall father"] to record a strictly solo guitar album. Along the way, some compromises were made, including the addition of percussionist Baye Kouyaté, who plays tama (talking drum) and calabash on one track, "Fadento." "Some people like to just listen to one instrument, but others like to hear the ambience of an interaction between players, so I wanted to touch both things and strike a balance," says Badian. "Also, when you play solo, you have to cover everything—you have to keep the line, the harmony, and the rhythm, whereas when someone is accompanying you, you're freer to do a lot of things that you can't do if you're playing alone."
Badian Diabaté et Goussou Kouyaté
In Badian's circle of musicians, the cultural norm is that everyone is raised to be an adept multi-instrumentalist. We know that most guitarists can dabble on bass, but in Badian's clique, it's the real deal—there's no faking it. "I usually perform with two or three additional musicians, and we'd switch instruments from song to song. It's very normal to start with one instrument and then move on to another and to experience the music from these different directions. The musicians I play with can play multiple instruments: guitar, ngoni (a 4-string instrument), tama, etc. If I have a drummer, he can typically play the calabash. I've actually made recordings in Mali where I've played all of these instruments. In concert, I mostly play guitar, but I would also play some ngoni or some tama."
A Rich Musical Tradition
Guitar geeks might tune into Mande Guitar for its fretboard fireworks, but for Badian the album serves a greater purpose. "I wanted to show the world the value of this culture," he says. "There's rock 'n' roll, there's jazz. Everything's out there and people know those things, but they don't know that this rich culture exists."
Boubacar "Badian" Diabaté (left) recorded Mande Guitar with his brother, Manfa (right), at Afropop Worldwide's Studio 44 in Brooklyn, New York. In Diabaté's circle of musicians, everyone is a multi-instrumentalist and able to switch duties from song to song. "It's very normal to start with one instrument and then move onto another and to experience the music from these different directions," Diabaté says.
In Badian's case, his rich musical culture dates back several generations. "I was born in a griot family. In the world of griots, people grow up in an environment where music is a traditional profession—my mother was a singer. My father was a functionary, an official in the government of Mali. Although he was a griot, he did not play guitar. It's a world where music is 'the thing' and you're surrounded by all of these instruments." His first instrument, when he was very young, was the tama. From there he went to the ngoni, which a lot of Malian guitarists start on. "Ngoni is the principal instrument of griots in Mali, along with voice," says Badian, "The ngoni is also the closest [traditional] instrument to guitar in Africa, so the natural instinct of a guitarist in the tradition is to try to imitate the ngoni. The guitarist improvises with the sound of the ngoni in his ear." Baidan switched to guitar when he was about 10, after hearing the music of Mande guitar great Bouba Sacko.
"The ngoni is also the closest [traditional] instrument to guitar in Africa, so the natural instinct of a guitarist in the tradition is to try to imitate the ngoni."
The origins of Mande Guitar began in 1995, when Eyre went to Africa to study guitar with Djelimady Tounkara for six months. One day, Badian came over to the house and was introduced by Tounkara, who, with a slight mix of (as Eyre put it) "disapproval and awe," described Badian as a "young player who will surpass me one day." Eyre had a Hohner G3T that Badian really wanted, so Eyre proposed giving Badian the guitar in exchange for permission to film him. "I realized he was a unique talent," Eyre says. A deal was struck and Eyre filmed a two-hour session of Badian playing in both solo and duet (with ngoni) contexts, all taking place in a construction site repurposed as a studio.
Boubacar "Badian" Diabaté's Guitars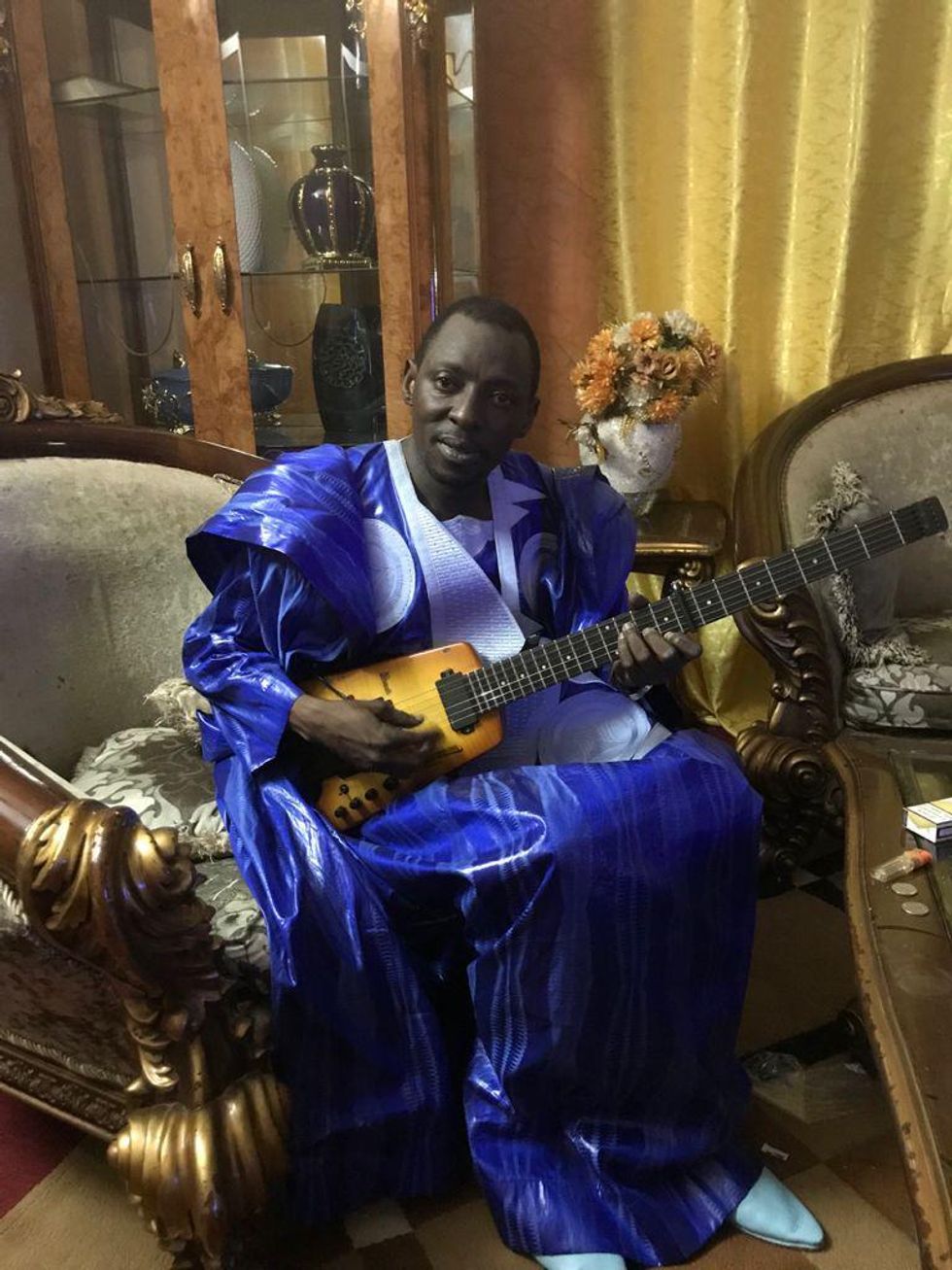 Diabaté has a fondness for electrics without headstocks, and this Steinberger SS-2F, which replaced a Hohner G3T, is his current plugged-in mainstay.
Steinberger SS-2F
Traveler Guitar
Seagull 12-string
Badian and Eyre remained friends, and Badian reached out to Eyre when he came to New York with his wife, singer Nene Soumano, in 2010. Numerous times over the years, Badian asked Eyre for help recording an album, and in 2021, when Eyre launched Lion Song Records, his request was fulfilled. Eyre pegged Badian to record Lion Song's debut offering, Mande Guitar.
Remaking Malian Music
Eight of the cuts on Mande Guitar are traditional Malian songs, and the challenge for Badian was in trying to inject his own diverse musical personality into them while keeping true to the tradition. "I went to the Institut National des Arts de Bamako, which is the best music school in Bamako [Mali's capital], and there I learned Western pop music and jazz, pentatonic music, because there's a lot of pentatonic styles in Mali that's branched from the blues," says Badian. You'll hear such blending in "Bayini," the jazzy chromatic phrases in "Miri" and "Korosa," and some repeating short fragments in "Sakonke" played at hyper-speed à la Carlos Santana. He and Eric Clapton are Badian's favorite Western guitar heroes.
Dressed for his role as griot—a traditional artist who preserves and shares oral history through music, poetry, or storytelling—Boubacar "Badian" Diabaté cradles his Seagull acoustic 12-string. While he also plays 6-string, Diabaté may be one of the finest 12-string acoustic players on the planet.
You'll also hear some unexpected cross-cultural influences on Mande Guitar. "My favorite track is 'Bayini,' which starts with a Mande feel, then jumps into a Spanish flamenco feel," Badian says. "That's to show that Mande music can be fused with any kind of music, because music is universal. But for this record, I wanted to stick mostly to the Mande folklore. You might hear some of that stuff here or there, and on other projects I would bring in a lot more of those influences. But here I went for traditional Mande guitar."
"I wanted to show the world the value of this culture."
Exemplary Technique
In keeping with the traditional right-hand technique of Malian guitar players, Badian plays using his thumb and index finger. This method can look unusual to uninitiated Westerners watching the guitarist use his index finger to pluck in both directions. But Badian plays with an exemplary version of this technique that is impressive and incendiary. "I'm going up and down like a pick," he explains. "The fingernail becomes like a flatpick, and just with the thumb and forefinger I can play four strings. The thumb plays the tonic of the key, which is very defining to the atmosphere of the piece. The thumb's main role is to keep that in the picture at all times. It's not exactly like playing a bass line. Rather, its main role is to emphasize the tonic. However, there are times when the thumb will also contribute to a melody."
TIDBIT: Producer Banning Eyre originally wanted Diabaté to record a solo guitar album, but the guitarist insisted on overdubs and a few duets to add additional colors.
There are a few unusual tunings on Mande Guitar, like F–A–D–G–C–E, but most of the album is in standard tuning, and the album was recorded live with no click track. The only overdubbing was on tracks where Badian accompanied himself.
"The fingernail becomes like a flatpick, and just with the thumb and forefinger I can play four strings. The thumb plays the tonic of the key."
Necessity Is the Mother of Invention
"Right now, I just have two guitars: a 12-string Seagull acoustic and a Steinberger electric," says Badian, whose penchant for headless guitars creates a conundrum of sorts. Double ball strings, as used on the Steinberger and his previous Hohner G3T (which got its neck broken off after being loaned to Badian's brother), are hard to find even in music capitals like New York City and Los Angeles. But where there's a will, there's a way. "Even now, there's no store in Mali where you can buy these kinds of strings. The first thing to do is try to get someone that's going to France to bring you some," explains Badian. "But sometimes I would just make my own double-ball strings. I would cut strings and attach a new ball to them. You take the little ring off another string and wind it very tight."
This Seagull 12-string and Steinberger SS-2F are Badian's only two guitars. Getting strings for the Steinberger is nearly impossible in Mali, so he has them shipped from friends and family in New York or France, or jerry-rigs his own double-ball-end strings.
Badian also sometimes relies on a care package from family for accessories. "I get strings from my brother in New York, and I just use whatever he sends. My preference is medium gauge strings, but I'll work with whatever comes in." His resolve to make any piece of gear work is the antithesis of how GAS-stricken gear nerds roll, and Badian is living proof that tone is, indeed, in the fingers. "When I play a gig, I'll rent an amp, and I'll work with whatever I get. As long as it works, I'll make it sound good."
YouTube It
A compact, full-scale acoustic/electric travel guitar.
Redlands, CA (March 31, 2017) -- In 2013, Traveler Guitar introduced their first-ever hollow-body acoustic/electric: the AG-105EQ. This year they've added another model to the lineup with the AG-450EQ, featuring a striking sunburst gloss top and dark stained gloss back and sides.
The Traveler Acoustic AG-450EQ is the most compact, full-scale acoustic/electric travel guitar on the market. Traveler Guitar's Streamline Tuning System eliminates the need for a headstock, making the guitar 20% smaller and 36% lighter than full size acoustics, all while preserving the same full-scale playing experience players are used to.
Features:
Solid spruce top with mahogany back and sides
Custom-designed EQ with built-in tuner and headphone amp
1/8" auxiliary input for private practice with backing tracks
Shortest full-scale acoustic travel guitar on the market
Overall length 32 ¼" long
Uses standard guitar strings
Deluxe gig bag included
Traveler Guitar has been the industry's leading manufacturer of full-scale, travel-sized instruments for 25 years. Their guitars fit in tiny spaces, play with giant sound and feature a variety of tuners, headphone amps, and EQs designed to let you practice, play or record wherever the road takes you.
$685.99 LIST | $479.99 STREET
Watch the company's video demo:

For more information:
Traveler Guitar

Check out two new ultra-transportable axes—including one with a very familiar-looking pickguard.