Tools for the Task: Travel Guitars
Ten alternatives to road-tripping with your full-size axe.
Even with the FAA easing its rules, these days you never know if you'll get to keep your full-size axe in the cabin with you. These 10 travel guitars offer an alternative—some collapse, some disassemble, and some are just plain tiny.
TRAVELER GUITAR
LTD EC-1
This 24.75"-scale guitar is a joint effort between Traveler and ESP. Features include an ESP ALH-200B
humbucker
, Traveler's proprietary In-Body Tuning System, an onboard headphone amp, and a push pot to cycle through clean, boost, overdrive, and distortion tones.
$599 street
travelerguitar.com
---
SOLOETTE
SongBird Jazz
The hard-rock maple SongBird offers a choice of five fretboard woods and has an EMG humbucker, a headphone jack, and a detachable aluminum body frame for easy transport.
$1,500 street
soloette.com
---
HOFNER
Shorty
This 24.7"-scale travel axe has 22 frets, a 1.65" nut width, a basswood top and back, a maple neck with rosewood fretboard, and an open-coil Hofner humbucker. A Hofner gig bag is included.
$149 street
hofner.com
---
JOURNEY INSTRUMENTS
Carbon Fiber - OF660
The OF660's carbon-fiber design resists cracking, warping, and tone changes, while an included backpack accommodates the body and removable neck.
$1,099 street
journeyinstruments.com
---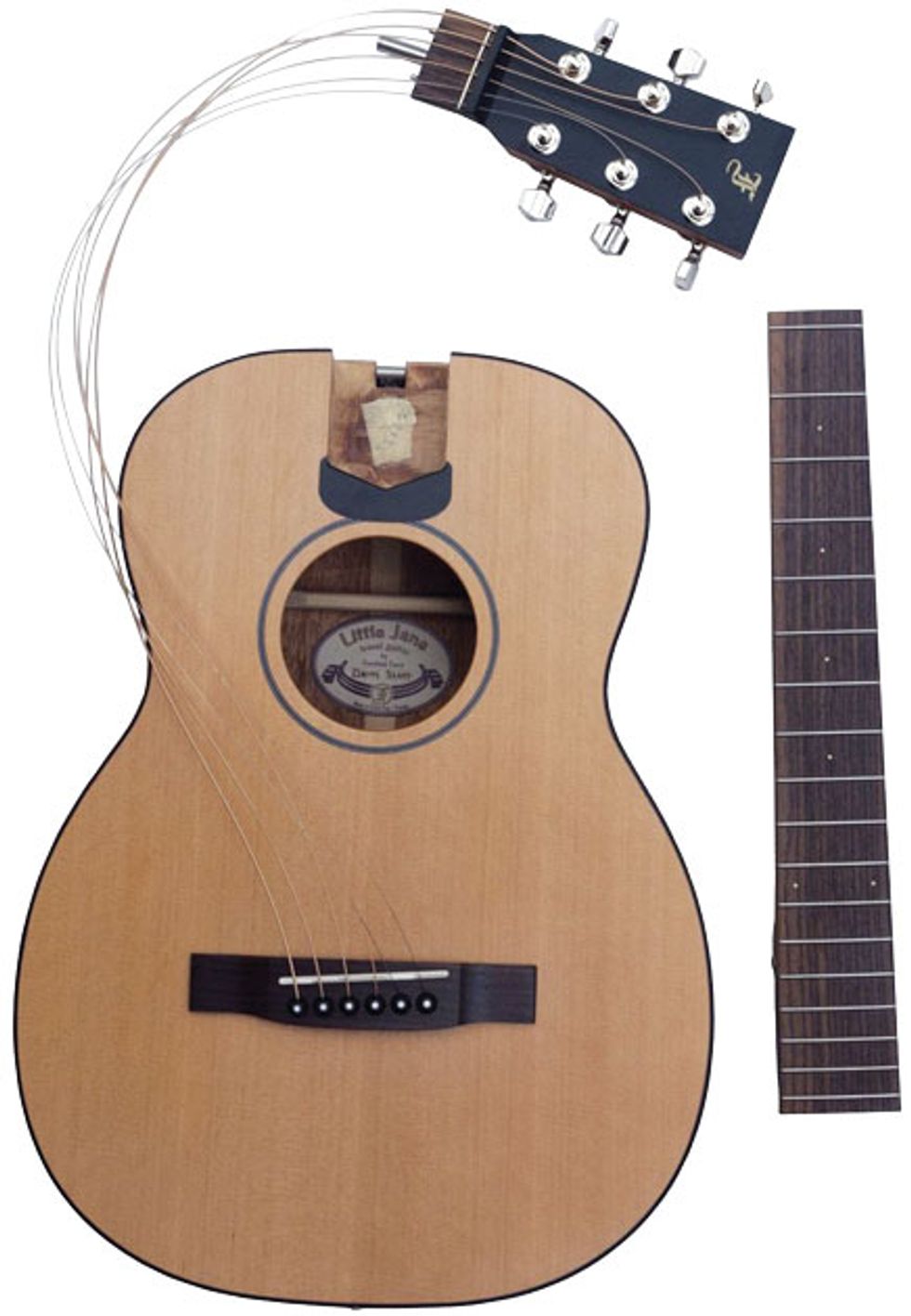 FURCH GUITARS
Little Jane LJ10CM
Little Jane has a Western red cedar top and African mahogany back and sides (all solid), and disassembles for stowing and travel with the included backpack.
$1,175 street
furch.cz
YAMAHA
SLG200S
This collapsible 6-string features Yamaha's SRT pickup system, which aims to recreate body resonance and deliver the tone and ambience of a true acoustic.
$629 street
usa.yamaha.com
---
SHREDNECK
LP Series Deluxe
The 23.25"-scale Shredneck is 33" from tip to tail, and it has a nato body, two humbuckers, and a rosewood-topped maple neck. With gigbag, it all weighs 7 pounds.
$199 street
shredneck.com
---
PIGNOSE
Deluxe PGG-200
The 24 1/4"-scale PGG-200 has a built-in 1-watt Pignose amp, a 22-fret rosewood fretboard, and a 1/4" jack that allows for headphone play or plugging into an amp.
$391 street
pignose.myshopify.com
---
C.F. MARTIN & CO.
Backpacker
The 24"-scale Backpacker has a Sitka top, solid-tonewood construction (neck, back, and sides), and a full-size fretboard, and weighs less than 2.5 pounds.
$219 street
martinguitar.com
---
VOYAGE-AIR
Premier Series VAD-1
The collapsible VAD-1 has a full-sized dreadnought body, a solid Sitka spruce top, and solid mahogany back and sides. The rosewood-topped mahogany neck folds down via the patented Voyage-Air neck hinge.
$979 street
voyageairguitar.com