Photo by Kenneth Cappello
The punch-packing duo digs into the wide-ranging influences, weird alchemy, and haunted guitars on their fifth album together, Ash & Ice.
Kicking back in the mood-lit, mod-plush lobby of the Bowery Hotel in New York City's East Village, Jamie Hince is still riding a wave of adrenaline from last night's sold-out show across the river in Brooklyn. "I've had such a nice time in New York," he raves. "Everyone came back up to the dressing room after the show, and it was my perfect little environment—all my friends there, and I'm just DJ'ing, and everyone was dancing. The whole room was packed and dancing to reggae, and it was so lovely. I met Lydia Lunch, and it was like, wow, my God!"
Alison Mosshart, sprawled a bit sleepily in the highback chair across from Hince, perks up at the mention of the genre-busting poet and singer, once dubbed "the angriest punk of the '70s" by the local paper of record. "She was rad," Mosshart exclaims reverently. "I met her on the stairs backstage and she was so … cool."
Given their rapid embrace by a plethora of scenes—fashion, art, tech-disruptive and indie underground—the Kills have made their own case for embodying a rather significant modicum of edgy cool themselves. But they're not making music just to be invited to all the hip parties—far from it. Starting in 2002 with their aggressively lo-fi Black Rooster EP, Hince and Mosshart (whose stage names are "Hotel" and "VV," respectively) threw down the gauntlet with a statement that bands like the White Stripes, Royal Trux, and the Velvet Underground had also hinted at, each in their own way: for every dark, abrasive, and menacing seam you can peel back to make a record, there's an equal and opposite source of warmth, light, and redemption waiting in the wings.
That duality is a phenomenon that Hince and Mosshart have coaxed and nurtured to the hilt in their own songwriting, and it's finally reaching an apex on Ash & Ice (Domino). Over the years, rock crits have insistently categorized their sound as "scuzz-rock," but most of that flies out the window with the sparse but precisely layered garage sound of "Doing It to Death," the hyped-up acid-techno blues of "Hard Habit to Break," the sidewinding trance-rock excursion of "Siberian Nights," or the louche grit-meets-gospel shimmer of "Hum for Your Buzz." Put simply, whether it's unvarnished punk or pure rock 'n' roll, you'll find plenty of influences swirling around in the mix on Ash & Ice, all of them pitched seamlessly into a light-and-dark battle for the soul of the band. It makes for a delicious and wild ride.
"We are kind of opposite in a lot of ways, but so perfectly opposite that it fits together," Hince explains, while Mosshart blushes and laughs softly. "I was thinking about this the other day, how Alison is so chaotic in her songwriting. She's so disciplined in her life, so regimented and routine, and I'm the opposite. In my creating, I've got to absolutely work it out, but my life has no discipline. So I think that's where I absorb all the chaos and the whirlwind in my life, and then try and compartmentalize it in songs. She does it the other way 'round. Her songwriting is where she goes bananas."
"I've always been a believer that your ideas are more important than your ability." —Jamie Hince

Mosshart also points out that their geographical separation—she's based in Nashville, Hince in London—leads to its own bit of drama when they eventually reunite to record a new album. "We do tend to write everywhere," she says. "Then I come with all these songs that I wrote on my Martin acoustics, and Jamie's just like, 'What the fuck am I gonna do with that?' Trying to go at it from the other side, you know, we're always starting at opposites, but there's this very interesting moment when stuff starts to click. You don't know when it's coming, but things just start to come together. For a long time, they don't feel like they're going to."
There's also an inevitable hiatus between albums; Mosshart fronts the Dead Weather with Jack White, and is molding a second career as an established painter, while Hince remixes other artists (most recently U.K. art-rockers the Big Pink), pursues photography, and is constantly retooling his studio sound. But this time out, shortly after winding down the tour for 2011's heatseeker hit Blood Pressures, they'd already started work on the new album when Hince slammed his left hand in a car door. Five surgeries later, he'd lost the use of his middle finger. It meant completely relearning how to play the guitar.
"I was never the most orthodox player in the first place, which sort of helped me," Hince says. And in fact, none of the guitars he favors—among them a '66 Gretsch Silver Duke, a Supro Ozark, and a vintage Gibson L-1 acoustic he insists is haunted (more on that later)—are fretted to be all that forgiving, but that didn't deter him from adjusting to his injury. "I've always been a believer that your ideas are more important than your ability. So in that way, although I've lost the use of a finger, it's just made me adapt my ideas rather than hinder my ability, if that makes any sense. I mean, my hand is fucking painful. Every now and again I'll pick something up, and I'll get a shooting pain down it, and if I rub it, I've got lumps and scar tissue—but now I'm just trying to make you feel sorry for me [laughs]. It's actually really easy playing guitar with a finger missing!"
Alison Mosshart plays her 1967 Gretsch Corvette at Atlanta's 2016 Shaky Knees Festival in May 2016. Her No. 1 is outfitted with stars she applied when she dressed up for Halloween as the night sky and wanted her guitar to match. Photo by Chris Kies
Co-produced by Hince and John O'Mahony, Ash & Ice was recorded at a house in L.A. that was ingeniously outfitted with a mobile studio built by the band's longtime engineer and friend Bill Skibbe, and then mixed by Tom Elmhirst almost in its entirety at Electric Lady Studios in New York (three tracks were mixed by Tchad Blake in Wales). Hince and Mosshart are clearly energized by the results—a white-hot slab of groovy, bluesy rock that remakes the band in a fiery and exuberant new image, with a thick guitar sound that recalls such hard-rocking heroes as PJ Harvey, the Velvet Underground, the Nation of Ulysses, and many more. And with bassist/keyboardist Scott Paterson and drummer Jonny Scott rounding out their sound on the road, the Kills are barnstorming American cities with a live show that's blowing the roof off every room they play. Now that's chaos they can live with.
Once [engineer] Bill Skibbe had set up the mobile recording studio in L.A., did you jump right into making the album?
Alison Mosshart: Well, there was still some writing to do. We started out with what we always do—we made up a board, and there was just a ton of songs on it, like 30 or 40. These were the combination of all the things we'd been working on, but none of them were done. They were just these skeletons or lyrics or melodies, and we started going through them, because part of it is about getting rid of stuff so you can focus on what you're trying to finish. But we wrote a ton. I mean, we kept writing the whole time.
Jamie Hince: One of the hardest things is to get everyone to agree—everyone being me and Alison, and Bill to some extent—that there's an album there, and that it's ready. I'm always the bringer of bad news, because I never think it is. Part of it is my problem, of never being able to see that something is finished. But part of it is I want to just keep pushing the standard a bit. So it was a difficult way to start a record, because I think everyone was a bit deflated when they thought I was winding them up, being like, "We've got more writing to do." I mean, at least for Alison, it's like, "How much more writing? I've written a hundred songs!"
Mosshart: And if I'm lucky, I'll keep writing! You know what—I mean, we were still writing in Electric Lady. We got there and we were in this tiny little B studio for a week, just to write. We wrote "Black Tar" in a day there, and we wrote "Let It Drop" on the last day of recording. So the writing part never stops, really. Recording is easy.

Hince has a large collection of Hofner 176 guitars, but his newest white 176 model shown here is fast becoming his No. 1 live guitar. The secret weapon of his tone is the three single-coil "sharkfin" or "blade" pickups he puts into
every Hofner he can find. Photo by Chris Kies
Alison you've said you write on an acoustic guitar. What's your main one?
Mosshart: There are a couple—they're both Martin 00s. Then I have this Gibson that I love, which is a little baby B-25. I use that a lot. It feels like a normal-size guitar to me, even though it's three-quarter scale. You walk up to it and it seems like it shrinks as you get closer to it [laughs]. It's an awesome guitar, but I wrote on the Martins for this album. They're old and they have a sound to them. I always write on acoustic because I feel like I'm really in touch with it.
I never really got into writing on electric guitar. Sometimes I have, but you know—it's loud, and it's not secret. I mean, it's like the greatest thing ever onstage, but if I used it to write, I'd end up using the crazy noise instead of actually finding the real notes and a melody and nailing it down. I'm not the greatest guitar player of all time, so it's better for me to work on an acoustic because I can control it and hear it. And I can write so fast on it. The melodies come so quickly, just because it's all very focused as it's happening.
"I always write on acoustic because I feel like I'm really
in touch with it." —Alison Mosshart

You whipped out a Gretsch to play "Heart Is a Beating Drum" [from Blood Pressures] last night.
Mosshart: That's a [1967] Gretsch Corvette. I've had it for a while. I have a couple of those. I love them because they have a super-skinny neck and they don't weigh anything. Having a guitar really ties me down if I can't carry it and jump around, too, so I always seek them out. I used to play a Hagstrom [Kent PB-24-G], which was pretty much the same. It was super-light and so nice. I've played the Bo Diddley Gretsch, but that was too heavy. That's an odd guitar to play too, because it sits on your body really strangely. But I love those Corvettes—they're great. He has a white Gretsch—the Silver Duke.
Jamie you also played a small-body Supro toward the end of the show.
Hince: Yeah, that's the Ozark. I saw it in a shop online, and I just kept going back to it. It's almost embarrassing because it's kind of a stupid-looking guitar [laughs], but it's the first time that I really had this feeling that I could see that the guitar sounded good. I could see it! I said to Bill Skibbe, "I'm really into this guitar, and I know you're gonna laugh."
Hince's Supro Ozark inspired the Kills' new song "Siberian Nights."
I showed it to him, and he wouldn't have it. So I dragged him to the shop, and I plugged it in, and dead in the street we looked at each other and he went, "Buy it." It just sounded phenomenal. And then afterwards I found out that Jimi Hendrix's first guitar was a little Supro as well. It makes total sense. We recorded "Siberian Nights" with that one, at Electric Lady, so there you go.
Tell me about how "Siberian Nights" came together. I know there's a story behind it.
Hince: Well, I rode on the Trans-Siberian Express, and I think it was Celine or Flaubert who said, "You have to drink an ocean to piss a cupful," meaning you have to write a lot of stuff before you get to something useful. So I wrote loads of stuff. It wasn't like songs or lyrics, because I never really want to restrict myself like that. I just wrote a fantasy story about Vladimir Putin. I wanted to cast him in this homoerotic environment, almost like a surreal thing where his masculinity is his downfall. It's almost like the narcissism is so extreme that he's just had enough of being that barking manly. He just wants to take his shirt off with another man and just have a little cuddle, and then they can go back to being—okay, I know. This is what being on the Trans-Siberian Express and not speaking English for two weeks does to you [laughs]. But I started putting this story together, and then I chipped away at it and made it into a song. It was originally called "Me Tarzan, KGB."
Mosshart: [Cracking up.]
When a song like that comes together for you, are there different ways it can happen—like on a guitar, or with a beat?
Hince: Yeah, it happens every way, but I've honed it down a little. On this album, I'd have a song where I'd do all the music on my '68 Neve board. I'd program things and there'd be this really full, realized music in my head. But then when it came to vocal melodies, I'd write those on my acoustic guitar for the same song. It was a weird, convoluted way of doing it, but I didn't want to get obsessed with the song, and I didn't want to get obsessed with the sound. I wanted to separate them until the last minute. Does that make sense?

Both halves of the Kills keep busy. Mosshart is a painter and fronts the Dead Weather with Jack White, while Hince dabbles in photography, DJ'ing, and remixing other artists. "I wanted [Ash & Ice] to be a Kills soul record, with a dub production sound to it," he says. Photo by Chris Kies
Absolutely. And that's really interesting about the vocal melodies. What do you play to go digging for those?
Hince: Well, it's a guitar I call the Black Devil. It's a 1921 Gibson L-1 parlor guitar. I'm in love with it. Someone once said—we were talking about religion, and I'm a devout atheist, and someone asked me, "Do you believe in ghosts?" I said, "Yeah." And they were like, "That doesn't make sense." I couldn't make sense of it, either, but I picked up my Black Devil, and that thing has just given up so many songs to me. It's not the best-sounding guitar, and it's really painful to play—it's got a really thick neck with high action—but every time I pick it up, it gives up a crazy song. And I just thought, "That's why I believe in ghosts." There's something in that vibration that remains in the world, even though it's dead and gone, and that's how I feel about that guitar. I can pick up another guitar and not get anywhere with it, but I pick up that thing—it's making the hairs on my arms stand up even now.

After slamming his hand in a car door, Jamie Hince had five surgeries and a tendon replacement in 2013, forcing him to relearn how to play the guitar without the use of his left middle finger. Photo by Chris Kies
Does that happen for you, with your Martin acoustics?
Mosshart: Oh yeah. There's always that honeymoon period when you first get a new guitar, where you write a fucking ton of songs. I mean, I've written everything that I've done on the last two records on those guitars, so I owe a lot to them. They definitely suit me. They're little, they feel good, and they sound amazing.
You have a lot of influences running through this album—a little bit of everything compared to your older records. Can you take me through "Doing It to Death," for example?
Hince: I remember hearing a story about the Sex Pistols and one of their songs, "Submission" maybe, and how they wrote it A–B–C–D–E, because they were just cocky. They just did it like that! And in a way, that's the drumbeat from "Doing It to Death." I wanted to write it so that every bar added a bass drum. The first one had one, the second had two, then three, and then four. I was reading a lot about the mathematics of music, and it sounded really good when I programmed it.
"It's actually really easy playing guitar with a finger missing!"
—Jamie Hince

And then the melody, I don't know where that riff came from. I suppose it's a little bit classical, isn't it? I do know absolutely for sure that the first parts came from listening to Vybz Kartel, this Jamaican dancehall with crazy delivery. I'd rewind bits of the verses because I just couldn't understand the beauty of the delivery. I couldn't work out how they were doing it. It was like the bass drum started on one bar, and the phrasing of the vocal melody seemed to start halfway through it. It was just fucking genius. So I sort of broke this thing down mathematically, and then rebuilt it in "Doing It to Death."
You also have soul and gospel influences on here.
Hince: I wanted that, because when you're programming drums, it's difficult not to sound like a machine, you know? And I heard us back a couple of times, and I didn't think it had soul in it like I wanted it to. So there are a lot more drum samples on there—"Impossible Tracks" has an old gospel demo from a church band [Mighty Voices of Wonder], using the drums from that. So we were just trying to inject some soul into it. I wanted it to be a Kills soul record, with a dub production sound to it.
Jamie Hince's Gear
Guitars
Hofner 176 (various models)
1966 Gretsch Silver Duke
Supro Ozark 1560S
1921 Gibson L-1 acoustic
Amps
Divided by 13 FTR 37
Selmer Zodiac
Various Selmer heads
1950s Magnatone 280
Divided by 13 cabinets
Effects
Electro-Harmonix POG (two first-generation models)
Boss DD-3 Digital Delay
Fulltone Supa-Trem ST-1
Radial BigShot ABY True Bypass Switcher
Boss TU-3 Chromatic Tuner
The GigRig HumDinger, EvenFlo adapter, and Distributor
Strings and Picks
D'Addario EXP140 (.012–.052)
Alison Mosshart's Gear
Guitars
1967 Gretsch Corvette
Martin 00 acoustics (two)
Gibson B-25 acoustic
Amps
Divided by 13 RSA 31
Vox cabinet (vintage, originally matched with Vox AC50 head)
Effects
Boss VE-20 Vocal Performer
Electro-Harmonix POG (first generation)
Boss TU-3 Chromatic Tuner

"Hum for Your Buzz" is another one that fits into that gospel mold, but it's really stripped down.
Hince: I was blown away when Alison brought that song to me, because it was like, "You've just written a song that is so old, it should've always been around—and you've written it now." All I did on guitar was just play along with her vocal line. There was just nothing else to add to it, really. We didn't do anything to that song. I just played guitar parts to go with the vocal. We tried it a few times with drums, and every time it seemed to make the song weaker. And I love that, when you've got a song that the more you add to it, the worse it sounds. You just know that this is how it's got to be—just nothing.
Mosshart: It didn't even need a verse. It didn't need anything else. But that was one of those songs that just drops out of the sky. I remember where I was sitting when I did it. I had my headphones on, and my acoustic guitar, and just started singing it and playing it. It's amazing what happens if you just let yourself not think, and open your mouth and start singing or playing, and you feed off that energy. Suddenly before you know it, you have a song and it's like a gift—you don't know where it came from. And you know, I wrote it without having a doubt that we'd record it. But as it's coming through, it's impossible to think about, because it doesn't happen very often. That was one of those magic ones that just kind of wrote itself in a few seconds. And then I was like, "Jamie, you've gotta listen to this—this is crazy!" It's almost as though I have nothing to do with it.
Hince: That's one thing I always think is important for us, at least at the beginning of making an album, where you're allowed to have your time just to create something without having to go through a consensus, you know? You might as well just let your idea fly the way you want it. The thing this time that was so weird was how different our songs were—unlike before, because we'd been vaguely in the same place writing, you kind of catch ideas and catch what each other is doing. But I was mostly writing in London, and Alison was mostly writing in Nashville, so what I noticed when we brought our songs together was how different they were. And it really irritated me.
Mosshart: It always irritates you [laughs].
Hince:
It really did, but it's a process of having a bit of a tantrum about it, because in the end, what it's really proved to me is that trying to make something out of these two crazy opposite things is the
sound
of our band. That's the sound. All you know is that no matter how hard and impossible it looks at the start, it always seems to work by the end.
YouTube It
Jamie Hince's funky 1966 Gretsch Silver Duke comes out for a rousing live studio performance of "Heart of a Dog" on BBC Radio 6 Music. On this track, Hince tunes his Duke to C#–G#–C#–F#–A#–D#.
Here's Hince strumming the guitar he calls the Black Devil—a vintage (c. 1921) Gibson L-1. Mosshart grabs one of her Martin acoustics for some percussive accompaniment on "Heart Is a Beating Drum."
Flash back to an era when 6-string beasts with names like Teisco, Silvertone, Hofner, Wandre, Cipher, and Maier (quietly) roared.
Let me take you back, good people, to a time when The Ed Sullivan Show was featuring rock 'n' roll bands beamed into homes via brand-new color televisions. This was when the U.S.A. was experiencing a prosperous, post-WWII era filled with ideas of space exploration, jukeboxes packed with vinyl records, and muscle cars cruising the highways. For most in the States, the early 1960s was a great time to grow up and an even better time to want to play electric guitar. It was the era that birthed garage bands. Demand for electric guitars boomed, and guitars were being designed as original models rather than copies of copies. I could write several volumes about guitar design variations, but for this article let's examine a curious chapter of electric guitar production: the age of fully transistorized Japanese electrics, from 1964 to 1966.
For historical perspective, let's look at the dawn of solid-state technology. Back in 1947, Bell Laboratories developed an alternative to the costly and problematic vacuum tubes that powered most electronic devices. This transistor technology slowly found its way into consumer products, but was truly embraced in portable radio formats. Before this time many radios were huge and bulky, often positioned as the centerpieces of living rooms. Transistors made it possible to seriously downsize radios so you could carry a pocket-sized one, cranking out the latest Beatles tunes. It may not seem like much of an innovation compared to our palm-sized smart phones, but this new form of technology appealed to the young baby-boom generation. It allowed for more expedient ways to get news and music, all wrapped up in the novelty of transistor radio design. These little radios appeared concurrently with electric guitars in all sorts of pop-culture references on TV, in movies, and in print publications.
Transistor technology was available to many Americans in the 1950s, although the cost of such devices was often expensive. But a few visionary Japanese engineers were visiting the U.S., including Masaru Ibuka, with their eyes on the market. He was the co-founder of Sony, and his fledgling company began making transistorized electronic equipment under license from AT&T. By the early 1960s, Japan had become a major player in transistor radio production, with Sony competing with other Japanese companies such as Toshiba and Sharp. This manufacturing boom was concurrent with the electric-guitar boom and the explosion of popular guitar music. The planets aligned, and soon the technology of both guitars and radios morphed into an interesting combination: the "amp-in-guitar" concept.
Image 1: Attaching a simple, radio-like circuit board platform to a pickup begat the concept of onboard amplification.
One of the earliest examples of these transistor amplifiers appeared on the German-made Hofner "Bat" guitar of 1960—the year it debuted at a European trade show. The Hofner Bat, known as the Fledermaus in the company's catalog, was produced in very low numbers and is now arguably the rarest of all Hofner electric guitars. It featured a pretty radical angular-but-symmetrical design that incorporated a transistorized amplifier and speaker inside the guitar's body. Also appearing in the early '60s were the Italian-made Wandre Bikini Avanti 1, which featured a detachable amp that connected to the lower bout of the guitar, and the Meazzi-branded Transonic, which had a fully integrated amp and speaker in its body.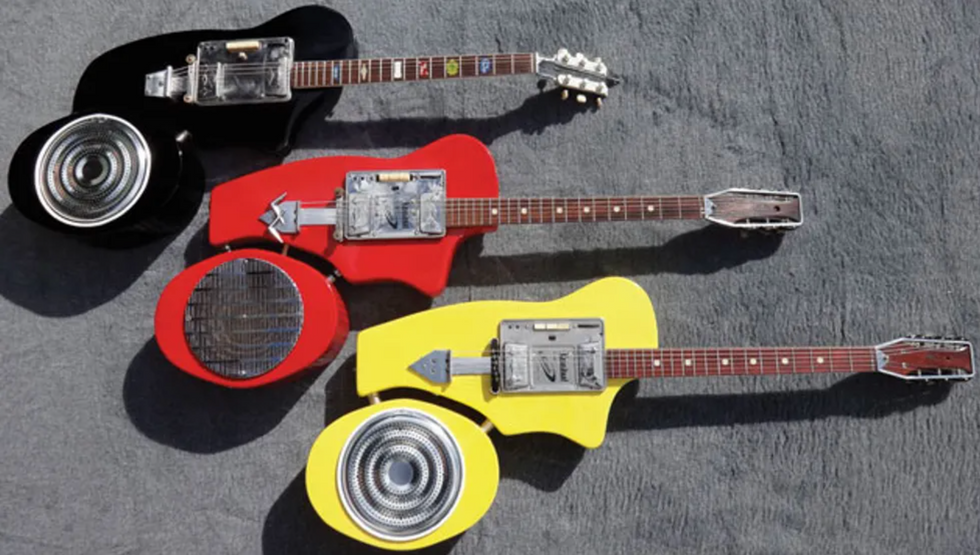 Image 2: Wandre's Bikini models sported a detachable amp that connected to the guitar's lower bout.
Photo by Robert Patrick
Even though these models pre-dated the Japanese models with onboard amps, the Italian guitars were also hard to find in the U.S. and were very expensive. The Wandre Avanti 1 was imported by the Maurice Lipsky Music Company in the early '60s and priced at an astounding $395.
Image 3: Italian guitars like the Meazzi Transonic arrived on these shores as pricey imports.
But the advertisement for the Avanti 1 read, "No Wires, No Outlet Worries, Plays Anywhere." Those taglines really reflect the sense of freedom and mobility that transistor technology offered the guitar-playing community. Hey, take your Wandre Bikini to the beach party!
Teisco Silvertone TRG 1 Amp-in-Guitar Vintage Japan
Japanese guitar maker Teisco introduced two transistorized models in 1964: the round-necked TRG-1 and the TRH-1 lap steel. Of course, the true proliferation of the technology was dominated by the Japanese makers of the time, and the Teisco Company led the way when Japan Music Trades magazine featured the newly introduced Teisco TRG-1 in June 1964. Also introduced was a lap steel called the TRH-1.
Image 4: Teisco TRG-1
The "TR" standing for "transistor," these new models were basically takes on existing guitar designs. The TRG-1 featured a slightly larger Teisco ET-300-style body and one pickup, with the small amplifier mounted under the pickguard where a bridge pickup would otherwise reside.
Image 5: Teisco TRH1
This model had a few different names in its early days, such as TRE-100, TRET-100 (with a tremolo), TRG-1, TRG-1L, and probably a few others. But they were all essentially the same model, offering "new sounds in music." In 1964 and 1965, Teisco really promoted the amp-in-guitar models in Japan and, here in America, Weiss Musical Instruments was placing advertisements in Music Trades magazine as early as February 1965. Also appearing in 1965 was a Silvertone-branded variation, called the 1487 in Sears literature.
Image 6: Teisco's ads of the era boasted "new sounds in music" and a decidedly "mod" look.
All of these Teisco-made guitars could be plugged into an amplifier and played like a "normal" guitar, or you could use the internal amplifier powered with 9V batteries that were installed through an access plate on the back of the guitar.

Image 7: Sears' in-house guitar brand, Silvertone, entered the competition in 1965 with the 1487 model.
All of these Teisco-made guitars could be plugged into an amplifier and played like a "normal" guitar, or you could use the internal amplifier powered with 9V batteries that were installed through an access plate on the back of the guitar.
Image 8: A 3" speaker with 1 watt of power was de rigueur for the self-contained 6-strings of the 1960s.
The batteries fired a tiny transistor amplifier that put out about 1 watt of power through a 3" speaker. You definitely weren't going to play a house party with this setup, but it was perfect for bedroom jamming and learning songs off the record player.
There were several other Japanese amp-in-guitar models that appeared during 1965, including a super-cool instrument made by the short-lived Shinko Gakki company in the city of Tatsuno. The rarely seen Shinko example was sold in the U.S. through the New York-based Inter-Mark Company, which branded all their guitars as "Cipher" models.

Image 9: This one-pickup Cipher model imported by the Inter-Mark Company originated in Tatsuno, Japan.
The Maier example pictured below was made by another Japanese manufacturer, forgotten by time. After examining the components, this guitar seems to have been produced in the Matsumoto area of Japan. Even the import name of "Maier" is a relative mystery. After pouring through stacks of trade magazines from the era, the only possible clue I've found is the R.J. Maier Corp. of Sun Valley, California.

Image 10
They were primarily known as a maker of clarinet and saxophone reeds, but during the guitar boom of the mid-'60s, all sorts of musical instrument companies were importing electric guitars. Either way, the Maier variation follows the familiar blueprint of a single-pickup guitar powering a tiny amp through a 3" speaker.
Image 11
Finally, this two pickup variation, also below, was made at yet another Japanese factory that remains a mystery. I have owned this same model without the internal amp, and the designers simply routed out the regular guitar bodies to accept the transistorized components. But this example features a headphone jack!
The makers of these guitars—a one-pickup model with a Maier-marked headstock and a two-pickup model with a headphone jack—are a mystery today.
There aren't any records of how many of these amp-in guitars were sold, and I often wonder about the popularity of this format. But by 1966 most all of these guitars had vanished from catalogs, advertisements, and literature. As with many of the Japanese imports, these all-transistor guitars were relegated to closets and pawnshops. Rory Gallagher famously adored his Teisco TRG-1 and recorded with it. But other than that famous connection, the brief history of these guitars has been largely ignored.
Meazzi Supersonic Vintage 60s - Demo
So how do these internal amps sound? Well, they sound like a tiny transistor radio! And for those of you too young for the comparison, imagine a seriously lo-fi sound that's tinny and raw. Really, these amps were more about portability than sound. Even when direct miked, they sound weak, but—as with all tones—there is a place for this sound in someone's creative imagination.
Unfortunately, these old amps are almost always in need of repair due to bad capacitors. The values on these capacitors are often odd, but they can be repaired easily enough by almost any good electronics repair tech. I've owned eight of these transistorized electric guitars over the years, and all but one needed repair work on the amp circuitry. But when these guitars are fixed up, I love using them. I still take my Teisco TRG-1 to the shore every year. And when my kids were born, you can bet my playing was limited to the 1-watt amps in these guitars as I plucked lullabies in the wee hours of the night. Even today there's a place for these oddities of '60s technology and guitar playing!
Frank Meyers is the author of History of Japanese Electric Guitars, published in 2015.
[Updated 3/2/22]