Rig Rundown: Buddy Miller
Humor, great stories, and killer tones (courtesy of rare guitars and boutique amps) abound in this studio sit-down with one of contemporary Nashville's most respected artists.
Buddy Miller is a pillar of the Americana music scene, with a wide set of reference points that encompass country, rock, jazz, blues, folk, bluegrass, and more. So, it's no wonder our conversation about the gear in his comfortable and well-stocked Nashville home studio included references to his work with Robert Plant, Emmylou Harris, and Richard Thompson, as well as the tone of Joe Willie Duncan and his Unitar.
We visited the guitarist and producer just as Buddy and his wife Julie, longtime songwriting and performing partners, were about to release their first album together in a decade: Breakdown on 20th Ave. South. The album is full of Miller's lush guitar, with nasty low-end baritone growls, the bark of his Wandres, and expansive tremolo adding rich colors to the couple's smart, soul-deep lyrics.
As we talked to the Grammy-winning producer—who's also won 13 Americana Music Awards and leads the house band at the annual Americana Music Honors & Awards show, and was music director for two seasons of TV's Nashville—we sat in front of his classic Trident B Range console, which once served in San Francisco's historic Hyde Street Studios. Miller showed us a fraction of the fascinating and distinctive instruments in his collection: from the mando-guitar he played on Lucinda Williams' "Car Wheels on a Gravel Road" to the salt-and-pepper team of Wandres that are his mainstays, familiar to many from his tours with Robert Plant and Alison Krauss, and Plant's Band of Joy. Though it all, though, what he most often displayed was the humility and humor that, in combination with his talent, has made him one of Nashville's most beloved modern musical fixtures.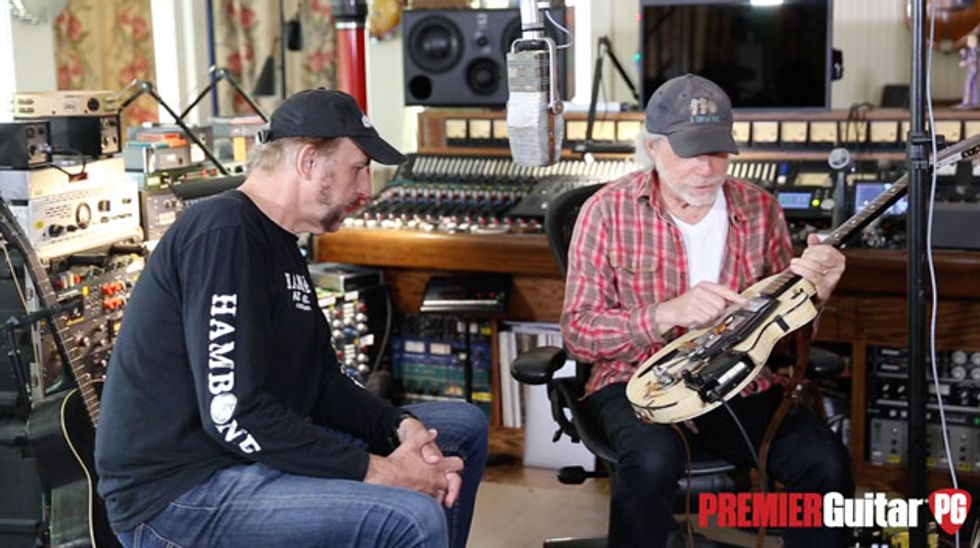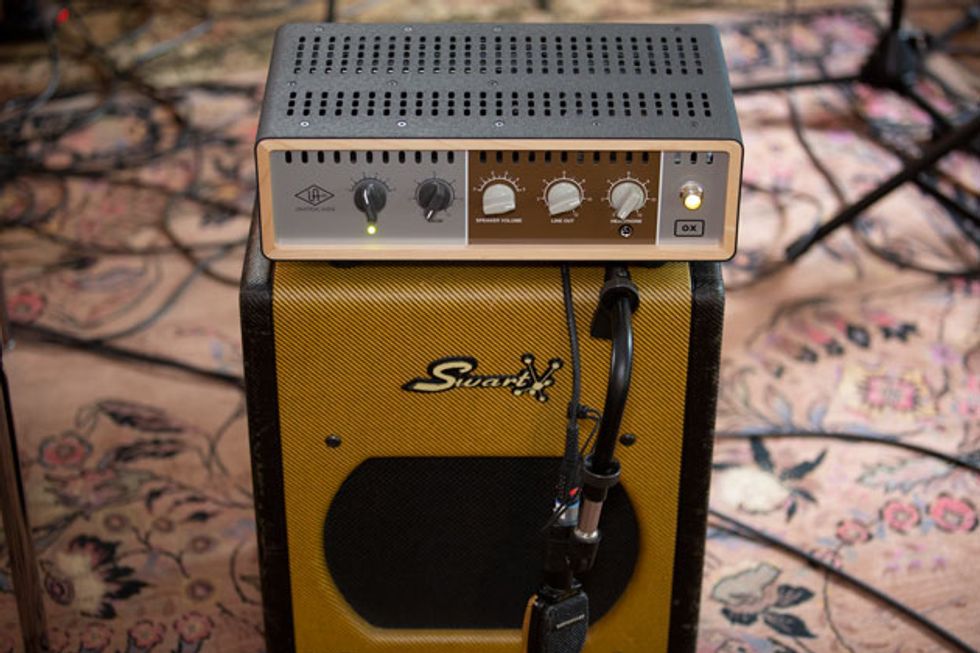 Miller's current live and studio amp rig of choice is a pair of Swart AST Pros that he runs in stereo, with Universal Audio Ox Amp Top Boxes. He loves the amps' tremolo. "I have not turned my tremolo off since '81, '82," says Miller. "I mean, why would I?" And indeed, the effect, either ping-ponging between two amps in mild disagreement or synched together, is part of his sonic signature. He also loves the Swarts' tube-driven reverb. And the Ox Box was an integral part of Miller's strategy for making his latest album with Julie Miller, using it to record with her at low-volume at home, taking advantage of the Ox's power-attenuation and cabinet modeling.
This 1934 Gibson L-00 was acquired from Nashville luthier to the stars Joe Glaser. It came with an archaic vintage capo in its case and a brown string that looks like glorified twine for a strap—old-style. It has impressive clarity and definition, string-to-string, which translates well to recordings.
Miller likes to chase the end of the tonal spectrum his fellow stringed-instrument players are not. So when somebody plays a chiming axe, he'll reach for a bass or baritone. And when the low end's already covered, he may reach for this mando-guitar. It's a Hammertone 12-string, with a Vox-y look and a drumskin finish. Miller explains it's "basically a 12-string guitar tuned up an octave." He used it to play the signature riff on Lucinda Williams' "Car Wheels on a Gravel Road." He owns four or five of these instruments. "They don't last too long, because they have so much string-tension that the necks bow on them, but they're great for recording," he offers.
Miller plays a salt-and-pepper couple of Wandre guitars, primarily using this black 6-string and its white sibling as his main instruments. He had to sell one of his Wandres—a red-finish one—years ago because he needed money for his wedding to Julie. The buyer: Larry Campbell, who toured with Dylan and has played with a host of others, including Paul Simon, Willie Nelson, and Rosanne Cash.
Drawn to its cream-sparkle finish, Miller got this Wandre in a Colorado pawnshop for $50. It ignited his passion for the '60s Italian brand, for which he's single-handedly inspired a small revival of interest. The neck is aluminum under the fretboard, and the metal plank continues back to the tremolo bridge, with the single-coil pickups mounted onto it. They never make contact with the body. But as anyone who's heard Miller's work—from his solo recordings to his touring as a member of the Alison Krauss and Robert Plant Raising Sand band and Plant's Band of Joy—knows, it sounds rich, deep, and full. Note the push-buttons for pickup settings and the strips of electrical tape holding the plastic body together. The neck pickup is backwards and wired out of phase. At one point, when Miller lived in New York City, this guitar was stolen. Somebody then found it under a truck, in its case, and returned it to Miller. "The person who stole this thing threw it out," Miller says, laughing. "They were hoping for something better."
The headstocks of one of Miller's Wandre guitars—he has four, all bought for $50 apiece—reveals the name of the Italian accordion builder and exporter who got these instruments to America: Noble. It also reveals the aluminum bones that are the core of the guitars' necks.
This old Gibson J-45 is another of Miller's acoustic workhorses. It has an L.R. Baggs Anthem System. He says it has "that old rhythm guitar sound" like you'd hear on an early Dylan recording. And Jeff Bridges played this 1954 model in the movie Crazy Heart.
A Jerry Jones baritone is another of Miller's favorite instruments. "This is easy for a guitar player to play," he observes. Miller uses the bari often, but finds it particularly helpful when performing as a duo with female singers who play guitar well—including Emmylou Harris, Patti Griffin, and Shawn Colvin—so he can cover a different sonic area. He acquired this guitar in the late 1980s.
This 12-string Veillette Avante Gryphon came from the famed guitar dealer George Gruhn. This high-tuned instrument is D to D, and the strings are doubled, like a mandolin. It's a favorite of Julie Miller, who wrote half the new songs on Breakdown on 20th Ave. South on it.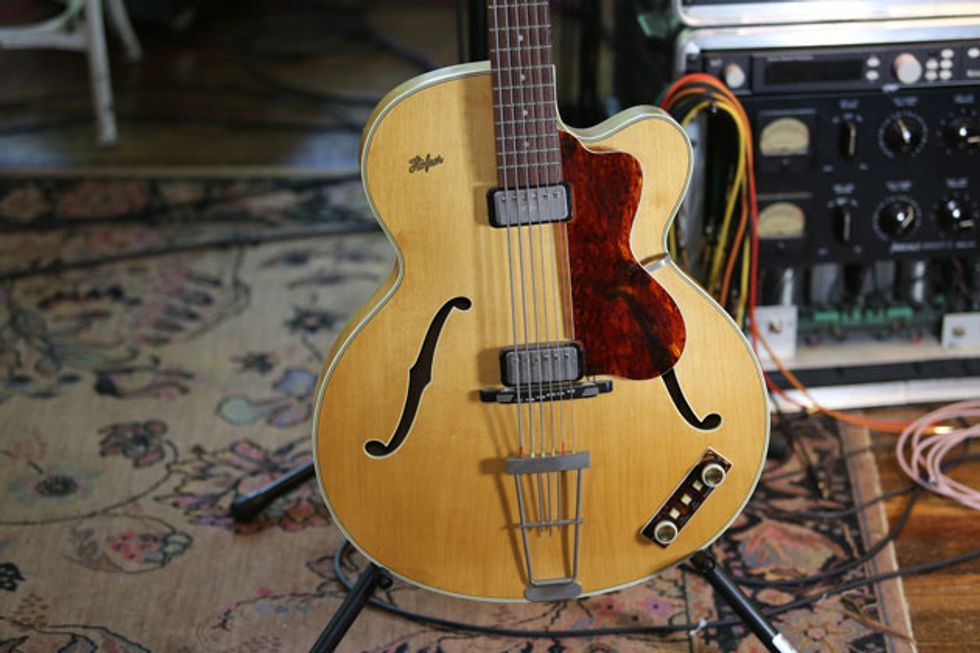 Here's a rare bird: a Hofner 6-string bass. Check out the crazy push-buttons in the control set! It's an elegant-looking beast that Miller prefers to Fender's 6-string basses. He describes it as a "songwriting machine." One winter, Robert Plant, Band of Joy drummer Marco Giovino, and Miller sat in his studio for a spell and churned out a dozen songs with Miller propelling things with this bass.
This Silvertone acoustic was, let's say, supercharged by luthier Scott Baxendale in Athens, Georgia, who has made a practice of installing new bracing and other appointments to make these guitars, and old Kays and Harmonys, into better versions of themselves: bigger, fuller, and brighter sounding. This is another of Miller's favorite recording acoustics.
As luck had it, we were able to record this entire Rig Rundown on Miller's vintage RCA 44-BX bi-directional microphone—part of his extensive selection of mikes. "This is a piece of art and a tool that's been used on who know what," Miller observes. It's a ribbon mike, originally employed in broadcasting. This model first appeared in the 1930s.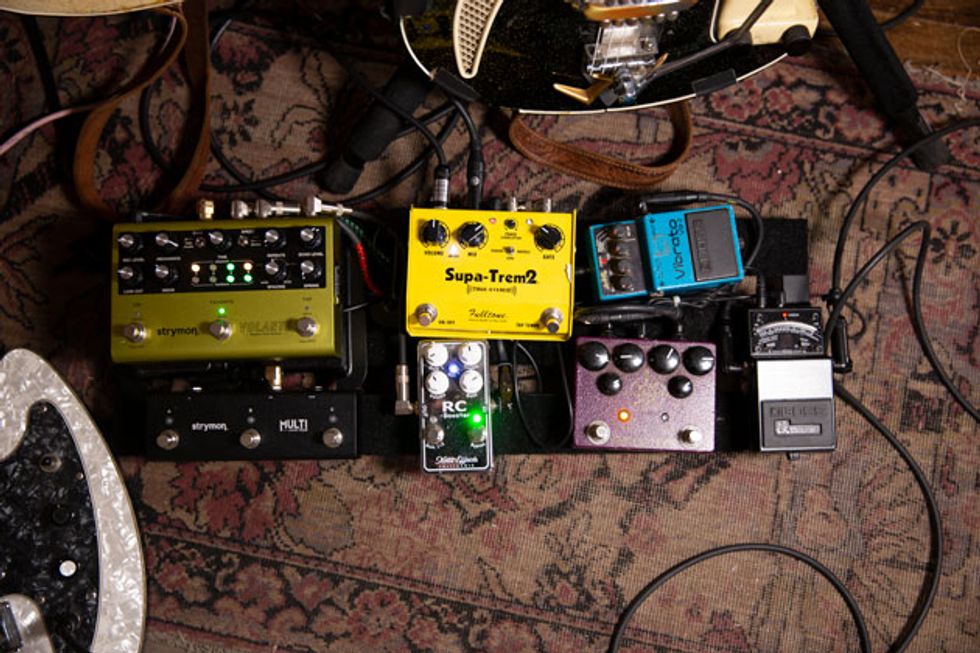 Miller's live—and typical studio—pedalboard is pretty basic. There's a Boss TU-3 Waza Craft tuner, a Boss VB-2 Vibrato, an Analog Man King of Tone, a Fulltone Supa-Trem2, an Xotic Effects RC Booster, a Strymon Volante Magnetic Tape Echo Machine, and a Strymon Multi-Switch. "I'm a simple player," he says. "I've gotten farther with less than anybody I know."
Typically, great recorded guitar tones like the kind Miller gets in his studio require some type of compression. Miller's got that covered, with a pair of Empirical Labs Distressors, a dbx 161 Compressor/Limiter, and his Telefunken V76s tube preamps. The latter are his favorites.
Click to subscribe to our weekly Rig Rundown podcast:

D'Addario Micro Tuner:https://www.daddario.com/MicroTunerRR
---