Week #2 is here! You could win pedals from Electro-Harmonix, Ibanez, Xotic Effects, Summer School Electronics, Flamma Innovation, or Peterson Tuners!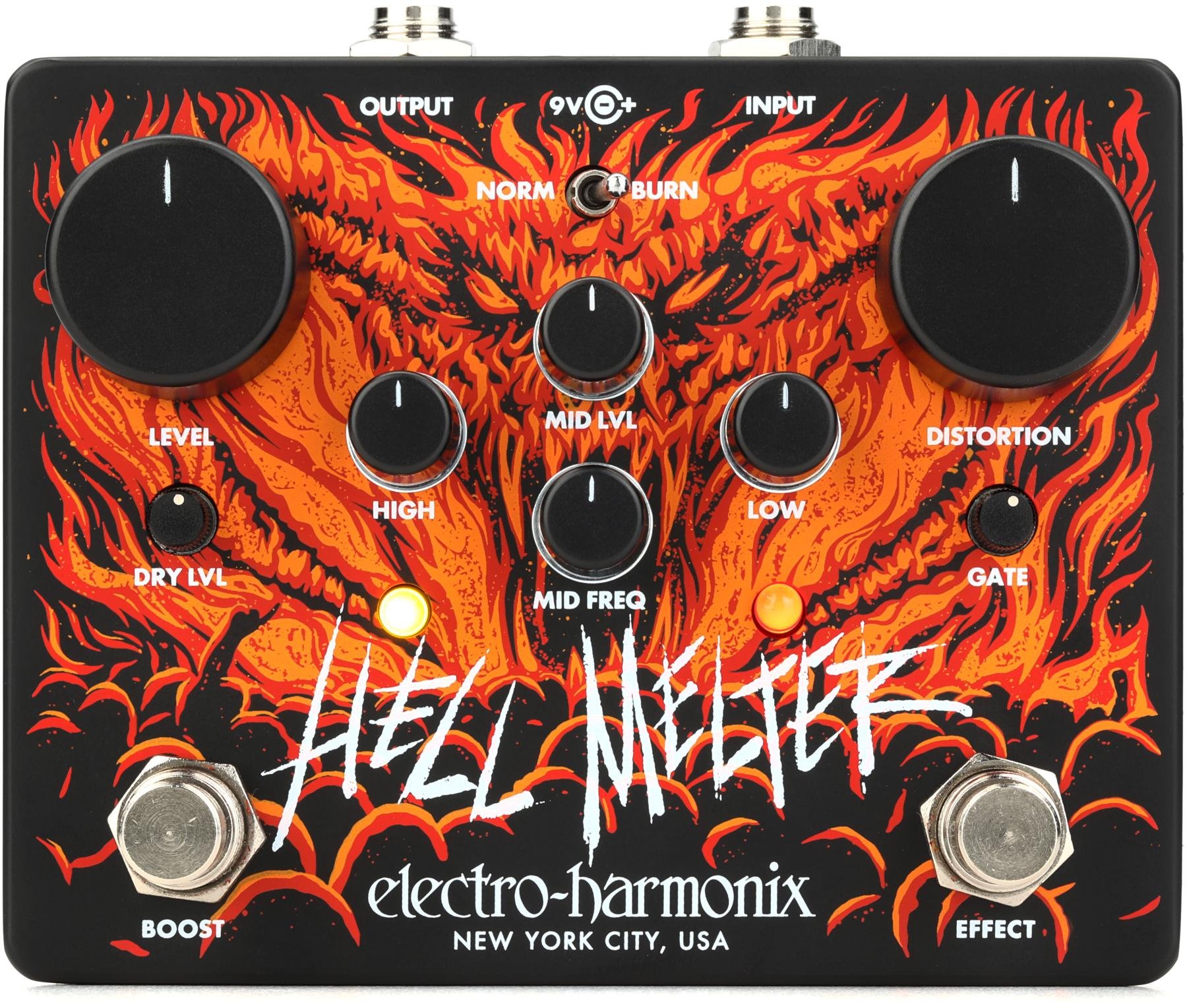 With its take on the cult-classic, chainsaw distortion pedal, the EHX Hell Melter takes distortion to its extremes. The Hell Melter features expanded controls and tonal capabilities, allowing the already in-your-face sound of the pedal to broaden by switching to more open clipping options and boosting the internal voltage for increased headroom, less compression, and more attack.
Originally designed as the ultimate in high-gain tone, this world-famous distortion circuit is known for the death metal sounds of Sweden's Entombed and the shoegaze wash of My Bloody Valentine. It's even found a home in the rig of David Gilmour!
Electro-Harmonix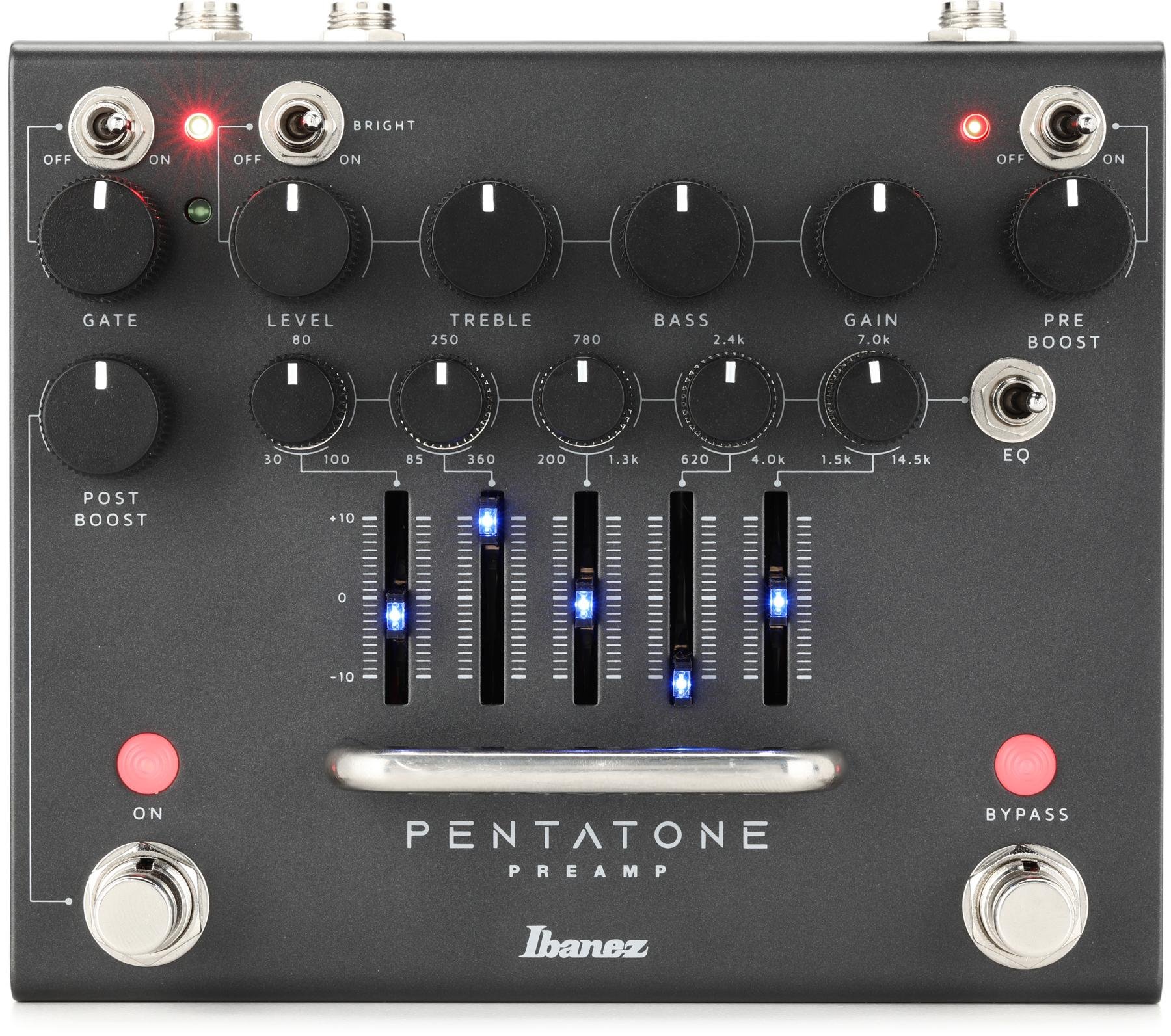 Extraordinary tone shaping control, dynamic arrays of distortion, and exceptional amounts of EQ are all laid out at your feet. The Pentatone preamp from Ibanez affords the perfect blend of features all wrapped up in an intuitive, all-analog platform. This preamp combines five individual tone shaping sections: a pre-boost, distortion with two-band EQ, a noise gate, 5-band parametric EQ, and post-boost. The pedal also includes a bright switch, which enhances treble response by boosting the high-frequency range. The two integrated footswitches control the preamp bypass and post-boost functions while adding an Ibanez IFS2L external foot-switch enhances the player's control even further by also making the pre-boost and 5-band parametric EQ foot-switchable. From simple tone shaping to crunchy overdrive and even the most crushing distortion, the Pentatone preamp covers it all.

Learn More
Ibanez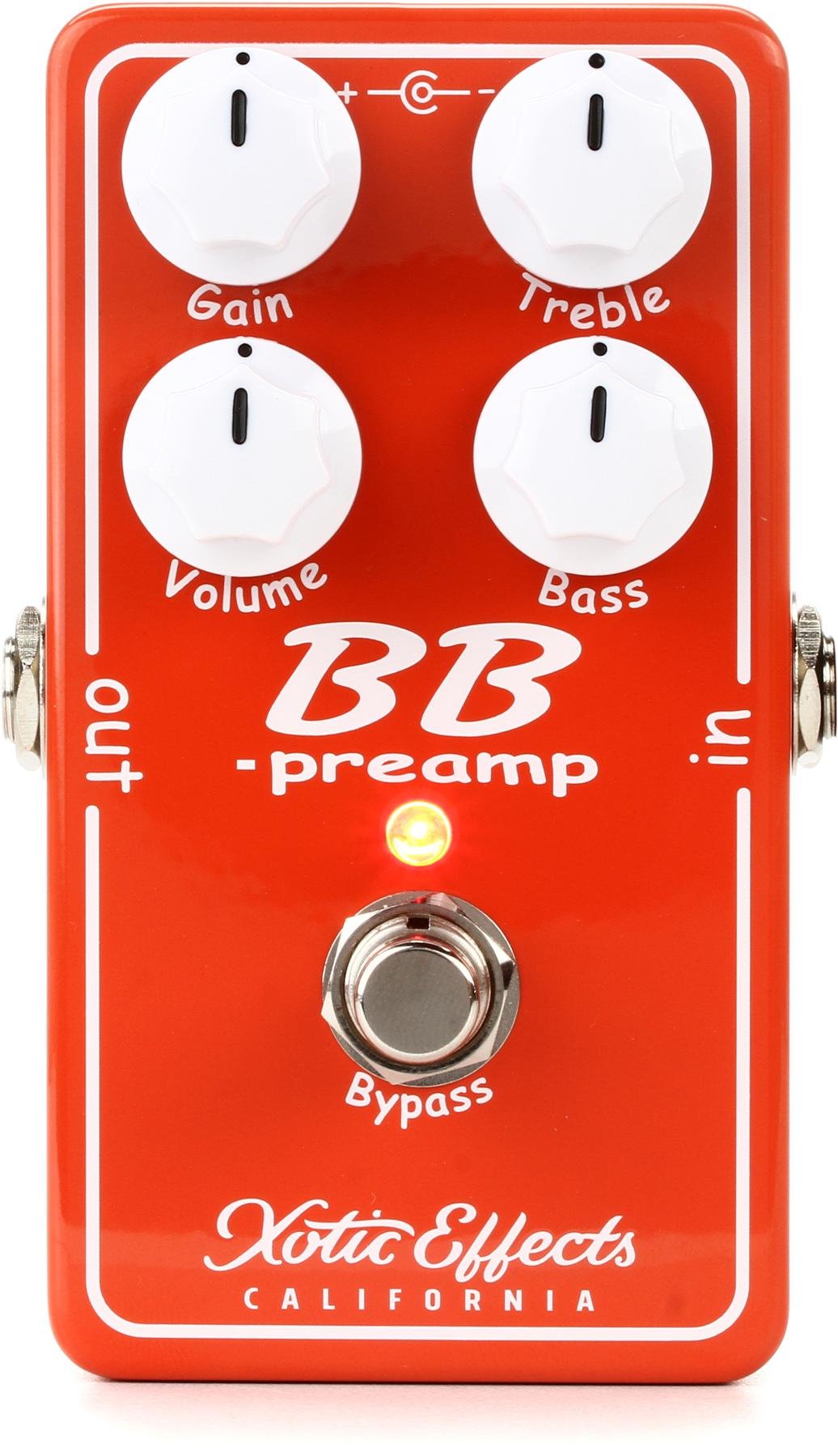 For almost 20 years, the original BB Pre pedal has been the overdrive of choice for profession and working musicians around world. The BB Pre Version 1.5 is an updated version with the exact same tone shaping components as the original. This pedal is outstanding for getting thick and creamy overdrive tones with great sustain and also excellent for pushing the clean front end of an already driven amp with up to 30+dB of boost. The BB Pre Version 1.5 adds an updated case, 9vdc located at the top of the pedal and able to run 9 to 18 volts dc.
Xotic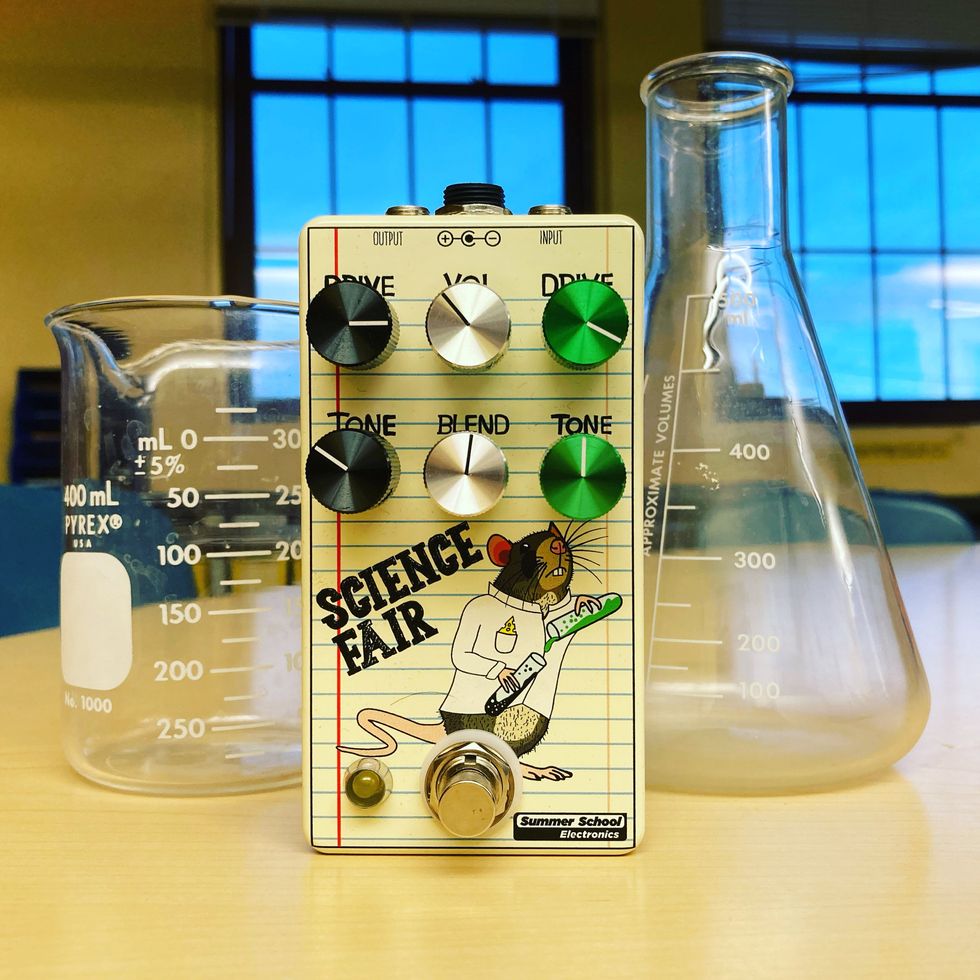 The Science Fair is a unique overdrive/distortion from Summer School Electronics that allows you to blend 2 classic overdrive flavors into a unique sound. The left side of the pedal, with black knobs, is referred to as the Lab Rat. A hard-clipping crispy distortion. The right side with the green knobs is called the Test Tube soft clipping mid-range overdrive with a mid-hump boost. The 2 sides are run in parallel with individual drive and tone knobs, and the center silver knob column features a master blend and volume.

By completely turning the blend to the left or right the user can use Summer School Electronics' versions of these classic circuits. But the Science fair really comes alive by turning blending the 2 pedals and adjusting the individual drive and tone knobs. This allows the Science Fair to give aggressive distortion while maintaining the clarity of the notes, or a softer attack with a hint of grit to pop through the mix. The Science Fair allows the user to find their signature sound, while also being a unique pedal that can provide a variety of options in recording and live applications. The Science Fair runs on a standard 9-volt, neg. center power supply, and has a lifetime warranty. Hand built in Syracuse, NY by working musicians with attention to detail.

Learn More
Summer School Electronics
This compact reverb pedal crams seven distinct digital reverb effects in to a sturdy, metal shell and several control features. The various reverb effects aim to simulate different environments from a small room to large, open cave. More niche effects are also included such as studio-style plate reverb, classic spring reverb effect, and the more far-out modulation reverb effect. Each effect can be modified with the Hi-Cut, Lo-Cut, Decay, and Pre-Delay knobs and then saved to their own save slot. An effect trail feature can be toggled on and off to have each effect fade out naturally after being switched off.
FLAMMA Innovation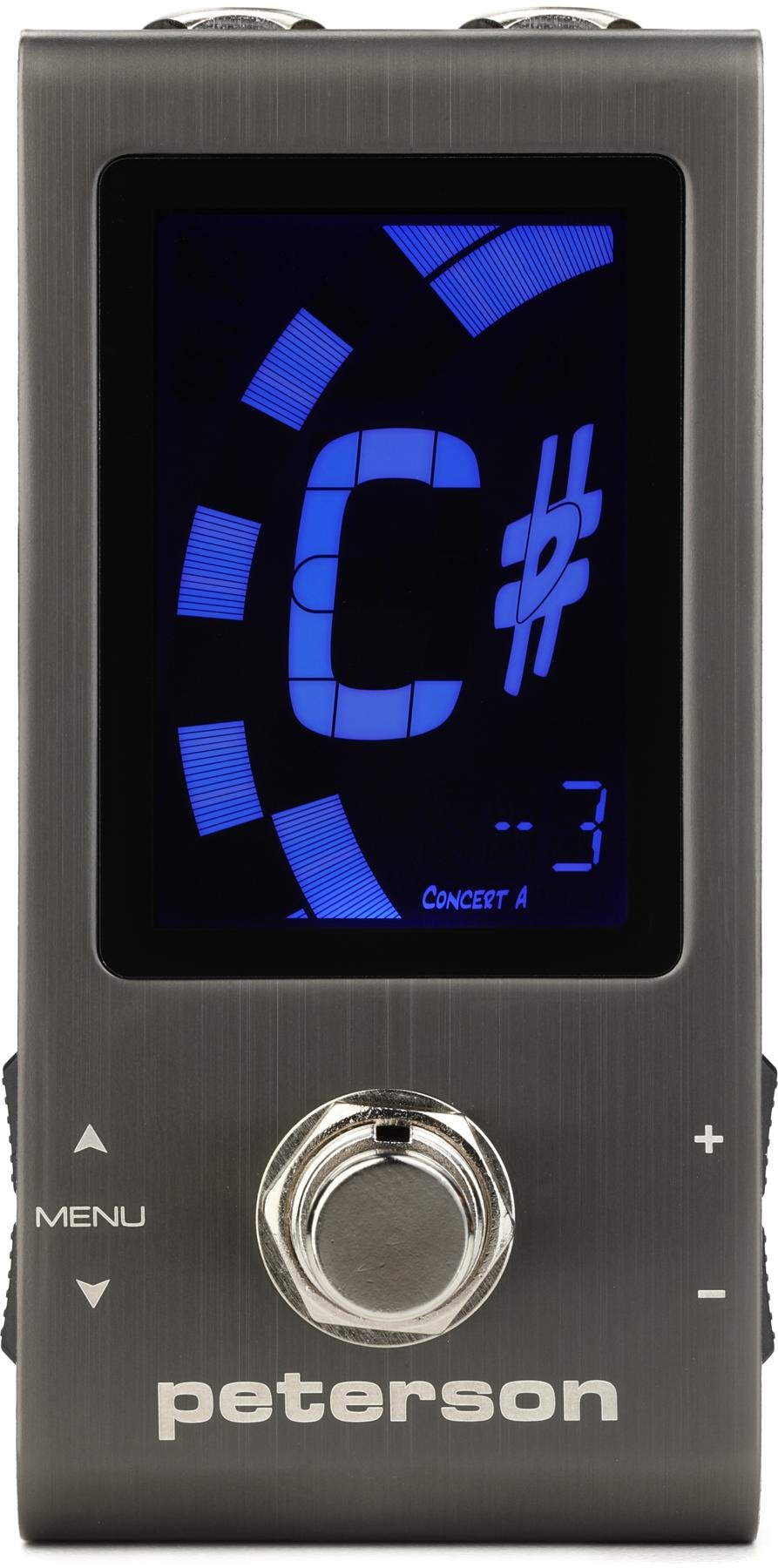 The StroboStomp Mini™ delivers the unmatched 0.1 cent tuning accuracy of all authentic Peterson Strobe Tuners in a mini pedal tuner format. We designed StroboStomp Mini around the most requested features from our customers: a mini form factor, and top-mounted jacks.
Peterson
"Astrovan" took him from lawyer to soulful indie-pop headliner on the back of his rewired, ragged '69 Jag and a bed of shimmering 'verbs and reversed delays.
Facing a mandatory shelter-in ordinance to limit the spread of COVID-19, PG enacted a hybrid approach to filming and producing Rig Rundowns. This is the ninth video in that format, and we stand behind the final product.
Starting all the way back in high school near Philadelphia, the friendship between Mt. Joy guitarist Sam Cooper and singer/guitarist Matt Quinn was established over writing and performing music. (The band is named after the Valley Forge lookout point used during the American Revolutionary War.) Their separate collegiate paths (shaping them both into lawyers) took them apart. However, remote collaborations kept the music flowing and fastened the bond.
Between lectures Quinn was penning lyrics and playing solo gigs, while Cooper was woodshedding scales and sharpening his voice on guitar. Normal 9-5 jobs and civilian life seemed to be their destiny. Then Sam moved to L.A. (reuniting him with Matt) detouring the dull life. Not knowing anyone in the city, he turned to his musical brother and the duo (alongside future bandmate/bassist Michael Byrnes) worked out a collection of ideas that would be self-released under the Mt. Joy name.
Unknowing to them, bluesy-folk anthem "Astrovan" was touted and shared on several 2016 playlists that skyrocketed Spotify fans in just a few months. In total, they dished out four self-released songs ("Sheep," "Cardinal," and the windows-down, road-trip favorite "Silver Lining"—landing them a No. 1 on the Billboard Adult Alternative Songs chart and over 100 million plays). The decision to chase music was made and the briefcases were closed.
The trio added Sotiris Eliopoulos (drums) and Jackie Miclau (keyboards) and fleshed out nine more songs to round out their eponymous 2018 debut. After burning through the American festival circuit, opening a U.S. tour for The Head and the Heart, and headlining a club run, the indie poppers headed north to Portland to record with producer Tucker Martine. Their sophomore album Rearrange Us refined their catchy, hypnotic vibes with psych garnishes and was just introduced in June 2020.
On the heels of a fresh collection of jams, Cooper virtually welcomes PG's Chris Kies into his home for an enlightening conversation that covers quick transformation from lawyer to rocker when "Astrovan" blew up (and all the woodshedding that preceded it), explains how onstage anxiety that provoked him to rewire his '69 Jag, and details his use of reverse delays and oversimplification of the powerful H9.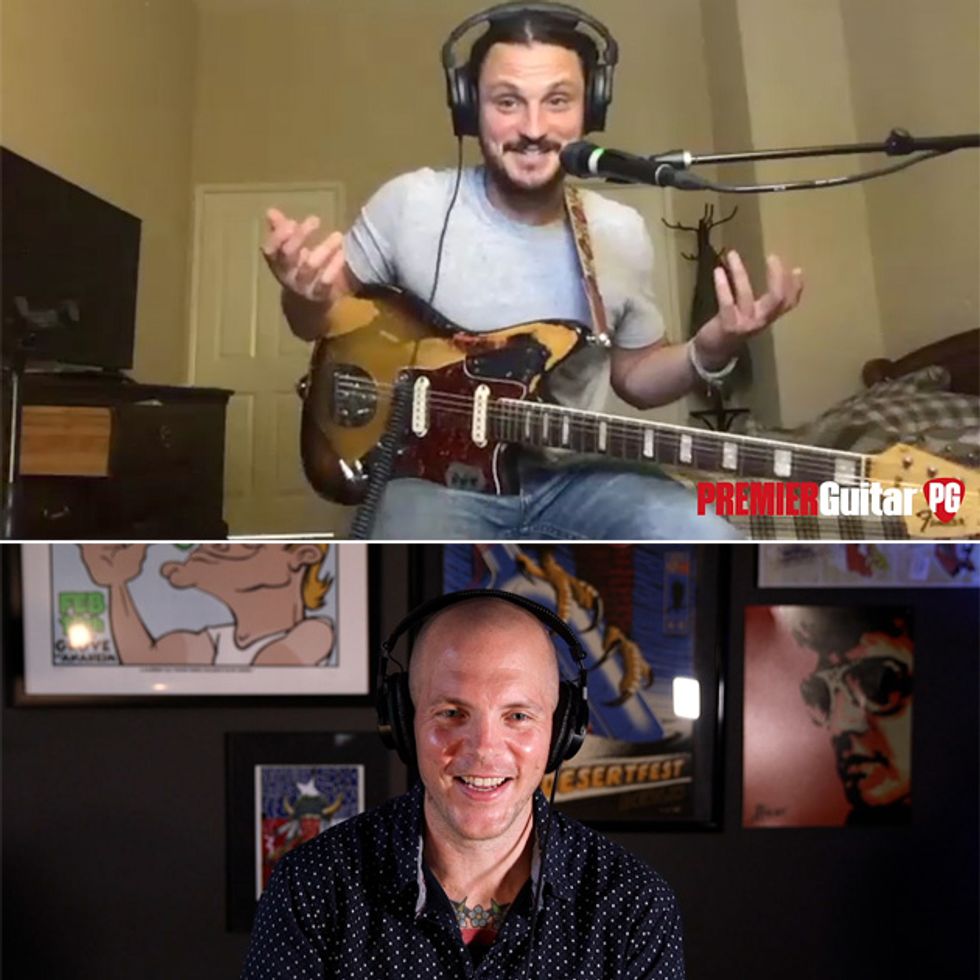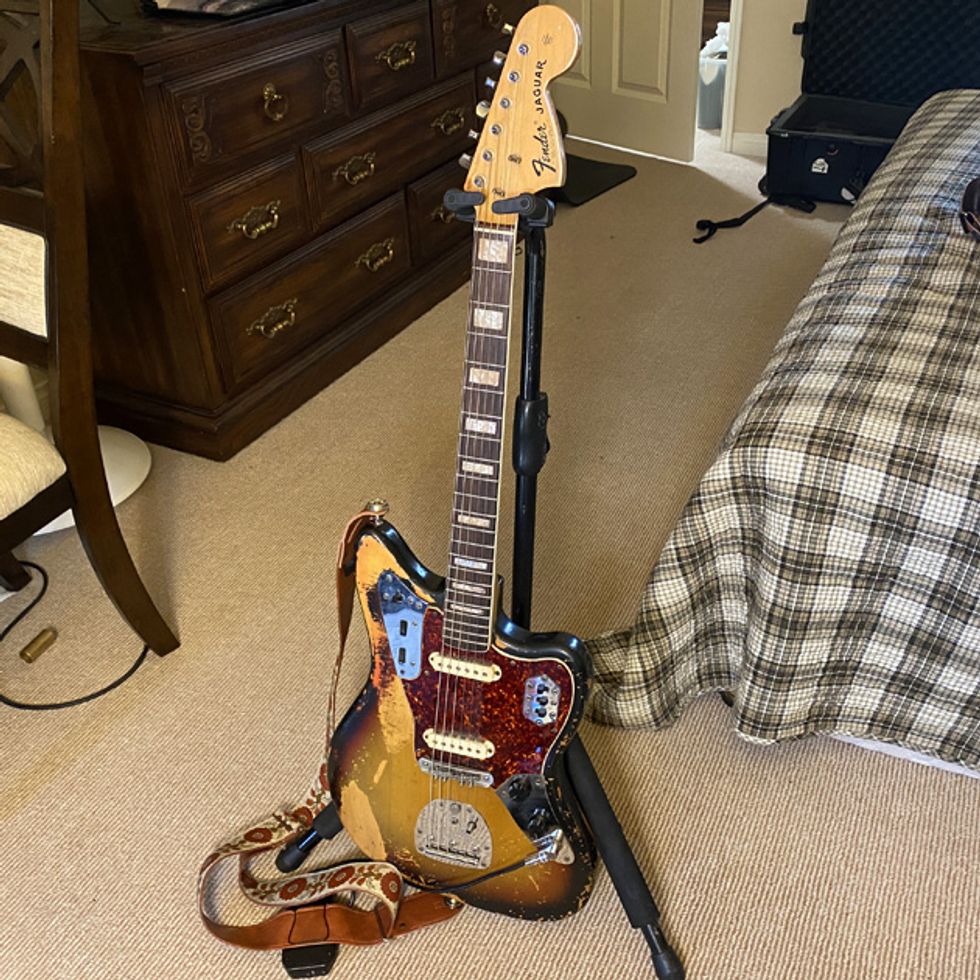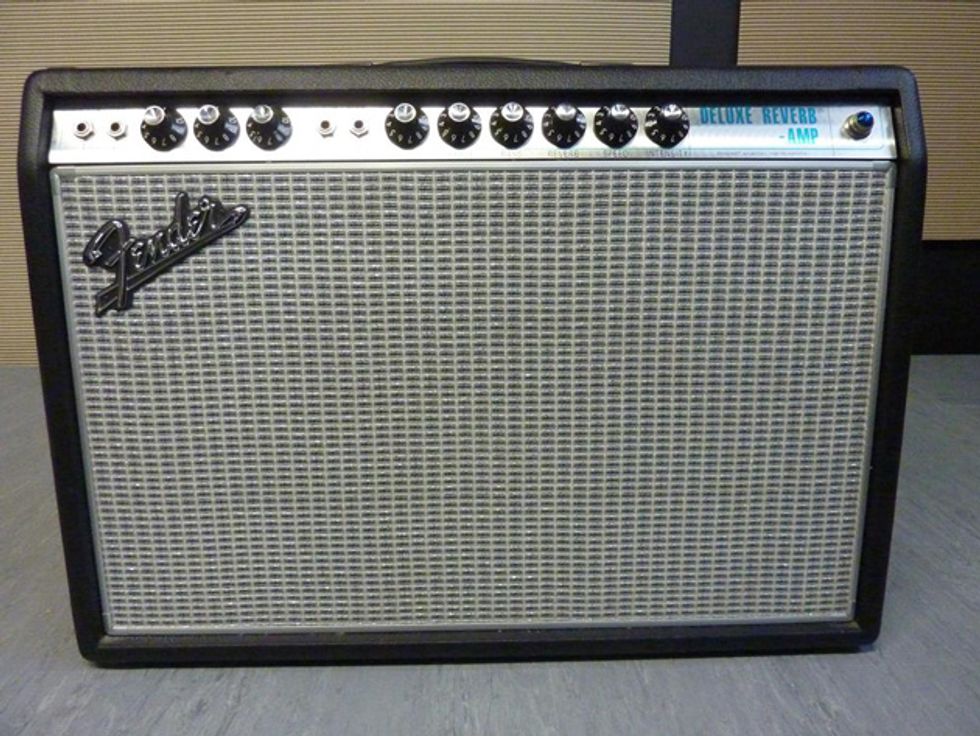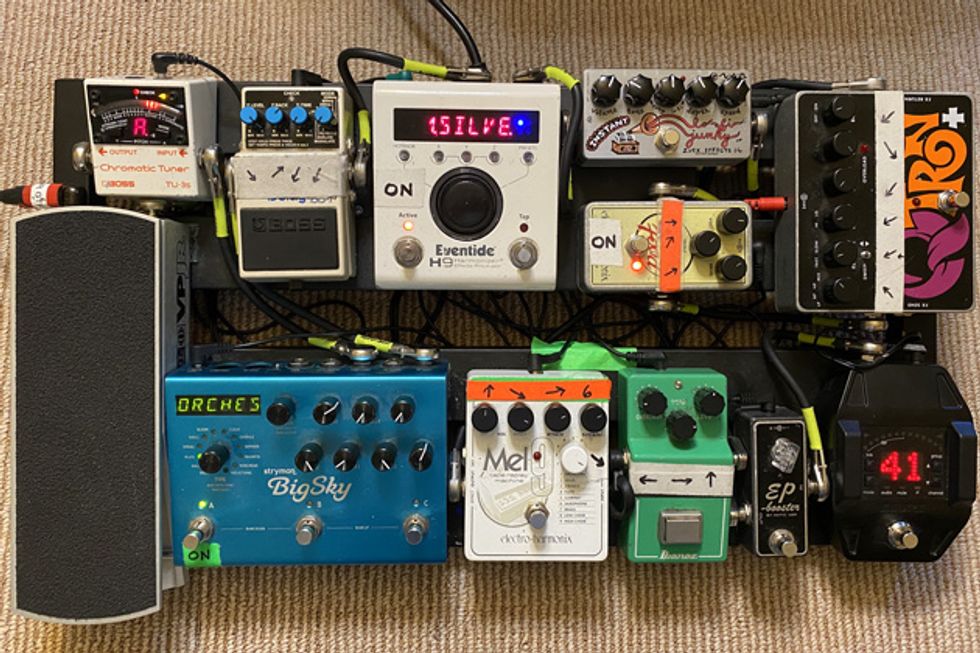 Fatter, punchier bass tone via a clean boost with two gain stages and precise 2-band EQ. The PG Xotic Bass RC Booster V2 review.
Recorded direct to an Mbox and running with Logic X.
Clip 1: Fingerstyle with Sadowsky Vintage 5.
     Disengaged until :17 when pedal is turned on with controls set flat.
Clip 2: Played with Yamaha BB2000.
     Bass RC Booster with a bass boost at 2 o'clock placed in-line after distortion pedal.
     0:00 - Clean
     0:14 - With distortion only
     0:26 - RC Booster engaged
Clip 3: Slap with Sadowsky Vintage 5.
     Bass RC Booster's bass and treble boosted to 2 o'clock.
     0:00 - Bass RC Booster not engaged
     0:12 - Bass RC Booster engaged
 

Ratings

Pros:

Highly usable EQ. Quiet operation. Dual gain stages.

Cons:

Gain 2 control is somewhat difficult to get at/adjust.

Street:

$168

Xotic Bass RC Booster V2xotic.us

Tones:Ease of Use:Build/Design:Value:
Located just a 10-minute drive from where I'm writing this review, in the San Fernando Valley, California, Xotic has been in business for more than two decades. And the company introduced their first RC Booster pedal just a few short years after opening shop. It wouldn't be an exaggeration to say the RC Booster is a staple among some guitarists, to such a degree that many have more than one on their pedalboards.
One of the functions our guitar-playing brethren use the pedal for, at the end of the chain, is to drive the input gain of their amps harder. This isn't something I've necessarily felt I needed as a bassist, so what other functions could a pedal known for its versatility offer the low-end community? I was looking for the answer to this when I unboxed the new and improved version of the Bass RC Booster.
Classic Concept … New Face
The Bass RC Booster V2 feels robust and is fairly lightweight, at a touch more than a half-pound. The controls are an attractive vintage-cream-white color and have enough resistance to keep your settings safe from light, accidental touch. The new version of the pedal has two footswitches instead of its predecessor's one. The right footswitch engages the pedal itself (gain stage number one), while the left footswitch engages both gain stages simultaneously.
The four main controls consist of gain 1 and volume on the left, and treble and bass on the right. The control for gain 2, which is much smaller and recessed, is located in the center of the quartet of white knobs. The benefit of this is that your set-it-and-forget-it position for the second boost is in a very safe place, out of the way of clumsy musician's feet. That said, I had to use needle-nose pliers to adjust it so I wouldn't unintentionally touch the settings of the neighboring main controls with my fingers.
Compared to the previous version of the pedal, the V2 is visually superior. And I extend props to the folks at Xotic for cramming a lot of functionality into a fairly small footprint. Depending on how much headroom a player wants, the Bass RC Booster can operate from 9V to 18V.
The pedal's top-end made the 4-month-old strings sound fresh and clear without adding the harshness that many active onboard bass preamps do.
A Touch of Personality
For starters, I wanted to hear the pedal with no bump in volume or equalization. This is important for players wanting to use the RC mainly as a solo boost while retaining the exact characteristics of their original tone. Listening closely using headphones, it was clear that the Xotic indeed has a very subtle sonic thumbprint. I was using my 20-year old Sadowsky in passive mode, and the RC Booster dug out a small amount of midrange and helped my bass lose a little honk, which I liked. Without boosting any treble, the Xotic still adds a little something to the top end of the tone, which I would describe as a small amount of usable presence. So, simply turning the pedal on will undoubtedly place the bass guitar in a slightly more forward position in many mixes.
Distortion Compensation
I've noticed that my favorite distortion pedal, like many distortion pedals for bass, loses a little low-end when operating in higher gain settings. Naturally, I wanted to see how the RC Booster would function as a high-end, studio-level EQ, which it did with flying colors. With the pedal placed immediately after the distortion in my signal chain and the RC Booster's bass control boosted at 2 o'clock, it put fat, believable low-end back into my tone. This feature alone makes the pedal highly usable and valuable.
Royal Crown EQ
Continuing with the Sadowsky, I was curious to see how the RC Booster would compare to the instrument's onboard preamp when using almost identical settings. Again, the Xotic proved exceptionally musical when I dialed in both bass and treble to the 2 o'clock mark. The pedal's top end made the four-month-old strings sound fresh and clear without adding the harshness that many active onboard bass preamps have. On the other side of the spectrum, the low-end boost made my sound bigger, but without making it muddier. It took me less than 10 seconds to dial in a to-die-for slap tone with the pedal's simple but effective EQ.
The Verdict
When you consider its small footprint, studio-quality EQ, and two separate gain stages, the simple yet effective Xotic Bass RC Booster is a pedal that many bassists, including myself, might envision placing in the must-have category. The bass version of this popular pedal is indeed a subtle multi-purpose tool and works like a piece of clay to be molded into whatever a bassist needs.