Photo by Andreas Neumann
With the encouragement of his pal Jack White, Queens of the Stone Age and Dead Weather multi-instrumentalist Dean Fertita pulls together a decade of material for the psych-pop extravaganza Tropical Gothclub.
For multi-instrumentalist and A-list side musician Dean Fertita, a sophomore solo release has been a long time coming. The anticipated Tropical Gothclub, released in late 2022, is his first record since his 2009 debut, Hello=Fire. Fertita can't help but nod to the lapse of time between then and now. "The song 'Double Blind,' I wrote that for my daughter before her first birthday," he says about the album's dreamy, Flaming Lips-like second single. "She just turned 11, and that's the oldest song of the bunch."
In that interim, the guitarist has had a lot to keep him busy. Since the mid '00s, he's been a part of a number of ongoing projects: He plays guitar and keys in Queens of the Stone Age, has been a touring member of the Raconteurs—whose lineup includes Fertita's high school friend, multi-instrumentalist Brendan Benson—and formed the Dead Weather with the Kills' vocalist Alison Mosshart and Jack White. Between touring, writing, and recording with these groups, Fertita also manages to squeeze in session work with artists such as Karen O and Iggy Pop.
Where There is Water
That sheer volume of work is a full-time creative effort. It's a constant cycle, and for Fertita, the genesis of "what's next" usually emerges just as another undertaking is winding down. But then came March 2020, and—like everyone else—he found himself in a pandemic break with time to focus on his solo projects again.
"In early 2020, we just finished the Raconteurs run," Fertita says. "I didn't know what was going on for the next few months for work, but I knew that in the not-so-distant future, we were planning on getting back together for Queens [of the Stone Age]. Alison Mosshart and I were talking about how we were both home for a while. We both had a few songs, and we started sending demos back and forth to each other. That got the wheels turning for me. A month later, we were locked down. But I was already in this mode of working through songs and arrangements and things that might work if we did a Dead Weather record."
"The entire record was making sense of 10 years of fragmented ideas."
"We were operating under the illusion [that the lockdown wouldn't last very long]," Fertita laughs. "We decided to go through our ideas so we could be sharp and ready to go. I just kept recording my ideas. There was nothing else going on. I also had so many fragments of songs that had been laying around for years. In my mind, I was putting them in these different aisles: 'This one would go good in Queens, and this one would work over here.…' I just kept working, and at the end of that process I had a record's worth of material and nowhere that it was immediately going to go. Jack encouraged me just to release it as it is, even though that was not even something I was considering at the time."
Intentional or not, that collection of bits and bobs became Tropical Gothclub. In a sense, it sounds like what you'd expect from an artist immersed in the Third Man and Queens of the Stone Age universes—a heaping mass of abrasive, pedal-generated fuzz tones—except that Fertita, with his decades of experience, pushes that to another level entirely. Barnburners like "No Wonder," with its intricate harmonized leads, and the call-and-response-heavy "Death Rattle" ooze enough of a guitar-orchestra vibe that they could almost be outtakes from Physical Graffiti. Others, like "Needles," "Wheels Within Wheels," and "Uniform Looks," combine strong hooks, propulsive energy, and a seemingly endless variety of tones. The album also features more trippy moments—tempered with the occasional acoustic track—on songs like "Where There Is Water" and "Double Blind."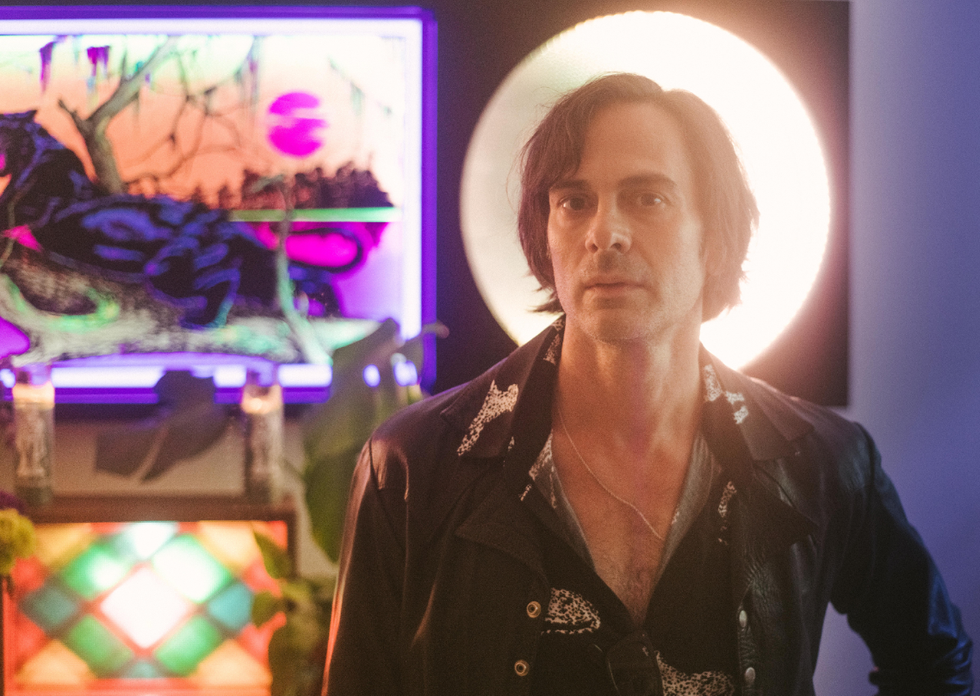 Dean Fertita radiates the hazy surrealism of Tropical Gothclub.
Photo by Angelina Castillo
Fertita recorded much of Tropical Gothclub in a small A-frame house he built in his backyard, reassembling sections taken from lengthier jam sessions and working with snippets collected over the years. "The entire record was making sense of 10 years of fragmented ideas," he says. "Sometimes, it was a 15-minute jam that I did with a drummer that we would arrange and figure out what it was. Some things I revisited and tightened up because they were recorded on GarageBand and then put into a Logic session."
At some point in the process, Fertita brought Detroit-area engineer Dave Feeny (The White Stripes, Josh Ritter, Mule) on board to help sort through the clutter. "I've known Dave for a very long time," he says. "I did another record in a similar way with him, which means he totally understands the various degrees of 'done' of the things that are sent to him. He just knew what I was going for and we could talk quickly. He was able to move it at a quick enough speed that it would be interesting. I'd get it back in a day and think, 'I can do this now. I can play bass to this song now that we have a drum arrangement figured out'—or whatever it was."
"This record—Tropical Gothclub—became a culmination of all my split personalities."
Fertita is a connoisseur of tones, and he's sensitive to subtle tweaks and changes. Different instruments, situations, and especially pedals affect his playing and approach. "Pedals always instantly change a frame of reference for me," he says. "Sometimes you'll hear a sound, and you'll write to that sound immediately. I am always looking for character, and maybe even the weird thing that you're not supposed to use—something that's just going to be interesting sounding and different from the get-go."
Working with so many different musicians inspires and triggers different chemical impulses as well. He points out that in QOTSA, "there are these two incredible guitar players," and adds, "In Dead Weather, Jack predominantly plays drums, but we do play a lot of guitar together as well, and the stuff that he plays on those records is insane."

Dean Fertita's Gear
Fertita and his matching Gretsch White Falcon.
Photo by Andreas Neumann
Guitars
Troy Van Leeuwen Fender Jazzmaster
Goya Rangemaster
Echopark Esperanto Z (Custom 9-string)
Gretsch White Falcon
Amps
No-name "magnetic" amplifier
Fender Deluxe Reverb
Supro Reissue Amp
Silvertone Amp
Strings & Picks

Ernie Ball .010s
Fender Mediums
Pedals
Binson Echorec 2 T7E
Death By Audio Deep Animation Envelope Filter
Death By Audio Supersonic Fuzz Gun
Dunlop Fuzz Face Distortion
EarthQuaker Devices Park Fuzz Sound
Eventide H9 Max Harmonizer
Fulltone Tube Tape Echo
Gamechanger Audio Third Man Records Plasma Coil Distortion
Ibanez AW7 Tone-Lok Autowah
Mu-Tron Bi-Phase
MXR Poly Blue Octave Pedal
Old Blood Noise Reflector Chorus
Third Man Records Bumble Buzz octave fuzz
UREI Universal Audio Cooper Time Cube
Way Huge Atreides Analog Weirding Module
Each band and project that Fertita participates in informs what he's put into his solo music. "There's no shortage of insane inspiration to try and fit in and complement what's going on [in the album] already," he says. "This record—Tropical Gothclub—became a culmination of all my split personalities. One idea I struggled with after making this record was: Shouldn't I have made a stronger effort to make it totally different from the other things that I do, to show a completely different side? But there are different sides to my personality that get drawn out more, depending on the project that I am in. You probably can hear examples of how I would play if I were playing with Queens on this album."
Fertita is not only flexible and productive as a guitarist and songwriter, he's also a keyboardist, and that multi-instrumentalism helped connect some dots in his professional live.
"In Dead Weather, Jack predominantly plays drums, but we do play a lot of guitar together as well, and the stuff that he plays on those records is insane."
"In 2005," he explains, "I was on tour with Brendon Benson, and the first thing we did was an acoustic run in the U.K. As we were rehearsing, we thought it might be more interesting to break it up and have some songs on guitar and others on keys. I started to relearn them at that point."
He had taken piano lessons as a child but put it aside as a teen. "I was stumbling through it but doing that led to the Raconteurs [Editor's note: He plays both guitar and keys in that band when they're on the road]. Our front-of-house engineer for that first tour was this guy Hutch, who had been with Queens since the beginning. He introduced me to the Queens guys, and 14 years later I am still doing that, too."

As a multi-instrumentalist, Dean Fertita is an in-demand touring musician. He plays both guitar and keys for the Raconteurs on the road.
Photo by Andreas Neumann
What was it like to suddenly go pro on a less-familiar instrument? Did he get the jitters, or suffer from impostor syndrome? "I could keep up," he laughs. "I was still holding my breath a little bit, but I felt like I could do what I had to do in that scenario. I wasn't pushing boundaries. I was playing at the edge of my abilities most days."
Fertita mostly reserves his limit-pushing for his work as a guitarist and songwriter. And one thing left to do is to play "Double Blind" for his daughter. "I have not played it for her yet," he says. "I don't want to embarrass her. She is aware that it exists, and I think she'll listen to it alone. Maybe she'll never tell me she's heard it."
The Dead Weather "I Feel Love" - Live on The Late Show
How to know when a vintage amp is worth rescuing.
I'll bet most of us have experienced this: You're en route to the grocery store on a pleasant Sunday morning, not a care in the world except getting home for breakfast in a timely manner … and then it happens. You see someone staking a garage sale sign at the corner. Your mind begins racing as you do the math. The person with the sign looks old enough to have cool stuff and I'm the first to see this sign. Will it be me who finds the mint '59 Bassman and Les Paul that must certainly be waiting there?
Cutting the wheel, you skid around the corner and up to the address. Rrrrrrrr! Out of the car! Walking quickly, but not so quickly as to arouse suspicion, you frantically scan the dark recesses for anything that resembles a musical instrument. Then, eureka! You push your way past the Hungry Hippos game and Tijuana Brass albums to your prize: a filthy and very tired-looking silverface Fender Champ. Now, shaking with excitement, you try to contain yourself as you go to pay for your purchase. After deft and masterful negotiations that get the seller down from $200 to $195.50, you race home to check out your treasure. In the door and past your starving family (dang—I knew I forgot something) and into the basement you go. Bwa-hahaha.
You look the amp over, trying to see the gem under the filth, dried paint splotches, and obvious years of neglect. After some time spent with a damp cloth and shop vac, you're ready to get down to it. Everything looks to be intact. Perhaps, if this wasn't a Sunday morning, you'd have your amp tech slowly apply voltage to make sure there were no unforeseen problems before full voltage is unleashed into the circuit, and thus avoid any costly issues. But in your enthusiasm, you feel it's worth the risk. Amp goes on. Still good. Guitar in hand, first note and … pttthhhllsdfy comes out of the speaker. What? Gulp. Okay. This can wait until tomorrow.
The value of musical instruments may have different meanings to different people, and this often depends on the context.
Before we discuss how to decide whether an amplifier with an unknown history is worth rescuing, let's first define "worth" as "value" in this situation. The value of musical instruments may have different meanings to different people, and this often depends on the context. Example: I once had someone send me an old and completely beat-up Barcus Berry 1510 solid-state amp from the '70s. It was DOA. Usually an inexpensive item like this would not be taken into my shop, as the repair cost would be too high and finding another one in working condition would make more economic sense. That said, I took it in since the fellow shipping it to me was a very good customer and I owed him one. I spent a couple of hours on it, and the best I could get out of it was low output and very distorted sound. I called off the repair, since I'd need to spend additional time to get the amp back to like-new sound. It simply wasn't worth it.
Here's where the "value" part comes in. If this amp had been salvaged within those couple of hours, he'd have paid $250 or so for my time (which I didn't charge for) and already be upside-down in street value if he decided to flip it. However, I mentioned it had a very distorted sound. This just happened to be one of the most incredible overdriven tones I've heard—the sound of an amp just about to explode. I ended up giving it to a client who found it to be just what he'd been looking for, for years. To him, it had tremendous value and he continues to record with it regularly.
So the moral is: Value really depends on your application. A busy studio may have dozens of amplifiers on hand that clientele can choose from. All with a specific purpose. Order of importance for them may be, first, having a unique vibe and sound for specific projects, and, second, reliability. If a vintage amp has the sound they're looking for and still has the original filter caps that are well beyond their service life, it may be acceptable to leave them in to keep the sound as is. Likewise with the tubes and speakers. The speaker may even be tattered and have a few pinholes. But it's got a sound the studio likes, so it's fine.

You can still find these Music Man 112 RD amps at a good price. They are solidly designed, reliable, and real workhorses. This one received a thorough check and clean, and a new power cord. Repair cost: $165.
The gigging pro may have a different agenda. He or she would likely want reliability to be first on the list. If an amp doesn't continue to function through a set or is hard to repair on the road, it's a real problem. Even if there's a backup handy, you don't want to go silent at exactly the wrong moment. Not to mention valuable time spent trying to find a qualified repair shop in the small town you're heading to for the next gig. If you have a complex amp with channel switching and effects loops, this is doubly true. I've received plenty of panicky calls from the road asking if I know of a repair shop in the middle of nowhere. Not only is this inconvenient, but having this kind of doubt or concern on your mind can affect your performance.
Now, let's get back to that silverface Champ from the garage sale. If an amp's history and origins are unknown, I tell folks a good rule of thumb is to budget between $150 to $300 to get a simple amp like this into solid working shape. Of course, the price can also be $0 if it's just fine or you're the handy type. And it can go up if the amp has been flooded and its transformers need to be replaced. Replacing components of this nature can also bring the value down, if it's a collectable piece. These are all possibilities to take into consideration before making a purchase.
How can you make an informed decision before buying? Educate yourself! In this day and age, all it takes is a few clicks with the smartphone you likely have in your pocket right now. Sites like eBay or Reverb are fantastic for seeing what the model you're looking at is going for, even in various conditions. After that you'll need to have some basic knowledge of what can be problematic and what should be replaced in vintage amps for safety sake. We'll get to that in a moment.

A check and clean, a cap job, and a new power tube got this nice little Gibson GA5 back in shape. Repair cost: $230.
At this point, I should mention that if an amplifier appears to be in such a state that it probably shouldn't be plugged into the wall and turned on … then don't. Especially if the amp has been stored in a damp location or has any obvious water damage. I've had many older amps come in for restoration where the insulation has rotted off the wires. This is a serious fire and shock hazard. If this is the case and the amp's value or rarity merits the repair cost, then take it to a qualified technician before firing it up. I'll also mention that many vintage amps don't have polarized plugs or a three-prong plug with ground. Old two-prong cords should be replaced and made safe as soon as possible.
Also, before trying an old "found" amp, you should check the fuse to confirm it's the correct value. It's not uncommon to see significantly larger fuses used when a previous owner incorrectly thinks that the fuse value is at fault for his amp shutting off. Ridiculous as this sounds, it happens.
Okay, with that out of the way, let's take a look at some of the more common issues and some basic, possible causes. And by the way, if an amp makes horrible sounds, smokes, sparks, etc., immediately turn it off and unplug it from the wall!
Watch John Bohlinger test out some holy-grail Bassmans.
Humor, great stories, and killer tones (courtesy of rare guitars and boutique amps) abound in this studio sit-down with one of contemporary Nashville's most respected artists.
Buddy Miller is a pillar of the Americana music scene, with a wide set of reference points that encompass country, rock, jazz, blues, folk, bluegrass, and more. So, it's no wonder our conversation about the gear in his comfortable and well-stocked Nashville home studio included references to his work with Robert Plant, Emmylou Harris, and Richard Thompson, as well as the tone of Joe Willie Duncan and his Unitar.
We visited the guitarist and producer just as Buddy and his wife Julie, longtime songwriting and performing partners, were about to release their first album together in a decade: Breakdown on 20th Ave. South. The album is full of Miller's lush guitar, with nasty low-end baritone growls, the bark of his Wandres, and expansive tremolo adding rich colors to the couple's smart, soul-deep lyrics.
As we talked to the Grammy-winning producer—who's also won 13 Americana Music Awards and leads the house band at the annual Americana Music Honors & Awards show, and was music director for two seasons of TV's Nashville—we sat in front of his classic Trident B Range console, which once served in San Francisco's historic Hyde Street Studios. Miller showed us a fraction of the fascinating and distinctive instruments in his collection: from the mando-guitar he played on Lucinda Williams' "Car Wheels on a Gravel Road" to the salt-and-pepper team of Wandres that are his mainstays, familiar to many from his tours with Robert Plant and Alison Krauss, and Plant's Band of Joy. Though it all, though, what he most often displayed was the humility and humor that, in combination with his talent, has made him one of Nashville's most beloved modern musical fixtures.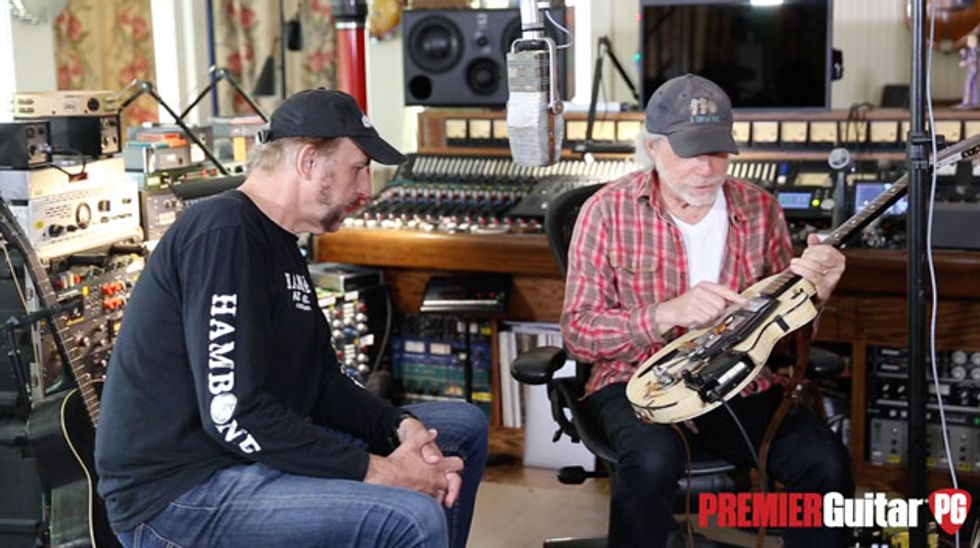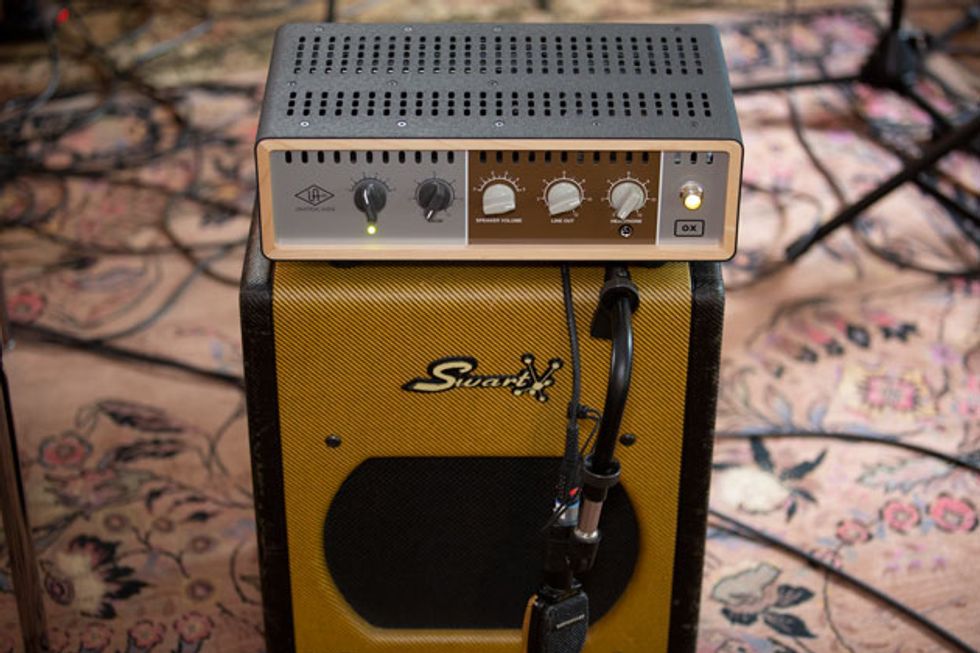 Miller's current live and studio amp rig of choice is a pair of Swart AST Pros that he runs in stereo, with Universal Audio Ox Amp Top Boxes. He loves the amps' tremolo. "I have not turned my tremolo off since '81, '82," says Miller. "I mean, why would I?" And indeed, the effect, either ping-ponging between two amps in mild disagreement or synched together, is part of his sonic signature. He also loves the Swarts' tube-driven reverb. And the Ox Box was an integral part of Miller's strategy for making his latest album with Julie Miller, using it to record with her at low-volume at home, taking advantage of the Ox's power-attenuation and cabinet modeling.
This 1934 Gibson L-00 was acquired from Nashville luthier to the stars Joe Glaser. It came with an archaic vintage capo in its case and a brown string that looks like glorified twine for a strap—old-style. It has impressive clarity and definition, string-to-string, which translates well to recordings.
Miller likes to chase the end of the tonal spectrum his fellow stringed-instrument players are not. So when somebody plays a chiming axe, he'll reach for a bass or baritone. And when the low end's already covered, he may reach for this mando-guitar. It's a Hammertone 12-string, with a Vox-y look and a drumskin finish. Miller explains it's "basically a 12-string guitar tuned up an octave." He used it to play the signature riff on Lucinda Williams' "Car Wheels on a Gravel Road." He owns four or five of these instruments. "They don't last too long, because they have so much string-tension that the necks bow on them, but they're great for recording," he offers.
Miller plays a salt-and-pepper couple of Wandre guitars, primarily using this black 6-string and its white sibling as his main instruments. He had to sell one of his Wandres—a red-finish one—years ago because he needed money for his wedding to Julie. The buyer: Larry Campbell, who toured with Dylan and has played with a host of others, including Paul Simon, Willie Nelson, and Rosanne Cash.
Drawn to its cream-sparkle finish, Miller got this Wandre in a Colorado pawnshop for $50. It ignited his passion for the '60s Italian brand, for which he's single-handedly inspired a small revival of interest. The neck is aluminum under the fretboard, and the metal plank continues back to the tremolo bridge, with the single-coil pickups mounted onto it. They never make contact with the body. But as anyone who's heard Miller's work—from his solo recordings to his touring as a member of the Alison Krauss and Robert Plant Raising Sand band and Plant's Band of Joy—knows, it sounds rich, deep, and full. Note the push-buttons for pickup settings and the strips of electrical tape holding the plastic body together. The neck pickup is backwards and wired out of phase. At one point, when Miller lived in New York City, this guitar was stolen. Somebody then found it under a truck, in its case, and returned it to Miller. "The person who stole this thing threw it out," Miller says, laughing. "They were hoping for something better."
The headstocks of one of Miller's Wandre guitars—he has four, all bought for $50 apiece—reveals the name of the Italian accordion builder and exporter who got these instruments to America: Noble. It also reveals the aluminum bones that are the core of the guitars' necks.
This old Gibson J-45 is another of Miller's acoustic workhorses. It has an L.R. Baggs Anthem System. He says it has "that old rhythm guitar sound" like you'd hear on an early Dylan recording. And Jeff Bridges played this 1954 model in the movie Crazy Heart.
A Jerry Jones baritone is another of Miller's favorite instruments. "This is easy for a guitar player to play," he observes. Miller uses the bari often, but finds it particularly helpful when performing as a duo with female singers who play guitar well—including Emmylou Harris, Patti Griffin, and Shawn Colvin—so he can cover a different sonic area. He acquired this guitar in the late 1980s.
This 12-string Veillette Avante Gryphon came from the famed guitar dealer George Gruhn. This high-tuned instrument is D to D, and the strings are doubled, like a mandolin. It's a favorite of Julie Miller, who wrote half the new songs on Breakdown on 20th Ave. South on it.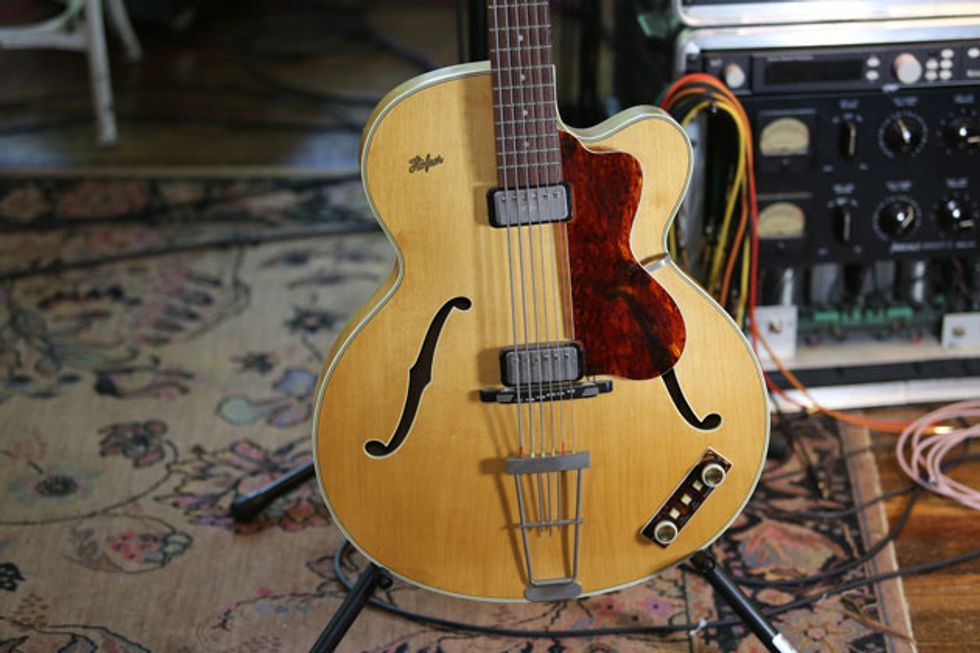 Here's a rare bird: a Hofner 6-string bass. Check out the crazy push-buttons in the control set! It's an elegant-looking beast that Miller prefers to Fender's 6-string basses. He describes it as a "songwriting machine." One winter, Robert Plant, Band of Joy drummer Marco Giovino, and Miller sat in his studio for a spell and churned out a dozen songs with Miller propelling things with this bass.
This Silvertone acoustic was, let's say, supercharged by luthier Scott Baxendale in Athens, Georgia, who has made a practice of installing new bracing and other appointments to make these guitars, and old Kays and Harmonys, into better versions of themselves: bigger, fuller, and brighter sounding. This is another of Miller's favorite recording acoustics.
As luck had it, we were able to record this entire Rig Rundown on Miller's vintage RCA 44-BX bi-directional microphone—part of his extensive selection of mikes. "This is a piece of art and a tool that's been used on who know what," Miller observes. It's a ribbon mike, originally employed in broadcasting. This model first appeared in the 1930s.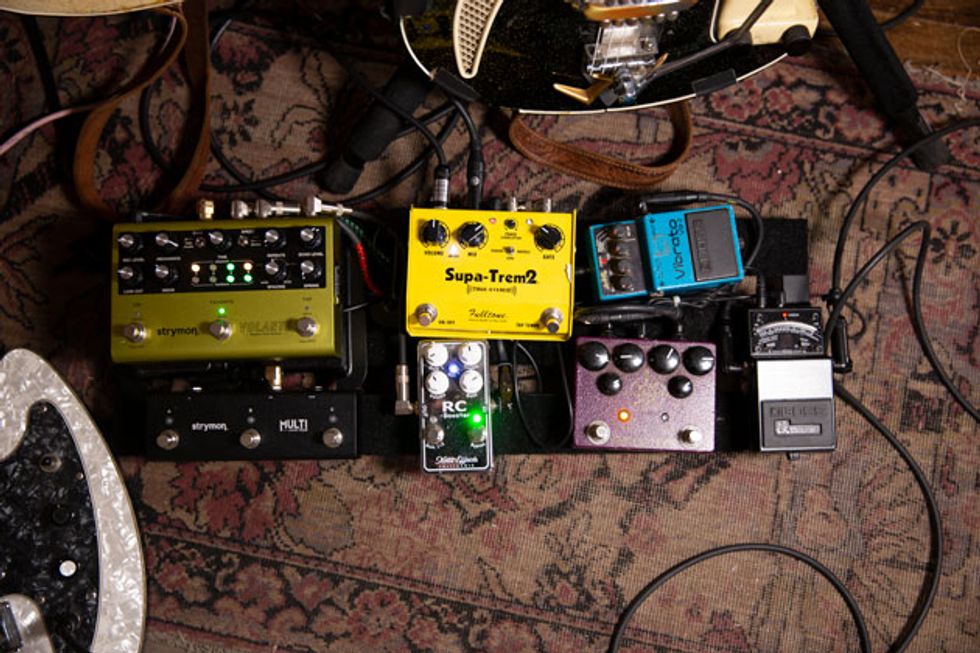 Miller's live—and typical studio—pedalboard is pretty basic. There's a Boss TU-3 Waza Craft tuner, a Boss VB-2 Vibrato, an Analog Man King of Tone, a Fulltone Supa-Trem2, an Xotic Effects RC Booster, a Strymon Volante Magnetic Tape Echo Machine, and a Strymon Multi-Switch. "I'm a simple player," he says. "I've gotten farther with less than anybody I know."
Typically, great recorded guitar tones like the kind Miller gets in his studio require some type of compression. Miller's got that covered, with a pair of Empirical Labs Distressors, a dbx 161 Compressor/Limiter, and his Telefunken V76s tube preamps. The latter are his favorites.
Click to subscribe to our weekly Rig Rundown podcast:

D'Addario Micro Tuner:https://www.daddario.com/MicroTunerRR