Vintage Vault: 1960s Silvertone 1446L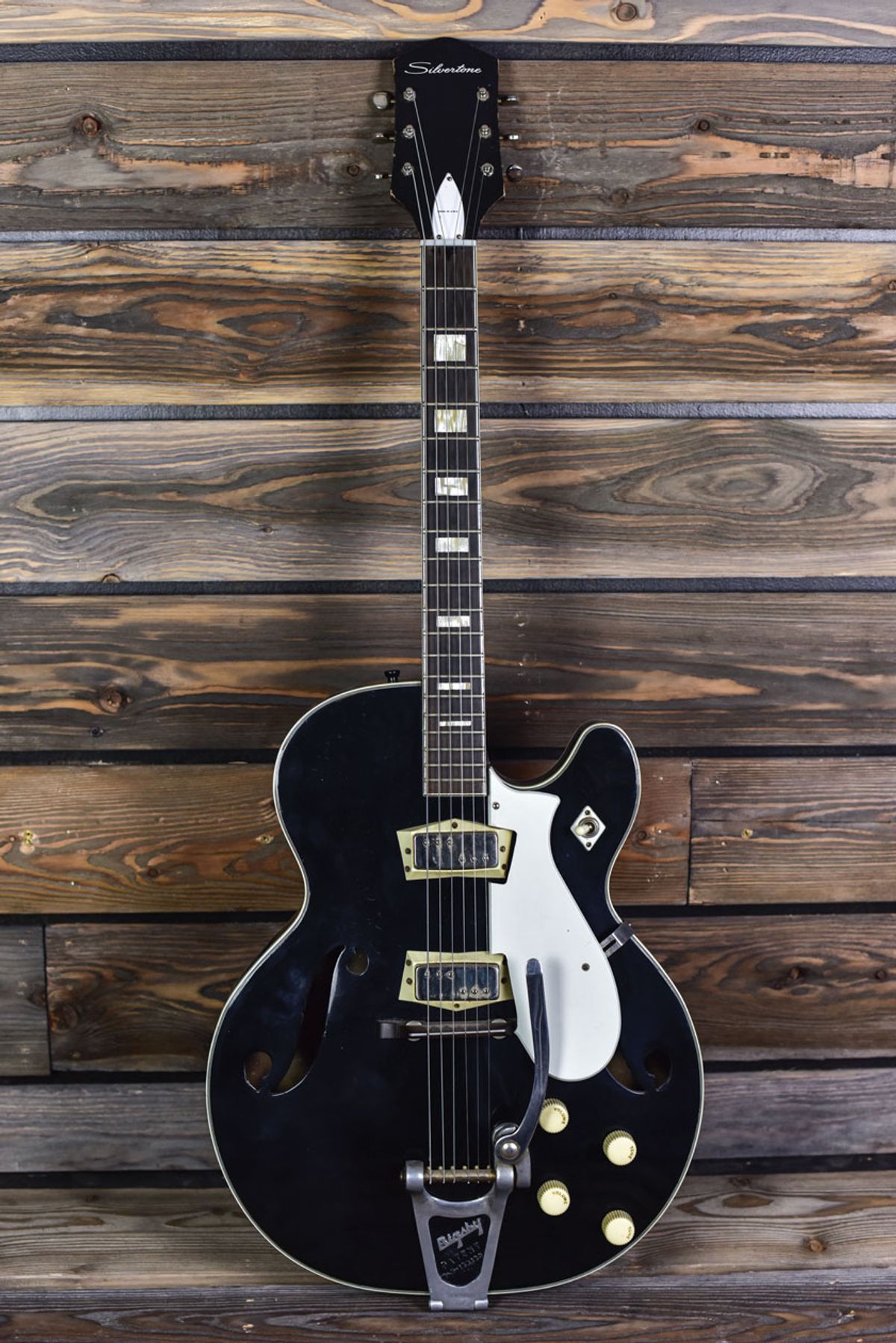 A close-up look at the "Chris Isaak" model.
There are a lot of ways in which lower-end department store guitars of the 1960s differ from the top-shelf fare usually featured in this column. Collector interest is not nearly as deep or cemented, and the pool of historical information available about these guitars is far less robust. As a result, the original model names or numerical designations used by Harmony, Kay, Silvertone, and other such brands are often obscure, leaving guitarists to rely on the name of an associated player to identify certain models. For example, that angular-looking red Airline used to be known as the J.B. Hutto Airline, and is now called the Jack White Airline. There's a Teisco that's often called the Hound Dog Taylor model. And then, there's the guitar that's perhaps today's best-known example from the pages of the Sears catalog: the Silvertone 1446L, also known as the Chris Isaak guitar.
That angular-looking red Airline used to be known as the J.B. Hutto Airline, and is now called the Jack White Airline.
Isaak's association with this instrument goes back decades—mostly stemming from a famous promotional image of him holding one in the mid '80s. But Isaak is far from this model's only fan, and there are a few specific details that place the 1446L near the top of the heap of sought-after Harmony-built guitars. For one, the pickups. These mini-humbuckers—with their split pole pieces and distinctly shaped bezels—were designed by Seth Lover, built by Gibson, and are only found on this exact model. It also sports a Bigsby tremolo system, and not the flimsier contraption found on the lower-end Silvertone electrics. Then, most obviously, this guitar just looks extremely cool.

The appointments of a classic 1446L are in place: the mini-humbuckers with split pole pieces and distinctive bezels, the Bigsby arm, a mod-looking white pickguard, and the lower-bout toggle.
The 1446L was originally a replacement for the similarly tuxedoed Espanada model, which, while lacking the Gibson and Bigbsy parts, remains one of the other most sought-after '60s Silvertones. While pricing for both models seems to have cooled off a bit over the past year or two, examples in excellent condition can still command more than $1,500. That's more than 10 times the price you would have found the 1446L listed for in a mid-'60s Sears catalog. Although there are usually a healthy amount of these floating around the pages of Reverb, many extant examples carry neck breaks or cracks and, in the worse cases, are missing those original mini-hums. Guitars with these sorts of conditional issues can sell for as low as $600.

That distinctive Silvertone headstock is as much a part of American guitar history as Fender's or Gibson's neck toppers, either rekindling visions of players' first guitars or a lineage that runs especially deep in roots music and primal rock 'n' roll.
Our featured 1446L comes from River City Guitars of Spokane, Washington, and was listed with an asking price of $1,599. Everything on this one is original and, save for a few honest bits of wear here and there, it's in fine condition all around. That price certainly reflects this and is very much in line with recent sales for 1446Ls without any swapped parts or structural imperfections.
Sources consulted for this article include Harmony: The People's Guitar, 1945-1975 by Ron Rothman and the silvertoneworld.net fansite.
---