Three little brute combos by Fender and Danelectro.
Delivering dirty brujo tone is not simple. Just grab a ouija board and ask Hound Dog Taylor or Pat Hare. Or, if communing with the spirits in a literal way isn't your thing, check in with Patrick Sweany. He's easy to find since he'll be on the road for most of November and December touring a double-bill with fellow Nashville-guitar sparkplug JD Simo. And when he's at home … even easier, since he holds down the Monday early evening slot at Music City's indie mecca, the 5 Spot, with the Tiger Beats, a blues tribute band he co-fronts with McKinley James, who was profiled in last month's PG feature "10 Young Guitarists to Watch."
Sweany swaps the ouija board for raw-speaking amps and a '90s Epiphone Riviera with gold-foil pickups, plus a sawdust-and-blood voice that would make Howlin' Wolf cock an ear, as a means to conjuring the dirtiest, deadliest tones of primal electric blues—like those found on nascent recordings by the labels Chess, Cobra, and King. Or, for that matter, on Sweany's own catalog of a dozen albums, including 2018's Ancient Noise, where his abilities as a songwriter propel the blues form into the present, leaning toward the future.
But enough about Patrick. This is an amp column, and when he turned up at a recent Tiger Beats gig to talk gear, he brought three Clydesdales with him: a vintage '60s Danelectro Explorer, a Fender '57 Custom Pro-Amp, and an Excelsior from Fender's Pawn Shop series. What do his favorite amps have in common?
"A 15" speaker with an alnico magnet is it for me," he says, "and 15 to 20 watts is my sweet spot, where the amp breaks up and still has some bottom end. I'm a fingerstyle player, with a thumbpick and two finger picks, so compression is the devil. Amps with 10" speakers are too harsh, which can work for playing lead like Freddie King, but when I was trying to find my sound, 15s were the answer. It's very full and rich."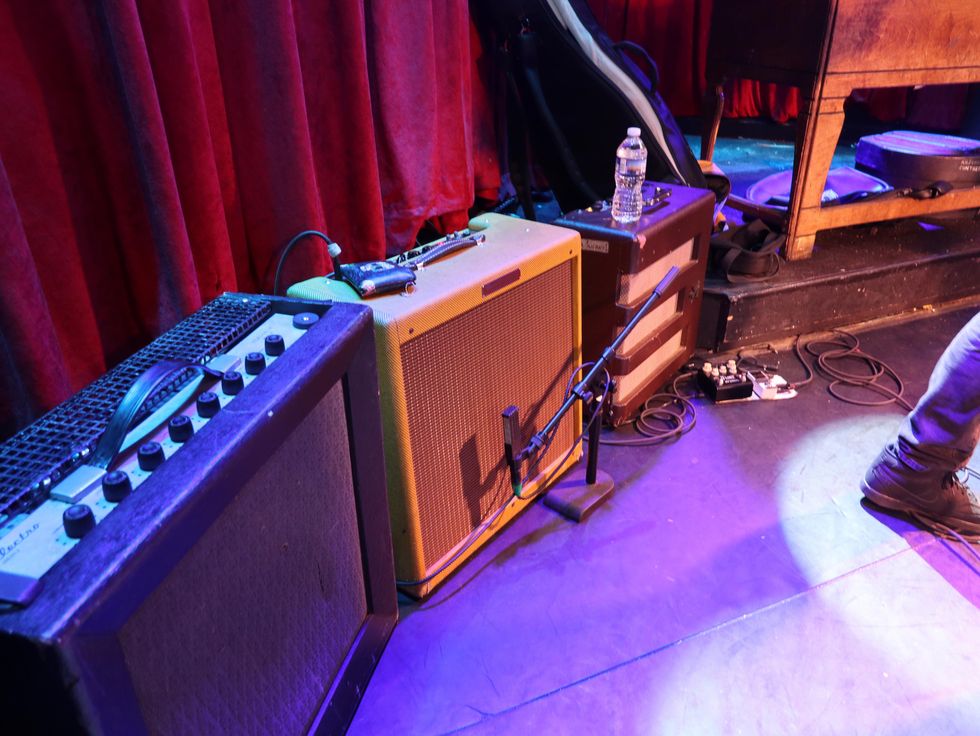 All three of his amps are in harness, but only the Fender '57 Pro-Amp has the microphone for this gig.
Sweany says his signature sound crystallized when he got the Danelectro, which is a quirky beast. Unlike some earlier Explorers, this model has its tubes and transformers on display, enclosed by a cage at the rear top of the amp. Better yet, that cage flips open, which means the amp—with its array of two 6L6 tubes, a 6FQ7, a 12AX7, a 12AU7, a 6AU7, and a 5Y3GT, plus heavy transformers—can be its own workbench while remaining plugged in. Explorer amps came with a single Jensen C15N speaker. Sweany's is all-stock except for a recapped power supply, and amp tech Kyle Wierzba cleaned it up and restored it to original spec.
While the Dano Explorer isn't worth a fortune, Sweany values the amp enough to keep it at home or nearby, so it doesn't join the Pro or the Excelsior on tour. "If you're a piece of my equipment, you're not in a comfort environment," he says, laughing. "You're a shovel handle."
His favorite road amp is his '57 Custom Pro, a killer reissue I had the pleasure of reviewing for PG in early 2017. Sweany's first chance to play through the model was while filming a demo for Fender with Laur Joamets. "They gave it to me after the session," he says. The amp has a thin tweed cabinet and is inspired by Fender's famed 5E5A circuit. It's got a 12AY7 and two 12AX7s preamp tubes, two 6L6 power tubes, and a 5AR4 rectifier tube, and it is a loud 26 watts. As a shovel handle, Sweany's Pro has not led an easy life. After it died on the road, Wierzba replaced the transformers with Mercury Magnetics, swapped the caps, and installed reissue GE 6L6 tubes, along with some lesser maintenance.
I'm a fingerstyle player, with a thumbpick and two finger picks, so compression is the devil.
And finally, there's the Excelsior: a 13-watt tiger that emulates the look and sound of Valco-type late-'50s/early-'60s circuits. Sweany had his eye on the Excelsior the minute it was unveiled in 2012. It's got two 6V6s and two 12AX7 preamp tubes. It has the simplest control array of his troika, with old-school mic, accordion, and guitar inputs, a bright/dark switch, and volume and tremolo dials. But this Excelsior was modded by Nashville amp builder Mickey Sandora, who added a tone stack with more headroom and bottom end, activated by a toggle switch.
In addition to tremolo, another thing these amps have in common is an absence of reverb. "For a long time, I didn't use reverb—just tremolo, which is another important part of my sound," Sweany says. But his Tiger Beats compadre James' Fender Super Reverb always sounds so damn good that it wore him down. His team of plough horses now have a partner: a Strymon Flint. And you'll hear them all when the Tiger Beats finish their debut album of original music that's in the works.
PATRICK SWEANY "Up And Down" **OFFICIAL VIDEO**
Hear the nasty old-school sound of Sweany's Danelectro Explorer amp in "Up and Down," from his most recent album, Ancient Noise.
How the pursuit of an ideal amp setup led to a two-Carr garage/psych/roots sound.
For my debut Love and Sockets column (September 2019), I wrote about my 1964 Supro Tremo-Verb. Now, I'm returning to the Land of Me because I've finally found my dream amp setup. Again.
Sound familiar? I think many of us fall in love with an amp or amps, cherish and work those tones for years, and then as we evolve/devolve we start hearing a new palette of sounds beyond trusty Old Paint's reach. Over the decades I've adored many setups. And I've had an on-and-off relationship with pedals that's shuffled between some, none, a boatload, none, and my current two boatloads in search of the widest and wildest tones.
These birch-cabinet beauties hand-built from high-quality components always make my ears smile.
The sonic possibilities of pedals also led me to playing in stereo. And to look for a better and better core platform for those sounds. Now, for about the fifth or sixth time in my life, I've found my absolute killer, forever, all-time-best-and-favorite dream setup: a Carr Vincent and a Carr Telstar.
The Telstar's simple control set.
These combos are built like little locomotives. The Vincent is the heaviest at about 44 pounds and the Telstar is roughly 39—Fender Deluxe weight class. While the Telstar is a new addition, I bought the Vincent used about five years ago at Carter Vintage here in Nashville, after spending months visiting and revisiting local shops in search of the perfect beast. Both have magnificent tones at all settings, simple controls that profoundly affect character, look retro-cool as hell, and are the loudest low-wattage circuits I've ever cranked. Both are power-selectable, which is handy for the wide variety of rooms and outdoor spaces I play. The Vincent flips between 7 and 33 watts, while the Telstar scales from 0 to 17.
The Vincent, which Steve Carr's Pittsboro, North Carolina, shop has rechristened the Viceroy, blends a '60s-style preamp circuit with a '50s-inclined output section. It has three 12AX7s and one 12AT7 for the preamp and reverb, and two 6L6GC power tubes. The controls are (left to right) volume, treble, mid, bass, reverb, and drive. There's much mojo in the mid and drive. The mid dial also engages a boost function that increases midrange and gain. This is where I live, because I love the depth, clarity, warmth, and growl available, with a lick of smooth compression. The boost partially bypasses the tone stack, so the EQ controls don't do much when it's activated. Honestly, they don't need to. I tend to keep the other extra-sauce function, drive, up to about 4-to-5 o'clock. The drive is kinda like a clean boost and comes after the volume and tone-shaping sections. It pumps up response and punch, lending sparkle at low volumes and snarl at higher ones. All that voice comes out of a 12", 75-watt Eminence Red Coat Wizard.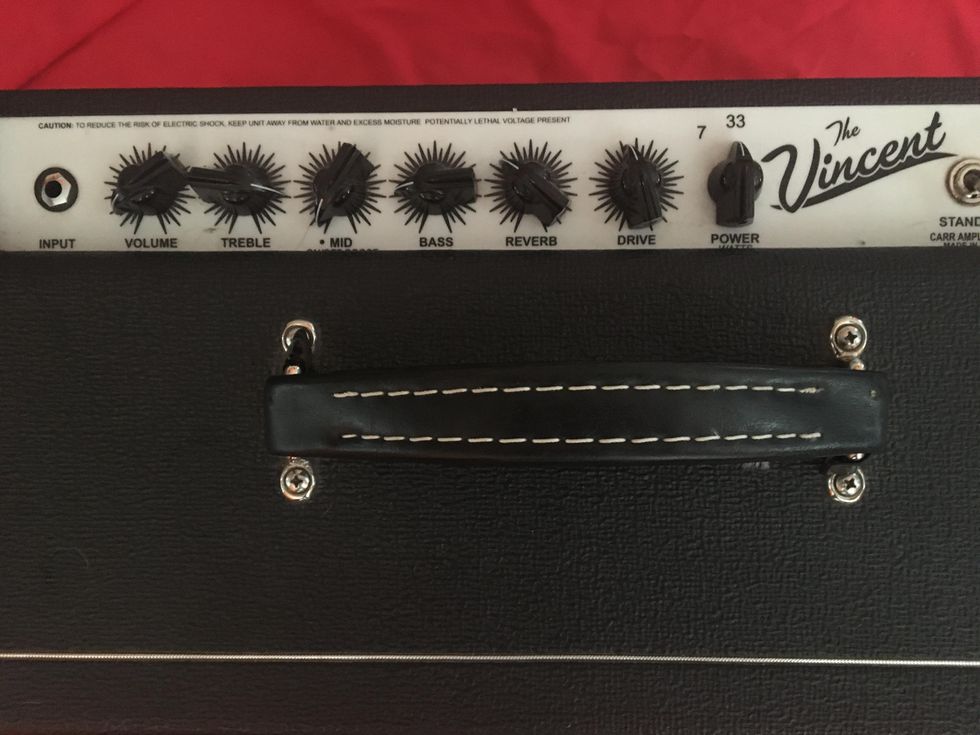 The Vincent's somewhat less simple controls.
As you'd guess from the name of my Vincent's buddy, the Telstar has mojo straight out of the space age—plus a few innovations. The coolest is its tube array, which blends a 6L6 and an EL84 for remarkably detailed, complex, and fresh-sounding tones. It breathes. There's a 12AX7 and 6SL7 octal for the preamp and a 12AT7 driving reverb. It has two other tricks in a pair of toggles. One shunts between "53" and "58" settings. The first sculpts the amp's basic tone profile like an old tweed's, while "58" summons up a classic JTM45 core. Toggle two jockeys between "lean" and "lush." "Lean" is a low-cut and, with some adjusting of the tone dial, it allows Vox-like voices to emerge. "Lush" is exactly that—rich, full-range tone. I tend to live in the "58"/ "lush" zone and let the pedals do the tweaking onstage, but for cutting tight-sounding solos with hair, the "lean" setting helps maintain focus. The other knobs are volume and reverb, of course. And the speaker is an Eminence-made, 60-watt, 12" Carr Valiant. Among the boutique amps I've tried, I've not heard another that so simply and elegantly balances tradition and invention.
These birch-cabinet beauties hand-built from high-quality components always make my ears smile. Granted, it's taken me ages to be able to afford a rig like this. But I love it with all my heart.
I've had some pretty terrific dream-amp setups in the past, too: a transition-era Twin, followed by that Twin run parallel with a 1972 Marshall Super Lead above a same-year Marshall 4x12, and then that Marshall and a Mesa/Boogie Dual Rectifier Trem-o-Verb atop a pair of 4x12s. About a decade ago, when I was performing hardscrabble blues, I had a humble rig of an Epiphone Valve Standard and a Peavey combo that I'd named Igor. That rig was so juke-thentic you can hear the tubes rattle in Robert Mugge's documentary BIG SHOES: Walking and Talking the Blues,about my then-band, Scissormen. But this time … this time … I know my dream setup is forever and for real. For now!
Nashville's Michael Majett uses two amps—an Ampeg B-15N and a Markbass TTE 500—to go deep and low.
When we spoke, bassist Michael Majett had just checked off an item on his bucket list: playing the New Orleans Jazz & Heritage Festival. For Majett, the headlining set with the War and Treaty at the festival's Blues Stage wasn't just a gig. It was a way to connect with the history of the festival and what it represents: the deep legacy of American music and culture that's synonymous with the Crescent City, and especially the Black heritage that birthed rock 'n' roll, blues, jazz, and R&B, plus some of the world's tastiest cuisine.
When it comes to bass tone, Majett's also interested in tradition and taste. "There are two tones I really want to hear," he relates. "There's the James Jamerson thing—or maybe a better description would be the Chuck Rainey thing, where you've got flatwounds and you're muting—and then there's that grind-y rock thing, which is slightly overdriven but has a lot of depth. And I can get right in the zone with my amps, although they're very different."
Majett's 1973 B-15N evokes all the classic charm of the historic Ampeg model but doesn't fit into a backpack.
At New Orleans' Jazz Fest, he used a backline amp, of course. But at home in Nashville, where he's earned a reputation as a live-gig MVP since relocating from Atlanta with the contemporary Christian band Truth 24 years ago, he's got a pair of workhorses that help propel his penchant for deep-resonating melodic grooves: a Ampeg B-15N and a hybrid Markbass TTE 500 Randy Jackson signature model.
Depth is key to Majett's playing—in both his round, rich, plump sound, which seems to push more air than a jet engine, and his onstage versatility. He also regularly performs with Billy Prine (John Prine's brother), country legacy artist T. Graham Brown, soulful singer-songwriter Jason Eskridge, haunting vocalist and songwriter Luella, and prolific songwriter, singer, and guitarist Tim Carroll. His gigs with Carroll, who was featured in this column in August 2021, are especially free ranging. Carroll is an edgy improvisor with a huge repertoire of songs and styles, who drops new tunes into his typical two-and-a-half hour sets without rehearsal. And there's no set list. So, Majett has to be ready for everything from blasting punk roots 'n' roll to jams that evoke Led Zeppelin. On top of that, Majett seems to be in the cell phone of every Nashville bandleader who might need a sub, so if you spend even a short time club hopping in Music City, you're bound to see him onstage.
"There's the James Jamerson thing—or maybe a better description would be the Chuck Rainey thing, where you've got flatwounds and you're muting."
For most local shows, Majett carries the TTE 500—a 500-watt hybrid head that generates tones with three ECC83 preamp tubes, plus an ECC81 for its compressor. The amp has old-school controls: 3-band EQ, gain, master, and compressor dials, plus a modern twist in the "colour" knob, a filter Majett says makes the amp sound "more tube-y. I'm an all-tube lover, and this comes really close. I keep my EQs straight up and keep the gain low. The odd thing is, I can turn it all the way up and it really doesn't distort. It gets a little more trebly, but that's okay."
He seems to favor his 1973 B-15N more, but, even with a 1x15 cab, the TTE 500 setup weighs just a little over half of the Ampeg flip-top combo's roughly 85 pounds. "I got the Ampeg 20 years ago, and back then I didn't mind carrying it everywhere," he says. "I wanted one for years, and when I finally got it, it was perfect. It's only 30 watts, but is really loud and has that great, classic tone." The all-tube rumbler has three 6SL7 preamp bottles, a 5AR4 for the rectifier, and two 6L6 power tubes, with bass and treble controls and a 15" Eminence speaker.
While Markbass no longer produces the TTE 500, two updated versions—including an 800-watter—are still manufactured.
Whether Majett plugs in his Fender Jaguar or his Nate Mendel signature P bass, the results are essentially the same—a big, warm sound with a dapple of crunch that's perfect for his mix of melody and punch. His EQ settings for both amps are the same, and he's found the sweet spot for the Ampeg's master volume is around 10 or 11 o'clock. Majett also loves the tang of grit that occurs when he jumps the two channels on the B-15N—a stunt also favored by plenty of vintage Marshall owners.
The versatile bassist also digs octave pedals and uses a Boss OC-2 and the dirtier, wilder 3 Leaf Audio Octabvre. His latest acquisition is a Shaw Audio Tube Injection preamp. But the core of his instrumental voice really lies in those amps. "Honestly," Majett observes, "with both of those amps, I'd have to work hard to sound bad."
YouTube It
The veteran singer, songwriter, and guitarist's favorite sound crunchers are a pair of vintage oddballs from the vaults of Valco.
Like a lot of slide players, Michelle Malone enjoys some grit in her tone. And when it comes to grit—along with glorious midrange, trippin' out reverb, and a blend of snappy response with just a ladle full of sponginess to temper brittleness—vintage Supro amps deliver better than UPS. So, her favorite amps are a pair of old Supros: a 1959 Dual-Tone and a 1961 Super.
By the way, is there anything cooler in gearland than naming a one-knob amp a "Super"? It seems audacious until you plug into one and hear the way it breaks up. These amps, with their cute, little stock 8" speakers, bite like baby sharks. But alas, I digress.
On her new album, 1977, named for the year she started playing guitar, Malone really flies her songwriter's flag with tunes that delve into the personal. "Not Who I Used to Be" chronicles her growth as a human, "Buck Knife Man" is a tribute to her father, and "Georgia Made" is her grandfather's life story—all powered by her clear-toned honey-and-biscuits singing and smartly textured arrangements.
The soaring leads on this release, her 17th studio album, are played by her band's other guitarist, Doug Kees. But for her brass-knuckled live performances and on her previous albums—which started with 1988's New Experience and her 1990 major-label debut, Relentless,and have continued through more than three decades—whenever a slide comes out of a pocket, it's Malone's. (You can hear her dig in on the video for "Just Getting Started" that accompanies this story.)
The Atlanta-based artist already had a rough-talking electric guitar voice when she committed to slide while recording her 2003 album, Stompin' Ground. "I was working on the song 'Lafayette' in the studio when I realized it needed a slide part, and no one else was there to put it down, so I did it myself," she says. Thus hooked, she developed a notable approach that blends the terse and the languid as she uses her signature Rocky Mountain Slides ceramic model with her Fender guitars or her white Supro Dual-Tone 6-string.
"It sounds so good—a little trashy, with awesome mids and just the right break-up—but you can't turn it up all the way or it craps out."
The latter was purchased as a package with her Dual-Tone amp, likely via eBay, in about 2007. The Super came from now-gone Atlanta gear store Midtown Music, which had a reputation among local musicians for its used and vintage equipment. Both amps have quirks. The Super has a 6"speaker, rather than its stock 8". "I blew out the one it came with in the '90s," Malone says. "Having one knob on this amp is a beautiful thing. It sounds so good—a little trashy, with awesome mids and just the right break-up—but you can't turn it up all the way or it craps out." The rest of the 5-watt blast box is stock simplicity, with one 12AX7 for the preamp and a 6V6 on the power side.
The Dual-Tone is an oddball. A stock example of this 24-watt, 12"-speaker growler typically has two channels with two inputs each, 12AX7-driven tremolo, 6973 power tubes (which were also used in 1960s juke boxes), a 12AX7 phase inverter tube, and two more 12AX7s for the channel 1 and channel 2 preamps. There are volume and tone controls for each channel, plus the usual speed and intensity for tremolo. Malone's weirdo example, which she extracted from an "Alabama road case," aka a cardboard box, to eyeball during our conversation, has three inputs and volume and tone dials, plus an 8" speaker—although it's likely a replacement, since Malone remarks that the cabinet has room for a much larger speaker. It also has just three tubes: a 12AX7, a 6V6, and a 5Y3GT rectifier tube. In that respect, it resembles a Supro Reverb model, but … no reverb. This isn't as strange as it may seem, given original Supro builder Valco's penchant for using whatever was around the shop at any given time to fulfill orders, sometimes causing variations in products sharing the same model name. And recently, a Dual-Tone with the same setup was listed on Reverb.
Malone teams her amps and guitars with a few basic pedals. She uses a Keeley Compressor and a Seymour Duncan Pickup Booster when she plays slide. Her Ibanez Soundtank Delay stays on all the time, and it reminds her of the slightly compressed and enhanced character of the Echoplex she used to carry on the road from the late '80s to early '90s. And she also uses an MXR Carbon Copy for a cleaner echo vibe, and an EHX Holy Grail when spring reverb needs to join the game.
"I normally take both of those amps on an average gig," she says. "For larger rooms, or when I need more volume, I'll take along one of my black-panel Deluxes. But as long as you have a good sound engineer, you can turn up these little Supros and you're golden."
Michelle Malone - Just Getting Started [Official Video]