Three little brute combos by Fender and Danelectro.
Delivering dirty brujo tone is not simple. Just grab a ouija board and ask Hound Dog Taylor or Pat Hare. Or, if communing with the spirits in a literal way isn't your thing, check in with Patrick Sweany. He's easy to find since he'll be on the road for most of November and December touring a double-bill with fellow Nashville-guitar sparkplug JD Simo. And when he's at home … even easier, since he holds down the Monday early evening slot at Music City's indie mecca, the 5 Spot, with the Tiger Beats, a blues tribute band he co-fronts with McKinley James, who was profiled in last month's PG feature "10 Young Guitarists to Watch."
Sweany swaps the ouija board for raw-speaking amps and a '90s Epiphone Riviera with gold-foil pickups, plus a sawdust-and-blood voice that would make Howlin' Wolf cock an ear, as a means to conjuring the dirtiest, deadliest tones of primal electric blues—like those found on nascent recordings by the labels Chess, Cobra, and King. Or, for that matter, on Sweany's own catalog of a dozen albums, including 2018's Ancient Noise, where his abilities as a songwriter propel the blues form into the present, leaning toward the future.
But enough about Patrick. This is an amp column, and when he turned up at a recent Tiger Beats gig to talk gear, he brought three Clydesdales with him: a vintage '60s Danelectro Explorer, a Fender '57 Custom Pro-Amp, and an Excelsior from Fender's Pawn Shop series. What do his favorite amps have in common?
"A 15" speaker with an alnico magnet is it for me," he says, "and 15 to 20 watts is my sweet spot, where the amp breaks up and still has some bottom end. I'm a fingerstyle player, with a thumbpick and two finger picks, so compression is the devil. Amps with 10" speakers are too harsh, which can work for playing lead like Freddie King, but when I was trying to find my sound, 15s were the answer. It's very full and rich."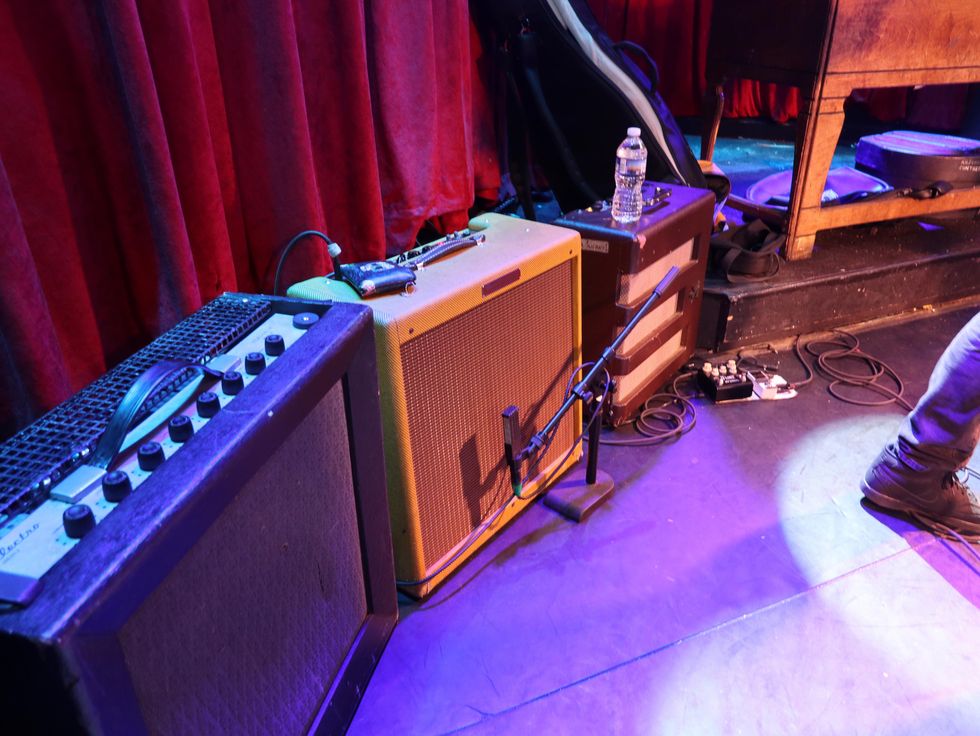 All three of his amps are in harness, but only the Fender '57 Pro-Amp has the microphone for this gig.
Sweany says his signature sound crystallized when he got the Danelectro, which is a quirky beast. Unlike some earlier Explorers, this model has its tubes and transformers on display, enclosed by a cage at the rear top of the amp. Better yet, that cage flips open, which means the amp—with its array of two 6L6 tubes, a 6FQ7, a 12AX7, a 12AU7, a 6AU7, and a 5Y3GT, plus heavy transformers—can be its own workbench while remaining plugged in. Explorer amps came with a single Jensen C15N speaker. Sweany's is all-stock except for a recapped power supply, and amp tech Kyle Wierzba cleaned it up and restored it to original spec.
While the Dano Explorer isn't worth a fortune, Sweany values the amp enough to keep it at home or nearby, so it doesn't join the Pro or the Excelsior on tour. "If you're a piece of my equipment, you're not in a comfort environment," he says, laughing. "You're a shovel handle."
His favorite road amp is his '57 Custom Pro, a killer reissue I had the pleasure of reviewing for PG in early 2017. Sweany's first chance to play through the model was while filming a demo for Fender with Laur Joamets. "They gave it to me after the session," he says. The amp has a thin tweed cabinet and is inspired by Fender's famed 5E5A circuit. It's got a 12AY7 and two 12AX7s preamp tubes, two 6L6 power tubes, and a 5AR4 rectifier tube, and it is a loud 26 watts. As a shovel handle, Sweany's Pro has not led an easy life. After it died on the road, Wierzba replaced the transformers with Mercury Magnetics, swapped the caps, and installed reissue GE 6L6 tubes, along with some lesser maintenance.
I'm a fingerstyle player, with a thumbpick and two finger picks, so compression is the devil.
And finally, there's the Excelsior: a 13-watt tiger that emulates the look and sound of Valco-type late-'50s/early-'60s circuits. Sweany had his eye on the Excelsior the minute it was unveiled in 2012. It's got two 6V6s and two 12AX7 preamp tubes. It has the simplest control array of his troika, with old-school mic, accordion, and guitar inputs, a bright/dark switch, and volume and tremolo dials. But this Excelsior was modded by Nashville amp builder Mickey Sandora, who added a tone stack with more headroom and bottom end, activated by a toggle switch.
In addition to tremolo, another thing these amps have in common is an absence of reverb. "For a long time, I didn't use reverb—just tremolo, which is another important part of my sound," Sweany says. But his Tiger Beats compadre James' Fender Super Reverb always sounds so damn good that it wore him down. His team of plough horses now have a partner: a Strymon Flint. And you'll hear them all when the Tiger Beats finish their debut album of original music that's in the works.
PATRICK SWEANY "Up And Down" **OFFICIAL VIDEO**
Hear the nasty old-school sound of Sweany's Danelectro Explorer amp in "Up and Down," from his most recent album, Ancient Noise.
Day #2 is here with another chance to win! Enter inside for your chance to WIN an LR Baggs Align Series Session. Hurry, you've only got one day to enter!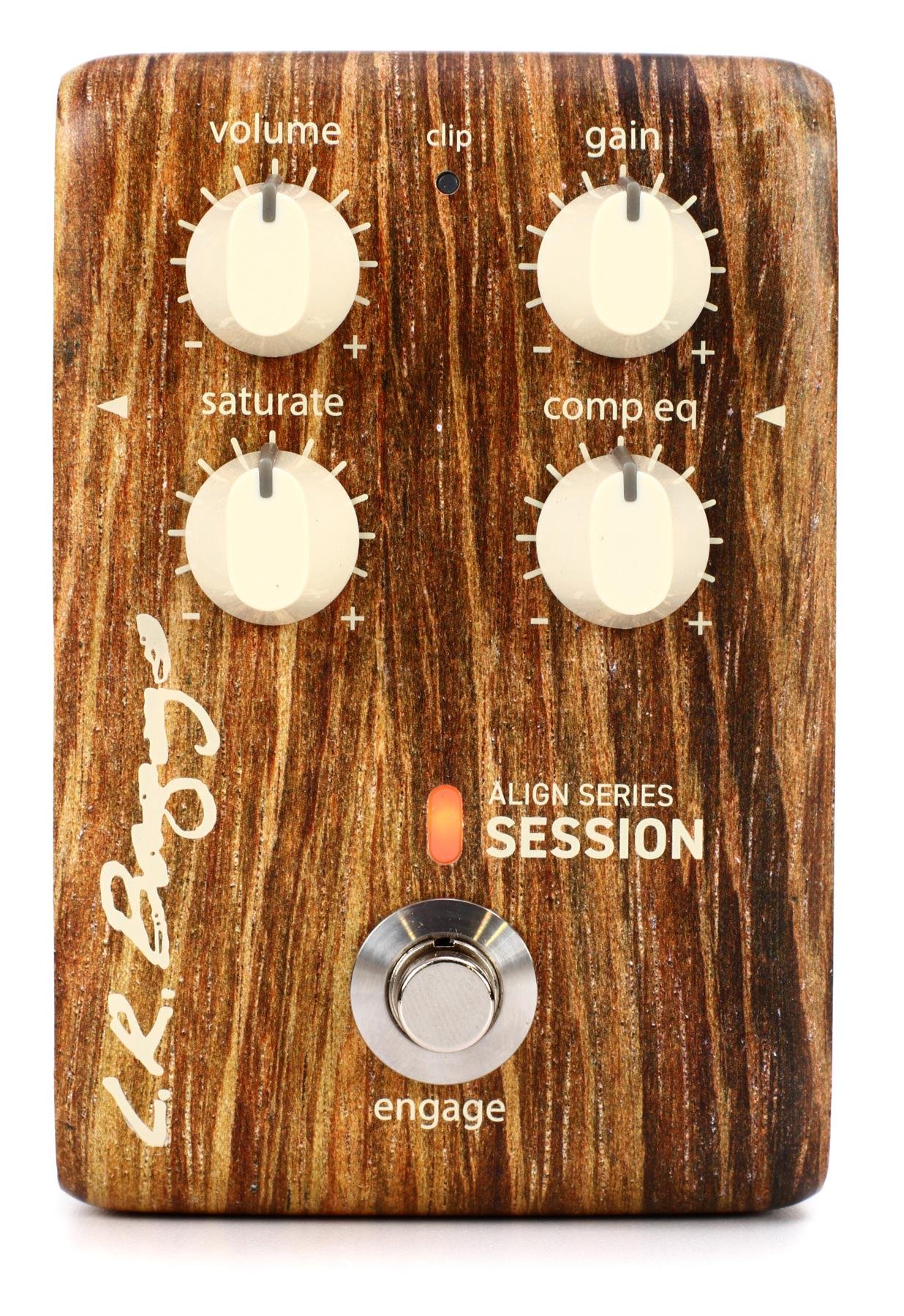 Inspired by the LR Baggs Handcrafted Video Sessions and our experience in some of Nashville's great studios, the Align Session brings our signature studio sound to your live rig. Session circuitry enhances your acoustic pickup and imparts the rich sonic character that you'd expect from an experienced audio engineer using some of the world's finest studio gear. We've captured this studio magic and put it into a compact, easy-to-use acoustic pedal that will transform your live sound.
LR Baggs
With Public Enemy, guitarist Khari Wynn uses a Marshall, but a humble Fender workhorse helps carry his own transcendent compositions.
If you've seen Public Enemy on tour over the past two decades, you've heard Khari Wynn breathing fire through a Marshall stack. In fact, you can hear him on the band's new album, What You Gonna Do When the Grid Goes Down?, on the apocalyptic songs "Grid" and "Rest in Beats." But these days, when he's at home in Memphis gigging or cutting tracks, Wynn relies on a workhorse favored by many players, from pros to weekend warriors: a Fender Hot Rod Deluxe.
While the 40-watt combo introduced in 1996 is common, the sounds Wynn creates with it for his own musical projects, including Energy Disciples and the New Saturn Collective, are anything but. (See this story online to listen.) With a Les Paul or a Strat, a handful of effects, his Deluxe and, most important, his wide vision of music, Wynn creates soaring, textural, atmospheric compositions—with room for free-flying improvisation—that evoke the Mahavishnu Orchestra, Sun Ra, Sonny Sharrock, and other proponents of sonic liberation.
"It's got a great classic fuzz thing happening when the overdrive channel's really opened up."
"What I'm looking for is warmth, presence, the ability to cut through in an arrangement, and a balance of the proper amount of lows, mids, and highs," Wynn says of his quest for meaningful amp tone. "With my Les Paul, the amp's clean tone has a really nice full voice, and with two channels, when I want to get gritty, I can set the amp for a gainy rhythm sound and use the other channel for a loud, distorted overdrive sound for solos. With the Strat, it's got that classic top end that really pops out in recording. And because the amp's clean tone is so rich, it can be bright but it's never too brittle."
Before acquiring his Deluxe a few years ago, he'd bought a 1970s Fender Twin from a friend who'd given up performing. "The trouble is, those old amps are kind of sensitive," he says, "and I was carrying it all over town, to different stages and studios. It got to the point where it kept blowing fuses and was having other problems."
Get an earful of Khari Wynn's transcendent playing and composition on "Infinity Bridge," a Mahavishnu-inclined tune played by his group Energy Disciples.
The Hot Rod Deluxe was part of the gear at his friend Michael Joyner's Slim Bloke Studios in Memphis, and Wynn connected with the amp while cutting tracks there. After he told Joyner how much he enjoyed its sonorous tones, Joyner offered to trade the Deluxe for Wynn's troublesome Twin, which Joyner thought he could repair, and sweetened the deal with a couple hundred bucks.
Wynn says the late '90s Hot Rod Deluxe is stock, which means it's got two 12AX7s in the preamp section, a pair of 6L6 power tubes, and a 12AX7 phase inverter tube. The cabinet—all pine—is inspired by the look of Fender's 1950s narrow-panel tweeds, as is its top-mounted, chrome-plated chassis and chicken-head knobs. The interior has printed circuit board construction, and the rectifier, reverb driver, and effects loop circuits are solid-state. The speaker is a 50-watt Eminence Legend, although models more recent than 2010 come with Celestions. And there's a footswitch for the channels.

The Hot Rod Deluxe has had several iterations since its 1996 debut. Wynn's is first generation, and the latest, the Hot Rod Deluxe IV, has three switchable channels. Photo by Miz Stefani
Wynn complements his Hot Rod Deluxe and guitars with just a few stompboxes, but, as you'll hear online when you check out his performance of the Mahavishnu-like "Infinity Bridge" with his Energy Disciples, he wrings a maximum of sweet soaring sustain and colorful tones from his setup. (Dig his artful use of low, sustained feedback—psychedelically panned in the mix—as the bedrock for a transitional passage starting at 1:43.) His pedals include a Seymour Duncan Twin Tube Classic, a Line 6 DL4, an Ernie Ball wah, and a Fulltone Deja'Vibe, but primarily he relies on his amp's own capabilities for grit and sheen.
The more a piece of gear gets used, the more it reveals secrets. And Wynn says he's recently discovered a new layer of tone within his Hot Rod Deluxe. Listening to a recording of a September 2020 livestream gig, shot at a large venue in Memphis, with fellow Bluff City guitarists Andrew Saino, Eric Mackey, Angelo Earl, and Joe Restivo, he heard something akin to an upper octave tone in the hot channel of his amp. "It's got a great classic fuzz thing happening when the overdrive channel's really opened up," he relates. "It's like back in the day when Jeff Beck would step on a Tone Bender or when Jimi would just hit that sound. It sings."
Khari Wynn makes this new Public Enemy track, "The Grid," rock. Dig his post-Hendrix riffing—replete with wah-wah—from 2:27 to the song's epic finale
Fantastic Negrito on the "freaky" Orange amp with as many moods as his Grammy-winning tunes.
"Sometimes we have too many things to play with, and that can be a drag," says Fantastic Negrito. "So on my albums, from the production standpoint, I try to be as simple as I can be. I find a guitar I like for a song, and I plug straight into my amp. I don't use any pedals at all."
But from that point on, anything goes. Fantastic Negrito, whose birth name is Xavier Amin Dphrepaulezz, and whose game is blending blues, soul, R&B, rock, hip-hop, and psychedelia into sprawling and magnificent freestyle works like his new Have You Lost Your Mind Yet?, then opts for plug-ins to add a kaleidoscope of colors to his guitar tones and mixes. This strategy helped his two previous albums win Best Contemporary Blues Grammys.
These days, the amp he prefers to generate the canvas he can paint as he wants in the studio, and that provides a tonal backdrop for his high-energy live performances, is an Orange TremLord 30 combo. "I really like this thing and played it all over Have You Lost Your Mind Yet?," he says. "I was playing the Black Deer Festival in the U.K. in October, and I first heard the TremLord. I was like, man, this deep tremolo is sick and the spring reverb is like what I was trying to emulate on the early Fantastic Negrito records. It was beautiful, rich, warm, and deep."
"I don't have any regular settings. I like to change it up constantly, just like I do with my songs."
So he switched from the custom-built Cave Valley amp he'd been using to the TremLord 30. "With the Cave Valley, I was using plug-ins for the reverb and tremolo I wanted, but with the TremLord, I plug in and … it's freaky!"
Orange introduced the TremLord 30 at the January 2019 NAMM show. It's essentially the company's update on the classic gut-bucket amps made by U.S. outfits like Valco, Gibson, and Fender in the 1950s—with more clarity and headroom, and other new-school elements. The latter include switchable 30-, 15-, 2- and 1-watt power settings, plus output-power switching between four and two EL34 tubes. Playing at lower wattages drops the headroom, to generate dirt without flooring the TremLord 30.
Other golden-era aspects include tube-driven reverb and tremolo—both footswitchable. And there's no master volume. Back on the modern side, there's a tube-buffered effects loop. The single 12-inch speaker is made by Italy's Lavoce and is engineered to have a warmer top end while still achieving sparkle. The controls are basic: volume, bass, treble, tremolo speed and depth, and reverb. There's also an extension cabinet option. It's no lightweight, at 53 pounds, and the street price is $1,299, but there's also clearly a lot the TremLord 30 can do, and Fantastic Negrito says he takes advantage of all of it.
Fantastic Negrito's Orange TremLord provides the clean rhythm licks and fills throughout "Chocolate Samurai," from his new album, Have You Lost Your Mind Yet?.
"I don't have any regular settings," he notes. "I like to change it up constantly, just like I do with my songs. The song decides the basic guitar sound I have in mind when it's time to record. And anywhere I put the knobs, the TremLord is sick.
"I like to make albums like they did in the '70s—experimental and taking chances. Sometimes I go dry; sometimes I open up the reverb. It's got to sound organic no matter what kind of song I'm playing. It's got to match the vibe, and the vibe can be anything. Like in 'Chocolate Samurai,' it's so clean and funky—it's the shit!
"The thing I've heard the most when people criticize my music is that I'm all over the place," he continues. "That's good! I never want to be a slave to sameness, and I like being where I'm at and being experimental, and not letting anybody else try to tell my story" … with the Orange TremLord 30 as his megaphone.
Watch John Bohlinger test drive the TremLord 30
Photo by Ellen Angelico
Time and a tornado can't stop this 18-watt Gibson GA-20 Minuteman—or the little Nashville guitar shop that's selling it.
This is a story about a resilient little amp at a hardy little guitar shop in East Nashville. The amp is a 1966 Gibson GA-20 RVT Minuteman—a model at times favored by Billy Gibbons and Ry Cooder. Like its colonialist namesake, this 1x12 combo is ready to rock at a moment's notice. Check out the audio clip online, where the small-but-solid noisemaker's clean, spanky voice sounds like a refugee from Exile on Main St. And with an overdrive in front, well, even more so.
This 18-watter currently resides at Fanny's House of Music—at least virtually, because Fanny's 10th anniversary as a hub of the East Nashville music scene was marked by a hit from the tornado that raked the city on March 3. Fanny's was lucky. The tornado barely nicked its front, blew out all the windows, and left a coating of sludge on the store's interior. The guitars and amps were spared as the twister turned left in front of the shop and followed Holly Street, where it left a trail of terrible devastation.
This GA-20 has also been through a lot. More than 50 years in smoky clubs and hard-working studios—with maybe some help from the tornado—has left a dusty patina on its Tolex skin and speaker. But, like Fanny's, it's still in business. This amp was designed to compete with Fender's Deluxe Reverb, so it has a comparable control set. The normal channel, at left, has loudness (versus Fender's volume dial), treble, and bass. This channel breaks up a bit more gently than the reverb side.
To my ears, a few decades worth of light grunge on an old combo speaker like this only improves its voice.
The reverb channel has loudness, treble, bass, reverb, and depth and frequency (versus Fender's speed and intensity) controls for tube-driven tremolo. Instead of power/polarity toggles in the rear, this Gibson has a dial on its face for both functions. There's a hardwired reverb/tremolo pedal, and the tremolo on these amps has a surprisingly wide range.
Things get a little wonky around this Minuteman's tubes. Although Gibson schematics from the '60s are known for inconsistency, GA-20 RVTs generally left Kalamazoo with two EL84 power tubes and a deck of 12AU7s. This little fellow has two EL84s, but the rest of the lineup is two 12AU7s, a 12AX7-like 6EU7, a 12AX7, and a mystery tube so old it no longer sports lettering but looks like a 12AX7. A good repair shop—a first stop for buyers of both used cars and used amps—could suss this out quickly, but the sound is right and tight. And that's assured by the original CTS speaker. To my ears, a few decades worth of light grunge on an old combo speaker like this only improves its voice.
This amp was consigned at Fanny's by guitarist Muffy Merritt of the Bullhorn Boys, and is tagged at $675. It's typical of the gear local musicians have come to expect at Fanny's, which has a reputation for stocking vintage stuff with a tilt to the eccentric: Silvertone flip-tops and all kinds of other Valco-built amps, Teiscos, Kents, fat Harmony hollowbodies, mandocellos, and the like.

This rear view is utter simplicity: the fuse, trailing cables for power and the tremolo/reverb footswitch, and the original CTS speaker. Just plug in, turn the dials on the faceplate, and play. Photo by Ellen Angelico
The usual guitar-shop suspects are there, too, of course, but off-the-beaten-path gear curation is a direct reflection of the shop's owners, Pamela Cole and Leigh Maples. "We're both bass players," says Cole, "and we always preferred more unusual models instead of, for example, P-style basses, because their weight and the way they play made it obvious they weren't designed for women or smaller people. So we've always preferred less popular models that were maybe more welcoming to us."
While much of Fanny's inventory can be scrutinized on its Reverb site, and glimpses of the shop pre-tornado can be had via their YouTube channel, it's impossible to get a handle on the store's community-center vibe without visiting. "Our tagline is 'Nashville's most comfortable music store,'" says Cole. "We started Fanny's because we wanted a place where anybody could come in and feel comfortable—based on our experiences being female musicians, where it wasn't exactly comfortable in a music store and sometimes still isn't. We also wanted a place where a kid in the neighborhood could ride his bike to a guitar or drum lesson."
Who knows what the next five decades will hold for the spunky little GA-20 RVT Minuteman? But Fanny's was reopening as we went to press and plans an expansion to create a non-profit music school with a music therapy program.
Watch Fanny's Ellen Angelico demo the 1966 Gibson GA-20 RVT Minuteman: