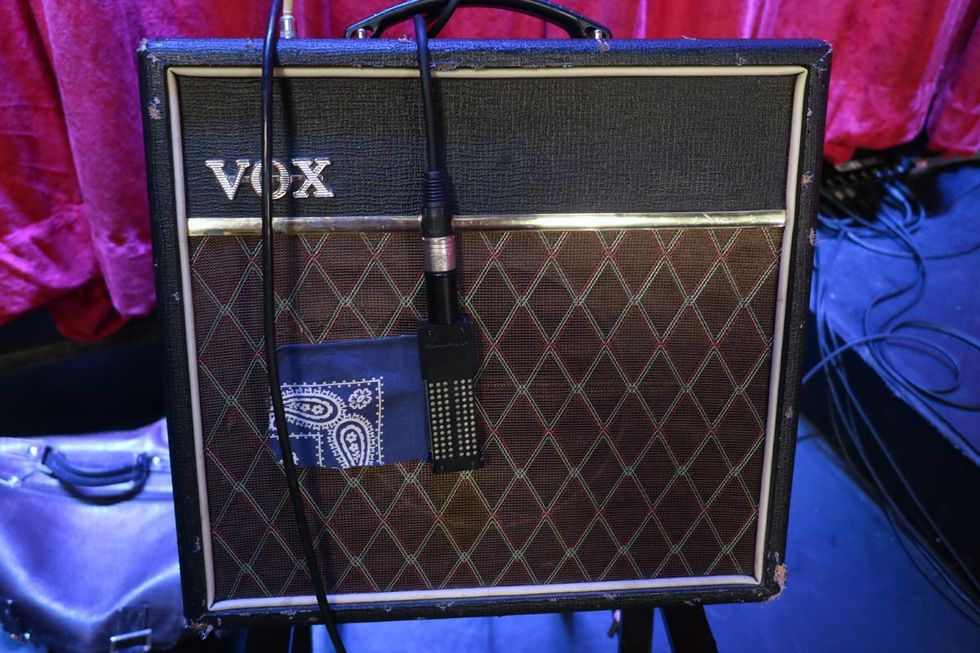 Nashville's Tim Carroll turns a mite of a Vox into a mighty rock 'n' roll dragon slayer.
Nashville is a land of musical shamans. And in all lands of such potent magic, there is an inner circle that includes the most respected members of that class. Typically, they're not widely known to the outside world, but among their peers they are revered. Tim Carroll is such a shaman—a songwriter of such depth that John Prine chose to cover his work, and a ferocious rock 'n' roll guitarist whose ability to improvise around his writing's chiseled backbone is seemingly limitless.
---
Beginning in 2008, when Carroll was off the road or outside the studio, he began a semi-regular Friday evening Rock 'n' Roll Happy Hour residency at East Nashville's indie-rock mecca, the 5 Spot. For the last eight years or so—save for the pandemic lockdown—he's taken the stage there weekly, delivering two-and-a-half hours of steamrolling rock 'n' roll … nearly all original songs and no break. And with an almost preternatural blend of intensity and joy, and a tone so bold and raw it would ring right in an arena. As Broadway Danny Rose might say, he's dynamite.
The one I bought in Portland, Oregon, to stash at my brother's house, came in the box, and on the outside it said 'Practice Amp.' And I thought, 'Oh my god! This amp is so much more than that!"
Here's the rub: Carroll's amp is a Vox Pathfinder 15R. You might not know that model, since it was discontinued seven years ago, after a dozen-year run. The 15R is, of course, 15 watts, and the R stands for reverb. It also has tremolo, with the usual speed and depth dials, plus volume, reverb, gain, treble, and bass knobs.

There's also a gain-boost button. The speaker is a 1x8 Bulldog, and the amp measures 15"x14"x7". And Carroll has used the solid-state model—he owns five of them—for solo coffeehouse-style gigs, his residency and other club shows, outdoor sheds, many Grand Ole Opry appearances, and even, as a sideman, on the Late Show with David Letterman—twice.
Besties: Tim Carroll and his Vox Pathfinder 15R during soundcheck at East Nashville's indie-music mecca, the 5 Spot.
"I leave the gain button on and the master all the way on 10, and I nudge the gain up about an eighth of an inch for a gnarlier sound, and move it back to clean it up," Carroll explains. "The treble and bass point towards each other at 10 and 2 o'clock, and I never use the reverb, because rooms have their own natural reverb and I don't want to muddy it up." Occasionally, for slower tunes with his trio or for solo gigs, he uses tremolo, with each dial turned to less than halfway, just to add character. Carroll typically plugs a 2012 Gibson Les Paul Traditional strung with D'Addario .011–.049 sets into his tiny titans, and if you want to hear exactly how titanic he sounds, check out the full-length Tim Carroll Rock 'n' Roll Happy Hour video on YouTube. Three of his Pathfinders have a mod: He's had their plastic 1/4" jacks replaced with metal ones, for obvious reasons.
Carroll fell for the Pathfinder 15R at a rehearsal for a gig where multiple artists were backed by the same band. "They had a Pathfinder there for everyone to use, and I was like, 'Oh my gosh, this is just great—so simple and perfect." He set about acquiring one, and then another, and more. "They were only $110 or $115 new, so I figured this is almost a throw-away amp. Well, not a throwaway, but I was touring a lot at the time and I figured I could buy a few and stash them in different towns, for when I flew.
For a humble 1x8, this amp has a lot of flexibility in its control set: gain, a boost button, volume, treble, bass, tremolo speed and depth, and reverb.
Sometimes, I would put one in my suitcase and pack clothes around it, and just check it as luggage. I bought one used, from Craigslist, for $55. I name all my amps something really simple, like A or B, so that one is 55. The one I bought in Portland, Oregon, to stash at my brother's house, came in the box, and on the outside it said 'Practice Amp.' And I thought, 'Oh my god! This amp is so much more than that!"
If you're still skeptical about the Vox Pathfinder 15R, consider that they're now commanding prices from $275 to $400 online. Better yet, if you can find one, plug in, turn it up, and rock the hell out.
Tim Carroll Rock'n Roll Hour