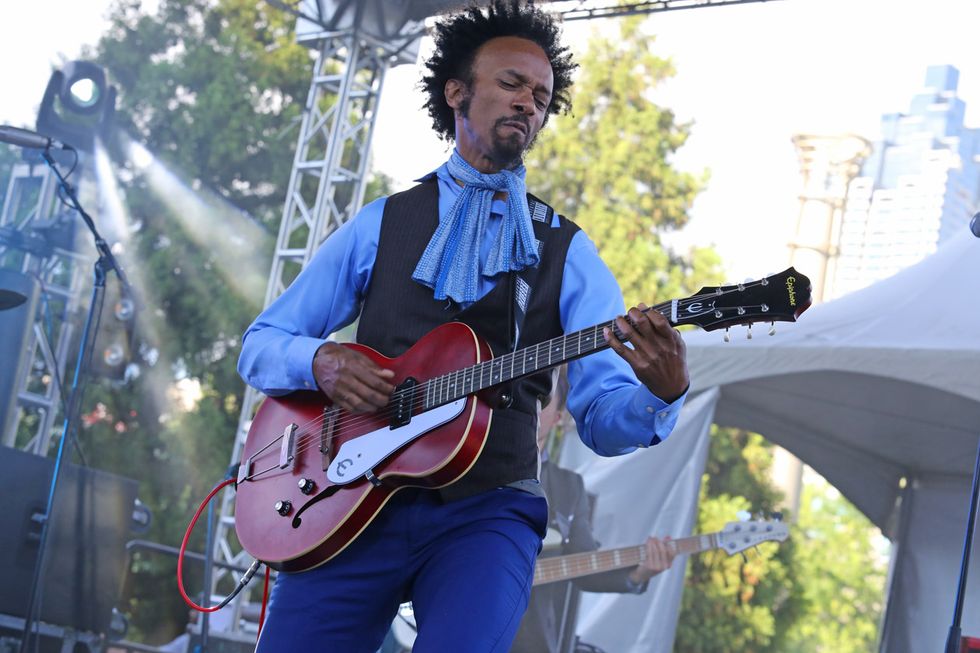 Cheap guitars yield rich music for Fantastic Negrito, who telegraphs sharp-edged roots-based stories from his Oakland home base. Here, he's got the Epiphone Century archtop he jammed on during 2017 Shaky Knees in Atlanta and he used it on his new album. Photo by Chris Kies
The flamboyant Fantastic Negrito is a self-described "recovering narcissist." You might have NPD, too, if you accomplished even half of what he has. Since 2015, Negrito has performed at several of Bernie Sanders' presidential campaign stops, released The Last Days of Oakland (which won a Grammy in 2017 for Best Contemporary Blues Album), and toured with the late Chris Cornell and Cornell's supergroup Temple of the Dog. But while he rose to stardom in just three short years, his success was anything but overnight.
Born Xavier Amin Dphrepaulezz into a Musilim family spearheaded by an Oxford-educated, Somali-Caribbean immigrant, Negrito is the eighth of 14 kids. His family moved from the East Coast to Oakland when he was 12, and once he arrived, he left home, never to look back. "I grew up in the streets of Oakland and embraced all the culture," says Negrito. "It was just so ripe and ready to be picked back then. The beginning of hip-hop meeting punk music meeting progressiveness with a taste of hippiness and some gangsta-ism—all into one pot."
Negrito got caught up in the life of a street hustler, but after a hairy encounter with a masked gunman, he left Oakland for L.A. There, Negrito's demo tape ended up in the hands of Prince's manager, Joe Ruffalo, who put him up in an apartment and gave him a stipend. He soon scored a million-dollar deal with Jimmy Iovine of Interscope Records as Xavier, and released The X Factor, an album that he played all the instruments on. At the time, gangsta rap was in vogue and Negrito's music failed to catch on. Negrito says, "It was this huge record deal and I was supposedly this huge star, which is what I wanted back then, and gosh, four or five years into it when nothing was happening, something really big happened, which got me out of it."
That something was a catastrophic accident in 2000 that flipped Negrito's car over about four times and left him in a coma for three weeks. The prognosis was dire. "I woke up from the coma and went, 'Hey, are my hands okay? I'm a musician,'" recalls Negrito. "I looked around the room and people shook their heads. They didn't even say I severely damaged both of my hands. They thought I would never play again."
"Who's got a bigger ego? I think me and John Mayer—whoo—we may be really neck and neck on that.
I think I'm in full recovery though."
After leaving the hospital, Negrito delved into the underground music scene in South Central L.A.—a world he recalls being inhabited by illegal nightclubs and sheriffs snorting cocaine. During this period, Negrito had a few musical incarnations, which included licensing his music for over 70 films, and recasting himself as Chocolate Butterfly, Me and This Japanese Guy, and Blood Sugar X. He was, in his words, "lost in a beautiful wilderness of sex, drugs, and adventure."
But he eventually got burnt out and decided it was time to come back to Oakland. He sold off his equipment and left the music business to become a weed dealer. One day his son was cranky, and, out of solutions to satiate the kid, Negrito pulled out a guitar that ended up reigniting his creative juices. No, it wasn't some closet classic 1958 sunburst Les Paul. Quite the opposite, really.
"It was a cheap guitar from Thailand, and I hated it," says Negrito. "My friend, who had stolen some of my equipment because he was on heroin, gave me that guitar to try to make up for it. I was trying to sell it but nobody wanted it. So there it was, under that couch for five years. I picked that thing up, man, and looked at my son and strummed a G chord. I looked at this kid's enjoyment of hearing the strings resonate with that wood. It made me feel so many different emotions—I was a little bit scared, excited—and I could feel the tingling behind my neck. That became the slow walk back to just playing. I learned 'Across the Universe.' I thought, 'I'm gonna play this for my son to get him to sleep every night,' and it worked like a charm."
During this time in Oakland, he formed a multimedia collective called Blackball Universe with writer Malcolm Spellman, who soon became famous for the TV series, Empire. "He pushed and pushed me, and that was the birth of Fantastic Negrito," says Negrito. "I thought, 'Pick up your guitar and go hit the fuckin' streets. Don't ask for help from the major labels, don't go to the clubs, man. Take that damn guitar and play on the streets.'" Negrito entered and won NPR's Tiny Desk Contest, beating out around 7,000 entries with his song, "Lost in a Crowd." This victory marked the beginning of his comeback.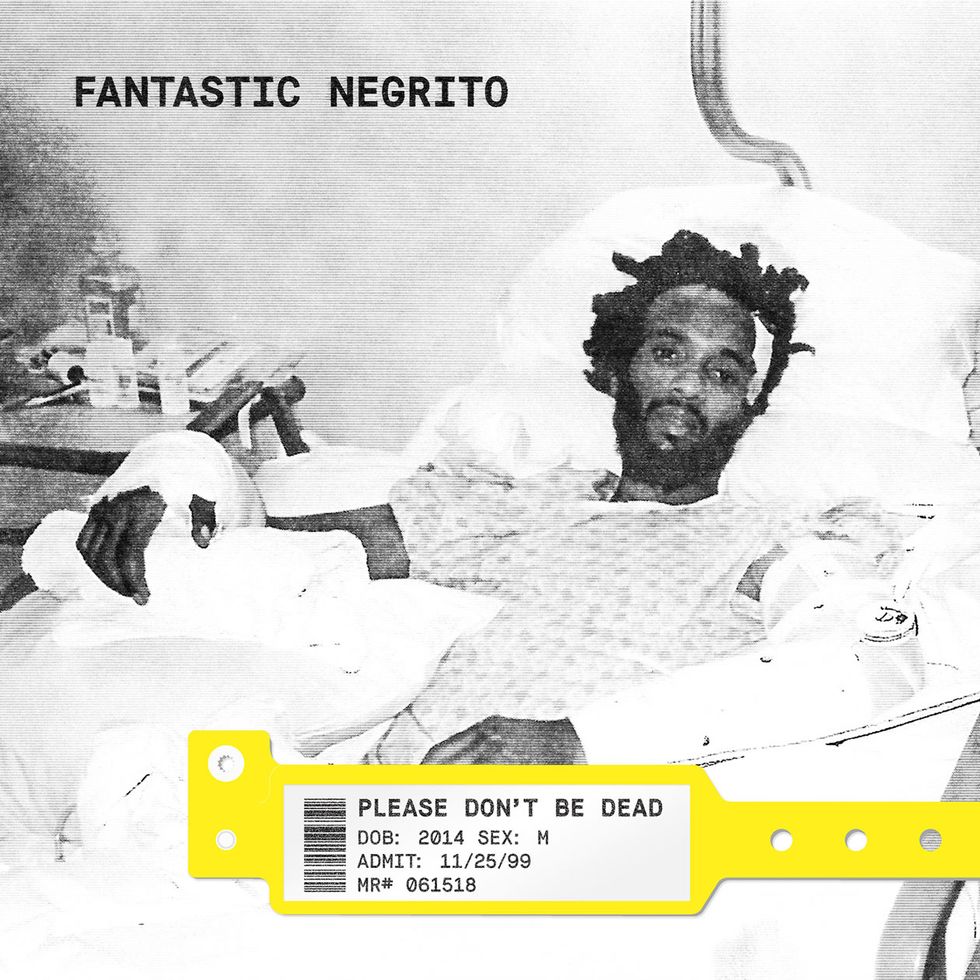 TIDBIT: Although Negrito's management and label urged him to record his second album in a fancier studio, he chose to stay in Oakland and cut tracks "in the same shabby little room that I recorded my Grammy-winning album in. I just wanted to keep it real."
"I didn't even want to do it," he says. "I was in a collective, which means we vote on everything. I voted against Tiny Desk. I thought it was a waste of time. But yeah, that happened and the rest is history."
Negrito's latest release, Please Don't Be Dead, melds social commentary with heavy riffs, and is one of this year's most compelling albums.
Did winning the Grammy for The Last Days of Oakland have any impact on how you approached Please Don't Be Dead? I understand your previous Interscope deal messed you up creatively.
Oh hell no, man. I took a complete detour. Everyone was talking to me about that stuff and I closed my ears. I stayed in Oakland and recorded in the same shabby little room that I recorded my Grammy-winning album in. I just wanted to keep it real. I was like, "You know what, I just want to forget that I wrote The Last Days of Oakland. I wanna come out swinging, man." What happened to me was, I was in Europe and people would come up to me like, "Hey, what is going on in America?" And I would be like, "Okay, I've heard this 100 times." So I thought to myself, "There's Nazis marching in North Carolina. I'll be willing to bet that those Nazis like 'Johnny B. Goode.'"
I just kept thinking about this, and I thought, "That's really the power of music, especially American music, which is so rooted in blues." I call it the "universal riff." I remember I was in Norway right after I thought that, and I had written "Plastic Hamburgers" because I was going to do a duet with Chris Cornell. He was going to do the third verse—I had written the extra third verse for him to write what he wanted, so I just left it open for him. I go, "Hey guys, let's play this new song." I was in a foreign country, and they didn't know me, and that riff opened up and I'm like, "blues in E," [sings heavy riff] and it was like, "We got 'em!" I remember thinking, "Damn, the riff, man. That is the unifier."
Please Don't Be Dead is definitely riff heavy.
Man, it's everything. I feel that's like the spirit of the album: the hope and optimism about what America really meant to the world, and what we brought culturally, musically, and idealistically, in terms of values. I was like, "This is going to be all about riffs, bass guitar, blues guitar riffs, chants." I wanted everything to be something that pulls people in.
---
---