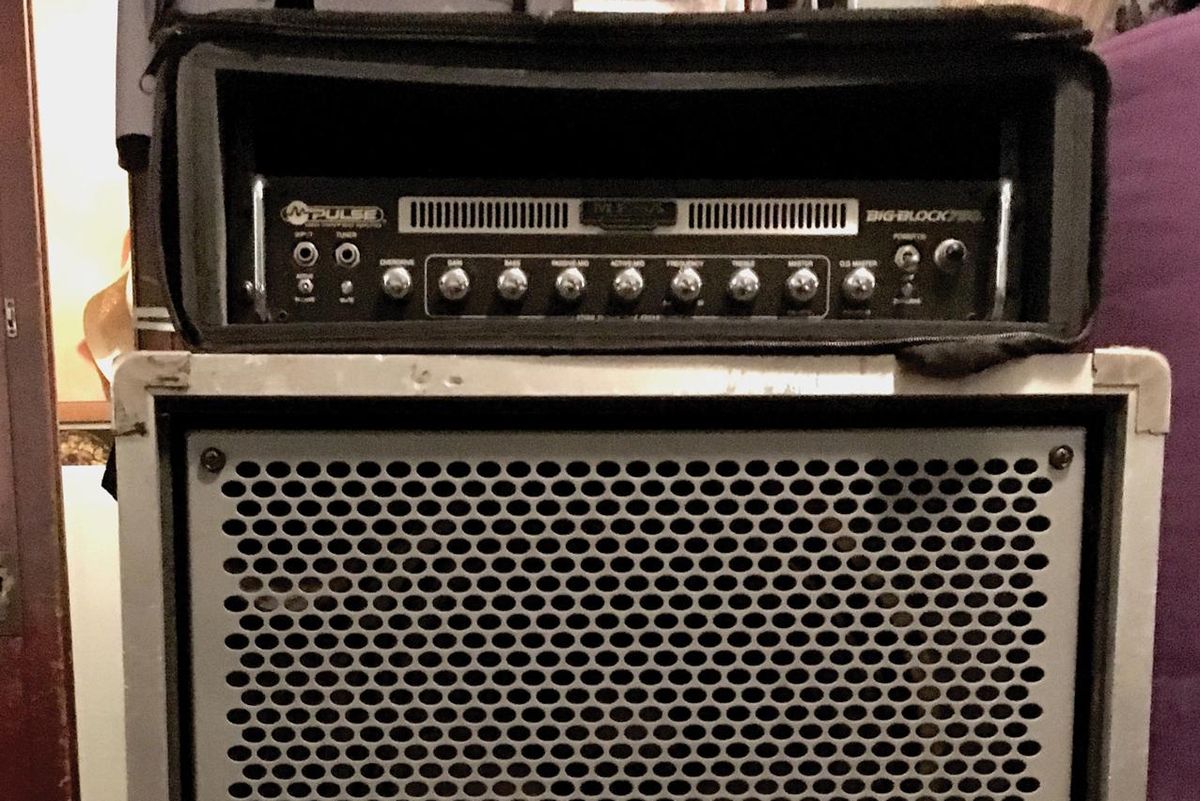 How a bass adventurer discovered his ideal tone with a Mesa/Boogie Big Block 750.
To the names Shackleton, Hensen, Hillary, Coleman, Norgay, and Cousteau, let me add that of another great explorer: Gibbs.
---
Through four decades, Melvin Gibbs has devoutly taken the bass into uncharted territory, both as a leader of his own bands and in a series of projects so poised on the cutting edge that they've drawn blood. He broke out in late-'70s New York City as a member of punk-funk outfit Defunkt, and then, along with that band's guitarist, Vernon Reid, became a staple of drummer Ronald Shannon Jackson's Decoding Society. He played with Sonny Sharrock for a decade, formed Power Tools with Bill Frisell and Jackson, and created alongside John Zorn, Arto Linsday, and many other notable downtowners. In the Rollins Band, Gibbs and guitarist Chris Haskett built raging bonfires of improvisation. Today, he has his own sound-design and bass project, which released the 4+1 equals 5 for May 25EP via Bandcamp earlier this year. He also co-leads the anything-goes trio Harriet Tubman, God Particle (a duo with cosmologist and saxist Stephon Alexander), and the Zig Zag Power Trio with Reid and drummer Will Calhoun. That sounds like a lot, but it's just the surface of Gibbs' resume—which runs as deep as his tone.
Brooklyn native Melvin Gibbs has been an important figure in New York City's innovative music scene since the '80s. He was also bassist in the classic Weight-era lineup of the Rollins Band.
Photo by Kirk Edwards
The radical bassist began a highly exploratory period while playing with the free-jazz-and-melody-driven guitarist Sharrock. He searched for a thumbprint tone and stretched as a soloist, trying to—as Sharrock put it—"find a way for the terror and the beauty to live together in one song." That's not an easy task while playing through club and festival backlines, where an Ampeg SVT head is manna, and one in good repair even better. But after joining Henry Rollins, Gibbs found his sound in Mesa/Boogie—initially a Basis M-2000, and then the Big Block 750 that's been his stage compadre for many years now.
The Big Block 750 is a Gamera of bass amps—a high-flying hybrid. It pairs solid-state and tube tech, with four12AX7s in its preamp stage and a dozen power MOSFETs. It has a 4-dial EQ that includes both passive and active mid controls, plus a frequency knob that helps zero in on precise attack. There's also a footswitchable all-tube overdrive circuit, with its own drive and master controls. Around the back, there's an effects loop and a slave output, with its own level control. These 30-pound amps have a reputation for deep resonance and snappy response. And proponents like Gibbs favorably compare their voice to old-school, all-tube heads that need a crane to place atop a cabinet.
"I want to have that thick Brooklyn tone and something that sounds angry at the same time," Gibbs explains. "The '80s were a real sonic struggle for me, because the standard Fender bass sound and the Jaco sound were the bookends, and that's not what I was hearing." His hunt led him to Michael Tobias Design basses, and his main instrument remains an active 5-string MTD. But the right mix of amp and speakers was elusive until he tried a house Basis M-2000 at New York City's SIR during a rehearsal.
"It's better to have something like the Big Block 750 or an SVT at medium volume than a smaller amp at loud volume, because that will eat up your headroom and tone."
"I liked the sound," he recalls. "Living Colour was using them as well. I used a dark tone and the brightness bump of the speakers in Mesa's bass cabs, which is exactly the thing a lot of people don't like about them, but works well for me live." So Gibbs decided to Boogie down himself, using the Mesa to simultaneously run a 2x18, a 2x15, and a 4x10 on the Rollins Band's Weight tour. The 18s were especially helpful to nail the bottom, since Gibbs often used a wah that would cause low-end signal loss. He eventually gravitated toward a Yamaha wah, which sidestepped that issue, and, ultimately, a Moogerfooger filter stompbox. "I like to use the Moogerfooger's resonance control for 808-type stuff," he notes.
After his last tour with the Rollins Band, he switched to the more streamlined Big Block 750. "To get a good bass sound, you have to have the power. You can't really cheat," Gibbs says. "It's better to have something like the Big Block 750 or an SVT"—despite that classic tube bass head's 85-pound heft—"at medium volume than a smaller amp at loud volume, because that will eat up your headroom and tone."
Gibbs' doesn't use the Big Block 750's built-in overdrive, preferring a Big Muff, a Bogner Burnley, or a Protone that's so scuffed it's impossible to read its model name. "I don't really like any of the bass overdrives I've tried, because they don't have the definition I want," he notes. An Eventide TimeFactor is also in his chain. For sessions, Gibbs often runs the Big Block direct, and since leaving the Rollins Band, he's pared down his cabinets, gravitating to a single 2x15 for its more practical dimensions and more effective balance of sound.
Prototaxite
Looking for more great gear for the guitar player in your life (yourself included!)? Check out this year's Holiday Gear Finds!
Created in collaboration with legendary guitarist George Lynch of Dokken and Lynch Mob fame, the Mr.Scary Mod adds an adjustable tube gain stage and an onboard Deep control, which together are designed to enable an amp to have increased sustain while still retaining note definition and dynamics.
LegendaryTones, LLC today announced production availability of its new Mr. Scary Mod, a 100% pure tube module designed to instantly and easily expand the capabilities of many classic amplifiers with additional gain and tone shaping. Created in collaboration with legendary guitarist George Lynch of Dokken and Lynch Mob fame, the Mr.Scary Mod adds an adjustable tube gain stage and an onboard Deep control, which together are designed to enable an amp to have increased sustain while still retaining note definition and dynamics.
Originally released as the Lynch Mod in February 2021, the updated Mr. Scary Mod features the same core circuit as the Lynch Mod but is now equipped with a revised tube mix combo per George's preference as well as a facelift in a newly redesigned electro-galvanized steel enclosure. As with the Lynch Mod, each run will be limited and the first run in Pumpkin Orange with Black hardware is limited to just 150 pieces worldwide.
​The Mr. Scary Mod adds an adjustable tube gain stage on top of the cathode follower position, keeping note definition and articulation while further increasing sustain. Each Mr. Scary mod is meticulously built by hand in the USA, one at a time, and tuned using high-grade components. Equipped with a single ECC81 (12AT7) in the first position and ECC83 (12AX7) in the second, the Mr. Scary Mod can clean up beautifully when rolling down your guitar's volume, and still adds scorching gain when you roll it back up. This is a gain stage that's been tuned and approved by the ears of the maestro George Lynch himself.
"The Mr. Scary Mod excels with dynamics and is incredibly touch-responsive, allowing me to shift from playing clear, lightly compressed cleans to full-out aggressive sustain and distortion –and control it all simply by varying my guitar's volume control and picking," said GeorgeLynch. "In many ways, it's an old-school approach, but it's also so much more natural and expressive in addition to being musically fulfilling when you can play both the guitar and amp dynamically together this way."
The Mr. Scary Mod installs in minutes, is safe and effective to use, and requires no special tools or re-biasing of the amplifier. Simply insert the module into the cathode follower preamp position of compatible amplifiers (includes Marshall 2203/2204/1959/1987 circuits) and

immediately get the benefit of enjoying a hot-rodded amp that delivers all the pure harmonic character that comes with an added pure tube gain stage. The handmade in the USA Mr. Scary Mod is now available to order for $319.
For more information, please visit legendarytones.com.
October Audio has miniaturized their NVMBR Gain pedal to create two mini versions of this beautifully organic-sounding circuit – including an always-on gain device.
The NVMBR Gain is a nonlinear amp that transitions gracefully from clean boost to overdriven tones. Volume increases from just over unity to about 10db before soft-clipping drive appears for another 5db of boost. Its extraordinary ease of use is matched by outstanding versatility: you can use it as a clean boost, push a stubborn amp into overdrive or create a just-breaking-up sound at any amp volume.

October Audio's new family of mini NVMBR Gain pedals includes a switchable version that allows you to bypass the effect: one option features brand logo pedal graphics, while the other sports a fun "Witch Finger" graphic with a Davies knob as the"fingernail".
The second version in the new lineup is an always-on device featuring the Witch Finger graphic and Davies knob, with the same NVMBR Gain circuit that lies at the core of the switchable version.
Features:
Knob controls gain and clipping simultaneously
Stunning silver hammertone finish
Switchable versions are true-bypass, available with classic or witch finger graphics
Authentic Davies knobs, including the "fingernail"
9V center negative power supply required
Dimensions: 3.63 x 1.50 x 1.88 in​
Witch Finger (always on NVMBR Gain) demo
​All October Audio pedals are assembled in Richmond, VA, and available for purchase directly through the online shop. Street price is $109 for NVMBR Gain footswitch versions and $89 for the always-on device.
For more information, please visit octoberaudio.com.