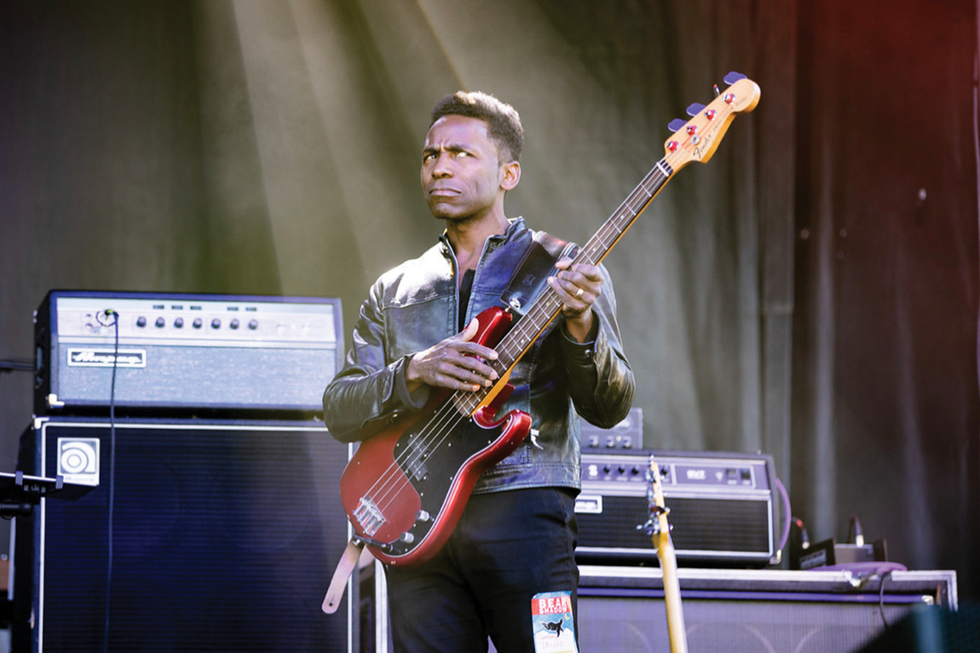 Nashville's Michael Majett uses two amps—an Ampeg B-15N and a Markbass TTE 500—to go deep and low.
When we spoke, bassist Michael Majett had just checked off an item on his bucket list: playing the New Orleans Jazz & Heritage Festival. For Majett, the headlining set with the War and Treaty at the festival's Blues Stage wasn't just a gig. It was a way to connect with the history of the festival and what it represents: the deep legacy of American music and culture that's synonymous with the Crescent City, and especially the Black heritage that birthed rock 'n' roll, blues, jazz, and R&B, plus some of the world's tastiest cuisine.
---
When it comes to bass tone, Majett's also interested in tradition and taste. "There are two tones I really want to hear," he relates. "There's the James Jamerson thing—or maybe a better description would be the Chuck Rainey thing, where you've got flatwounds and you're muting—and then there's that grind-y rock thing, which is slightly overdriven but has a lot of depth. And I can get right in the zone with my amps, although they're very different."
Majett's 1973 B-15N evokes all the classic charm of the historic Ampeg model but doesn't fit into a backpack.
At New Orleans' Jazz Fest, he used a backline amp, of course. But at home in Nashville, where he's earned a reputation as a live-gig MVP since relocating from Atlanta with the contemporary Christian band Truth 24 years ago, he's got a pair of workhorses that help propel his penchant for deep-resonating melodic grooves: a Ampeg B-15N and a hybrid Markbass TTE 500 Randy Jackson signature model.
Depth is key to Majett's playing—in both his round, rich, plump sound, which seems to push more air than a jet engine, and his onstage versatility. He also regularly performs with Billy Prine (John Prine's brother), country legacy artist T. Graham Brown, soulful singer-songwriter Jason Eskridge, haunting vocalist and songwriter Luella, and prolific songwriter, singer, and guitarist Tim Carroll. His gigs with Carroll, who was featured in this column in August 2021, are especially free ranging. Carroll is an edgy improvisor with a huge repertoire of songs and styles, who drops new tunes into his typical two-and-a-half hour sets without rehearsal. And there's no set list. So, Majett has to be ready for everything from blasting punk roots 'n' roll to jams that evoke Led Zeppelin. On top of that, Majett seems to be in the cell phone of every Nashville bandleader who might need a sub, so if you spend even a short time club hopping in Music City, you're bound to see him onstage.
"There's the James Jamerson thing—or maybe a better description would be the Chuck Rainey thing, where you've got flatwounds and you're muting."
For most local shows, Majett carries the TTE 500—a 500-watt hybrid head that generates tones with three ECC83 preamp tubes, plus an ECC81 for its compressor. The amp has old-school controls: 3-band EQ, gain, master, and compressor dials, plus a modern twist in the "colour" knob, a filter Majett says makes the amp sound "more tube-y. I'm an all-tube lover, and this comes really close. I keep my EQs straight up and keep the gain low. The odd thing is, I can turn it all the way up and it really doesn't distort. It gets a little more trebly, but that's okay."
He seems to favor his 1973 B-15N more, but, even with a 1x15 cab, the TTE 500 setup weighs just a little over half of the Ampeg flip-top combo's roughly 85 pounds. "I got the Ampeg 20 years ago, and back then I didn't mind carrying it everywhere," he says. "I wanted one for years, and when I finally got it, it was perfect. It's only 30 watts, but is really loud and has that great, classic tone." The all-tube rumbler has three 6SL7 preamp bottles, a 5AR4 for the rectifier, and two 6L6 power tubes, with bass and treble controls and a 15" Eminence speaker.
While Markbass no longer produces the TTE 500, two updated versions—including an 800-watter—are still manufactured.
Whether Majett plugs in his Fender Jaguar or his Nate Mendel signature P bass, the results are essentially the same—a big, warm sound with a dapple of crunch that's perfect for his mix of melody and punch. His EQ settings for both amps are the same, and he's found the sweet spot for the Ampeg's master volume is around 10 or 11 o'clock. Majett also loves the tang of grit that occurs when he jumps the two channels on the B-15N—a stunt also favored by plenty of vintage Marshall owners.
The versatile bassist also digs octave pedals and uses a Boss OC-2 and the dirtier, wilder 3 Leaf Audio Octabvre. His latest acquisition is a Shaw Audio Tube Injection preamp. But the core of his instrumental voice really lies in those amps. "Honestly," Majett observes, "with both of those amps, I'd have to work hard to sound bad."
YouTube It