Positive Grid's mighty mini amp has taken the world of practice—and stage—by storm. Here's the lowdown on the original Spark amp, the Spark MINI, the Spark GO, the new Spark CAB, and the company's flexible, tone-hopping controller. Most are sale-priced for the holidays.
The holiday season is upon us, and if you're on the quest to find the ultimate gift for the guitarist in your life, or perhaps you're treating yourself, look no further. We're about to take you on a journey through the world of Spark series amps – the gifts that sound right for any guitarist's wishlist. With numerous awards and an ever-growing community of over 500,000 players worldwide, these amps have certainly made their mark.
And the best part? Fantastic deals on Spark start now. There's a Spark for every type of player (bassists included!) – so let's find the one that fits you.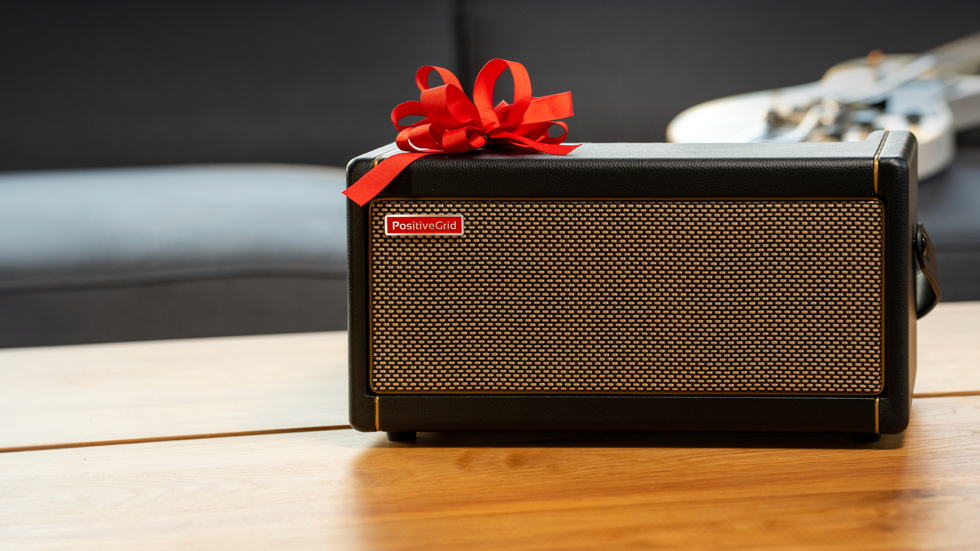 Spark - The Complete Jam Package
Let's kick things off with the Spark guitar amp and Bluetooth speaker – the trailblazer in the Spark series. This 40W practice amp doesn't just fill the room with incredible sound; it puts you in the driver's seat of your own tone. But what really makes Spark stand out is the incredibly powerful smart app that works seamlessly with the entire line of Spark series amps. Packed with all the gear and innovative smart features, it's your gateway to instant jamming fun. Looking for that perfect tone? You've got access to a whopping 50,000+ tones and custom presets created by guitarists worldwide to get you started. Plus, who needs bandmates when you've got Smart Jam? Just start playing, and the AI creates a real-time drum and bass track for you.
We're just scratching the surface here. It's no wonder why over half a million guitarists worldwide are playing more guitar than ever with Spark, now completely
customizable
to fit your unique style. And don't forget to check out the official
Traveler Gig Bag
– a must-have for any Spark owner on the move.
Spark MINI - Portability Meets Power
For those who crave portability without compromising on power, meet the Spark MINI. Don't let its size fool you. This 10W portable beast of an amp features a passive radiator that delivers unbelievable sound and punchy bass that'll have you questioning why all amps aren't this compact. And our favorite part – Spark MINI features a built-in rechargeable battery that provides up to 8 hours of jamming or music listening, perfect for impromptu jam sessions at the office, home, or anywhere that inspires you. Seriously, take it to the park or the beach; it's always ready to roll.
Spark MINI has even earned the praise of guitar legends like Zakk Wylde and Paul Gilbert, both of whom crafted their own limited-edition versions which, unfortunately for you, sold out. But don't fret, they also created custom presets that can be downloaded for free in the Spark app and are available to all Spark users.
Spark GO - The Ultra-Portable Wonder
Ever wonder what it was like to have an amp on you…all the time? Spark GO is a 5W wonder so small it can slide right into your gig bag or suitcase without hogging precious space. In fact, you might even forget that you packed it in the first place! It's the personal guitar amp that fits the unique style of every guitarist – regardless of skill level. Touring guitarists across the globe are falling head over heels for this tiny powerhouse, and for excellent reasons. They've discovered that not only does it deliver surprisingly big sound for an amp its size, but also the incredible convenience of Spark GO, turning hotel rooms and tour buses into impromptu jam spaces.
Just in time for the holidays, you can take home a Spark GO for under $100 USD. While you're at it, pick up the new carrying case, to ensure your musical sidekick is well-protected from the rigors of the road.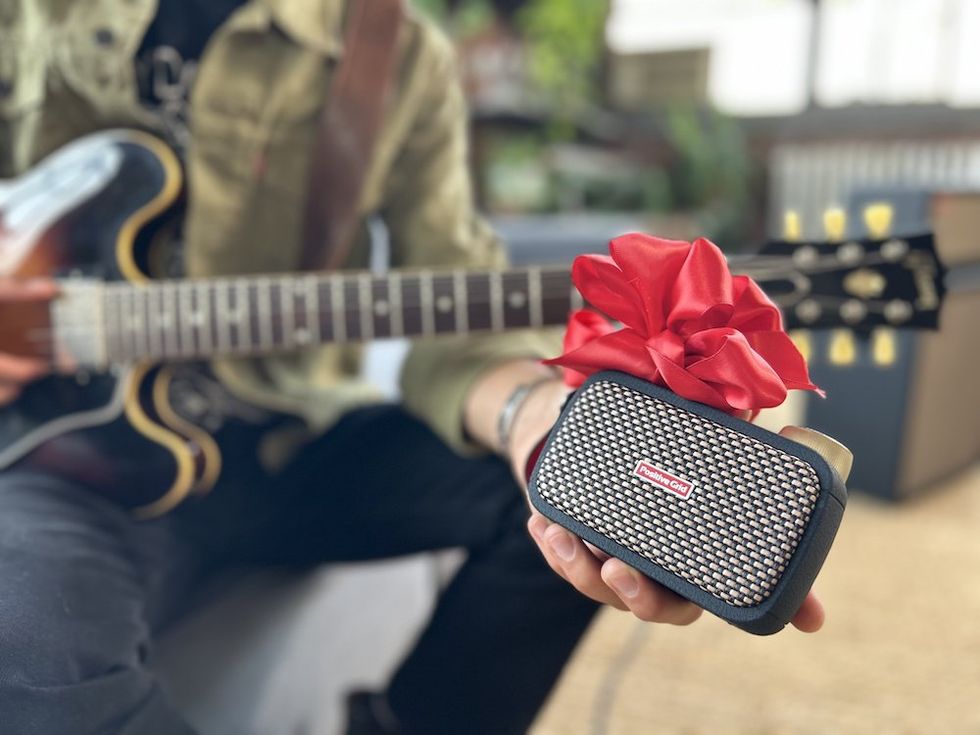 Spark CAB - It's Time To Get Loud
Sometimes, you need that extra oomph in your sound, and that's where Spark CAB comes into play. It's not just about making your music louder; it's about making it shine. But make no mistake, this cab is LOUD! Designed for Spark amp owners hungry for more volume during live performances or jam sessions, Spark CAB is a 140W FRFR (Full Range, Flat Response) powered cabinet that perfectly complements any Spark series amp. Plus, it's great for cranking up the volume on other gear like keyboards, modelers, or even an extra amp with line level outs.
Spark Control - Elevate Your Spark Experience
Now that you've decided which Spark series amp works best for you (or the lucky person you're gifting it to), it's time to pair it up with the ultimate Spark accessory – Spark Control. It allows you to effortlessly (and wirelessly!) switch between presets, fine-tune settings, control music, and more, and it's compatible with every Spark series amp. Besides, a good pedal is something every guitarist needs. Say goodbye to fiddling with controls and knobs when you need to switch tones. Set up your favorite preset, assign them to Spark Control, and you can seamlessly switch them on the fly without ever missing a beat.
With the holidays racing towards us faster than one of Paul Gilbert's legendary solos, let this list guide you in your quest for the perfect gift. So, this holiday season, let's celebrate the joy of giving with the best gift of all: music. And remember to treat yourself; you've earned it.
Looking for more gift ideas? Visit our
Holiday Gift Guide
to snag the best deals of the year.
Don't wait 'til mixing to get a great tone. Record your sound as best as you can to make your tracks shine.
Recording bass can be a challenging task. Whether we are talking about a natural, woody upright-bass tone that balances well within a jazz quartet, or a nice, round electric tone with definition and copious amounts of low end for "modern" situations, the science behind how to achieve these sounds has eluded more than a few engineers and players. As both a player and as a recording and mixing engineer, I wanted to pass on a few tips that have served me well over the years.
Get the sound you want out of the instrument and amp first. Before attempting to patch, mic, process, or record anything—listen! Making sure your instrument's sound/signal chain is free from buzzes, ground loops, unwanted distortion, and that your amp and instrument are placed where they sound best in the room will save you lots of time and headache. Make sure that the player and engineer agree that the tone is what the song or project calls for. If you opt to record electric bass direct only (not my choice), then the above still applies, but the console and speakers are now "the amp."
Once we have a great sound in the room, let's look at how to capture it. Speaking with my mix hat on: I hate mixing acoustic or electric bass that is contaminated with "bleed" (leakage from other instruments in the room). Too much bleed makes it difficult to do post EQ, compression, level adjustments, automation, or correctional edits. Yes, yes … Blue Note, Motown, Stax Records, yada, yada—I love them all too! But here, I'm talking about great sounding modern recordings and mixes. In short, try to get as isolated a signal as possible, even if this means putting your amp in a remote location. I have mine set up on the third floor, while my studio is in the basement. If you're recording acoustic bass, then either use an isolation booth or very good baffles and mic placement to minimize bleed.
A little compression allows for a more even tone throughout the bass's range, and can even tighten a good performance, without really being noticeable.
With acoustic bass, I use two mics—one over the lower fingerboard (where the player plucks the strings) and one over the soundhole beside the bridge. My favorites are the AKG C12 (fingerboard) and the Neumann U47 (soundhole). There are many generic mic choices. Experiment with smaller diaphragm mics for the fingerboard and larger diaphragm mics for the soundhole, six to eight inches away from the instrument. With electric, I use a single mic (U47 usually) and a good quality DI (direct injection) such as the Avalon V5. If you don't have a great DI, then use the DI-out on the player's amp.
Some mic pres are more bass-friendly than others. I'm a fan of '70s Neves like the 1073, 1081, and others. Neves have phenomenal EQ, mic pres, and DIs. I've also had great success with Avalon's all-tube VT-737sp—a great mic pre with an amazing optical compressor, EQ, and a very nice DI. After the pres, I put both signals (mic+mic or mic+DI) through some sort of light compression or limiting. My favorites are either LA2A- or 1176-type compressors. Untreated, low notes are quite a bit louder than those throughout the rest of the instrument. A little compression allows for a more even tone throughout the bass's range, and can even tighten a good performance, without really being noticeable. This also allows us to get more signal on each track without overloading.
For recording, my approach to equalization is mostly corrective. I usually don't "print" EQ unless the instrument tone, the mic choice, mic placement, or room sound are problematic. I like to leave the mix engineer with options by not over-compressing or EQing the bass sound as I record. With that said, if you happen to have a Pultec, then throw it on there. Even with nothing boosted or cut, it does wonders for bass. My goal is a great-sounding bass track that uses the entire dynamic range available without ever clipping. If you don't have access to vintage gear, check out new stuff by Golden Age, Heritage Audio, or even software plugins by UAD (their emulations are exceptional).
Pay attention to phase. You'll probably need to reverse phase on either the DI or your second mic to defeat phase cancelation (two very similar signals canceling each other out). I usually match the level of both signals and then reverse the phase on one to see if the sound becomes clearer/more defined. Sometimes (rarely), the mic or DI are dissimilar enough to not need it, but I always check.
Room vs. instrument: For me, a good instrument tone involves some of the sound from a good room. This adds depth and dimension, while the DI (electric) or fingerboard mic (acoustic) adds definition. Play with the mic placement and/or the balance of the two signals until it sounds good. My particular ethos is that whatever I record needs to sound great before the mix.
Happy recording!
For part two of our crash course in harmony for bassists, we're talkin' triads.
As bass players, our job is often to indicate and support what is happening rhythmically and harmonically in the music we're playing. And to do that, it's important for us to understand the basics of tonality and how it works. In fact, every bass player must have a strong knowledge of harmony to do their job correctly. This month, we'll continue last month's harmony crash course with some more ways to brush up on your ear skills, in italics below, so you can do your low-end job effectively.
The basic building block of harmony is the dyad, which gives us our basic intervals. But the basic building block of tonality is the triad, a grouping of three or more tones (root, 3rd, and 5th) that give us the four chord qualities—major, minor, diminished, and augmented—which you're probably already familiar with.
Just as with intervals, we should train our ears to recognize chord qualities instantly. Start with two qualities (major and minor). Once you can identify those two correctly about 95 percent of the time, add another. Keep going until you can identify all four qualities consistently.
Another great exercise is to take a melody (either major or minor) and convert it to the opposite quality. Start out with something you know well, like "Twinkle, Twinkle, Little Star." This may take a while at first, but the goal is to keep on doing these until you can convert most stuff on the fly instantly.
"This feeling of resolution, in some ways, is the whole point."
Each chord quality has its own distinct sound, but major and minor are related, and both feel very grounded. Because of the 5th in each, our ears can easily hear which note in the chord is strongest (the root), which gives major and minor a sense of gravity. This feeling persists even if we change the order of the notes (invert the chord).
Have a friend or an app play inversions of major or minor triads. Find the root of each chord by singing it. Work towards being able to identify these triads in root position (root in the bass), first inversion (3rd in the bass), or second inversion (5th in the bass).
Pay attention to bass lines that land on a root, 3rd, or 5th on the first beat of the bar and then practice coming up with your own examples.
Diminished and augmented triads are much more ambiguous. Without a perfect fifth (diminished has a b5 and augmented has a #5), no tone in particular sounds strongest. Thus, both chords lack gravity. In fact, to most of us, every tone sounds equal, like being lost in the woods where every direction appears the same. Both seem to want to move towards something else more stable. When this occurs, it gives a sense of release, or resolution. This feeling of resolution, in some ways, is the whole point.
The top part of a dominant seventh or V7 chord is a diminished triad. For example, a C7 consists of the notes C–E–G–Bb. If you remove the C, we're left with an E diminished triad. This is where the moving sound, or the desire to resolve, comes from. The important takeaway is that we're making something very stable—a major chord—and making it less stable when we add the b7, because of the diminished sound, which in turn sets up the need to resolve.
Listening for V–I: On a guitar or keyboard play any major chord, then add a b7 (transforming I to V7) and try to hear where the progression "wants" to go next. Move to the new key (a fifth down) and repeat. After twelve V–I progressions you'll arrive back at the original key.
The Dominant Gateway: On bass, try playing a walking bass pattern over the cycle of fifths, strategically using a b7 to move to the next key. This foreshadowing is a great voice-leading skill.
That's all for our crash course in harmony. If you take your time with these exercises, you should notice not only your ears improving, but your bass playing too!