Unwrap the Perfect Gifts for Guitar Players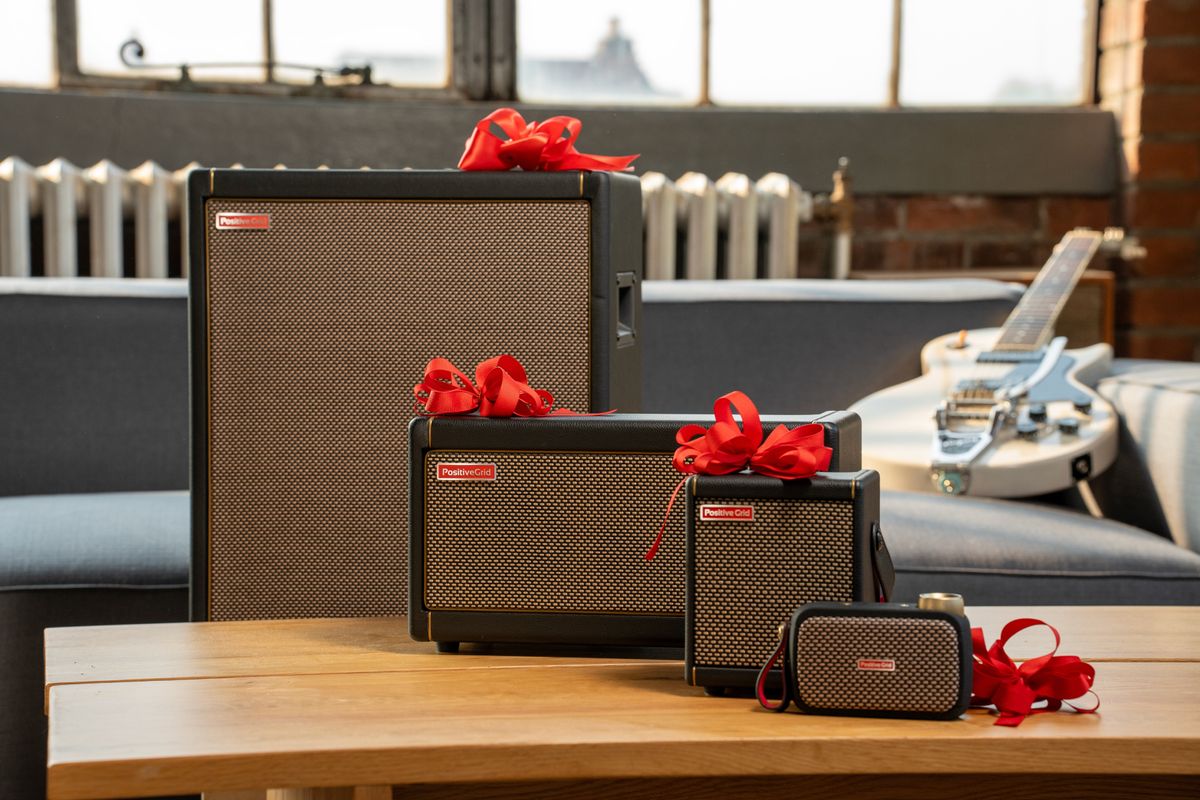 Positive Grid's mighty mini amp has taken the world of practice—and stage—by storm. Here's the lowdown on the original Spark amp, the Spark MINI, the Spark GO, the new Spark CAB, and the company's flexible, tone-hopping controller. Most are sale-priced for the holidays.
---
The holiday season is upon us, and if you're on the quest to find the ultimate gift for the guitarist in your life, or perhaps you're treating yourself, look no further. We're about to take you on a journey through the world of Spark series amps – the gifts that sound right for any guitarist's wishlist. With numerous awards and an ever-growing community of over 500,000 players worldwide, these amps have certainly made their mark.
And the best part? Fantastic deals on Spark start now. There's a Spark for every type of player (bassists included!) – so let's find the one that fits you.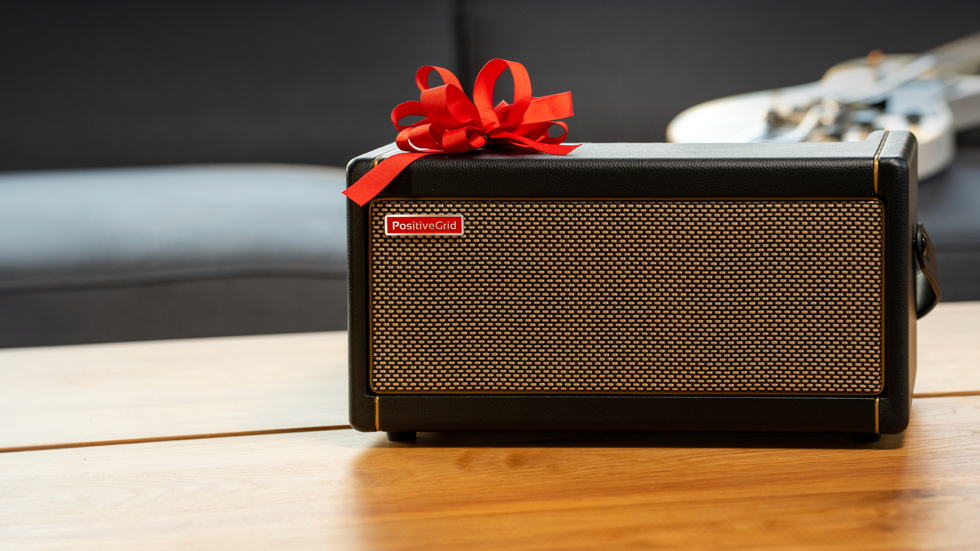 Spark - The Complete Jam Package
Let's kick things off with the Spark guitar amp and Bluetooth speaker – the trailblazer in the Spark series. This 40W practice amp doesn't just fill the room with incredible sound; it puts you in the driver's seat of your own tone. But what really makes Spark stand out is the incredibly powerful smart app that works seamlessly with the entire line of Spark series amps. Packed with all the gear and innovative smart features, it's your gateway to instant jamming fun. Looking for that perfect tone? You've got access to a whopping 50,000+ tones and custom presets created by guitarists worldwide to get you started. Plus, who needs bandmates when you've got Smart Jam? Just start playing, and the AI creates a real-time drum and bass track for you.
We're just scratching the surface here. It's no wonder why over half a million guitarists worldwide are playing more guitar than ever with Spark, now completely
customizable
to fit your unique style. And don't forget to check out the official
Traveler Gig Bag
– a must-have for any Spark owner on the move.
Spark MINI - Portability Meets Power
For those who crave portability without compromising on power, meet the Spark MINI. Don't let its size fool you. This 10W portable beast of an amp features a passive radiator that delivers unbelievable sound and punchy bass that'll have you questioning why all amps aren't this compact. And our favorite part – Spark MINI features a built-in rechargeable battery that provides up to 8 hours of jamming or music listening, perfect for impromptu jam sessions at the office, home, or anywhere that inspires you. Seriously, take it to the park or the beach; it's always ready to roll.
Spark MINI has even earned the praise of guitar legends like Zakk Wylde and Paul Gilbert, both of whom crafted their own limited-edition versions which, unfortunately for you, sold out. But don't fret, they also created custom presets that can be downloaded for free in the Spark app and are available to all Spark users.
Spark GO - The Ultra-Portable Wonder
Ever wonder what it was like to have an amp on you…all the time? Spark GO is a 5W wonder so small it can slide right into your gig bag or suitcase without hogging precious space. In fact, you might even forget that you packed it in the first place! It's the personal guitar amp that fits the unique style of every guitarist – regardless of skill level. Touring guitarists across the globe are falling head over heels for this tiny powerhouse, and for excellent reasons. They've discovered that not only does it deliver surprisingly big sound for an amp its size, but also the incredible convenience of Spark GO, turning hotel rooms and tour buses into impromptu jam spaces.
Just in time for the holidays, you can take home a Spark GO for under $100 USD. While you're at it, pick up the new carrying case, to ensure your musical sidekick is well-protected from the rigors of the road.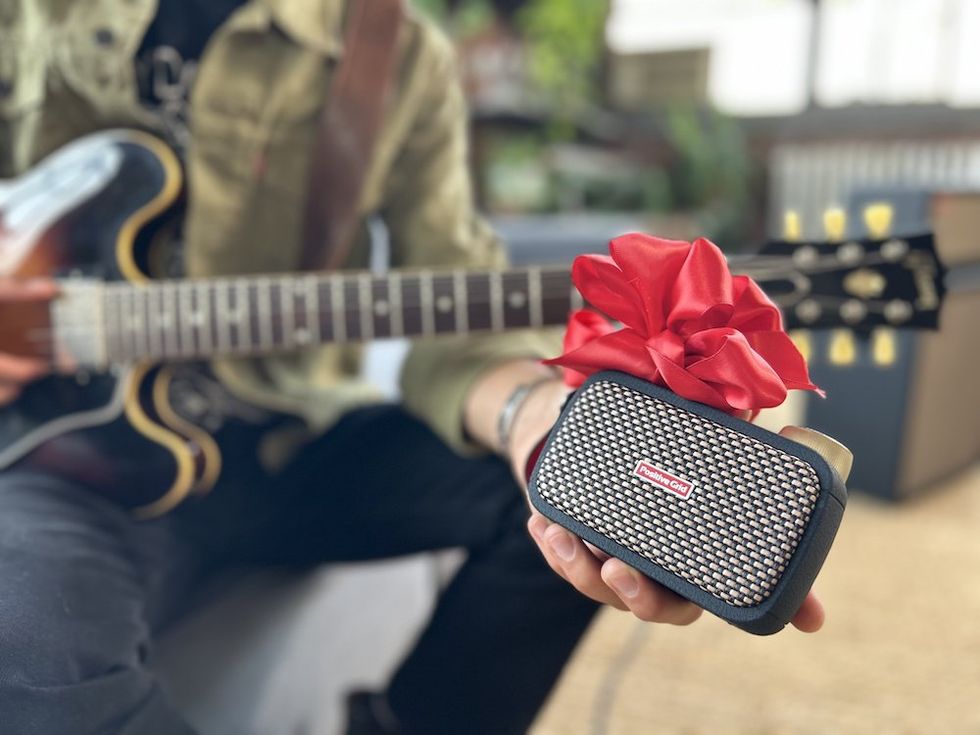 Spark CAB - It's Time To Get Loud
Sometimes, you need that extra oomph in your sound, and that's where Spark CAB comes into play. It's not just about making your music louder; it's about making it shine. But make no mistake, this cab is LOUD! Designed for Spark amp owners hungry for more volume during live performances or jam sessions, Spark CAB is a 140W FRFR (Full Range, Flat Response) powered cabinet that perfectly complements any Spark series amp. Plus, it's great for cranking up the volume on other gear like keyboards, modelers, or even an extra amp with line level outs.
Spark Control - Elevate Your Spark Experience
Now that you've decided which Spark series amp works best for you (or the lucky person you're gifting it to), it's time to pair it up with the ultimate Spark accessory – Spark Control. It allows you to effortlessly (and wirelessly!) switch between presets, fine-tune settings, control music, and more, and it's compatible with every Spark series amp. Besides, a good pedal is something every guitarist needs. Say goodbye to fiddling with controls and knobs when you need to switch tones. Set up your favorite preset, assign them to Spark Control, and you can seamlessly switch them on the fly without ever missing a beat.
With the holidays racing towards us faster than one of Paul Gilbert's legendary solos, let this list guide you in your quest for the perfect gift. So, this holiday season, let's celebrate the joy of giving with the best gift of all: music. And remember to treat yourself; you've earned it.
Looking for more gift ideas? Visit our
Holiday Gift Guide
to snag the best deals of the year.