Hear professor Paul go deep on EVH's moves and play some of the maestro's classic riffs.
Paul Gilbert Knows Every Van Halen Song | Wong Notes Podcast
Paul Gilbert on the Magic of Eddie Van Halen
Cory Wong: I have heard a rumor that you can play basically any Van Halen, like if somebody calls you up and was like, "Paul, we're doing a Van Halen set down at the Forum tonight. We need somebody to play. Here's the set list." You'd just be able to show up, like yeah what time? Like, oh yeah I can't make rehearsal, but no problem, I got it. Is this true? Can you do this? Can you play every Van Halen tune?
Paul Gilbert: As I get older, I forget more and more, but that was my training ground as a kid. Those records would come out and I would just try to learn everything. Now, I should say that the solos I never even attempted, because first of all, I could tell the spirit of it. You go hear Eddie play it, he wouldn't play it the same way. It was more like amazing freak out in B minor, and a couple signature things you want to grab. But overall, it was more just the spirit of it, but the rhythm parts I would try to get. And it was funny, later I would realize, like my fingering got different. But yeah, overall... Well, name one.
Cory: "Ain't Talkin' Bout Love"
[Paul rips through a chorus and solos on it.]
Cory: You tuned it down with a peg, dude.
Paul: Well, I wasn't playing a guitar with a whammy.
Cory: Okay, "Somebody Get Me a Doctor.
Paul: I love that song. I teach that a lot at my online school, so I know that one. Now this is the magic of Eddie because he goes chick-a and then it has this really clean transition to the note. So, it's chick-a note, and there's no blur. Everybody blurs that and it's like. And the same thing in "You Really Got Me." That's the magical part, that. So if you can clean that up, you're golden. And then "Somebody Get Me a Doctor" has got the same thing. Michael Anthony. (singing)... I don't know if I can do the Roth part (singing). That's the solo with the volume part. That's all in there, but It's fading.

Ten of the most intriguing stomp stations from our last year of Rig Rundowns, including Warpaint, Mr. Big, J Mascis, the Fall of Troy, Eric Gales, Silversun Pickups' Nikki Monninger, and Primus' Larry LaLonde.
Dinosaur Jr.'s J Mascis
Dinosaur Jr. frontman J Mascis sported a hefty board way back in our 2012 Rig Rundown shoot, and in our more recent visit with him we found that he continues to rely on a bevy of pedals controlled by a Bob Bradshaw-built Custom Audio Electronics (CAE) switcher. Standout stomps include a combo pedal (bottom right corner-in a new enclosure since our 2012 video) made by Built to Spill's Jim Roth. One side is a clone of a ToneBender MkI, and the other apes a Rangemaster. Mascis also brought along his first Electro-Harmonix "Ram's Head" Big Muff (top right), an EHX Electric Mistress, an MC-FX clone of a Univox Super-Fuzz, a CAE Twin Tremolo (upper left), and a ZVEX Double Rock (two Box of Rocks in one, bottom left). Other differences between our latest and the previous Rig Rundown include a newer Tube Works Real Tube Overdrive, a Moog MF Delay, an Ibanez Analog Delay Mini, and a Boss TU-3S Tuner. An MXR/CAE MC403 Power System and an MXR M238 Iso-Brick supply the juice.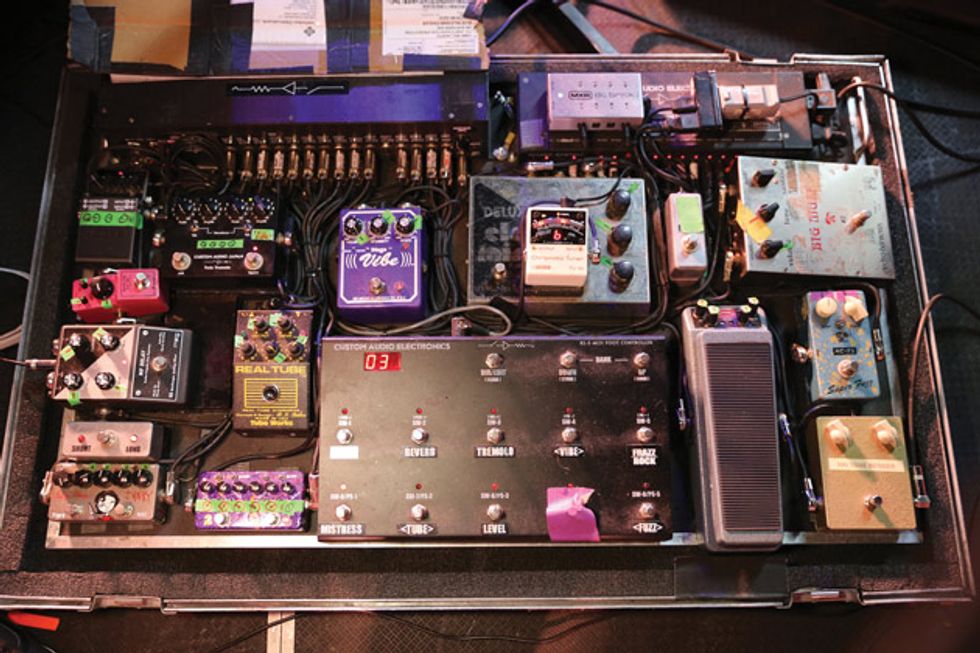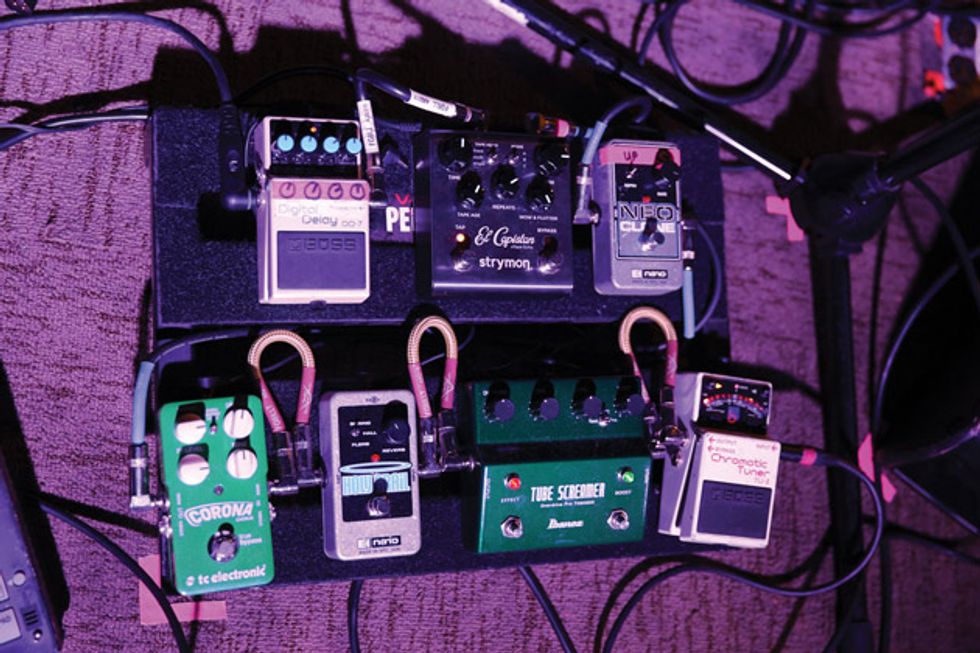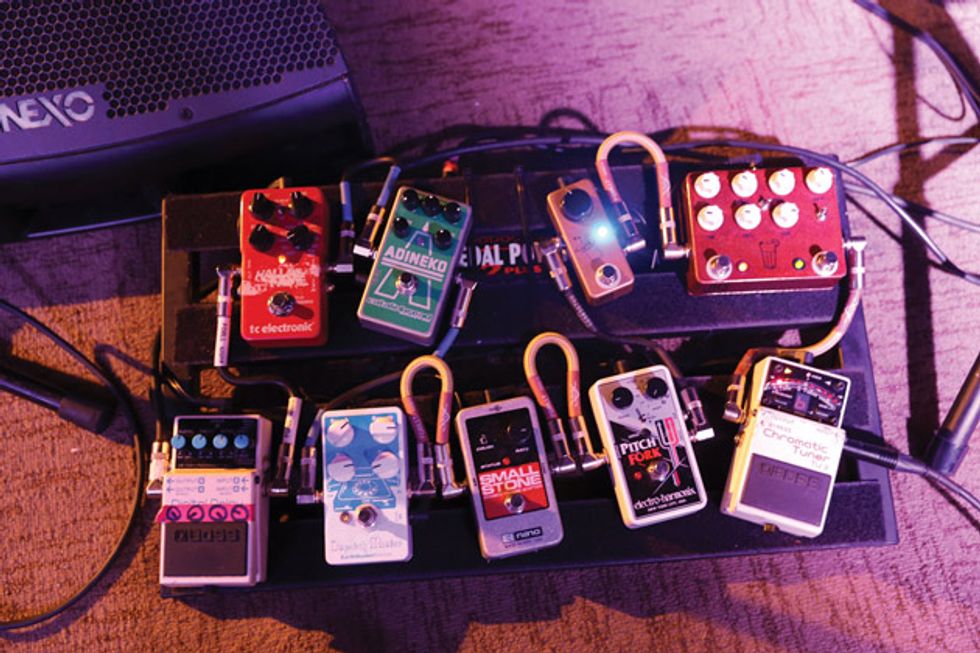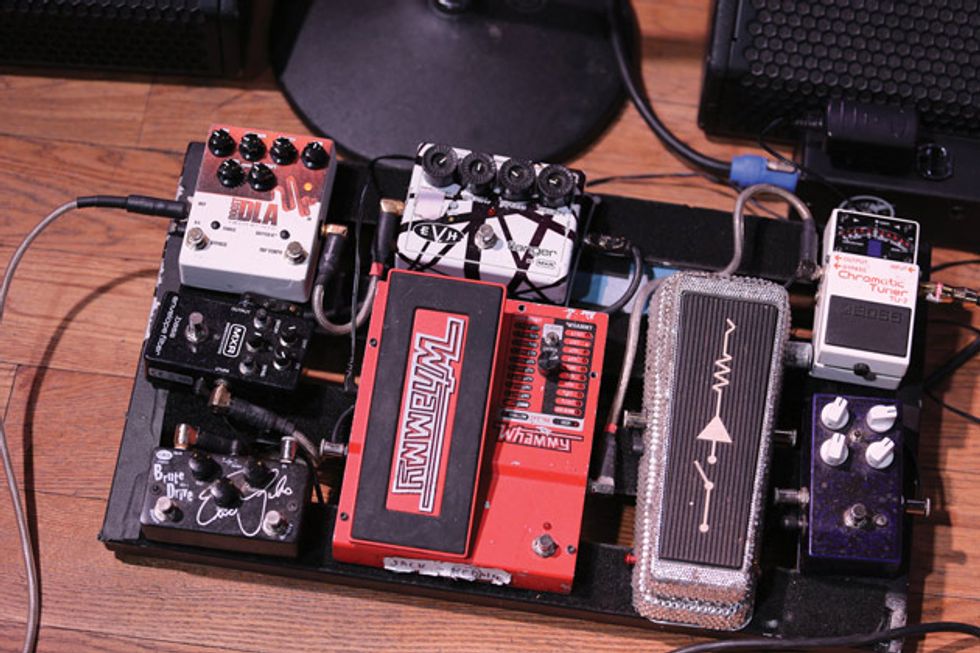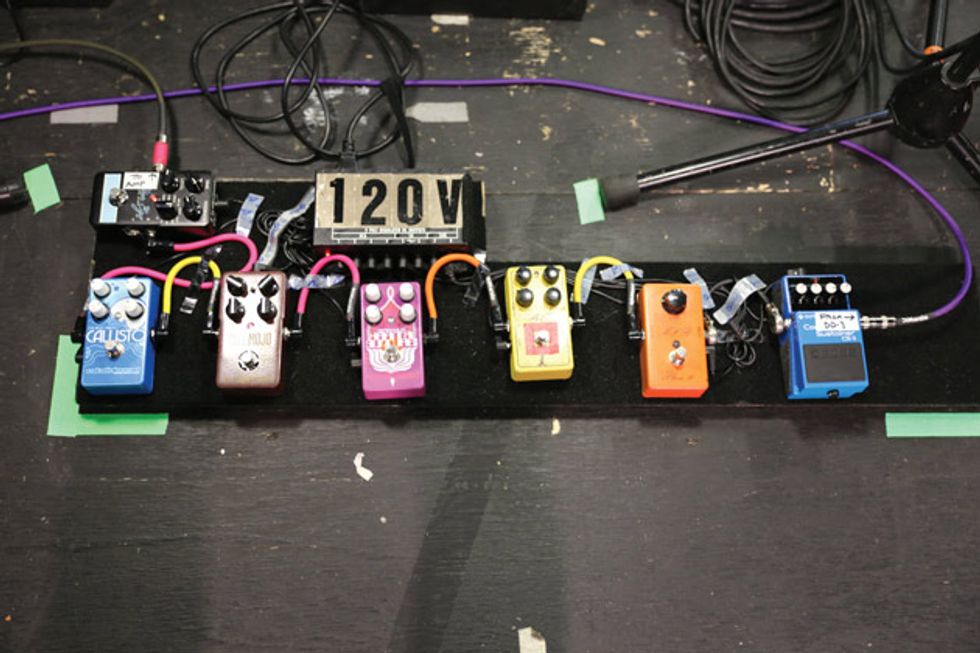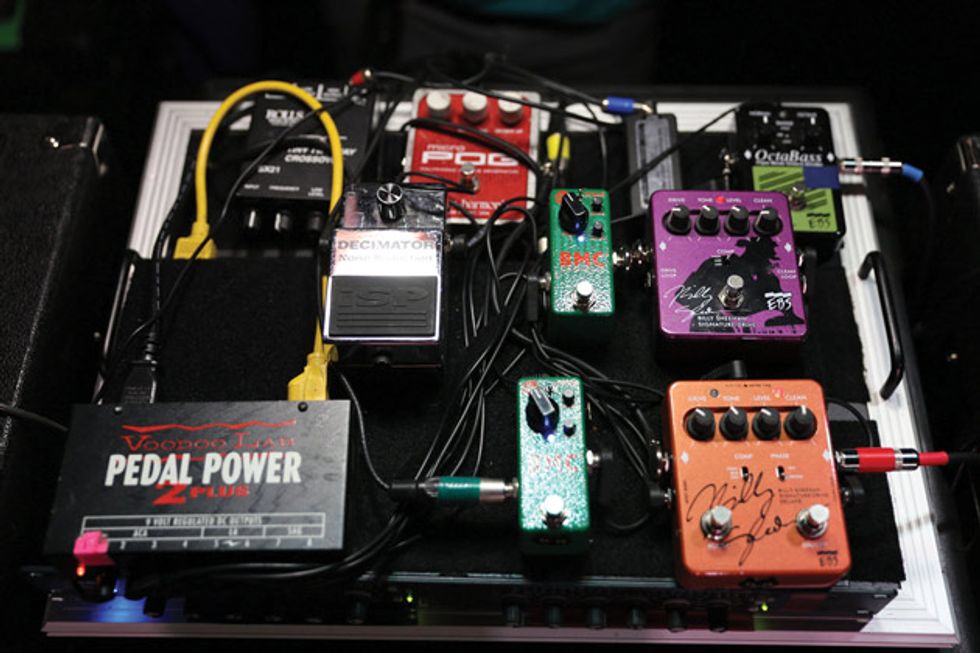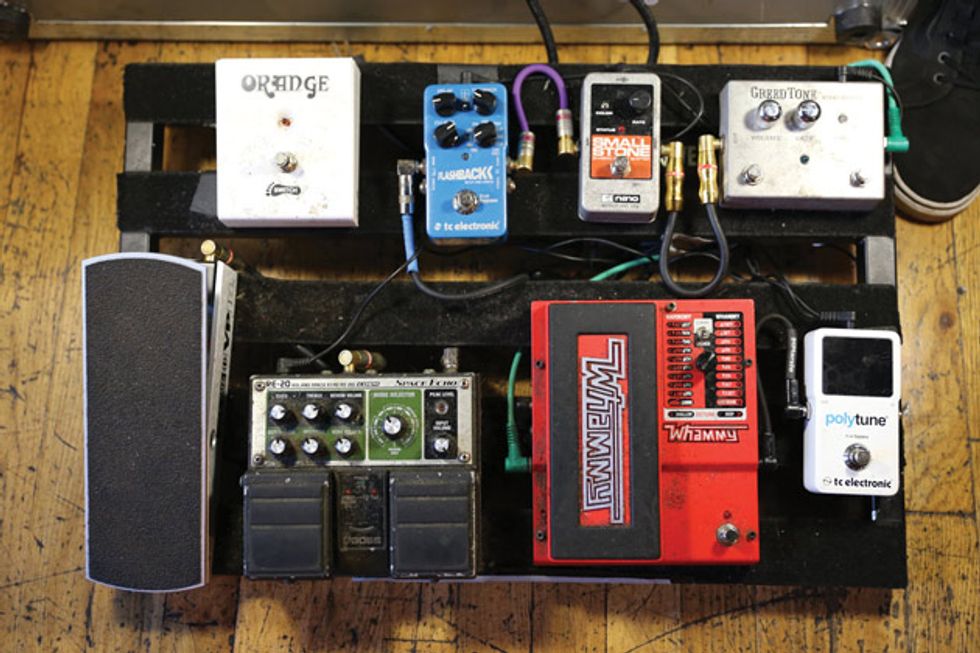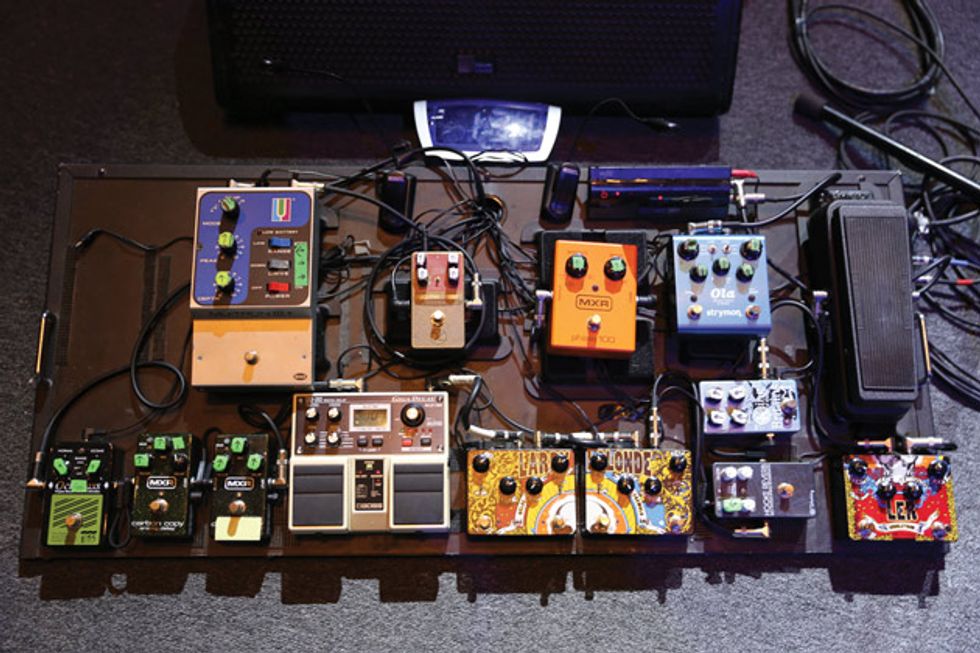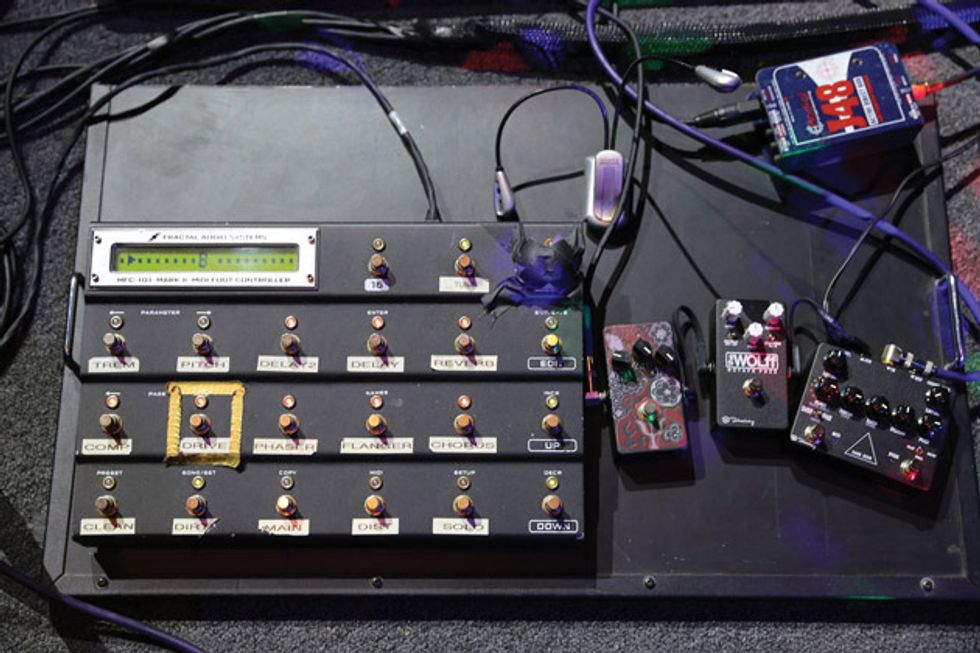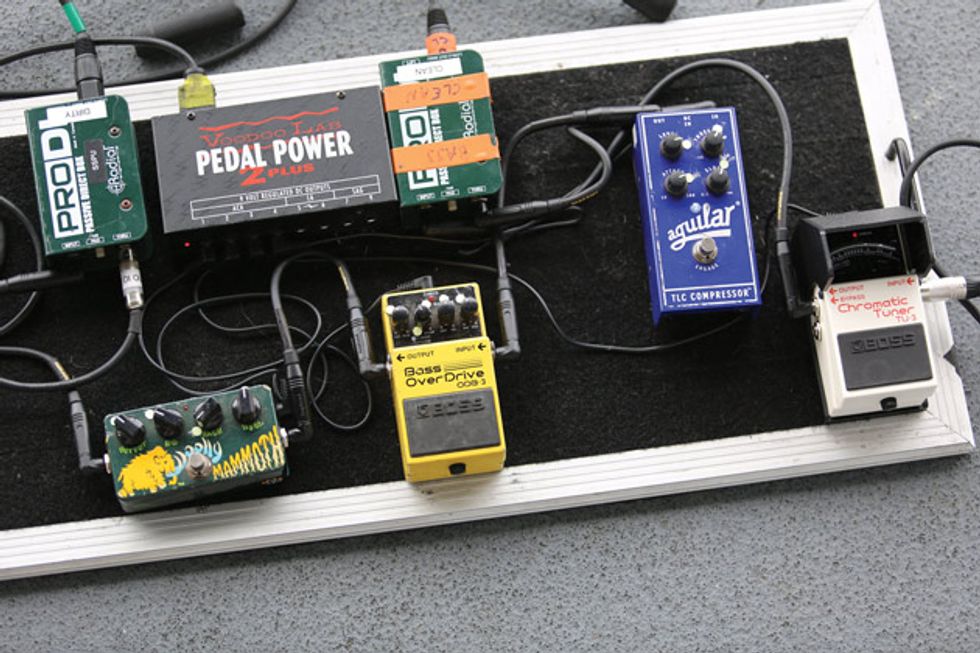 You watched, we listened! Here are the most popular episodes of the year.
11. Warpaint
PG's John Bohlinger caught Warpaint's Emily Kokal and Theresa Wayman during a seemingly never-ending tour. The childhood pals walked us through their funky, vintage, and sometimes homemade gear before their gig at Nashville's 3rd and Lindsley.