Photo by Jen Rosenstein
After his longest touring break in 20 years, the Black Label Society mastermind talks about the evolution of Doom Crew Inc.—the band's first-ever studio album to feature a second guitarist.
There aren't many characters like Zakk Wylde left in the guitar-scape these days. The man has been a fixture—not to mention one of the biggest personalities—within guitar culture since emerging as one of the most respected players of the impossibly athletic late-'80s scene. Wylde's accolades, exploits, and influence span decades now, so chances are if you're reading a guitar magazine, the animated, self-styled "Viking" from New Jersey needs no introduction. However, for the uninitiated, Wylde rode the crazy train from virtual obscurity to practical ubiquity on the distinction of being the longest-serving guitarist (and frequent songwriting partner) for legendary metal vocalist Ozzy Osbourne—whom Wylde still reverently refers to as "the Boss."
The story of Wylde's ascension to Ozzy's court is the stuff of rock 'n' roll fantasy: At just 19, Wylde delivered an unsolicited, homemade demo tape, and soon he went from playing the club stages of the local rock circuit to arenas around the globe. It was the gig of a lifetime pulled from a high-school daydream for Wylde, whose own guitar lodestar has always been the late Randy Rhoads—the shred icon who shaped the sound of Osbourne's first two solo records after leaving Black Sabbath. But while Wylde's playing features no small share of Rhoads-isms, his unique mélange of swinging riffs, pentatonic flash, signature pinch-harmonic squeals, and a vibrato as wide as the bell bottom jeans he once favored went on to define the sound of the latter half of Osbourne's career—particularly on touchstone albums like 1988's No Rest for the Wicked and 1991's No More Tears.
Black Label Society - Set You Free (Official Music Video)
As a fully-fledged singer-songwriter in his own right, Wylde has used his band Black Label Society as the primary outlet for his many talents (including some decidedly delicate piano chops) since 1998. The quartet has gone through a few lineup changes over the years, but the latest iteration—Wylde, longtime bassist John DeServio, rhythm guitarist Dario Lorina, and drummer Jeff Fabb—has been together going on eight years now. The band recently released its 11th studio album, Doom Crew Inc., and returned to the road after laying low and waiting out the worst of the pandemic.
"I enjoyed the time home because I'm never home," Wylde tells PG over the phone from the confines of the BLS tour bus. "This was the longest I've been home in 20 years, and to be home for 18 months and wake up in my bed and be able to hang out with the family and the dogs in the morning and have coffee—without a doubt I enjoyed it." But he's quick to point out he spent time keeping his chops up at home, too, particularly by breaking out treasured Ted Greene books, like Modern Chord Progressions: Jazz & Classical Voicings for Guitar.
"The coolest thing about music—or anything, really—is the passing of the knowledge and the passing of the gift."
Hitting the Riff Gym … and Iommi's "Estate Sale"
But, even while biding pandemic time, hanging with family, and woodshedding, Wylde kept things brewing for Black Label Society. The group released the None More Black box set in April of 2021, and then, as the perpetually pumped Wylde explains, things shifted into an entirely different gear when the idea of a new album emerged.
"When it came time to make the next record, I asked my wife [and BLS manager], Barbaranne, when the guys were coming out to the Black Vatican [Wylde's home studio], and she said, 'In a month.' I was like, 'All right, I've got a month to write a record.' It's like if you're getting ready for a bodybuilding show—you've got 12 weeks to get dialed-in and start watching your diet and get as ripped as you can. I knew I had a month, so every day I would go out there with my practice amp, with the reverb set up so it sounds like I'm at Madison Square Garden, and start writing riffs."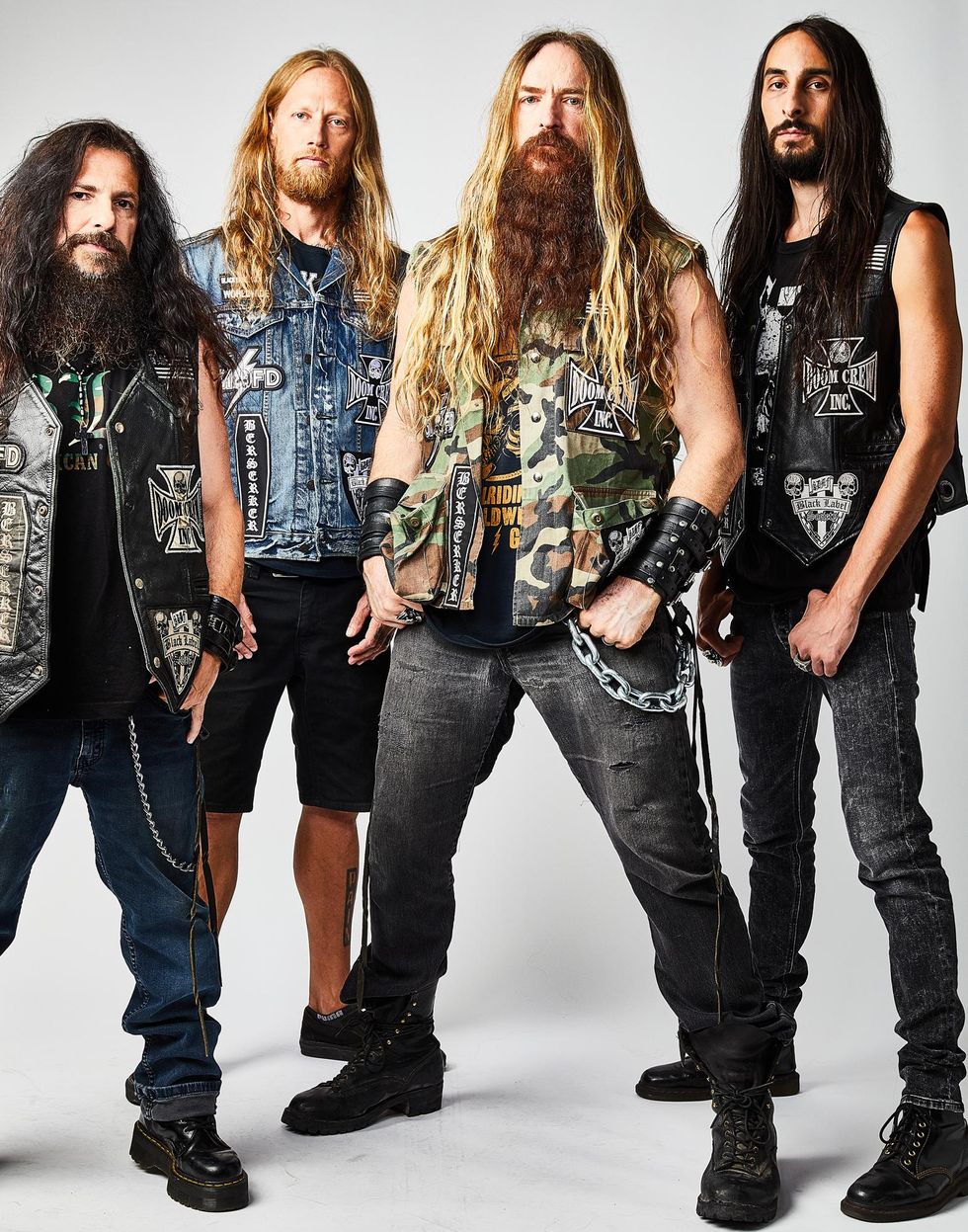 Black Label Society (left to right): John DeServio, Jeff Fabb, Zakk Wylde, and Dario Lorina.
Photo by Jen Rosenstein
And, indeed, Doom Crew Inc. finds Wylde and his BLS cohorts in competition form. "Every time I make a record, it feels like the first time, because you don't know what you're going to get at the end," Wylde says. "I still have a blast doing it because of that." Built on a foundation of chugging, churning, swinging riffs like those that have been the band's bedrock since day one, Doom Crew showcases Wylde's uncanny ability to draw fresh water from the well of inspiration that is Black Sabbath's first four records. Asked what it is about those LPs that keeps him so inspired after all these years, Wylde emits a barbarian laugh. "Tony Iommi is at the top of my list of influences—just as a songwriter! I laugh because, whether it's 'Gospel of Lies' or 'Destroy & Conquer,' it's like, 'Yeah, I got that riff at the Tony Iommi swap meet … behind a toaster at the Lord Iommi garage sale!'" Of course, ultimately, it's Wylde's personality as a songwriter and his touch as a player that define the songs. Sabbath's influence will always be a major ingredient in Black Label Society's sonic stew, but it's never going to be seasoned quite the same way twice.
Black Label Society's "Set You Free" Riff Rundown
While the songwriting on Doom Crew Inc. is classic Wylde fare, it's the first BLS record to feature a second guitarist. Wylde and longtime road sparring partner Lorina go toe-to-toe on several of the album's incendiary solo sections, trading licks and, at long last, bringing the counterpoint drama of the band's live shows to a studio album.
TIDBIT: Doom Crew Inc. is the first Black Label Society album to feature a second guitarist alongside Zakk Wylde.
"It was a natural evolution," Wylde explains. "On the older songs, like 'Stillborn' or 'Suicide Messiah,' we'd double certain parts together live, so I decided to add Dario in and have more fun at the party! We always extend the solo in 'Fire It Up' live, and that's become the big guitar solo of the night—we go back and forth like dueling banjos and it's always a good time. When we were doing this album, I was just like 'I'm going to extend the solos and we'll trade off here and here, and at the end we'll come in together and both play this line.'"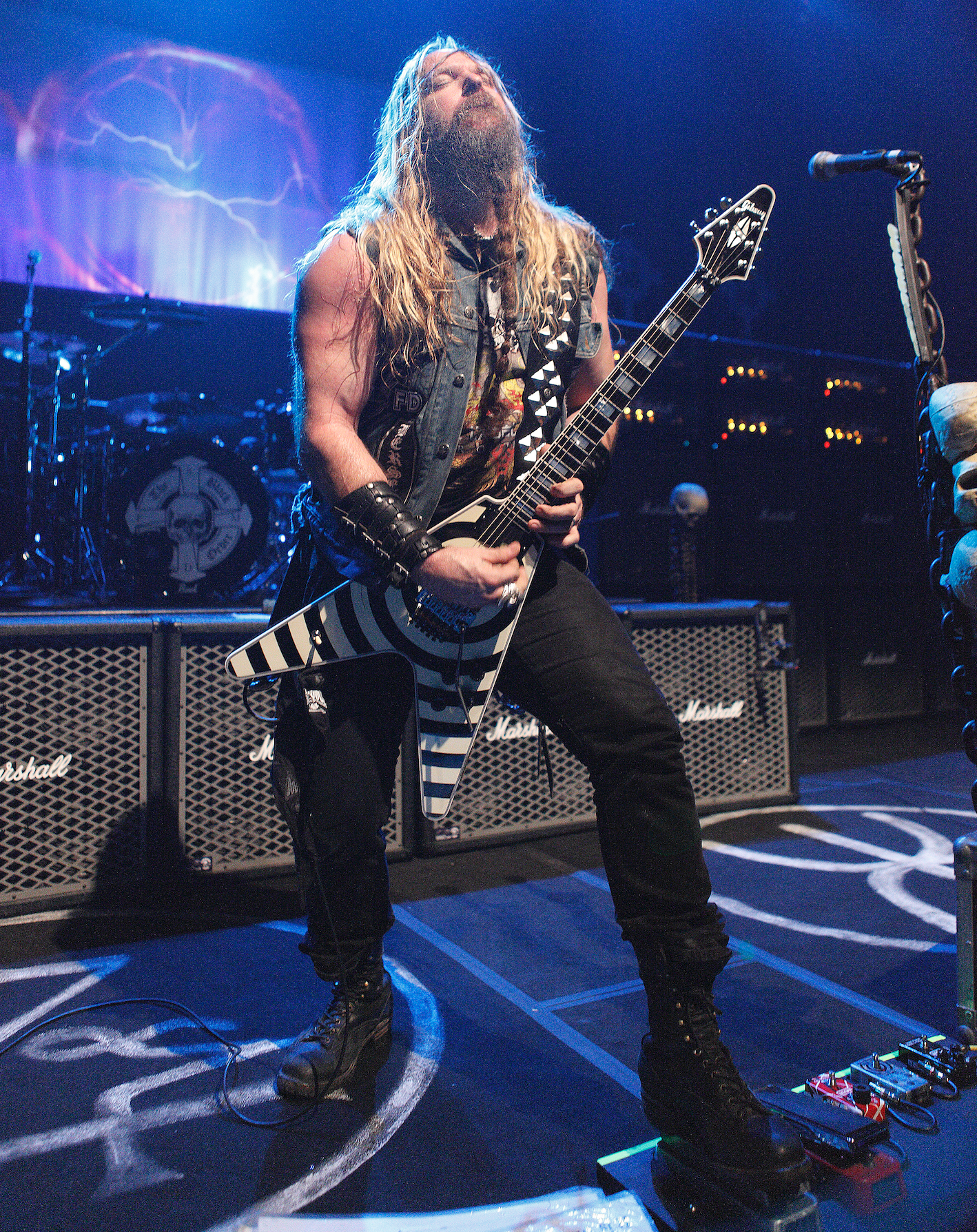 Wylde tremolo-picks the upper registers on a rare Floyd Rose-equipped Gibson V circa 2010.
Photo by Ken Settle
Wild About Audio Circa-1988
As many guitarists are no doubt aware, over the years Wylde hasn't been shy about collaborating with manufacturers on signature gear. At one point he had approximately 15 namesake guitars between the Gibson and Epiphone brands. However, Wylde's relationship with Gibson ended years ago, and the iconic 1981 "bull's-eye" Les Paul Custom he relied on for so much of his career (he calls it "Grail") has been retired. What's more, Wylde says every guitar and amp used on Doom Crew Inc. was made by his very own Wylde Audio brand, which is distributed by Schecter Guitar Research.
"Tony Iommi is at the top of my list of influences … it's like, 'Yeah, I got that riff at the Tony Iommi swap meet … behind a toaster at the Lord Iommi garage sale!'"
Asked whether he still participates in the time-honored pursuit of tone hunting, the BLS frontman says he essentially found what he was after in 1988. "I have a whole bunch of old amps at the [Black] Vatican—old Supros and stuff I've collected over the years that I may want to use for a certain color. But really, I have my Wylde Audio Master 100 [which is based on a Marshall JCM800 circuit] set up with the head and the 4x12 cab already dialed in and miked up. So I'm not a tone chaser in that regard. I'm basically using the same amp head and cabinet setup that I used for 'Miracle Man' on Ozzy's No Rest for the Wicked—EMGs, a Marshall, the whole nine yards! Why would I want to change it? It already sounds slammin' and it's everything I need!"
Zakk Wylde's Gear
Onstage in 2013, Zakk Wylde works the volume knob on one of his now-discontinued Gibsons, a signature ZV model.
Photo by Ken Settle
Guitars
Various Wylde Audio signature models
Strings & Picks

Wylde Audio .010–.056 sets "for rock jams"
Wylde Audio .010–.046 sets "for A440 piano stuff"
Dunlop Ultex heavy picks
Amps
Wylde Audio Master 100 head and 4x12 cab
Effects
Dunlop Zakk Wylde Signature Wah
Despite his storied reliance on Grail, Wylde doesn't favor a specific guitar from the many models whose headstock bears his surname. "The crazy thing is, I'll play three to five different guitars a night on tour, and with the VIP package we do, we give those guitars away at the end of the show. So I could hand you any one of those guitars and you could make a record with any one of them. The consistency of the Wylde Audio guitars is that good. They all have a mahogany body, maple neck, and ebony fretboard, and they all use the same EMG [81 and 85] pickups. You know when you pick up an electric guitar and play an open G chord, and you can already tell, unplugged, how it resonates and whether it's a good instrument or not? These all do that thing for me. So there wasn't just one on the record."
Rig Rundown - Zakk Wylde
Always Giving Props
Longtime fans (or anyone who follows Wylde's Instagram antics) can attest that, despite his success, Wylde remains both an impassioned student of guitar and an outspoken fan of his heroes. His adoration for Randy Rhoads and Tony Iommi is well documented, but he also lost a hero with the passing of Edward Van Halen in late 2020. "When I first joined Ozzy, I was 19 years old going, 'Okay, how do I sound like Zakk Wylde? You don't want to be compared to King Edward, so don't tap and don't use a whammy bar….' So, I just crossed a bunch of things off the list. I went out of my way not to sound like Eddie Van Halen, because everyone was trying so hard to be like him—yet it was still Eddie's influence changing my playing style! The coolest thing about music—or anything, really—is the passing of the knowledge and the passing of the gift. What Eddie did was the same thing that Michael Jordan did in inspiring everyone else in the league to be better. When Ed came out, we all had to try that much harder. At the end of the day, that's the best thing music does."
Workshops by Yngwie Malmsteen, Zakk Wylde, Marty Friedman, Alex Skolnick, and more.
New York, NY (October 21, 2015) -- With a little over 4 months until the inauguaral voyage of the highly anticipated Axes & Anchors Music Cruise, the lineup continues to grow with the recent addition of Act of Defiance. Act of Defiance is comprised of Henry Derek (formerly of Scar The Martyr) on vocals, Chris Broderick (formerly of Megadeth) on guitar, Matt Bachand (formerly of Shadows Fall) on bass and Shawn Drover (formerly of Megadeth) on drums. Act of Defiance is joining the growing list of performances and clinics presented byheadliner Breaking Benjamin, Zakk Wylde, Yngwie Malmsteen, Michael Schenker, Motionless In White, Flyleaf, Thousand Foot Krutch, Alex Skolnick, Marty Friedman, Tony MacAlpine, Adelitas Way, Demon Hunter, Randy Rhoads Remembered, Tracii Guns, Rudy Sarzo, Gilby Clarke, Mike Orlando and A Beautiful Disaster, Dario Lorina, Aranda, Black Knight's Castle featuring Joe Stump, Johnny Monaco, Pamela Moore, Falling Through April, Gabriel Ayala and Headstrum. The five days and four nights cruise to Key West and Nassau, Bahamas leaves from Miami on February 20th and will take place on the Carnival Victory.
Act of Defiance recently released their debut Birth And The Burial to critical and consumer acclaim and the talent in the band is undeniable. The band will be performing two complete sets of material from their debut. Guitarist Chris Broderick and drummer Shawn Drover are masters of their instruments having played in various notable bands throughout their careers before forming Act Of Defiance together. The pair will each be giving clinics on their respective instruments with Chris teaching creative ways to overlay harmony and tonality in soloing and Shawn talking about double bass drum endurance and consistency, as well as using left-handed techniques on a right-handed drum set. Both will be taking audience questions.
"It is such an honor for Act Of Defiance to play the Axes and Anchors cruise. I count myself privileged to be among so many talented guitarists and bands. Not only will we get to perform for the audience on two separate occasions but both Shawn and I will be doing clinics as well. It will be a killer time breaking down the solo's on our new CD Birth and the Burial focusing on harmony, composition and technique. I know that people will take a wealth of knowledge not only from the clinics but from the interaction and whole experience that the Axes and Anchors cruise offers.This to me is the perfect environment for music workshops because one really gets to hang out with and get to know their fans and the fans of the other musicians in a relaxing and exciting setting. I can't wait and I look forward to seeing all of you there," explains guitarist Chris Broderick.
"For several reasons, I am really excited that Act Of Defiance are performing on the Axes & Anchors cruise, one of which is this is my first cruise I have ever taken!" exclaims drummer Shawn Drover. "Aside from that, sharing the stage with so many of my friends I have met along the way as well as seeing some amazing guitar players live for the first time, is certainly something I am very much looking forward to! All in all, Axes & Anchors promises to be a unique and amazing experience on many levels and I am thrilled that Act of Defiance is a part of this!"
Further adding to the education factor of Axes & Anchors is the addition of Berklee graduate and Guitar World columnist "Metal Mike" Chlasciak. "Metal Mike" is known for his monthly column Metal For Life. He will be doing three on-board clinics including Randy Rhoads Modes Explained for Real; A Lesson in Power; and The Best of Metal for Life Column. Mike will also field questions from the audience during his workshops.
The cruise guarantees fans plenty of opportunities for meeting and hanging with their favorite bands on board, including free workshops on topics ranging from guitar and vocals, to concert photography, to stage clothing construction. Passengers are encouraged to bring their guitars on board for workshops and jam sessions.
All reservations include 4-nights lodging and taxes, all meals, all concerts, all open workshops, a professional photo opportunity with every artist, and more. Current promotions include a $150 per person rebate by paying in full.
For more information:
Axes & Anchors
In his debut blog, Zakk Wylde takes us back to 1987 and talks about how the scales he learned as a teenager tie into the first song he ever wrote with Ozzy.
Hello there, my brethren and sisters o' doom! Big Black Label thanks to the gang at PG for allowing me to talk about what we all breathe and bleed for—the love of guitar!
Since this is our first gathering, I figured I'd start off talking about the first riff/song I wrote with Ozzy Osbourne some 27 years ago. "Miracle Man" will always hold a special place in my heart, being that it was the first thing I wrote with The Boss. It was 1987, and Ozzy and I had just begun writing No Rest for the Wicked in Brighton, England. We were jamming in a horse stall that had been converted into a living space/rehearsal studio. There was a cozy little pub with a beer garden within walking distance, and the routine basically consisted of jamming riffs all day, then going to the pub and sitting in with the house band. Nothing but good times, indeed!
When people ask me how I came up with the guitar parts, I tell them I used St. Hendrix's "Foxy Lady" fingering. I was messing around with that, then I sped it up a bit, added some 16th-notes and some Marshall chunk, and next thing you know it's "Miracle Man." But while you can find note-for-note performances of the rhythm and solo on YouTube, a lot of players don't understand the method behind the madness.
When I was 14 and decided I was going to dedicate my life to the guitar, I was blessed with having an amazing guitar teacher named Leroy Wright. He taught me songs by my favorite bands to keep it fun, but he also taught me scales, chord inversions, and the theory behind why it all worked. See, it's awesome to learn your favorite players' solos—like Pope Page's "Stairway to Heaven" solo, or St. Rhoads' "Mr. Crowley" solo—but do you know how those solos were created?
Scales, scales, and more scales.
When Leroy explained scales to me, it was like seeing an amazing card trick from one of your friends, and then having it broken down and explained. Mystery revealed! That's the power of scales.
When I learned the blues lick in "Back in Black," that was a major breakthrough for me—that, technically, I could actually play it. But having Leroy show me why it worked was just as huge. Like having a car engine with parts scattered everywhere, then being shown how this part connects to this part and so on. Each part serves a purpose.
So when an aspiring guitarist asks me for advice, I tell them to learn their fretboard. In other words, learn how a basic scale that you might play in one spot on the neck maps out across the entire fretboard. When you do that, it opens up endless possibilities for different fingering patterns and note combinations—because even though they're the same notes, they have a different character and vibe on different parts of the neck.
For instance, I built the "Miracle Man" solo around the F# natural minor scale (aka F# Aeolian, F#-G#-A-B-C#-D-E), which starts on the 2nd fret of the 6th string (Ex. 1). See all those red dots? Those are all the F# notes in the scale—they're kind of like the home base for the solo.
Next, take a look at the diagram of the entire guitar fretboard in Ex. 2. Even though this looks complicated, these are exactly thesame notes as Ex.1. Don't believe me? Check it out: If you start playing the notes in Ex. 2 on the 2nd fret of the 6th string, but play four notes on that string instead of just the three shown in Ex. 1, you'll see that the note on the 7th fret of the 6th string sounds just like the one at the 2nd fret on the 5th string. Experiment some more, and you'll hear how all the other notes in Ex. 1 map out just like Ex. 2 shows—only they branch off into higher octaves as you go up the neck.
And it's a repeating pattern, too. See how the same basic pattern from Ex.1 starts all over again once you get up to the F# octave at the 14th fret on the 6th string? Memorize the pattern from Ex. 2, because you're going to be using it for the rest of your guitar-playing life.
Okay, now let's see how this figures into the first part of the "Miracle Man" solo. We're not going to tackle the entire solo note-for-note, because the main point here is to learn the larger lesson of how scales map out across the whole neck to give you a blank canvas of soloing possibilities.
It's awesome to learn your favorite players' solos—like Pope Page's "Stairway to Heaven" solo, or St. Rhoads' "Mr. Crowley" solo—but do you know how those solos were created?

This is important: When I recorded the song, I was tuned down a half-step, so if you're referencing the original track, you'll want to retune to Eb standard.
The solo begins with what I call "the triplet" section, because each one has a repeating three-note pattern—only these patterns are played in the part of the F# Aeolian scale that's up at the 9th fret and beyond.
As you'll see in Ex. 3,each measure has a different three-note lick that's played eight times: twice per beat in each 4/4 measure. This makes them sextuplets. Whoa, gotta love the sound of that! Check out the tab to see where the notes are located on the fretboard.
The patterns start with a note on the 2nd string, followed by two notes played on the 1st string. Start slowly and be patient. As you keep working on picking these patterns cleanly and with a steady, even rhythm, you'll be able to work up to the speed on the recording.
The next section of the solo (Ex. 4) will take even more patience and slow practice, because it features two quickly picked four-note patterns inspired by fusion guitar great John McLaughlin. These patterns alternate: The first four-note pattern falls on beats one and three, while the second pattern falls on beats two and four.

Next, the solo repeat the licks from Examples 3 and 4, but you get a bit of a break after that: Instead of repeating the fast, four-note licks from Ex. 4, you only have to play a bend on each beat of the measure. But listen closely—this measure has six beats instead of the usual four.
The second half of the "Miracle Man" solo changes keys to C# Aeolian (C#-D#-E-F#-G#-A-B). This might sound confusing, but it actually illustrates what I was talking about when I said my teacher Leroy opened my eyes to the mystery of writing songs, riffs, and licks. We're not going to dissect this part of the solo, but if you start playing the fretboard map from Ex. 2 along with the recording—only starting up at the 6th string's 9th fret instead of the 2nd fret—you'll hear that it fits in with what I'm playing in the last half of the solo. And if you mess around long enough, you'll probably figure out some of the licks I'm playing! Just remember to tune down a half-step before you try to decode these licks.
Before I go, let's talk real quick about the final step in unlocking your whole fretboard and learning how to solo like your heroes: The fancy scale names you hear guitarists talking about in lessons or interviews—stuff like the Mixolydian or Dorian modes—are actually right there inside the pattern in Ex. 2. The different names simply refer to where you start within that fretboard map. Each of these seven different starting points (or "modes") can give a song a unique feel when you build your chord schemes around these note combinations. [Ed. note: For more details on this, check out "Visualizing the Modes" by Herman Li at premierguitar.com/lessons.]


Stay strong/bleed guitar.
—Zakk