Get the facts on guitar amps with answers to ten FAQs from the experts at Premier Guitar.
What is a guitar amplifier?
An amplifier is to your electric guitar as a blast of electricity was to Frankenstein's monster: it gives it life. In simple and traditional terms, it receives the signal created by your electric guitar's pickups, processes and boosts that signal, and amplifies it through one or multiple speakers.
What's the difference between an amp head and a combo amplifier?
An amp basically involves two sections. The first comprises a chassis, control panel, and circuit that process the signal, while the second comprises a speaker section which is connected to the circuit. Sometimes they're both housed together in one box called a combo amp. Sometimes the first part is housed on its own, and can be connected to a separate speaker cabinet. That is an amp head.
What types of amps are there?
There are four main types of amps: tube (or valve, as the Brits call 'em), solid-state, hybrid (both tube and solid-state), and modeling.
What's the most popular type of amp?
The tube amp. From the 1950s onward, tube amplifiers have dominated stages around the world, but solid-state amplifiers emerged in the 1960s as an alternative to the perceived unreliability of tube circuits. These days, loads of touring and studio guitarists are opting for modeling amps and even amp pedals.
What's a tube amp?
Tube amplifiers are named after the glass vacuum tubes that form a key part of the amp's circuitry. The signal is usually passed through two sections of tubes—preamp and power amp—which impart different characteristics to the resulting sound depending on how an amp's controls are set. A lot of players describe the tube sound with words like warmth, sag, punch, and chewiness. You can check out our in-depth guide on tube amps for more info.
What's a modeling or digital amp?
These are entirely digital modules that mimic or 'model' the function of amplifiers. They can be paired with real speaker cabinets, or with digital impulse response (IR) programs, which in turn mimic what a speaker cabinet does in various rooms. Given their size and ease of use, more touring guitarists are choosing them
What are 1x12s, 2x12s, and 4x12s?
These are shorthand terms for speaker cabinets that hook up to an amplifier. The 12 refers to the size of the speaker cone: 12 inches. The preceding number refers to the number of speakers in the cabinet. A 1x12 has one 12-inch speaker, a 2x12 has two 12-inch speakers, and so on. These are also sometimes designated as 112, 212, and 412 by manufacturers.
What type of amp is best?
You're not gonna like this answer, but it's the one that's right for you. Whatever sounds best to your ears is the best amplifier for you. Don't worry what the forum overlords and trendsetters are doing. They're not listening to your playing, you are, so your own satisfaction comes first. Consider various factors: How often will you play through the amp? How loud or quiet do you need it to go? How big or small do you want it to be? What style of music are you playing? What's your budget? Add 'em up, do your research, and pick what fits your style.
It may be the understatement of the century, but this year was weird. Even so, the killer gear kept coming. Here are the goods that stood out as extra-great amongst our annual haul of Premier Guitar reviews.
MXR
Clone Looper

With a two-button system for recording and playback, the Clone Looper simplifies many looping maneuvers by eliminating some double-click and hold sequences. But with awesome and trippy features like adjustable playback speed and reverse playback, you can easily take the Clone Looper's simpler looping processes to particularly psychedelic ends.

$149 street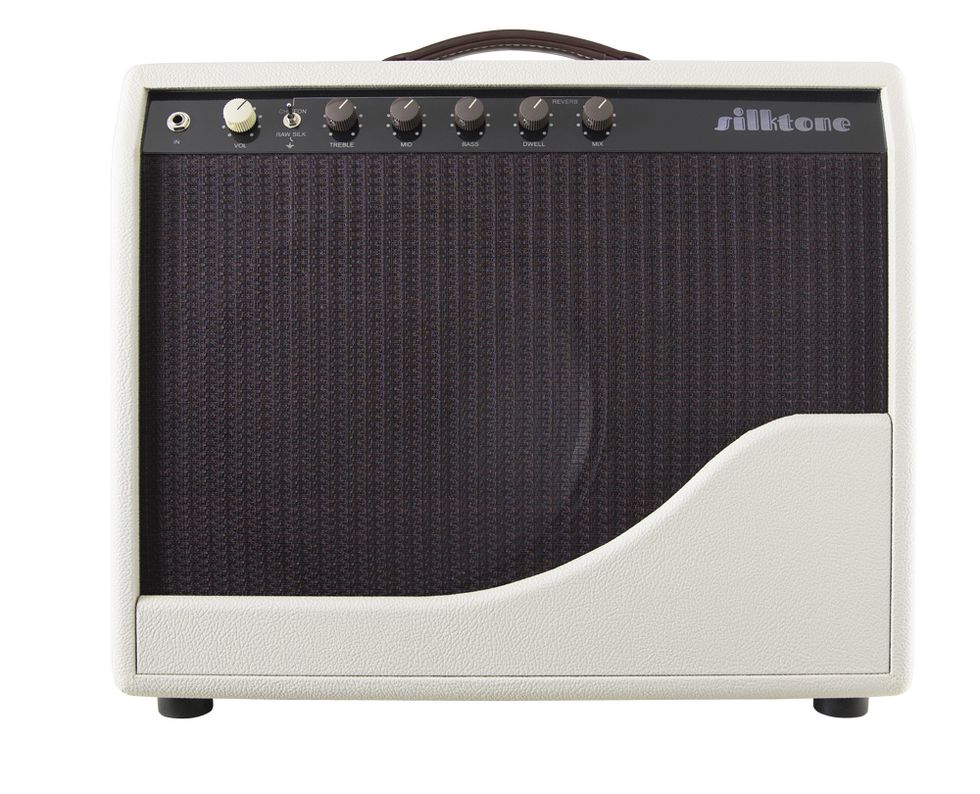 Silktone
Silktone Amp

This handwired 1x12 combo employs a KT66 power tube for its class-A circuitry, resulting in glassy cleans reminiscent of a tweed Champ, and fat and pleasantly compressed high-gain tones without sacrificing shine. Joe Gore was also impressed with its aesthetic and workmanship, as well as Silktone's spring reverb. "It's got the feel of a vintage Fender tank, but with uncommon wetness and depth."

$2,199 street, as reviewed with ceramic speaker (alnico speaker $200 extra)

Fender
Vintera Telecaster '50s

Just about any Telecaster flirts with perfection in form. But Fender did not rest on their laurels in re-interpreting the '50s-styled variation in the new, affordable Vintera series. The neck is lovely, with a hefty deep-U shape, and the alnico 2 bridge pickup delivers the essence of bright, spanky, and rowdy Tele-ness, while maintaining a warm glow around the edges that is a beautiful match for a touch of vintage-style reverb.

$899 street


Fender
Vintera Telecaster '70s

Keith Richards, who could have any freaking Telecaster in the world if he wanted it, has used the Telecaster Custom he bought new in 1975 regularly ever since. When you play the Vintera version, it's easy to understand why. Fender's Tim Shaw worked hard to build a more authentic WideRange humbucker for this instrument, and the work paid off—creating an expansive palette of spanky-to-smoky tones when paired with the alnico 5 bridge single-coil.

$899 street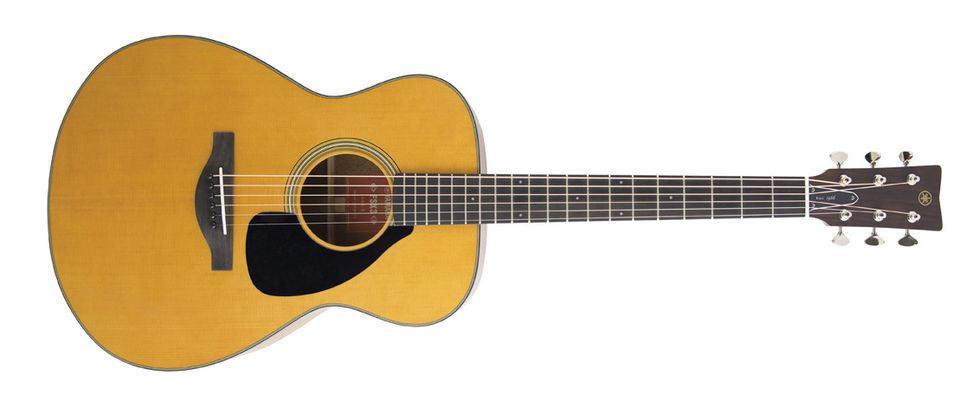 Yamaha
Red Label FSX3

Adam Perlmutter found that the OM-sized FSX3, which honors Yamaha's much-loved red-label guitars of the '70s, feels better-built than the company's original FG guitars, which is no small compliment. Perlmutter shared that the FSX3, boasting all-solid-wood construction, "feels great, exhibits real versatility, and is free of the old-guitar baggage that comes with vintage examples."

$999 street

TC Electronic
Hall of Fame 2x4

A maximalist expansion of TC's popular Hall of Fame 2 pedal, this reverb machine boasts 10 factory settings, six user memory slots, and eight stored patches, accessible via its four hefty footswitches. "Everything about the Hall of Fame 2 x4 Reverb is exceptional," is the word from reviewer Joe Gore, who welcomed its rich and varied reverbs, as well as the pedal's delightfully simple interface.

$299 street

Origin Effects
RevivalDRIVE

Origin's luxurious stomps feel like outboard studio gear from analog audio's golden age. The RevivalDRIVE, however, has so much tone-sculpting power that it actually tends to function and sound like an old recording console module, too. The EQ is powerful, sensitive, and responsive, and the low-end tones are especially delectable. If you need an overdrive that can fill a very specific mix niche, this tool is worth every penny.

$385 street

Jackson Audio
Bloom

This ultra-versatile multi-effects pedal captivated PG with its ability to control, shape, and expand natural playing dynamics through its five different types of compression, a 3-band Baxandall-inspired EQ, and a 20 dB clean boost. Boasting super-sensitive knobs with finely tailored sweeps, the folks at Jackson Audio topped off the Bloom with MIDI control over all parameters via its TRS input.

$329 street

Electro-Harmonix
Ram's Head Big Muff

Given what a vintage Ram's Head Big Muff costs these days, this new version's $99 price tag alone is cause for celebration. But the tab is extra-impressive when you hear how well EHX nailed a vintage Ram's Head's legendary essence. It's growling, bold in the midrange, and stings like a wasp when you run the gain and tone wide open. If you don't have the bucks for a vintage pedal or a high-end Ram's Head clone, this remarkably economical iteration is a must for rounding out your Big Muff collection.

$99 street

Blackstar
Silverline Standard

This 20-watt, 1x10 combo from the folks at Blackstar got high marks for its retro style, user-friendly, ergonomic control panel, and all points in between. Joe Gore was wowed by the Standard's attractive amp and effects emulations—especially given its modest price tag—and shared that Blackstar's compact 30-pound combo would make for a convenient gig companion or great living room amp.

$429 street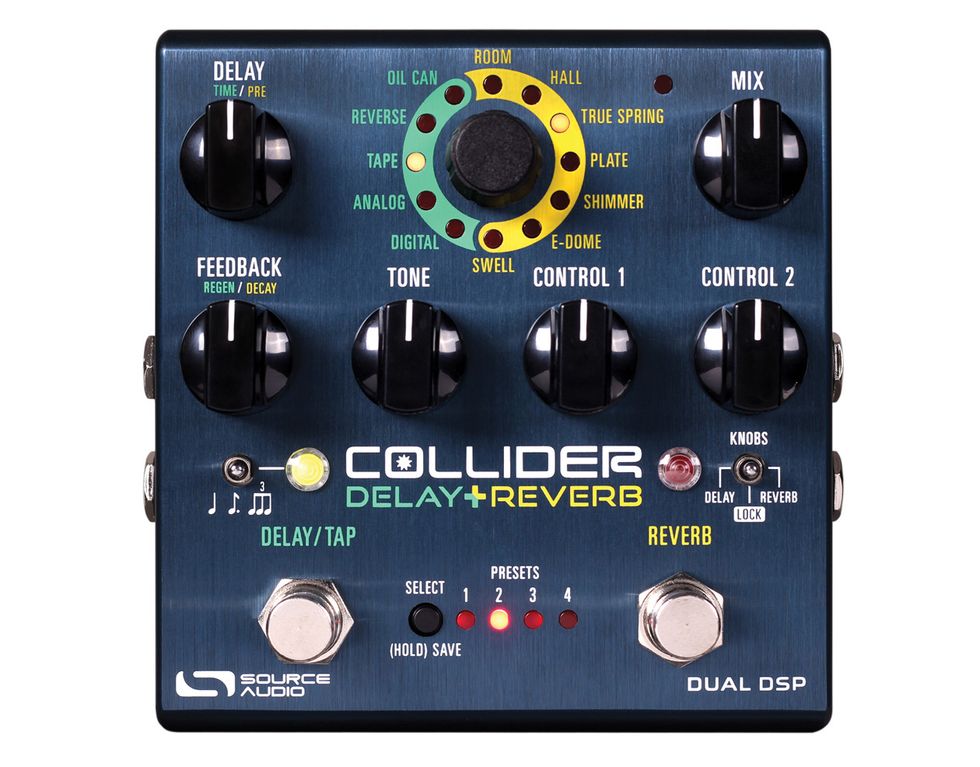 Source Audio
Collider

The Collider, which combines some functionality from the already expansive Ventris reverb and Nemesis delay, seems like it might be a handful to manage. In fact, the Collider's clever integration of its parent effects makes exploring the wide-ranging feature set—which includes new emulations like an excellent Tel-Ray-style oil can delay—an intuitive and fun portal to thousands of huge and rich time-manipulation textures.

$349 street

PRS
SE Hollowbody Standard

The Paul Reed Smith Hollowbody model has become a modern classic since its design was first introduced in 1998. And it's now available (and made much more affordable) as part of the company's made-in-China SE range. But don't let the down-market pricing fool you: Its elegant design, PRS-created hardware and electronics, and excellent playability easily earned the SE Hollowbody Standard a Premier Gear Award.

$999 street

Fender
American Ultra Jazz

As daunting as it is to alter a classic, revered instrument like the J, Fender hit it out of the park with subtle yet significant updates to its look and design. And with passive and active tones at the ready, Victor Brodén lauded the versatility of the Ultra Jazz, which allowed him to effortlessly conjure Marcus Miller-to-Jaco-esque tones.

$1,999 street

With Public Enemy, guitarist Khari Wynn uses a Marshall, but a humble Fender workhorse helps carry his own transcendent compositions.
If you've seen Public Enemy on tour over the past two decades, you've heard Khari Wynn breathing fire through a Marshall stack. In fact, you can hear him on the band's new album, What You Gonna Do When the Grid Goes Down?, on the apocalyptic songs "Grid" and "Rest in Beats." But these days, when he's at home in Memphis gigging or cutting tracks, Wynn relies on a workhorse favored by many players, from pros to weekend warriors: a Fender Hot Rod Deluxe.
While the 40-watt combo introduced in 1996 is common, the sounds Wynn creates with it for his own musical projects, including Energy Disciples and the New Saturn Collective, are anything but. (See this story online to listen.) With a Les Paul or a Strat, a handful of effects, his Deluxe and, most important, his wide vision of music, Wynn creates soaring, textural, atmospheric compositions—with room for free-flying improvisation—that evoke the Mahavishnu Orchestra, Sun Ra, Sonny Sharrock, and other proponents of sonic liberation.
"It's got a great classic fuzz thing happening when the overdrive channel's really opened up."
"What I'm looking for is warmth, presence, the ability to cut through in an arrangement, and a balance of the proper amount of lows, mids, and highs," Wynn says of his quest for meaningful amp tone. "With my Les Paul, the amp's clean tone has a really nice full voice, and with two channels, when I want to get gritty, I can set the amp for a gainy rhythm sound and use the other channel for a loud, distorted overdrive sound for solos. With the Strat, it's got that classic top end that really pops out in recording. And because the amp's clean tone is so rich, it can be bright but it's never too brittle."
Before acquiring his Deluxe a few years ago, he'd bought a 1970s Fender Twin from a friend who'd given up performing. "The trouble is, those old amps are kind of sensitive," he says, "and I was carrying it all over town, to different stages and studios. It got to the point where it kept blowing fuses and was having other problems."
Get an earful of Khari Wynn's transcendent playing and composition on "Infinity Bridge," a Mahavishnu-inclined tune played by his group Energy Disciples.
The Hot Rod Deluxe was part of the gear at his friend Michael Joyner's Slim Bloke Studios in Memphis, and Wynn connected with the amp while cutting tracks there. After he told Joyner how much he enjoyed its sonorous tones, Joyner offered to trade the Deluxe for Wynn's troublesome Twin, which Joyner thought he could repair, and sweetened the deal with a couple hundred bucks.
Wynn says the late '90s Hot Rod Deluxe is stock, which means it's got two 12AX7s in the preamp section, a pair of 6L6 power tubes, and a 12AX7 phase inverter tube. The cabinet—all pine—is inspired by the look of Fender's 1950s narrow-panel tweeds, as is its top-mounted, chrome-plated chassis and chicken-head knobs. The interior has printed circuit board construction, and the rectifier, reverb driver, and effects loop circuits are solid-state. The speaker is a 50-watt Eminence Legend, although models more recent than 2010 come with Celestions. And there's a footswitch for the channels.

The Hot Rod Deluxe has had several iterations since its 1996 debut. Wynn's is first generation, and the latest, the Hot Rod Deluxe IV, has three switchable channels. Photo by Miz Stefani
Wynn complements his Hot Rod Deluxe and guitars with just a few stompboxes, but, as you'll hear online when you check out his performance of the Mahavishnu-like "Infinity Bridge" with his Energy Disciples, he wrings a maximum of sweet soaring sustain and colorful tones from his setup. (Dig his artful use of low, sustained feedback—psychedelically panned in the mix—as the bedrock for a transitional passage starting at 1:43.) His pedals include a Seymour Duncan Twin Tube Classic, a Line 6 DL4, an Ernie Ball wah, and a Fulltone Deja'Vibe, but primarily he relies on his amp's own capabilities for grit and sheen.
The more a piece of gear gets used, the more it reveals secrets. And Wynn says he's recently discovered a new layer of tone within his Hot Rod Deluxe. Listening to a recording of a September 2020 livestream gig, shot at a large venue in Memphis, with fellow Bluff City guitarists Andrew Saino, Eric Mackey, Angelo Earl, and Joe Restivo, he heard something akin to an upper octave tone in the hot channel of his amp. "It's got a great classic fuzz thing happening when the overdrive channel's really opened up," he relates. "It's like back in the day when Jeff Beck would step on a Tone Bender or when Jimi would just hit that sound. It sings."
Khari Wynn makes this new Public Enemy track, "The Grid," rock. Dig his post-Hendrix riffing—replete with wah-wah—from 2:27 to the song's epic finale