Fantastic Negrito on the "freaky" Orange amp with as many moods as his Grammy-winning tunes.
"Sometimes we have too many things to play with, and that can be a drag," says Fantastic Negrito. "So on my albums, from the production standpoint, I try to be as simple as I can be. I find a guitar I like for a song, and I plug straight into my amp. I don't use any pedals at all."
But from that point on, anything goes. Fantastic Negrito, whose birth name is Xavier Amin Dphrepaulezz, and whose game is blending blues, soul, R&B, rock, hip-hop, and psychedelia into sprawling and magnificent freestyle works like his new Have You Lost Your Mind Yet?, then opts for plug-ins to add a kaleidoscope of colors to his guitar tones and mixes. This strategy helped his two previous albums win Best Contemporary Blues Grammys.
These days, the amp he prefers to generate the canvas he can paint as he wants in the studio, and that provides a tonal backdrop for his high-energy live performances, is an Orange TremLord 30 combo. "I really like this thing and played it all over Have You Lost Your Mind Yet?," he says. "I was playing the Black Deer Festival in the U.K. in October, and I first heard the TremLord. I was like, man, this deep tremolo is sick and the spring reverb is like what I was trying to emulate on the early Fantastic Negrito records. It was beautiful, rich, warm, and deep."
"I don't have any regular settings. I like to change it up constantly, just like I do with my songs."
So he switched from the custom-built Cave Valley amp he'd been using to the TremLord 30. "With the Cave Valley, I was using plug-ins for the reverb and tremolo I wanted, but with the TremLord, I plug in and … it's freaky!"
Orange introduced the TremLord 30 at the January 2019 NAMM show. It's essentially the company's update on the classic gut-bucket amps made by U.S. outfits like Valco, Gibson, and Fender in the 1950s—with more clarity and headroom, and other new-school elements. The latter include switchable 30-, 15-, 2- and 1-watt power settings, plus output-power switching between four and two EL34 tubes. Playing at lower wattages drops the headroom, to generate dirt without flooring the TremLord 30.
Other golden-era aspects include tube-driven reverb and tremolo—both footswitchable. And there's no master volume. Back on the modern side, there's a tube-buffered effects loop. The single 12-inch speaker is made by Italy's Lavoce and is engineered to have a warmer top end while still achieving sparkle. The controls are basic: volume, bass, treble, tremolo speed and depth, and reverb. There's also an extension cabinet option. It's no lightweight, at 53 pounds, and the street price is $1,299, but there's also clearly a lot the TremLord 30 can do, and Fantastic Negrito says he takes advantage of all of it.
Fantastic Negrito's Orange TremLord provides the clean rhythm licks and fills throughout "Chocolate Samurai," from his new album, Have You Lost Your Mind Yet?.
"I don't have any regular settings," he notes. "I like to change it up constantly, just like I do with my songs. The song decides the basic guitar sound I have in mind when it's time to record. And anywhere I put the knobs, the TremLord is sick.
"I like to make albums like they did in the '70s—experimental and taking chances. Sometimes I go dry; sometimes I open up the reverb. It's got to sound organic no matter what kind of song I'm playing. It's got to match the vibe, and the vibe can be anything. Like in 'Chocolate Samurai,' it's so clean and funky—it's the shit!
"The thing I've heard the most when people criticize my music is that I'm all over the place," he continues. "That's good! I never want to be a slave to sameness, and I like being where I'm at and being experimental, and not letting anybody else try to tell my story" … with the Orange TremLord 30 as his megaphone.
Watch John Bohlinger test drive the TremLord 30
---
Looking for more great gear for the guitar player in your life (yourself included!)? Check out this year's Holiday Gear Finds!
Outlaw Effects introduces their next generation of NOMAD rechargeable battery-powered pedal boards.
Available in two sizes, NOMAD ISO is a compact, versatile tool that offers the convenience of a fully powered board plus the additional freedom of not having to plug into an outlet. NOMAD ISO is ideal for stages with limited outlet availability, quick changeovers, busking outdoors, temporary rehearsal locations, and more!
NOMAD ISO builds upon the legacy of the ultra-convenient and reliable NOMAD rechargeable pedalboard line originally launched in 2018. The brand new NOMAD ISO editions feature eight isolated outputs (1 x 9V DC, and 1 switchable 9V/12V DC) for even more versatility and clean, quiet power. With an integrated lithium-ion battery pack boasting 12800mAh capacity, NOMAD ISO can fuel a wide array of pedals, and will last over 10 hours* on a single charge.
Each NOMAD ISO pedal board includes adhesive hook & loop pedal-mounting tape, eight (8) standard DC connector cables, and one (1) reverse polarity DC cable, giving you everything you need to build your ultimate "off-the-grid" rig. A rugged, road-ready padded gig bag with shoulder strap is also included, to safely protect your gear while you're on the move.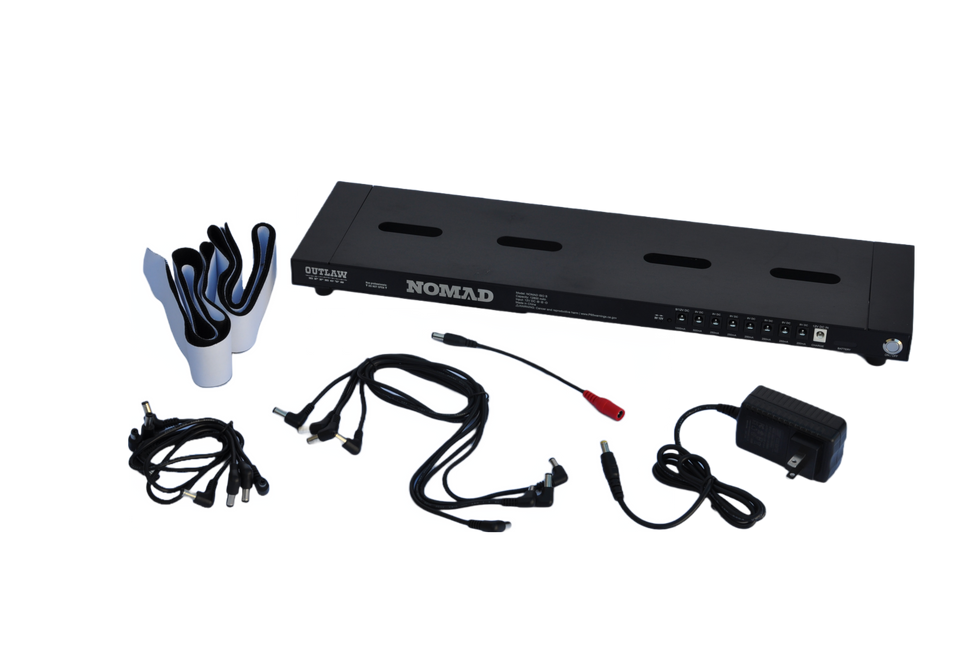 Dunable announce new Minotaur model featuring Grover Rotomatic Keystone tuners.
The Minotaur's DNA is rooted in their classic Moonflower model, which Dunable discontinued in 2017. However, they have long since wanted to create a fresh take on a carved top guitar design, and various attempts to rework the Moonflower led them to a brand new concept with the Minotuar.
Dunable's goal is to give the player a guitar that plays fast and smooth, sounds amazing, and gives maximum physical ergonomic comfort. The Minotaur's soft and meticulous contours, simple and effective control layout, and 25.5" scale length are designed to easily meet this criteria.

Dunable Minotaur!
Features
25.5" scale length
Dual Humbucker
one volume, one tone, push pull for coil splitting
Grover Rotomatic Keystone tuners
Grover Tune O Matic bridge with brass Kluson top-mount tailpiece
jumbo nickel frets
12" fretboard radius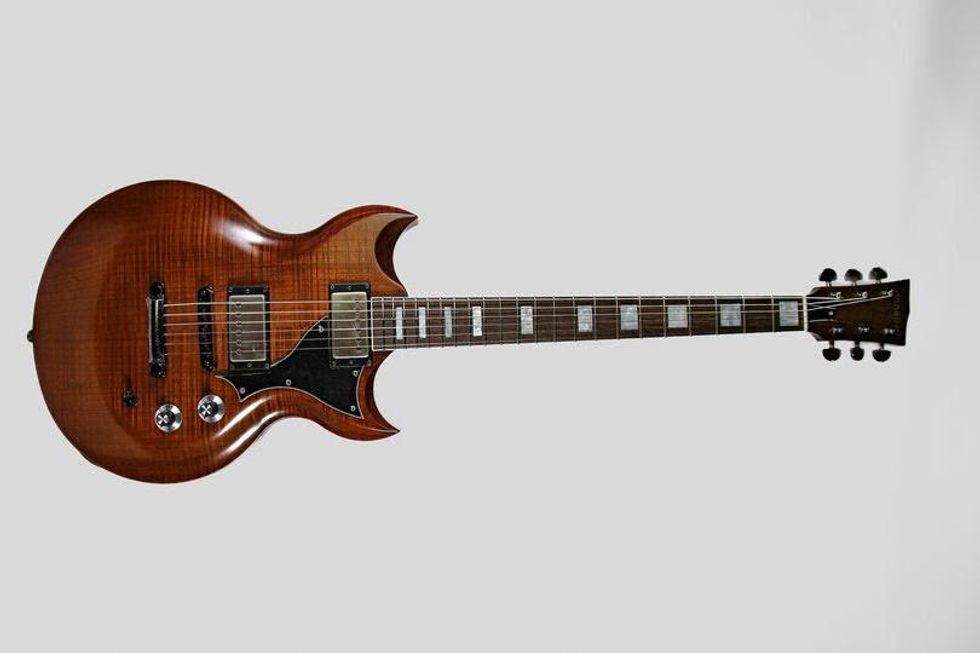 Dunable
This full-amp-stack-in-a-box pedal brings a new flavor to the Guitar Legend Tone Series of pedals, Missing Link Audio's flagship product line.
Adding to the company's line of premium-quality effects pedals, Missing Link Audio has unleashed the new AC/Overdrive pedal. This full-amp-stack-in-a-box pedal – the only Angus & Malcom all-in-one stompbox on the market – brings a new flavor to the Guitar Legend Tone Series of pedals, Missing Link Audio's flagship product line.
The AC/OD layout has three knobs to control Volume, Gain and Tone. That user-friendly format is perfect for quickly getting your ideal tone, and it also offers a ton of versatility. MLA's new AC/OD absolutely nails the Angus tone from the days of "High Voltage" to "Back in Black". You can also easily dial inMalcom with the turn of a knob. The pedal covers a broad range of sonic terrain, from boost to hot overdrive to complete tube-like saturation. The pedal is designed to leave on all the time and is very touch responsive. You can get everything from fat rhythm tones to a perfect lead tone just by using your guitar's volume knob and your right-hand attack.
Features 
Three knobs to control Volume, Gain and Tone
Die-cast aluminum cases for gig-worthy durability
Limited lifetime warranty
True bypass on/off switch
9-volt DC input
Made in the USA
MLA Pedals AC/OD - Music & Demo by A. Barrero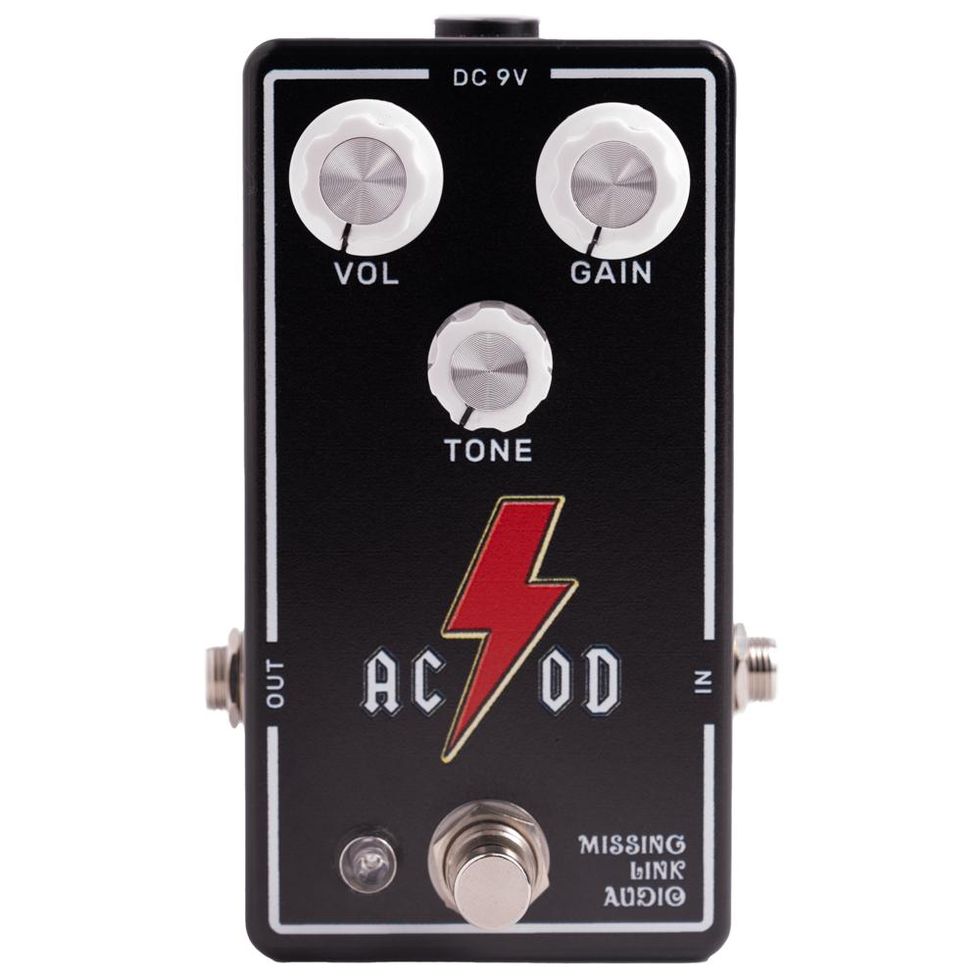 www.mlapedals.com.