The E670FE is an all tube, 100 Watt amp with three tube buffered FX loops.
The new E670FE is an updated version of Engl's E670 Special Edition. The Special Edition amp spent years in the studios of Edmund Engl – the founder of ENGL amps – and was played by many iconic professional guitarists, who all had their own unique thoughts and requests when it came to tone and performance. Over the years, Edmund Engl and senior designer Horst Langer tweaked the Special Edition multiple times, and now it is finally available – on ENGL's 40th anniversary year – to the public as an amp in ENGL's standard portfolio as the Founders Edition. The E670FE – supreme in a stunning black finish with chrome knobs and an in-your-face red-lit front panel illumination – has been tuned and revoiced, but still retains the crushing tones that made the previous Special Edition iconic.
The amp, which features five ECC83 preamp tubes and either four 6L6 or four EL34 power amp tubes, delivers a massive range of sounds across its five channels (Clean, Crunch, Lead I, Lead II, and Tubedriver) and nine voicings, from crystal-clear cleans to searing high-gain distortion and everything in between. The multiple sound-shaping options on board – ranging from powerful EQs and separate gain controls on each channel to Gain Boost, Hi Gain, Mid Shift, Contour, Bright, Mid Edge, Modern Classic, Mega Lo Punch, and Depth Boost switches, alongside a built-in Reverb – help make the Founders Edition one of the most versatile amplifiers on the market. Perhaps the special pick of the bunch is the Tubedriver channel, which bypasses most of the amp's inner workings to offer the most pure circuit and all-tube tones imaginable. On top of that, the E670FE – which is handcrafted in Germany to the highest of quality standards using only the finest components and materials – packs a wide array of practical features for the demanding modern guitarist who accepts only the best.
The amp is MIDI programmable, so players can save their favorite settings in up to 128 presets with the use of an optional external MIDI controller. There is also a threshold-footswitchable noise gate, a Power Tube Monitor, three tube buffered FX Loops, a line output and multiple cabinet output options on board. Edmund Engl, the founder of ENGL Amplifiers, said: "We're thrilled to introduce the E670FE Special Edition Founders Edition. This amplifier is the culmination of our 40 years of experience in crafting high-quality amplifiers that deliver uncompromising tone and versatility, and it is sure to take any guitar player's tone and performance to the next level!" The E670FE is available in September 2023. For more information, visit the official ENGL website.
Features
- Five Channels: Clean, Crunch, Lead I, Lead II, Tubedriver
- All Tube, 100 Watts
- Preamp tubes: 5 x ECC83 (12AX7)
- Power amp tubes: 4 x 6L6 or 4 x EL34
- Three Tube buffered FX Loops (Serial FX Loop, FX Loop I and FX Loop II are variable from serial to parallel)
- Noise Gate with footswitchable threshold
- Power Tube Monitor
- MIDI In / MIDI Thru / S.A.C Port / Dual footswitch Jack
- Sound shaping options: Gain Boost, Hi Gain, Mid Shift, Contour, Bright, Mid Edge, Modern Classic, Mega Lo Punch, Depth Boost
- Controls: Gain (separate for each channel), Bass, Middle, Treble (Clean, Crunch), Bass, Middle, Treble (Lead I, Lead II), Reverb, Volume (separate for each channel), Presence A, Presence B, Master A, Master B
- Controls (Rear): Noise Gate threshold level, FX Loop I Balance, FX Loop II Balance, Tube Driver EQ
- Outputs: 1 x 4 ohms, 2 x 8 ohms, 1 x 8 ohms, 2 x 16 ohms, 1 x 16 ohms
- Line output
- Handcrafted in Germany

5 channels, 100 watts, EL34 powertubes
ENGL Amplifiers
Scores of classic amp and effect models—plus cab IRs and recording-interface and re-amping capabilities—all from your phone and a box the size of a pack of gum.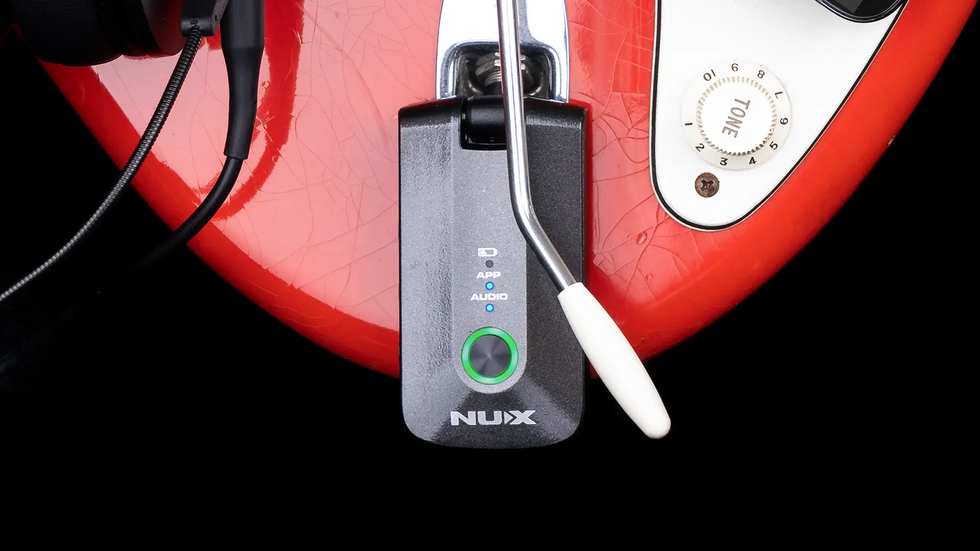 The Mighty Plug Pro is a powerful headphone amp for both guitarists and bassists, featuring various effects, Amp Modeling, and Impulse Response (IR) cabinet models. Based on his little brother Mighty Plug, Mighty Plug Pro offers more functions, flexible block routings, and livestream applications. You can stream Bluetooth playback, microphone signal, and guitar signal through USB with OTG onto your mobile device to do livestreaming or making videos. The Mighty Plug Pro is your ticket to the main stage of your favorite social media platform to perform your latest #reels, #shorts, and #livestream.

Learn More: https://www.nuxefx.com/mightyplugpro.html
The MB58R line consists of an array of 20 new cabinets, 8 combos, and two new heads.
The MB58R line—the name of which is comprised of the brand's initials, Marco's age and the letter R for Revolution—includes a dazzling array of 20 new cabinets, 8 combos, and two new heads. The trademark "true-to-the-source" tone that Markbass is known for remains the top priority, but it's now delivered with a next-level power-to-weight ratio—and these attractive, eco-friendly products are all made in Italy.
The ultra-light MB58R cabinets include 2x10", 3x10", 4x10", 1x12", 2x12" and 1x15" configurations, with three versions of each featuring a different tweeter type. The Energy cabinets feature a Markbass hi-fi tweeter (very smooth highs), the Pure series includes a 1" driver with custom horn (focused, crips highs), and the P series models have a new piezo tweeter for (more aggressive highs). Additionally, the 2x10 cabinets are all available in standard and XL versions: standard cabs have the two woofers arranged vertically, whereas the XL version is a larger cabinet with the speakers diagonally placed. The 3x10 cabinets are 6 ohms, all 2x10 and 4x10 cabs are available in 8 ohm and 4 ohm versions, and all other cabs are 8 ohms.
Markbass is famous for its distinctive yellow neodymium speakers; but in a departure for the brand, the P-series cabs feature Markbass custom classic ceramic speakers. Thanks to the new ultra-lightweight enclosures, these cabs still weigh a fraction of what traditional equivalents weighed before Markbass changed everyone's expectations of what bass cabs should weigh in the early 2000s. For example, a traditional ceramic 4x10 weighs about 90 lbs; the MB58R 104 P (with ceramic speakers) is almost exactly half that weight: 45.53 lbs / 20.65 kg.

The Little Mark 58R (500W, solid state) is available as a standalone head and is also included in all MB58R combos. Unlike previous Little Marks, the 58R incarnation is designed with almost all the controls and connections on the front panel, for greater ease-of-use. It's also even lighter than all previous Little Mark models, weighing in at an incredible 4.41 lbs / 2 kg.
MB58R - OFFICIAL VIDEO