Love and Sockets: A Crush on an Orange Crush Pro 120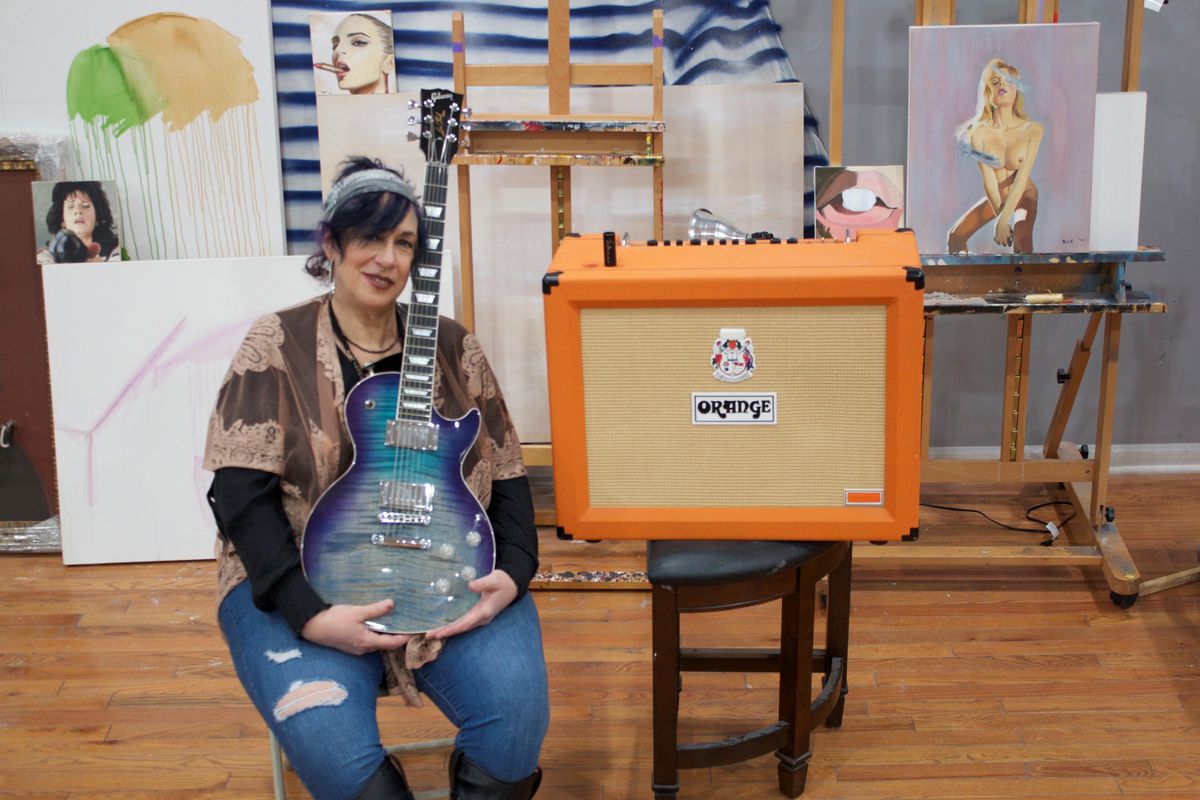 Photo by Maleki Raei
How blues firebrand Joanna Connor gets tube-like tone from a durable, solid-state combo.
The best way to get a fix on your priorities for an amp is to play, play, play. Joanna Connor's been tirelessly bending notes and wailing slide since the late '80s: initially touring the U.S. and Europe, and then, since 2005, holding court at clubs in her adopted home of Chicago, letting the world come to her at tourist destinations like the House of Blues and Kingston Mines.
---
Kingston Mines, in particular, is a crucible. Up until the pandemic, Connor played there four nights a week—typically starting at 7:30 p.m. with an hour-long acoustic set, then bringing on her band to lay down the law of blues until 2:30 a.m. on weeknights and 4:30 a.m. on weekends. Those are long, tough performances, but they splashed fuel on what was already a conflagrant playing style, blending loud, burly, Les Paul tone with an immense vocabulary of blues, rock, and much more, including a soloing approach as likely to nod to Hendrix as Elmore James, Lonnie Brooks, or even Professor Longhair. Those shows also brought Connor to an amplifier that she says can stand up to punishment and still deliver the big sounds she needs: an Orange Crush Pro 120 Combo.
While blues tones are generally considered the province of glowing tubes, this solid-state option serves Connor well. "Tube amps are divas, in a sense," she says. "If you're not babying them, they have issues. I played a Victoria 2x12 for 20 years on the road, and I loved it, until it literally fell apart. Playing those long nights puts a lot of abuse on an amp. Kingston Mines is a long room, and more than 400 people can squeeze into the place. I also like my band to play hard, so I need an amp that can get over their stage volume and get my sound into the room, on top."
"Tube amps are divas, in a sense. If you're not babying them, they have issues."
Connor was using the club's backline on the night Orange's global artist relations manager, Alex Auxier, caught her live. She tried a number of Orange tube amps after he offered an endorsement, but she selected the 120-watt Crush. With two 60-watt, 12" Voice of the World speakers and an 18 mm birch plywood cabinet, the Crush is no lightweight, sonically or literally, at 63 pounds. The controls are a global master volume, and the clean channel sports volume, bass, and treble dials, while the dirty channel has 3-band EQ and gain. There's a buffered effects loop and reverb channel switching, with digital hall, spring, and plate options.
That array covers all the basics, but Connor keeps things close to the bone, using only the clean channel and a handful of pedals—a Boss Blues Driver, a Way Huge Blue Hippo Chorus, and a Rocktron Short Timer delay ("I use delay instead of reverb," she notes)—to project the sound of her Les Pauls and her Delaney signature model, a single-coil guitar that's shaped like a Paul, with a Stetsbar vibrato arm. "To switch between rhythm and lead sounds, I use the pedals, and for slide, I use the pickup selector more, and I tend to leave my guitar controls wide open," she relates.

As for the Crush, Connor keeps all the controls on the clean channel at about 2 o'clock. At that point, even the clean channel yields organic-sounding breakup—a result of the amp's all-analog signal path, inspired by Orange's Rockerveb series. "I turn it up good and loud, so it's responsive and the lows, mids, and highs are all apparent, but not to the point where your ear drums are bleeding," she says. "I get a nice, warm heavy bottom out of it. A lot of amps can't handle the amount of bass I like without distorting or getting muddy, but this amp has nice presence and is crisp and clean. It has the warmth of a tube amp."
Connor uses few stomps—just an overdrive, digital delay, and a chorus—and prefers to drive her amp to create boldly sculpted tones.
Photo by Maleki Raei
To get an earful of Connor's dramatic playing, check out her new album produced by Joe Bonamassa, 4801 South Indiana Avenue . The address is that of the now-long-gone Theresa's Lounge, where the Massachusetts-born Connor first dropped roots in the Windy City. And the sound is granite-solid blues-rock with a Chicago and Memphis spin, paying respect to a host of foundational musicians, including Hound Dog Taylor, Albert King, Magic Sam, and Johnnie Taylor. Her guitar is unspared and unsparing throughout, although you won't hear the Crush at work. Bonamassa dipped into his notably swank collection of vintage gear and dug out a '55 tweed Fender Deluxe to channel her slide and lead playing. But you'll see the amp behind her in the album's first video, Connor's version of Magic Sam's totemic " I Feel So Good ," where her slide playing will scald your cranium. (You can find it with the online version of this column.) You can also peruse her substantial recorded catalog, where 2019's stylistically diverse Rise and 1996's Big Girl Blues provide an especially good introduction.

With her regular gigs at Kingston Mines and the House of Blues—typically covering six or seven nights a week—on hold along with the rest of the world, Connor has been teaching online and working on adding more jazz to her vocabulary. As for her Orange Crush, it's waiting for the stage at a friend's art studio—at ground level. "I'm not dragging that thing up to the second floor of my house," she says, laughing. "I leave at his place, and we get together and jam every Thursday."