Photo by Andreas Neumann
With the encouragement of his pal Jack White, Queens of the Stone Age and Dead Weather multi-instrumentalist Dean Fertita pulls together a decade of material for the psych-pop extravaganza Tropical Gothclub.
For multi-instrumentalist and A-list side musician Dean Fertita, a sophomore solo release has been a long time coming. The anticipated Tropical Gothclub, released in late 2022, is his first record since his 2009 debut, Hello=Fire. Fertita can't help but nod to the lapse of time between then and now. "The song 'Double Blind,' I wrote that for my daughter before her first birthday," he says about the album's dreamy, Flaming Lips-like second single. "She just turned 11, and that's the oldest song of the bunch."
In that interim, the guitarist has had a lot to keep him busy. Since the mid '00s, he's been a part of a number of ongoing projects: He plays guitar and keys in Queens of the Stone Age, has been a touring member of the Raconteurs—whose lineup includes Fertita's high school friend, multi-instrumentalist Brendan Benson—and formed the Dead Weather with the Kills' vocalist Alison Mosshart and Jack White. Between touring, writing, and recording with these groups, Fertita also manages to squeeze in session work with artists such as Karen O and Iggy Pop.
Where There is Water
That sheer volume of work is a full-time creative effort. It's a constant cycle, and for Fertita, the genesis of "what's next" usually emerges just as another undertaking is winding down. But then came March 2020, and—like everyone else—he found himself in a pandemic break with time to focus on his solo projects again.
"In early 2020, we just finished the Raconteurs run," Fertita says. "I didn't know what was going on for the next few months for work, but I knew that in the not-so-distant future, we were planning on getting back together for Queens [of the Stone Age]. Alison Mosshart and I were talking about how we were both home for a while. We both had a few songs, and we started sending demos back and forth to each other. That got the wheels turning for me. A month later, we were locked down. But I was already in this mode of working through songs and arrangements and things that might work if we did a Dead Weather record."
"The entire record was making sense of 10 years of fragmented ideas."
"We were operating under the illusion [that the lockdown wouldn't last very long]," Fertita laughs. "We decided to go through our ideas so we could be sharp and ready to go. I just kept recording my ideas. There was nothing else going on. I also had so many fragments of songs that had been laying around for years. In my mind, I was putting them in these different aisles: 'This one would go good in Queens, and this one would work over here.…' I just kept working, and at the end of that process I had a record's worth of material and nowhere that it was immediately going to go. Jack encouraged me just to release it as it is, even though that was not even something I was considering at the time."
Intentional or not, that collection of bits and bobs became Tropical Gothclub. In a sense, it sounds like what you'd expect from an artist immersed in the Third Man and Queens of the Stone Age universes—a heaping mass of abrasive, pedal-generated fuzz tones—except that Fertita, with his decades of experience, pushes that to another level entirely. Barnburners like "No Wonder," with its intricate harmonized leads, and the call-and-response-heavy "Death Rattle" ooze enough of a guitar-orchestra vibe that they could almost be outtakes from Physical Graffiti. Others, like "Needles," "Wheels Within Wheels," and "Uniform Looks," combine strong hooks, propulsive energy, and a seemingly endless variety of tones. The album also features more trippy moments—tempered with the occasional acoustic track—on songs like "Where There Is Water" and "Double Blind."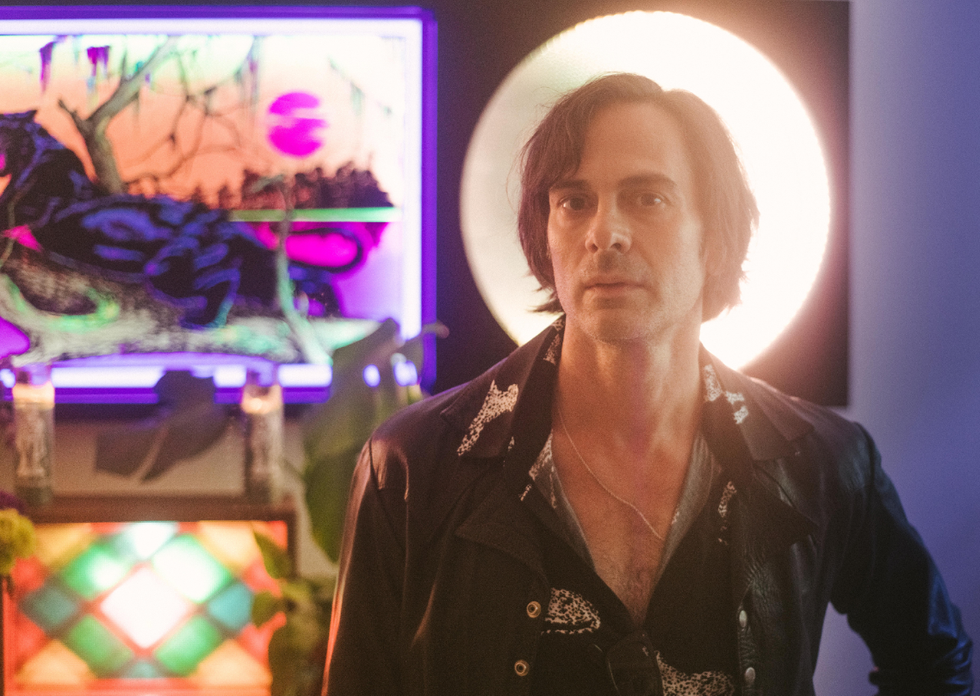 Dean Fertita radiates the hazy surrealism of Tropical Gothclub.
Photo by Angelina Castillo
Fertita recorded much of Tropical Gothclub in a small A-frame house he built in his backyard, reassembling sections taken from lengthier jam sessions and working with snippets collected over the years. "The entire record was making sense of 10 years of fragmented ideas," he says. "Sometimes, it was a 15-minute jam that I did with a drummer that we would arrange and figure out what it was. Some things I revisited and tightened up because they were recorded on GarageBand and then put into a Logic session."
At some point in the process, Fertita brought Detroit-area engineer Dave Feeny (The White Stripes, Josh Ritter, Mule) on board to help sort through the clutter. "I've known Dave for a very long time," he says. "I did another record in a similar way with him, which means he totally understands the various degrees of 'done' of the things that are sent to him. He just knew what I was going for and we could talk quickly. He was able to move it at a quick enough speed that it would be interesting. I'd get it back in a day and think, 'I can do this now. I can play bass to this song now that we have a drum arrangement figured out'—or whatever it was."
"This record—Tropical Gothclub—became a culmination of all my split personalities."
Fertita is a connoisseur of tones, and he's sensitive to subtle tweaks and changes. Different instruments, situations, and especially pedals affect his playing and approach. "Pedals always instantly change a frame of reference for me," he says. "Sometimes you'll hear a sound, and you'll write to that sound immediately. I am always looking for character, and maybe even the weird thing that you're not supposed to use—something that's just going to be interesting sounding and different from the get-go."
Working with so many different musicians inspires and triggers different chemical impulses as well. He points out that in QOTSA, "there are these two incredible guitar players," and adds, "In Dead Weather, Jack predominantly plays drums, but we do play a lot of guitar together as well, and the stuff that he plays on those records is insane."

Dean Fertita's Gear
Fertita and his matching Gretsch White Falcon.
Photo by Andreas Neumann
Guitars
Troy Van Leeuwen Fender Jazzmaster
Goya Rangemaster
Echopark Esperanto Z (Custom 9-string)
Gretsch White Falcon
Amps
No-name "magnetic" amplifier
Fender Deluxe Reverb
Supro Reissue Amp
Silvertone Amp
Strings & Picks

Ernie Ball .010s
Fender Mediums
Pedals
Binson Echorec 2 T7E
Death By Audio Deep Animation Envelope Filter
Death By Audio Supersonic Fuzz Gun
Dunlop Fuzz Face Distortion
EarthQuaker Devices Park Fuzz Sound
Eventide H9 Max Harmonizer
Fulltone Tube Tape Echo
Gamechanger Audio Third Man Records Plasma Coil Distortion
Ibanez AW7 Tone-Lok Autowah
Mu-Tron Bi-Phase
MXR Poly Blue Octave Pedal
Old Blood Noise Reflector Chorus
Third Man Records Bumble Buzz octave fuzz
UREI Universal Audio Cooper Time Cube
Way Huge Atreides Analog Weirding Module
Each band and project that Fertita participates in informs what he's put into his solo music. "There's no shortage of insane inspiration to try and fit in and complement what's going on [in the album] already," he says. "This record—Tropical Gothclub—became a culmination of all my split personalities. One idea I struggled with after making this record was: Shouldn't I have made a stronger effort to make it totally different from the other things that I do, to show a completely different side? But there are different sides to my personality that get drawn out more, depending on the project that I am in. You probably can hear examples of how I would play if I were playing with Queens on this album."
Fertita is not only flexible and productive as a guitarist and songwriter, he's also a keyboardist, and that multi-instrumentalism helped connect some dots in his professional live.
"In Dead Weather, Jack predominantly plays drums, but we do play a lot of guitar together as well, and the stuff that he plays on those records is insane."
"In 2005," he explains, "I was on tour with Brendon Benson, and the first thing we did was an acoustic run in the U.K. As we were rehearsing, we thought it might be more interesting to break it up and have some songs on guitar and others on keys. I started to relearn them at that point."
He had taken piano lessons as a child but put it aside as a teen. "I was stumbling through it but doing that led to the Raconteurs [Editor's note: He plays both guitar and keys in that band when they're on the road]. Our front-of-house engineer for that first tour was this guy Hutch, who had been with Queens since the beginning. He introduced me to the Queens guys, and 14 years later I am still doing that, too."

As a multi-instrumentalist, Dean Fertita is an in-demand touring musician. He plays both guitar and keys for the Raconteurs on the road.
Photo by Andreas Neumann
What was it like to suddenly go pro on a less-familiar instrument? Did he get the jitters, or suffer from impostor syndrome? "I could keep up," he laughs. "I was still holding my breath a little bit, but I felt like I could do what I had to do in that scenario. I wasn't pushing boundaries. I was playing at the edge of my abilities most days."
Fertita mostly reserves his limit-pushing for his work as a guitarist and songwriter. And one thing left to do is to play "Double Blind" for his daughter. "I have not played it for her yet," he says. "I don't want to embarrass her. She is aware that it exists, and I think she'll listen to it alone. Maybe she'll never tell me she's heard it."
The Dead Weather "I Feel Love" - Live on The Late Show
Photo by Linda Brindley
The British songwriter traversed the bleak thoroughfares of his past while writing his autobiographical sophomore album, Seventeen Going Under—a tale of growing up down-and-out, set to an epic chorus of Jazzmasters and soaring sax.
British songwriter Sam Fender hails from North Shields, England, an industrial coastal port town near the North Sea, about eight miles northeast of Newcastle upon Tyne. Fender grew up in this small village, which he calls "a drinking town with a fishing problem." He lived there with his mother on a council estate, a type of British public housing. This is the mise-en-scène for Sam Fender's coming-of-age autobiographical new album, Seventeen Going Under. On the album's cover, a photograph shows Sam sitting on a brick stoop.
"That was a back lane that I used to go down and smoke weed when I was about 15 with a bunch of tearaways," Fender says in his regional "Geordie" accent. "That back lane leads into this estate called Meadow Well, which was an estate that had 80 percent unemployment where we grew up. There was a lot of riots there back in the '90s. It was practically on fire for the whole of 1991. Parts of it were just a wasteland for teenagers, and that's where we used to go and sit and hang out and stuff."
About a mile from that stoop is the Low Lights Tavern, where Fender tended bar after high school, and it's also where he played his music in the early days. Fender's manager, Owain Davies, first heard him play guitar there in 2013 in the corner of the pub. Davies immediately took Fender on as an artist, telling U.K. music industry trade paper Music Week: "He's just an undeniable talent, he's hard to ignore."
Sam Fender - Seventeen Going Under (Official Video)
Indeed, Fender's lyrics stop you in your tracks. These are from the title track of Seventeen Going Under:
I was far too scared to hit him
But I would hit him in a heartbeat now
That's the thing with anger
It begs to stick around
So it can fleece you of your beauty
And leave you spent with nowt to offer
It makes you hurt the ones who love you
You hurt them like they're nothing
After hooking up with Davies, Fender doubled down on gigging and writing, gaining fans and traction, and eventually won the 2018 BRIT Critics' Choice Award before releasing his first album, Hypersonic Missiles, in late 2019. Taking a slow-burn route of building a following for six years before releasing a full-length likely contributed to that album instantly having wings, debuting at No. 1 on the U.K. Albums Chart. Fender's sound and identity as an artist coalesced, with his songwriting skills bucking pop formula. "Hypersonic Missiles" weaves a love story in between musings about "feeding the corporate machine" and "kids in Gaza being bombed." In "Dead Boys," Fender vulnerably grieves fallen mates, victims of the male suicide epidemic in Northern England. Jangly Jazzmasters and epic, chorus-drenched solos play a lead character through it all.
Thematically, Fender, who is 27, gazed outward on Hypersonic Missiles, but he goes deeply inward on Seventeen Going Under. It's literally the soundtrack of his adolescence. "It's mainly about self-esteem, growing up, and the political landscape of England, and how that affects the Northeast and how the Tories basically alienate my hometown and the people that live there," he says. These songs of tribulation are resonating strongly with Britons, and landed Fender another No. 1 album in the U.K. when Seventeen Going Under came out in October 2021.
TIDBIT: Seventeen Going Under was recorded at Wor House (Sam Fender's studio) in North Shields, England, and Grouse Lodge in Ireland. It was mixed by Craig Silvey (Arcade Fire) and produced by Bramwell Bronte.
"I feel like it's my first proper album," says Fender. "The first record was a hodgepodge of songs written over six years. Some of the songs were written when I was 19. I was a baby when I wrote some of the songs on that album. Whereas this is a collective piece of work written over the course of two years. And I feel like it's more cohesive as a piece of work. I think it has continuity. I think it has a sound."
The album might've turned out completely different if not for the pandemic, which resulted in a prolific writing period for Fender, who was forced to quarantine. "I've got a health condition, which affects my immune system, so I had to stay in the house. I was alone, so there was a lot of reflection, a lot of looking back at the past," he recalls. "I was doing therapy at the same time to try and get my head screwed on, and I ended up dissecting my whole childhood in therapy. And then learnin' about the reason why I was the way I was; the reason why I was reacting to things in certain ways; the reason why my relationships weren't goin' well; the reason why I wasn't being the most savory character or not being my own ally. I was kinda making life hard for myself."
And so, this reckoning unfolds throughout 11 tracks. The title song documents a dark time when Fender's mother was battling health issues and couldn't make ends meet. It's a banger that cuts right to the struggle of feeling helpless as a teenager—being old enough to know what's going on but being too young to fix anything.
Sam Fender's Gear
"I like a Jazzmaster through a Fender Twin," says Sam Fender. "I like a bit of compression, just to kind of give you that bite, and I love an old Electro-Harmonix Small Clone, just the original cheap chorus pedal."
Photo by Laura Brindley
Guitars
Fender American Pro Jazzmaster
1959 Fender Jazzmaster
Fender Stratocaster
Martin 000X1AE
Takamine acoustic (gift from Elton John)
Amps
Fender '65 Twin Reverb
Fender '65 Deluxe Reverb
Fender '68 Custom Deluxe Reverb
Strings

D'Addario EXL115 Nickel Wound (.011–.049)
Effects
Electro-Harmonix Small Clone
Electro-Harmonix Small Stone Phase Shifter
Electro-Harmonix Green Russian Big Muff Pi
Electro-Harmonix Holy Grail Nano
Electro-Harmonix Memory Man
Electro-Harmonix POG2
Electro-Harmonix Stereo Polychorus
Fulltone OCD
Origin Effects Cali76 Compact Deluxe
Mooer Yellow Comp
Strymon BigSky Reverberator
Boss RE-20 Space Echo
Way Huge Red Llama 25th Anniversary Overdrive
Gamechanger Audio PLUS
"Spit of You" is about his dad and the complicated relationships between sons and fathers. "Me and my dad had a five-year period where we didn't get on very well," Fender shares. "He lived in a different country. As things have progressed with my career, we started hanging out a lot more. It's about a father and son's relationship and the inability to talk about anything other than DIY, music, or alcohol. If anything, it's a just declaration of love for my old man. And funny enough, it's his favorite song."
Not all the songs chew over familial dynamics. Fender dissects his own communication and romantic failures on "Get You Down," and there's externally pointed angst on the album's two political tracks: the rebellious anthem "Aye," which pokes and prods around class/wealth disparity, and "Long Way Off," which Fender says sounds like "a Bond movie theme" with its grandiose instrumentation.
"It's got 164 tracks of audio," Fender says of the latter. "It just built and built and built and became this huge orchestral track. It's about political polarity and how I feel a lack of identity with any of the political parties currently in my country. I think it's quite a unanimous feeling in a lot of places at the moment. A lot of working-class people in England feel displaced by it all, and in my hometown as well. It was written around the time when all the Trump supporters were storming the capital building. We're a long way off from sorting out the mess the world is in."
"It's such a refreshing rehash of '80s music. It makes me think that a lot of the sounds in the '80s that sound jarring and cheesy, I feel like it was just because it was the early days with synthesizers and them sorts of guitar sounds."
All of the songs were written by Fender, who played guitar, bass, piano, Hammond organ, synthesizers, glockenspiel, mandolin, and harmonica inside the North Shields studio he built by necessity during that time. The album has horns and strings across it, and Fender also wrote the string arrangements, though he didn't play those parts himself. His five band members, most of whom he grew up with—drummer Drew Michael, guitarist Dean Thompson, bassist Tom Ungerer, guitarist and keyboardist Joe Atkinson, and saxist Johnny "Blue Hat" Davis—play on the album as well. It was produced by Thom Lewis, aka "Bramwell Bronte," Fender's longtime collaborator who also produced Hypersonic Missiles.
Fender has a homespun grit much like his idol Bruce Springsteen, whose working-class ethos and songs from the heartland resonated with Fender at an early age. (The Boss connection has earned Fender the nickname of "Geordie Springsteen.") Fender's sound has a tinge of throwback and noticeable nods to his influences (cough, cough, sexy saxophone solos), but the magic lies in how he connects on so many levels with cinematic arrangements, bull's-eye lyrics, and sincere delivery. The songs are a baring of the heart, a showcase of human struggle.
His father and older brother (nine years his senior) are also musicians who gigged around town, obviously influencing Fender's journey down the troubadour road. "I got a guitar when I was 8 and started mucking around with it then. By the time I was 10, I was starting to get quite proficient," Fender shares. "And then as I got older, I realized at school there was always a couple of kids that could shred, and could really, really play. And I just thought, I don't wanna spend the rest of my life learnin' guitar just to be that—I wanna make songs, ya know?" As a kid, he was obsessed with Slash, Page, and Hendrix. "Then my brother started showin' us Springsteen and all that. I loved Oasis and all the British stuff as well."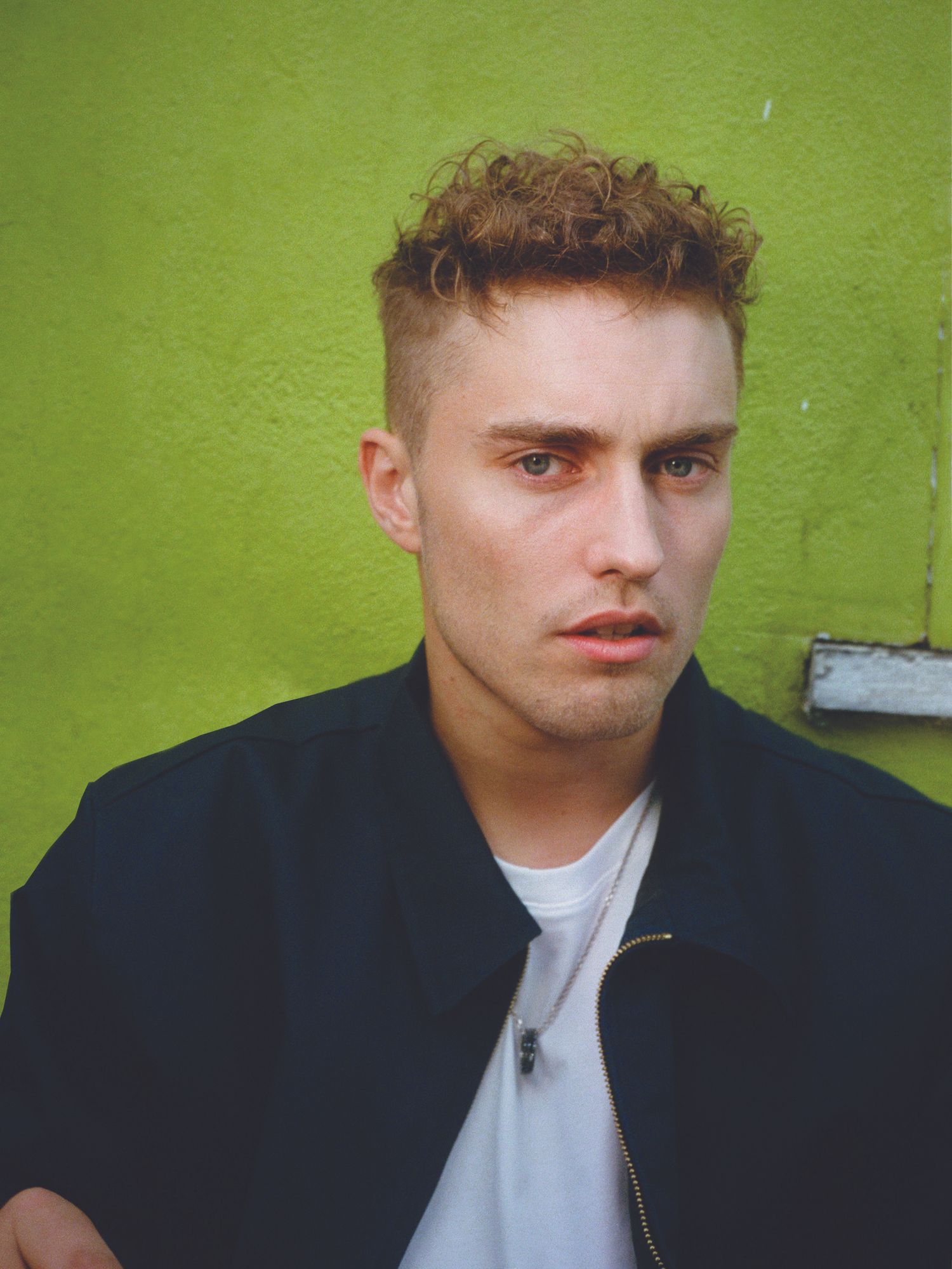 "I felt like it could be powerful and delicate and all the things in between. That's when I started singing properly, is after hearing Jeff Buckley."
Photo by Charlotte Patmore
But a gamechanger came when Fender was 14 and his brother gave him Jeff Buckley's Grace. "I always had quite a high voice for a tall … I'm 6'1," he says. "Normally that means you're, like, a baritone, but I'm, like, quite a high tenor. When my brother gave us Jeff Buckley, I was like alright, he does that, and it's rock 'n' roll, and it sounds cool. That means I can do this as well [laughs]. I felt like it could be powerful and delicate and all the things in between. That's when I started singing properly, is after hearing Jeff Buckley. I always wanted to have a voice that was, like, "rawr"—gruff 'n' stuff—when I was a kid, but then I realized, well, that's not really who I am."
Sonically, the War on Drugs is one of Fender's favorite bands. Their impact on how he approaches crafting song parts can be heard in "Last To Make It Home," particularly the expansive guitar solo on the outro. "I had the Fender Twin up, like, so loud that my ears were bleedin', with my whammy bar," Fender says of recording that solo, "and whichever way I turned, I got that feedback. You get that sort of 'Champagne Supernova' endin'," Fender says. (WoD frontman Adam Granduciel had signed on to mix that track, but ultimately couldn't do it because he missed the master deadline for his own album.)
"I like Springsteen for the lyrics, and I love War on Drugs for the sound," Fender shares. "I think it's such a refreshing rehash of sounds we already know—it's such a refreshing rehash of '80s music. It makes me think that a lot of the sounds in the '80s that sound jarring and cheesy, I feel like it was just because it was the early days with synthesizers and them sorts of guitar sounds. I feel like the War on Drugs have refined it. It's beautiful and I think there's more to be looked down that avenue. That's why I'm quite chorusy-soundin'—I love that sound. It's nostalgic for me, even though I'm not from the '80s, I grew up in a house where that music was playing."
"I was doing therapy at the same time to try and get my head screwed on, and I ended up dissecting my whole childhood in therapy."
Though his new album is bursting with layers upon layers of instruments, he undoubtedly has an ingrained sense of how to be impactful with just a guitar and his voice, which came from years of performing solo without a backing band. In a BBC Radio 1 Live Lounge concert in early 2020, Fender did a solo performance of Amy Winehouse's "Back to Black," fingerpicking the melody and bass line, while nailing a rather ambitious vocal. His thumb bounces between the 5th and 6th strings, while his other fingers create a harp-like effect on the melody. "It's a strange move, but once you start getting the muscle strength, it's a constant thing and it's quite hypnotic," he says.
Fender describes his songwriting method as "chop and change." He noodles on his Jazzmaster, does some fingerpicking, or switches to another instrument. "A lot of the times I write a lot of songs on piano and convert to guitar. So, I find the chords on piano sometimes and then I'll find interesting variants of the chords on the guitar to make it sound pretty." He likes to experiment with tunings as well. Seventeen Going Under is mostly in C# standard, though he did play around a bit with Nashville tuning and light gauge strings.
When conversation turns to a special guitar he just bought, Fender lights up. "I've finally treated myself and allowed myself to buy something that was expensive because there's always an air of guilt," he says. "I've been lucky, Fender's always given us stuff. I've always had loads of free guitars because I've always been sponsored by them. But when it comes to buying stuff, there's still a part of us that thinks I'm still living in the flat with my mum on a council estate, and I still feel like I can't. I'm like, "ooh, that's a lot of money." It's like a subconscious thing. I was always quite frugal. I was always scrimpin'.
Fender primarily plays Jazzmasters, but he strapped on a Stratocaster for "Will We Talk?" at Hole 44 in Berlin, Germany, on November 4, 2021.
Photo by Chux on Tour Photography@chuxontour
"But I've just bought a ridiculous Jazzmaster. It's a 1959," he continues. "It's the second year of Jazzmasters, one of the very, very first ones. It's absolutely stunning. It's got a gold scratch plate, and it came with a packet of strings from 1959 from New Brunswick."
He explains his sweet spot for tone matter-of-factly. "I like a Jazzmaster through a Fender Twin. I like a bit of compression, just to kind of give you that bite, and I love an old Electro-Harmonix Small Clone, just the original cheap chorus pedal. I think it sounds great. And every other chorus pedal I put on I'm just like 'pfft whatever.' People go, 'try this boutique $300 fucking chorus pedal.' And I put it on and it's not as good as a Small Clone. Small Clone just sounds like a chorus. And it's one knob. It's idiot proof and I'm an idiot [laughing]. That's my go-to."
At the beginning of 2022, Fender will live in New York City while recording his third album at Electric Lady Studios, which is where he'd planned to make his second album before the pandemic made that impossible. He wrote 60 songs over the last two years, recording only 11, which means he has a good stash in his back pocket. The rest of 2022 he'll be headlining arena tours, as well as supporting the Killers on four dates in London and Dublin.
On the release of such a personal collection of music, Fender recently penned a letter to his 17-year-old self. In it, he tells young Sam not to be so serious. Present-day Sam's social media is light and carefree, with videos of him explaining how to make the best cuppa, eating jellied eels, and mini movies of strangers on the street with improvised voiceovers. So, it appears time has done the songwriter well. It's all in the new album, but 27-year-old Sam had this to say to 17-year-old Sam: "Art is the purest remedy for all internal conflict and you're taking a career in it. It's an honour to do what you will do, never forget that. You may feel alone currently but you will realise that your stories, when put to music, open up a side of you that actually helps people. A lot of these stories were originally about you but they belong to everyone, as everyone has their own, and they will be screamed back at you—from clubs and dive bars, even arenas. Some kid, 17, probably going through a boatload of similar shit that you experienced, will be front and centre, screaming these stories as if it's their last night on Earth."
Sam Fender - Live at Reading Festival 2021 Full Set
Fiery Hiwatts (literally), an aluminum bari, and a common drive forge the tonal backbone for the Norwegian Grammy-winning metal mystic brewing sounds somewhere between Melvins' metallic chug, Neurosis' pulsing grind, and Swans' celestial moods.
In this episode, founding Norwegian metal visionary Kjetil Nernes details why he switched to a tuned-up, Electrical Guitar Company baritone, why he runs more Hiwatts than Pete at Leeds (and how they've caught fire … multiple times), and explains how a big-box-store drive sharpens his massive tone.
[Brought to you by D'Addario XL Strings: https://www.daddario.com/XLRR]
Custom Electrical Guitar Company Baritone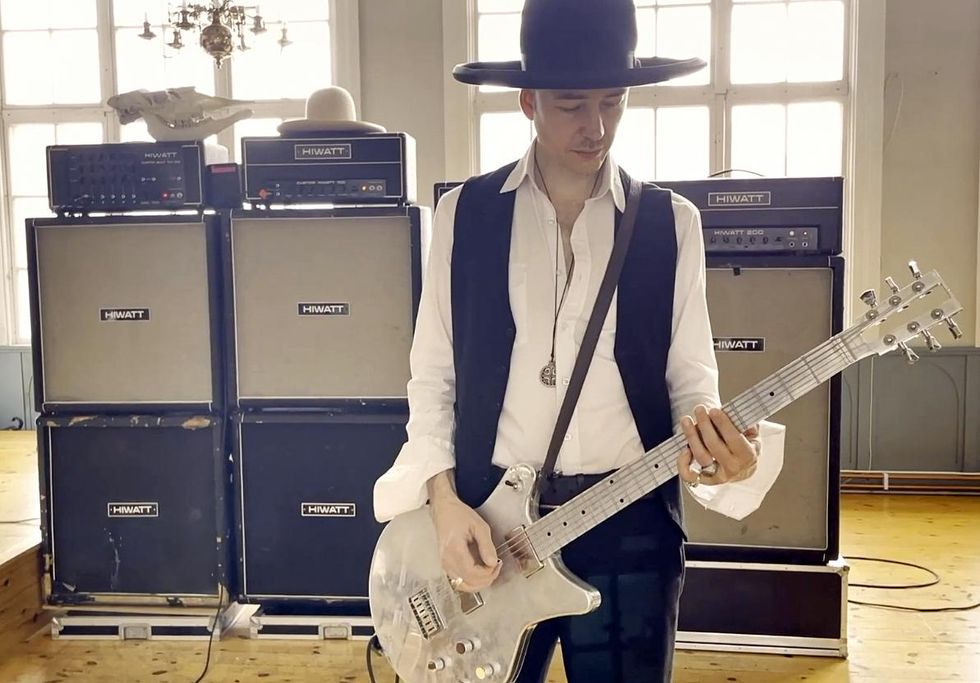 Årabrot artistic leader Kjetil Nernes owns several custom Electrical Guitar Company instruments, but the one he's been using the most currently is EGC's baritone model. He tunes it to drop C and says the bari mixes well with bandmate Karin Park's Moog bass analog synth. He employs a custom set of Black Harbor strings (.012–.060).
Kjetil Nernes' Pedalboard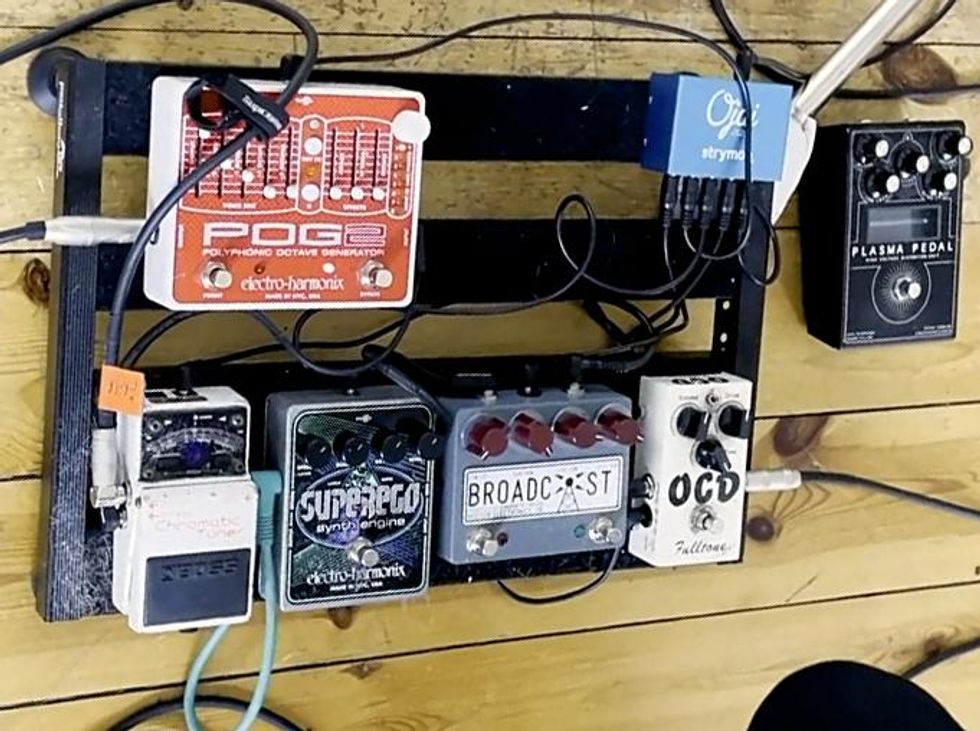 "I actually have a pedalboard these days, which is remarkable for a guitar player like me," says Nernes. "For years, I was only using the Fulltone OCD and it's became the backbone of Årabrot's sound."
He still prefers the OCD for its "sharpening" touch to his metallic EGC tones. The Electro-Harmonix POG2 hits his Hiwatt (Custom 200 DR201 bass amps) for an added signal boost. (As you can see, he's dialed out most of the octave effect.) His second Electro-Harmonix stomp is the Superego, but it's used simply as a glorified synth-y reverb to cover material on 2021's Norwegian Gothic. Heavier, chunkier, repulsive gain happens when the Hudson Electronics Broadcast runs into the Fulltone OCD. And while it wasn't plugged in for the Rundown, Nernes enjoys getting filthy with the Gamechanger Audio Plasma Pedal. Everything is powered by the Strymon Ojai.
Hiwatts Galore!
Using more Hiwatts than Pete at Leeds, Nernes blends vintage guitar heads with modern bass pillars. The guitar stacks on the left are comprised of two 1970s Hiwatt models—a DR112 Custom Built PA 100 head (left) and a venerable Custom 100 DR103. Both heads run through their own pair of Hiwatt 4x12 cabinets: one is loaded with Celestions and the other with Fanes. Nernes likes the blend of speakers with the guitar heads because he feels the Celestions add a current complement to his monstrous roar. The right half of the British-voiced battalion features Hiwatt Custom 200 DR201 (KT88) heads matched with Hiwatt SE115410F cabinets loaded with four 10" and one 15" Fane Sovereign speakers.