Photo by Farrah Skeiky
The Screaming Females guitarist delves into haunting acoustic/electronic songwriting on her solo album Peace Meter, expanding her sonic palette and typically raging approach—but not without the help of her musical community.
Before she released seven full-length albums with her punk band Screaming Females, another four under her solo moniker Noun, and was listed as one of SPIN's "100 Greatest Guitarists of All Time," singer/songwriter Marissa Paternoster didn't have much hope for musical success.
"I spent a lot, if not all, of my teenage years being very afraid," she shares. "I thought because of my gender, and then knowing full well that I was gay, that those things were going to keep me from ever being in a band or just being happy. I felt trapped."
---
But the all-consuming urge to play guitar and be in a band kept her going. She absorbed every Smashing Pumpkins riff possible at her childhood home in New Brunswick, New Jersey, and then discovered the anarchic punk women of the '90s riot grrrl scene—which changed everything. She thought, "They exist, they're out there. Maybe there is this little, tiny chance that I can find those people too."
Marissa Paternoster - Peace Meter [FULL ALBUM STREAM]
Today, Paternoster has long since found her niche, her people, and her voice. This past December she released Peace Meter, her first album under her own name, co-produced by Andy Gibbs (of Thou) and featuring Shanna Polley (leader of Snakeskin) on background vocals and Kate Wakefield (of the duo Lung) on cello. She says it might as well be a continuation of Noun, and that the main reason that it's under her name is because it's more searchable, she laughs, but it does seem like a benchmark in her career. The concise, 31-minute, nine-track album is inexplicably new. It's subtly supernatural, with Paternoster's haunting vocals carrying through an acoustic/electronic folk realm, articulating an unfamiliar yet comforting sense of calm.
The project was conceived at the beginning of the pandemic when Paternoster found herself alone in her deceased grandmother's home and began crafting and sharing her work with Gibbs remotely. In the beginning, she wasn't sure it was going to become anything, but the more the two collaborated, the more she saw it going somewhere. Maybe it's the quality of her voice, or maybe it's the delay effects, or the ineffable chemistry between Paternoster, Gibbs, Polley, and Wakefield, but Peace Meter somehow fills a void none of us knew existed.
"I thought because of my gender, and then knowing full well that I was gay, that those things were going to keep me from ever being in a band or just being happy. I felt trapped."
In March 2020, Screaming Females was nearly at the end of their tour with Canadian rock band PUP when the rise of the pandemic forced them to cancel their final dates in California. The group then drove their rental gear back to Los Angeles from Eugene, Oregon, and flew home—with Paternoster heading to her grandmother's house in Union, New Jersey, to be close to her father.
She immediately set up her recording gear in the basement and began making music "like I had done for my whole life," she says. All she had with her was her Screaming Females gear and a Taylor GS Mini that was at the house. This small-bodied acoustic can be heard on the album as part of the colorful mix of real and virtual instruments underpinning her chocolatey, melismatic voice.
Marissa Paternoster's Gear
Marissa Paternoster hovers over her pedalboard with her main axe: a G&L S-500 that's her electric workhorse. It played counterpoint to her Taylor GS Mini on Peace Meter.
Guitars
Strings & Picks

GHS strings (.009–.042)
Dunlop Heavy Sharps
Amps
Effects

Fulltone OCD
Earthbound Audio Supercollider
Klon Centaur clone
Boss DD-6 Digital Delay
Boss Chromatic Tuner
TC Electronic Flashback Delay
After putting some rough ideas together, Paternoster sent a draft of "Promises"—which ended up being the last track on the album—to Gibbs, a long-time friend, and asked if he could add some electronic drums to it. (Outside of Thou, Gibbs has a serious interest in electronic production.) "I didn't have any expectations," she says, "but what he sent back was really beautiful. I was like, 'Should we do more? Was this fun for you?' And he said, 'Yeah, let's do more.'"
Paternoster says that the album's production was basically a 50/50 split between her and Gibbs. He took the originally morose, down-tempo "I Lost You" and infused it with a happier, up-tempo beat—it's the track Paternoster says she's most proud of from the collection. Throughout the project, "he would even manipulate the vocals. He used them as an instrument that he could add modulation to, which added texture to the songs." The weird, Cocteau Twins kind of blurred line between analog and electronic instrumentation, she says, was mostly a product of Gibbs' influence.
"I never felt confused about what I wanted to do with my life until I discovered punk. Then I wanted to be in a band so bad I thought that if I wasn't in a band I would die."
Paternoster enjoys effects—a lot of them—to the point where she's had to limit her options just to prevent herself from going overboard. "If it were up to me, there'd be phaser on everything, and that's not good," she laughs. "As I've grown as a musician, I've removed a lot of flangers and phasers and octave pedals from my board. Now it's just gain-staging and a delay pedal and that's it."
One piece of gear that ended up being central to the album's guitar sounds was her TC Electronic Flashback Delay pedal. "I do really like this crystal delay function that it has," she elaborates. "It has a nice little whistle tone as the delay trails off. It's very dreamy. You can hear that a lot on the record."
Marissa Paternoster: "My Secret Weapon Is My Unrelenting Anxiety!"
When asked if Peace Meter is a result of Paternoster's personal evolution as a songwriter, she shares that the real change in her life has been that she now has access to a broad network of friends, contemporaries, and peers whom she admires, and who want to work with her. "I never had that before," she comments. She hates having the album under her name, because she says she needs other people to make music—and the project gave her the opportunity to reach out to them.
Paternoster has always felt that art was her calling, even when she was just a child who loved to draw. "There was no question in my mind that someday I was going to be an artist," she expresses. But that aspiration shifted when she entered her teenage years and found music. "I never felt confused about what I wanted to do with my life until I discovered punk. Then I wanted to be in a band so bad I thought that if I wasn't in a band I would die."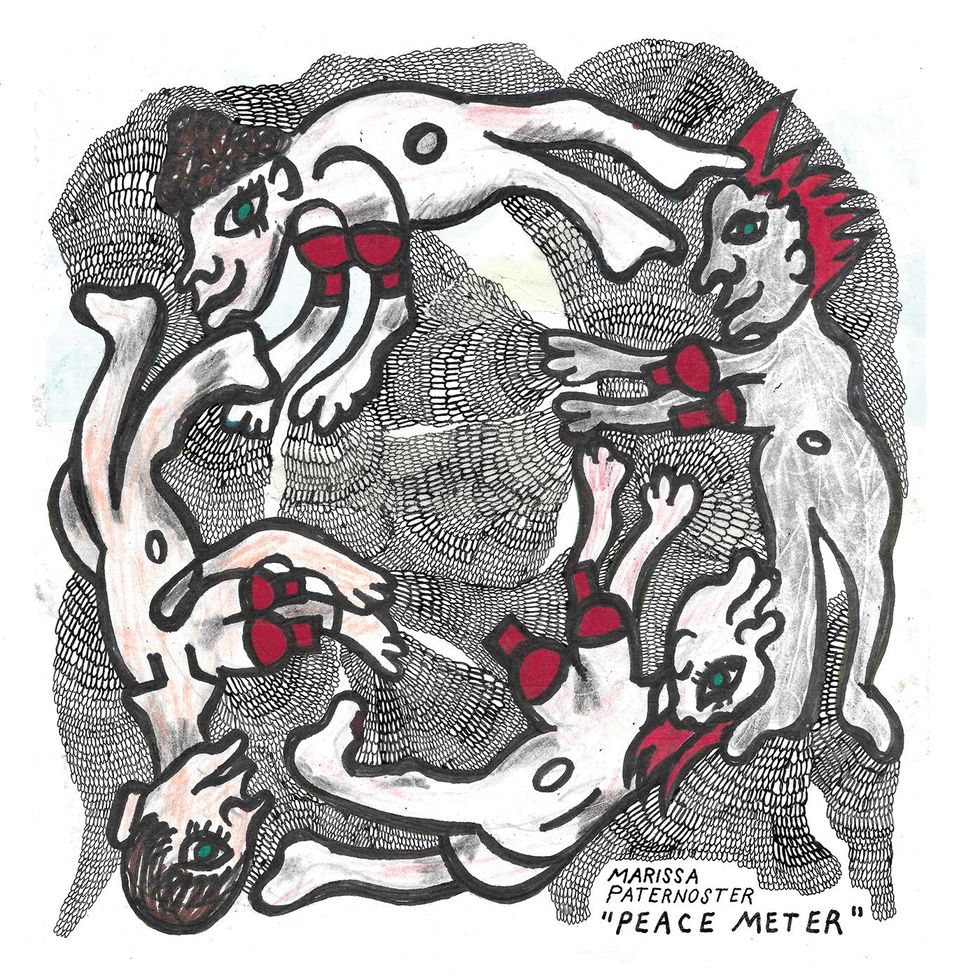 TIDBIT: Paternoster's new album is a classic Covid project—recorded remotely and crafted via file sharing. However, thanks to her haunting vocals, a wide sonic palette, and her emotional songwriting, it's far from standard fare.
While riot grrrl taught her that she was capable of being a punk rocker, she says that the biggest influence on her guitar playing was undoubtedly Billy Corgan. Smashing Pumpkins' Siamese Dream is still her favorite album, and it was that type of music that she used to teach herself to play when she was in high school—alongside the songs of bands like Bratmobile and Bikini Kill. Though technically demanding guitar solos didn't exactly fit her tastes, she did feel as though she needed to learn how to improvise, despite being a songwriter at heart.
"In the early '00s, most of my peers who played music were men," she shares. "And I thought that if I could rip a solo in a way that would impress these young boys, they might let me play in their band. But my focus has always been on songwriting, making interesting sounds, creating engaging art, and not really on shredding or whatever. I really don't care about that at all."
Rig Rundown - Screaming Females
When describing why she makes music, Paternoster delves into the topic of mental health. She lives with anxiety and depression, and, as she puts it, has had frank and open discussions about her mental well-being since she started going to therapy at age 14. "[For me, making art and music is mostly] born out of the compulsion to quell my anxiety in some way. And it's been that way ever since I was very, very small. It was my coping mechanism for everything and anything." She continues, "Your mental health affects your body, it affects you, and it affects absolutely everyone around you. It's important to take care of yourself because in turn you take care of everyone around you."
"My focus has always been on songwriting. Songwriting, making interesting sounds, creating engaging art, and not really on shredding or whatever. I really don't care about that at all."
Paternoster brings that self-awareness to all aspects of her life, including collaborating with fellow musicians. Working with others comes naturally to her, as she's been doing it essentially from the beginning, but she does confess to having some shortcomings when it comes to bandleading. "I have a tendency to be a bit bossy when it comes to logistics," she says. "I don't want to let that intensity go, but I also don't want to waste time worrying. You have to leave some things to the chaos that is our reality.
In her room: Paternoster created the bones of her new album alone, in the home of her late grandmother. Then she shared the files with co-producer Andy Gibbs and her other collaborators, vocalist and Snakeskin leader Shanna Polley and cellist Kate Wakefield.
"To be honest, I never really wanted to have full control," she admits. "There is a lot to be said about relinquishing some aspects of creative control to people that you trust and admire. When you trust people who you know already do good work, they're probably going to show up and do good work."
Aside from being motivated by anxiety and compulsion, Paternoster describes how she often finds inspiration in silly simplicity. "I'm a big fan of like, general tomfoolery," she comments, telling a story about how she'd seen two separate giant carrots graffitied on buildings in Providence, Rhode Island, where she's been staying. It gave rise to a lot of questions. "What happened that night? Why did they paint the carrots so big? Why have they never done it again? Who are they, where are they, can we hang out?" she says, laughing.
That playful spirit ties into a sense of humility both about herself and her musicianship. She reflects on the one music theory course she took in college, during which she "mostly took naps," and the pros and cons of being self-taught. "I mean, at age 35 I still am often like, 'Man, I wish I could take guitar lessons or singing lessons.' I think that would be really fun, but I only have so many hours in the day."In the meantime, she feels that sticking with music might be a good idea. "This is my comfort zone … and other people tell me that I do this well, so I think I ought to do it more."
LAVA Broken Roof Sessions: Marissa Paternoster (Screaming Females/Noun)
Looking for more great gear for the guitar player in your life (yourself included!)? Check out this year's Holiday Gear Finds!
Created in collaboration with legendary guitarist George Lynch of Dokken and Lynch Mob fame, the Mr.Scary Mod adds an adjustable tube gain stage and an onboard Deep control, which together are designed to enable an amp to have increased sustain while still retaining note definition and dynamics.
LegendaryTones, LLC today announced production availability of its new Mr. Scary Mod, a 100% pure tube module designed to instantly and easily expand the capabilities of many classic amplifiers with additional gain and tone shaping. Created in collaboration with legendary guitarist George Lynch of Dokken and Lynch Mob fame, the Mr.Scary Mod adds an adjustable tube gain stage and an onboard Deep control, which together are designed to enable an amp to have increased sustain while still retaining note definition and dynamics.
Originally released as the Lynch Mod in February 2021, the updated Mr. Scary Mod features the same core circuit as the Lynch Mod but is now equipped with a revised tube mix combo per George's preference as well as a facelift in a newly redesigned electro-galvanized steel enclosure. As with the Lynch Mod, each run will be limited and the first run in Pumpkin Orange with Black hardware is limited to just 150 pieces worldwide.
​The Mr. Scary Mod adds an adjustable tube gain stage on top of the cathode follower position, keeping note definition and articulation while further increasing sustain. Each Mr. Scary mod is meticulously built by hand in the USA, one at a time, and tuned using high-grade components. Equipped with a single ECC81 (12AT7) in the first position and ECC83 (12AX7) in the second, the Mr. Scary Mod can clean up beautifully when rolling down your guitar's volume, and still adds scorching gain when you roll it back up. This is a gain stage that's been tuned and approved by the ears of the maestro George Lynch himself.
"The Mr. Scary Mod excels with dynamics and is incredibly touch-responsive, allowing me to shift from playing clear, lightly compressed cleans to full-out aggressive sustain and distortion –and control it all simply by varying my guitar's volume control and picking," said GeorgeLynch. "In many ways, it's an old-school approach, but it's also so much more natural and expressive in addition to being musically fulfilling when you can play both the guitar and amp dynamically together this way."
The Mr. Scary Mod installs in minutes, is safe and effective to use, and requires no special tools or re-biasing of the amplifier. Simply insert the module into the cathode follower preamp position of compatible amplifiers (includes Marshall 2203/2204/1959/1987 circuits) and

immediately get the benefit of enjoying a hot-rodded amp that delivers all the pure harmonic character that comes with an added pure tube gain stage. The handmade in the USA Mr. Scary Mod is now available to order for $319.
For more information, please visit legendarytones.com.
October Audio has miniaturized their NVMBR Gain pedal to create two mini versions of this beautifully organic-sounding circuit – including an always-on gain device.
The NVMBR Gain is a nonlinear amp that transitions gracefully from clean boost to overdriven tones. Volume increases from just over unity to about 10db before soft-clipping drive appears for another 5db of boost. Its extraordinary ease of use is matched by outstanding versatility: you can use it as a clean boost, push a stubborn amp into overdrive or create a just-breaking-up sound at any amp volume.

October Audio's new family of mini NVMBR Gain pedals includes a switchable version that allows you to bypass the effect: one option features brand logo pedal graphics, while the other sports a fun "Witch Finger" graphic with a Davies knob as the"fingernail".
The second version in the new lineup is an always-on device featuring the Witch Finger graphic and Davies knob, with the same NVMBR Gain circuit that lies at the core of the switchable version.
Features:
Knob controls gain and clipping simultaneously
Stunning silver hammertone finish
Switchable versions are true-bypass, available with classic or witch finger graphics
Authentic Davies knobs, including the "fingernail"
9V center negative power supply required
Dimensions: 3.63 x 1.50 x 1.88 in​
Witch Finger (always on NVMBR Gain) demo
​All October Audio pedals are assembled in Richmond, VA, and available for purchase directly through the online shop. Street price is $109 for NVMBR Gain footswitch versions and $89 for the always-on device.
For more information, please visit octoberaudio.com.