The arena-filling rockers cheekily exude excess with a cavalcade of signature gear and some custom creations—including a pink number that made some see red.
Musical acts currently filling arenas fall into a few categories: pop, electronic, country, and legacy. The notion of modern or contemporary rock bands packing enormo-domes feels like a fossil, but don't tell that to platinum-selling Shinedown, who's been packing thousands-of-seats houses for years.
The group was founded by vocalist Brent Smith in 2001, after his previous band, Dreve, disbanded). He enlisted Jasin Todd (guitarist), Brad Stewart (bass), and Barry Kerch (drums). Zach Myers joined the fold in 2005 (as a touring member). He and current bassist Eric Bass (no joke) first earned album credits with 2008's smash The Sound of Madness. (Rig Rundown alumnus Nick Perri was a short-time member of Shinedown and earned lead guitar credits on TSOM before fully handing over the 6-string reins to Myers.)
The quartet's ability to fuse post-grunge pyrotechnics, four-on-the-floor rockers, and glossy, arms-in-the-air anthems, and their dynamic acoustic performances, have earned them 17 No. 1 hits on Billboard's Mainstream Rock chart. (If you include the other Billboard charts, they've got three more.) They also have three platinum albums (three more are certified gold in the U.S.), and six additional platinum singles. If guitar truly is in a slump in pop culture and the mainstream, somebody forgot to tell Shinedown.
When PG's Chris Kies first talked tone tools with Myers and Bass in 2013, they had some gear, and even some cool signature stuff. But this time, the war chest was on another level. Before their May 4 headline show at Nashville's Bridgestone Arena, supporting their new, seventh album, Planet Zero, the duo flexed their rockstar credentials and carted out 40-plus instruments. Myers contends he uses every one of his guitars on a nightly basis. And Bass details his signature line of Prestige basses, which incorporate an ingenious thumb rest. Myers also shows off an irreplaceable PRS created by the late American fashion designer and entrepreneur Virgil Abloh (Off-White), and he explains how a custom-painted Silver Sky earned him some serious eye rolls and scoffs. Plus, their techs break down the power and might that help them rock the rafters.
Brought to you by D'Addario XS Electric Strings.
The Pink Problem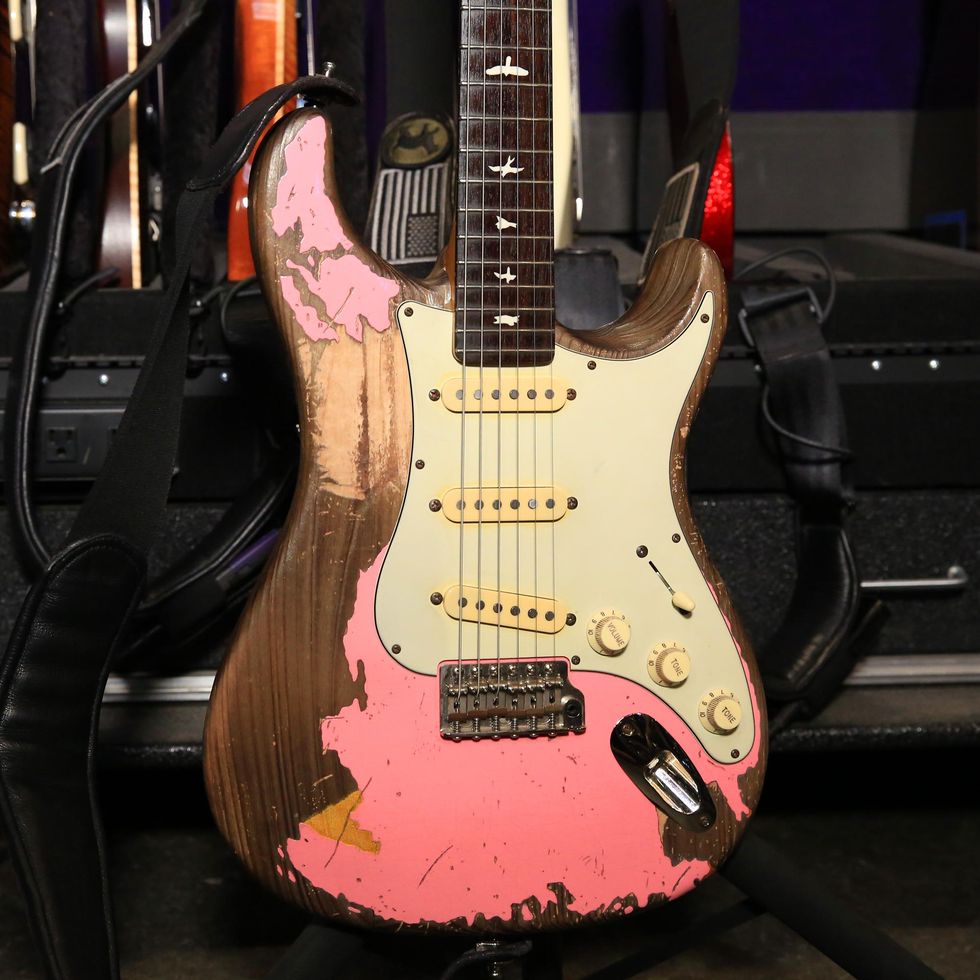 If you're a fan of PRS, you know they don't offer relic'd instruments. So, Zach Myers took matters into his own hands and had his personal Silver Sky (originally white) refinished in shell pink by McLoughlin Guitars before the custom distressor gave it their "ultimate" treatment—one that equates to a snake shedding its skin. Myers had no idea Mr. Mayer and PRS were going to release additional colors for his Strat-style signature. Needless to say, some people weren't happy with Zach crashing the pink party, but he loves the guitar, loves John, and even admits in the video that the custom relic is an homage to Mayer's black 2004 Custom Shop Strat. He plays it every night for the song "Monsters."
He uses .011–.049 strings (S.I.T. and Elixirs) on standard-tuned guitars, and for lower tunings he typically rocks with .011–.052 sets. And as you'll see in the video, his tech Drew Foppe throws curveballs at him by putting various sized, textured, and gauged picks on his guitars.
Off-White
Myers is a big sneakerhead and follower of fashion. He was lucky enough to have designer Virgil Abloh customize one of his PRS SE Zach Myers signatures before the fashion icon's untimely passing in 2021. (Abloh reached unparalleled zeniths as CEO of the Milan-based Off-White outfit and artistic director of Louis Vuitton's menswear—the first person of African descent to earn such a title.) As you can see, within his Off-White brand Abloh would utilize obvious labels for things ("switch" and "guitar"). He always incorporated one element of orange in his designs, and the video game button is a killswitch. The axe gets played on "Cut the Cord."
Tagged
Here, you can see Off-White's signature tag on Myers' signature headstock.
Branding
You can't argue that anyone would mistake Off-White's work.
I Spy
Here's another one of Zach's SE chambered semi-hollow signatures that was done up by L.A. street artist Joshua Vides, who has worked with Fendi, Mercedes-Benz, and Major League Baseball. The black-and-white color scheme gives a very Spy-vs.-Spy vibe, featured forever in Mad.
The Cat's Meow
This is a PRS Private Stock Paul's 85 that gets busted out for "Get Up" and rides in a "sort of" double drop-D tuning (both E strings tuned down to D), with custom-gauge strings (.010–.049). This run of Private Stocks features an African mahogany body, figured maple top, a dark Peruvian mahogany neck, and a Honduran rosewood fretboard, and is finished in a striking electric tiger glow.
An Extra Pair
Here is Zach's PRS DW CE 24 Floyd—one of his two touring guitars with 24 frets. It's a signature model for Rig Rundown pal Dustie Waring of Between the Buried and Me and comes stock with PRS' hottest ceramic pickups. It gets stage time for "How Did You Love."
Sweet Tea
This is one of Zach's latest additions: a PRS 594 McCarty used on "The Saints of Violence." Zach puts it in coil-tap mode, and Foppe rewired the guitar from LP-style to a more familiar PRS-style setup.
Santana Myers Model
When you have Paul Reed Smith on speed dial, you can get this made. Myers had the silky-looking Santana model transformed into a semi-hollow matching his SE signature format. This gets brought out for the fan favorite "Second Chance."
Elephant on the Fretboard
Paying homage to his dear friend and Shinedown singer, Brent Smith, Myers had PRS add an inlay of elephants. (The largest existing land animal is Smith's favorite beast.)
Old Friend
This might be one of Zach's oldest touring guitars currently out with Shinedown. The PRS NF3 gets some action during "45" and never can be replaced, since its sound is so unique, with 57/08 Narrowfield pickups that he says are unlike any others in his live arsenal.
I've Got a Mira by the Tail
If you caught our 2013 episode with Shinedown, you'll recognize this Buck Owens-inspired Mira with 57/08 humbuckers that he gets busy with on "Unity."
Workhorse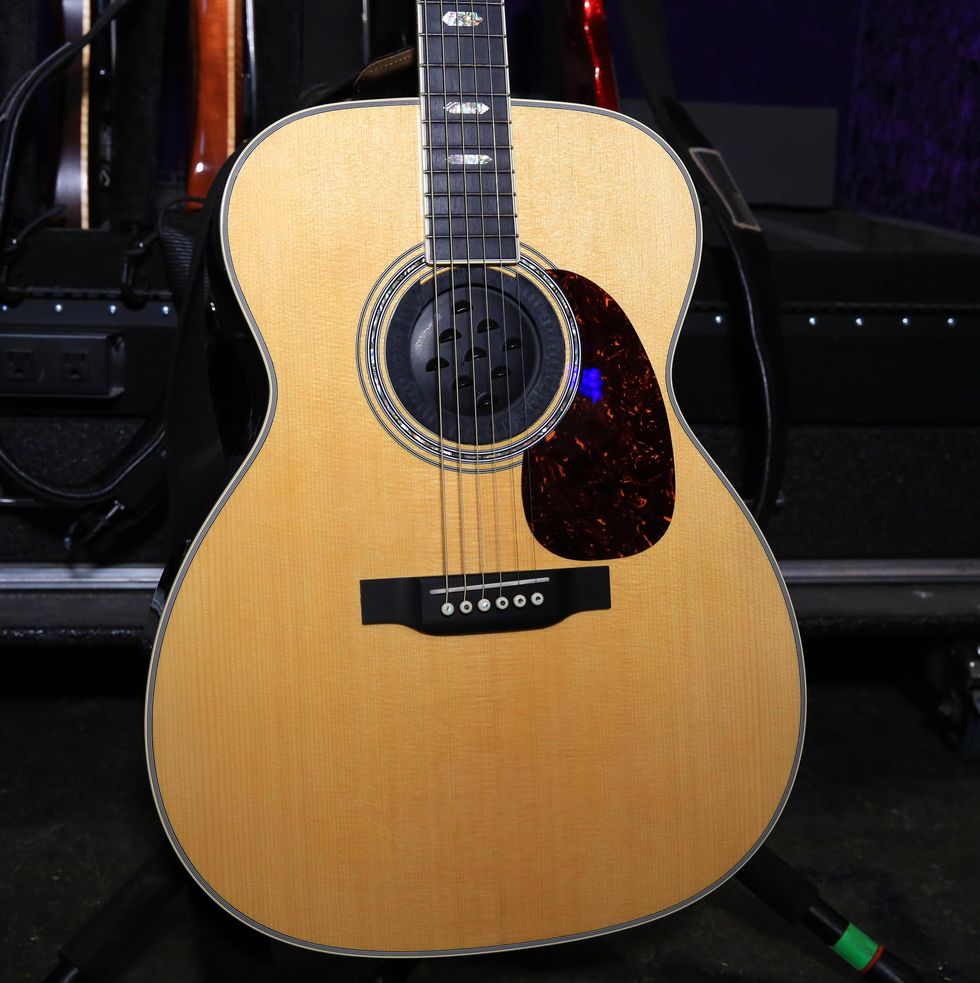 It might be a stretch to label this Martin J-40 with such a name, seeing it's only featured on two songs ("Simple Man" and "Daylight"). But most of the guitars in this Rig Rundown only get used for one jam per night. The J-40 takes Elixirs (.011–.052).
Blue Jean
Here's a custom take on the earliest versions of Zach's PRS signatures that gets the spotlight for "Enemies." It is tuned down a whole step, to D standard. Note the distinctive bright hue on the guitar's side, by the horn.
Scorpion
This custom McCarty 594 pays its dues for the song "Bully." It takes an .011–.052 set and rumbles in C# tuning.
Maple, Maple, Maple!
This McCarty model is made entirely of maple and makes hay on the song "Save Me."
More Maple?!
Another all-maple McCarty, but this is chambered and struts out for "State of My Head."
Zach's Blues
Here's the latest incarnation of Zach Myers' SE signature that debuted in early 2021. Subtle updates include a lusher "Myers Blue" (he admits it's pretty pretentious) finish, black bobbins on the pickups, black tuning pegs, and a matching headstock veneer. This blue bombshell makes an appearance for "Fly from the Inside." And whenever Myers sees a kid having the time of his life at a Shinedown show, he'll call on Foppe to bring out one of his new signature models and he'll gift it to the youngster. How cool is that?!
Rack Control to Major Drew
With a rig this big, doing this much, in front of thousands, you need a primed pilot at mission control. And lucky for Myers, tech Drew Foppe is up to the task. Everything starts at the Fractal Audio Axe-Fx IIIs. (There's a main and a backup.) There are four channels of Shure UR4D+ wireless units (three for electric and one for acoustic). From there they run an AES digital out to the Antelope Audio Trinity Master Clock and Antelope Audio 10MX Rubidium Atomic Clock. This helps fatten the fully stereo, digital rig by converting it to analog and then sending it back. After that they use IRs off the Axe-Fx (left and right) into a pair of Neve DIs that then feed a Fryette G-2502-S Two/Fifty/Two Stereo Power Amplifier. (There's another for backup.) And finally, they send parallel signals to two ISO cabs and two Universal Audio OX Amp Top Box reactive load boxes (both left and rights). Altogether, there are eight channels of guitar.
Zach Attack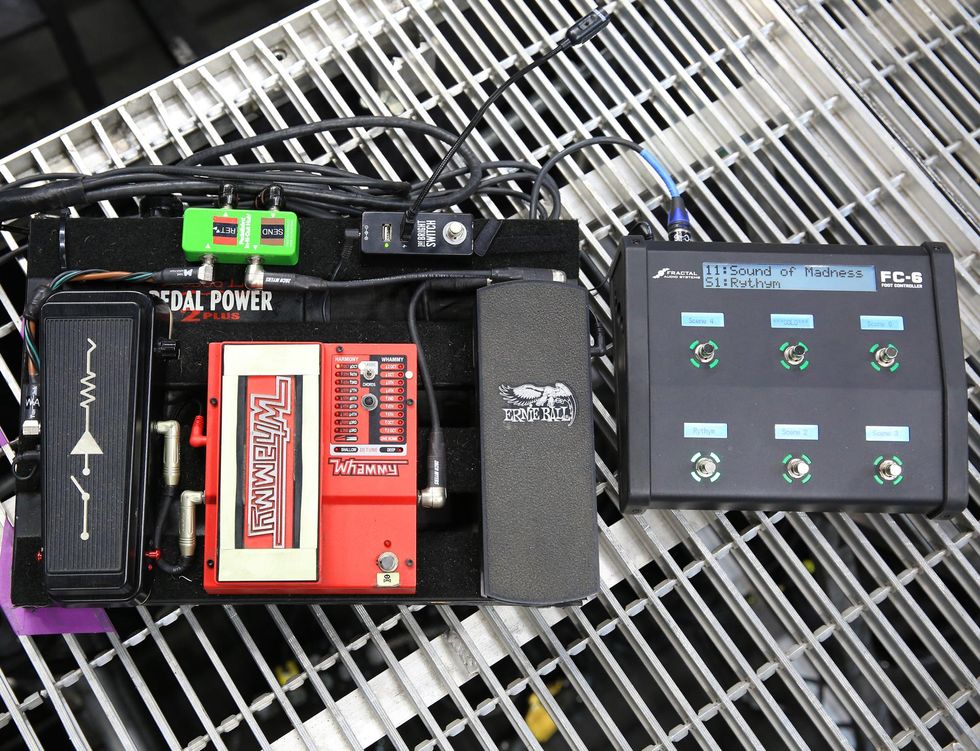 While Drew oversees the main operation, Zach still has some control at his toes. He's got a Dunlop MC404 CAE Wah, DigiTech Whammy V, Ernie Ball 40th Anniversary Volume Pedal, and the Fractal Audio FC-6 Foot Controller. Peeking out from the mini board is a Voodoo Lab Pedal Power 2 Plus, giving life to these effects units.
Bass' Bass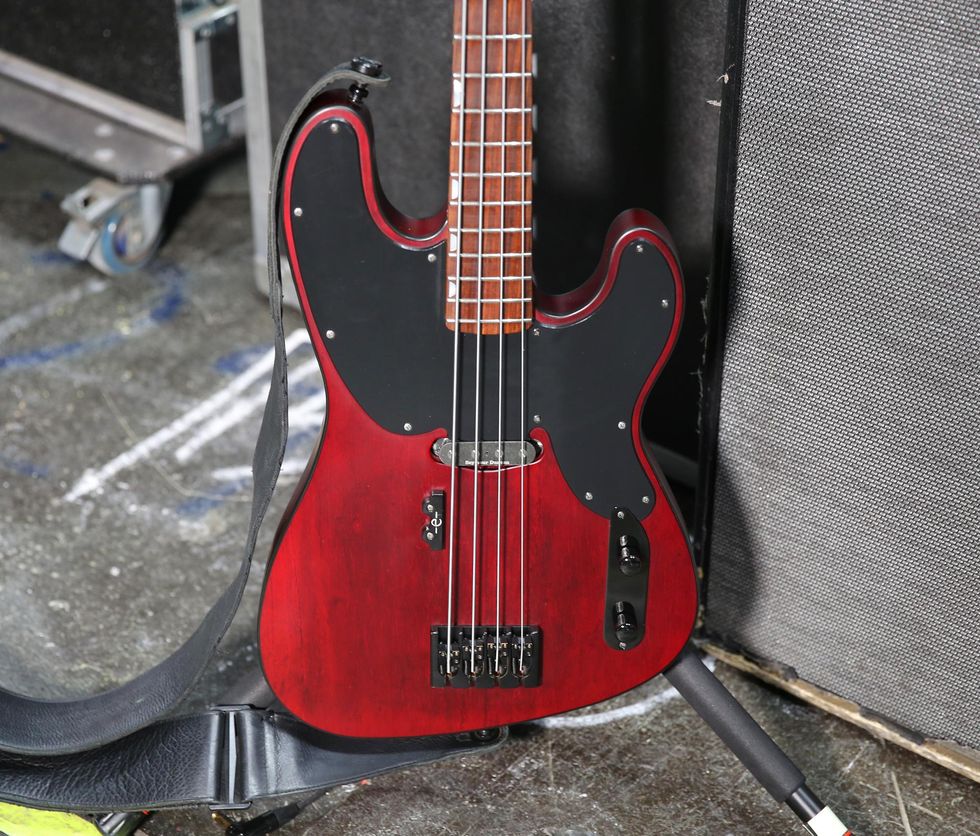 Since our last gear chat, Eric Bass teamed up with Prestige Guitars to make a childhood dream come true. A memory that's stuck with him since he was a young musician was how cool Stone Temple Pilots' bassist Robert DeLeo looked harnessing a Telecaster bass. So, when Prestige asked for some of his ideas, he knew where to start. The slightly offset double-cutaway has a solid ash body, a 1-piece, hard rock maple neck (with a bolt-on connection), and a pau ferro fretboard. The neck has a slim C-shape (similar to a J-style bass). There's a Seymour Duncan SCPB-3 Quarter Pound pickup and Hipshot hardware (4-string A-Style bridge and HB-7 tuning machines). One thing that won't show up in the spec sheet is the sneaky thumb rest that has a small 'E' on it. It's a design inspired by the top of a humbucker, because Eric was so used to resting his thumb atop of a 'bucker that he was a bit lost without it. They initially tried standard flat thumb rests, but Bass was inclined to use the curved pocket on top of the humbucker as leverage to throw around the instrument onstage. Bass' personal instruments have brass nuts, whereas the production models will have bone.
Bass uses three or four tunings each night that will include standard, drop D, C#, and drop C. For standard and D, he'll go with his set of signature S.I.T. Strings (.050–.110), and for the lower tunings he extends the low string to a .115.
Three on the Tree
Here's the sleek reverse headstock for Eric Bass' signature models.
Go for the Gold
This was the second prototype for Bass' signature. It featured a belly-cut contour that he ultimately did away with. He prefers the bigger slab-body style and the dual edges allow for some sick double binding seen on the production models.
Kerns the Conspirator
Bass isn't afraid to get down on someone else's signature cruiser, and he does so each night with the Prestige Todd Kerns Anti-Star 4-string. (Kerns is in Slash Featuring Myles Kennedy and the Conspirators and fronts Canadian rock band Age of Electric.) This one has a 7-piece mahogany/walnut body, mahogany neck, and ebony fretboard, and comes off the rack with Seymour Duncan USA Todd Kerns pickups.
Kerncidentally
Here's Bass' signature Prestige sporting a set of Todd Kern's Seymour Duncan pickups.
Show and Tell
Eric sent a few basses over to Relic Guitars The Hague in Netherlands so they could mess them up in the most beautiful way possible. He gave them some instruction and creative carte blanche.
And here's a close-up of the artwork.
Here's Looking at You, Bass
Here's another example of the handiwork happening inside Relic Guitars The Hague. The inspiration is the oil painting "Girl with a Pearl Earring" by Johannes Vermeer, from 1665.
Nash Bash
This Nash PB52 preceded his Prestige signature, but you can see how he got the wheels turning for mapping out his own instrument. Bass affectionately calls this one "Grimace."
Move It On Over
Each night, Bass takes over 6-string duties and makes music with this Prestige Legacy OM.
Refrigerator Rig
Tech extraordinaire Jeramy "Hoogie" Donais helped create this efficient fridge-sized setup for Bass. As he explains it, the Prestige basses hit the Shure UR4D+ wireless units (similar to Myers, he has three channels for bass and a channel for acoustic), then a Neve DI, and into a Radial JX44 signal manager (he does have a 100' cable for backup but hasn't used it in his eight years with Shinedown) that feeds it into an Ampeg SVT-7 Pro for clean tone (with an extra for backup).
Tube Tone with Teeth
The right-hand rack features a pair of Mojotone Deacon (inspired by the sound of Queen bassist John Deacon) 50W heads that run on a pair of KT66 power tubes. One beast gets engaged for Shinedown's heavier songs and one sits below as a reserve.
Noise? What Noise?!
To help keep the rig calm and quiet, Bass has a Revv G8 Noise Gate to remove any unwanted buzz and hiss.
Eric Bass' Gas Station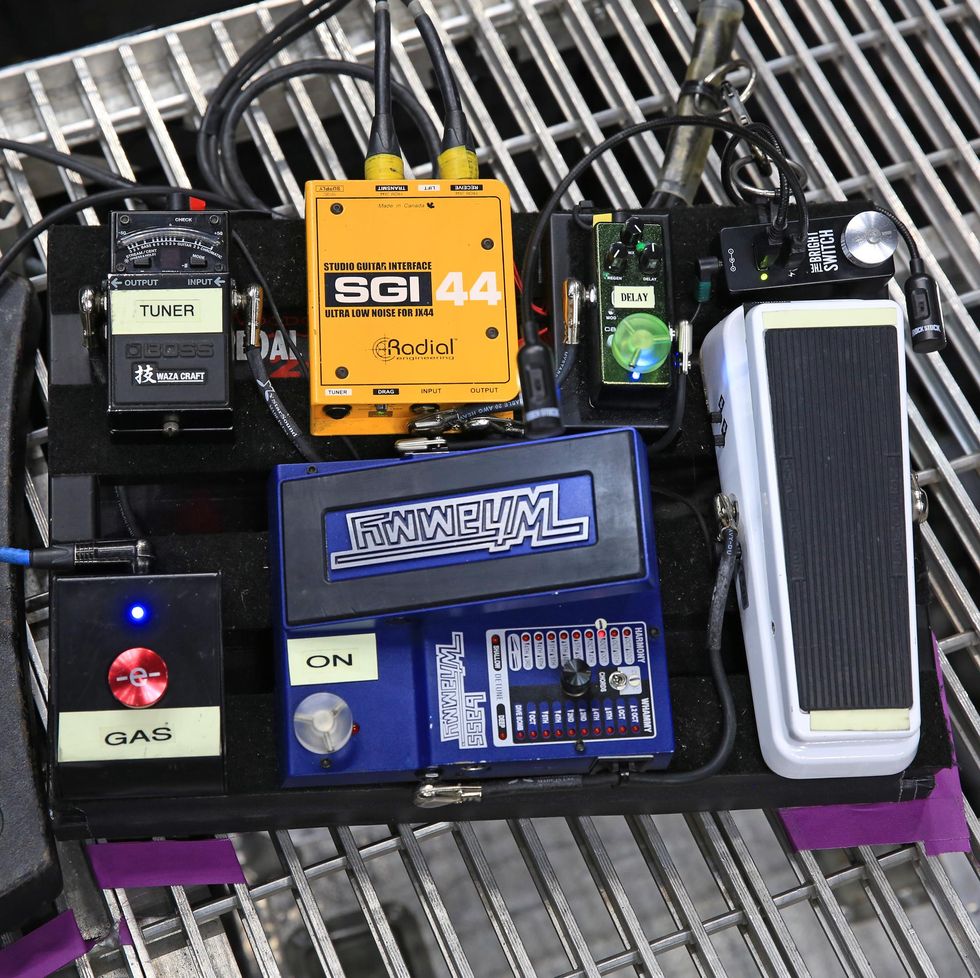 Onstage sits Bass' pedalboard that includes a Dunlop 105Q Cry Baby Bass wah, a DigiTech Bass Whammy, and an MXR M299 Carbon Copy Mini Analog Delay. The 'Gas' switch engages the Mojotone Deacon, a Radial SGI-44 1-channel Studio Guitar Interface connects with his rackmount JX44, the BossTU-3W Waza Craft Chromatic Tuner keeps his instruments in check, and a hidden Voodoo Lab Pedal Power 2 Plus feeds juice to everything.
Photo by Justin de Nooijer
On his new album ForEver, the songwriter, player, and conceptualist shows he knows no stylistic bounds.
Joshua Crumbly says that a lot of his musical ideas start out reflectively, like a mantra or meditation, often repeated over and over as he develops them. It's a Zen-like practice that allows him to access a deeper, more intuitive headspace. "All of the songs that made ForEver, they kind of took my mind and heart somewhere as I played them," he says of his new album. "And there was so much going on in the world during the pandemic, I just feel like the storylines came to fruition."
The inventive bassist was born and raised in Los Angeles and attended the prestigious Juilliard School in New York City. When we spoke, he was in Dallas, Texas, co-producing and writing an album for Brandon Marcel. Crumbly and Marcel both tour in R&B singer Leon Bridges' band. Marcel is one of the background vocalists.
"We were engaged in writing for three or four days last week," says Crumbly. "And then yesterday we had to do a streaming show with Leon Bridges." Apparently, the guys in Bridges' band have been making fun of Crumbly because he's always bouncing between New York and Los Angeles and can't decide where to put down some roots. "I keep telling them, 'I'm finally going to officially move back to L.A. permanently.' So, they're like, 'Yeah, right.' And now I've been in Dallas for a couple of weeks and I'm like, 'Oh man, I'm loving Dallas.' I'll figure it out. The grass is always greener, right?"
Joshua Crumbly - The See (Official Music Video)
Crumbly's debut 2020 release Rise, embraced that concept wholeheartedly. "I'm initially coming from different jazz settings, and I've gotten to play with some brilliant people over the past 11 years or so," he explains. "But [with jazz] I just got to a point where I was like, 'Man, we have all these brilliant minds, and everybody's writing songs with the same exact form, and every song has the same experience for the musicians as well as the audience.' So I was like, 'I want to see if there's a way to create songs that have a different journey to them.'"
This songwriting journey continues on ForEver. Stylistically, like Rise, the tunes on ForEver aren't necessarily jazz. They run the gamut from indie rock ("THREE") to ambient ("ForEver") to the Motown-infused thump of his playing on "C.S.C." Crumbly mostly eschews the traditional jazz arrangements that primarily defined his formative years as a bass player and sideman. Take a song like "Reflection." Grounded by a hypnotic bass ostinato, it upends jazz norms by introducing the melody at the end of the tune, as opposed to playing the melody first, then a bunch of solos, and then the melody out, as in a conventional post-bop arrangement. If Crumbly's ambition was to construct songs in such a way as to give everyone involved a new experience, on ForEver he unequivocally succeeds.
"Shout out to Universal Audio for changing my life. And believe it or not, I use GarageBand."
Born in 1991, Crumbly began to study music at an early age, at the behest of his father, saxophonist Ronnie Crumbly. He started out playing classical piano before picking up the bass at age 9. He learned to play by ear in church, and then dove into heavy metal at the local music store, where he subsequently took lessons, before binging on the jazz records at home that would become his muse. Though Crumbly studied with such venerable jazz stalwarts as Ron Carter and Reggie Hamilton, there's a pop element to his songwriting that makes his recordings eminently welcoming for the average listener. His fascination with pop songs, as a writer, can be attributed to what he calls "commercial sentiment."
"What I think is actually cool about popular music, is the power of a song is still prevalent, and it doesn't always hinge on a million solos and that sort of thing—just a melody and a vibe, with no solos or anything like that."
French playwright Antonin Artaud once made the provocative assertion, in his seminal 1938 theatrical treatise, The Theatre and Its Double, that the actor is "an athlete of the emotions." Likewise, Crumbly doesn't knock you out with chops on ForEver. Instead, he tugs at your heart with an empathic vibe that comes across in his songwriting as well as his bass playing. Instead of rapid-fire slapping or lightning-fast finger tapping, Crumbly's virtuosity on ForEver lies within his ability to convey qualities like fragility and tenderness. His performances often affirm the age-old adage that it's not always about what you play, but how you play it.
TIDBIT: Crumbly's latest release was started at Brooklyn's Figure 8 Recording studio, but he finished the album at home on GarageBand, using hardware and plug-ins from Universal Audio and Arturia.
"I'll give you some insight to the song 'Reflection,'" he offers. "I wrote it during the time when the tremendously sad George Floyd incident occurred, and that was coinciding with rising Covid cases. The news would go between speaking about George Floyd and then reporting on all these deaths around the world from Covid. So, I started accompanying the news with the ostinato that the song is based on, and just reflecting on what the feeling of the time was. But then, the more I played it, I started becoming more hopeful. That's how that song came about—just regarding what I might have been thinking about at the time."
The catalyst for recording ForEver was an unexpected call from Figure 8 Recording's Shahzad Ismaily. "I didn't have his number saved in my phone," recalls Crumbly, "so I had no idea who it was. And he said, 'Josh, you need to record a solo bass album.' And I was like, 'Uh, okay.' He generously offered me some time at his beautiful studio, Figure 8, in Brooklyn. I started 'THREE' there, and then also 'We'll Be (Good).' But then I just got super busy with putting out Rise, and constantly being on the road, so ForEver had to get shelved. And then, when the pandemic happened, I got a bunch of recording gear and was able to devote time at home to finishing ForEver. So, shout out to Universal Audio for changing my life. And believe it or not, I use GarageBand."
Joshua Crumbly's Gear
Crumbly, always in search of unfamiliar sounds, plays flatwounds on his Michael Tobias Design Kingston bass. He also enjoyed "testing the limits of what a P bass could do" while making ForEver.
Photo by Ronnie Crumbly
Basses
Fender American Special Precision Bass
Michael Tobias Design Kingston (4-string)
Moon Guitars J Bass
Amps
Ampeg SVT (with 4x10, 6x10, or 8x10 SVT cab)
Strings & Picks

La Bella Deep Talkin' Bass flatwounds (.049–.105)
Labella Custom Nickel (.050–.105)
Fender Classic Celluloid medium picks
Effects
Aguilar Octamizer

Electro-Harmonix Big Muff Pi
MXR Phase 90 M101
Universal Audio Golden Reverberator
Universal Audio Starlight Echo Station Delay
Recording Gear
Arturia interfaces and plug-ins
GarageBand for Mac
Universal Audio hardware and plug-ins
Most of the effects heard on ForEver are delay modulators. "I messed with a lot of the Universal Audio plug-ins, and I'm really happy that they came out with physical renditions of those plug-ins in the form of actual pedals," admits Crumbly. "I've been able to recreate some of the sounds live. I did use some pedals at Shahzad's studio that I don't even remember the names of, but I would say 80 percent of it is different delay modulators from UA, and the song 'To Morrow' is a combination of modulators and fuzz pedals. That was the one song on the record that I had to work on for a few days. I was searching for this particular sound in my head, for that melody line."
There's a cinematic quality to the music on ForEver that Crumbly's tasteful use of effects enhances, each song characterized by a distinct mood or atmosphere. "When I had an idea, and then found the effects that were speaking to me for that song, I think it definitely took me somewhere, gave me this experience, and brought meaning to the song. It amplified the whole experience."
As a jazz-based musician, Joshua Crumbly takes a road less traveled, through pop, rock, and ambient music, to get to his signature approach.
Photo by Giraffe Studios
As for instruments, Crumbly says there's "a lot of 4-string P bass" on ForEver. "I bought a 2012 Fender American Special Precision Bass that I found, all beat up, at Chicago Music Exchange," he remembers. "When I brought it to soundcheck, everyone was like, 'Oh my God, it sounds amazing.' So, I put away all the other 5-string basses that I had. It was fun, testing the limits of what a P bass could do on this record." On the ambient title track, however, Crumbly went back to what he considers his first real instrument: an MTD Kingston bass. "It's actually a passive instrument," he clarifies. "I switched things up a little bit. I hadn't ever seen anyone using flatwounds on an MTD. So that's what's on there now."
"'I want to see if there's a way to create songs that have a different journey to them."
Songs like "Reflection" and "We'll Be (Good)" are crafted around chords and double-stops for the central bass line, and Crumbly says his technique for that kind of approach is "the thumb, and then my index and middle finger." However, he is not a fingerstyle purist, as demonstrated in the video for "The See," in which he plays an astronaut. "I'm playing with the pick, and I have to shout out a mentor of mine named Reggie Hamilton. I would not be playing upright bass if it weren't for him, nor would I be playing with the pick. I owe a lot to him for broadening my horizons. People are sleeping on how cool playing with a pick is on the bass, but I'm okay with that. I'll be like, 'All right, I'll be one of the few, I guess.'"
Space is the place: Joshua Crumbly donned an astronaut costume for the video for "The See," from his new album.
Photo by Ronnie Crumbly
As for his time at Juilliard, Crumbly says "keeping a vision" was one of the most important things he learned at the school. "I think keeping a vision helps you get through a lot of things that may be tough at the time," he explains. "College was a bittersweet experience, because I was juggling being on the road with [trumpeter] Terence Blanchard and being in school full time. And a lot of the administration wasn't cool with that, but I had a dream job that I couldn't say no to, and it was a dream for my parents that I went to college and finished. They weren't so sure that I was able to do both, but when you have a vision, though, you're looking ahead. It also makes the present moment sweeter at the same time. I also learned how to be more disciplined, studying with Ron Carter, getting to see how on point he is, and what a master he is, and the level that he expects of his students. He just believes in you infinitely. I think we should all believe in ourselves in that way, too."
Ultimately, Crumbly says that making ForEver was a "crazy adventure" that allowed him to explore the bass in a new way. "I feel like I'm on a path that I can explore infinitely by way of the bass and by way of emotion as well," he explains. "I just hope that my music is very inviting to whatever people may like. You don't have to be a jazz head or a rock head or whatever. I just want it to be a super-inviting, welcoming sound."