You may have heard of Twitter, but here''s an introduction to why you should be on it.
What is Twitter, and why should you care? Well, let's start by addressing the first part of that question. Twitter is something like a micro blog. Users post their thoughts in 140 characters or less, and "followers" read them. You can follow whoever you want, and anyone can follow you (though you can require permission for followers). You can update your status and see others' status on the web, in dedicated Instant Message-like applications, and from your cell phone. You can send messages to other Twitter users and post links and photos as well.


Tweets
A look at what you can expect to see on Twitter.

This will be the 1st time I won't be playing Hamers with Living Colour since I switched from ESP 20 yrs ago. Yikes!!! – vurnt22 (Vernon Reid)

But seriously you best believe that if I had a Mini Me, his primary purpose would be to change strings regularly. – greghoweguitar

Using my Port City - regular size 4x12 with 2 Eminence (Cannabis Rex's) on top and 2 Eminence (Governor's) on bottom. Blows everything away
– greghoweguitar

who is interested in a custom chapman stick cable? message me – solidcables

I'm not going to announce this until next week, so the early word goes to you Twitterers! The EHX Merch Shop – EHX

Got a Fender guitar and not sure of its age? Check out our Product dating page – Fenderuk

Managed to lay a few guitar tracks for my sixstringbliss submission, at this rate I should hit the August deadline ;) – guitarnoize

Listening to Richie Kotzen: Live in Sao Paulo. Could really use some bigass backing vocals but still rocks. – iheartguitar

Writing on twitter about writing in the magazine about twitter. Confused yet? Here's some bass porn to help out... – premierguitar
The more important part of the question, however, is "Why should you care?" This is a bit more complex. There are many different appeals to the service. For guitarists, a major one is the ability to follow other guitarists.
John Mayer
,
Vernon Reid
[Living Colour],
Greg Howe
and
Jeff Beasley
all update with mixed frequency.
A number of gear companies also have Twitter accounts.
Taylor
,
Fender UK
,
Gibson
,
Epiphone
,
Dean
,
DigiTech
,
Simple Amps
,
Solid Cables
,
Suhr
,
Electro-Harmonix
and
Warmoth
, to name a few, post regularly. Many post news about their endorsed artists and links to information about new gear.
Perhaps the most interesting reads, however, are the many guitar bloggers on Twitter. Bloggers like
I Heart Guitar's Peter Hodgson
and
Guitar Noize's Jon Bloomer
both post regularly, from what they're listing to at the moment to guitar news and everything in between.
Of course, Premier Guitar is on there as well. Besides updating every time we post an article, we'll also post pictures of gear we get in for review, what we're digging on at the moment, and day-to-day life at the Premier Guitar offices.
If you're looking to get started with Twitter, head to
twitter.com
and set up an account. Then, we suggest checking out a blog that Jason Shadrick of National Guitar Workshop posted listing a number of guitar-related Twitter users at 
www.jasonshadrick.com
.
Of course, once you're set up, visit
twitter.com/premierguitar
and follow us—and say hi while you're at it.
Looking for more great gear for the guitar player in your life (yourself included!)? Check out this year's Holiday Gear Finds!
Outlaw Effects introduces their next generation of NOMAD rechargeable battery-powered pedal boards.
Available in two sizes, NOMAD ISO is a compact, versatile tool that offers the convenience of a fully powered board plus the additional freedom of not having to plug into an outlet. NOMAD ISO is ideal for stages with limited outlet availability, quick changeovers, busking outdoors, temporary rehearsal locations, and more!
NOMAD ISO builds upon the legacy of the ultra-convenient and reliable NOMAD rechargeable pedalboard line originally launched in 2018. The brand new NOMAD ISO editions feature eight isolated outputs (1 x 9V DC, and 1 switchable 9V/12V DC) for even more versatility and clean, quiet power. With an integrated lithium-ion battery pack boasting 12800mAh capacity, NOMAD ISO can fuel a wide array of pedals, and will last over 10 hours* on a single charge.
Each NOMAD ISO pedal board includes adhesive hook & loop pedal-mounting tape, eight (8) standard DC connector cables, and one (1) reverse polarity DC cable, giving you everything you need to build your ultimate "off-the-grid" rig. A rugged, road-ready padded gig bag with shoulder strap is also included, to safely protect your gear while you're on the move.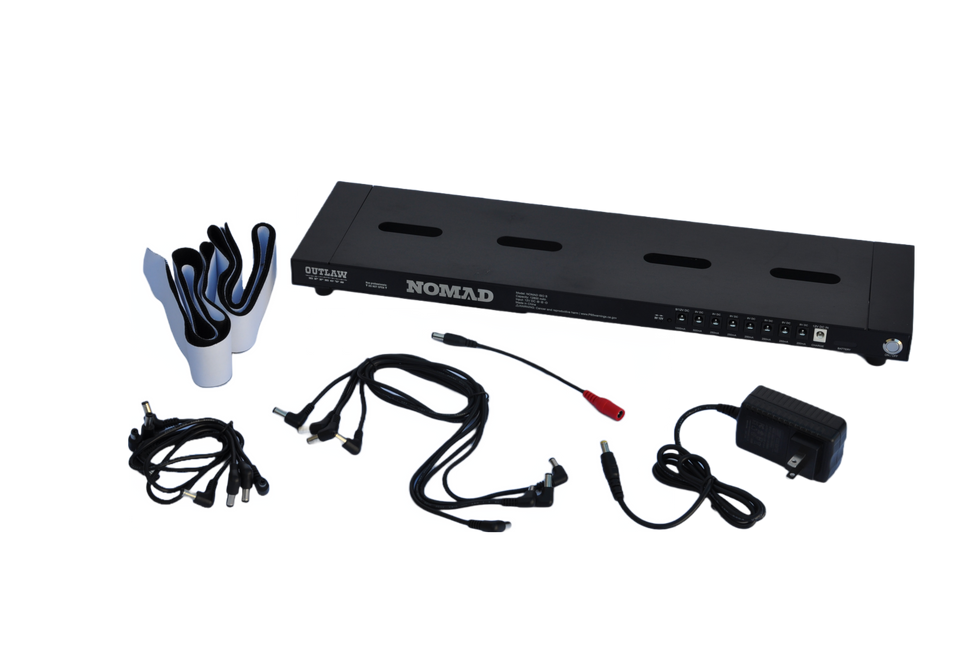 Dunable announce new Minotaur model featuring Grover Rotomatic Keystone tuners.
The Minotaur's DNA is rooted in their classic Moonflower model, which Dunable discontinued in 2017. However, they have long since wanted to create a fresh take on a carved top guitar design, and various attempts to rework the Moonflower led them to a brand new concept with the Minotuar.
Dunable's goal is to give the player a guitar that plays fast and smooth, sounds amazing, and gives maximum physical ergonomic comfort. The Minotaur's soft and meticulous contours, simple and effective control layout, and 25.5" scale length are designed to easily meet this criteria.

Dunable Minotaur!
Features
25.5" scale length
Dual Humbucker
one volume, one tone, push pull for coil splitting
Grover Rotomatic Keystone tuners
Grover Tune O Matic bridge with brass Kluson top-mount tailpiece
jumbo nickel frets
12" fretboard radius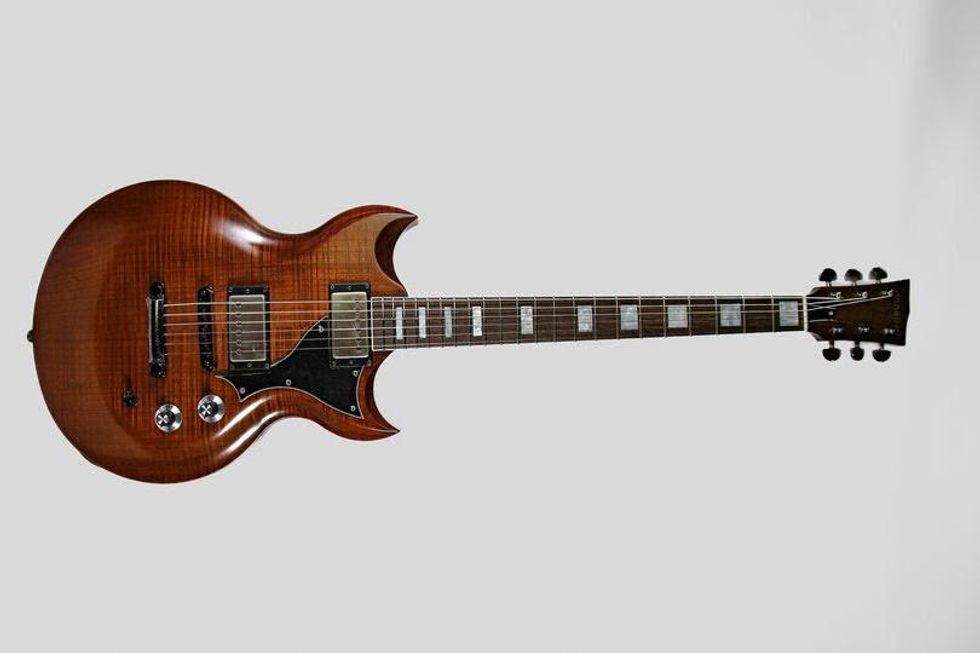 Dunable
This full-amp-stack-in-a-box pedal brings a new flavor to the Guitar Legend Tone Series of pedals, Missing Link Audio's flagship product line.
Adding to the company's line of premium-quality effects pedals, Missing Link Audio has unleashed the new AC/Overdrive pedal. This full-amp-stack-in-a-box pedal – the only Angus & Malcom all-in-one stompbox on the market – brings a new flavor to the Guitar Legend Tone Series of pedals, Missing Link Audio's flagship product line.
The AC/OD layout has three knobs to control Volume, Gain and Tone. That user-friendly format is perfect for quickly getting your ideal tone, and it also offers a ton of versatility. MLA's new AC/OD absolutely nails the Angus tone from the days of "High Voltage" to "Back in Black". You can also easily dial inMalcom with the turn of a knob. The pedal covers a broad range of sonic terrain, from boost to hot overdrive to complete tube-like saturation. The pedal is designed to leave on all the time and is very touch responsive. You can get everything from fat rhythm tones to a perfect lead tone just by using your guitar's volume knob and your right-hand attack.
Features 
Three knobs to control Volume, Gain and Tone
Die-cast aluminum cases for gig-worthy durability
Limited lifetime warranty
True bypass on/off switch
9-volt DC input
Made in the USA
MLA Pedals AC/OD - Music & Demo by A. Barrero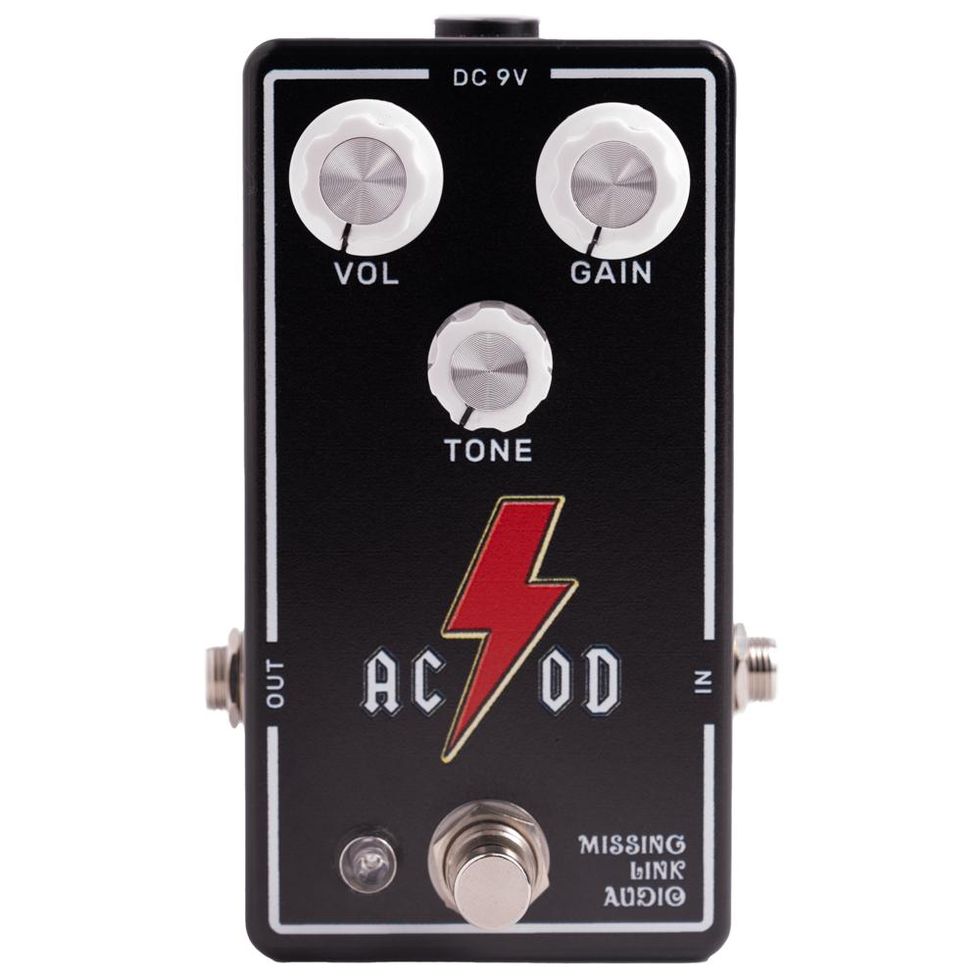 www.mlapedals.com.