Hey Zach! I have an oldie but goodie for you: the way-cool Guitorgan. I've owned it for several years and I'm not as much interested in the value as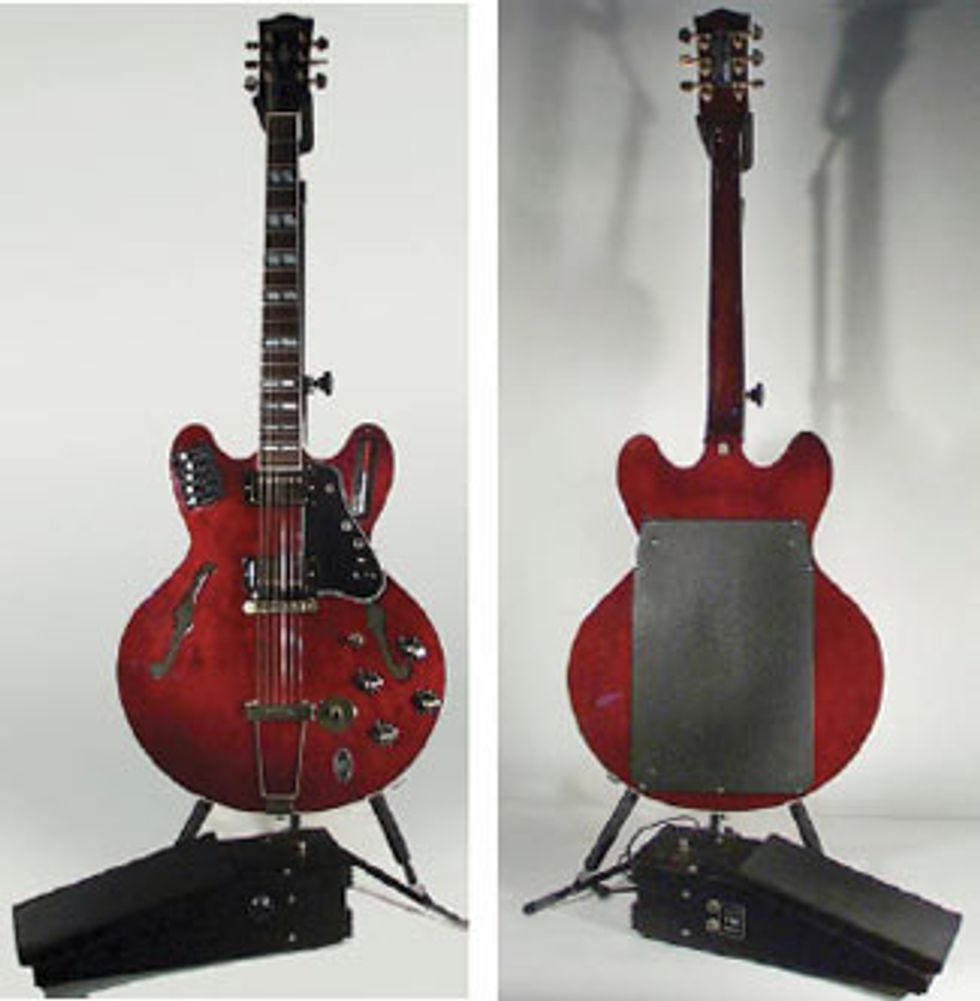 Hey Zach!
I have an oldie but goodie for you: the way-cool Guitorgan. I've owned it for several years and I'm not as much interested in the value as I'm interested in some overall history of the device. Any help you can provide would be appreciated!

Harold in Austin, TX

Hi Harold,
This guitar is perfect for this month's issue of Premier Guitar since this is our unique gear issue. When it comes to unique guitars, the Guitorgan is about as individualistic as it gets. While the Guitorgan wasn't overly popular, it does serve its place in guitar history as being innovative and I view it as a frontrunner to the synthesizer craze of the early eighties. I'll give you a little history on the Guitorgan, how it works and what these guitars are selling for today.
The Guitorgan was created when inventor Bob Murrell wanted a guitar that could also produce Hammond organ-type sounds. He started a company called Murrell Electronics to produce this guitar, which later evolved into Musiconics International (MCI). Murrell began working with Baldwin to develop the organ circuitry for his guitar; Baldwin in turn used Murrell's knowledge of the industry to learn guitar marketing concepts when they began importing Burns guitars into the U.S. during the late 1960s. The first Guitorgan was introduced at the 1967 Chicago NAMM show and early production began in the same year. By 1968, a production factory was opened for the Guitorgan. Commercially, it wasn't very popular, but Murrell sold enough instruments to remain interested in the concept and he continued to modify and release updated versions of his guitar/organ through the eighties.
I recommend visiting your local community college and enrolling in Guitorgan 101 if you are truly interested in playing this instrument. Since that doesn't really exist and I can't seem to locate any catalogs or owner's manuals, I'll try to explain how this contraption works. The organ circuitry was developed by Murrell and he used Baldwin tones to voice the organ. Several different guitars were used in construction; at first, Murrell used any guitar that would simply house the electronics. The M-300 was the first Guitorgan and it was a Barney Kessel-style guitar built by Ventura; later M-300 models were built in an ES-335 Univox copy. Other semi-hollowbody guitars were supplied by companies such as Ibanez and Yamaha. The headstocks read "Guitorgan" and the backs have a rather large chunk cut out and covered in order to install the extensive electronics.
The fingerboard featured segmented frets (six segments – one per string) that were wired to the internal controls. When a note or series of notes were fretted, the circuit would be closed and it would trigger the organ. The organ would stay on as long as the circuit was closed, or in other words as long as the guitarist kept the string against the fret. The body featured several knobs, switches, and buttons (all the bells and whistles you tinkerers love!) that allowed the guitarist to alter the sounds of the guitar and organ. The giant footswitch in the picture was used to fade the organ in and out when the guitarist was playing. It's quite a concept, although thousands of organists were fearful of losing their jobs when this instrument was released!
I mentioned that Murrell kept modifying and updating the Guitorgan throughout time. Later models employed a "master oscillator circuit" that featured digital note dividers. The model you have is an early 1980s B-35 featuring this newer "digital" technology. Murrell also experimented with MIDI technology in the mid to late 1980s. Murrell would also install his organ electronics in a customer supplied guitar for $1200.
Murrell estimates that he built 3000 Guitorgans between 1967 and 1984, but he also filled custom orders after 1984. For an instrument as odd as it is, there were quite a few of them produced and they don't bring as much money as one would think. Most Guitorgans can be found priced between $900 and $1200. But where else can you get a guitar that can also play Hammond organ-style sounds for a thousand bucks? This falls into the treasure category for me!
Source: Teisco Del Ray, Guitar Player
---
Zachary R. Fjestad
Zachary R. Fjestad is the author of the Blue Book of Acoustic Guitars, Blue Book of Electric Guitars, and the Blue Book of Guitar Amplifiers.
Questions can be submitted to:
Blue Book Publications
Attn: Guitar Trash or Treasure
8009 34th Ave. S. Ste #175
Minneapolis, MN 55425
800-877-4867
www.bluebookinc.com
guitars@bluebookinc.com
Please include pictures of your guitars.