The Shokunin School: Blending Art, Nature and Innovation
A look into the work of 5 Japanese-American builders: Toru Nittono, Tsuneyki "Tony" Yamamoto, Michihiro Matsuda and Hiro Miura, but we begin with Hideo Kamimoto
When it comes to historical hotspots along the timeline of guitar history, few other places boast as many creators and trendsetters as California. Leo Fender, Bernie Rico, Sr., Wayne Charvel, Karl Sandoval, Steve Klein and Rick Turner are just a few of the names that come to mind.

Building on this tradition of West Coast ingenuity, a notable group of luthiers is drawing on much more than their common geography. Their guitars are beautiful and innovative, yet seemingly from another world in terms of craftsmanship and design—an old world in which beauty is appreciated for its simplicity, design efficiency and congruence with nature. They each have their own individual style, but for these common characteristics to emerge is no surprise—these builders share a Japanese heritage that celebrates the concept of high art in woodworking craftsmanship. In fact, there is a Japanese word for such an artisan: shokunin. (Pronounced sho'-koo-neen)

Much of the Western world's first exposure to this tradition dates back to 1852, when Commodore Matthew Perry forcibly opened Japan to submit to American trade demands. With an equal emphasis on form and function, shokunin artisans prided themselves on their skill and their ability to waste as little material as possible. Today, what might be considered the continuation of the discipline's celebrated approach to design is as identifiable with modern guitars as it is with garden gates and ancient temple architecture.

Japan has had its share of well-regarded guitar makers. The work of Kazuo Yairi, Nobuaki Hayashi, Yas Kamiya, Taku Sakashta and T. "Terry" Haruo are worthy of exploration if you aren't already familiar with them. The topic of Japanese luthiers also deserves a nod to the contributions of the Hoshino family (Ibanez), Shiro Aria and Company (Aria), Kanda Shokai (Greco / Zemaitis), and the Nippon Gakki Company, Limited, better known as Yamaha.

In this article, we're shining the spotlight on a few of the shokunin who are carrying on this tradition in California today: Toru Nittono, Tsuneyki "Tony" Yamamoto, Michihiro Matsuda and Hiro Miura, but we begin with Hideo Kamimoto—who literally wrote the book on guitar repair.




Hideo Kamimoto
Throughout the course of researching this article, one name kept coming up as the founding father of California's shokunin luthiers: Hideo Kamimoto. After working at a guitar shop in Berkeley and apprenticing under Stan and John Aschow at J.N. Aschow Violins, he opened Kamimoto String Instruments in Oakland in 1967. He later moved his shop to San Jose. Drawing on his years of building and repairing guitars, he eventually penned two well-regarded books on guitar repair, Complete Guitar Repair, and Electric Guitar Setups. Kamimoto is now retired, but his shop, which now specializes in orchestral stringed instruments, is still going strong. Hideo Kamimoto has studied under world class luthiers, including Hans Nebel, a man known for repairing Stradivarius violins.
kamimotostrings.com
Tsuneyuki "Tony" Yamamoto

Dublin-based Tony Yamamoto specializes in one-of-a-kind custom acoustics with double and triple-reinforced truss rods, a unique headstock heel, and tone bars that suppress unnecessary high resonance. Customers work with Yamamoto to specialize three base models: his OMY, which features a cutaway and a 15" lower bout; his OM-sized Talus, which features a unique cutaway shape and an angled neck joint; and his sonorous Baritone, which has a 17" lower bout and a 27" or 28.6" scale length. Yamamoto also makes a version of his Talus with an off-center soundhole that brings the sound of the guitar closer to the player.
The Wedge Jumbo features a multi-scale of 27" to 25.5"
Yamamoto has a specially adjusted X-bracing pattern for a version of his Talus with an offset soundhole. His standard models feature AAA Honduran or Indian Rosewood backs and sides and AA Adirondack or AAA solid spruce tops.
yamamotoguitar.com
Michihiro "Michi" Matsuda

Michi Matsuda splits his time between his own workshop in Oakland and Frank Ford's fabled Gryphon Stringed Instruments repair shop in Palo Alto. He builds about a dozen custom guitars a year based on his own signature shapes: modified OM and OO shapes for steel string guitars and two "crossover" shapes for nylon guitars, all carefully designed for their characteristic sonic properties as well as their graceful lines. Matsuda also makes electric/acoustic hybrids and harp guitars.
The Matsuda M-1 (pictured with optional cutaway) is based on an OM shape.
Matsuda base models begin with an Indian rosewood back and sides and a Sitka spruce top.
matsudaguitars.com
Hiro Miura

Hiro Miura, who works under the Xotic Guitars, Basses & Effects label in San Fernando, first gained recognition by making basses that fused his exquisite design aesthetic with advanced electronics. Today his Jazz and Precision-style XJ and XP basses as well as his Strat and Tele-style XS and XT guitars add sophisticated refinements to instruments inspired by classics. Miura has a thing for Hovland capacitors and Kent Armstrong pickups. Miura also uses Raw Vintage pickups, Pure Steel Saddles and Raw Vintage Tremolos. His guitars have attracted the attention of players like Chris Duarte, Allen Hinds, Chris Juergensen, and June Yamagishi.
XT-2 Tobacco Burst
XS-3 Olympic White

XS-1 Lake Placid Blue
This XT-2 has a smooth sound due to its ash hollow body (with no hole) and Xotic XP-HB1 and XP-TE1 pickups. Miura's website features a video of Allen Hinds demoing this guitar.
Every Xotic guitar is custom made per order.
xotic.us/guitars
Toru Nittono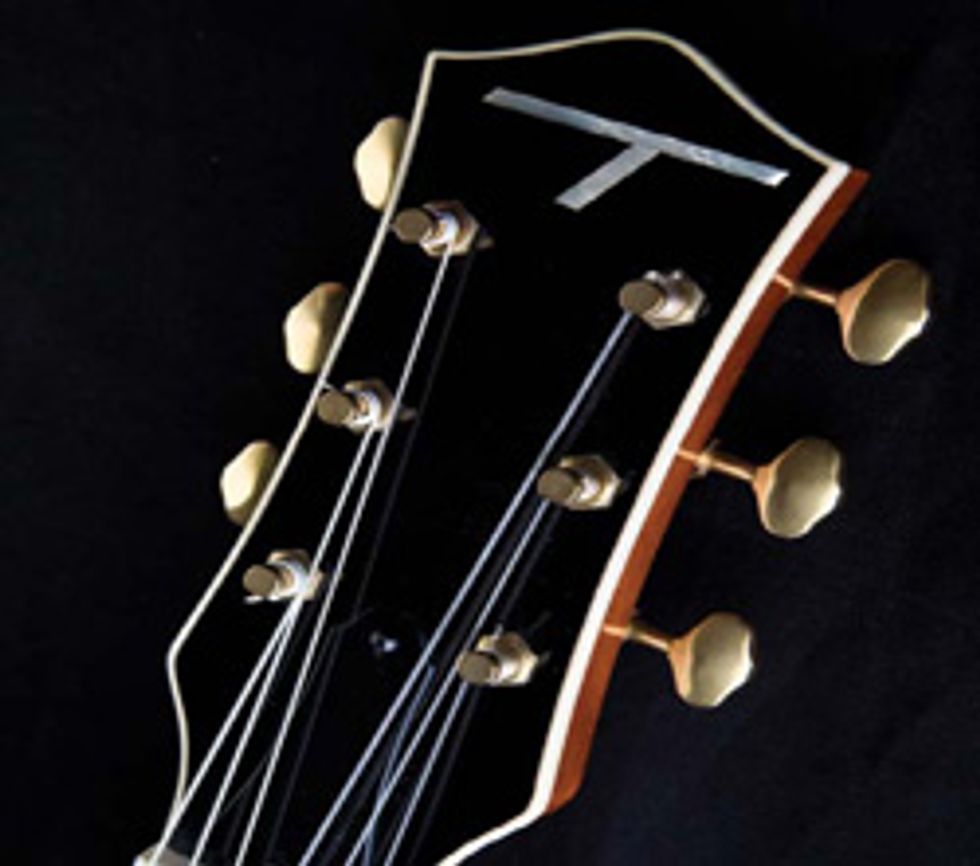 For the last 28 years, Toru Nittono has worked with a venerable list of heavyweights. He does repairs and makes guitars under his own name at his Van Nuys workshop. Tom Petty, Bruce Springsteen, John Pisano, Ted Greene, Robben Ford, Coco Montoya, John Sykes and Carlos Santana have all either owned one of Nittono's custom-made creations, or relied upon his repair skills. Nittono's Model T offers a nice spin on classic T-style guitars; his Jazz Electric Nylon Model incorporates the same classic styling with elegant archtop appointments.
Model-T Jazz Nylon semi-hollowbody with spruce top, mahogany body, Nittono's custom preamp and custom neck shape requested by Santana.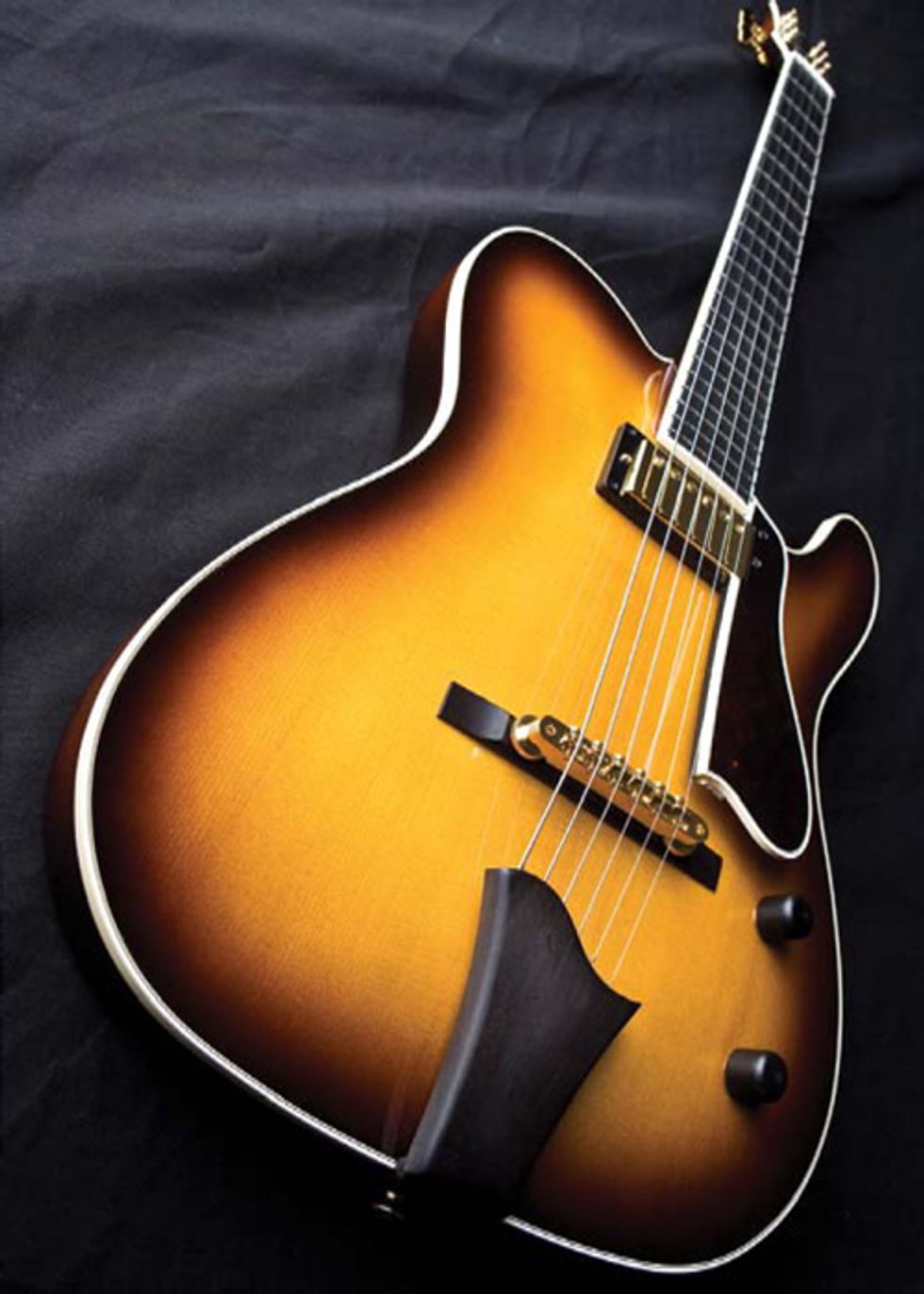 Model-T Jazz semi-hollowbody, with T-Brown Sunburst, two piece spruce top, two piece mahogany back and a Gibson Burstbucker.

nittonoguitars.com