The Fuzzy Drive goes way beyond fuzz as a versatile box of effects
The big question to answer when reviewing a new fuzz box like the EWS FD-1 Fuzzy Drive pedal is, do you gauge it on its ability to faithfully recreate a tone that, in its classic form, borders on shrill, or do you judge it on what it adds to the equation in the form of warmth, nuance, and flexibility? Understandably, this author was a little nervous. Notwithstanding, we were intrigued about EWS itself, and the fact that this new player in the pedal game is a sister brand to the Xotic brand of boutique effects—a big check in the plus column before we even started. Both Xotic and EWS are owned by Prosound Communications, which is based in the US out of San Fernando, CA.
The FD-1 Fuzzy Drive is the first pedal produced by EWS (which stands for Engineering Work Store). The EWS name is not well known in the U.S., but has a fairly large following in Japan, where they specialize in guitar repairs and pedal modifications, their most well known being the Arion Chorus modification. Besides its foray into effect pedals, EWS is also introducing a line of tube-powered micro amps for the Japanese market. Like Xotic, EWS has a boutique aura about its products and service—at least in Japan where they are better known.
When you think of fuzz boxes, the first thing that comes to my mind is the theme song for
Green Acres
, or perhaps the Rolling Stones classic, "Satisfaction." These early fuzz boxes had a raspy, edgy sound that, for a lot of guys, is a take-it-or-leave-it tone proposition. I'm not making this point to judge good or bad tone, but simply acknowledging that there is a pretty narrow interpretation of traditional fuzz box tones that one would rightfully expect out of something with the word "fuzz" in its name. So imagine my surprise when I plugged into the EWS Fuzzy Drive and got a range of tones from warm overdrive, to almost buzz saw. I was expecting a one-trick pony like an Electro-Harmonix Big Muff Pi or an Arbiter Fuzz Face, but found that the EWS Fuzzy Drive is a whole lot more.
With its three knobs, the FD-1 is deceptively simple. The Gain knob on the upper right determines how hard the incoming signal gets clipped; as this dial is turned clockwise, the more "fuzz" you'll get. Up to about half way (straight up), the overall sound is like a tube amp breaking up. The sound is warm, and invites dynamic picking. At modest settings, soft strumming and light picking—even with the guitar's volume up all the way—keeps the signal just under the clip threshold. Pick aggressively, and it goes right into sweet overdrive. Put the Gain knob at 5 o'clock (all the way up), however, and you're almost into
Green Acres
territory—only the sound is creamier.
While the Gain control on the FD-1 controls the overall character, the Tone control gives it "edge." To the extent that the purpose of a fuzz box is to clip the signal to the point that it effectively becomes a square wave, this introduces lots of high, jagged harmonics. The Tone control burnishes this nicely, and can leave all the buzziness in tact, or smooth it out almost entirely for a pure, synth-like tone. There's plenty of range, and I found myself keeping it between halfway, and maxed out most of the time.
The last knob in the signal chain is the Volume dial, which determines how much signal the front of the amp sees. It was fun to experiment with how hard to hit the amp—which in this case was a Line 6 Spider Valve 112 tube amp. This amp is a hybrid that combines on-board digital effects and amp models with a classic tube power amp, but for this evaluation, we ran the amp on the cleanest setting. What we found was that even with no help from the on-board amp models, the EWS Fuzzy Drive had enough balls to hit the preamp really hard. With just a modest amount of gain on the FD-1, and a moderate dose of the volume knob (2 o'clock), the Line 6's tubes were in a really happy place.
Physically, the FD-1 is a solid, tank-like piece of equipment. The cast aluminum box is brushed, then clear coated; a black retro-style graphic and white lettering is silk-screened on the box. Three black Bakelite knobs are solidly attached to the pots with brass set screws. Power comes from an on-board 9-volt battery, or external adapter. Since the FD-1 has a true bypass switch, when it's turned off, there is no battery drain or output variance due to battery strength. We did notice, however, that at higher stage volumes, there was a noticeable click from the switch when the unit is turned on.
Inside, a simple circuit board carries 14 resistors, 13 capacitors, one diode, and one each of a dual op-amp and a single op-amp. The board is well protected by a foam cushion sandwiched between the board and the three potentiometers. Unlike classic fuzz boxes, no discrete transistors are used, which may be a deal breaker for some. (If you're looking for germanium transistors, you'll need to buy an antique, since mass-produced germanium-equipped fuzz boxes aren't made any more.)
The pots themselves have a nice damped, quality feel to their movement, and you get the impression that this is a sturdy piece of gear that's going to handle the road nicely. The Tone control also features a slight detent in the middle.
Although the FD-1's claim to fame is as a fuzz box, using it only for only that is a little like saying that Angelina Jolie does a good job of playing Lara Croft. The fact of the matter is that the FD-1 is more like a distortion toolbox, capable of the full range of overdrive tones, from a slight break-up, to total metal mayhem. Truthfully, at many settings, it's more "drive" than "fuzz," and that's what pushes it over the top for this reviewer. In a world where I could have only one box to do a whole range of overdrive sounds, I would really have to seriously consider the EWS Fuzzy Drive FD-1.
Ironically, the weakest point in the Fuzzy Drive's repertoire is the classic mid-'60s buzz tone that can only come from discrete germanium transistors. We're talking about the cheesiest tones in the speaker-slit-by-a-razor-blade category. Try as we might, we could not coax an ice-pick buzz-saw sound out of the FD-1. It came close, but always maintained a decidedly warm nuance. That's just as well, because that's a sound this reviewer would never try to find unless paid to.
The EWS box offers a lot of versatility, good build quality, and a boutique tone. Yet with a suggested retail price of $149, it's squarely in average Joe territory. It's interesting to note that sister company, Xotic, offers no fuzz pedals, so by entering the market first with the Fuzzy Drive, EWS is carving out a nice niche for itself that has little risk of impacting Xotic sales. We imagine some guys will be searching for a classic Tone Bender sound, and will try out the Fuzzy Drive, only to find that it's more flexible, and a whole lot warmer. If it hits them like it hit us, the FD-1 will surely stoke the fires of creativity. We can't wait to see what EWS comes out with next.
Buy if...
you're looking for a distortion toolbox that will kick your creativity with overdrive.
Skip if...
you're the guy they hired to create the soundtrack for Green Acres, the movie. Only an old Vox Tone Bender will do.
Rating...
 
A look into the work of 5 Japanese-American builders: Toru Nittono, Tsuneyki "Tony" Yamamoto, Michihiro Matsuda and Hiro Miura, but we begin with Hideo Kamimoto
When it comes to historical hotspots along the timeline of guitar history, few other places boast as many creators and trendsetters as California. Leo Fender, Bernie Rico, Sr., Wayne Charvel, Karl Sandoval, Steve Klein and Rick Turner are just a few of the names that come to mind.

Building on this tradition of West Coast ingenuity, a notable group of luthiers is drawing on much more than their common geography. Their guitars are beautiful and innovative, yet seemingly from another world in terms of craftsmanship and design—an old world in which beauty is appreciated for its simplicity, design efficiency and congruence with nature. They each have their own individual style, but for these common characteristics to emerge is no surprise—these builders share a Japanese heritage that celebrates the concept of high art in woodworking craftsmanship. In fact, there is a Japanese word for such an artisan: shokunin. (Pronounced sho'-koo-neen)

Much of the Western world's first exposure to this tradition dates back to 1852, when Commodore Matthew Perry forcibly opened Japan to submit to American trade demands. With an equal emphasis on form and function, shokunin artisans prided themselves on their skill and their ability to waste as little material as possible. Today, what might be considered the continuation of the discipline's celebrated approach to design is as identifiable with modern guitars as it is with garden gates and ancient temple architecture.

Japan has had its share of well-regarded guitar makers. The work of Kazuo Yairi, Nobuaki Hayashi, Yas Kamiya, Taku Sakashta and T. "Terry" Haruo are worthy of exploration if you aren't already familiar with them. The topic of Japanese luthiers also deserves a nod to the contributions of the Hoshino family (Ibanez), Shiro Aria and Company (Aria), Kanda Shokai (Greco / Zemaitis), and the Nippon Gakki Company, Limited, better known as Yamaha.

In this article, we're shining the spotlight on a few of the shokunin who are carrying on this tradition in California today: Toru Nittono, Tsuneyki "Tony" Yamamoto, Michihiro Matsuda and Hiro Miura, but we begin with Hideo Kamimoto—who literally wrote the book on guitar repair.




Hideo Kamimoto
Throughout the course of researching this article, one name kept coming up as the founding father of California's shokunin luthiers: Hideo Kamimoto. After working at a guitar shop in Berkeley and apprenticing under Stan and John Aschow at J.N. Aschow Violins, he opened Kamimoto String Instruments in Oakland in 1967. He later moved his shop to San Jose. Drawing on his years of building and repairing guitars, he eventually penned two well-regarded books on guitar repair, Complete Guitar Repair, and Electric Guitar Setups. Kamimoto is now retired, but his shop, which now specializes in orchestral stringed instruments, is still going strong. Hideo Kamimoto has studied under world class luthiers, including Hans Nebel, a man known for repairing Stradivarius violins.
kamimotostrings.com
Tsuneyuki "Tony" Yamamoto

Dublin-based Tony Yamamoto specializes in one-of-a-kind custom acoustics with double and triple-reinforced truss rods, a unique headstock heel, and tone bars that suppress unnecessary high resonance. Customers work with Yamamoto to specialize three base models: his OMY, which features a cutaway and a 15" lower bout; his OM-sized Talus, which features a unique cutaway shape and an angled neck joint; and his sonorous Baritone, which has a 17" lower bout and a 27" or 28.6" scale length. Yamamoto also makes a version of his Talus with an off-center soundhole that brings the sound of the guitar closer to the player.
The Wedge Jumbo features a multi-scale of 27" to 25.5"
Yamamoto has a specially adjusted X-bracing pattern for a version of his Talus with an offset soundhole. His standard models feature AAA Honduran or Indian Rosewood backs and sides and AA Adirondack or AAA solid spruce tops.
yamamotoguitar.com
Michihiro "Michi" Matsuda

Michi Matsuda splits his time between his own workshop in Oakland and Frank Ford's fabled Gryphon Stringed Instruments repair shop in Palo Alto. He builds about a dozen custom guitars a year based on his own signature shapes: modified OM and OO shapes for steel string guitars and two "crossover" shapes for nylon guitars, all carefully designed for their characteristic sonic properties as well as their graceful lines. Matsuda also makes electric/acoustic hybrids and harp guitars.
The Matsuda M-1 (pictured with optional cutaway) is based on an OM shape.
Matsuda base models begin with an Indian rosewood back and sides and a Sitka spruce top.
matsudaguitars.com
Hiro Miura

Hiro Miura, who works under the Xotic Guitars, Basses & Effects label in San Fernando, first gained recognition by making basses that fused his exquisite design aesthetic with advanced electronics. Today his Jazz and Precision-style XJ and XP basses as well as his Strat and Tele-style XS and XT guitars add sophisticated refinements to instruments inspired by classics. Miura has a thing for Hovland capacitors and Kent Armstrong pickups. Miura also uses Raw Vintage pickups, Pure Steel Saddles and Raw Vintage Tremolos. His guitars have attracted the attention of players like Chris Duarte, Allen Hinds, Chris Juergensen, and June Yamagishi.
XT-2 Tobacco Burst
XS-3 Olympic White

XS-1 Lake Placid Blue
This XT-2 has a smooth sound due to its ash hollow body (with no hole) and Xotic XP-HB1 and XP-TE1 pickups. Miura's website features a video of Allen Hinds demoing this guitar.
Every Xotic guitar is custom made per order.
xotic.us/guitars
Toru Nittono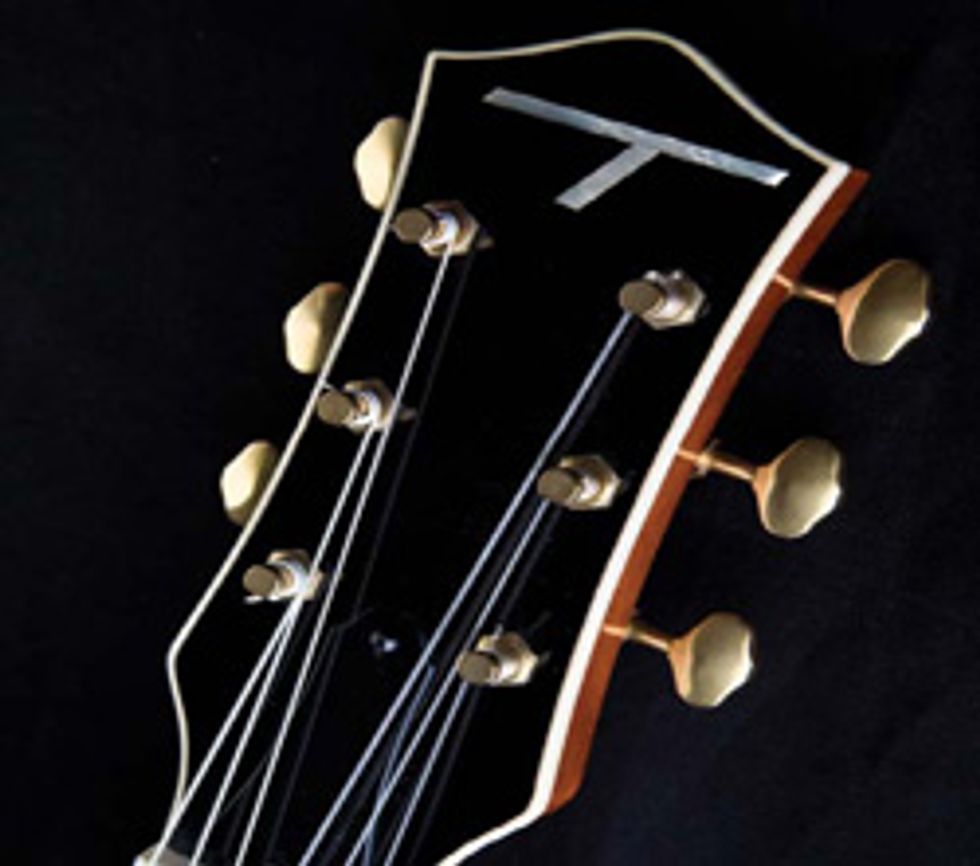 For the last 28 years, Toru Nittono has worked with a venerable list of heavyweights. He does repairs and makes guitars under his own name at his Van Nuys workshop. Tom Petty, Bruce Springsteen, John Pisano, Ted Greene, Robben Ford, Coco Montoya, John Sykes and Carlos Santana have all either owned one of Nittono's custom-made creations, or relied upon his repair skills. Nittono's Model T offers a nice spin on classic T-style guitars; his Jazz Electric Nylon Model incorporates the same classic styling with elegant archtop appointments.
Model-T Jazz Nylon semi-hollowbody with spruce top, mahogany body, Nittono's custom preamp and custom neck shape requested by Santana.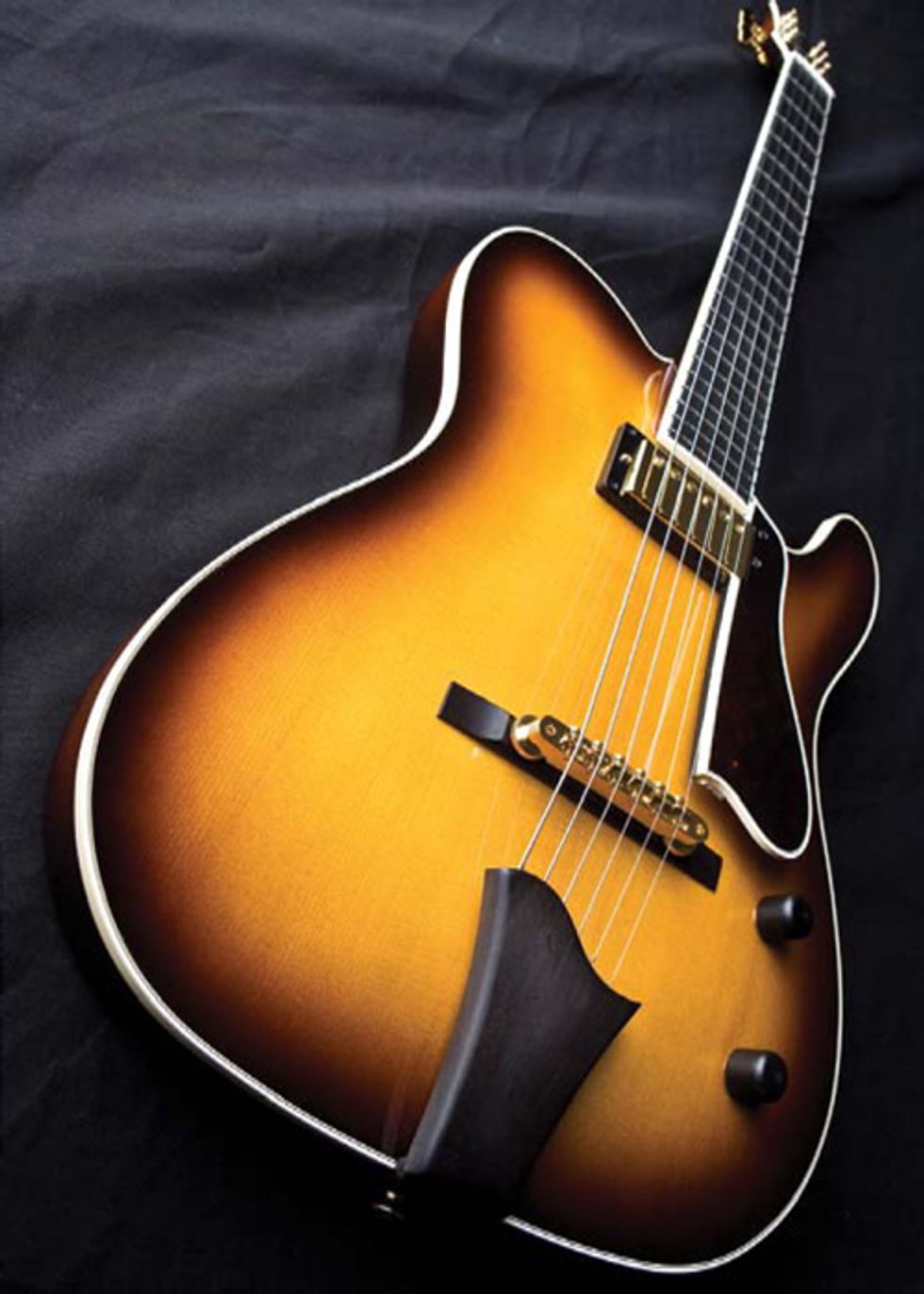 Model-T Jazz semi-hollowbody, with T-Brown Sunburst, two piece spruce top, two piece mahogany back and a Gibson Burstbucker.

nittonoguitars.com
Takamine''s Glenn Frey Signature is a simple guitar that''s great for pop and folk

Watch Video Review:

When a big guitar company offers to make somebody a signature model guitar, it's usually bells-and-whistles time: custom inlays, fancy bindings, exotic woods and finishes, and crazy electronics. Typically, the sky's the limit, and a lot of folks in that situation go nuts. Glenn Frey went the opposite of nuts with his new signature model from Takamine, and ended up with a remarkably playable, terrific-sounding, extremely functional instrument.
Not that it isn't a lovely guitar: clean and simple, often equal understated elegance—and there's something wonderful about letting a guitar speak so gently for itself. Glenn Frey doesn't have anything to prove to anybody about his chops, or his skill as a songwriter, so why not simply replicate the axe that, to quote Takamine's Web site, "wrote rock 'n roll?"
I have to confess to a bit of shock when I opened the case; I was expecting something artsier. But after it slipped into tune and I started to play, I was amazed. This thing sounds rich and full, the bass is warm without being mushy, and the treble is clear but never grating. And it plays like butter.
There's Gotta be a Story Here

In 2008, Glenn Frey approached Takamine with an unusual request; basically, he wanted them to clone his old Takamine EF360S, which he got in 1994. They had already been considering a Glenn Frey Signature model, so the request was very timely. The only difference between his 1994 guitar and the new model is that the new back is solid rosewood rather than laminated, and there is a graceful little GF logo on the headstock.
The pickup system is what really made Takamine famous. In fact, those proprietary electronics haven't changed much since Frey got the original. The pickup itself is built into the top, and the onboard preamp, though upgraded, is still basically the same as it was on Frey's 1994 EF360S.
I got to talk with Frey between cities on a recent leg of the Eagles' North American tour. He's clearly very excited about the guitar, very proud of it, and it's proving to be as great on stage as his original, which he affectionately calls his Number One. "It's warm," he says, "but especially for playing live it's important to have a guitar with a distinct high end and not too many overtones in the low and mid ranges. That's a great sound for sitting in your living room, but a live sound engineer has to squash it. For mixing live, it's better to have a guitar that's perfect mid-totop, because you can always add lows. That switches the posture from defensive mixing— taking something away from the guitar—to adding to it in order to fill a few things out."
The process of cloning a guitar is complicated and tedious, but fascinating. Frey said, "Some designers and engineers from Takamine took my Number One for a couple days and made extensive measurements of every part of the guitar, from the thickness of the top and exact placement of the braces, to the thickness of the finish—everything about it." After making copious notes, they returned to the factory to make two prototypes: one exactly like the original with a laminated back, and one with a solid back. Frey decided he liked the solid back best, so that became the Glenn Frey model.
Regarding the almost Spartan simplicity of the instrument, Frey said it was important to him to keep the guitar affordable as well as extremely functional. The key for him was sound and usefulness. He explained that, "the finish and inlay and bells and whistles don't have anything to do with that. We took a pretty straightforward approach to it; the only thing it has is the little 'GF' on the headstock. I've had ten or twelve of these in my hands, and they all sounded great and needed very little set up."
The Nitty Gritty
Possibly the most amazing thing about Takamine guitars is their incredible consistency. Frey's description of the EF360GFs he's played—warm, perfect mid-to-top without a lot of overtones in the lows, sounds and plays great—accurately describe this guitar, too. That's part of their promise: if you play one EF360GF, you've played them all. Takamine guitars are the choice of countless touring bands simply because they offer few surprises—in a really good way. For somebody who lives and dies by the axe, that's extremely important.
That doesn't mean this guitar isn't fun to play or lacks personality. The neck is comfortable, much like a Les Paul neck, actually. At 1-11/16" wide and just a little chubby, it's good for chord strumming or for singer-songwriter- type fingerstyle playing, though after tackling some intricate fingerstyle pieces, I found myself wanting a wider fretboard and string spacing.
One advantage to having a guitar so balanced on the high-to-mid side is how well it fares in an ensemble setting. It can be heard clearly through the mix, making it ideal for Eagles-style rhythm duties, or even Bluegrass-style flatpickin'. Having spent most of my gigging life as a solo guitarist, I found the lack of oomph in the lows a bit disconcerting; with my trio, where bass is somebody else's responsibility, it was much more satisfying.
The electronics are the other key to Takamine's success. The built-in pickup and onboard preamp sounded great through any amp or PA I played through; it's practically soundman-from-hell proof. There's a 3-band EQ, Volume control and a tuner right under your nose, making it effortless to tweak your sound on the fly. The tuner responds almost fast enough to be more useful than frustrating. Battery changes are convenient and lightning quick.
Recording

I did a little experimental recording with the EF360GF and a Zoom H4 hand-held recorder, using the built in stereo mics (at 24bit 96K). The clarity of the mids and highs was just stunning, and you could hear every detail. The highs sparkled, while the mids offered oomph without any nasal unpleasantness. The lows were warm without being muddy. This guitar really shines when you're strumming big chords, and it positively glows when dropped into DADGAD. I look forward to hearing Frey's guitar mixed into future CDs.
The Final Mojo

The EF360GF is a remarkable instrument, and Glenn Frey has every reason to be proud of it. Takamine is now going through the same cloning process with his Number One 12-string, and if this guitar is any indication, that one should be equally remarkable. At a reasonable price point, the playability, onboard electronics and terrific sound make this guitar a fantastic value.
Buy if...
you play a lot of gigs and need a rock-solid, great playing and sounding axe.
Skip if...
most of what you do is intensive and intricate solo fingerstyle playing.
Rating...