Greg Koch: Meeting the Gristle-Man
Greg Koch is a killer player and clinician for Fender. He talk gear and gigs.
| | |
| --- | --- |
| Of all the brilliant guitarists I have met over the years, Greg Koch really stands out. Besides being one of the best multi-style guitarists alive, he's one of the funniest, humblest and most down-to-earth guys I know. When he's on stage, you never know what's coming next. He's released nine CDs, in addition to touring and playing live; he's a teacher and author of numerous guitar instruction books and DVDs; he's a radio moderator; and last but not least, he's the premier Fender demo guy, demonstrating gear and doing clinics at music shops, NAMM, Musikmesse and countless other events—and he does all this with an oddball sense of humor. If you want to get a first impression of Greg's humor, you should read the summary of his career on his MySpace page (you'll find the link at the end of this story). Despite his many activities, Greg found time to sit down and talk to me after one of his shows. | |
When and why did you start to play guitar?
I played piano by ear at an early age, because my mom plays very well, and she showed me a boogie-woogie pattern and some other things, and I can lay tracks down on drums, bass and keys with a minimum of embarrassment. Jimi Hendrix really affected me at a young age. I roomed with my brother, who was 14 years older than me, and he listened to a lot of Hendrix, Cream and Grand Funk Railroad. The idea of being a guitar player in a power trio was cooler than just about anything in comparison. Hendrix, in particular, epitomized guitar godhood in every way. I used to make cardboard guitars and pretend to play along with Hendrix using my sister's sewing machine pedal as a wah-wah pedal. I did a report on Hendrix when I was in the third grade. The first record I ever bought was around that time… it was Jimi Hendrix's Smash Hits. I didn't actually get my hands on a guitar until I was 12, but from then on it was all I cared about.
Do you remember your first gig ever?
I played my first gig nine months after I starting playing, in the cafeteria at Christ the King School, where we played an 8th-grade graduation party. It was a three-piece band, and I played a '68 SG through a Peavey Backstage 30. The setlist consisted of instrumental versions of "Purple Haze," "Fire," "Communication Breakdown," "Hey Joe" and "Wild Thing."
Who are your most important influences in music?
I consider myself a blues-rock guitarist who learned a few country and jazz things along the way. My main influences musically range from Hendrix, Jeff Beck, Cream, Allman Brothers, Led Zeppelin then back to Muddy Waters, Albert, B.B. and Freddy King, T-Bone Walker, Cornell Dupree, Earl Hooker, Howlin' Wolf, Elmore James to Chet Atkins, Jerry Reed, Jimmy Bryant, Roy Buchanan, Albert Lee, Danny Gatton, Brent Mason, Ray Flacke, The Hellecasters to Charlie Christian, Wes Montgomery, Grant Green, George Benson, Barney Kessel, Kenny Burrell to Frank Zappa, Little Feat, Allan Holdsworth, Sonny Landreth to the Sacred Steel slide dudes, Johnny Cash and Bob Dylan.
Is there a certain situation, recording or session you will always remember?
I will always remember recording at Ocean Way out in L.A. with a big budget, staying at the Roosevelt, being wined and dined, recording amazing stuff, convinced that we were making historic music only to have the record company sit on it and never let it reach the light of day… a learning experience!
What was the funniest thing that ever happened to you while playing music?
A girl came on stage once wearing these shoes with springs on the bottom of them and she proceeded to bounce with such ferocity that she almost bludgeoned the bassist with her generous bosoms.
When did you discover that you had a special talent to teach and to demonstrate gear?
I just had to do it, so I did it. I had a young family and gigging in hellholes was not going to pay the bills, so I went the Fender route. I always try to do whatever I do in a way that is unique and hopefully interesting. I also don't talk bullshit. I truly believe what I'm saying and playing, and I think that comes across.
How long do you practice every day and how do you practice?
I have four young kids, so practice time is something that I covet. I have less time, but I make more of the time by focusing on a specific thing that I wish to learn. I feel I keep getting better, but I am nowhere near where I wish to be. I try to have fun with the skills I possess.
You can change your playing style from country to death metal within one second— what is the key to having all these styles ready to go?
Well, I don't do the styles just to show that I can do them. I actually really love the different styles enough to learn them with some degree of authenticity. I'm pretty opinionated about who I like and have hyper-focused on those who have moved me the most in each genre. You will notice that I do little to no tapping, as I was never a disciple of Eddie Van Halen or any of the metal guys. I respected them for the amount of time it takes to master the technique of say, an Yngwie Malmsteen, but I have never worn spandex and I feel pretty good about that.
I have to say, I am extremely low maintenance. Therefore, the opportunities I have been presented have almost always worked out for me, because I get along with folks and I'm easy to work with. From a musical point of view, I think that my ability to play different styles convincingly and then be able to morph those styles into something different, all done with a sense of the bizarre, has had a positive impact on my career. I think I write a pretty good tune here and there and can entertain a crowd of diverse tastes… I always try to keep something up my sleeve so that I can always surprise those who think they've seen it all.
If you had to go to a deserted island and were only allowed to take one guitar, one amp and one stompbox with you, what would it be?
My blue Custom Shop Strat, a Super Reverb and my Gristle King pedal.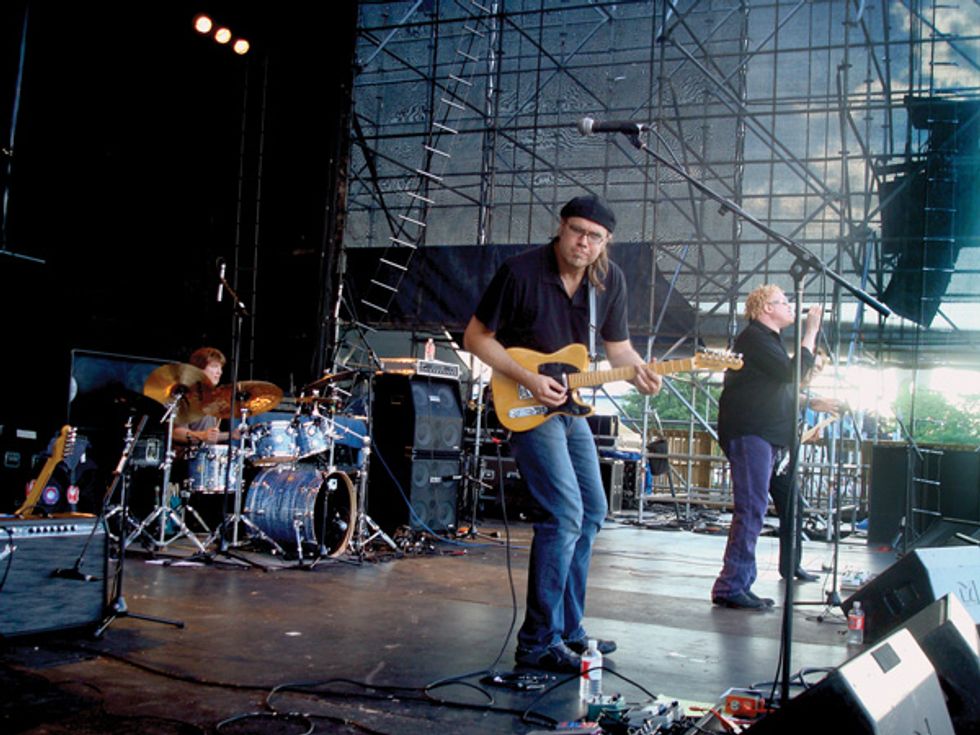 Do you have some general things, tricks, etc., you would like to share with our readers when it comes to practicing and developing their own style and unique tone?
Never stop listening and expanding your horizons. Never stop practicing. If you think you're pretty good, think again!
Is there anyone you would like to have the chance to play, record or jam with?
I've always wanted to jam with the Allman Brothers, but I would love to jam with Clapton, Jeff Beck, Jimmy Page, Paul McCartney… [John] Scofield, Mike Stern… too many to mention.
Do you have any endorsements running?
I am a Fender guy: Fender guitars, amps, strings, cords, picks, underwear, etc. I have some pedals that I have championed for years that my friend Tim Jauernig makes: the Gristle King and the DGTM [Diabolical Gristle Tone Manipulator]. I love my BSM pedals; I have some excellent pickups in my Tele that are German-made by a guy named Ray Gerold. That's all I've been using lately. But I am a Fender guy first and foremost.
Do you have a favorite guitar, amp and effect? Why are they your favorites?
I have been using a couple of Teles for the last year, a Fender American Deluxe Ash Tele and a Fender Baja Tele. My two favorite Fender Custom Shop guitars—which I have been seen with the most—may be made into a limited edition signature model through a local dealer here in Milwaukee via the Fender Custom Shop. They both are a weird greenish blue. The Tele has a B-bender and the Strat has been my main guitar for over 15 years. It's pretty much a hot-rodded '56 Strat.
Amp-wise, I go between a Fender Super- Sonic Combo with a 2x12 extension cab, a Super Reverb and a Custom Vibrolux, but lately I have been plugging straight into a '57 Tweed Deluxe reissue… I may do the next record entirely with it… it's pure!
What is the secret of your signature Telecaster tone, gear-wise?
I use my Gristle King pedal for some gain, but most of the sounds are a result of continually refining my playing… it never ends. The amps may change but the sound remains.
What do you think about vintage equipment?
It's great, but it's getting way too expensive, so it's not practical to use live… the studio is another matter. I usually borrow what I need in the studio!
Is there a general setup for your instruments (string gauge, action, pickups...)?

I play a Fender Stainless Steel .011 set with the action pretty low. My pickups vary from guitar to guitar.
Are there private friendships with other players or artists you played with?

I'm pretty good buddies with Paul Barrere, Fred Tackett and the rest of the Little Feat gang. T Lavitz from the [Dixie] Dregs has been a long-standing buddy of mine. I like to hang out with Joe Bonamassa when he comes to town… I recently met and hung out with Robben Ford, Guthrie Govan and David Grissom, and I enjoyed their company quite a bit… not to mention their playing!
What are your plans for the future?

Finishing a record with Malford Milligan to come out Spring of '09, then a tour of Europe from April to May of '09. I'm going to do a record with Reggie Hamilton and Tom Brechtlein this year and some gigs with them. I'm doing some tracks on T Lavitz's new record, and we're going to do some gigs with Tom Brechtlein and Jeff Berlin.
Greg's Gear Box
Guitars:
American Deluxe Ash Tele
American Deluxe Strat

Amps:
Fender Super Reverb
Fender Vibro King

Accessories:
Gator Pedal Tote
Fender cables and strings
Blues Bottle slides
Kyser capos
Fender medium picks.

Pedals/Effects:
T. Jauernig "Gristle King" overdrive/clean
boost (now by T-Rex) BSM Spectrum Fuzz-Booster
BSM Fuzz Bender
DigiTech The Jimi Hendrix Experience
Wah/Univibe
Boss DD-3 Delay
Boss TU-12 Tuner
T-Rex Reptile
Dunlop Octavia
Magnavibe pedal (Bigfoot Effects)
BSM Fuzzbender

gregkoch.com
myspace.com/gregkochofficial