Takamine''s Glenn Frey Signature is a simple guitar that''s great for pop and folk

Watch Video Review:

When a big guitar company offers to make somebody a signature model guitar, it's usually bells-and-whistles time: custom inlays, fancy bindings, exotic woods and finishes, and crazy electronics. Typically, the sky's the limit, and a lot of folks in that situation go nuts. Glenn Frey went the opposite of nuts with his new signature model from Takamine, and ended up with a remarkably playable, terrific-sounding, extremely functional instrument.
Not that it isn't a lovely guitar: clean and simple, often equal understated elegance—and there's something wonderful about letting a guitar speak so gently for itself. Glenn Frey doesn't have anything to prove to anybody about his chops, or his skill as a songwriter, so why not simply replicate the axe that, to quote Takamine's Web site, "wrote rock 'n roll?"
I have to confess to a bit of shock when I opened the case; I was expecting something artsier. But after it slipped into tune and I started to play, I was amazed. This thing sounds rich and full, the bass is warm without being mushy, and the treble is clear but never grating. And it plays like butter.
There's Gotta be a Story Here

In 2008, Glenn Frey approached Takamine with an unusual request; basically, he wanted them to clone his old Takamine EF360S, which he got in 1994. They had already been considering a Glenn Frey Signature model, so the request was very timely. The only difference between his 1994 guitar and the new model is that the new back is solid rosewood rather than laminated, and there is a graceful little GF logo on the headstock.
The pickup system is what really made Takamine famous. In fact, those proprietary electronics haven't changed much since Frey got the original. The pickup itself is built into the top, and the onboard preamp, though upgraded, is still basically the same as it was on Frey's 1994 EF360S.
I got to talk with Frey between cities on a recent leg of the Eagles' North American tour. He's clearly very excited about the guitar, very proud of it, and it's proving to be as great on stage as his original, which he affectionately calls his Number One. "It's warm," he says, "but especially for playing live it's important to have a guitar with a distinct high end and not too many overtones in the low and mid ranges. That's a great sound for sitting in your living room, but a live sound engineer has to squash it. For mixing live, it's better to have a guitar that's perfect mid-totop, because you can always add lows. That switches the posture from defensive mixing— taking something away from the guitar—to adding to it in order to fill a few things out."
The process of cloning a guitar is complicated and tedious, but fascinating. Frey said, "Some designers and engineers from Takamine took my Number One for a couple days and made extensive measurements of every part of the guitar, from the thickness of the top and exact placement of the braces, to the thickness of the finish—everything about it." After making copious notes, they returned to the factory to make two prototypes: one exactly like the original with a laminated back, and one with a solid back. Frey decided he liked the solid back best, so that became the Glenn Frey model.
Regarding the almost Spartan simplicity of the instrument, Frey said it was important to him to keep the guitar affordable as well as extremely functional. The key for him was sound and usefulness. He explained that, "the finish and inlay and bells and whistles don't have anything to do with that. We took a pretty straightforward approach to it; the only thing it has is the little 'GF' on the headstock. I've had ten or twelve of these in my hands, and they all sounded great and needed very little set up."
The Nitty Gritty
Possibly the most amazing thing about Takamine guitars is their incredible consistency. Frey's description of the EF360GFs he's played—warm, perfect mid-to-top without a lot of overtones in the lows, sounds and plays great—accurately describe this guitar, too. That's part of their promise: if you play one EF360GF, you've played them all. Takamine guitars are the choice of countless touring bands simply because they offer few surprises—in a really good way. For somebody who lives and dies by the axe, that's extremely important.
That doesn't mean this guitar isn't fun to play or lacks personality. The neck is comfortable, much like a Les Paul neck, actually. At 1-11/16" wide and just a little chubby, it's good for chord strumming or for singer-songwriter- type fingerstyle playing, though after tackling some intricate fingerstyle pieces, I found myself wanting a wider fretboard and string spacing.
One advantage to having a guitar so balanced on the high-to-mid side is how well it fares in an ensemble setting. It can be heard clearly through the mix, making it ideal for Eagles-style rhythm duties, or even Bluegrass-style flatpickin'. Having spent most of my gigging life as a solo guitarist, I found the lack of oomph in the lows a bit disconcerting; with my trio, where bass is somebody else's responsibility, it was much more satisfying.
The electronics are the other key to Takamine's success. The built-in pickup and onboard preamp sounded great through any amp or PA I played through; it's practically soundman-from-hell proof. There's a 3-band EQ, Volume control and a tuner right under your nose, making it effortless to tweak your sound on the fly. The tuner responds almost fast enough to be more useful than frustrating. Battery changes are convenient and lightning quick.
Recording

I did a little experimental recording with the EF360GF and a Zoom H4 hand-held recorder, using the built in stereo mics (at 24bit 96K). The clarity of the mids and highs was just stunning, and you could hear every detail. The highs sparkled, while the mids offered oomph without any nasal unpleasantness. The lows were warm without being muddy. This guitar really shines when you're strumming big chords, and it positively glows when dropped into DADGAD. I look forward to hearing Frey's guitar mixed into future CDs.
The Final Mojo

The EF360GF is a remarkable instrument, and Glenn Frey has every reason to be proud of it. Takamine is now going through the same cloning process with his Number One 12-string, and if this guitar is any indication, that one should be equally remarkable. At a reasonable price point, the playability, onboard electronics and terrific sound make this guitar a fantastic value.
Buy if...
you play a lot of gigs and need a rock-solid, great playing and sounding axe.
Skip if...
most of what you do is intensive and intricate solo fingerstyle playing.
Rating...
 
Looking for more great gear for the guitar player in your life (yourself included!)? Check out this year's Holiday Gear Finds!
Flare is a dual-function pedal with a tube-like booster and a 1970s-style ring modulator effect that can be played separately or together.
Flare's ring modulator is based on the iconic tone of the original Dan Armstrong Green Ringer. This vintage classic was made famous by Frank Zappa who loved the unusual modulations created by generating a harmonic octave over notes. Messiah's version offers two control knobs: a "Sparkle" tone attenuator and output Level control. Its taupe-gold body, purple and green knobs and stick-figure rock 'n' roller holding up a flame convey an appropriately rockin'70s vibe.

​In a unique twist, Messiah's Flare pairs the ringer with a warm tube-style boost instead of a fuzz. Flare feeds the booster into the ringer for an extra punch, while preserving the Green Ringerspirit. The ringer side also turns any fuzz into an octafuzz, and it has the ability to quiet signal background noise fed through it.
The booster side features a single Boost knob to control the MOSFET circuit, making it very tube-amp-friendly with a warm, organic boost and gain of up to 32dB.
​The pedal is a distinct improvement over the 1970s pedal that inspired it. "Most ringer pedals don't track well," Tom Hejda, owner of Messiah Guitars. "The player can't rely on repeating the same effect even with the most consistently played notes. We carefully matched the components, so our ringer follows your every move, producing that slightly dirty octave you expect on demand."
Messiah developed this vintage octave pedal with flexible features so that people who love that messy, dirty Zappa-esque sound can get there with ease but there's also something for those who have not fallen in love with fuzz or the Green Ringer alone. Flare offers an array of sonic options while retaining simplicity in the controls.
Each Flair Pedal Includes:
3 control knobs: Boost, Sparkle, and Level
Two effects – Ring Modulator and Boost – can be used together or separately
Space-saving top side jacks
Durable, cast aluminum alloy 125B enclosure with fun artwork
Easy to see, illuminated True-bypass foot switch
Standard 9V pedal power input​
Flare Pedal Demo
Messiah Guitars pedals are designed with an explorative player in mind. Like their custom guitars and amplifiers, Messiah's pedals are hand-crafted in Los Angeles for a long life with guaranteed quality.
Flare retails for $199.00 and can be purchased directly at Messiah Guitars or you can hear it in person at Impulse Music Co. in Canyon Country, CA.
For more information, please visit messiahguitars.com.
This feathery little guy is a joy to play because of its incredibly quick response to your right hand - much faster and more expressive than your typical auto-wah pedal.
​If it looks like a duck, acts like a duck, and QUACKS like a duck, then it must be a duck. That's how we came up with the name for our new envelope filter. This feathery little guy is a joy to play because of its incredibly quick response to your right hand - much faster and more expressive than your typical auto-wah pedal. Trevor explains how this is possible in the launch video, as well as gives a demo on Le Canard's operation.
​The attack control determines how quickly the filter responds to the envelope, and the decay sets how quickly the filter releases afterward. The range controls which frequency spectrum the filter does its magic on. Add to this relay-based full-bypass switching with failsafe, and you've got one crazy little quacky beast. It is so expressive that you'll want to give up on your rocker-wah forever.
The MayFly Le Canard envelope filter features:
Super fast responding envelope follower. Touch it and it jumps!
Range control to dial in the character of the filter
Attack control to control how fast the filter moves on that first touch
Release control to control how slowly the filter slides back to baseline
Full bypass using relays with Fail SafeTM (automatically switches to bypass if the pedal loses power)
Cast aluminum enclosure with groovy artwork
MSRP $149 USD ($199 CAD)​
Introducing the MayFly Le Canard Envelope Filter
All MayFly pedals are hand-made in Canada.
For more information, please visit mayflyaudio.com.
Outlaw Effects introduces their next generation of NOMAD rechargeable battery-powered pedal boards.
Available in two sizes, NOMAD ISO is a compact, versatile tool that offers the convenience of a fully powered board plus the additional freedom of not having to plug into an outlet. NOMAD ISO is ideal for stages with limited outlet availability, quick changeovers, busking outdoors, temporary rehearsal locations, and more.
NOMAD ISO builds upon the legacy of the ultra-convenient and reliable NOMAD rechargeable pedalboard line originally launched in 2018. The brand new NOMAD ISO editions feature eight isolated outputs (1 x 9V DC, and 1 switchable 9V/12V DC) for even more versatility and clean, quiet power. With an integrated lithium-ion battery pack boasting 12800mAh capacity, NOMAD ISO can fuel a wide array of pedals, and will last over 10 hours* on a single charge.
Each NOMAD ISO pedal board includes adhesive hook & loop pedal-mounting tape, eight (8) standard DC connector cables, and one (1) reverse polarity DC cable, giving you everything you need to build your ultimate "off-the-grid" rig. A rugged, road-ready padded gig bag with shoulder strap is also included, to safely protect your gear while you're on the move.
NOMAD ISO S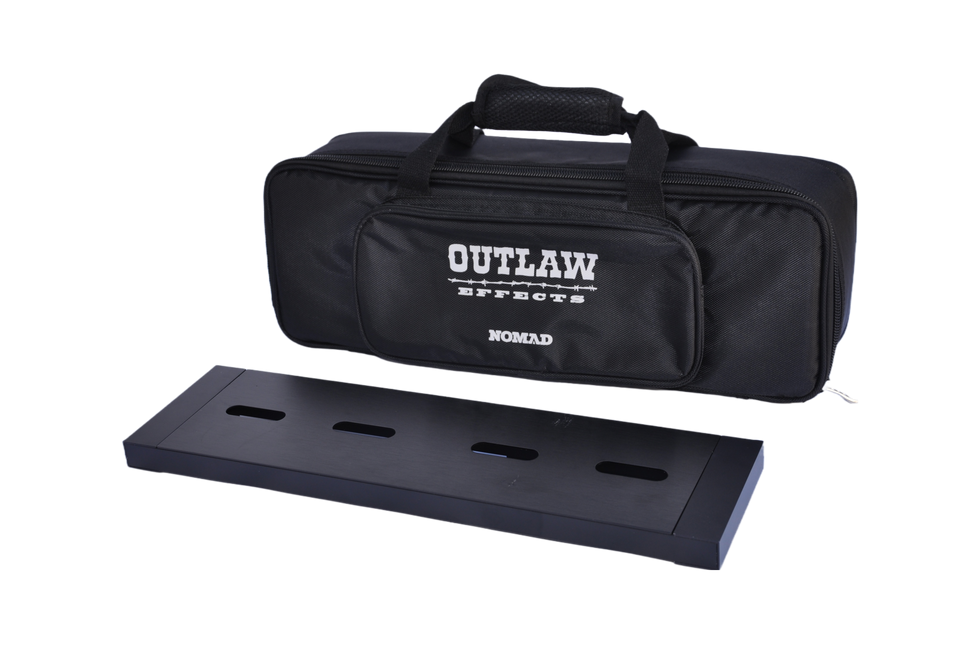 NOMAD ISO S: MSRP $309 / MAP: $249
Dimensions: 19 ¼" x 5 ¼"
NOMAD ISO M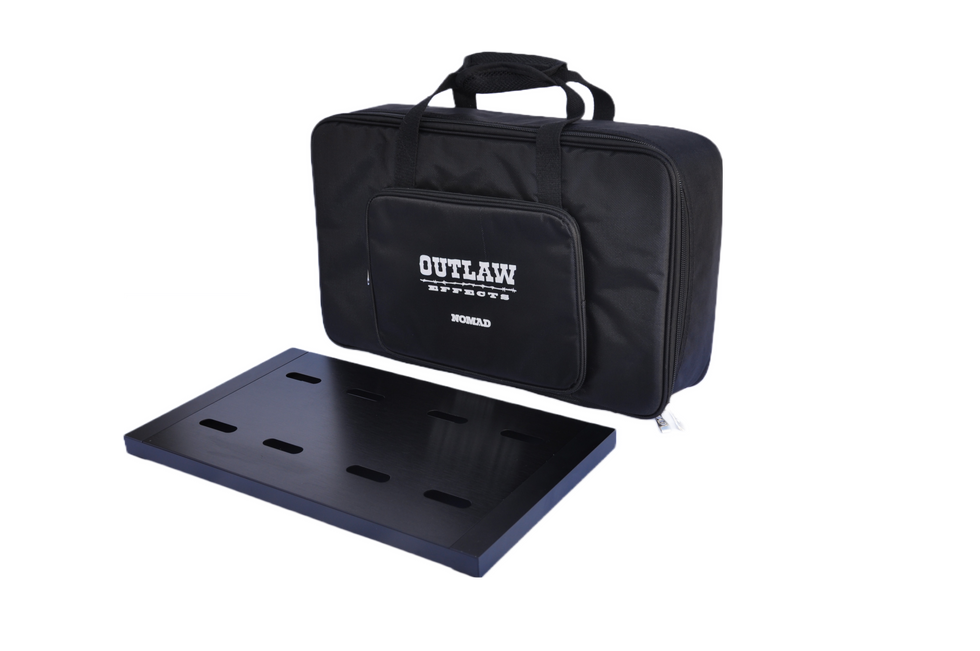 NOMAD ISO M: MSRP $349 / MAP $279
Dimensions: 19 ¼" x 11"
More info: https://www.outlawguitareffects.com.