Trash or Treasure: Tacoma Thunderchief CB10CE4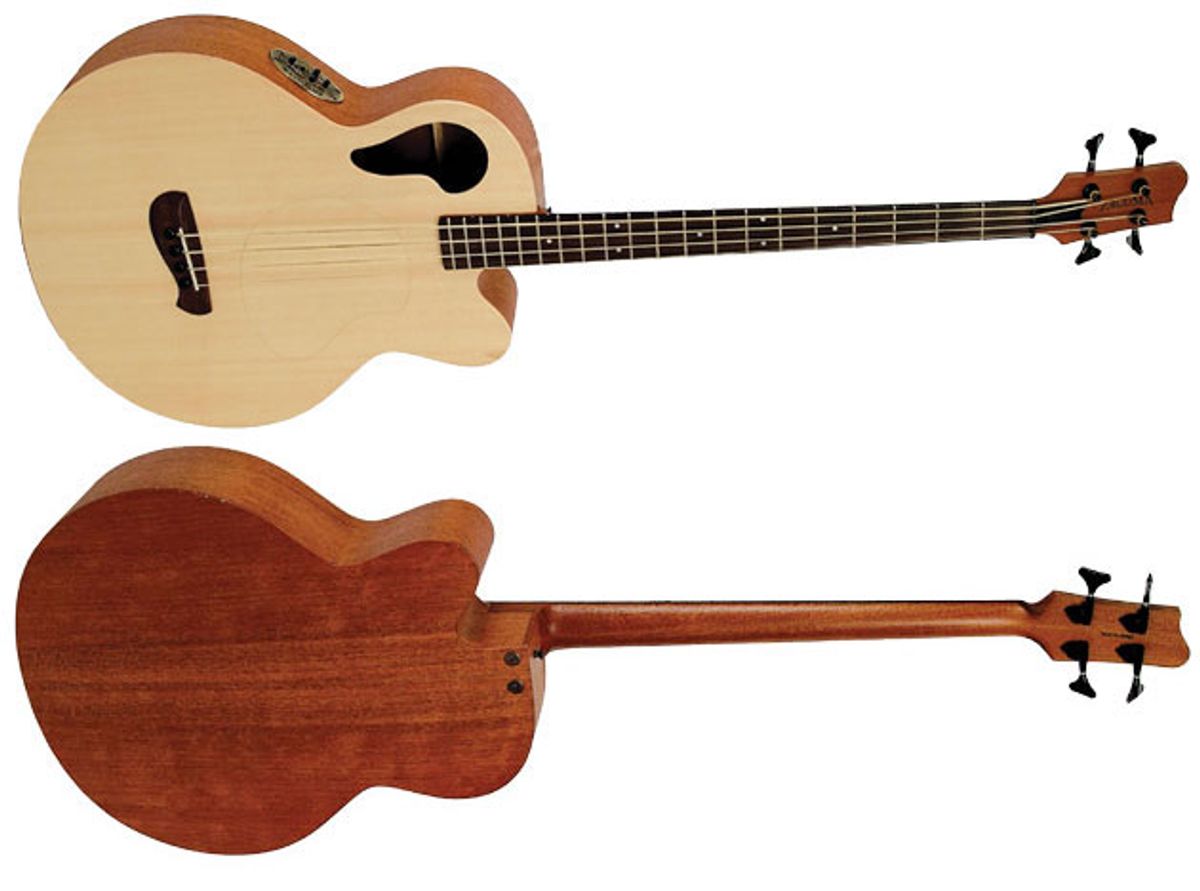 After spending years tucked away in a closet, a Tacoma Thunderchief is liberated by its owner.
Hey Zach,
I bought this Tacoma several years ago because the praise band at my church needed an acoustic bass. I played it only a few times before putting it back in the case and letting it sit in my closet ever since. I took it out the other day and I forgot how great it sounds, and how unusual it is. I can't seem to find much info about Tacoma. Are they out of business? Also, you don't see too many acoustic basses in general, so I'm wondering what you can tell me about it and what it's worth.
Thanks!
Rick in Ft. Worth, Texas
Hey Rick,
It seems every praise band initially needed an acoustic bass, but now you see electric basses everywhere. So what to do with this oddity? I promise your bass has a purpose, and is also somewhat of a collector's item since Tacoma is no longer in business and hasn't built an instrument since 2008. First, let me offer up a little Tacoma history.
In the early 1990s, Korean piano company Young Chang invested over 20 million dollars into a 50-acre sawmill plant in Tacoma, Washington, to provide wood for their pianos. Young Chang was already building cheap acoustic guitars at the time, so sawmill manager J.C. Kim saw an opportunity and convinced Young Chang to build a guitar plant nearby for producing private-label guitars out of the quality woods they had at the sawmill. The facility would build about 100 guitars a month as a private label for the first several years.
The company debuted the first Tacoma-branded models with the Papoose and Chief at the 1997 NAMM show. Tacoma garnered attention by integrating several unique features to their acoustic-guitar designs, such as a kidney bean-shaped soundhole in the upper-bass bout and asymmetrical bridges. While they are aesthetically pleasing, these design features were all intended to make the top resonate more.
While they are aesthetically pleasing, these design features were all intended to make the top resonate more.

As Tacoma's new guitars became accepted by players and their popularity increased, the company began rounding out their line with a full offering of acoustic guitars. And in 1999, they introduced their acoustic basses. The Thunderchief instruments were essentially bass versions of the existing Chief guitar models. Your bass appears to be a CB10CE4 model with the following specifications: a solid Sitka-spruce top, mahogany back and sides, the upper-bass bout "paisley" soundhole, a bolt-on mahogany neck, rosewood fretboard and bridge, two-per-side tuners, and Fishman Prefix Plus electronics. (Non-electric, 5-string, and fretless versions were also available.)
In their relatively short existence, Tacoma ownership changed hands a couple of times. When Young Chang was facing financial troubles in the late 1990s, the company sold Tacoma and the sawmill to J.C. Kim. Then in late 2004, FMIC (Fender) bought Tacoma from Kim. At the time, Fender was rapidly adding brands to their umbrella and they purchased Tacoma to provide more manufacturing space for Guild guitars while still continuing to build Tacomas. In 2007, Fender bought the Kaman Music Corporation (owners of Ovation guitars), and in early 2008, announced that they were moving Tacoma and Guild production to Kaman's manufacturing facility in New Hartford, Connecticut. Guild made the move, but unfortunately, Tacoma did not resume production and the brand has been mothballed since 2008. When your bass was discontinued that year, the MSRP was $1,489.
Tacoma basses were revered for their deep-bass sounds, volume, playability, and lightweight build. At the same time, they were criticized for being fragile and prone to dents and dings. Improper storage and/or non-ideal humidity conditions often led to the top or back separating from the sides. All that said, if well taken care of and in excellent condition (which it sounds like it is), your bass is currently valued between $1,000 and $1,200—not bad considering it probably sold for less than that new almost a decade ago.
A quick search on a popular music-gear site turned up less than 50 results for acoustic basses, while a similar search of electric basses turned up over 600 results. Acoustic basses just aren't as common. If you want to sell it, you should be able to find a buyer who might revive it in a praise band. Or keep it, and it will continue to be a treasure—even if it sits in your closet.