Photo by Dan Wilberforce
The British busker extraordinaire isn't opening for the likes of Skynyrd, Frampton, and Ron Wood just because he rips fiery solos with a booze decanter.
The term "busking" first popped up in the English language in Great Britain around the middle of the 19th century. It derives from the Spanish buscar, meaning "to seek," and refers to outdoor performers playing for tips from passersby. In America, we call them street musicians.
Jack Broadbent, who popped up in Great Britain in the latter part of the 20th century, spent much of his youth busking on the streets of various countries. The seeker appellation fits him nicely too—from his world traveling to his evolution as a guitarist to his perception of the COVID-19 quarantining in effect at the time of this interview as an aid rather than a hindrance to his quest. "I find myself sitting with a guitar in my hand, bursting with ideas," he says. "I feel happy I've got time to experiment more to see what I want to do."
Born in Lincolnshire, England, Broadbent grew up with plenty of guitars and music in the house. His father, Mickey Broadbent, played bass in the successful power-pop band Bram Tchaikovsky ("Girl of My Dreams"). "Now he plays with me," Jack says. "We go out as a duo quite often. We were just supporting Ronnie Wood on tour in the U.K."
Though now known as an exciting blues guitarist, Broadbent initially develop his playing as a means to write songs. "As I gravitated to styles like blues and jazz, I had to pick up more skills," he explains. "But it was all self-taught, through songwriting."
Although it was Broadbent's flashy boogie playing—including his preference for playing slide with a worn whiskey flask—that excited street audiences for many years, when he moved into clubs and festivals he found a welcoming home for his songwriting. Some songs on his new album, Moonshine Blue, recall '60s British blues bands like Fleetwood Mac and Savoy Brown, who helped reintroduce Americans to the heritage they had neglected. On other tunes, Broadbent mines the singer-songwriter tradition that burgeoned in the hills around 1970s Los Angeles. Somehow, in the blend of his deft-but-easygoing guitar work and warm, dusty singing, he makes it all work together as a single musical voice.
The story of this seeker's journey toward musical integration provides an interesting contrast to some of today's YouTube-to-stardom career trajectories. As storytelling is part of the troubadour's trade, Broadbent was happy to hold forth.
How did you get into blues?
After my father had been playing rock 'n' roll for years, he moved back to Lincolnshire and ended up playing in local bands. Around the time I was born, in 1988, there were a lot of R&B and blues bands doing the circuit, so I was brought up on R&B and great local blues. That music was in my head from day one, but I didn't really include blues in my repertoire until many years later. I played more folk music and rock until I was way into my 20s.
A number of your tunes feature boogie rhythms, which I assume comes from John Lee Hooker.
Absolutely. I am always referencing people like Peter Green and John Lee Hooker.
Did you play in bands with your father or more with people your own age?
I was writing more from a solo perspective. Anything I would write, me and my dad would play together, just for the enjoyment of it. I steered away from the band thing because I didn't want to sound like everybody else.
Your 2013 album Public Announcement sounds like a band recording.
It's more of a band sound, but it wasn't a band. That was me playing all the instruments. I had a house up in the Lake District, and a digital 4-track machine. It was a project that came out of experimentation.
That's the beauty of busking: It goes with you wherever you go.
You play drums as well as guitar?
I play everything. When I did play in bands with my father and other people, it was quite frequently as a drummer or bass player. Now that I'm established as a guitar player, I never get a chance to hit the pots and pans, which is a bit of a shame.
When did you start busking?
Around age 21.
Did you move to London to do it?
I predominantly honed the skill in London, and then used to go over to Europe—places like Amsterdam, Berlin, or France. That's the beauty of busking: It goes with you wherever you go.
Did you prefer busking to joining or putting together a band?
It certainly makes more money. I was doing it to support a lifestyle of writing songs. I was a busker by day and then gigging in clubs by night. Over the years, the stuff I was playing on the street started to infiltrate my club set. Before that it was more on the singer-songwriter side. Now, I like to think I pull it all together under the guise of roots music.
How did the repertoire differ from the streets to the clubs?
On the street, you have a lot more freedom. You haven't got a time schedule to adhere to. I was playing more finished songs at shows, but then I slowly started to realize I could integrate a little more freestyle playing. I started to bring my slide guitar more onstage rather than just using it as a busking entity.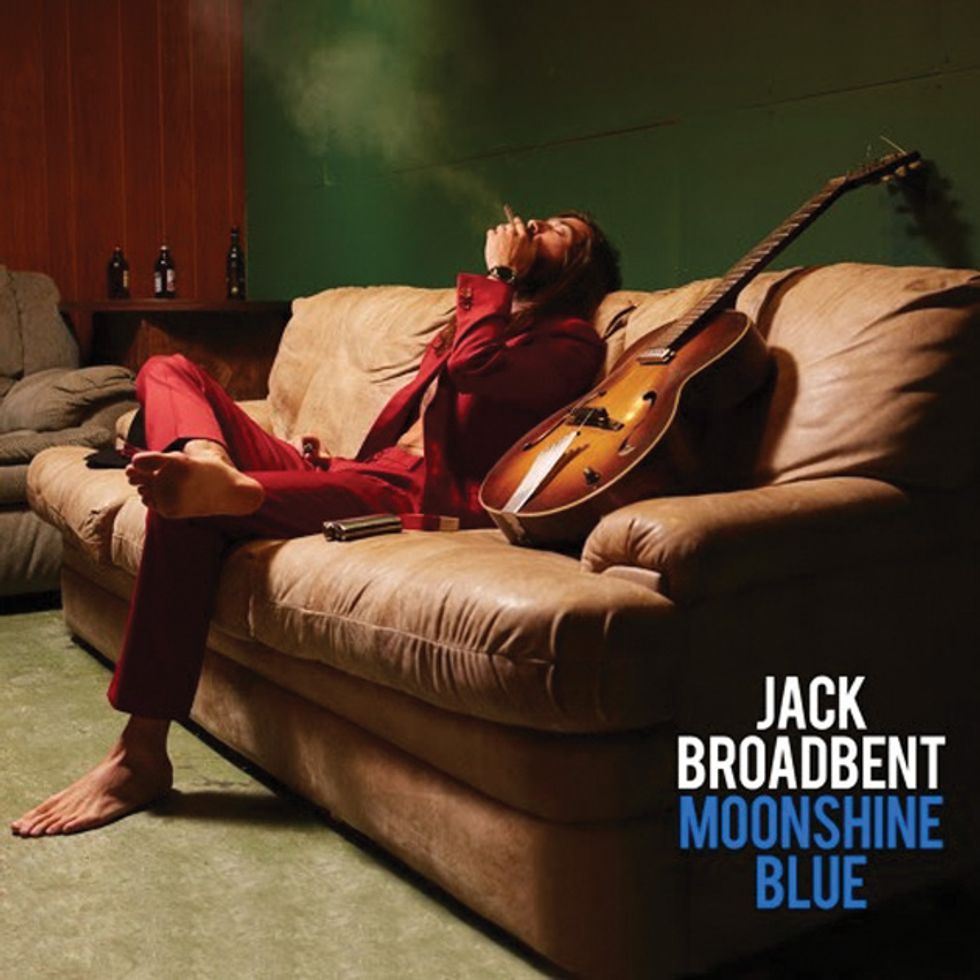 TIDBIT: For his fourth studio album, Broadbent cut his guitar tracks while being accompanied by his father, Mickey, on bass, and the rest of the instruments were recorded later.
What did busking teach you that translates to indoor gigs and festivals?
It taught me communication between the performer and audience—about breaking down the rubbish barrier of "This is a performance—you watch me. I don't talk to you. You don't talk to me." When busking you can stop any time, have a chat, do whatever you want to do.
What doesn't translate?
You can't have a smoke break in between songs [laughs]. On the street, it's more of a jam. You can rattle around the same tune all day, as long as there's new people coming past. That's where I got my 10,000 hours in. If you do something long enough, you get a good feel for it. For me, swinging a blues groove in front of people for a couple of hours every day without fail might not have been a formal lesson, but it all sank in.
Is that how 2103's The Busking CD was born?
That was to sell whilst busking.
Where did you record it?
In my flat in London.
You've developed a style that sounds like you, even as you shift from a flat-out boogie to a sensitive singer-songwriter number. Is it the distinctive sound of your voice that makes it all work?
I suppose that's the factor that keeps everything together. Like Neil Young and Radiohead, I love to play different styles of music and guitar. I wouldn't ever want to feel I was pigeonholing myself. The death of creativity would be to say, "from now on, I just play blues, or folk."
Other than the obvious spectacle factor, what inspired you to use a flask as a lap slide?
It was the closest thing to me at the time, I think.
So, you fell into it from taking a nip before playing?
Playing on the cold streets of England, it's nice to have some good company in your pocket.