Jack Pearson: Double Whammy
Photo by Andy Ellis
A pair of releases from Music City's "best kept secret" reveals why he is so revered by fans and players alike.
Despite a career that's in its fifth decade, Jack Pearson remains largely under the radar. Longtime Allman Brothers fans might know him as the guitarist who temporarily replaced Warren Haynes, from 1997 to 1999, and his name will certainly come up should you question any picker in Nashville about who you absolutely must see perform while you are in town.
Over the years, Pearson has released three solo records, two duo records, and a single, recorded with Jimmy Buffet and Bobby "Blue" Bland, and toured with Delbert McClinton and Lee Roy Parnell. And he has achieved some recent recognition, thanks to Joe Bonamassa's Keeping the Blues Alive at Sea cruise and the ubiquity of YouTube, but Pearson's level of fame still has a way to go until it matches the stellar level of his abilities.
Abilities is purposely plural, as a typical show featuring the Jack Pearson Trio (with Josh Hunt on drums and Charles Treadway on organ) might see him blaze through electric and acoustic blues, jazz, gospel, and rock, as well as slide excursions in standard tuning that boggle the mind. All of this on a Squier Bullet Stratocaster!
He also sings ... no, really sings. Like George Benson and Vince Gill, the man obviously went back for seconds when they were handing out musical gifts. And thirds and fourths, as Pearson plays the outstanding organ and bass on his new studio album, Are You Listening?
The "studio" distinction must also be made, since the guitarist has simultaneously released a double live album called, er, Live. Thanks to the sheer talent demonstrated on these three discs, this may be the year that this player's genius begins to light up the aforementioned radar.
We met Pearson at Nashville's Cotten Music Center, the legendary, high-end acoustic guitar store where he teaches. There, we discussed the familial roots of his guitar expertise, as well as this sudden artistic output.
"I started gigging when I was about 14. In high school, I was always in three bands at the same time."
How did you start playing guitar?
My oldest brother, Stanley, played guitar and taught me to play. He said, "I never learned all the notes on the fretboard and I get lost all the time. You need to learn them." After I'd been playing about a year, he gave me a slide and told me I needed to learn how to play slide. That really set me up.
I started gigging when I was about 14. In high school, I was always in three bands at the same time. I'd have a band with friends in school, and then play with musicians who were 25 to 30 years old. I didn't have a driver's license, so they'd take me to rehearsals and gigs. Lee Roy Parnell came to town in 1987, and I started playing with him when I was 17.
How did the Allman Brothers gig come about?
I knew Warren Haynes when he used to live in Nashville. When Dickey Betts had to leave the tour in '93, Warren asked me to come and sub. I did that for two or three weeks, until Dickey came back. Then Gregg asked me to play in his solo band. I played with Gregg until 1997, when he asked me to join the Allman Brothers, replacing Warren. I did that for two-and-a-half years, until I started having problems with my hearing. I was using a 100-watt Randall head they made for Dickey, through eight EV speakers. I was very loud onstage and Dickey was even louder than me. He used two 100-watt Marshalls through JBLs. Sometimes he'd use three. He wasn't in the PA. It was all just coming off the stage because that's the way he always did it. I finally had to quit.
Do you use hearing protection when you play now?
I wear earplugs all the time. I've had about 10 molded sets made, but they never fit right. When I open my mouth to sing, they leak loud volume into my ears. I went back to the foam ones, which bend with the bones in your ear. I get my sound, and then put the plugs in. I try not to readjust my amp … just get used to the way it sounds. After so many years, you get used to it.
Were you playing the Strat with a Tele neck back then?
At first I was, and then I played a G&L Strat-style with Seymour Duncan Hot Rails.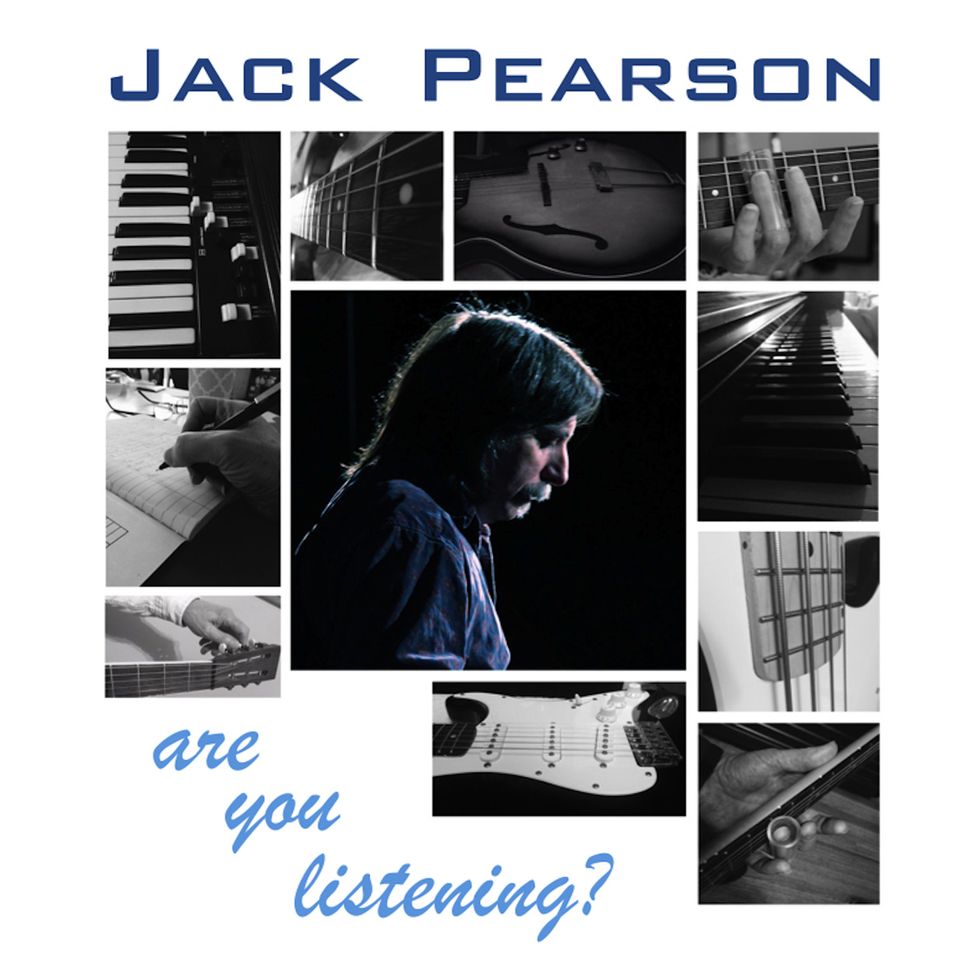 TIDBIT: By simultaneously releasing two albums—one of which is a double CD—Jack Pearson has given longtime fans and potential new converts a way to explore his vast musical imagination. Pulled from two recent concerts with his trio, Live celebrates Pearson's love of extended blues-rock improvisations. Are You Listening? features songs recorded in his home studio across two decades.
How did the new studio album come about?
Are You Listening? has tracks recorded over the last 20 years. It's an R&B record, because I have a background in that. I found four tunes I had recorded in 1995 and '96 that I never released. I thought they sounded pretty fresh, and I had all this new stuff that fit around them, so I just put it all together.
So you had a home studio back in '95?
Yeah, I got into home recording when I was 20 years old.In the '90s, I had two Tascam DA-88s and a Tascam board. I used those for about 10 years, until the heads wore out. By that time you could get into Pro Tools for the same price as replacing the heads, so that's what I did.
Where did you learn to play all the instruments on your studio solo records?
I always want to know how any kind of instrument works. I switched to bass for a while in my teens. We didn't have a piano when I was a kid, but I was always intrigued by it. When I was a teenager, one of my sisters was married to a great keyboard player. That was the first time I heard a Hammond organ in person, and I loved it. Later, when I started playing with Gregg, I learned his drawbar settings and just picked it up. I have a Hammond CV from the '40s. I got that when I did the first CD [Step Out!] in '93 or '94. It has a different kind of sound.
You didn't start playing keyboards until after you joined the Allman Brothers?
Not until the mid '80s, when I was 25 years old. I got a little synthesizer to learn how to play. I learned all the notes, just like I did on guitar. I taped the names to keys until I knew them.
On the studio album, the sound is very focused around gospel, soul, and R&B-style tunes, and the solos are short, whereas the music on the live record is more stylistically diverse with stretched-out solos. Did you feel more comfortable releasing the studio album because you were also putting out a live set where people would get to hear you do everything else?
I had wanted to put both of those out and just ended up finishing them at the same time. The live record is so different. Several people asked me, "Is this a live version of the studio record?" It's not—there's only one repeated song and that's done totally differently. I always wanted to do a blues and rock album and that's what I did with the live record.
"Right Where We Belong" is the one on both records, in very different versions.
The studio version is from 1996. When I wrote it with Donny Lowery, the publishing company said, "You need to do a funk version so we can pitch it in New York." I played all those clavinets and synthesizer bass—I got into my Stevie Wonder mode. I loved the way it turned out, but they never pitched it and the song sat around all these years. My band can't play it that way because we don't have the instrumentation. I always liked the song, so we'll play it every once in a while. It turned out pretty good that night.
Did you record all the live material at the same show?
It was from two shows in January, except for the Gregg Allman tune, "Please Call Home," which was recorded last summer. I had a gig a few days after Gregg died and told Josh and Charles, "I want to play 'Please Call Home' for Gregg tonight." I had played it with him but had never sung it before. We ran over it in the dressing room, went out and played it, and that's what's on the record. We did it in Bb instead of C and with our own arrangement.
---
---

The vintage guitar in Jack Pearson's hands is a Harmony Soverign, which he's playing at Nashville acoustic instrument institution Cotten Music. The model was Harmony's acoustic flagship during its 1958 to 1971 production run. Photo by Kim Sherman
On "Pretty Pickpocket," it sounds like there's an octave device.
Yeah, Truetone makes it. They call it the Angry Fuzz, but it doesn't sound angry to me. It's touch sensitive. It'll go an octave higher or an octave lower depending on how hard or soft you hit the string, or the amount of volume going into the pedal. If you hit two notes at once, sometimes it will add a fifth or an octave below. I'm not using it as a fuzz. It's just to trigger those effects. I'm also using an MXR Phase 90 phase shifter, an MXR Custom Badass Modified O.D. overdrive, and an Ibanez Tube Screamer.
On "Don't Give Up," it sounds like you're snapping the low-E string.
That's the Epiphone Flying V that Joe Bonamassa gave me. It was just sitting there when we were recording Reese Wynans' record. I picked it up and it was lively. I always liked Albert King. On YouTube, I saw his band playing in G, while he started playing out of the "Bb" position. That's when I realized he tuned way down and that's how he can bend those strings like that. I tuned the Epiphone down and the guitar just woke up—it likes that. "Don't Give Up" is in A, but I'm playing in the "C" position.
What strings do you put on the V?
I ended up putting flatwounds on the low strings. The bottom one is a .050. Flatwounds stay in tune better and they don't flop around as much. I put a set of .010s on and thought, "This is still a little tight for what he's doing. I'll try a .009 on the E." All of the sudden, I could do the same bends and it had the same snap. Later, I read an article about the gauges Albert used, which was .009 through .050. It's really loose, but it stays in tune. I use .009, .013, .017, and maybe .026, .036, .050, or something like that. I just experimented with different gauges until it felt balanced. What a rich sound. That guitar's on "Don't Give Up," "I Can Fix It," the Albert King slow blues "As the Years Go Passing By," and "Besame Mucho."
"I ended up putting flatwounds on the low strings. Flatwounds stay in tune better and they don't flop around as much."
You're playing that on "Besame Mucho"?
Yeah, see how jazzy it sounds? And it's on "Do What's Right," where the band is in D and I'm playing in F. Whatever key the band is in, with this tuning you just move up three frets and play out of that position.
What made you decide to do a double live record?
Well, if you have 12- and 17-minute songs on there, one CD would've held only a couple of songs.
What gear did you use on the live recording?
My VVT signature amp and those pedals I mentioned. I played my red Squier Strat and my SG—I think it's an '88. I bought it used, so I don't know. I've had it for a little while. My first Gibson was an SG and this is the third SG I've owned. I've played Gibsons and Epiphones most of my life. I've played Les Pauls, too, but I can't anymore because of my back—they're too heavy. I played a 335 for a long time.
Until recently, I've mostly seen you with Squier Strats.
Yeah, they're lively. I'll go to the store and play a bunch. One of them will jump out at me and I'll get it. They're thinner than normal and if you find a good one, it vibrates, but it's like that with any brand. All of the ones I've had were made in Indonesia. Maybe it's something about that plant.
Are you using the stock pickups?
Yeah. I've had to replace some of the pots, though, because they're not very high quality.

Guitars
Various Fender Squier Stratocasters and Telecasters (made in Indonesia)
G&L S-style with Seymour Duncan Hot Rails
Early-'80s Fender Stratocaster body with a Telecaster neck, Seymour Duncan Hot Rails in the neck and middle positions, and a Gibson humbucker in the bridge. Currently in the Allman Brothers Big House Museum.
1959 Gibson ES-125T 1996 G&L T-style with Seth Lover humbuckers
2009 Epiphone Casino
2018 Gibson ES-330 Gibson (Memphis factory)
2018 Epiphone Flying V
Squier Bullet Mustang HH Limited Edition
Collings 0-1A acoustic
Collings 0-1 12-fret slot-head acoustic
Martin 00 cutaway acoustic
Early-'30s National Duolian resonator
Gitane Maccaferri-style acoustic
Amps
VVT Jack Pearson Signature Model
Vintage Silvertone 1482
Blackface Fender Champ
Blackface Fender Vibro-Champ
Effects
Vintage SansAmp
Line 6 POD
Truetone Angry Fuzz
MXR Phase 90
MXR Custom Badass Modified O.D.
Ibanez TS-9 Tube Screamer
MXR Carbon Copy Analog Delay
Visual Sound GarageTone Chopper Trem
Strings and Picks
Various gauges of D'Addario roundwound and flatwound singles
Wegen TF 140 picks

Do you replace the tuners?
No. They're working. I've got one of these new Squier Bullet Mustangs with humbuckers. That's what I played on "The Worlds Gone Crazy." I've also been using it on "Foxy Lady," because it's tuned down a half step, like Jimi Hendrix.
What gauge strings do you use for that?
It could be D'Addario flatwound .009s or .010s. I don't know.
Do you use a wound third?
No. They don't make a set with the gauges I like. I have to get individual strings. I use .009, .012, and .016 on the top. For the B string, I find a .012 is more balanced than an .011. The low strings gauges depend on whether it's standard tuning or not. On my SG, which is in standard tuning, I use .010 to .046. I've got an Epiphone Casino and Gibson 330 from the Gibson Memphis factory. It is the best 330 I've ever played. I've got .010s on those, but the bottom three strings are flats.
What kind of gear do you use for recording at home?
I use whatever. I still use one of the very first SansAmps. The pots are frozen on it now, because I have always kept it at the same setting. I found a sound that works. I've got those old Line 6 PODs. Sometimes, I use an old Fender amp. I've got a Silvertone amp I love, and my VVT amp.
Some tracks on the album feature amps and others modeling devices?
You can't tell the difference, but you have to know how to twist the knobs until it sounds right.
What guitars did you use on the studio record?
The G&L and probably that old Strat with the Tele neck. One of the Squier Strats is on there. Back when I recorded the older tracks, I had a '66 Gibson ES-335 I used to like. I had to sell it about 10 years ago. I have an ES-125T that's on "It's All About Love." I used Collings and Martin acoustics. There's a couple of Fender Teles on there. I had a G&L Tele with a humbucker I put in the neck position and a regular Tele pickup in the bridge. I have another G&L Tele that has two humbuckers. That's a sweet guitar.
Do you use effects in the studio?
That depends on the song. I might use a Tube Screamer or the Modified Overdrive into the SansAmp, or into an amp. Sometimes, I'll add a little delay when I'm mixing.
Do you ever have the urge to go into the studio with other musicians, even if it's just to get live drums?
I've never had a budget to do it. I've never had a record deal. I used to try to get record deals, but it was always, "You're talented, but not what we're looking for." I had a bunch of rejection letters, but I threw them all away years ago.
In this business climate, what do you plan to do with the albums other than selling them at shows?
Hopefully, they'll be selling through websites, like jackpearson.com, CD Baby, etc.
You're also teaching online through your Guitar Academy. How does that work?
It's a subscription service. Once you sign up you get access to everything.
Why do you choose to do the online teaching through your own site rather than someplace like TrueFire or ArtistWorks?
It's an easier way for me to share everything I do. Other companies want you to do just one thing, which is fine, but I have 50 categories on mine: blues, jazz, rock, slide, rhythm, pick technique, hand exercises, and more.
Your previous album, Do What's Right, came out over a decade ago. Is it going to be that long until the next one?I've got another one almost ready to put out. I have about six records in the can. I've been recording all this time, just not releasing anything.
Fronting his Nashville trio, Jack Pearson explores the Allman Brothers' classic "Blue Sky" on the 2017 Keeping the Blues Alive at Sea cruise. At 4:15, he enters the zone for an eight-minute improv that pays homage to Duane and Dickey, Roy Buchanan, and jazz pianist McCoy Tyner, while displaying the effortless fretwork and distinctive phrasing that makes him a living legend in Music City.
---
Watch Pearson play killer slide in "Statesboro Blues" onstage with the Allman Brothers.
---