Another addition to the continuing project of restoring a 1921 Martin 0-18. This month we take a look at the soundhole and re-gluing the bridge.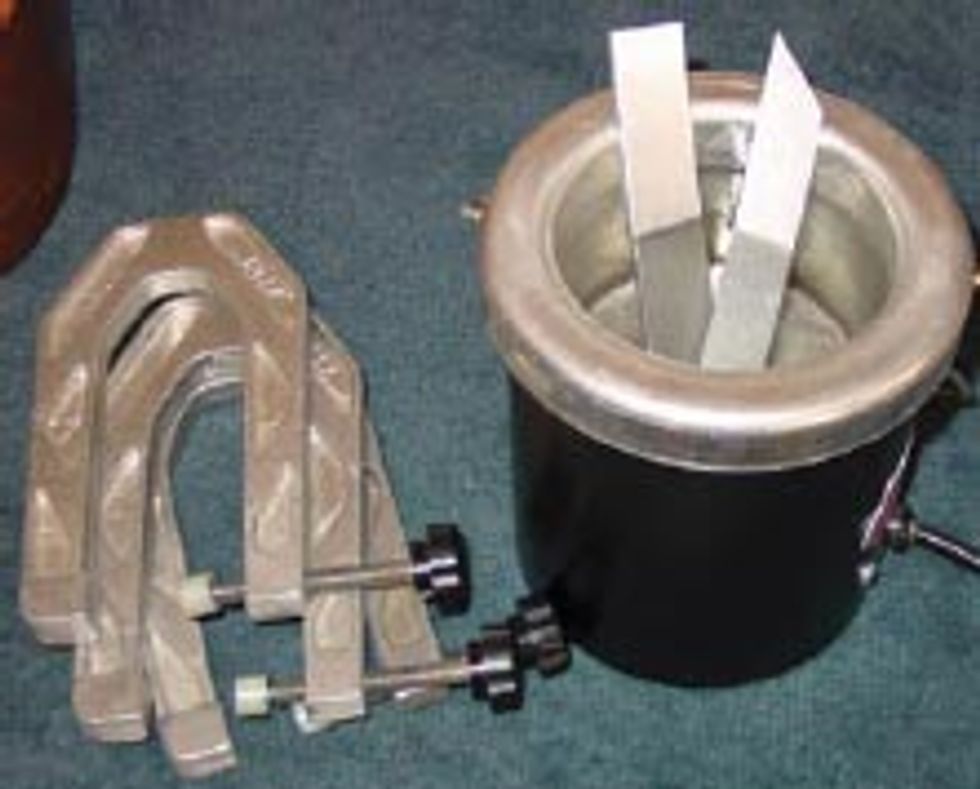 Thanks for joining us for our fourth installment of restoring a 1921 Martin 0-18. Last month I began rebuilding the guitar's ribs, which came in with multiple fractures, long and short, and some gaping, wide open sections on the bass and treble side. The sides had definitely seen better days, having been left to dry out for decades, not to mention the scars from "repair work" some handyman had tried years earlier. While it might have been easier to start over from scratch, at the customer's request I was to rebuild these damaged sides, not replace them.
Before the cracks were glued up, these ribs were first re-warped with a damp sponge inserted through the soundhole, and the separated sections were placed back into their original position with spool clamps. I left the clamps on for 24 hours. Prepping the ribs in this manner made the overall gluing and final clamping easier and somewhat more manageable.
For this month's operations, we'll be relying on the following tools and supplies (all available from
stewmac.com
):
Thompson Belly Reducer, #1380
Sloane Bridge Clamp, #0682
Electric Glue Pot, #0668
Behlen Ground Hide Glue, #0669
Glue Brushes, #4167
Stir Stick
Bulging Soundboard
If you recall from the second installment of this project (April 2008), we removed the warped pyramid bridge from the soundboard and re-warped the bottom gluing surface of the bridge to its original, flat surface. Although the bridge had been corrected, when I placed the bridge into position on the soundboard, it became very visible that the soundboard had a slight bulge to it. This malady is caused by 80+ years of string tension on the top. This is a repair that really takes time to do properly; you can't rush it by gluing the bridge on, using high-pressure clamps and hoping that everything will level out.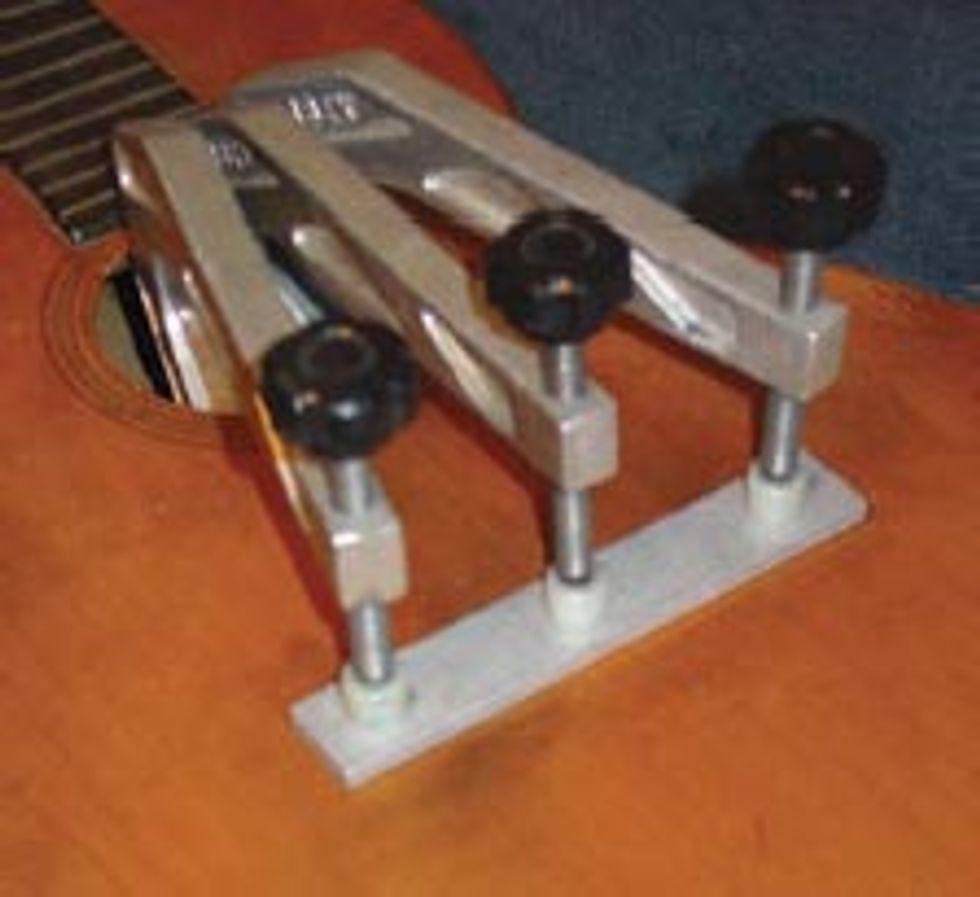 Moisture and heated aluminum plates are the keys for repairing a bulged top. I was getting ready to machine an aluminum plate for the pyramid-style bridge when I realized that Stewart-MacDonald had just released a new tool called the Thompson Belly Reducer. I hopped online and spoke with my friend Erick Coleman at Stew-Mac about it; he said it was in stock and they could get it to me within three days. I mention this only to highlight a company that I believe has set the bar for customer service time and time again. Before you start emailing the editors, this is not a paid advertisement – Stewart- McDonald is just a professional company serving professionals. The Thompson Belly Reducer only set me back $99.50 plus shipping, and kept me from having to machine my own solution.
The Thompson Belly Reducer consists of five precision-machined aluminum tools: convex flatteners for vintage-style and rectangular bridges and concave flatteners for the three most common bridge plate shapes. This worked very well, being that the bridge was already off the guitar and the bridge plate was glued in with hide glue. I simply matched the appropriate flatteners to the guitar, heated them to 150 degrees (you can use a hot plate or submerge the flatteners in a glue pot filled with water for this step), dampened the wood bridge area and bridge plate, and clamped the flatteners into place for 24 hours. It was a straightforward operation and was enough to eliminate that unsightly bulge.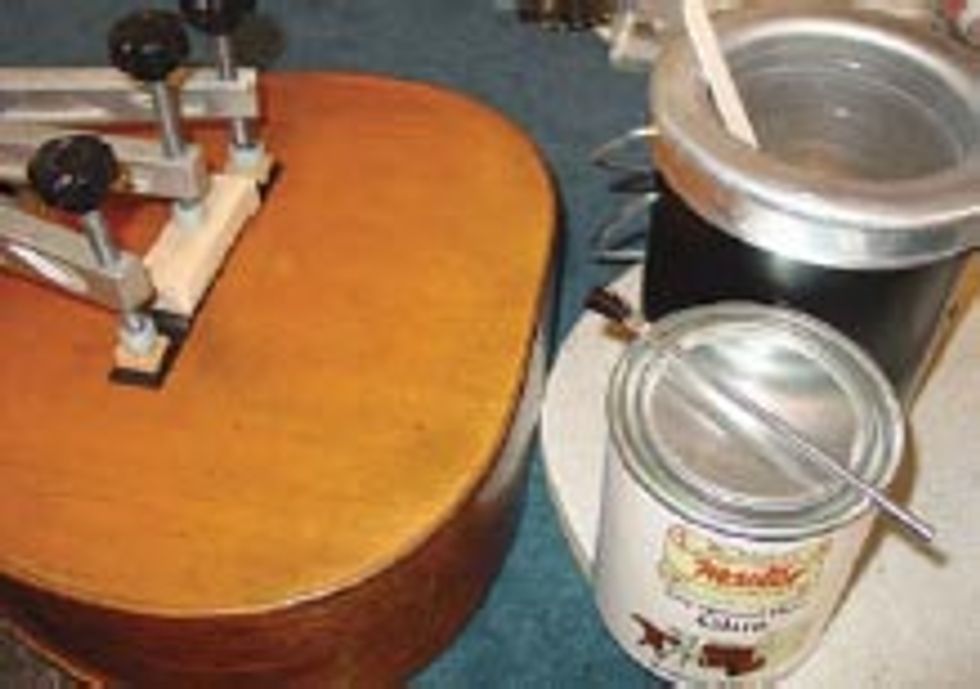 Bridge Re-glue
Once the soundboard had been fixed, we were ready to reattach the bridge. I simply dissolved the granules of hide glue in a 50/50 mix with water in my electric glue pot, stirring slowly and evenly. Once the glue was ready, I positioned all of the clamps and clamping calls on my bench. There was a good five minutes of working time before the hide glue began to gel up. Any excess glue (squeeze-out) was cleaned up with paper towels that had been previously warmed up in the microwave for 20 seconds.
And with that, the bridge was back in place, safe and sound – perhaps next month we will begin the re-fretting process.
---
John Brown
John Brown, of Brown''s Guitar Factory, is the inventor of the Fretted/Less bass. He owns and operates a full guitar manufacturing and repair/restoration facility, which is staffed by a team of talented luthiers. He is also the designer of guitar making/repair tools and accessories that are used today by instrument builders throughout the world.
www.brownsguitarfactory.com
info@brownsguitarfactory.com