So many varied ways to phase for days.
Sweet, distinct phase voice. Resonance, mix, range, and volume controls expand tone-shaping possibilities significantly. High quality.
4.5
4.5
4.5
4
Spaceman effects tend to be cherished, treasured, and, in some cases, driven to insane resale market prices because they reliably sound fantastic. But Spaceman pedals are also rare creatures. And even its most popular pedals tend to come and go—often disappearing before real players can beat collectors to the punch. The analog, 6-stage optical Explorer phaser, however, is the unusual Spaceman pedal that is reappearing in the wild after a hiatus. It returns in a more compact enclosure. But this time out the Explorer offers access to six additional waveforms that build on an already expansive modulation vocabulary.
Not So Simply Red
I love one-knob phasers. They are a sure-fire means to mindless fun, and one less thing to worry about when drifting off amid some psychedelic-jam reverie. That mindlessness comes at a cost, of course. A classic Small Stone or Phase 90 tends to sound just like it's supposed to and little more. So while you can extract everything from rotary speaker sounds to staccato pitch shifting with such a circuit, they're usually imprinted with a specific voice and phase coloration—what you hear is what you get.
The Explorer brushes aside those constraints in very cool fashion. For starters, the mix control helps you render the phase effect nearly subliminal. That enables you to use pretty extreme phase voices in low-key ways—a beautiful means to apply the effect to add motion in a spare mix. The Explorer also comes with an output volume control. This means you can overcome any perceived volume loss when using intense waveforms. But it also gives your signal a slight—and slightly dirty—bump even when the effect mix is low. The volume gives you options in that direction, too. And although there probably won't be hordes of players dying to use the Explorer at less than unity gain, the ability to do so opens up interesting arrangement possibilities in which you can move from straight-ahead clean passages to quieter effected chapters in a song without missing a beat. It also gives you a means to mate the Explorer more easily to an unruly or unpredictable fuzz.
The Explorer's wave-shaping options are abundant and powerful. The rate control generally falls in line with most classic analog phasers in terms of range—moving from molasses sweeps to insectile stutters. Resonance, of course, adds vowelly emphasis to the waveforms. Its effect is strong enough that I tended to leave it in a modest 8 to 10 o'clock range. But it can also help put a phase over the top in a crowded effects mix and help add rhythmic emphasis. The Explorer's range control is, perhaps, the hidden gem. There's nothing magical about it. It's essentially a filter that enables you to thin out or add a low-end bump to the signal. But the extra low end can be a beautiful sweetening agent with slower phase rates (which get chewier and dreamier with more low end) and gives you extra wiggle room for tailoring the Explorer to different guitars, amps, and effects in your chain.
The extra low end can be a beautiful sweetening agent with slower phase rates.
Crest-to-Trough Awesome
The Explorer isn't the only contemporary phaser with the option for multiple waveforms. But there is something about the essential sweetness and clarity of its voice that makes the differences among these wave types feel more distinct. The sine wave is smooth-snaky and sounds dreamy at slow rates and sitting low in the wet/dry mix. Ramp-up and ramp-down waves have a pronounced "reset" pulse at the peak of each wave that tends to reinforce certain rhythm-based approaches. Triangle generates pretty, precise, and steady heartbeat pulses that make lots of room for picking detail at dryer mix levels, but it also sounds awesome at more stroboscopic rates and higher intensities. The square wave at a 50-precent rate and with a healthy heap of low end from the range control is another favorite—and with the resonance just right, you can get a very bubbly auto-wah effect. The alternate phase patterns, which are accessed by powering up while holding down the footswitch, are all worth investigating as well. And the arpeggiated phases, in particular, are especially cool—lending textures that evoke everything from bouncing ball bearings to tinkling glockenspiels.
The Verdict
The Explorer often distinguishes itself by living at a cool intersection of organic and mechanical precision pulses and sounds. But the abundant tone-shaping options mean you can fine tune these tone crossovers like a surgeon. It's fun, too. The right sound rarely feels out of reach or impossible on the Explorer, so the search seldom feels like work. For anyone that has suffered the limitations of 1-knob phasers but been intimidated by more complex alternatives, there are a lot of cool compromises here. The Explorer is expensive. But it's a high-quality U.S.-made pedal that reflects a lot of thought and experience. It may just tempt you to sell the rest of the phasers in your collection, too—a smart, constructive way to offset the cost, if you ask me.
The story of 1960 Gibson Les Paul 0 8145—a 'burst with a nameplate and, now, a reputation.
These days it's difficult to imagine any vintage Gibson Les Paul being a tough sell, but there was a time when 1960 'bursts were considered less desirable than the '58s and '59s of legend—even though Clapton played a '60 cherry sunburst in his Bluesbreakers days. Such was the case in the mid 1990s, when the family of a local musician who was the original owner of one of these guitars walked into Rumble Seat Music's original Ithaca, New York, store with this column's featured instrument.
Les Paul 0 8145 is a typical 1960 'burst in most ways. A vibrant cherry color is prominent in the finish—which is a result of a change in dyes Gibson made when owners complained of their new '58 and '59 model guitars fading in ultraviolet light—and the neck is thinner than the late-'50s models, similar to what you'd find on the SG-body-style guitars that debuted not long after this 6-string left Kalamazoo.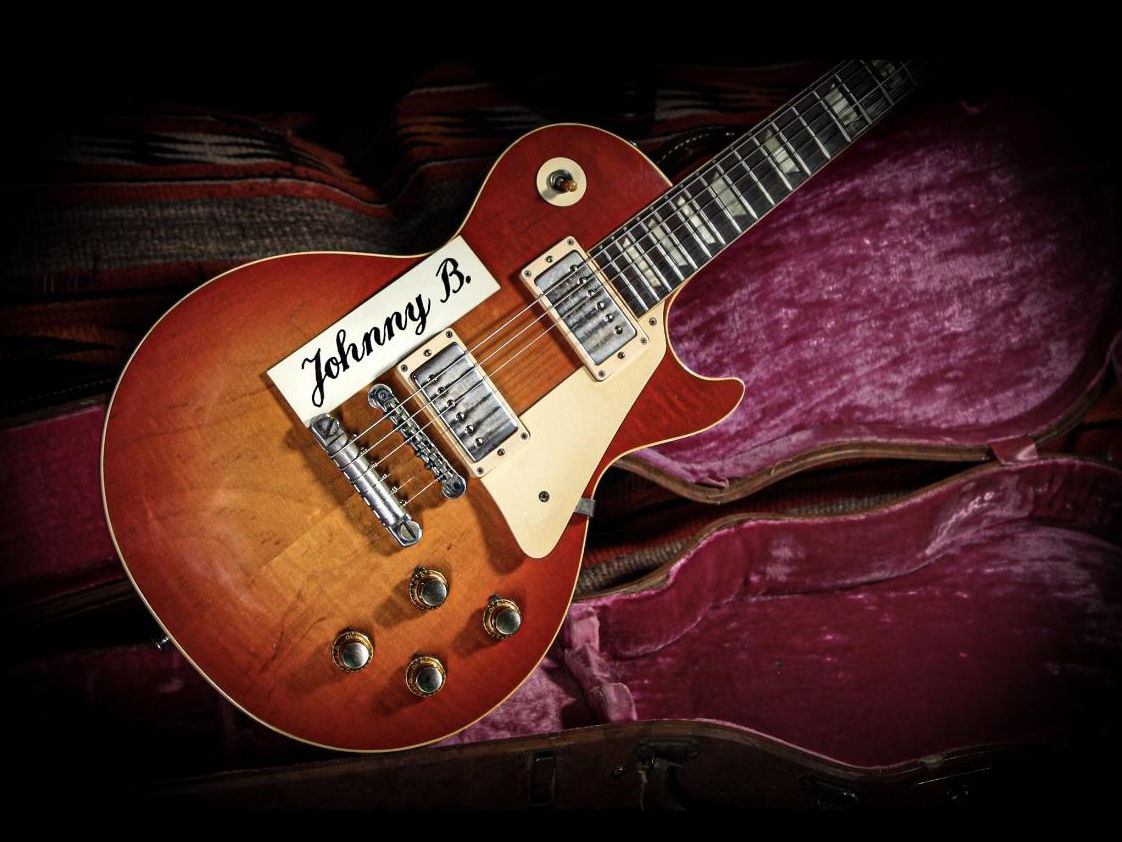 This close-up of the guitar's body shows it in excellent condition, and the sound generated by its humbuckers is terrific.
The maple top is hardly the most figured, yet neither is it plain. But one thing certainly jumps out on this guitar: The original owner applied a name plate on the top for all the world to know it belonged to "Johnny B"! Perhaps for this reason, or perhaps because Rumble Seat was never short on amazing guitars on display to compete for attention, the guitar we named Johnny B. hung on the wall for close to eight months.
Eliot Michael, Rumble Seat's owner, insisted that what Johnny B. lacked in flame was made up for in spades via its monstrous sound. The two original PAF humbuckers are incredible. It's now common knowledge that many of the best sounding 'bursts do come from the later run in 1960, but it took some convincing for one of my friends and good customers to finally plug Johnny B. in to hear it for himself. Upon doing so, he immediately declared it "the best sounding guitar I've ever heard." And Johnny B. left the shop for a new home.
The back of the guitar also shows TLC—as well as its classic mahogany wood grain.
As tends to happen, the guitar eventually found its way back to Rumble Seat Music, after we moved the store to Nashville, Tennessee. Another friend and customer agreed with that assessment of its sound. His name is Joe Bonamassa. Johnny B. went to live with Joe B., where it took on a new chapter of life on the road and in the studio for several years.
Joe wielded this truly exceptional-sounding guitar in many shows across the U.S. You may have seen it onstage. While some Les Pauls are known for their sweet sound, Johnny B. wants to rock. This is one of the most aggressive, raunchy, and downright rude-sounding Les Paul Standards out there, which seems appropriate for an instrument sharing a name with a Chuck Berry song. It doesn't get much more rock 'n' roll than that!
As I mentioned earlier, guitars we sell have a habit of finding their way back to our store, and so it goes with Johnny B.–now returned to our walls after some serious adventures. Typically, good condition 1960 Les Pauls carry tags in six figures, and this one is no exception at $278,000. That's within the same current range for '58s and '59s, since players and collectors have gotten hip to the virtues of 1960 models. And although it was initially overlooked, Johnny B. has earned its place as one of the most recognizable 'bursts around.
The globally-inspired band taps a United Nations of collaborators to create a sonic stew of cumbia, mariachi, Latin rock, and alt-country on their 10th studio album, the effervescent El Mirador.
For forward-thinking modern artists, experimentation across genres and generations is nothing new. Whether it's layering acoustic and digital sounds, adding pop flavor to blues-rock, or blending funk, R&B, reggae, and hip-hop, it can seem like there's no other option than to stir all the multicolor, variegated influences of the past into something that's refreshingly not quite any of the above. But when it comes to psych-folk, Latin-rock, alt-country group Calexico, melding musical worlds is not as much an experiment as it is an instinct.
The band's guitarist, vocalist, and co-founder, Joey Burns, remembers when he fell in love with Latin music. It's a story that begins with his first exposure to the bolero rhythm in the Beatles' "And I Love Her" and weaves its way into a memory of one of his favorite films—a documentary from the '90s called Latcho Drom ("Safe Journey" in Romani), which delves into a tale of global music history.
"We need more diversity; we need more language … however we can bring it in or just live by example and show everyone."
"It's about music from the Far East, Middle East, Eastern Europe, Southern Europe. It picks up Gypsy jazz, then goes to Spain for flamenco, and it stops," he shares, gesturing the abrupt cutoff. "I'm like, why didn't you keep going? Where's Mother Africa, the Canary Islands, Cuba, South America, New Mexico, New Orleans, fado music in Portugal, Egypt, Ethiopia, North Africa, Mali, Senegal?"
Burns shares his abundant passion for wide-ranging global musics with fellow Calexico co-founder, drummer John Convertino. Their bandmates are an international network of musicians, and together they meld the sounds of cumbia, mariachi, alternative rock, and Americana. Their 10th full-length release, El Mirador, is a sonic travelogue that includes the mystical "Cumbia del Polvo" ("Cumbia of the Dust"), the whimsical "The El Burro Song," which is a tale of a hungover lover sleeping on a bar's dancefloor, and "Liberada," which was inspired by a party in Cuba, but feels like it's being told under the desert's night sky.
Calexico - El Mirador (Full Album) 2022
TIDBIT: When the band set out to record El Mirador, they gave themselves a three-month tracking deadline, which included sourcing contributions from a host of international collaborators.
Livin' in the Rhythm Section
When the band began recording El Mirador in June 2021, they set a three-month deadline until they would begin mixing. Burns, who now lives in Boise, Idaho, flew back to Tuscon, Arizona—his home of 27 years—to record with Convertino and multi-instrumentalist Sergio Mendoza in Mendoza's backyard home studio. They recorded in two-week and one-week intervals, improvising and fleshing out the album in the studio.
"We started off with like 30 or so ideas. Then we woodshedded for the first two sessions—so a month of just woodshedding. And then from those ideas we kind of narrowed down the selection," Burns explains. He says it's his preference to do things that way, which makes him a nuisance to his bandmates—but clearly the method works. "We tend to just capture songs as they're happening in real time," he adds. "And to capture that feel, especially those first or second takes … it's always hard to replicate. We're just doing it live, in the moment, and I think that subconsciously highlights what I like about playing music."
Burns and Convertino stayed with Mendoza at his home, which Burns describes as tiny. "We cooked a lot," he says, adding that Convertino brought along a 1958 La Pavoni espresso machine, which kept the band caffeinated as they wrote and recorded. Mendoza lives near Tumamoc Hill—a nature preserve in Tucson that has a sacred connection to the local Tohono O'odham tribe—where Burns would go on hikes in the cool early mornings, listening to rough takes, mixes, and ideas to gauge his impressions.
"Turn off your brain, just listen to your heart—feel the tone or taste the cooking. Be experimental."
As Burns puts it, El Mirador "mainly lives in the rhythm section." To hear an example, the guitarist points to the title track. "It started on a bass line," he says, playing it on his Manuel Rodriguez e Hijos nylon-string. Mendoza put cumbia-style woodblocks on top, giving it an "immediate lift."
With the song's foundation established, they sent the tracks to Guatemalan singer/songwriter and long-time friend Gaby Moreno, who added vocals. Next was Italian guitarist Alessandro Stefana, who added a Marc Ribot-style electric guitar solo, followed by trumpet players Jacob Valenzuela and Martin Wenk (Valenzuela currently lives in Tucson and Wenk lives in Leipzig, Germany). Lastly, they wanted some "really over-romantic violin playing," so they sent it to DeVotchKa's Tom Hagerman, in Denver, who added strings as well as some accordion.
"We've got what I call the Calexico orchestra," Burns enthuses. "It's Old World meets New World. It's something that I've just been loving to assemble from time to time. It was like this swap-meet or thrift-store orchestra."
Joey Burns' Gear
Burns belts it out with one of his two vintage Airline Res-O-Glas guitars, which proudly sports a Bigsby, three pickups, and a lot of knobs!
Photo by Matt Condon
Guitars
1962 Airline 3P Res-O-Glas (white with three stock pickups and a Bigsby)
2000s Manuel Rodriguez e Hijos nylon string acoustic guitar
1960s Fender Jazzmaster
1950s Harmony single-cutaway archtop with one pickup
Guild steel-string acoustic guitar
1970s Univox hollowbody bass with flatwounds
Fender American Deluxe Stratocaster with Suhr V60LP single-coils and Suhr SSV humbucker
Chris Schultz-built T-Style with Vintage Vibe P-90s
Strings & Picks

D'Addario for electric and acoustic
Dunlop .73 mm
Amps
Carr Rambler

Magnatone Twilighter
Fender Blues Junior
Effects
Red Panda Particle

Way Huge Pork Loin
Smallsound/Bigsound BUZZZ
Diaz Amplifiers Texas Tremodillo
Boss DM-2W Analog Delay
Boss DD-5 Digital Delay
J. Rockett Audio Overdrive
Four-String Inspo
Burns' two main guitars are his Manuel Rodriguez e Hijos and his 1962 Airline 3P Res-O-Glas electric. Burns owns two of the Valco-built fiberglass guitars and says he found the 1962 model in a shop in Memphis while Calexico was on tour with the Dirty Three in 1998. On his nylon-string, Burns proudly displays a printed-out graphic of Portuguese fado singer Amália Rodrigues. "She's the patron saint of the minor blues," he says, smiling. "I wanted to see her or talk to her or talk about her. And then there's a stamp of Lydia Mendoza down there," he gestures. "I'm a fan of female singers."
He's holding the acoustic guitar as he discusses the album and his influences, and frequently embellishes his stories with musical excerpts. Whether he's playing "And I Love Her" or album tracks like "El Mirador," "Turquoise," or "Liberada," his hands always go straight to the groove or bass line, a remnant of his past life as a bassist.
"I have two older brothers, John and Mike, and they said, 'There's enough guitarists in the world. Why don't you just play bass? You'll probably get to be in more bands or have more opportunities,'" he shares. He took their advice and studied electric bass, later joining the high school jazz band, where he gravitated more towards the Latin material they played, including samba and Afro-Cuban music. "I just loved anything where the bass was freed up," he says, playing a syncopated bass line. "I love that push and pull. That, with minor chords and modes and melodies … I just love it. I've always been drawn to songs in minor modes. I've always loved Latin rhythms."
Look closely and you'll see fado singer Amália Rodrigues and Mexican-American vocalist/guitarist Lydia Mendoza bedazzling Burns' Manuel Rodriguez e Hijos nylon string.
Photo by Debi Del Grande
One of his biggest influences is David Hidalgo of Los Lobos, who, he says "paved the way immensely in regards to what you can do with guitar, embracing so many different rhythms and genres, tone, technique, soulfulness." Then there's Andy Summers of the Police—who he once got to sign his guitar when he saw him at the airport—and Peter Buck of R.E.M., who he loves for his use of drone, adding, "That really connects with a lot of music from around the world." He then begins to play the Smiths' "Well I Wonder" as he mentions Johnny Marr, who he describes as both emotional and technical. And lastly, there's D. Boon of the Minutemen, whose "fierce Tele jabs" he admires and likens to those of Joe Strummer. Burns sees a connection between all these artists, which he calls their "guitar duality." "All those bands, whether it was two different guitarists or one, recorded parts that were complementary—that kind of push and pull to help with the vibe of a track or a song."
Music Is the Connecting Force of the Universe
It's no surprise that Burns sees music as one of the best ways to connect with other cultures. "And food," he adds. "It's like, turn off your brain, just listen to your heart—feel the tone or taste the cooking. Be experimental." Naturally, he's speaking from personal experience. "My instruments help me get to that meditative place, that poetic space. Getting immersed in tone is a good thing. Because at the end of the day, we are all just frequencies and sound waves and particles, and if we can help restore the connections between all things … I think that's a good thing to do."
And it's one of the things he set out to do on El Mirador. "On this record," he says, "it's all about laying down the groove, laying down the foundation, and seeing what we can do to get people to move. Because if they can't overcome fear with words, then maybe their body can help them overcome whatever difficulties or obstacles are in the way."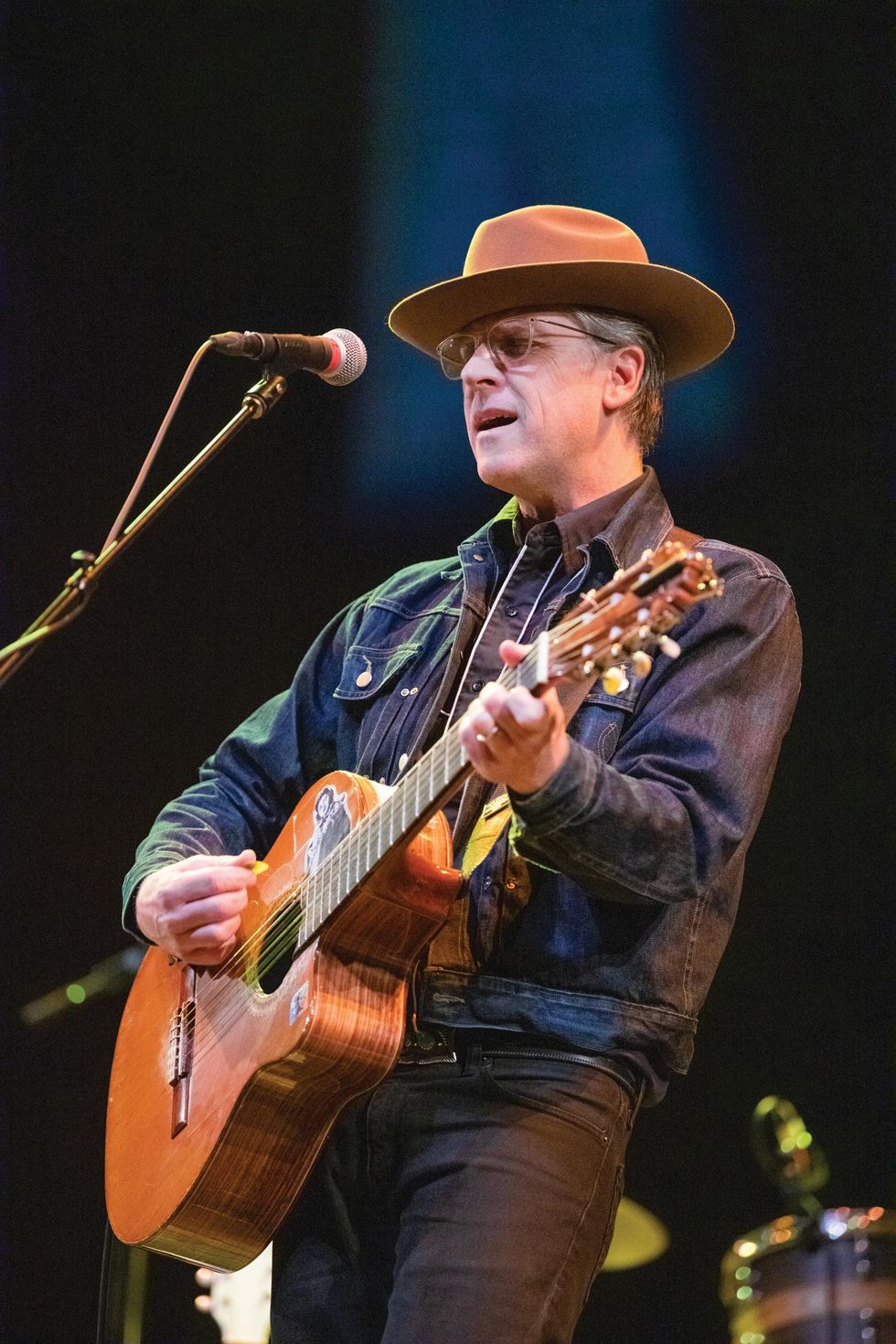 "At the end of the day, we are all just frequencies and sound waves and particles."
Musing about music's powerful role in connecting groups of people, Burns shares an anecdote from the '90s, when he and Convertino were members of the group Giant Sand. They found themselves playing at a festival with Romani band Taraf de Haïdouks (which translates to "Band of Brigands"), and, at one point, the festival organizers had the two bands go onstage together to jam.
"We were so excited, and John was playing along and realized, 'Oh shoot, the 1 is now the 2.' It was flipped so many times that it didn't even matter," Burns recalls. "He realized, 'Just don't accent; play straight sixteenth or eighth notes.' And it was super fun. But the band was thinking that we were trying to make fun of them and that this was an insult. They kept looking at us. They didn't even have to motion—their look said everything. And at a certain point, one of the youngest musicians goes to the oldest member, 'I think they're trying to play along with us.'
"At the end I swapped sunglasses—my cheap Arizona truck-stop sunglasses for the cheap Romanian truck-stop sunglasses—with one of the accordion players. And we were best friends after that," he laughs. "That's one of those moments where you're like, 'How come politicians can't do this? Why can't there be peace talks with music?'
Calexico And Iron & Wine: NPR Music Tiny Desk Concert
Power and personality in a 50-watt combo optimized for pedals.
A well-thought-out bundle of features in a compact, powerful combo for the pedal-friendly age. Lots of personality.
Tube changes require removing the entire chassis.
4
4.5
4
4.5
While some tube-amp makers buck the proliferation of pedal-dominated rigs, others thrive by taking an "if you can't beat 'em, join 'em" approach to the pedal platform concept. Supro's new Model 1932R Royale isn't the first Supro designed with pedal-centric players in mind. But the high-headroom 50-watt 1x12 combo is a natural for the role. Given this predisposition, the Royale is promoted as Supro's "first loud, clean amp." And if your expectations of Supro are still informed by the grungy, midrange-saturated Supros of the 1960s—and the reissues inspired by them—the Royale may surprise.
On the Panel
The Royale's relatively compact 19"x 20"x 9.5" poplar-ply cabinet is very reminiscent of a vintage Supro Thunderbolt, with a recessed panel for the controls and an upper-rear-mounted chassis. The early '60s-era textured black-and-white-flecked vinyl, white piping, and contrasting off-white hemp grille cloth dress the amp up with vintage authenticity. A pair of 5881 output tubes (sibling to the 6L6) with three 12AX7s, one 12AT7, and one 12DW7 in the preamp and reverb stages drive a single 75-watt, Eminence-built ceramic BD12 speaker. The amp weighs 49 pounds, which is not bad given the power and features.
Class A mode still works great with drive pedals, but is appealing all by itself.
The Royale's control complement includes volume, master volume, boost, treble, mid, bass, and level and dwell for the reverb. There are also switches to activate the boost, effects loop, and reverb. The standby switch is a 3-way toggle that enables either the full-power 50-watt mode in class AB (fixed/grid biased) or 35 watts in class A (cathode biased).
The Royale is well-designed and robustly built, though there are some quirks. The tube sockets are located on the front of the chassis closest to the grill, so tube changes will be tricky without removing the entire chassis—unless you have very narrow double-jointed wrists and X-ray vision. Then again, you'll likely want to pull the chassis to re-bias the class A/B mode after any output-tube changes.
Max Headroom
The Royale is certainly the versatile, pedal-friendly gigging combo that Supro intends it to be. But it also has a lot more personality than those qualifications might imply. The 50-watt class A/B mode, it must be said, is overtly Fender-like. And, with a bold output stage fed by a clear and slightly scooped front end, it feels a lot like half a Twin Reverb. Overall, the voice is bold and punchy. And you shouldn't have much trouble going up against a drummer un-miked. Pedals, needless to say, are easy to match to the amp in this mode. An Ibanez TS9, Wampler Tumnus+, and JHS Angry Charlie all sounded great, and it's hard not be enticed by how different gain flavors come through loud and distinctly.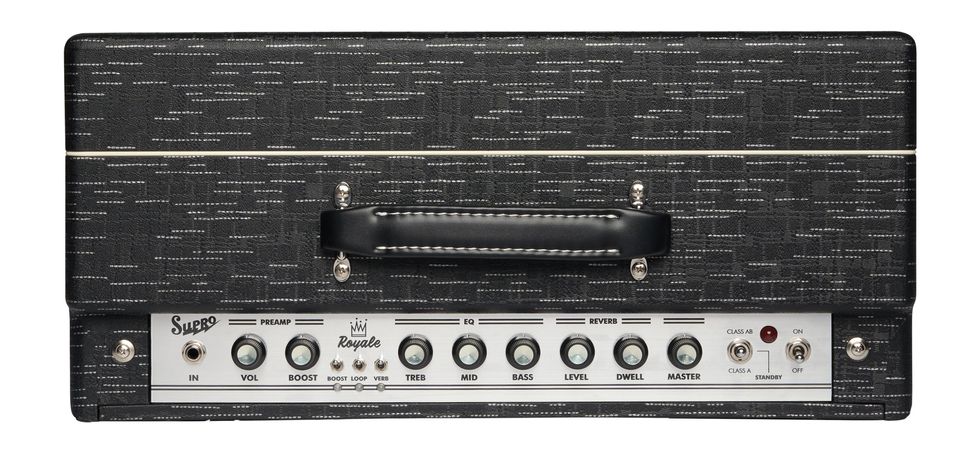 Switching to the 35-watt class A mode doesn't dramatically drop the Royale's volume, but it does make the voice and character more Supro-like—with softer attack, thicker mids, and a little more sizzle. Class A mode still works great with drive pedals but is very appealing all by itself. I enjoyed it at the edge of breakup, particularly when using a Les Paul and heavy picking attack, which generates a cool, toothsome crunch. Maxing the volume at low master volume levels is fun for gnarly lead freakouts.
The onboard boost works great in both modes. Though I'd argue it's a little more delectable and juicier in class A. The adjustable boost gain is a huge plus here, making it highly flexible where some pre-set boosts are a waste of space. The reverb may not be quite Twin Reverb-lush, but it adds depth and atmosphere, and the dwell control extends its range from subtle to splashy, spacey and psychedelic. The buffered effects loop, meanwhile, routed my signal through three outboard delay and modulation pedals without any tone loss. But it also sweetens the amp's overall sound when there's nothing in the loop. So, while the ability to switch it on and off is handy, I'd just as likely leave it on.
The Verdict
The Supro 1932R Royale is compact, portable, bold, powerful, and perfect for pedals. It's not strictly a clean machine, though. And it has loads of personality independent of pedals thanks to its class A mode, an effective master volume, and great-sounding boost. Add a fine spring reverb and effects loop, and the Royale sums up to a lot of amp for the money—especially considering how comfortably it will nestle in your passenger seat.
Supro Royale Demo | First Look
Power to do damage, headroom for days, and class A/AB switching that transforms tone.More First Look videos: http://bit.ly/FIrstLookSubscribe to PG's Channel...