Combining 11 of Brian Wampler's all-time favorite delays, the Metaverse is fully programmable and has an expression input that you can assign to any of the parameters.
Additionally, for the first time ever, we are offering a complete software version of the pedal via a set of 11 AU and VST3 plugins compatible with most popular DAWs - FREE to all customers that register their Metaverse Warranty online (plugin suite is $49.99 if purchased separately).

Just like the Terraform that came before it, the Metaverse is an advanced, feature-packed design that allows you to navigate the delay world without endless menus on a tiny display. The Metaverse offers a small-footprint stomp box that is fully programmable, preset capable, true stereo, full MIDI control, and has an expression input that you can assign to any of the parameters.

Eleven Onboard Delay Algorithms
1. ANLG - Analog Style Delay

This Program was inspired by Brian's love of the Boss DM-2 analog delay. He pays respect to characteristics of its warm and responsive tone and gives it that Wampler touch. This program gives you that kind of dark, smooth, analog delay that would have been found in the mid-1980's.
2. WET - Modulated Analog Delay
Sometimes an echo adds a bit more chewiness and subtle tape-like modulation and hits the right spot. That's one of the things that Brian loves about the Aqua Puss analog delay. So, we created those characteristics in this algorithm as a homage to the famed delay. If you love vintage boutique analog delays, you'll love this setting which can almost warp space and time with its liquid repeats.
3. BBD - Bucket Brigade Delay
Brian was always pulling out an old Memory Man Delay to inspire performative, improvisational delay expressions. He wanted to create a program that would recreate that feeling, tonally. Drawing inspiration from one of the warmest sounding delay pedals ever, this algorithm will take you back to the late-1970s when the visionaries of the pedal industry first introduced a real alternative to tape-based echo thanks to a humble little circuit - the Bucket Brigade Delay.
4. JET - Analog Flanger Delay
This is where the team had a little fun. This Program combines the smooth ANLG Program with the unmistakable whooshing sound of a beautiful additive flanger effect.
5. DOC - Wampler 'The Doctor'
The next regeneration of the Doctor is surely a welcome one and has been fully modelled in this program. Experience the warm modulated delay tone and trail degradation from one of Brian Wampler's most experimental delay pedals.
6. FTE - Wampler 'Faux Tape Echo'
This is one of our most popular delay pedals and for good reason. A lot of tape emulation delays simply add chorus to an existing digital delay circuit. Brian was not satisfied with this approach. So, he re-imagined and re-engineered it. The result was a delay pedal that reacted and sounded like a real tape delay unit.
7. ETH - Wampler 'Ethereal' Delay
The Ethereal is Wampler's famous 'all-in-one' digital delay and reverb pedal. This program recreates the overlaying twin delays present in this pedal. This is not strictly a 'dual delay' algorithm. There is also a secondary delay layer that adds a new pulsing dimension to the sound.
8. MOD - Digital Flanger Delay
Like the JET delay program, this program mixes a gorgeous flanger modulation with our crisp/clean DIGI algorithm to add an extra mix of awesome delay and modulation.
9. SPC - ECHO SPACE DELAY
This tape echo algorithm is a tribute to the classic Maestro Echoplex delay with Brian's unique take. This delay is famous for its self-oscillation capabilities and this program takes that a step further.
10. TAPE - Multi-Head Tape Delay
Inspired by the tones on classic records utilizing the vintage Binson® Echorec® and other mechanical tape and drum delays, this program emulates some of the most important delay sounds in rock music.

11. DIGI - Digital Delay
Based on Brian's tonal interpretation of what was considered the 'Industry Standard' digital delay, TC Electronics 2290 Dynamic Digital Delay, this program is super clean for precise and modern delay tones that are both studio and stage worthy.
Features 
Studio quality conversion 48 kHz Sampling rate with 24-bit audio
Full 20Hz to 20kHz frequency response
11 Studio-quality vintage and modern delay effects designed and realized in-house at Wampler
Includes entire Metaverse Plugin Suite ($49 value)
Simple user interface making your sound design instantaneous
All parameters controllable via an outboard expression pedal
8 onboard preset locations to save your favorite patches, 128 total via MIDI
Full MIDI control with CC and PC commands
True Stereo or mono I/O
Pedalboard friendly enclosure footprint
Power draw - 9v DC center pin negative, external supply only: 130mA at 9v
Dimensions : 4.5" x 3.75" x 2.25"
Weight: 2 pounds
Includes Wampler's limited 5-year warranty
Assembled in the USA
Can a bona fide funk guru help design a better Klone?
Wide range of gain. Very useful EQ.
Doesn't do the Klon clean boost as well as original.
5
4.5
4.5
4
Jackson Audio's pedal collaboration with modern funk hero Cory Wong could have taken a few different paths. Considering Wong's style, a compressor would have been an obvious choice. Instead, the Optimist is a dual overdrive that builds on a Klon-inspired baseline, adds a second overdrive, and has a clever EQ to create a super-flexible overdrive. Named after Wong's second album, The Optimist suits Wong's exuberant and fun-loving personality. But it also describes the way you might approach a gig with this pedal in hand. Together, the two separate overdrives and active EQ give you enough tones to cover almost any gig this side of Slayer cover band.
Attacking the Klones
Jackson Audio's pedals are always practical, and The Optimist is especially so. Each overdrive circuit has dedicated volume, tone, and gain knobs. Just beneath those are a trio of tiny EQ controls that illuminate when you hit both switches at once. And because the EQ can be used independently, you actually get three stomps in one. That's impressive given The Optimist's small size.

Modeling a circuit based on the Klon Centaur is nothing new. But Jackson Audio added enough tone-shaping control to make the Klon-inspired OD1 side of The Optimist more versatile than the average klone. Without an original Centaur on hand, I used Electro-Harmonix Soul Food as a baseline, which I used with a Schroeder Chopper TL, Fender Player Jaguar, and a Fender HSS Stratocaster plugged into a Fender Hot Rod Deluxe.
Some Klon users like that pedal's mid-heavy, medium-gain grind. Others prefer to use it as a robust clean boost. I found that the Klon-inspired side of The Optimist is most oriented toward the first application. With the gain all the way down, it has a bit more bite and grit than the Soul Food. In Clip 1 you can hear an example with the volume at about 1 o'clock and the tone at noon. It's a very healthy low-gain tone that I can imagine as an always-on, foundational sound for a lot of applications. The range of the gain knob is especially inviting. I couldn't find a "dead" spot anywhere in the gain control's range. Maximum gain levels have less high-end sizzle and a bit more overall gain than many klones [Clip 2]. And you sense that Jackson Audio and Wong aimed to find the most musical and versatile possible range of gain tones that a Klon-style circuit allows.
​Flat Is Fabulous
The OD2 side of The Optimist gives you flatter frequency response and more transparency. Wong compares this side of the pedal to a Timmy or a ZenDrive. Internally, your signal hits OD2 first then OD1 before the active EQ. Because OD2's flatter response preserves more of your original tone, it's a great blank canvas. And with the EQ controls I could easily get more Screamer-like sounds or thicken my lead lines.
Setting all knobs to noon generated a fantastic crunchy tone that paired well with P-90s. As with the OD1, the OD2's gain and tone knobs have a broad sweep. Neither side of The Optimist would classify as "high gain," even at maximum values, but there are plenty of nice hard-rock tones available—especially if you use humbuckers.
The Bandaxall-derived EQ engages when you hit both switches simultaneously. And you can boost or cut the bass, middle, or treble frequency bands up to 12 dB from the noon position. Used by itself, this EQ helped me darken the tone of an overly bright Telecaster and tame the woofy low end from a Jaguar. I've never used dedicated EQ pedal in my chain, but The Optimist certainly opened my ears to the possibilities.
The Verdict
I remember the first time I played a real Klon. It wasn't my thing. However, over the years I've developed a healthy appreciation for this subgenre of overdrives. At this point there are so many variations on the circuit that authenticity is less important than what connects with your particular playing style. The Optimist takes this more open-minded thinking about a klone's possibilities, and adds a flat-response overdrive and a nearly flawless active EQ that can help you tailor the pedal to your setup in very specific ways.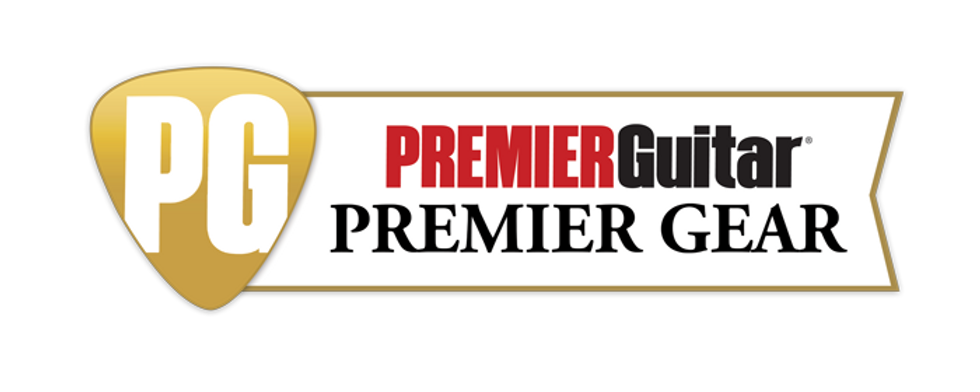 Buy, sell, trade, and browse listings from Chicago Music Exchange's entire gear collection—plus, be the first to hear about new product announcements and updates—using their new mobile app.
Boasting a massive selection of the latest-and-greatest gear that the music products industry has to offer, as well as an ever-changing selection of vintage and used instruments—plus, a handful of rare collector's items—CME offers a retail experience designed to be unlike any other store. With the new CME mobile app, it's easier than ever to search for any item in CME's catalog—including new, used, and vintage offerings in stock, or available for preorder—among the store's carefully curated collections.
Just like the company's website, the CME mobile app virtually replicates the Lincoln Avenue showroom's visual aesthetic and flow, letting customers browse gear at their leisure—all within a user interface designed to help customers navigate freely between CME's full range of distinct product categories. In addition, the app provides notifications specifically tailored to match each customer's unique gear interests, past purchases, and aspirational items, keeping customers informed of the items that they've been on the lookout for.
Features
Shop CME's collection of over 14,000 guitars, amplifiers, synthesizers, drums/percussion, microphones, accessories, and more
Be the first to know about new gear arrivals, fresh price drops, and re-stock with notifications tailored to match the user's purchase history and browsing preferences
Access to exclusive gear and merchandise that's only available at Chicago Music Exchange
Participate in app-specific product giveaways
Use their smartphone camera to upload all the info necessary to sell or trade gear via the 'CME Sell & Trade Form'
Available for iOS and Android devices through the Apple App Store and Google Play store, the new CME mobile app is designed to aesthetically emulate the visual experience of browsing CME's showroom. Tailored to each customer's specific interests and gear needs, the CME mobile app offers users—wherever they might be—immediate access to the latest gear available in CME's inventory. More info at: www.chicagomusicexchange.com.