Mark Dalton takes you from open to close as the head of Huss & Dalton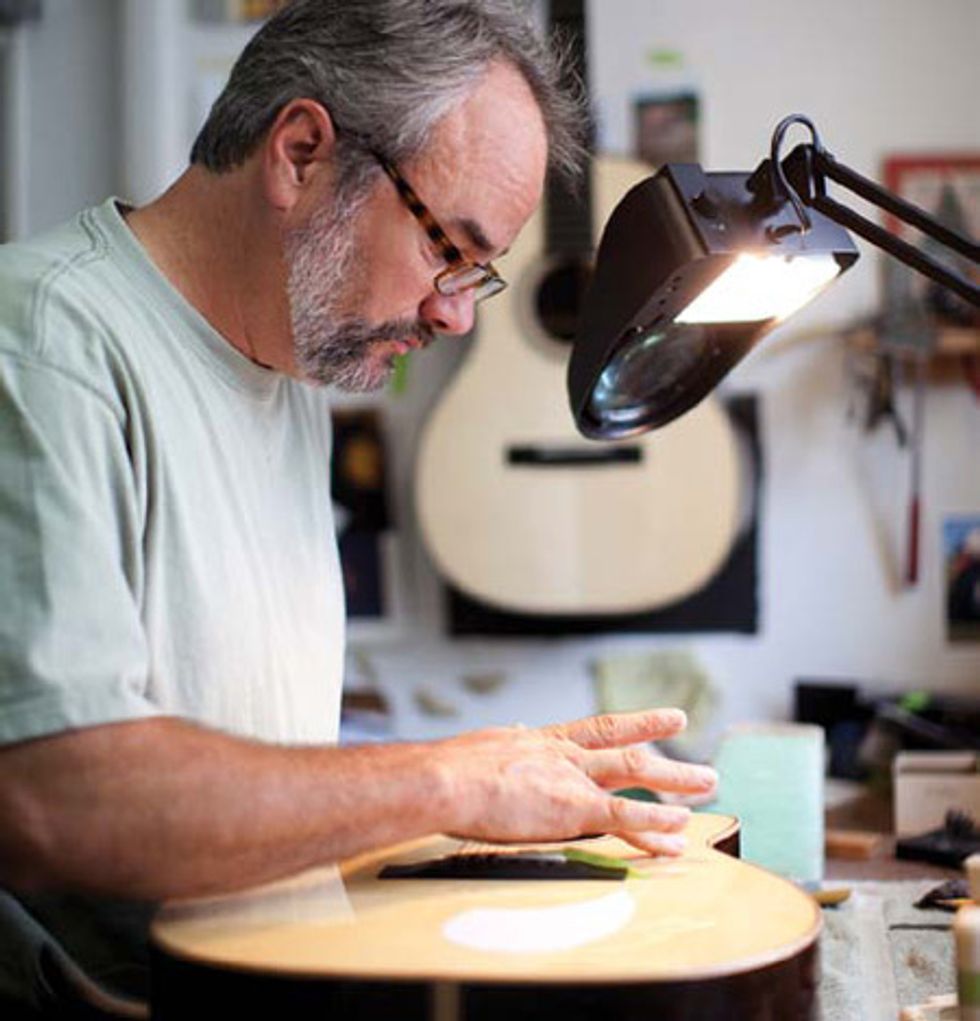 Some of a luthier's time goes into actual building—selecting, cutting, and shaping wood, spraying the finish, and fitting critical parts like the bridge shown here. But if you do this as a business, a lot of time—much more than you might like—goes into dealing with personnel, cash flow, supplier, distribution, and marketing issues. It's like playing in a band: Once the word "business" gets appended to "music," the dynamics change, and not always for the better.
In choosing a subject for this month's column, I decided to "blog" a bit. I know blogging is all the rage right now, but not being a player in the social media arena, this is as close as I may get. I know some guitar enthusiasts have wondered what it would be like to own a guitar factory, so I will take one day of my working life and present it, warts and all, for your hopeful enjoyment. I'll tell you that most days I love my job, while others are a test to see how bad I want it. This brief summary of a typical day will show a bit of what it's like.
Tuesday: I'm off on Mondays. A few years ago, Jeff Huss and I gave ourselves the luxury of four-day weeks, so he could participate in his three kids' young years, and so I could get some work done on the farm. Tuesday morning begins with a two-hour drive for my wife Kimberly and me from the farm to Staunton, where the factory is located.
As the first day of my workweek, Tuesdays are usually very full, and this one is no exception. Bad news greets my arrival—one of our employees had an apartment fire this morning, and another lost his mother to cancer. Jeff, Kimberly, and I voice our concerns for them and follow up by trying to figure out how their news will affect the work schedule for the others. We work out a plan, but we know we'll see an empty UPS truck leaving the factory all week, which has ramifications for our cash-flow situation. This is the omnipresent concern of the small business owner—the "evil cash-flow monster." After our meeting, it's time to deal with production issues.
There is always a finish room situation for me to deal with, so onto today's issue. Since we started using matte finishes on some of our necks recently, we have struggled to get the level of "matteness" just right for our customers. We are given the news this morning that after checking out the matte finish on a recently received guitar, one of our very good dealers was much pleased with our second attempt to get this right. While we hate to do any job twice, we want all to be pleased and are happy to know our efforts are getting there.
And now it's over to the CNC room for me. Since I do the programming and most of the machine operation, any issues here are in my wheelhouse. I need to run a part that I had trouble with the last time, but after tweaking the raw stock for this job, the parts run well this time. Nothing makes for a bad day like finding parts strewn about the CNC machine when you check on a job. Satisfied with the results, I go into the office to check and answer emails that came in over the weekend.
Then it's out to the shop to set up the buffing and fretting schedules for the week. With two guys out most of the week, there will be a lull followed by a mad scramble. But hopefully all will be okay in a few days.
Next, it's back to the office to deal with a missing check from one of our dealers. According to the dealer, the check was mailed and deposited, but it has not shown up in our account. After a lot of hand wringing and numerous calls and emails, the dealer discovered that he had deposited it into his own account! With the missing check issue resolved, I move onto a case supply issue. When our case supplier gets a bit behind on deliveries, we have to adjust our setup schedule to accommodate.
I need to put my CNC guy hat back on and program a custom neck and fretboard for a customer. Once that's done, it's into the finish room to do a sunburst. I haven't been the finish guy for years, but have kept the job of spraying the 'bursts.
Next, there are wood issues to attend to. I go up to the milling room to sand out and cut out a spectacular set of Makassar ebony, so we can take photos and send them to a dealer. He loves the wood and places an order.
Now I'm back to the CNC room to make kerfed lining. Since the cedar planks I'm using are full of knots and wormholes, I need to fill them so the vacuum is able to hold the planks down. Not a good batch of cedar on this run, so we'll have a fairly low yield of linings that make the grade today.
Back inside the main shop, I help the guy who glues the necks and bridges onto the bodies. He has an ill-fitting bridge, and I've learned the hard way you want to make sure these issues are worked out
before
the glue goes on.
I head back up to the wood stack to choose a top for a customer. I had taken a custom order inquiry the other day while our salesman was at lunch, and after addressing the customer's questions, he asked me to personally choose his top. I pick a nice European spruce set for him.
To wrap up the day, I go back to my laptop to do some CAD drawing for our soon-to-be-redesigned logo. While I won't finish this for several more days, I like what I see so far.
Time to go home. Kimberly and I head out to the grocery store and on to our rental house here in Staunton. All in all, it was a really good day. Most of the issues were pretty run-of-the-mill and nothing made my blood pressure go up. I feel lucky to have my job today, which is the best we can all hope for in a day's work.
---
Mark Dalton
Mark Dalton is a founding partner of Huss & Dalton Guitar Company. When not building guitars, Mark and his wife, Kimberly, tend to the draft horses and mules that inhabit their farm in the Piedmont region of Virginia.
Looking for more great gear for the guitar player in your life (yourself included!)? Check out this year's Holiday Gear Finds!
Outlaw Effects introduces their next generation of NOMAD rechargeable battery-powered pedal boards.
Available in two sizes, NOMAD ISO is a compact, versatile tool that offers the convenience of a fully powered board plus the additional freedom of not having to plug into an outlet. NOMAD ISO is ideal for stages with limited outlet availability, quick changeovers, busking outdoors, temporary rehearsal locations, and more!
NOMAD ISO builds upon the legacy of the ultra-convenient and reliable NOMAD rechargeable pedalboard line originally launched in 2018. The brand new NOMAD ISO editions feature eight isolated outputs (1 x 9V DC, and 1 switchable 9V/12V DC) for even more versatility and clean, quiet power. With an integrated lithium-ion battery pack boasting 12800mAh capacity, NOMAD ISO can fuel a wide array of pedals, and will last over 10 hours* on a single charge.
Each NOMAD ISO pedal board includes adhesive hook & loop pedal-mounting tape, eight (8) standard DC connector cables, and one (1) reverse polarity DC cable, giving you everything you need to build your ultimate "off-the-grid" rig. A rugged, road-ready padded gig bag with shoulder strap is also included, to safely protect your gear while you're on the move.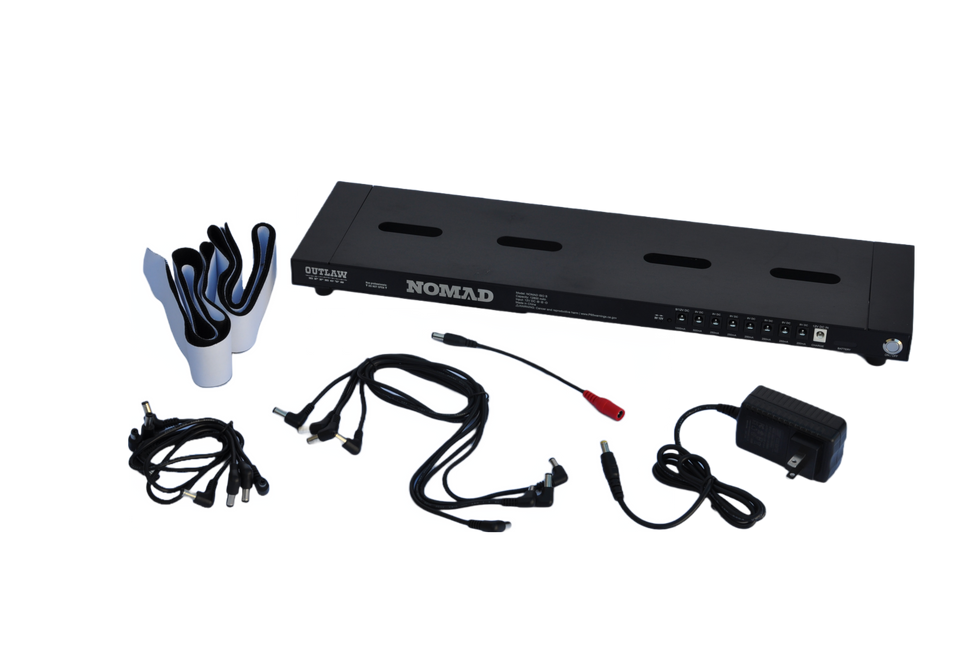 Dunable announce new Minotaur model featuring Grover Rotomatic Keystone tuners.
The Minotaur's DNA is rooted in their classic Moonflower model, which Dunable discontinued in 2017. However, they have long since wanted to create a fresh take on a carved top guitar design, and various attempts to rework the Moonflower led them to a brand new concept with the Minotuar.
Dunable's goal is to give the player a guitar that plays fast and smooth, sounds amazing, and gives maximum physical ergonomic comfort. The Minotaur's soft and meticulous contours, simple and effective control layout, and 25.5" scale length are designed to easily meet this criteria.

Dunable Minotaur!
Features
25.5" scale length
Dual Humbucker
one volume, one tone, push pull for coil splitting
Grover Rotomatic Keystone tuners
Grover Tune O Matic bridge with brass Kluson top-mount tailpiece
jumbo nickel frets
12" fretboard radius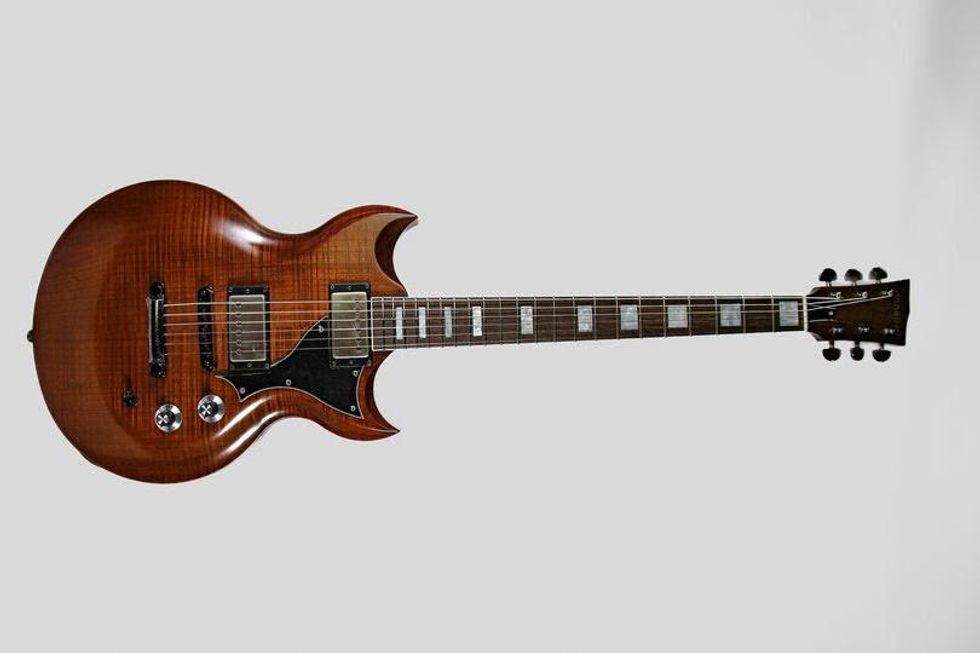 Dunable
This full-amp-stack-in-a-box pedal brings a new flavor to the Guitar Legend Tone Series of pedals, Missing Link Audio's flagship product line.
Adding to the company's line of premium-quality effects pedals, Missing Link Audio has unleashed the new AC/Overdrive pedal. This full-amp-stack-in-a-box pedal – the only Angus & Malcom all-in-one stompbox on the market – brings a new flavor to the Guitar Legend Tone Series of pedals, Missing Link Audio's flagship product line.
The AC/OD layout has three knobs to control Volume, Gain and Tone. That user-friendly format is perfect for quickly getting your ideal tone, and it also offers a ton of versatility. MLA's new AC/OD absolutely nails the Angus tone from the days of "High Voltage" to "Back in Black". You can also easily dial inMalcom with the turn of a knob. The pedal covers a broad range of sonic terrain, from boost to hot overdrive to complete tube-like saturation. The pedal is designed to leave on all the time and is very touch responsive. You can get everything from fat rhythm tones to a perfect lead tone just by using your guitar's volume knob and your right-hand attack.
Features 
Three knobs to control Volume, Gain and Tone
Die-cast aluminum cases for gig-worthy durability
Limited lifetime warranty
True bypass on/off switch
9-volt DC input
Made in the USA
MLA Pedals AC/OD - Music & Demo by A. Barrero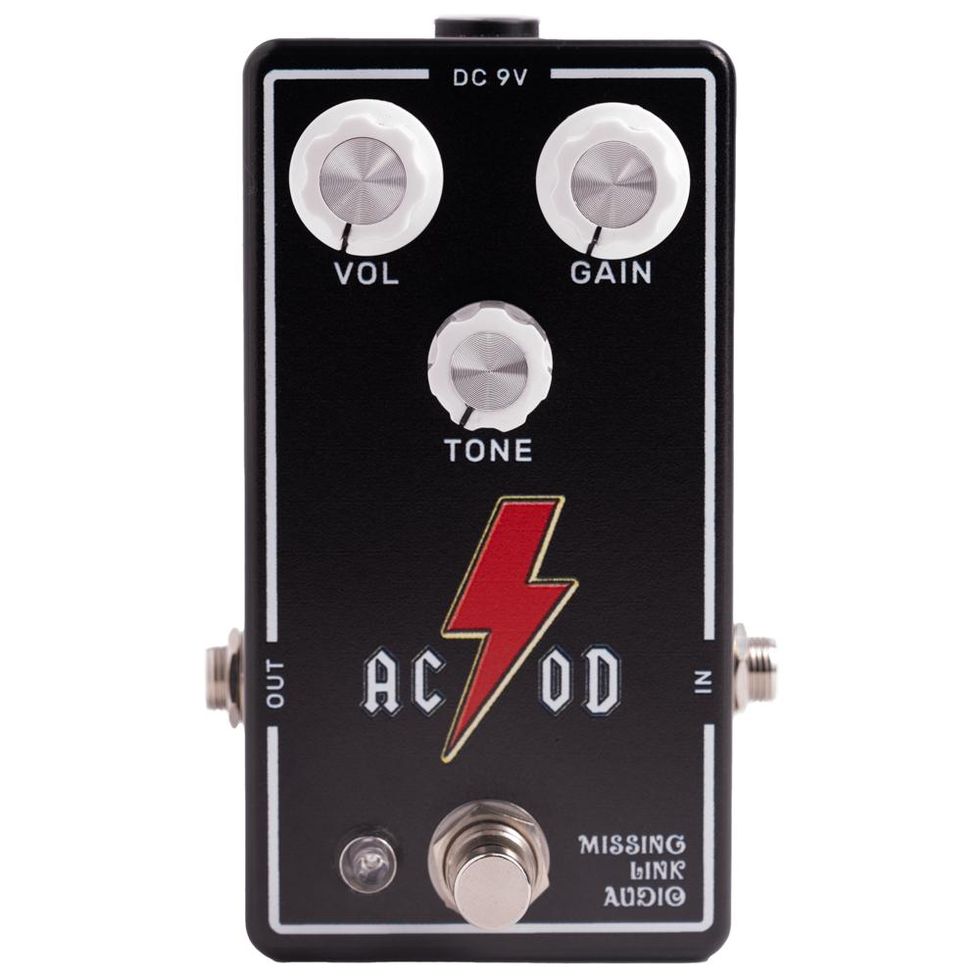 www.mlapedals.com.