I recently had the pleasure of doing a recording session with the renowned bass player, Randy Coven, who's played with some of the best guitarists of our time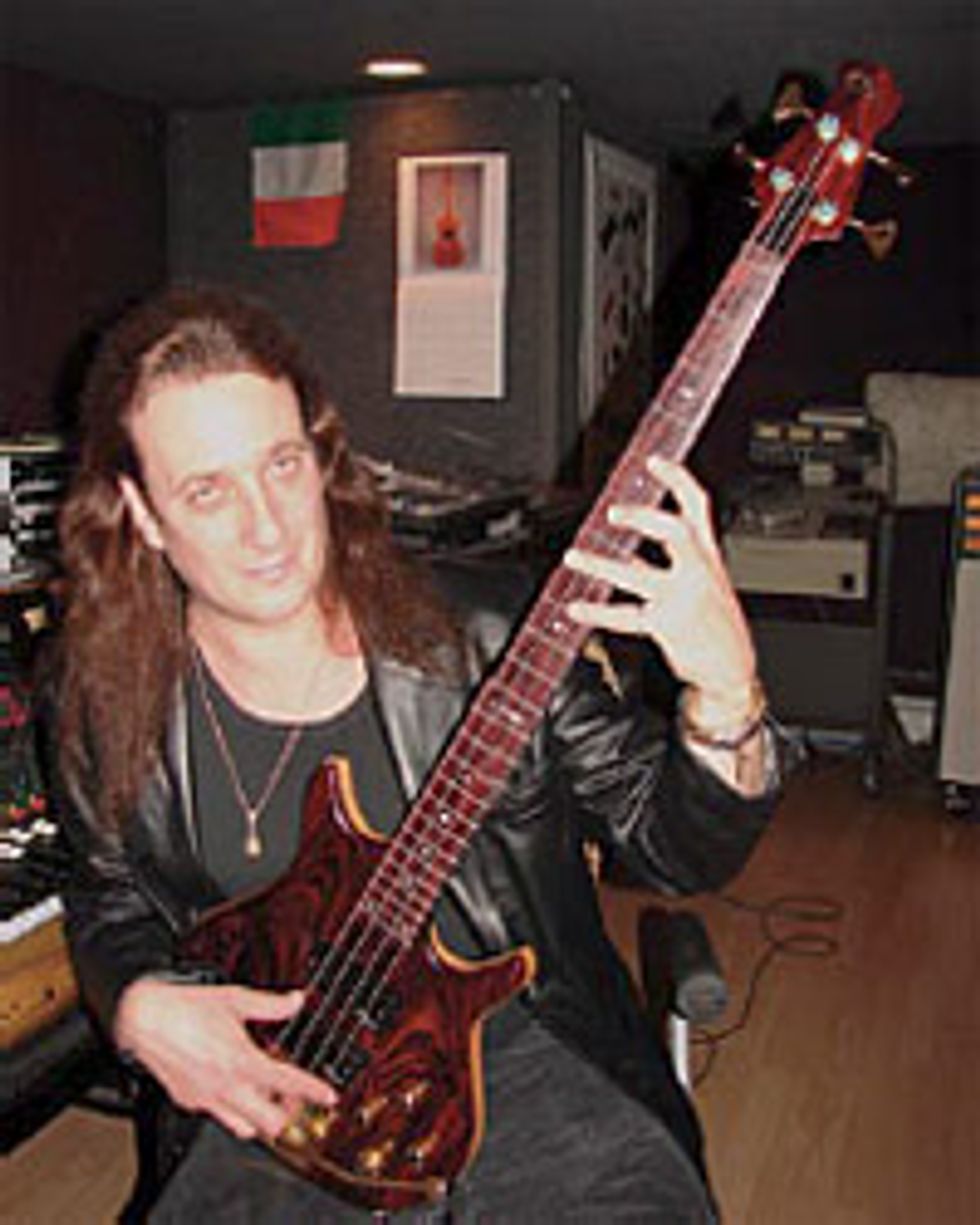 I recently had the pleasure of doing a recording session with the renowned bass player, Randy Coven, who's played with some of the best guitarists of our time, such as Steve Vai, Allan Holdsworth and Yngwie Malmsteen, just to name a select few. Randy has an incredible background – he went to Berklee College of Music in Boston and was roommates with none other then the JEM 777 man himself, Steve Vai. They were in several bands together back in the '80s and in fact, Randy told me that he actually lent Steve Vai the money to make a phone call to Frank Zappa, which wound up getting Steve the gig of being Zappa's musical transcriber. How's that for playing a hand in history? $0 $0 I was familiar with Randy's work back in the day when the magazine,
Guitar for the Practicing Musician
sported a cool record label called Guitar Recordings. They had some great releases such as Randy's, Blues Saraceno, and the heavy metal violinist, Mark Wood. John Styx was the editor in chief at the time and I got to know a lot of these guys. $0 $0 So you could imagine, I was excited to work with Randy and had him come over to my new digs, Jungle Room Studios in NY. Fortunately, Randy doesn't live too far from the studio, and brought with him two incredible basses that were handcrafted for him by Yngwie's guitar tech, as well as an Ashdown mini amplifier stack. $0 $0 We started the session by placing the bass amp in the isolation booth. We miked the bottom cabinet that housed a 10" speaker with an AKG D112, going to a channel on the Trident console. I know you're likely thinking, "why is he recording a bass amp with a mic that is typically associated with recording a kick drum?" Simple answer: when the AKG is aimed towards the center of the speaker diaphragm, it captures the high frequencies that are radiated over a very narrow angle. It gives a fuller bass tone as well. $0 $0 We also used a Radial J-48 active direct box and took the signal of the bass itself to another channel on the console. Both signals were recorded down to analog tape, the trusty Ampex MM1200 24-track tape machine. By doing this, it enabled us to blend the two tones together when mixing; one track with the direct signal that compliments the nuances of his graceful finger styles and the other track with the fat amp tone from the live miking. I always found that recording bass onto 2" tape really fattens the bass sound and gives that old expression "tape saturation" meaning. Bass is a very subtle instrument when recording solo parts and takes a different approach compared to their 6-string cousin. $0 $0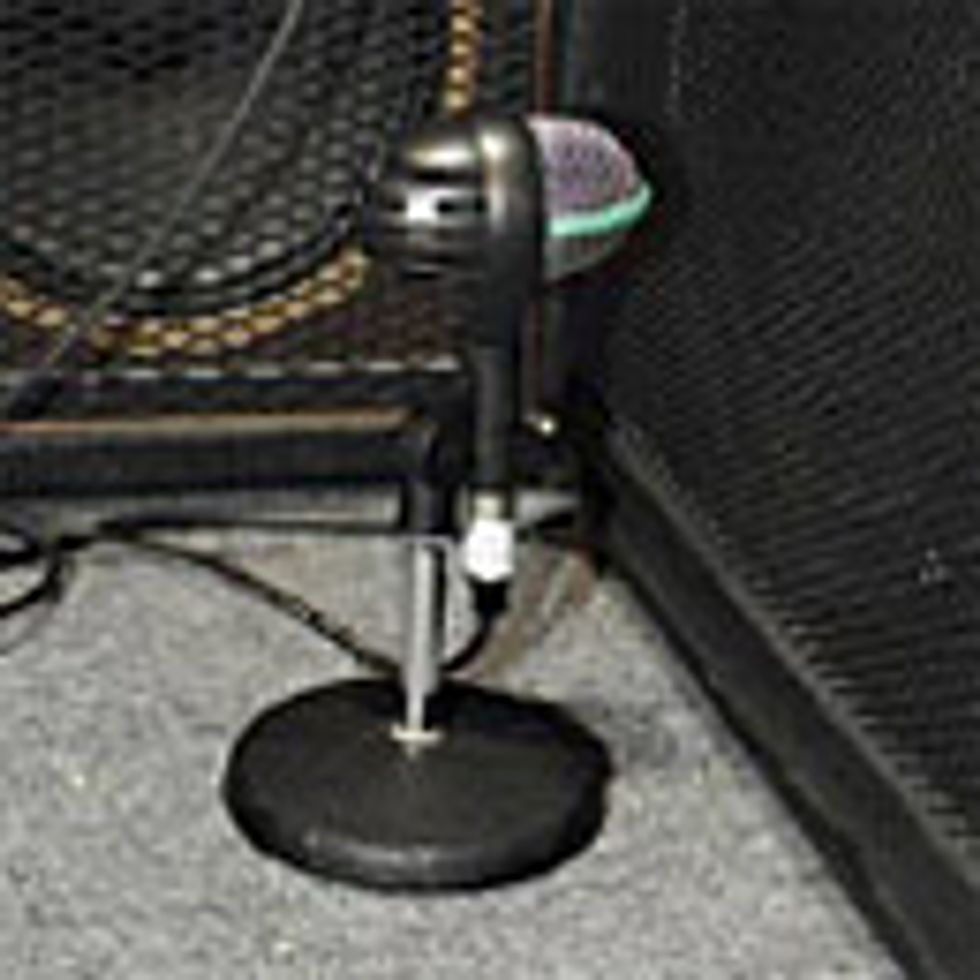 One of the songs that we were recording was a funky rock piece. When it came to Randy's solo, it took a bit of time to find the right tone. We tried many different pedals, such as the Octave Mistress, a Tube Screamer, flanger but finally settled on the Electro Harmonix Mini Q-Tron. The Q-Tron is a very versatile pedal with a cool envelope filter containing a high-pass and a low-pass mode that works well on bass. The high-pass filter helps the bass cut through a mix, especially when it comes to soloing. By setting the actual filter type, drive and Q controls you can actually get a vowel-sounding tone, which is of course great for funk guitar and bass. The colorful Bootsy Collins uses this quite a bit in his recordings. By using the Q-Tron in this manner, Randy's solo turned out to be very expressive. $0 $0 I know guitarists are always on a quest to achieve tone. This is the same exact quest bass players are trying to conqueror as well. Remember Stanley Clarke with Return to Forever, Billy Sheehan with Talas and Stu Hamm with Joe Satriani? These bass players have awesome tone, so let's not forget our 4-string friends. If you want to hear a sample of Randy's tone and performance, check out the song, "I Wish" recorded with Zakk Wylde which is on the compilation,
Guitar Masters, Vol 1.
$0 $0 $0
Brian Tarquin
$0 Emmy Award Winning Guitarist Brian Tarquin scored a Top 20 hit in the 90's with "The Best of Acid Jazz, vol. 2" on Instinct Records and enjoyed several top 10 hits on the R&R charts. Founder of the rock/electronica band, Asphalt Jungle and has scored TV music for such shows as, CSI, Smallville, MTV, Alias, 24, All My Children and many others. $0 $0
bohemianproductions.net
$0
jungleroom@optonline.net
$0
myspace.com/bohemianproductionsmusic